By Expedia Team, on December 27, 2019
Best Things to Do in Zimbabwe: Wildlife, Nature and More
Zimbabwe is one of the best countries in the world to get close to big game wildlife. The large animals of the African savannah are mostly protected through an extensive network of national parks and private game reserves that cover about 15% of the country. Visiting these incredible sites is one of the very best things to do in Zimbabwe.
I have always been fascinated with animals especially those from Africa, and a game safari was high on my list of holidays. In narrowing down my list of possible countries and destinations, Zimbabwe came out on top. This is because of its air access (Ethiopian Airlines is one of the few African airlines offering direct flights to the African continent), the range of national parks with their wild animals, and the chance to include the wonders of Victoria Falls in my itinerary.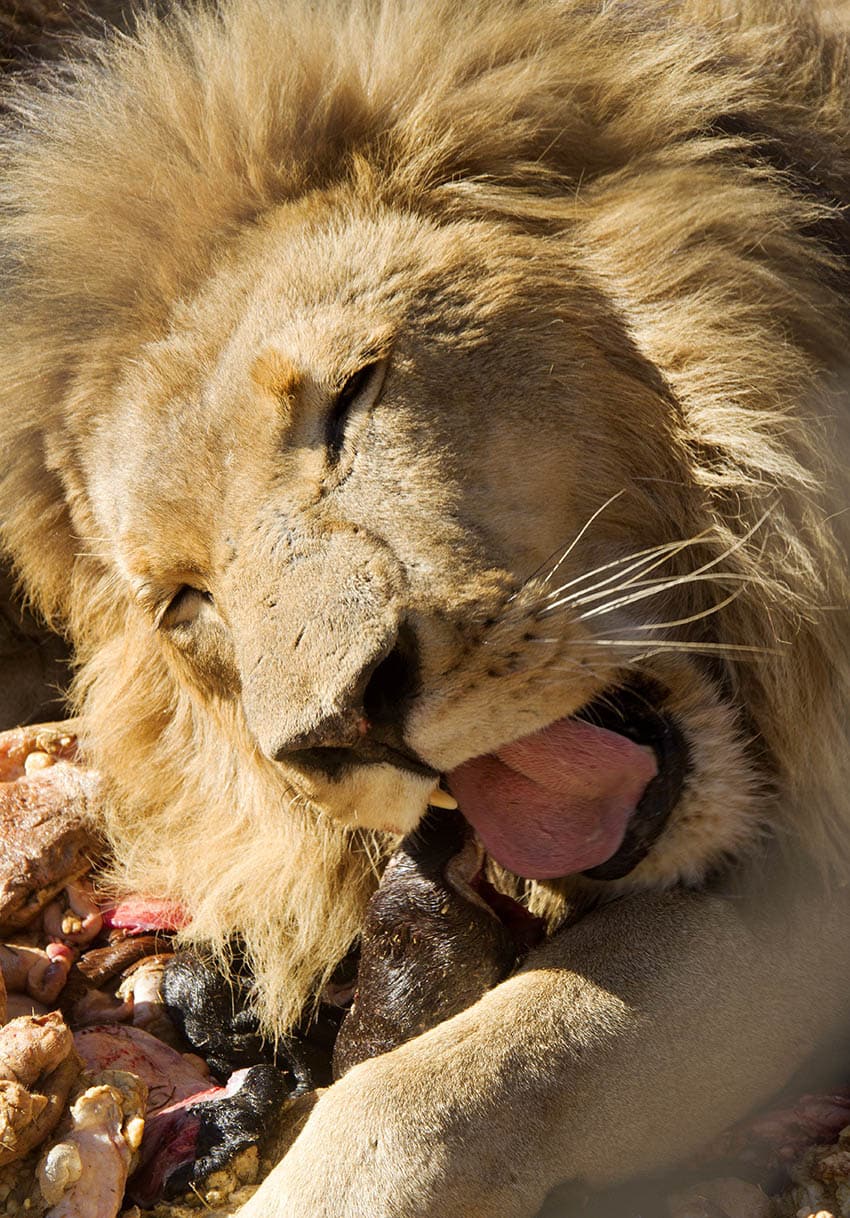 Get close to wild animals like lions in Zimbabwe.
After a restful night in Meikles Hotel in the Zimbabwe capital Harare, I flew domestically to Victoria Falls on the Zambezi River and the border with neighbouring Zambia. My plan was to explore the wondrous Victoria Falls but only after my wildlife safari in Hwange National Park some 100km from the falls.
Top Things to do in Zimbabwe

It was still the dry season, making it the best time to see wildlife. The Zimbabwe animals congregate visibly around the few permanent waterholes in the park.
Hwange National Park is a dusty but exhilarating ride for nature lovers. The 14,650km2 park is one of Zimbabwe's biggest Zimbabwe attractions. It's also the most accessible and packed national park around.
Once a hunting reserve for the Ndebele Kings, the park is now popular among photography enthusiasts tourists.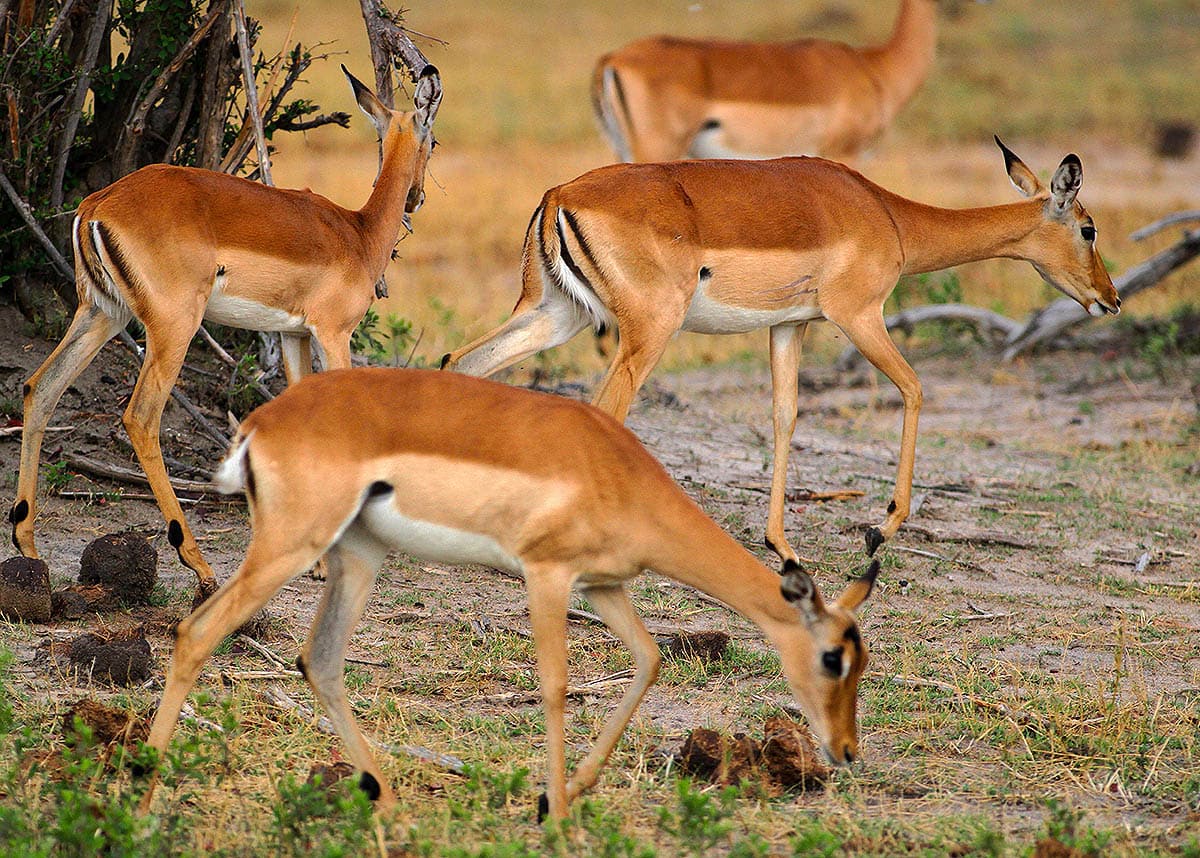 Impalas are one of the most common animals sighted in Hwange.
Some of the best animal watching is done at dusk and dawn as animals move towards the waterholes to drink. Water is an essential component for the survival of animals in Hwange National Park.
While animals spread across the region during the rainy season, they retreat to the permanent river flows and waterholes of the Zambezi Valley during the dry.
Bores now sunk into the sandy soil mean that there is more water available for the animals and the need for them to retreat to distant lands is not so evident.
When the rains come and rivers are flowing, wildlife viewing throughout the park is widespread. However, the best time to visit is in the dry season from September to October. This is when animals congregate around the waterholes.
Adjoining private bush camps like Somalisa operated by African Bush Camps have waterholes and one of the most memorable moments in Hwange is watching elephants drinking just metres from the lodge.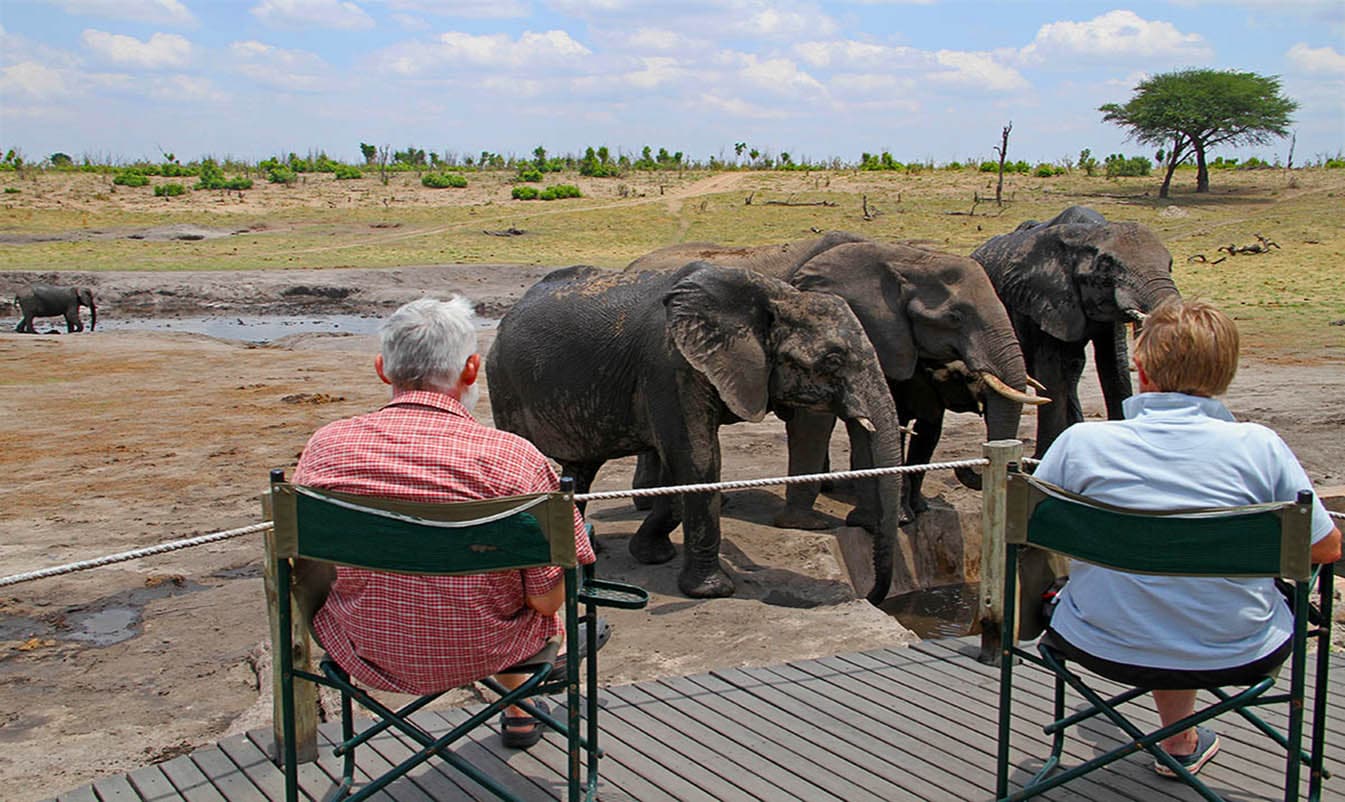 Armchair safari – watching wild elephants at Somalisa Camp.
The tented accommodation is concealed amongst Msasa trees and is superbly fitted out with ethnic textiles and a very comfortable bed. At dinner, tables are seated together near a 'boma' fireplace under the starry canopy of Africa's night sky. The abundant and varied wildlife in the vicinity offers excellent viewing and dusk or dawn game drives are essential Zimbabwe activities.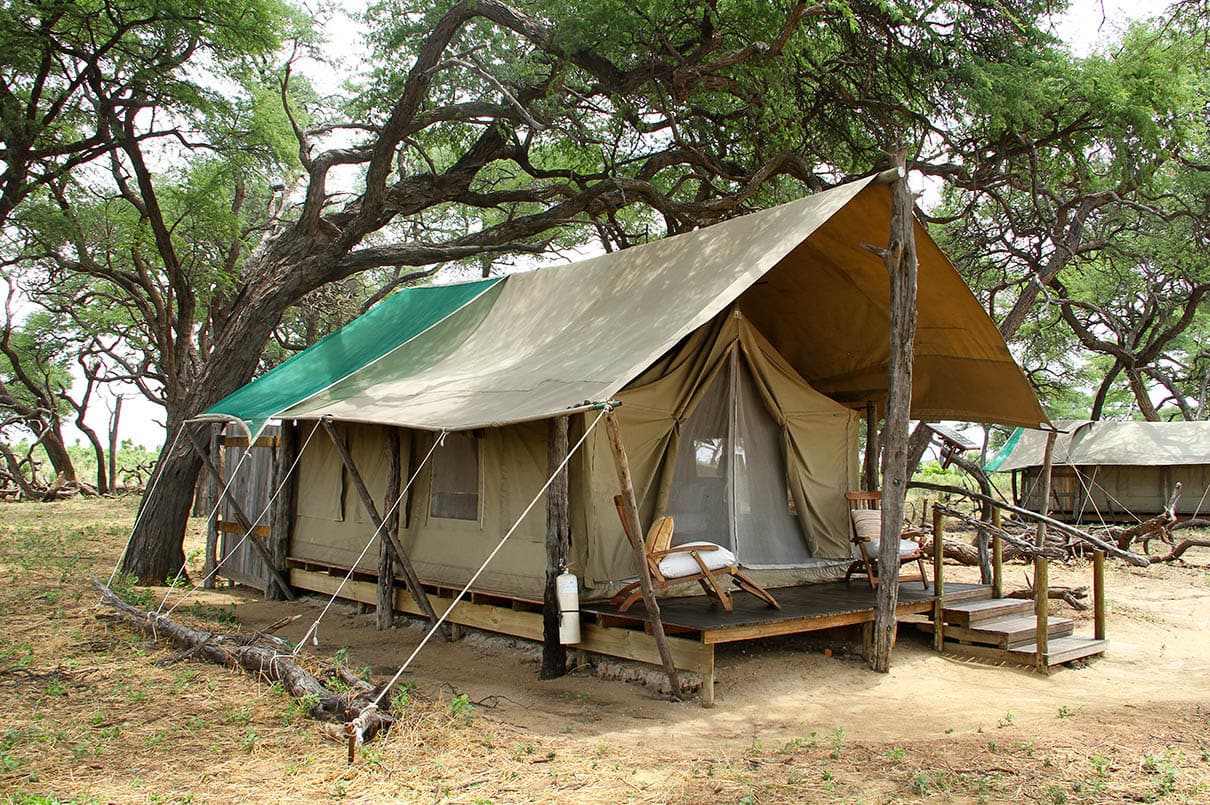 Stay in luxury tented accommodation at Somalisa Camp.
Wildlife guides and drivers are excellent and know how to interpret the bushland to seek out the smallest of animals. Identifying the 'big five' (lion, leopard, elephant, water buffalo, and rhino) is high on the agenda of most of these guides.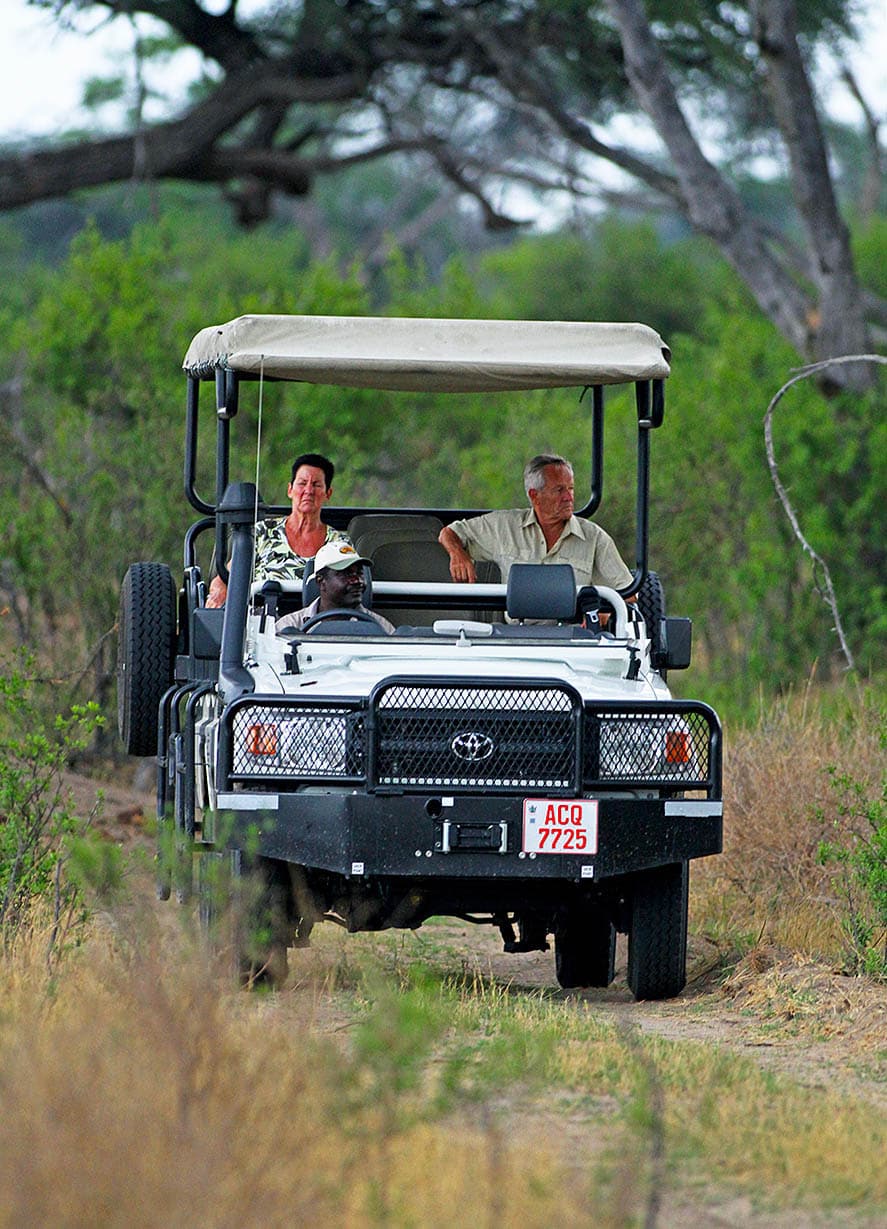 Go on wildlife safaris in the comfort of open-sided vehicles.
Somalisa is a place where one can get close to the wilds of Africa and a chance for an incredibly close encounter with its famous elephants.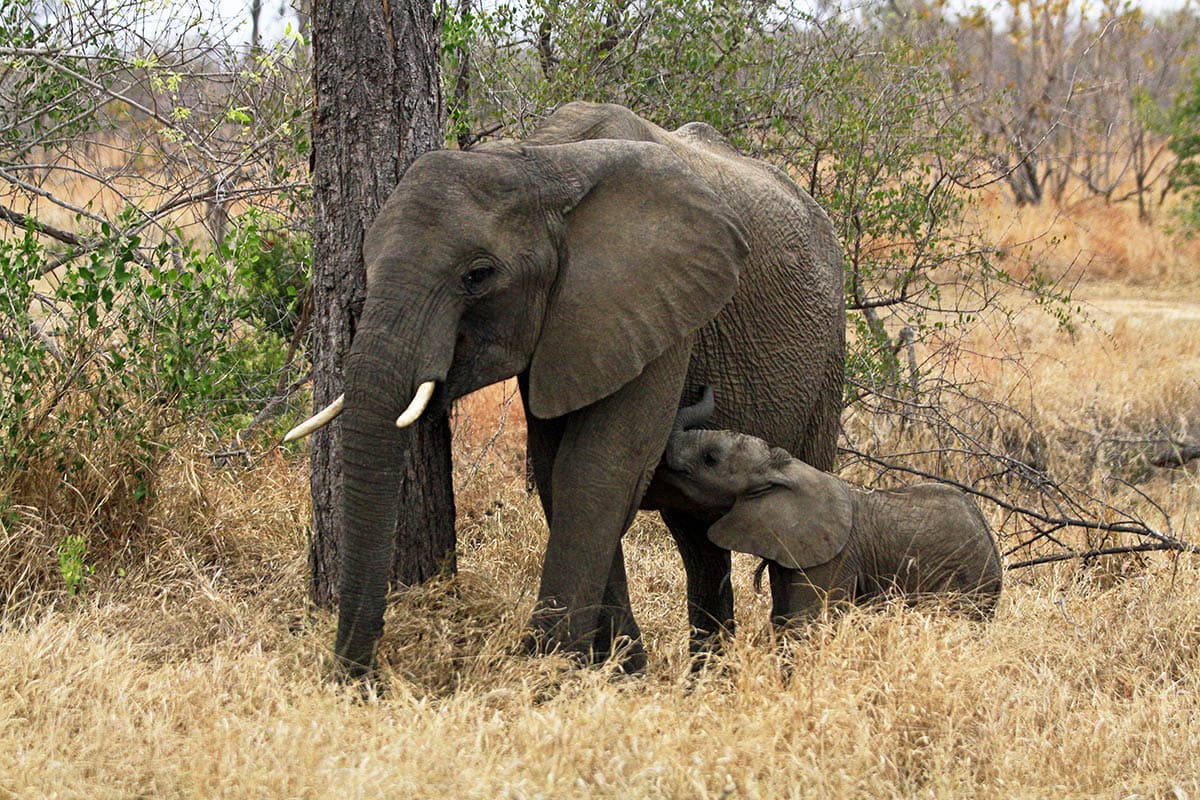 Wild elephants of Hwange National Park.
Hwange National Park in southwest Zimbabwean entails an exciting trip for visitors. Zimbabwe is one of Africa's great wildlife and safari attractions. The country has varied natural attractions. For inquisitive visitors, there are ample opportunities to get close to wild animals in their natural habitat.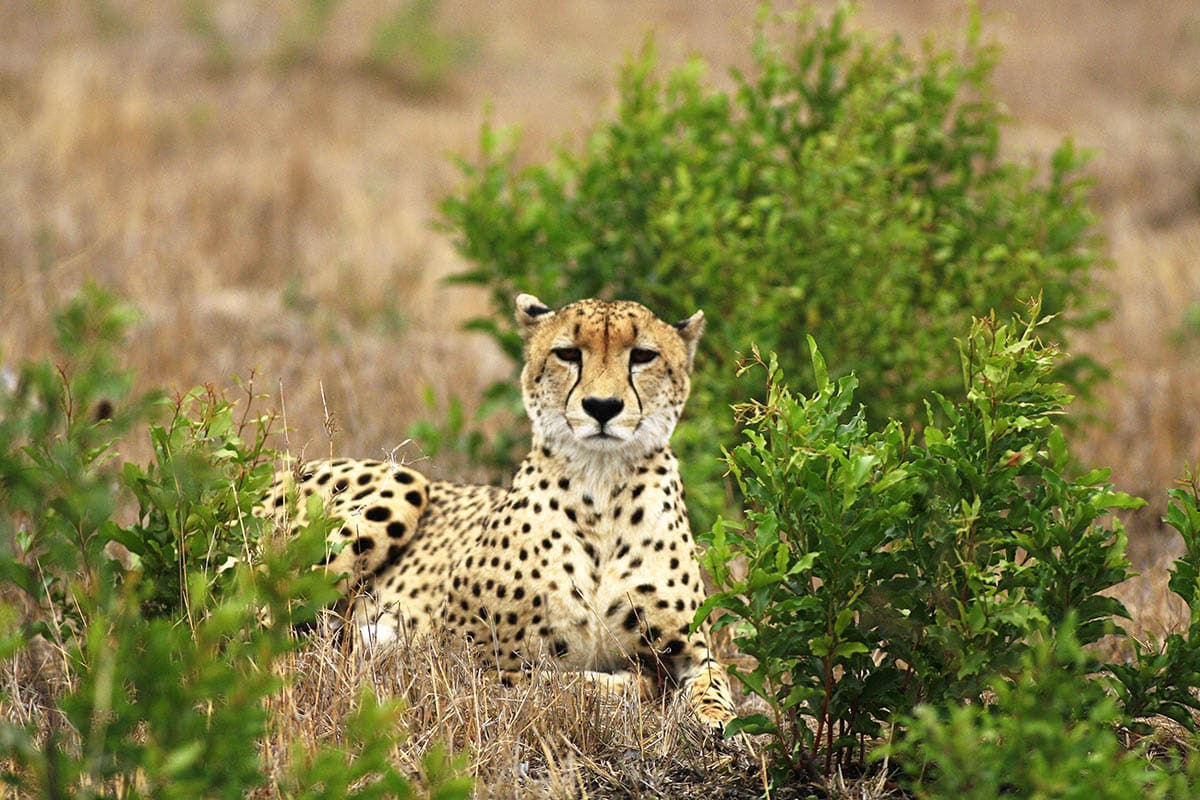 Rare cheetahs sightings in Hwange National Park.
Smoke That Thunders

In 1855, the legendary African explorer David Livingstone stumbled across and became the first person to admire the mighty Victoria Falls. The locals call them 'Musi-oa-tunya' or the 'smoke that thunders'.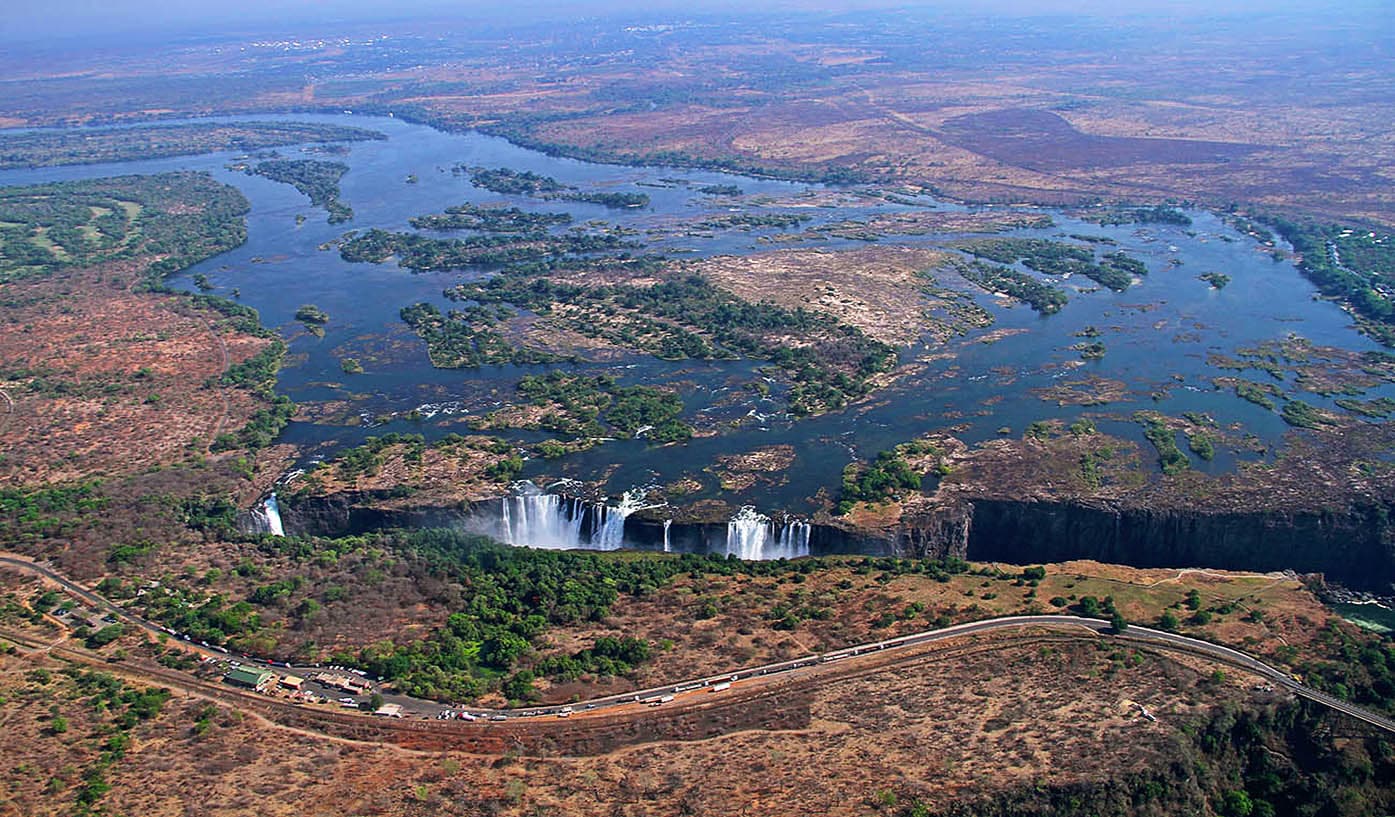 Take a flight over Victoria Falls to appreciate its sheer scale.
Considered one of the world's natural wonders, Victoria Falls is one of the top things to see in Zimbabwe. I have difficulty in imagining things so big but as a frame of reference. They are 1,700m wide with a 100m drop – that is 17 football fields wide and one deep. They are one massive curtain of cascading water and then there is the mist rising above that looks like smoke from a distance.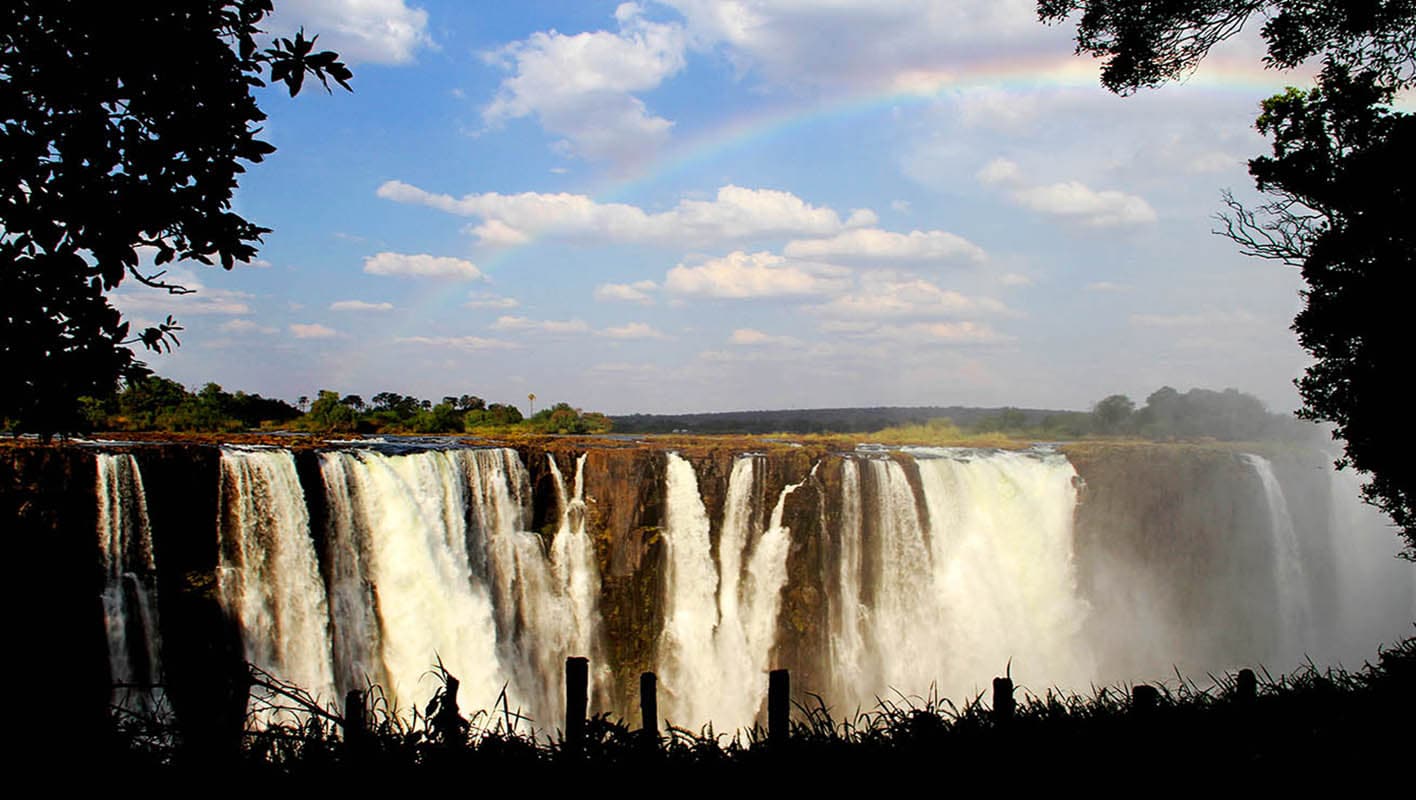 The Zambezi River cascades 108m over the Victoria Falls.
You notice this mist first from your plane as it approaches Victoria Falls and from the ground; there is always a kaleidoscopic rainbow or two. The greatest flow of water is during the March to May wet season where spray drifts hundreds of metres above the falls.
Adventurous tourists first arrived by river and then by train after 1904. After WWII, affluent tourists flew in on seaplanes, which landed on the Zambezi River. Victoria Falls was then one of the overnight stops on an eight-day flight with Imperial Airways (now British Airways) from London to Johannesburg. These were the days of intrepid touring and put my 15-hour flight from Singapore into perspective.
The Victoria Falls Hotel is an integral link in the rail network and one of the most majestic Zimbabwe hotels, with expansive gardens offering uninterrupted views of the bridge. While I did not stay at the hotel, I enjoyed soaking up the colonial ambiance on Stanley's Terrace with its magnificent views across to Zambia. Spend time to do this and reminisce of a bygone era of grand travel.
For the full colonial experience; stay at the Victoria Falls Hotel. In Hwange, stay at Somalisa Camp.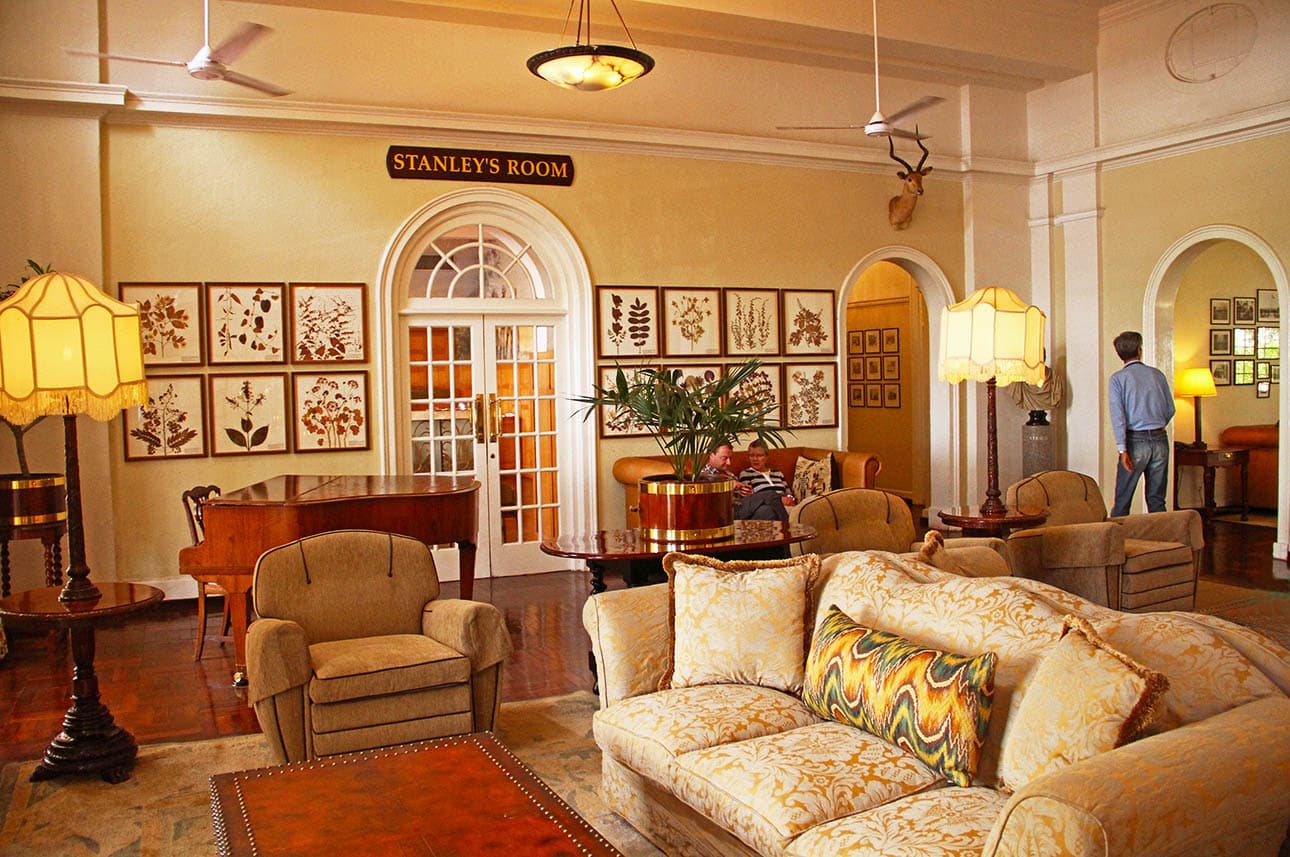 Enjoy the colonial ambience of the grand old Victoria Falls Hotel.
Dining Out

Boma Restaurant in the Victoria Falls Safari Lodge has an invigorating Dinner and Drum Show I fully enjoyed. Its evening buffet 'braai' (barbecue) includes wild meats like crocodile, ostrich, warthog, buffalo, and springbok. These are all tastefully accompanied by a lively drum and cultural show.
For a true colonial dining experience, book a table at the Livingstone Room in the Victoria Falls Hotel. When I dined there, they had a dress code requiring men to have a coat and tie. While I had neither, they obliged from their own restaurant closet of apparel. While things appear more relaxed these days, it's best to show up in your best outfit. Local and European dishes are offered with the ultimate dining experience being the seven-course dégustation menu.
For those craving rice and spice, dine at Nam Took Thai Restaurant in the town centre.
Travel Tips

If you need a visa, you can get them on arrival for US$30 in Harare or Victoria Falls. If you plan to visit neighbouring Livingstone on the Zambian side of Victoria Falls, inform the immigration officer that you want a KAZA UNIVISA (US$50). This will enable you to cross in and out of both countries as often as you like within 30 days.
After spiraling out of control, the Zimbabwe currency was suspended. Now, the official currencies are foreign currencies such as the US Dollar and South African Rand currency. Enterprising locals sell worthless 50 billion dollar notes for US$1.
Bring small US currency notes for tipping; the locals will really appreciate your generosity.
Bring small gifts from home to help the locals. Anything from pencils and pens for school kids, basic medicines, books, and notepads are helpful.
While visitors to Hwange National Park get close to animals, long camera lens (200mm +) are best for close-up shots.
While there have been some civilian disputes with the government in recent years, these rarely affect tourists in Victoria Falls and Hwange National Park. They are far enough away from the main centres of Harare and Bulawayo.