By Expedia Team, on January 24, 2020
Sand, Sea and Souq: A Muslim Traveller's Guide To Things to Do in Qatar
Middle Eastern countries used to be layovers for Southeast Asian travellers on their way to Europe. Reversing the trend, cities like Dubai and Abu Dhabi are becoming their own destinations by pulling in tourists from both East and West. Another emerging destination is Qatar, a tiny peninsula off the Persian Gulf.
Like its Emirati neighbours, Qatar marries visionary thinking with deep-rooted traditions. The result is a country that celebrates both its people and the world. So, on your next Qatar adventure, you will learn about their faith and heritage. These two has guided Qataris' openness in creating world-renowned institutions.
Here are six things to do for Muslim travellers in Qatar.

1) Get Lost In Qatar's Dunes On A Desert Safari
We begin by going back to Qatar's desert roots.
One hour away from the capital Doha is a vast expanse of never-ending sand. You can spend a full day on a "natural" roller coaster by dune bashing in a 4×4. If you're an adrenaline junkie, you can also sand-board or hop on a quadbike. Allocate half a day for this activity but if you're an adrenaline junkie, you can spend the whole day at the desert!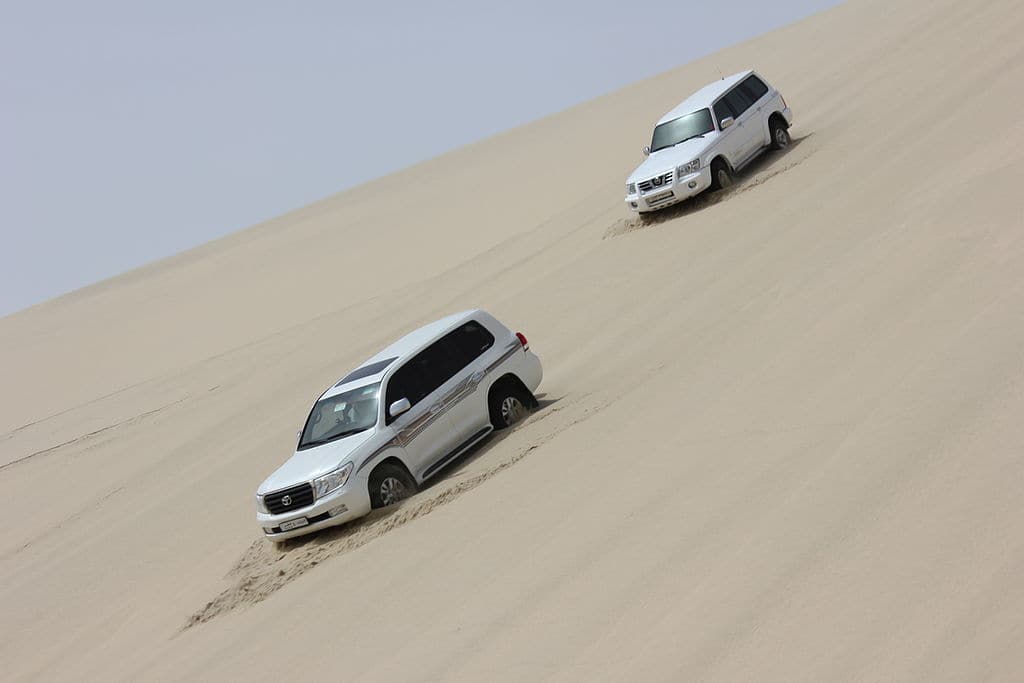 Photo Credit: Christine und Hagen Graf (CC BY 2.0)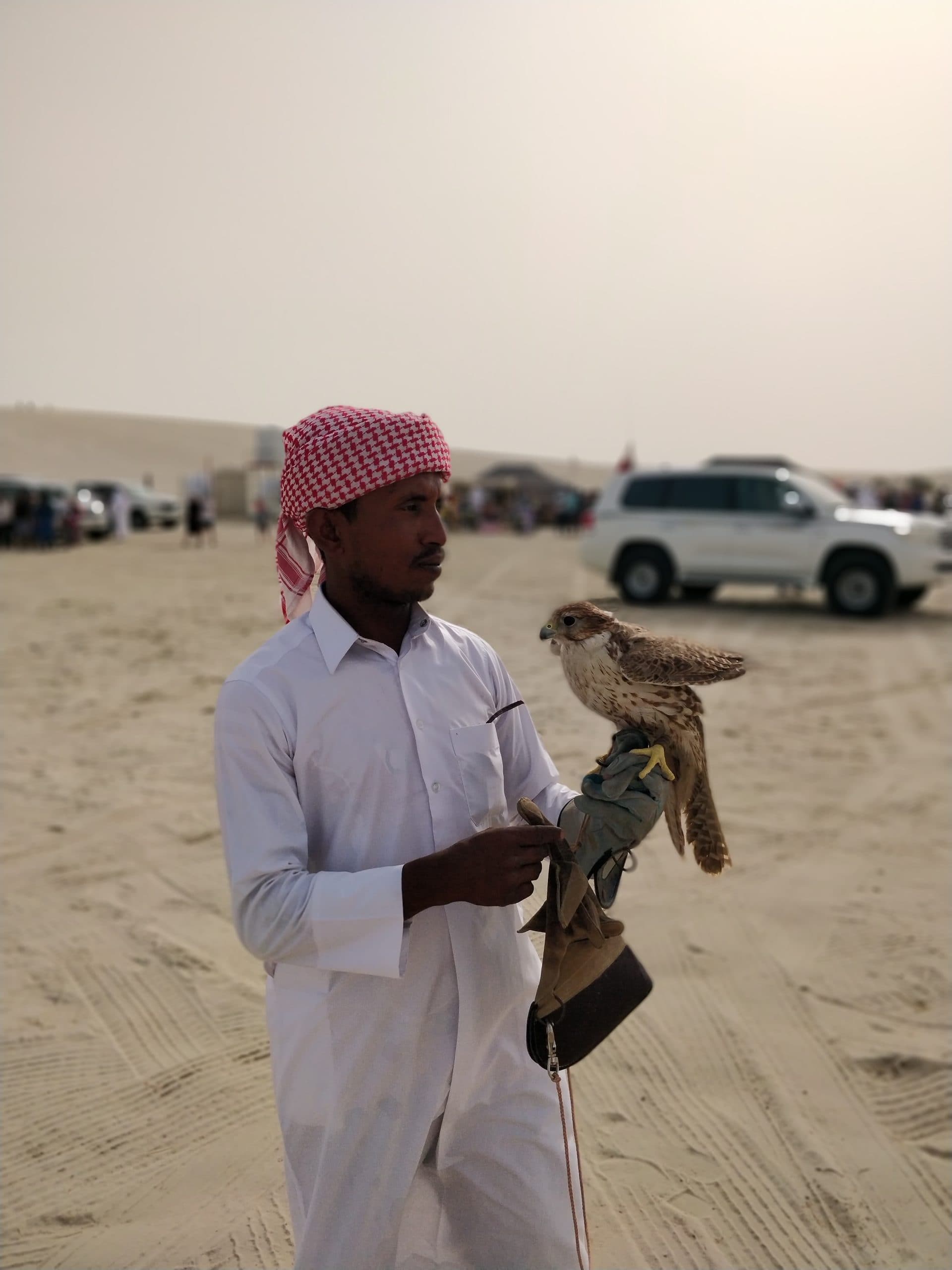 Photo Credit: Darshan Gajara
As the sun sets on the horizon, walk through the desert to capture the mystifying desert landscape. It's so humbling that you can sample a part of the Arab Bedouin life for over hundreds of years. When nightfall comes, you can indulge on a scrumptious dinner at Regency Sealine Camp's seaside cabanas.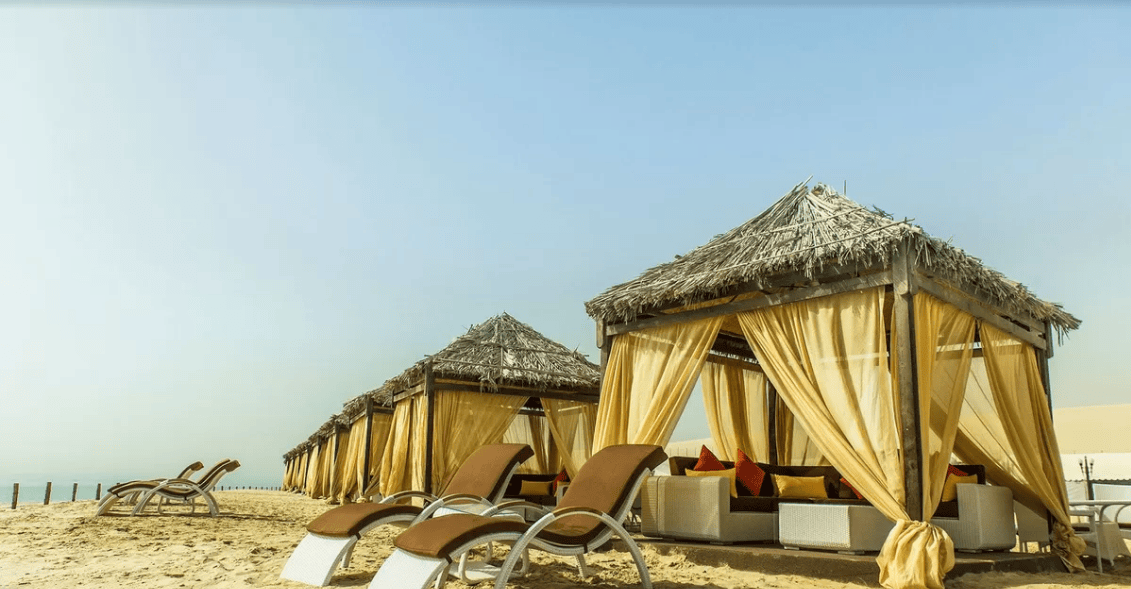 Photo Credit: Expedia
If you want to extend your desert stay, you can book one of the many resort's luxurious tent bungalows!

2) Go Museum Hopping at Qatar's World-Class Museums
Your journey continues at the I.M. Pei-designed Museum of Islamic Art. Inspired by the 9th century Ibn Tulun Mosque in Egypt, the museum sits on its own island at one end of the Doha Corniche. It is a resplendent mix of modern geometric design and traditional Islamic architecture. You can spend half a day exploring ancient treasures of the Muslim world across three continents – Europe, Asia and Africa.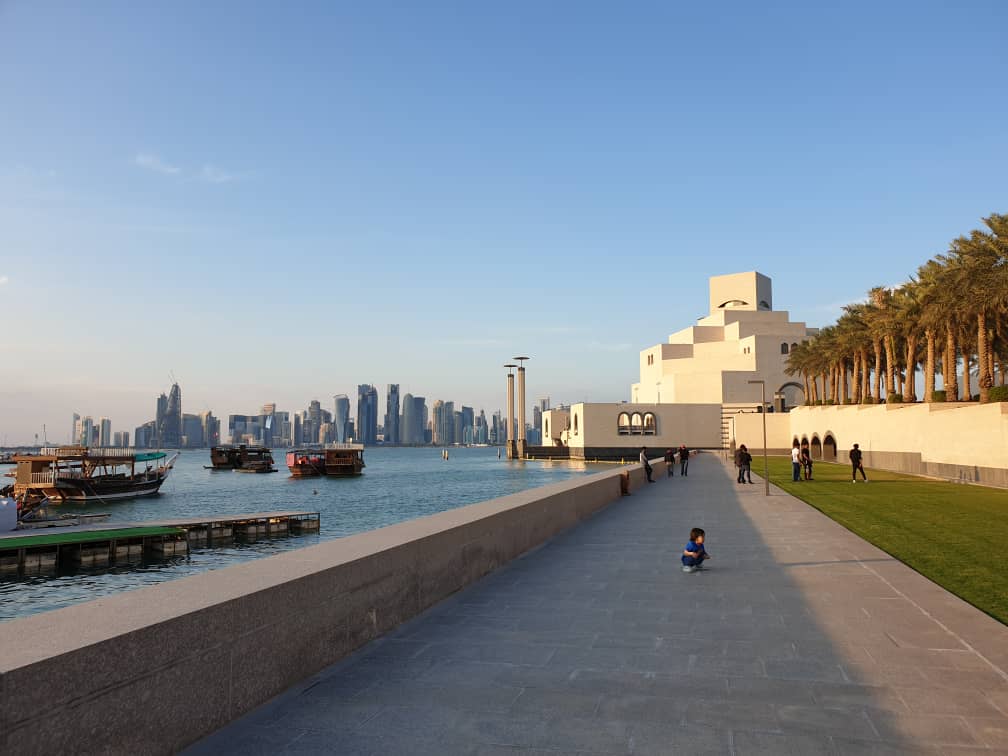 Photo Credit: Dan On The Road
Not far from the Museum of Islamic is the newly-opened National Museum of Qatar. You can see futuristic desert rose-inspired structures from afar. These galleries coexist with the restored Palace of Sheikh Abdullah bin Jassim Al Thani, former home of the Royal Family. You can saunter across the 11 permanent galleries to learn about Qatar's rich history. There's plenty of exhibits from artefacts to Arab poetry to excite your senses.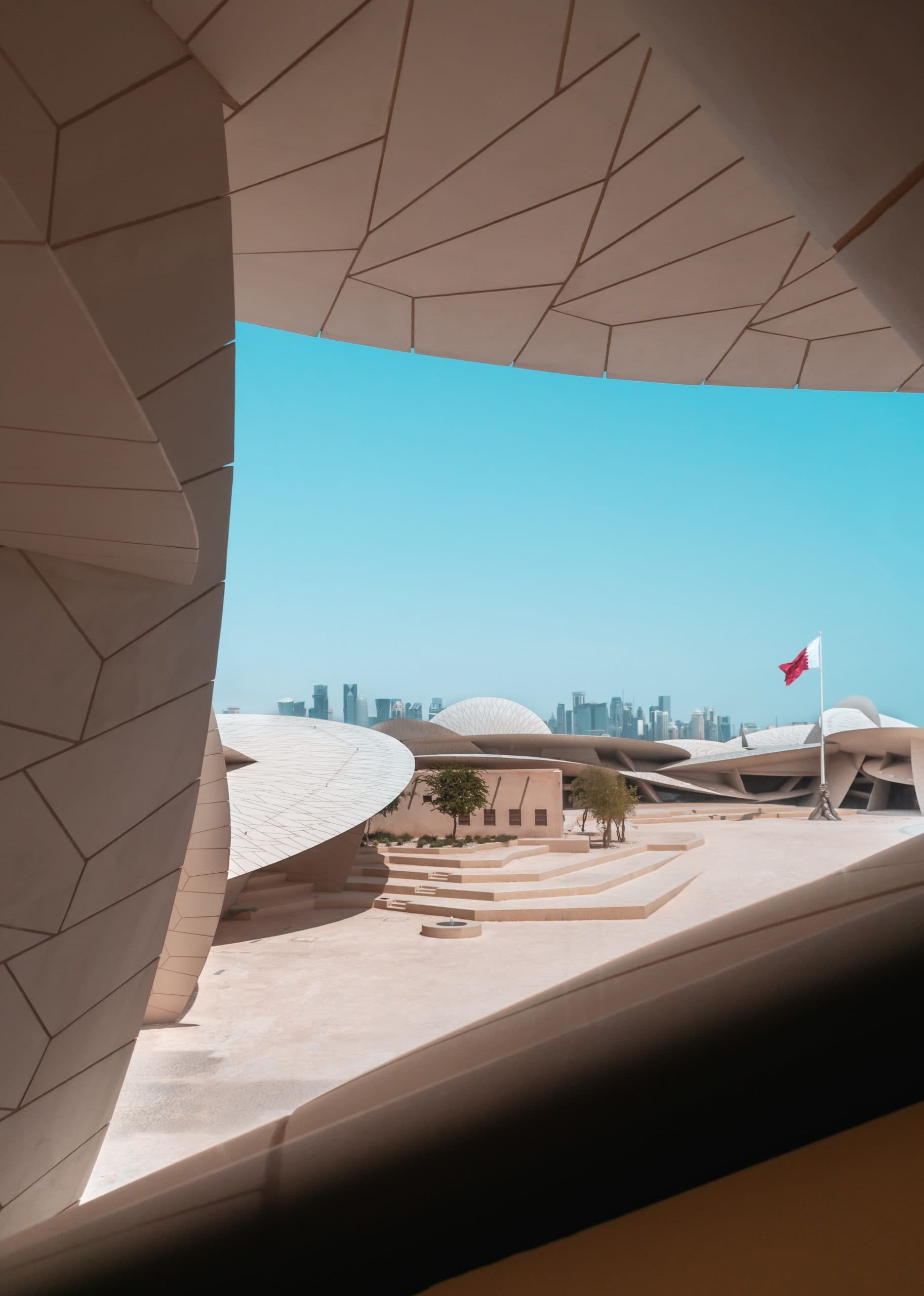 Photo Credit: MK.sriram
After you're done museum hopping, admire these two museums from the Persian Gulf on an evening Dhow Cruise.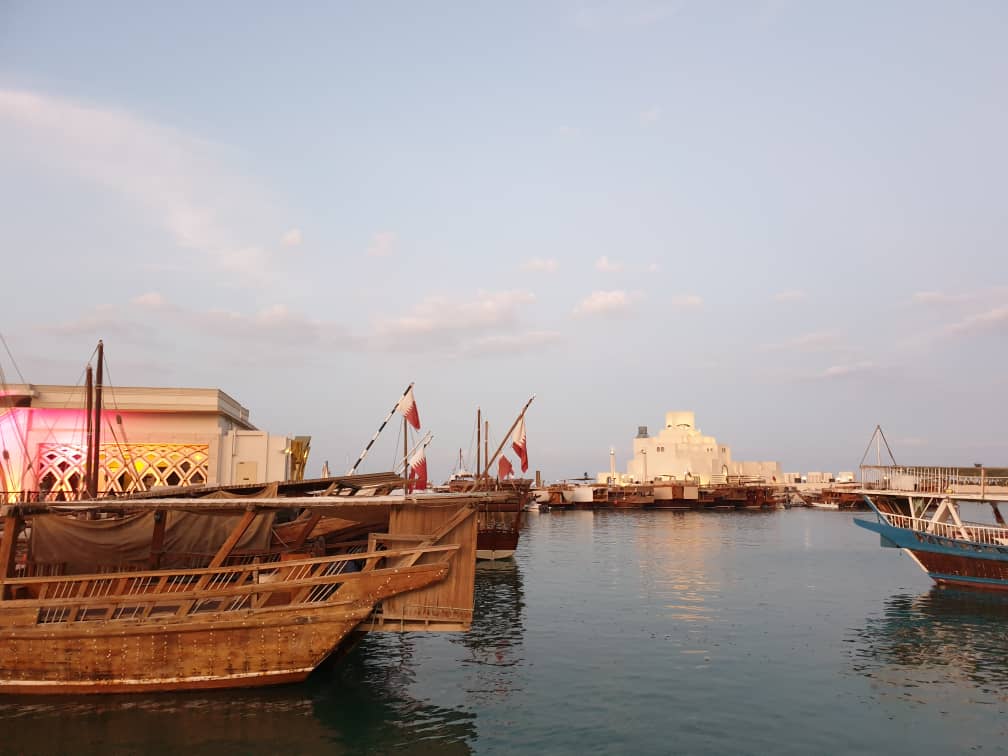 Photo Credit: Dan On The Road
Museum of Islamic Art & National Museum of Qatar
Opening Hours: 9:00 am – 7:00 pm (Sat – Thu), 1:30 pm – 7:00 pm (Fri)
Entrance Fees: QAR 50 for adults, QAR 25 for students, children under 16 free

3) Visit The Many Beautiful Mosques of Qatar
Qatar's evolution throughout the ages has also brought diverse styles of mosques across the country.
Start your ziarah at the State Grand Mosque perched on top of a hill in Doha. The mosque was originally built in the late 1800s and after an extensive refurbishment in 2006, it was re-opened in 2011 to much fanfare. Shimmering sandstone makes up the façade while 93 domes and 20 entrances grace the mosque. It is so big it can accommodate up to 12,000 worshippers at one time!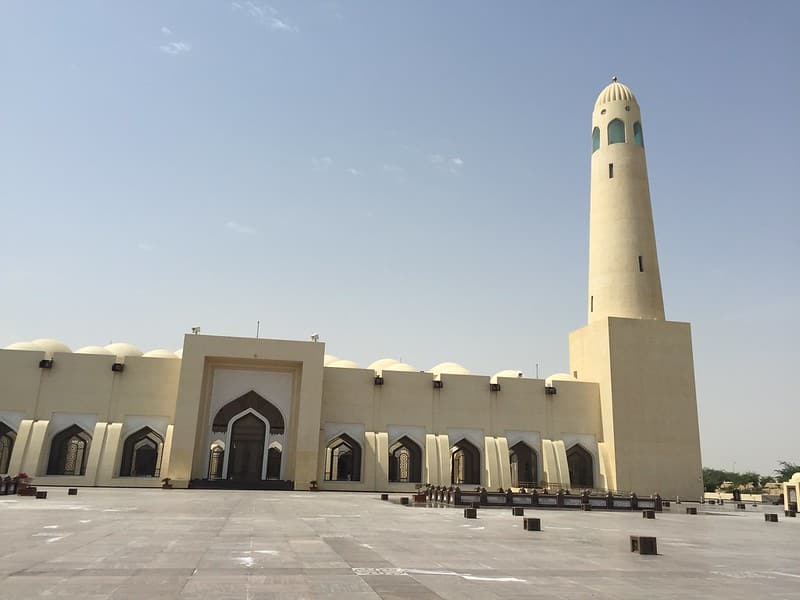 Photo Credit: Mohamod Fasil (CC BY 2.0)
Another masjid to explore is the Souq Waqif Mosque, known as the Spiral Mosque. The mosque hosts the Kassem Darwish Fakhroo Islamic Centre and is a replica of the Great Mosque of Al-Mutawakkil in Iraq. Although not native to Qatar, this mosque adds more zest to the city skyline especially when it is lit up at night.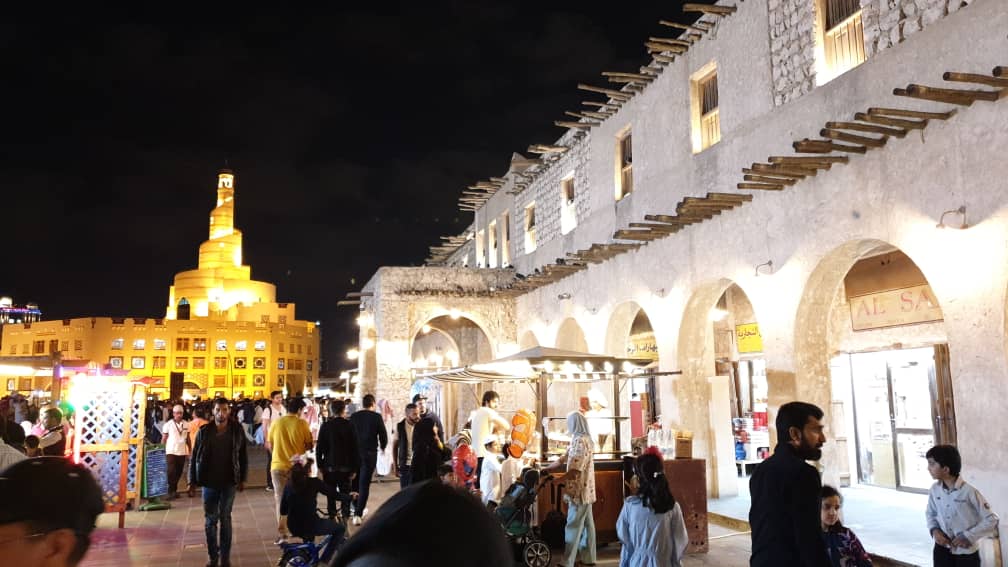 Photo Credit: Dan On The Road
If you are looking for something a bit more mind-bending, take a short trip to the Education City Mosque. Mangera Yvars Architect designed this modernist mosque of two curvilinear minarets embossed with Quranic verses. The main highlight is the cavernous prayer hall – thousands of round windows allowing sunlight to illuminate the inside.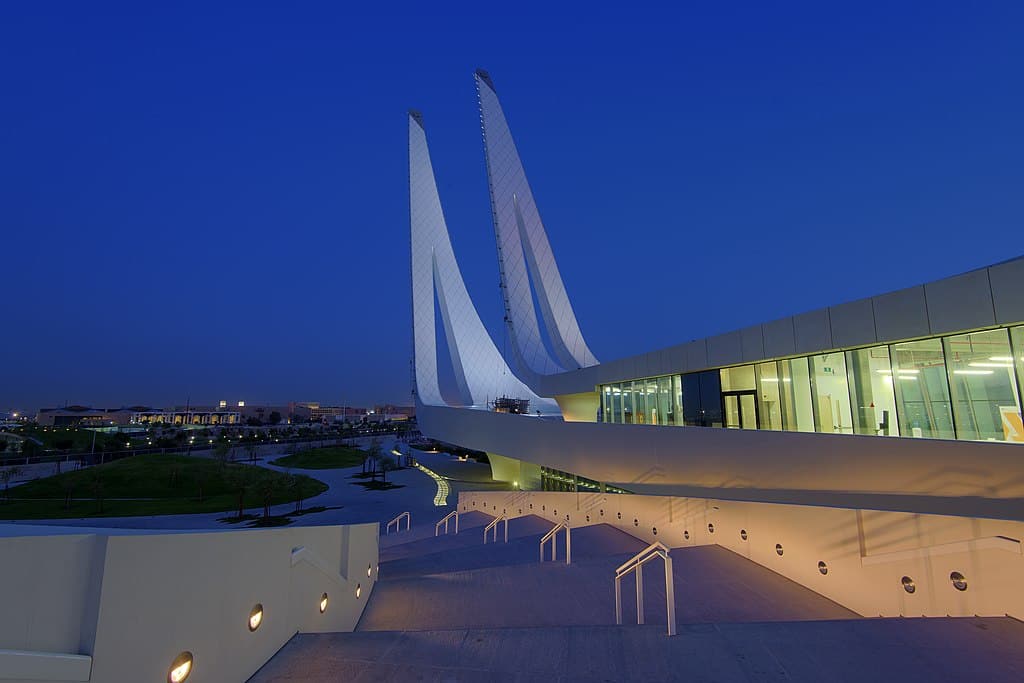 Photo Credit: Alex Sergeev (CC BY-SA 3.0)

4) Be Mesmerized By The Bustling Souq Waqif
Shop to your heart's content at Souq Waqif, an ancient trading hub that offers everything under the sun! The bazaar has different sections like art, handicraft, perfume, souvenir and spice. Like any other markets, you can bargain with traders for the best price.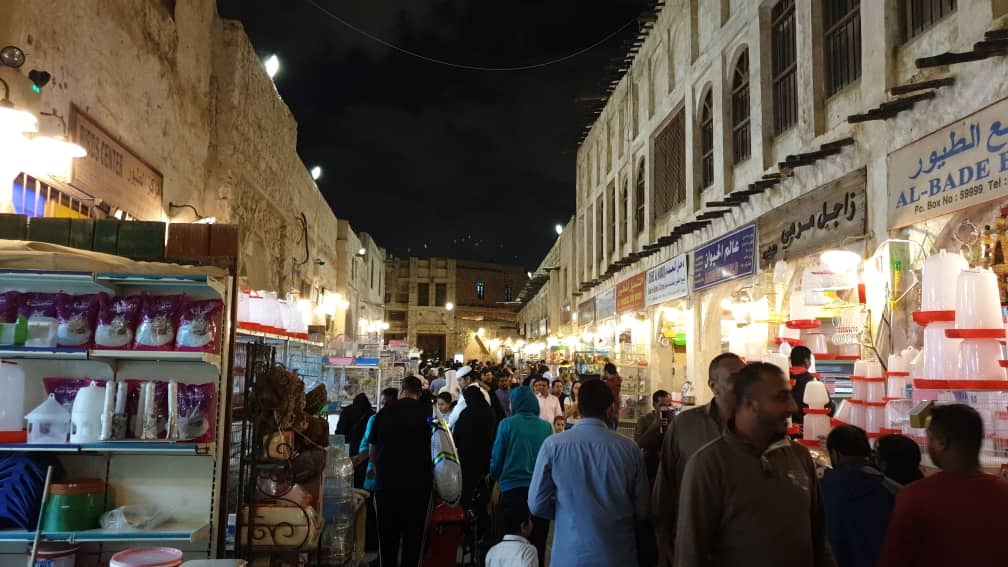 Photo Credit: Dan On The Road
Each section offers goods like traditional thobe and abaya garments, Arabic incense oudh and a wide selection of coffee beans. Souq Waqif is also great to wander around to experience the multitude of aroma, colour and noise that makes this market alive.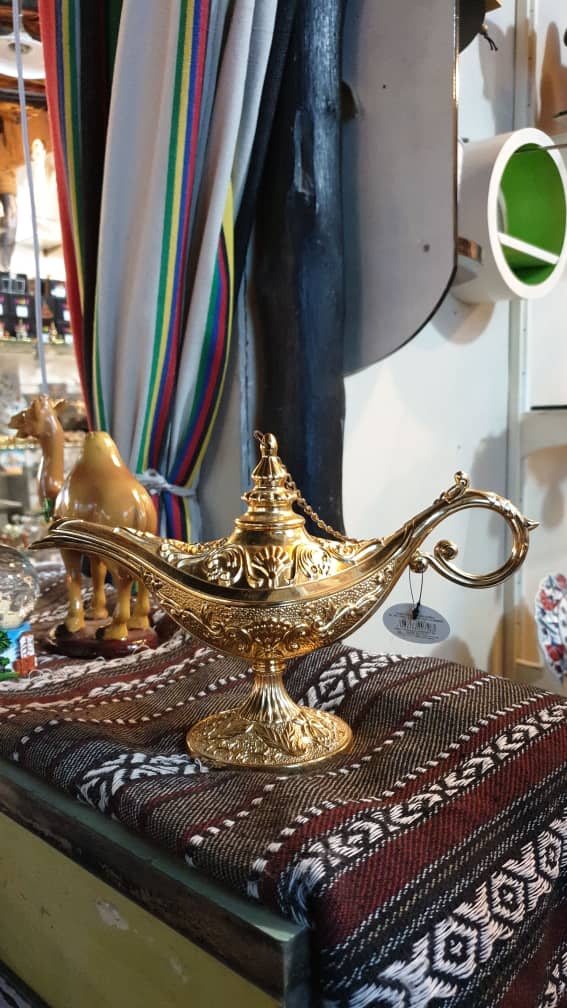 Photo Credit: Dan On The Road
Next to Souq Waqif is the Falcon Souk, a dedicated soul to the falconry heritage of the Arabs.
Falcons have been a part of the life and history of the Bedouins as these graceful birds were used to hunt prey. Nowadays, Qataris breed falcons for sport and a good stock can fetch up to USD 20,000! At the souk, you can browse stores selling falcon accessories and visit a falcon hospital. There's even dedicated place where falcons hang out while their owners shop around!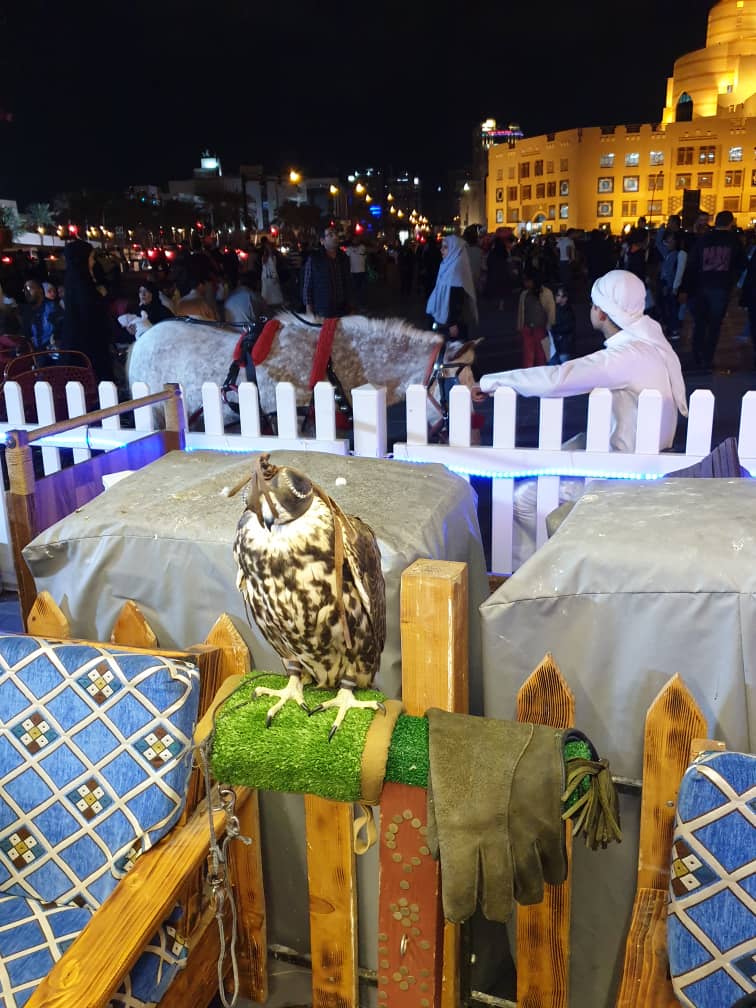 Photo Credit: Dan On The Road

5) Enrich Your Mind At Katara Cultural Village
KKatara Cultural Village is a curated centre that embodies both "cultural" and "village." It is a sprawling complex hosting revolving art galleries, an opera house, two distinct mosques and even an amphitheatre. You can wander around the village at any time of the day or even catch a live show or performance.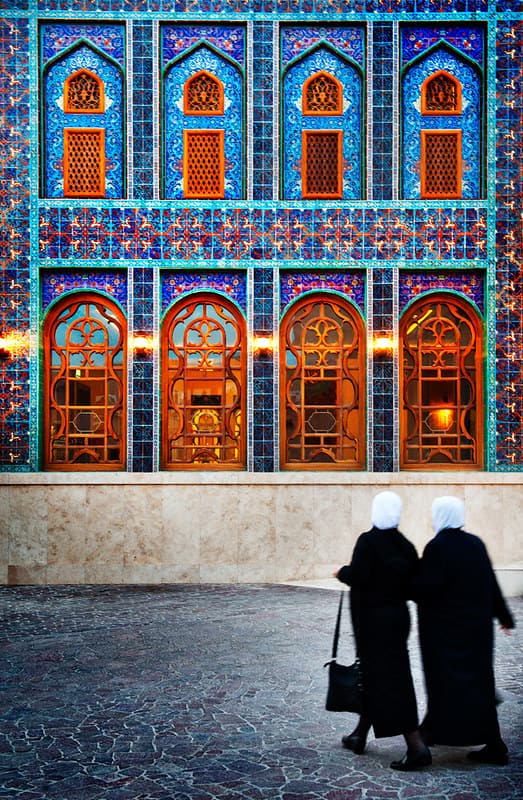 Photo Credit: Joe Chua Agdeppa (CC BY-SA 2.0)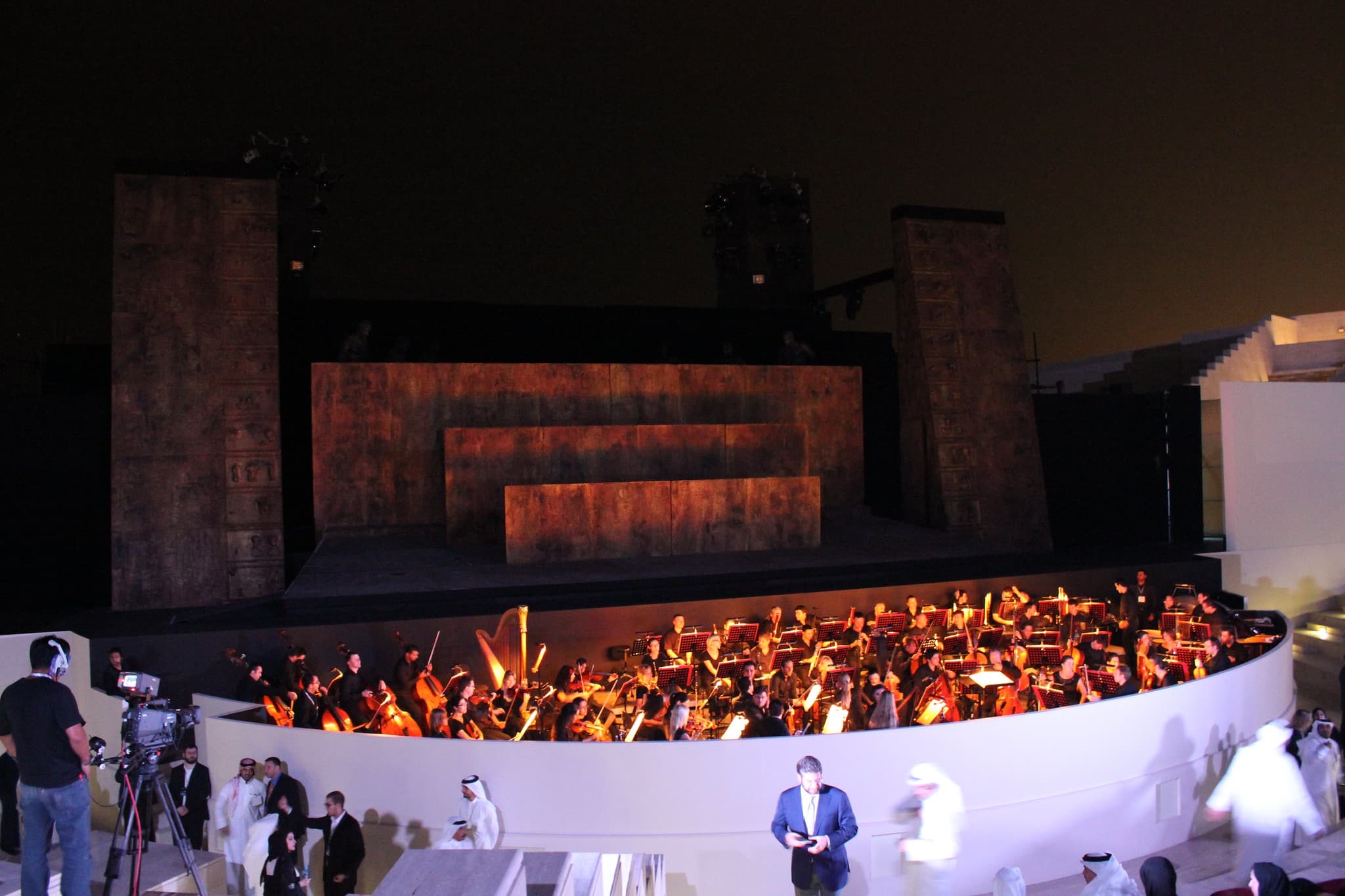 Photo Credit: Isabell Schulz (CC BY-SA 2.0)
Once you're done Insta-snapping your photos at the Katara Gardens and Masjid of Katara, relax the evening away at the Katara Beach. Family travellers rejoice! The beach has a whole host of activities like water sports, gondola ride and a dedicated section for children.

6) Indulge In Both Authentic and International Halal Cuisine
As a predominantly Muslim country, you can feast on all kinds of halal food worry-free. You can start with Alain Ducasse's IDAM that marries contemporary French Mediterranean with Arabic cuisine. Follow that up at Nozomi's Japanese infused European dishes and Hakkasan's dim sum delights.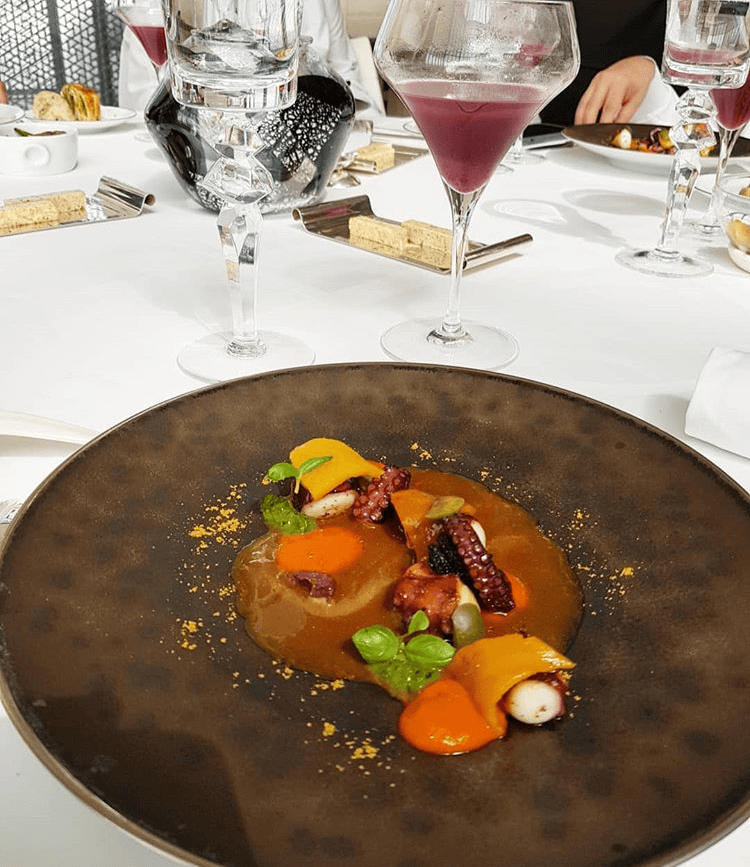 Photo Credit: @mjkalkuwari
If you crave local food, then start with a plate of Machboos! This spiced rice dish is cooked together with meat or seafood, onions and tomatoes to keep its strong flavour. Other well-known Qatari dishes are the rich and creamy Harees and sweet deep-fried dough balls Luqaimat. The best places to enjoy Qatari food are Al Jasra Traditional Food and Shay Al Shoomos in Souq Waqif or Al Mourjan Restaurant by the corniche.
That's the top six things to do in Qatar! Its embrace of both the traditional and modern makes this country a unique yet familiar place for Muslim travellers. So, if you're thinking about your next Muslim travel destination, then make Qatar top on your list.

Top 3 Hotel Recommendations in Qatar
Banana Island Resort by Anantara
Banana Island Resort by Anantara is a match made in heaven for honeymooners. You can opt for a luxurious stay in one of the 141 guest rooms, villa or bungalows.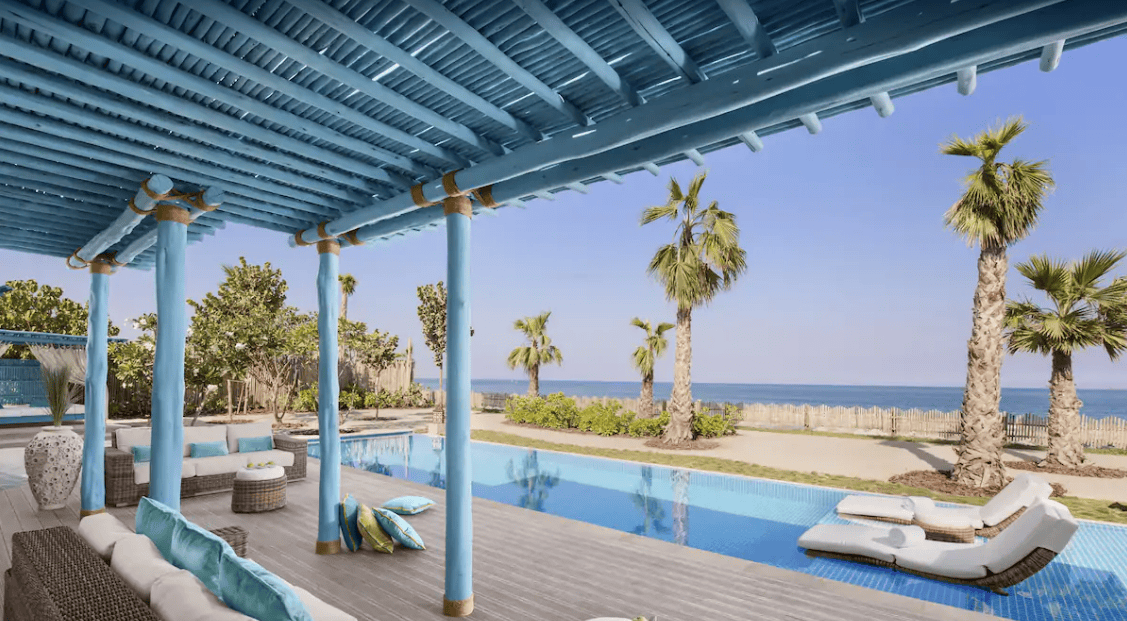 Photo Credit: Expedia
[button style='blue' icon="entypo-suitcase" url='https://www.expedia.com.sg/Doha-Hotels-Banana-Island-Resort-Doha-By-Anantara.h7428398.Hotel-Information' fullwidth='true'] Discover Banana Island Resort Doha [/button]
Movenpick Hotel Doha
Movenpick Hotel Doha has comfy rooms with a killer view of the Museum of Islamic Art and harbour. The hotel is close to the corniche so it also makes a good accommodation if you like to walk around the city.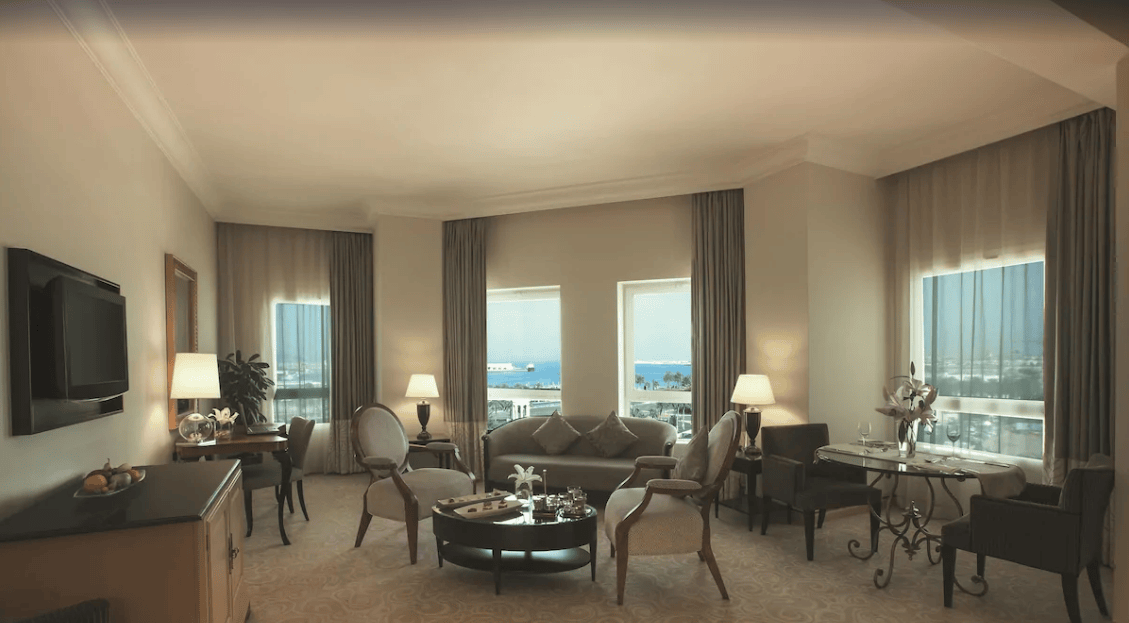 Photo Credit: Expedia
[button style='blue' icon="entypo-suitcase" url='https://www.expedia.com.my/Doha-Hotels-Movenpick-Hotel-Doha.h1587197.Hotel-Information' fullwidth='true'] Discover Movenpick Hotel Doha [/button]
Souq Waqif Boutique Hotel
Souq Waqif Boutique Hotel is for hardcore shoppers because this hassle-free hotel is right in the middle of Souq Waqif. It might get a bit busy and loud throughout the day but it sure is the right place for you to shop till you drop!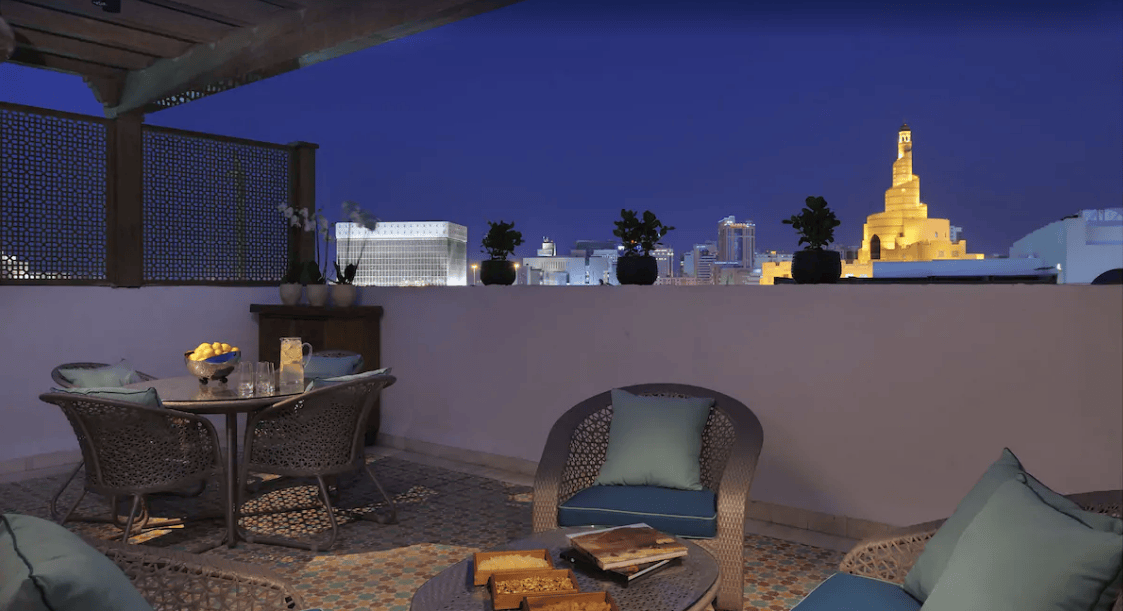 Photo Credit: Expedia
[button style='blue' icon="entypo-suitcase" url='https://www.expedia.com.my/Doha-Hotels-Souq-Waqif-Boutique-Hotels-By-Tivoli.h13563514.Hotel-Information' fullwidth='true'] Discover Souq Waqif Boutique Hotel Doha [/button]