By Expedia Team, on April 10, 2018
Best Areas to Stay in Bangkok
Bangkok is one of Southeast Asia's most vibrant cities, promising exciting and creative finds when it comes to food, nightlife, and shopping. The blend of hip new joints with the traditional charm of Thailand makes this city worth exploring time and time again. Looking for a hotel in Bangkok Thailand? Read on for a list of the five best neighbourhoods to stay when in the Thai capital.
Ideal for foodies on a budget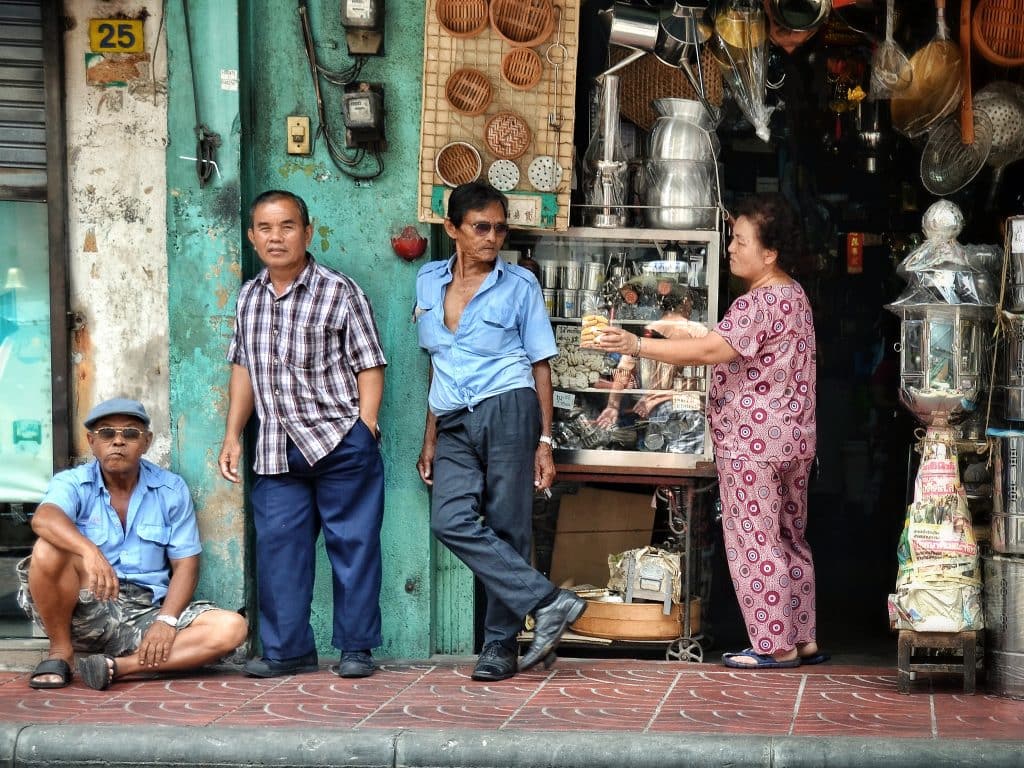 Pietro Motta/CC BY 2.0
Packed with vibrant energy, great shopping, and street food stalls, the streets of Chinatown are not to be missed when in Bangkok. The thriving Chinese population of Bangkok makes this part of the city one of the busiest and offers some of the most delicious streets eats you'll find in the city. Take to Yaowarat Road to stuff yourself silly with affordable dishes like tom yum pork noodles, Thai-style satay, and sweet fluffy bread buns stuffed with condensed milk.
Don't miss: If you're itching for a spot of shopping, hit Charoenkrung Road for gold and jade jewellery. For more gold and cultural finds, visit the Temple of the Golden Buddha further down the road.
Our pick: Grand China Hotel Bangkok – For a home in the heart of Chinatown. We love the hotel's well-appointed rooms that are spotless and comfortable.
Ideal for travellers in search of a slower, cultural Bangkok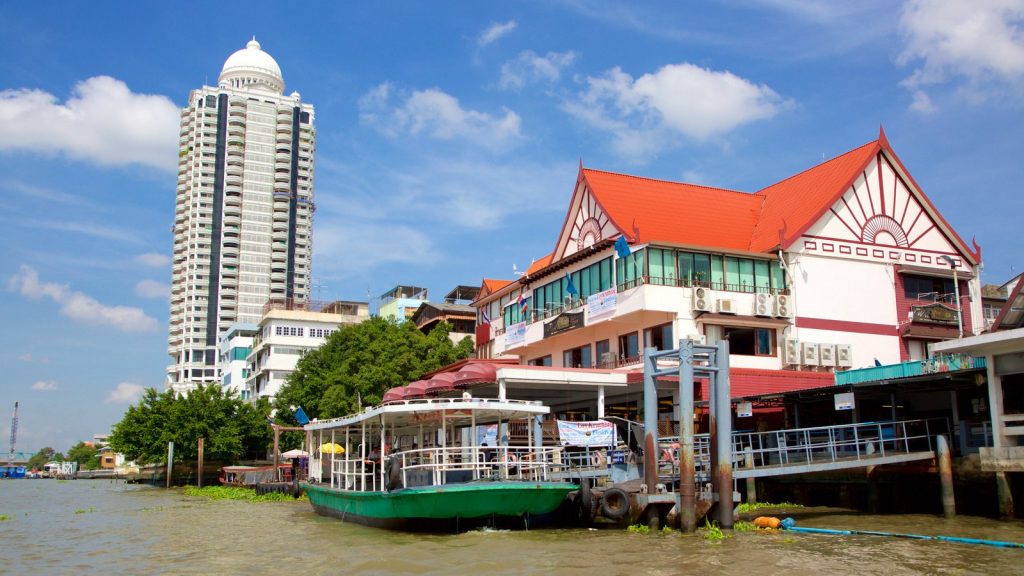 A little off the beaten track, Thonburi is one of those Bangkok districts that isn't swarming with tourists. Make like a local and take a boat to this area which is on the western side of the Chao Phraya River. It's here where you'll find cultural spots like places of worship and museums. Since there aren't as many tourists on this side of the river, you'll experience a more laid-back vibe, making it ideal for chilled-out explorers.
Don't miss: Wat Arun, also known as Temple of Dawn, is a beautiful riverside Buddhist temple that is one of the most famous in the city. Not for the squeamish is the Siriraj Medical Museum, or the Death Museum. This is where you'll find preserved corpses, skeletons, and other freaky finds spread over six museums.
Our pick: ZENNIQ – A lovely boutique hotel that provides a calm, zen-like space for those overwhelmed by this busy city. The best part? Each stay comes with a scrumptious Japanese-inspired breakfast for two.
Ari
Ideal for hip, energetic wanderers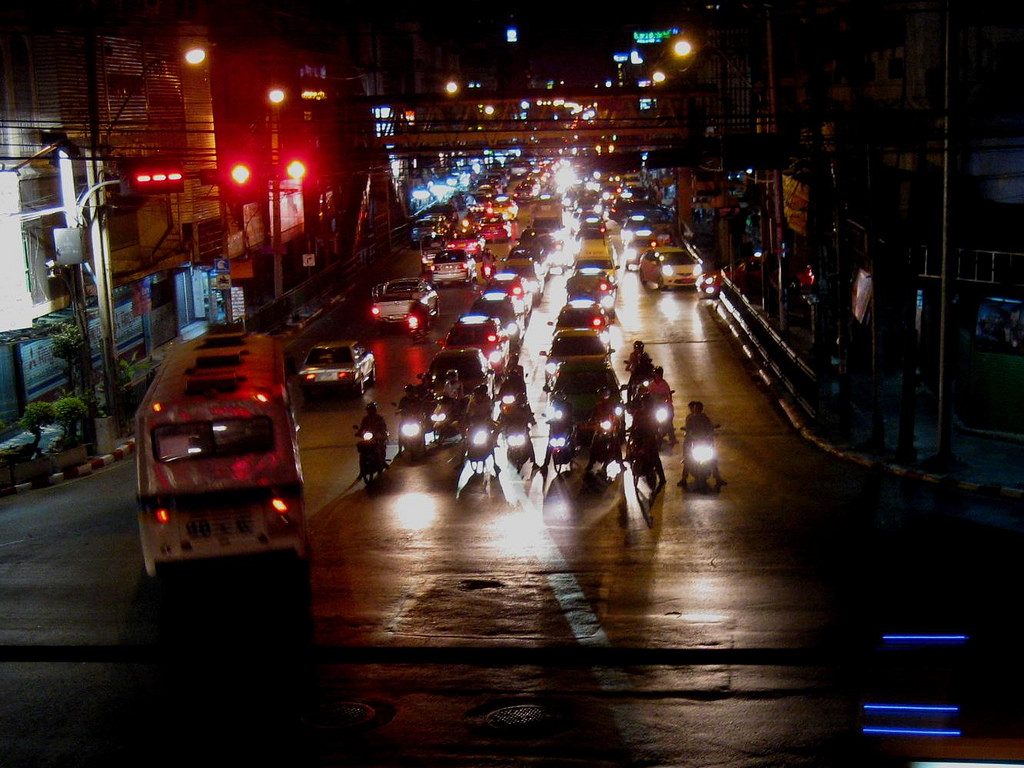 sweet_redbird / CC BY-SA 2.0
Ari, also known as Aree, is one of the most exciting neighbourhoods to watch in this ever-changing metropolis. This area has seen a quick growth of Instagram-worthy restaurants, cafes, and bars such as Tap Room, Rose Apple Cuisine, Fatbird, and Porcupine Cafe. Hip locals, trendy tourists, and expats alike swarm to Ari when in search of the hottest new spot for a cuppa or cocktail.
Don't miss: Apart from dining, shopping is excellent in Ari. La Villa Ari is an open-air mall that has fantastic shops that are reasonably priced. The complex of Aree Garden, on the other hand, houses several quirky finds like salons, cafes, shops, and more.
Our pick: The Yard Hostel – For budget-friendly dorm-style and private rooms. Cool common spaces and activities such as yoga and barbecue night.
Ideal for party-goers in search of excitement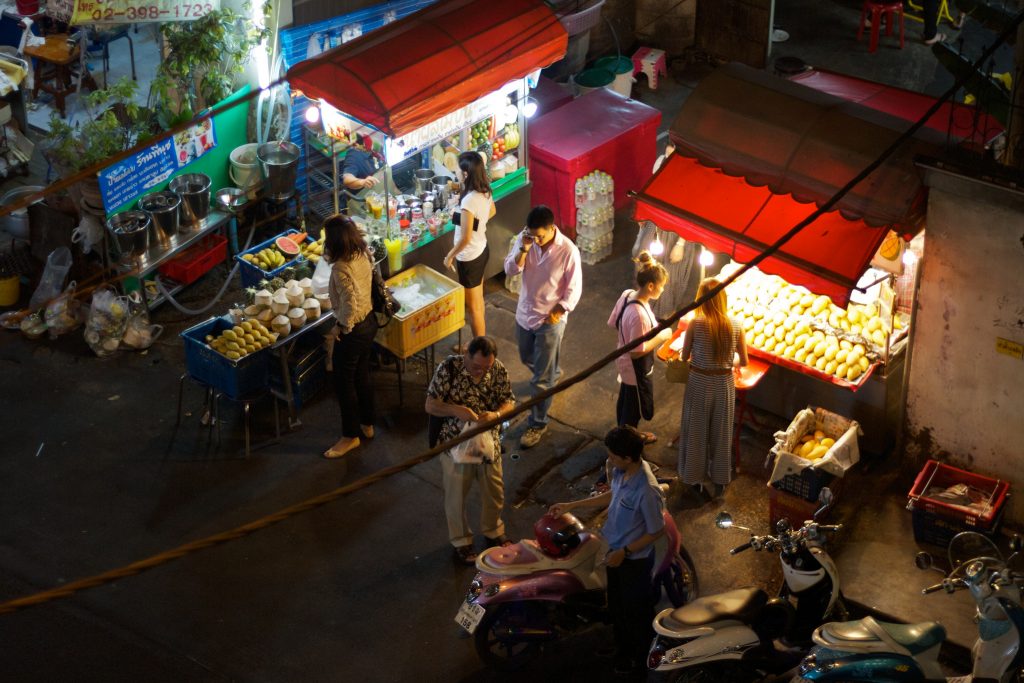 Johan Fantenberg / CC BY-SA 2.0
If you're looking to party it up until the sun comes up, choose to stay in Thonglor, the centre of all of the action. This part of town is known for its interesting mix of upscale restaurants as well as thumping clubs, rooftop bars, and lounges. Although there many Western-style outlets opening up in Thonglor, it's sprinkled in between traditional food stalls that beckon you in for a plate of phad thai.
Don't miss: Iron Fairies, a steampunk-esque bar that looks straight out of a Hollywood movie, serves up some of the best cocktails in town alongside live jazz performances. After you've had a few tipples, coat your tummy at Khao Jao or Supanniga Eating Room.
Our pick: Volve Hotel Bangkok – Offers all of the trimmings of a five-star hotel, such as a succulent breakfast spread and toiletries by Malin + Goetz, for much less.
Ideal for serious shoppers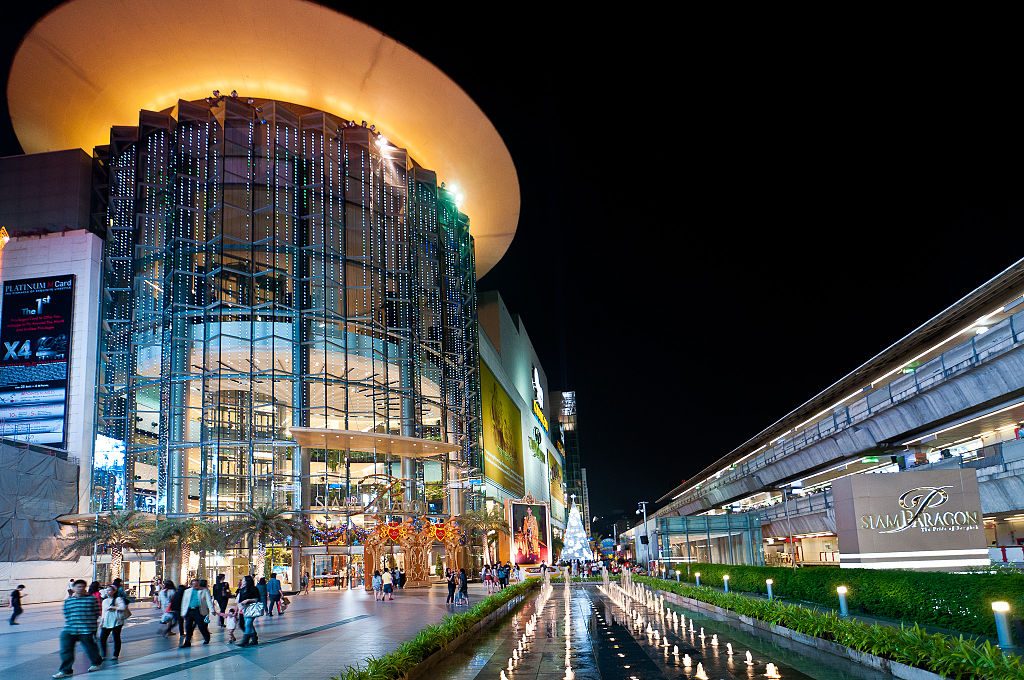 Mark Fischer / CC BY-SA 3.0
Pratunam is the place to visit when you're looking for variety and affordability in shopping. Although there are smaller vendors dotted around the neighbourhood, Pratunam Market is the largest clothing market in the entire country. It is indeed a must visit for anyone who is really serious about getting a good deal. Make sure to wear comfortable shoes for walking and haggle for your wares.
Don't miss: Platinum Fashion Mall offers an air-conditioned shopping experience so you can spend hours shopping away in comfort. Once you've shopped til you've dropped, grab a drink on top of the tallest building in Thailand, the Baiyoke Sky Hotel, where you can take in the city from 77 storeys above ground.
Our pick: The Berkeley Hotel Pratunam – For easy access to Platinum Mall Bangkok, Central World, Siam Paragon and more of Bangkok's best malls.