By Expedia Team, on December 20, 2018
Expedia Malaysia's 2018 Year in Review: Kuala Lumpur, Singapore and Bangkok are Top Cities Malaysians Travelled to in 2018
The travel report highlights top trending places, destinations, and accommodations Malaysians favoured this year.
As the year draws to a close and Malaysians start planning for the year ahead, we took a moment to look back on how Malaysians travelled in 2018.  Expedia.com.my analysed thousands of data points to identify the top travel trends for 2018, and the results show that Malaysian travellers love domestic travel and are partial to exploring the peninsular and beautiful islands. Highlights from the report include the rise for secondary local destinations like Penang, Langkawi, Kota Kinabalu, Kuching, Johor Bahru and a preference for non-traditional lodging options such as aparthotel and hostels.
Being in the business of helping people go places means that we get to see first-hand what's trending in travel, from the year's best hotels to up-and-coming destinations to put on your travel wish-list. From our various commissioned studies this year, we found that Malaysians are cost savvy but great planners when it comes to travel. They are also very family oriented and enjoy taking a couple of road trips in a year. What we enjoy doing most is being able to meet the needs of every kind of traveller and we strive to make it easy and affordable to find the perfect accommodation for any trip and bundle it with flights for even more savings.
Read on for more highlights from Expedia's 2018 Year in Review, including trending places, local and international destinations, as well as hotels Malaysians booked to stay at in 2018.
2018: The Year We Stayed Close to Home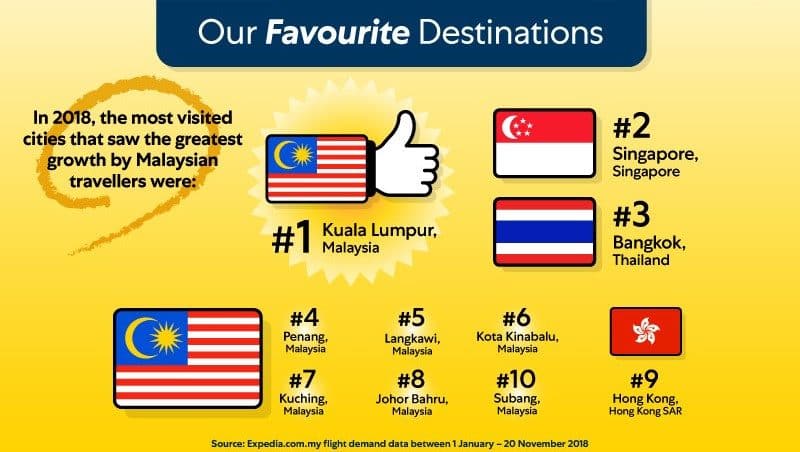 Expedia crunched flight data from 2018 to determine the top travel spots, and it was clear that Malaysian travellers are choosing to explore local destinations, which may not be surprising as Malaysia has a lot to offer – from adventure seekers to laid back sandy beaches- there is something for everybody.
While most of the noteworthy trending destinations for 2018 remain unchanged from 2016, our close neighbours also welcomed some of Malaysia's wanderlust travellers. These popular destinations garnered more than 50 percent growth year on year from 2017.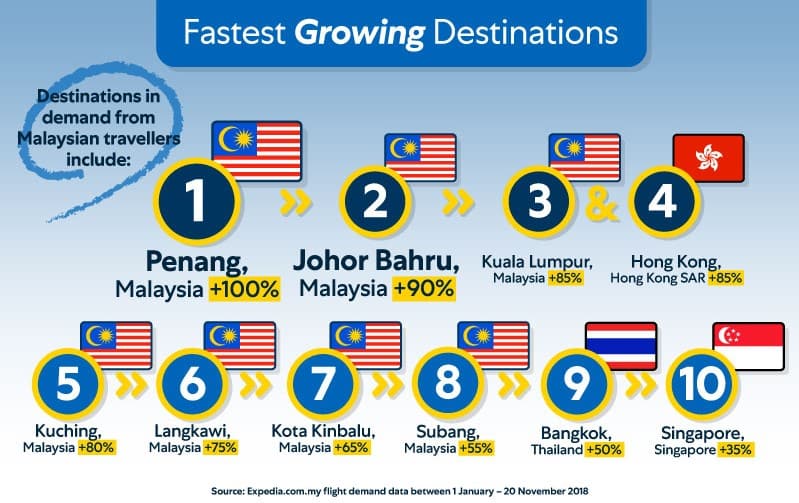 Kuala Lumpur, Malaysia: Kuala Lumpur (which means "muddy estuary") is simply known as KL to the locals and frequent visitors. The city has lots to offer and travellers can explore the city's heritage by going on a tour or even stay in some of the heritage hotels.
Singapore, Singapore: A vibrant metropolis and a city that never sleeps, Singapore boasts of activities for all ages and if you are into theme parks, Universal Studios Singapore is the place to be.
Bangkok, Thailand: What's there not to love here in Bangkok, you get yummy local cuisines, really good bargain deals on shopping, which also extend to amazing accommodations that don't burn a hole in your wallet.
Penang, Malaysia: When Malaysians visit to Penang, the first thing that comes to mind are the warm sandy beaches and really good, local hawker style food that is one gastronomical adventure.
Langkawi, Malaysia: Soar like an eagle with tax-free shopping in Langkawi! With all these duty-free shops around the island, it's easy to score some serious bargains. Perfect for hunting local souvenirs.
Kota Kinabalu, Malaysia: The state also known as the land below the wind. The beauty of flora and fauna can be found here and be amazed by the iconic nature landmarks such as the Mount Kinabalu. It is definitely a sight to behold!
Kuching, Malaysia: The mystical land of Borneo is renowned for its rare hornbills, and rainforests. As the gateway city to all that natural treasure, Kuching, Sarawak is a great place to start exploring Borneo.
Johor Bahru, Malaysia: Johor Bahru is a popular stopover city for Malaysians on the way to Singapore. Gear up foodies, for some truly delish food in JB, where the competitive food game is fierce enough to draw Singaporeans over.
Hong Kong, Hong Kong SAR: Hong Kong is a city that feels larger than life, with its skyscrapers, dense population, cultural scene and global influence. The city is home to 7.1 million people and hosts an eclectic mix of cultures and traditions. Since it only takes approximately 4 hours from KL to Hong Kong, it is no surprise that Hong Kong is another popular destination among Malaysians
Subang, Malaysia: The family-friendly attraction of Sunway Lagoon has long pulled crowds into Subang Jaya for quick weekend getaways. However, give this city more time and an open mind, and you'll find far more to explore. From shopping at mega malls and exploring miniature towns to savouring both experimental and traditional Malaysian cuisine, Subang Jaya proves to have something for all.
Other international destinations that Malaysians hopped on the plane for include: Taipei, Ho Chi Minh City, Phuket, Jakarta, Tokyo, Bali, and London.
Hotels continue to be top choice of accommodation for Malaysians with a growth of over 90 per cent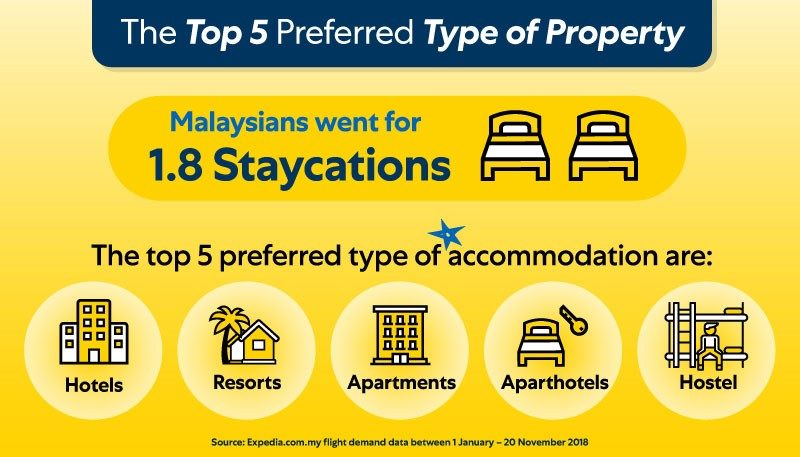 We looked at accommodation types that saw increased demand this year, and the results show travellers prefer the comfort of staying in a hotel or traditional resort, instead of roughing it out at other alternative lodging options. Despite the numerous long weekends and public holidays, Malaysians only stayed an average of 1.8 days at hotels. This could be due to the fact that most travellers from Malaysia tend to travel with their family or with young children and could do without the extra hassle.
Expedia's flight data confirms that travelling ahead of the holidays is bound to be hectic. However, the least busy travel days of the year also falls around the holidays and as for Malaysians, the most popular booking month is on December and the least popular booking month is May.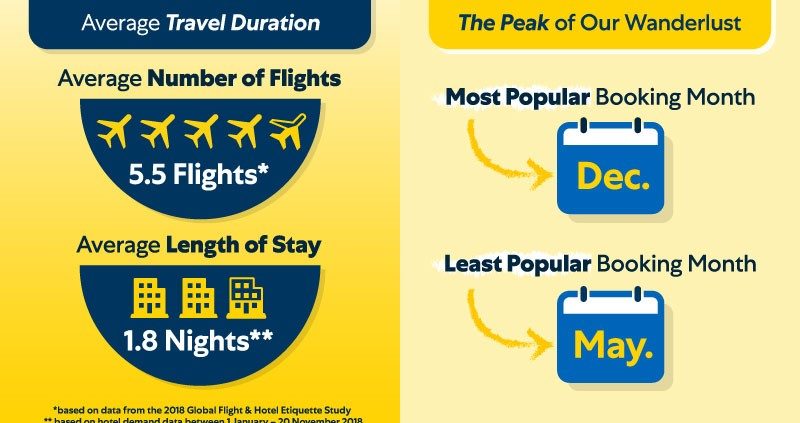 The Top 5 hotel properties in Malaysia we enjoyed staying most according to the report are: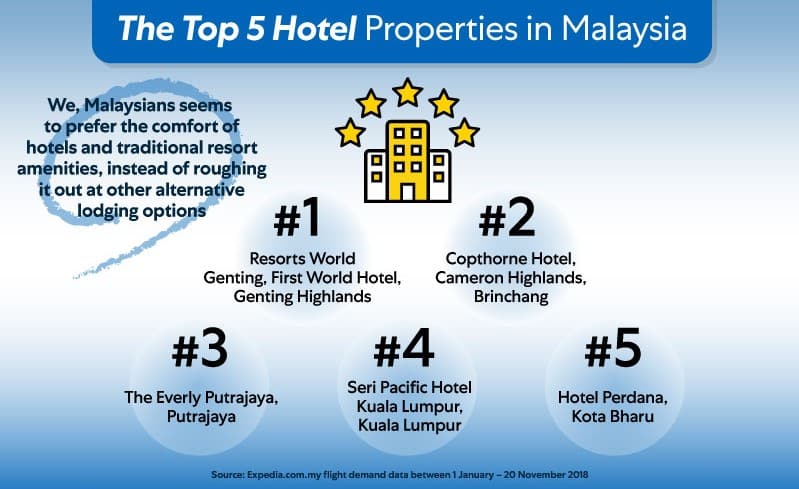 If you want to experience these properties next year, beat other Malaysians to it by booking through Expedia's mobile app – simply because it give you extra mobile-only discounts for hotels, and you can double your Expedia Reward points.
So, what's on your travel wish-list for 2019? Need some inspiration? Check out our Expedia Travel Blog for some travel inspiration, tips and more!