By Expedia Team, on May 12, 2015
48 Hours Itinerary: What to do in Singapore
In this sleek city-state, there's something new to discover at every turn. 48 hours of strategic navigation in Singapore will take you from a stunning skyscraper skyline, to colourfully vibrant culture, then quiet serenity in carefully cultivated nature and of course, the best part, unbeatable local cuisine – all of which will have you wanting more for your next visit! Here's our pick of the top things to do in Singapore over a 2 or 3 day itinerary, a great way to enjoy a short weekend getaway outside Malaysia.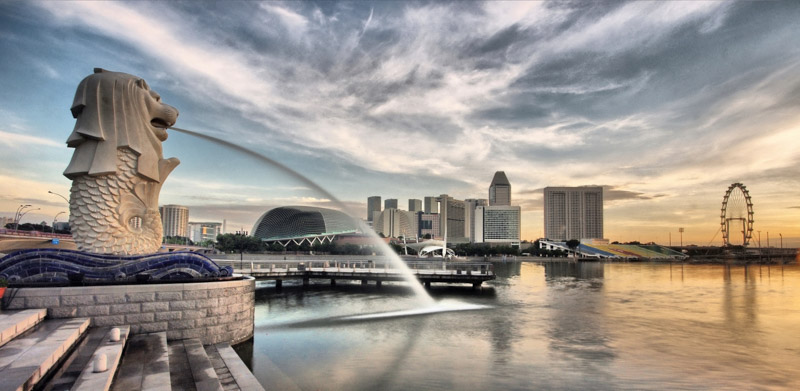 Where to Stay in Singapore
Step one involves picking your bedside view. Will it be the city skyline looking out from a Singaporean icon or coastal luxury in Sentosa?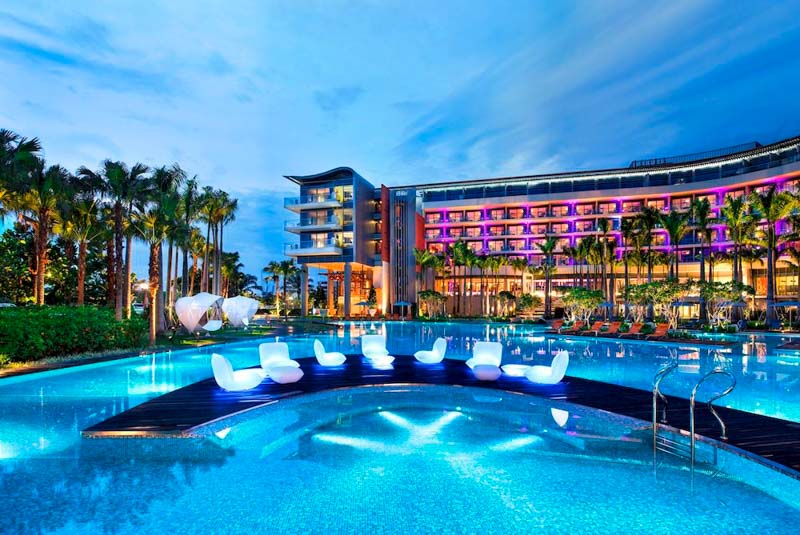 W Hotel Sentosa Cove
Prefer a quirky boutique hotel in a quaint shophouses? Luxury amidst old-world colonial charm? Or a friendly budget room set in a charming cultural enclave?
Your hotel choice is important. Like Malaysia, it gets pretty hot out there. When you're playing full-time tourist out and about in the sun all day exploring Singapore, you will want a comfortable hotel room to come back to and flop in the bed with the aircon at full blast working its magic. So take your time to find your Singapore hotel that you find most welcoming.
The small land size and efficient MRT and Singapore bus transport networks mean that no matter where you choose, you'll be able to travel around Singapore easily and pretty quickly. So location is not much to debate over unless you plan to nip quick naps in the middle of the day. In general, it's a good to idea to pick an interesting hotel in Singapore with a pool, comfy beds and a good view will go a long way.
[button style='blue' url='https://www.expedia.com.my/Singapore-Hotels.d180027.Travel-Guide-Hotels' icon='entypo-suitcase' fullwidth='true'] Find your hotel in Singapore[/button]
[one_third] [button style='blue' url='https://www.expedia.com.my/Singapore-Hotels-Boutique-Hotels.0-0-d180027-tBoutiqueHotels.Travel-Guide-Filter-Hotels' icon='entypo-suitcase' fullwidth='true']Boutique Hotels[/button]
[/one_third]
[one_third] [button style='blue' url='https://www.expedia.com.my/Sentosa-Island-Singapore-Hotels.0-n6047875-0.Travel-Guide-Filter-Hotels' icon='entypo-suitcase' fullwidth='true']Sentosa Beach Hotels[/button] [/one_third]
[one_third_last]
[one_third] [button style='blue' url='https://www.expedia.com.my/3Star-Singapore-Hotels.s30-0-d180027.Travel-Guide-Filter-Hotels' icon='entypo-suitcase' fullwidth='true']Budget Hotels[/button][/one_third_last]
Things to do in Singapore – Itinerary

Breakfast at Maxwell Road Hawker Centre
Singapore food is mouth-wateringly good and with such great variety. If you're not staying in a hotel with a breakfast buffet or brunch buffet, head out to Maxwell Road Hawker Centre for a Singapore style breakfast.
CC2.0 via Flickr
Come with an empty stomach and leave with a belly full of satisfaction. What to eat for breakfast in Singapore? A simple but satisfying breakfast is a cup of inexpensive kopi, kaya toast and soft boiled eggs with a dash of soy sauce and pepper.
For a little bit of spice in the morning, go for the familiar roti prata. Need something more filling that serves as brunch? Order a hearty place of Nasi Lemak or Carrot Cake.
Wash it all down with a hot kopi. Thick, strong coffee sweetened with condensed milk and sugar. Take it away in a plastic bag and sip as you start your day checking off the top things to do in Singapore.
Visit Chinatown Singapore for Religion and Philosophy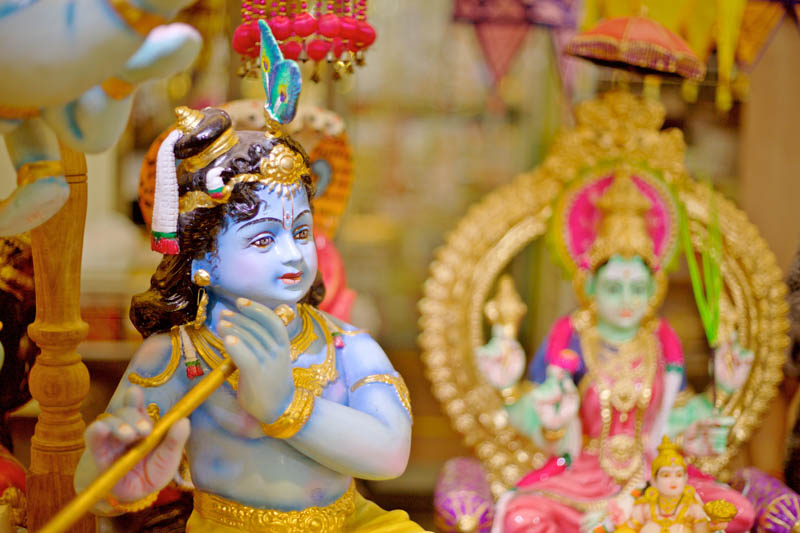 Now to fend off that impending food coma! Chinatown's just round the corner from Maxwell. Take a stroll down and you'll discover traditional Chinese medicine, interesting alleyways and of course, local Chinese delicacies. Lots of Chinese kuih, tarts, bubble tea and bak kwa – a sweetly charred barbecued pork.
Wander on towards the Buddha Tooth Relic Temple and Museum to explore a little on East Asian beliefs and philosophy.
A few streets further down is the oldest Hindu temple in Singapore, Sri Mariamman Temple. If you've never been to a Hindu temple, leave your shoes at the door and walk into this one for a interesting glimpse at the rich Indian and Hindu culture. Not too different from Malaysia but sometimes having the tourist goggles on helps.
Lunch – Enjoy Singapore Fish Head Curry in Little India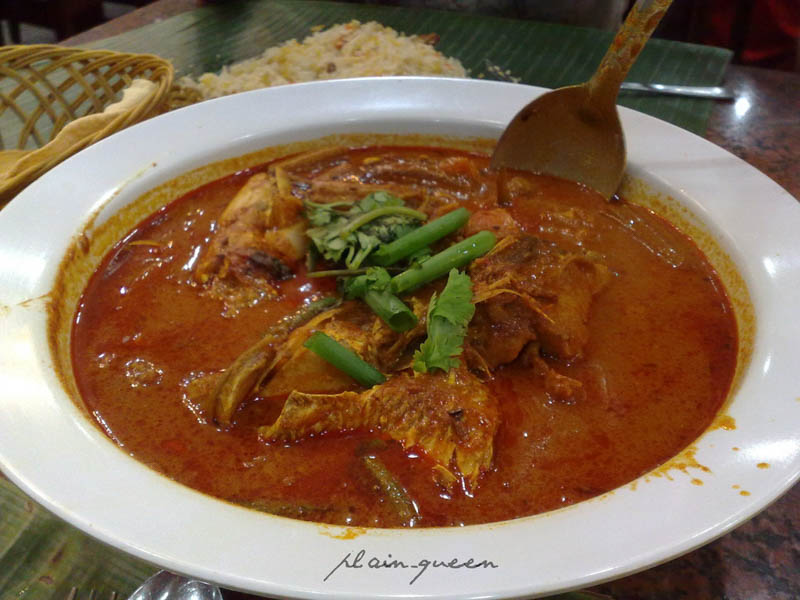 CC2.0 / Biyu Lau
The cultural exploration continues in Little India, where the air is thick with sights, sounds and smells – mainly of fragrant spices and jasmine flowers from the produce and garland shops dotting the alleys. Quite unlike the rest of Singapore, Little India really holds true to the cultural roots from India and is frequented by a lively community of local Indians and India nationals alike. An authentic experience.
Muthu's Curry or Banana Leaf Apollo are well-known for their spicy, aromatic fish head curry. It might sound counterproductive, but the signature dish is a local favourite that will have you sweating off the hot humidity. Wash it down with some delicious Chai tea, Indian coffee or Mango Lassi.
Up the hip quotient – Chill in Singapore's hipster enclave, Haji Lane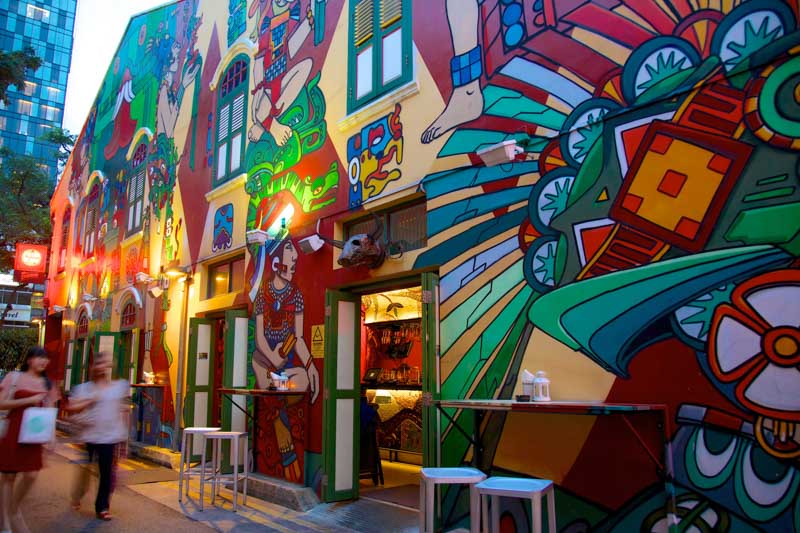 Make your way down to Haji Lane to stroll through even more alleyways. Intricate carpets, Persian tea and Arabian perfumes add a touch of the exotic amidst the rows of hip, on-trend clothing and furniture boutiques, cafes and bars.
I would count this as one of the top places to visit in Singapore. In this area surrounding Arab Street, you'll find within the graffiti-decorated walls: Turkish restaurants, cosy bars with live music, lots of halal restaurants where you sit on mats on the floor, hipster cafes, hipster bicycle shops, Swedish Fika cafe, indie fashion shops… There's even a Victorian-inspired barbershop – Hounds of the Baskervilles – just in case you want a spiffy new look to go. Quite the variety! And nothing over-polished (like you find in majority of malls).
It's also a great spot for Muslim travellers from Malaysia who enjoy delicious halal food from Turkey and other parts of the world. Arab Street is the right place to sample halal Mediterranean food in a delightful array of flavours.
In true Singapore style, there's a whole variety in this space — bars one street over, halal restaurants on this stretch, and the golden masjid gleaming at the end of Arab Street.
Sunset by the Bay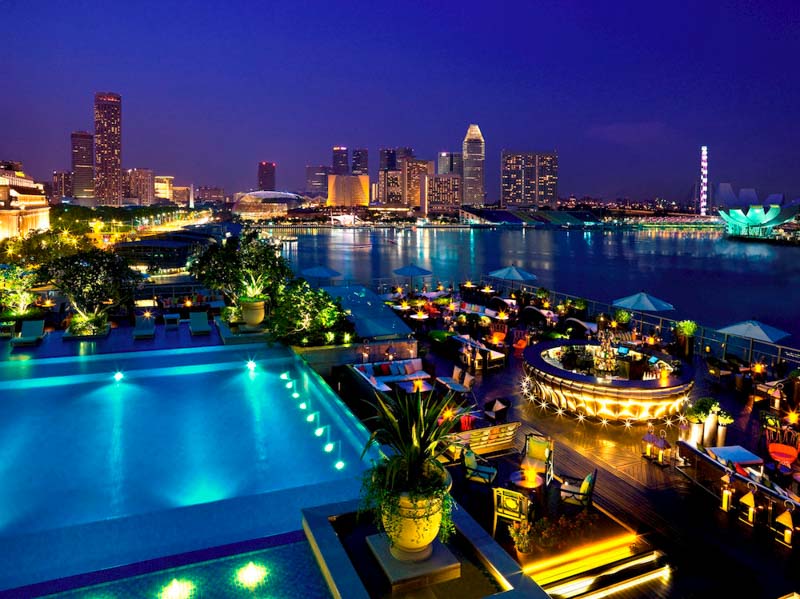 Slip back into the modern cityscape at One Fullerton, where the view is as iconic as it gets: The durian-topped Esplanade and Merlion to your left; Marina Bay Sands before you; the CBD skyscrapers to your right. Sip a little cocktail or refreshing juice at one of the lovely restaurants or bars outdoors around Fullerton, and watch the sun set over the Singapore city skyline. This is a must-do on any Singapore itinerary.
You can watch the light show every evening from any spot in this area facing Marina Bay Sands, or visit Gardens by the Bay for a different light show. It reminds me a little of Avatar and I much prefer this one, although the MBS light show is generally more popular. It's also a must-do to go up Marina Bay Sands to have a drink or just take some pictures from atop the 'boat' sitting on the 3 iconic towers.
For a luxe sundown, rooftop bar Lantern at the Fullerton Bay Hotel offers sweeping open-air views. For a more sedate experience head downstairs to The Clifford Pier. Both have quite a bit of Singapore history in their walls.
Dinner in Singapore at Celebrity Chef Restaurants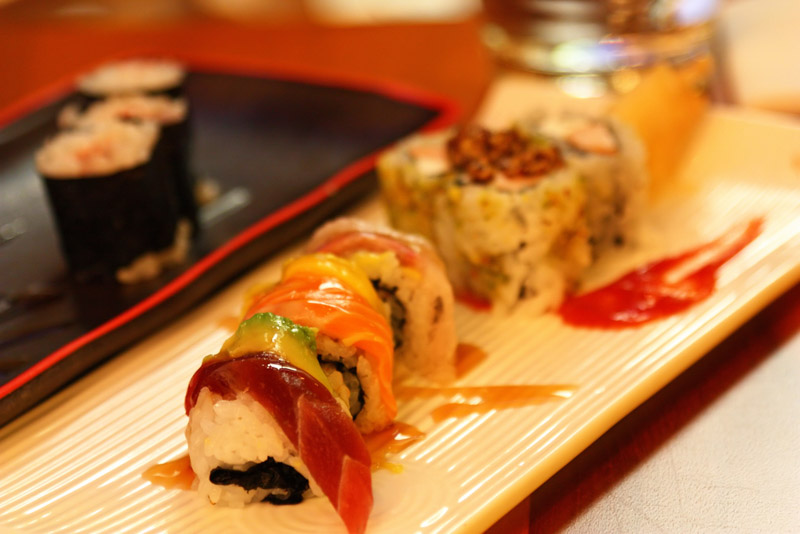 CC2.0 / Wenjie, Zhang
Michelin star chefs have staked their presence in Singapore, so head on into Marina Bay Sands for dinner! Daniel Boulud, and Tetsuya Wakuda are just some of the culinary superstars with an outpost here. Then there's the Marina Bay rooftop infinity pool. Only guests can take a dip, but anyone can take advantage of the amazing photo-op. Head up to Ku De Ta for a drink and snap a few snapshots that make a great keepsake.
There are of course plenty of other amazing restaurants dotted around Singapore if you're not up for the full course in MBS.
Drinks – Orgo's at the Esplanade
Yet another rooftop bar, this time atop the Esplanade theatres. Orgo's is renowned for its award-winning martinis – a chocolate spiked with a touch of fiery chilli!
There are several other bars around Esplanade that offer a nice outdoors experience as evening falls in the Singapore cityscape.
Orgo
Party – Pangea, Overeasy
For anyone who likes a party, nightlife in the city will feature prominently on your 2 day Singapore itinerary – and it won't disappoint. Butterfactory was a hot club with large glass panels looking out over the Fullerton Bay. Unfortunately it closed in early 2015, but there are several other nightclubs in the area for you to work your dancing shoes.
Pangea is one. It attracts a more high-end clientele, with tables going for $1,000 upwards. If you'd rather just mingle without the party people, Overeasy offers a more chilled-out vibe. Alternatively, head to 1-Altitude, Me@OUE or Zafferano's for a party at higher altitudes. All have epic views over Singapore's CBD skyscrapers and glittering city below.
If you prefer to dance or enjoy more of a bar/pub atmosphere, head down to nearby Clarke Quay or Boat Quay for a whole host of options as this is the heart of Singapore nightlife.
Brunch at Dempsey Hill
Sleep in and wake up to brunch in the lush greenery of Dempsey Hill, where you'll feel worlds away from the concrete and sky-high buildings. So many relaxing, scrumptious and classy brunch spots to choose from: PS Café is shrouded in glorious fauna; the White Rabbit is a former chapel that retains all of its stained-glass charm.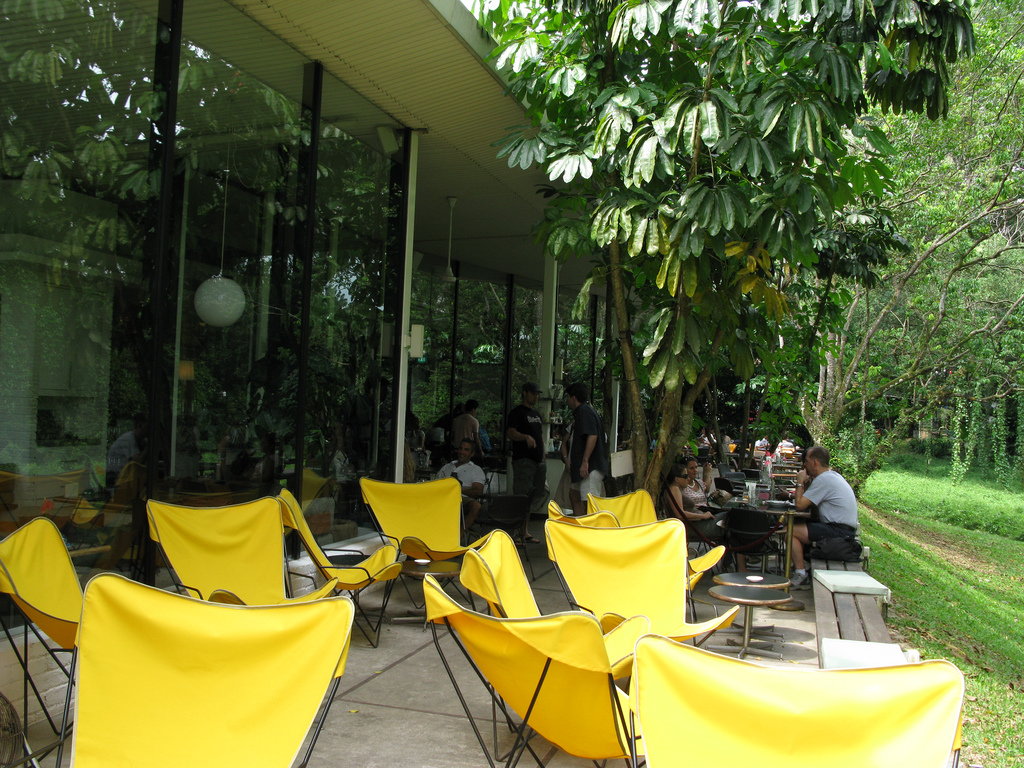 P.S. Cafe Dempsey Hill
Tip: Beauty Emporium (located above House restaurant) houses Spa Esprit, where the Back to Balance massage is an indulgent aromatherapy-based treat.
A Garden in the Cloud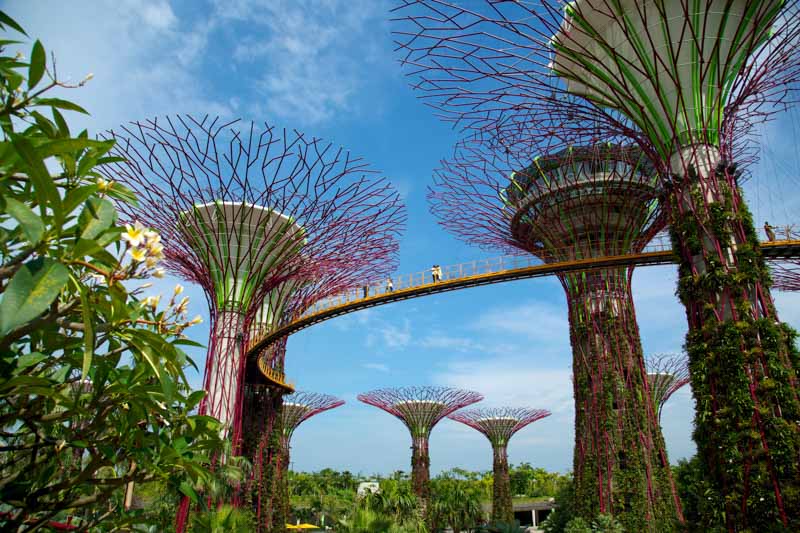 From nature, to nurture – Gardens by the Bay is an entirely man-made garden concept that puts some of the prettiest flora on display (who would expect tulips in Southeast Asia?). Reminiscent of the scenes from Avatar, these futuristic gardens give you a chance to appreciate rare plants that only grow in high altitudes.
Cloud Forest is cool conservatory with mountainous plants and the world's largest indoor waterfall. Quite the unique experience, learning about the biodiversity in these mountainous landscapes. Flower Dome is about the cool-dry climate of the Mediterranean, with plants and colourful flowers unique to that region.
It may sound a bit intense, but it really is quite a lovely experience with beautiful flowers, walking above the green canopies, mist in the air… Highly recommended.
Shopping – Orchard Road
What's Singapore without shopping?
If you have a taste for the truly luxurious, right across the Gardens is the Marina Bay Sands where you can shop some of the biggest brands. Shopping here is an experience. The Louis Vuitton store in particular is an experience in itself, housed in a floating crystal pavilion, designed to replicate the experience of being on board a yacht. The outdoor deck area is fabulous, as is the gallery leading up to the store inside the mall. There's zero cheap shopping here, it's all about the glitz and glamour of big luxury brands and the leaders of the fashion world, so pack those credit cards fully loaded.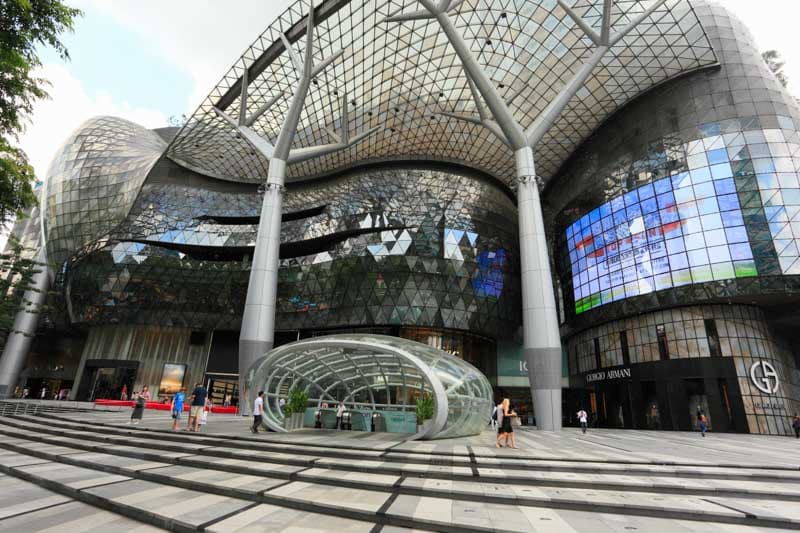 ION Orchard / Alamy
The most popular shopping boulevard though, is Orchard Road — a long time favourite on the list of things to do in Singapore. You can go Gucci, Louis Vuitton, Prada as well here. But next to that there's endless options, whether you want to do some really shopping in Singapore or go for affordable but stylish mid-range brands like Zara, Topshop, Guess,  Massimo Dutti, Salvatore Ferragamo. Walk down Orchard Road to Somerset and there will be plenty of malls to choose from. Ngee Ann City, Ion Orchard, 313@Somerset are some popular ones.
For the affordable no-brand clothing we love in Asia and endless options of very affordable accessories, Far East Plaza is good one to check out. If you're attending a fancy dress party, this is the place to get your costume and knick knacks.
Afternoon tea at Capella Singapore
Making time for afternoon tea on your Singapore itinerary equals true pampering. Take it to the next level by enjoying your spread at Capella Singapore, where you can choose between an English spread (scones and bite-sized delectables) or freshly steamed dim sum baskets with a view of the Sentosa shoreline.
Those with a sweet tooth – if you like gelato, Note Di Silica at Sentosa Cove is worth the effort getting there.
If you're a fan of the beach atmosphere, book your hotel on Sentosa Island and enjoy all the activities and attractions in that area. Take the kids to Universal Studios Singapore, visit Underwater World or the S.E.A. Aquarium, ride the luge or simply lie on the beach with a couple of summer cocktails.
Wind down at Robertson Quay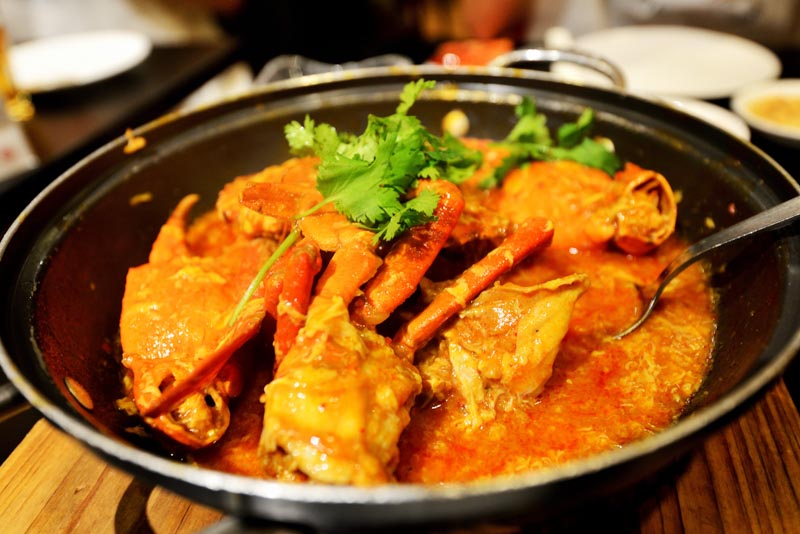 It's all coming to an end now. If you're not staying in Sentosa, head back into the city and take a stroll down the Singapore River and savour the remainder of your time left at Robertson Quay, where restaurants and bars serve up a laidback vibe and smooth-flowing food and drinks. Lots of great restaurants here for a little wine and dine. Chilli crab, Thai food, Australian steak… plenty to choose from.
If you've got a bit of merry-making left yet, Ann Siang Hill is not far off. Hop in a cab and head to Ann Siang or Club Street to check out the fun cocktail bars and a cheery crowd ready to welcome you into the night. Taper off your 48 hours in Singapore with a lovely dining experience at one of the Ann Siang Hill restaurants or make a big party of the night with the crowd spilling onto the streets with beer in hand.
What are your favourite places to visit in Singapore? Share your tips with other travellers in the comments below!