By Expedia Team, on February 7, 2020
Travel Guide to Ireland: Things to Do in Belfast
Though Belfast is Ireland's second-largest city in Ireland, it isn't a popular travel destination. Having been long linked to conflict and the ill-fated Titanic, it can be hard imagining the fun things one could do in Belfast.
Lately, though, it's been picking up in popularity all thanks to having years of peace in recent times and its appearance as a filming location in the popular Game of Thrones movie. The world is now seeing that the previously troubled city has transformed angsty to artistic and problem to party.
If you have Belfast pinned on your next trip to Ireland, we have compiled some of the best things to do in Belfast. Follow this guide and you'll definitely get the most out of this up-and-coming destination!
Things to do in Belfast

Do a Game of Thrones film location tour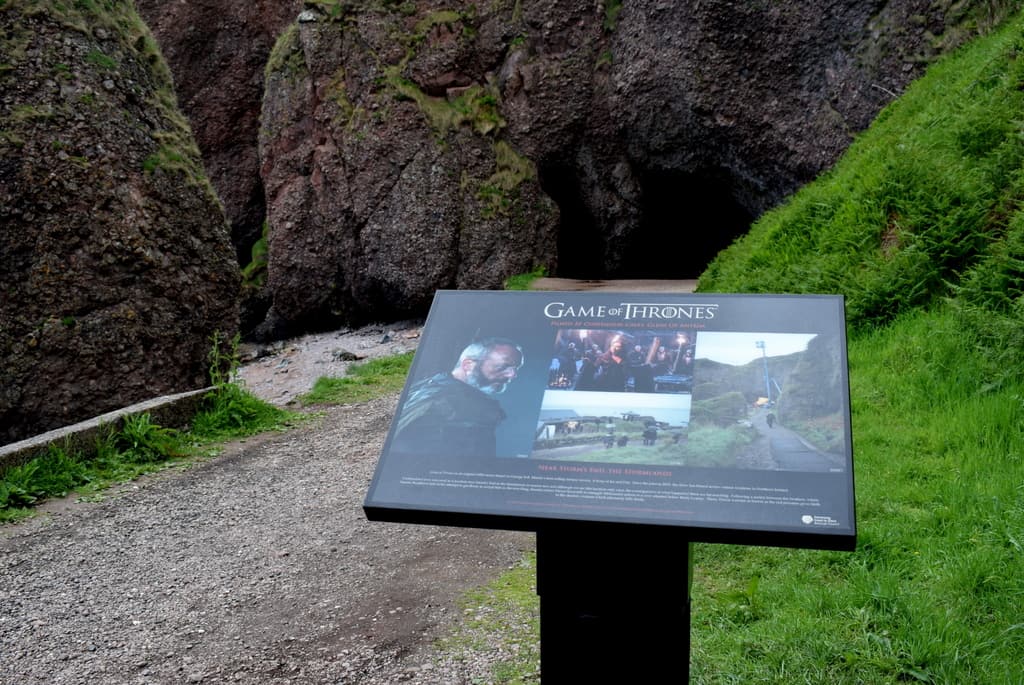 As the main filming location of Game of Thrones, the show has done to Northern Ireland what Lord of the Rings did to New Zealand. Locations such as the creepy cave where Melisandre gave birth to a demon or the imposing walls of Winterfell can be found at Belfast.
It's a good idea to join a locally-operated television tour here because some of the locations would otherwise look like a regular field. Plus, they give you great advice on access and details on the featured scenes. But some sights, like the incredible beech tree tunnel which forms the Dark Hedges, are stunning in their own right. At locations in Castle Ward, you can even meet the actual dogs used as dire wolves!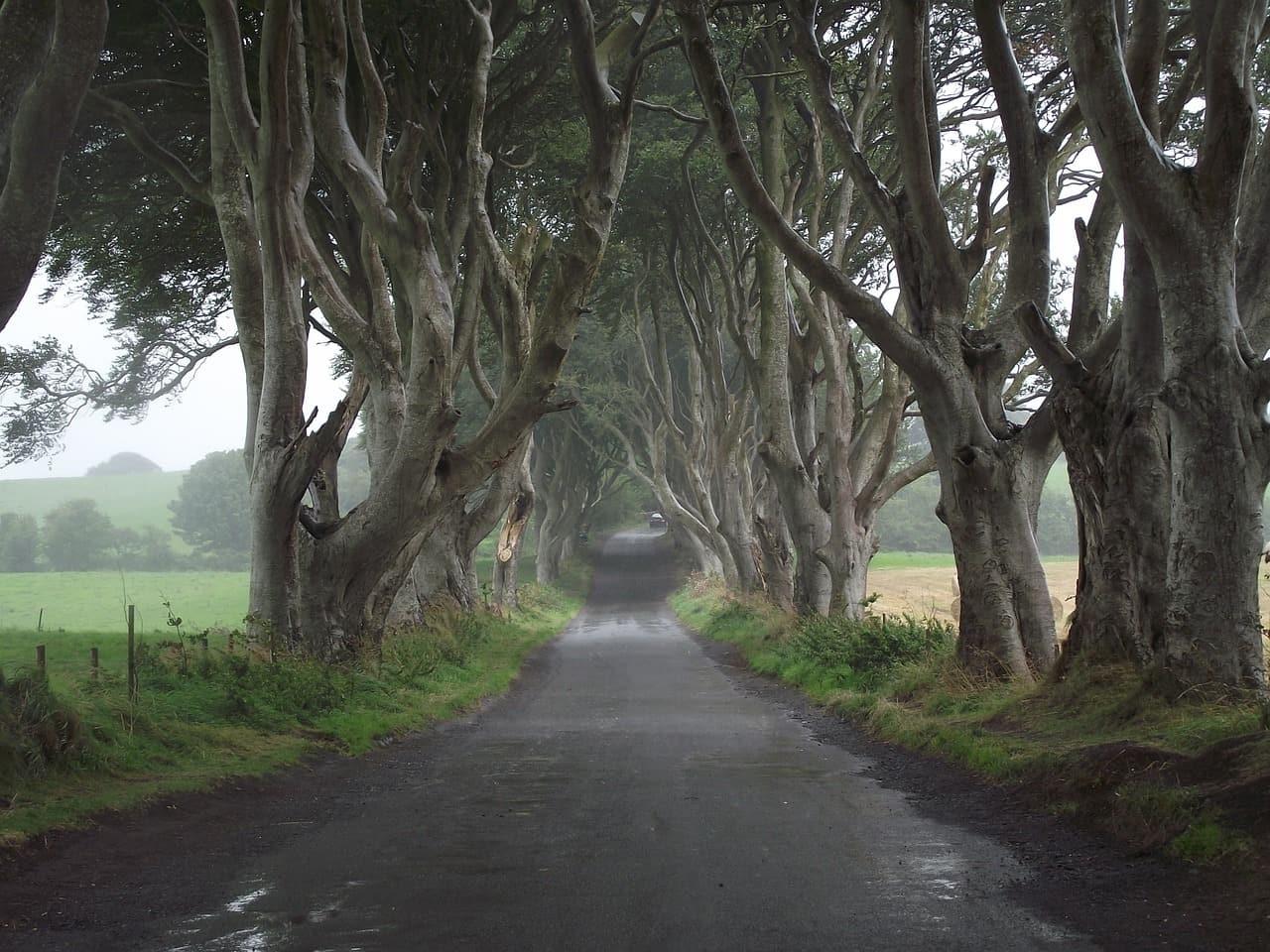 The locations also line up nicely as a lead-up to The Giant's Causeway, so you might as well fill up your one day's worth of travel time with some Westeros magic.
Relive the stories at Titanic Belfast
The impact couldn't have been any bigger. It was a headline event that started as an achievement that soon became a tragedy. At the site where The Titanic was once built, now stands Titanic Belfast.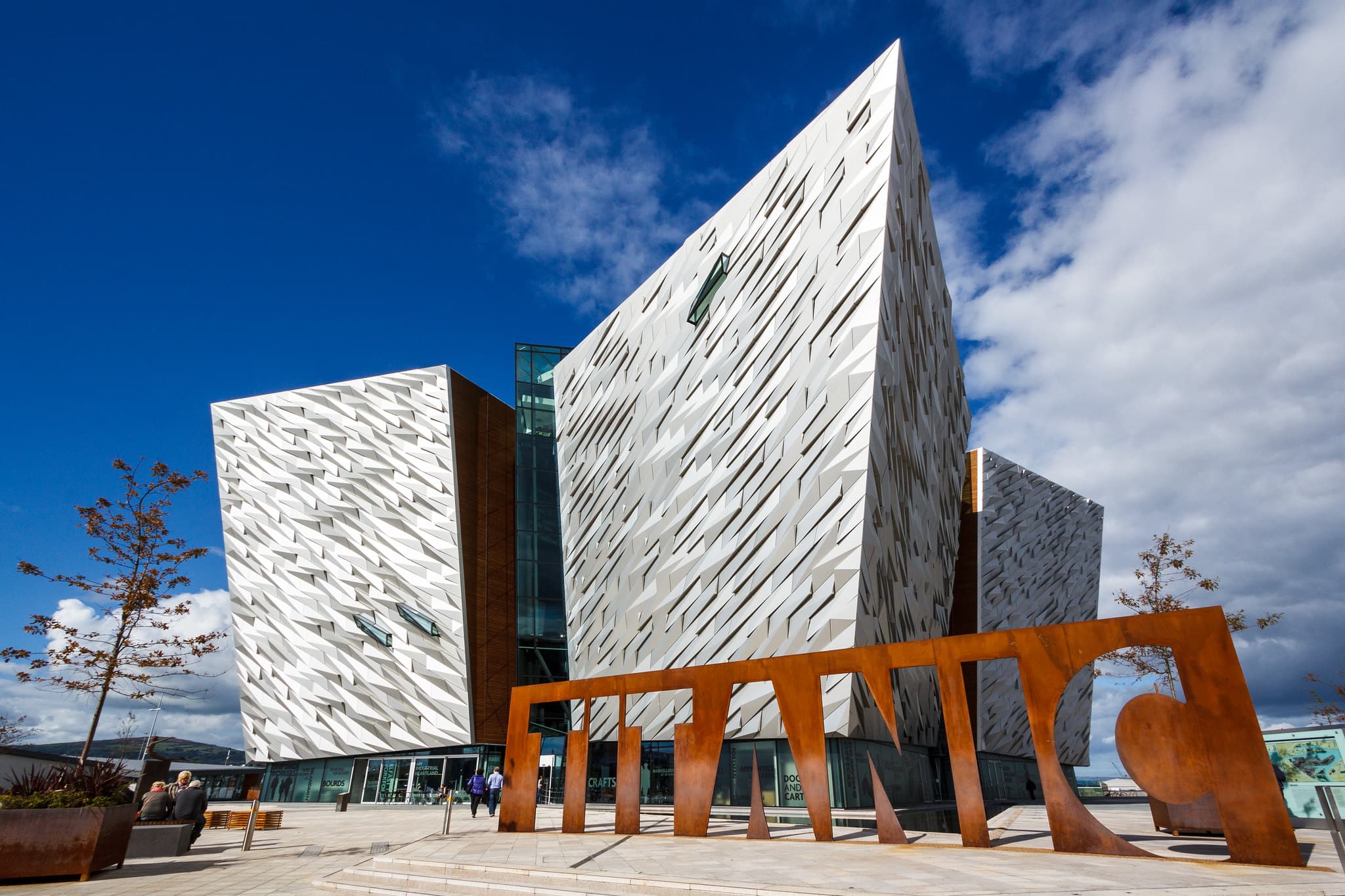 The museum was built in 2012 on the centenary of the sunken vessel and showcases Belfast's ship-building history along with an incredible record of Titanic's journey, demise, and records. The building itself is of bold design and looks like the White Star Line logo from the top and bows of four ships from the sides.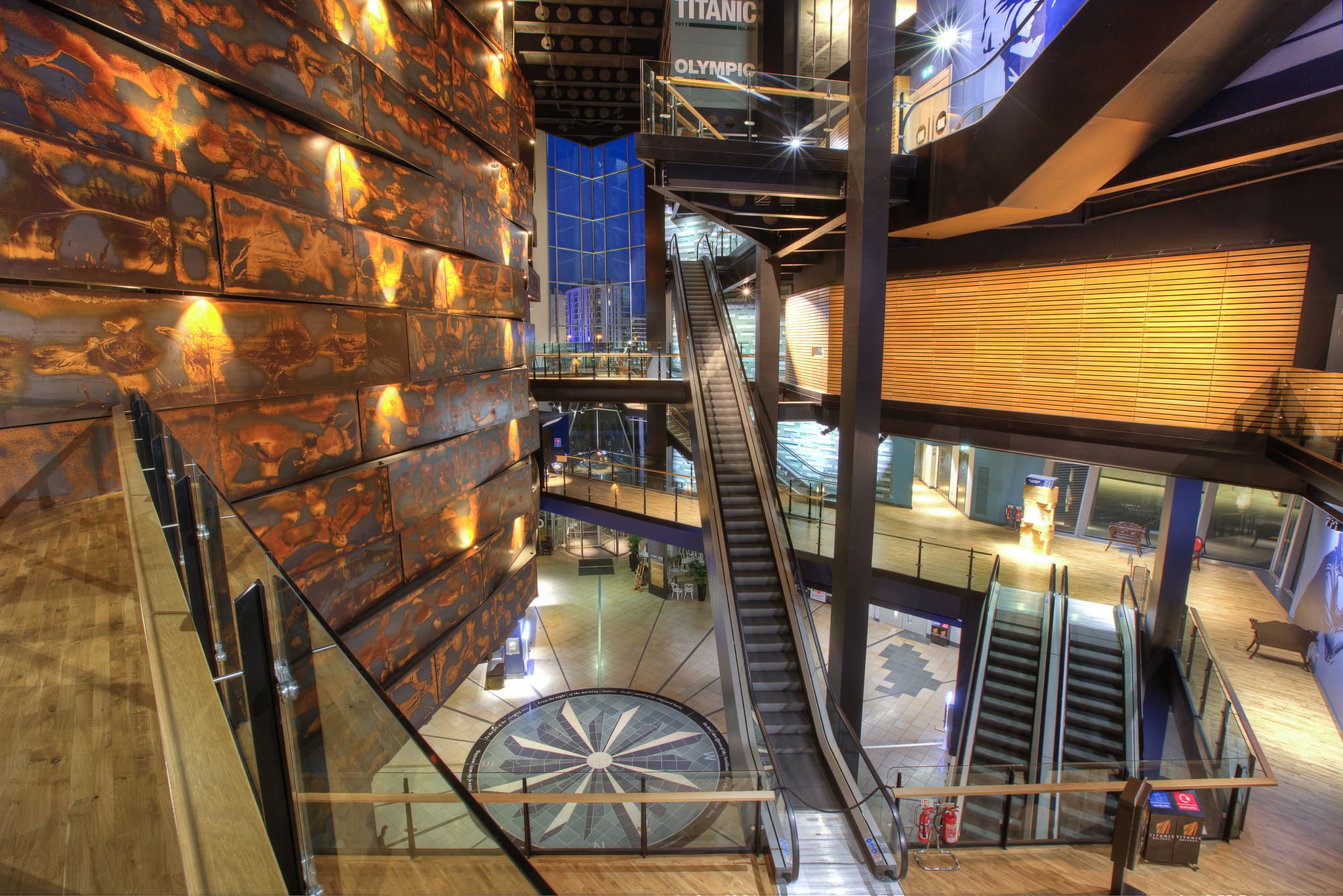 This journey back in time won't be just a boring display though. Nine multi-sensory presentations and many more detailed recreations will let you fully immerse yourself in the stories, making it one of the most engaging Northern Ireland attractions. For an extra treat, go right beside and walk into the sister ship SS Nomadic – the only surviving White Star Line vessel.
Shop away at St. George's Market
After an afternoon at the museum, head to this trading centrepiece that has truly stood the test of time. The Friday market at East Bridge Street has been serving customers since 1604 and is named as the UK's biggest indoor market.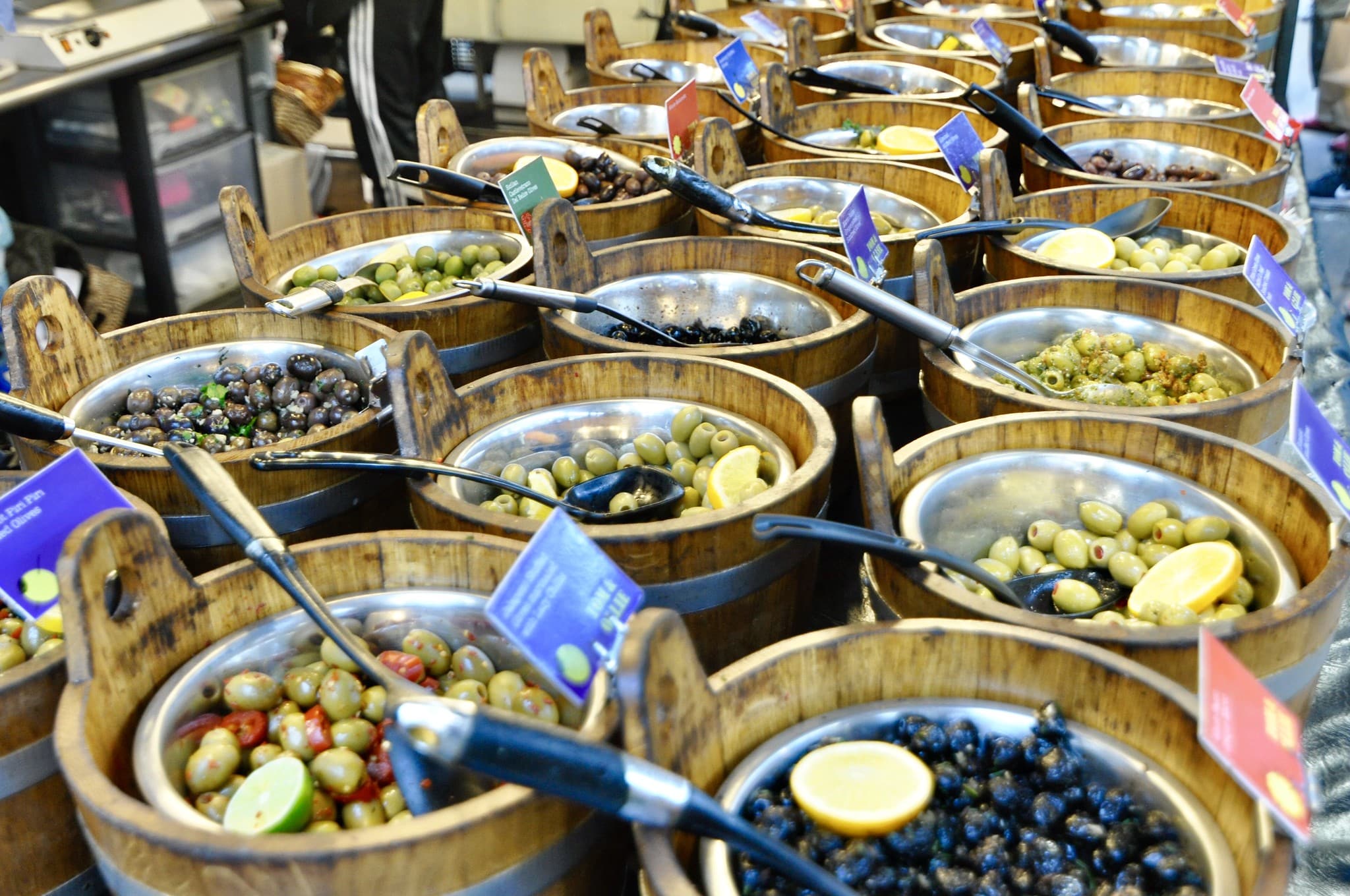 Come on Friday for fresh produce, gifts, and antiques, while Saturday is all about delicious regional food and wares. If you want it all, come on Sundays when you get the full variety of the 300 vendors keeping that shopping list from ever being completed.
Climb Divis and Black Mountain
Looking to spend a day outdoors? If you're looking for the best view in Belfast, get those hiking shoes on and head to the heart of Belfast Hills. At 478 and 388 metres tall respectively, Divis and Black Mountain are made of limestone and basalt and gives you panoramic views of the city.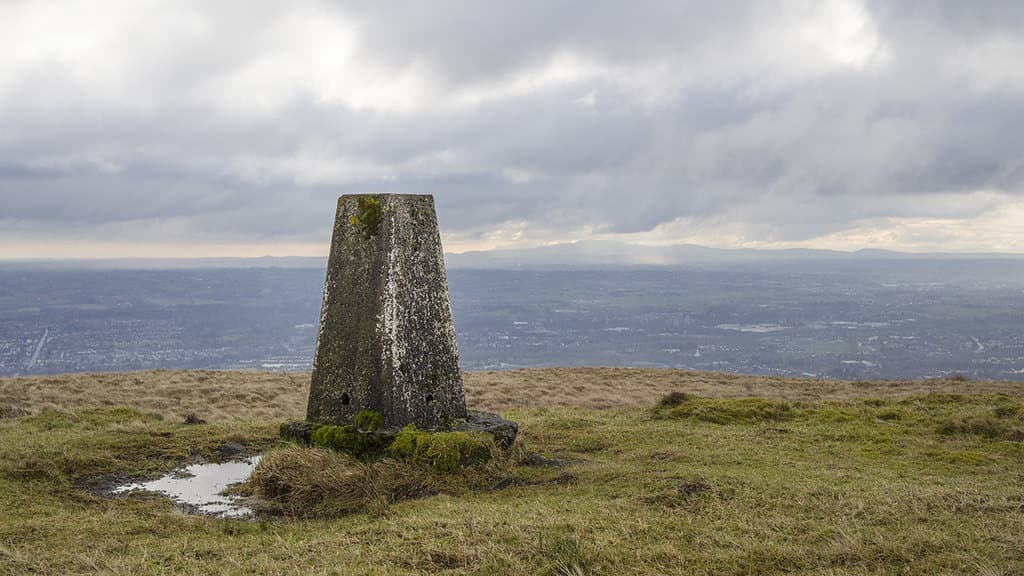 It takes only minutes to reach the foot from the city and then pick one of the four available trails to the top. Along the way, you'll enjoy seeing varied wildlife and flora, from terrains as easy as boardwalks to more natural paths of stone.
Explore Cave Hills while you are there
If you have some time to spare at the mountains, hunt down the five caves tucked in the basalt cliffs located at the northern suburbs. This is actually an archaeological treasure site, where landmarks like McArt's Fort have been fortified since the Neolithic period.
Even if you're not big on history, you'll be well-rewarded by the incredible vantage in this area as well. You'll see the Belfast Lough and Carrickfergus (made famous in the song) and even the Scottish Coast. See if you can find Napoleon's Nose – a feature that might have inspired Gulliver's Travels as it looks like the nose of a sleeping giant!
Have Irish beef stew at the oldest pub in Belfast
To end your day, treat yourself to a hearty meal. You can't eat more Irish than at a pub! So why not go all the way and have dinner at one of Belfast's oldest? It's conveniently located too – right in the heart of the city at Bank Street.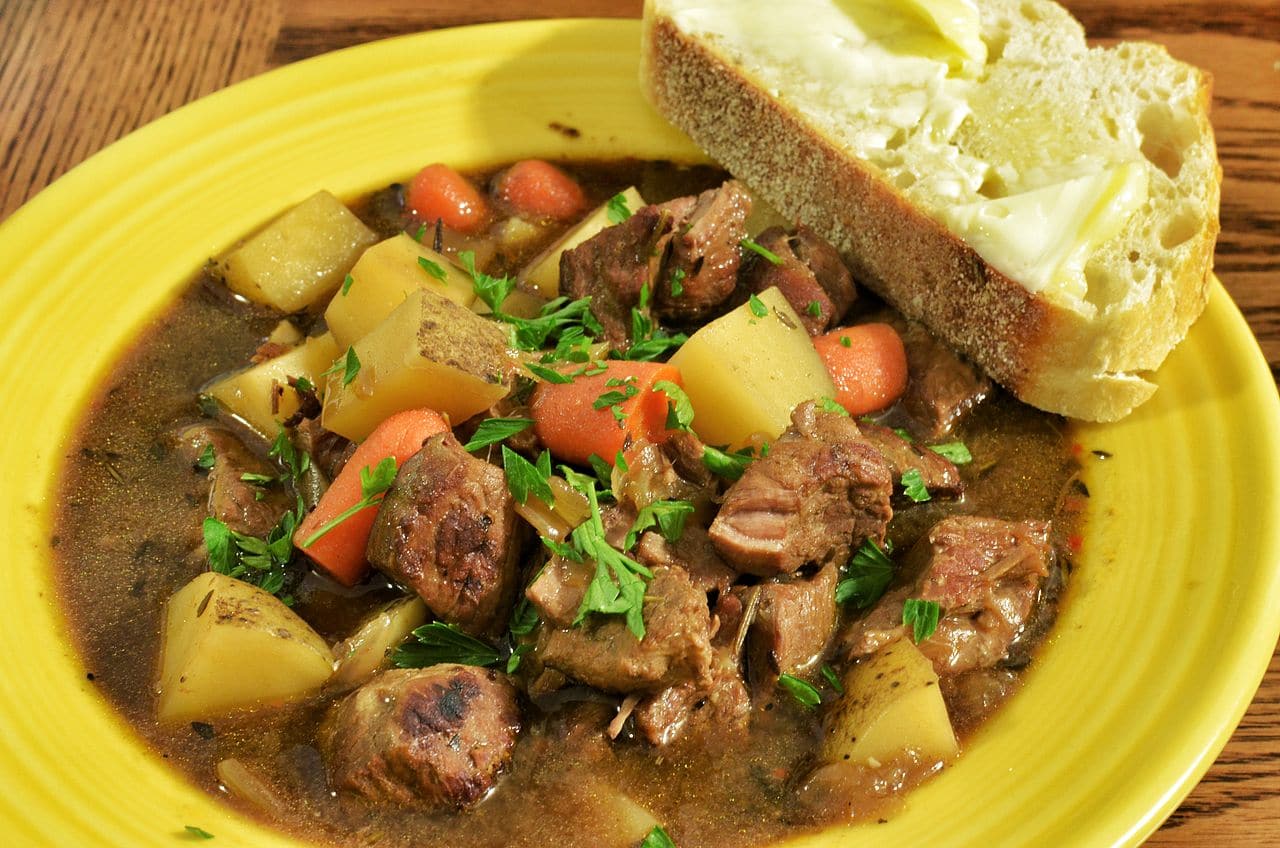 Kelly's Cellar was built in 1720 and very little has changed in the 200 years it's been in business. If walls could talk, this pub will have seen and heard it all, but we gather most of it will be about how delicious the homemade Irish beef stew is. Go back in time and have an authentic experience with a pint of Guinness and say we sent you there. If not, there's always the local favourite Boojum where the burritos have become a cult fave.
Get up close and personal with The Peace Walls
Ladies and gentlemen, the walls are coming down. Well, in the next decade or so actually. Before they come down, visit the symbol borne of the divide but is now a peace monument as the nation comes together. Start your day looking at how far the city has moved on from its past.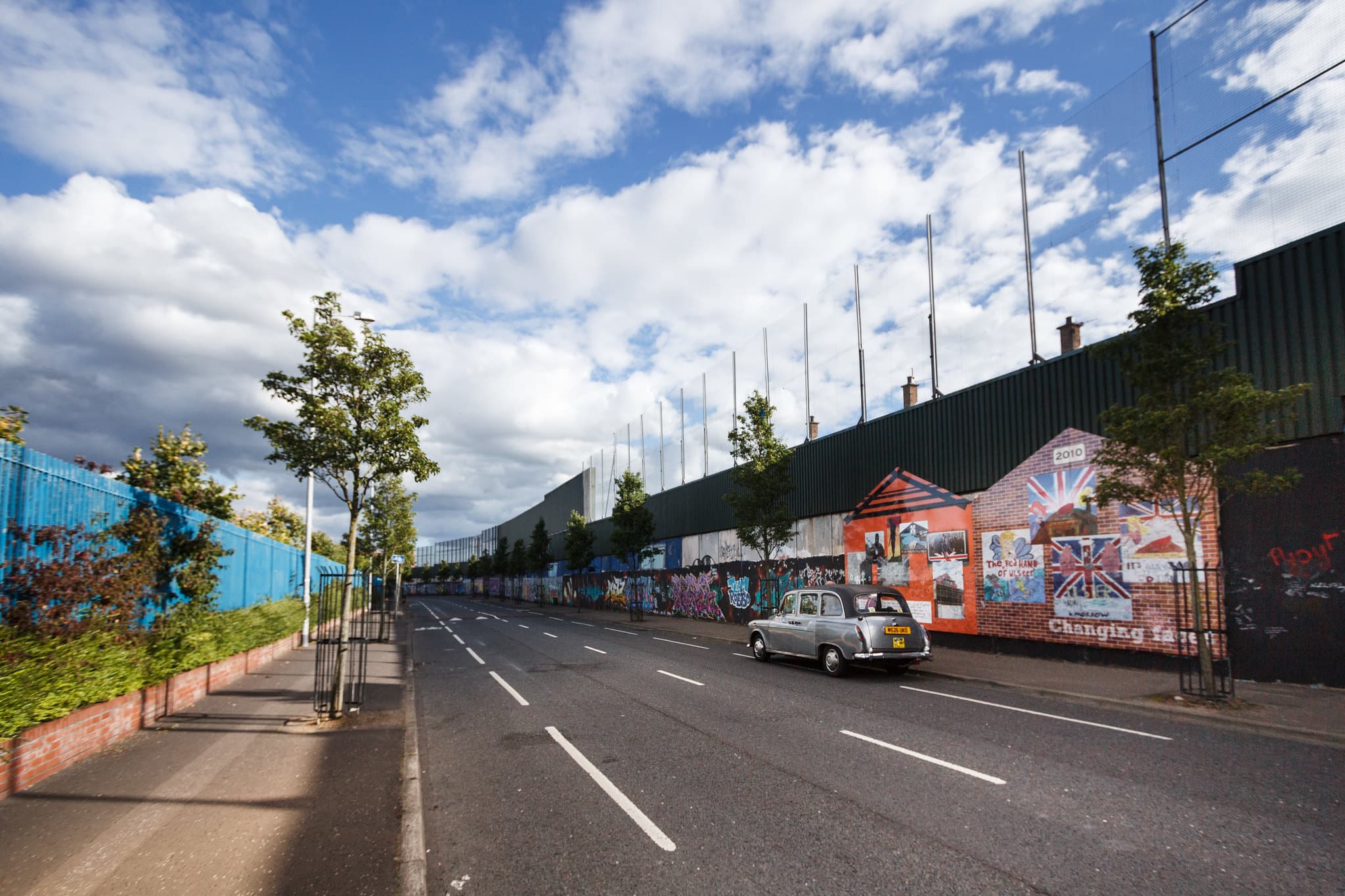 Also known as the Peace Lines, the 60 panels add up to a total of 34 kilometres. Hop onto a Black Cab tour to gain insight without infringing upon sensitivities or even hire a local guide that has gone through the era of The Troubles. It's one of those things to do in Belfast that is as visually arresting as it is dramatic.
Drink your way through a Belfast Distillery tour
If there's one drink that encapsulates the spirit of the Irish other than the Stout, it's their whisky. One of the compulsory things to do in Belfast has to be to join a distillery tour. Even if you're not someone who likes the grain liquor, a sampling after a guided event might change your mind.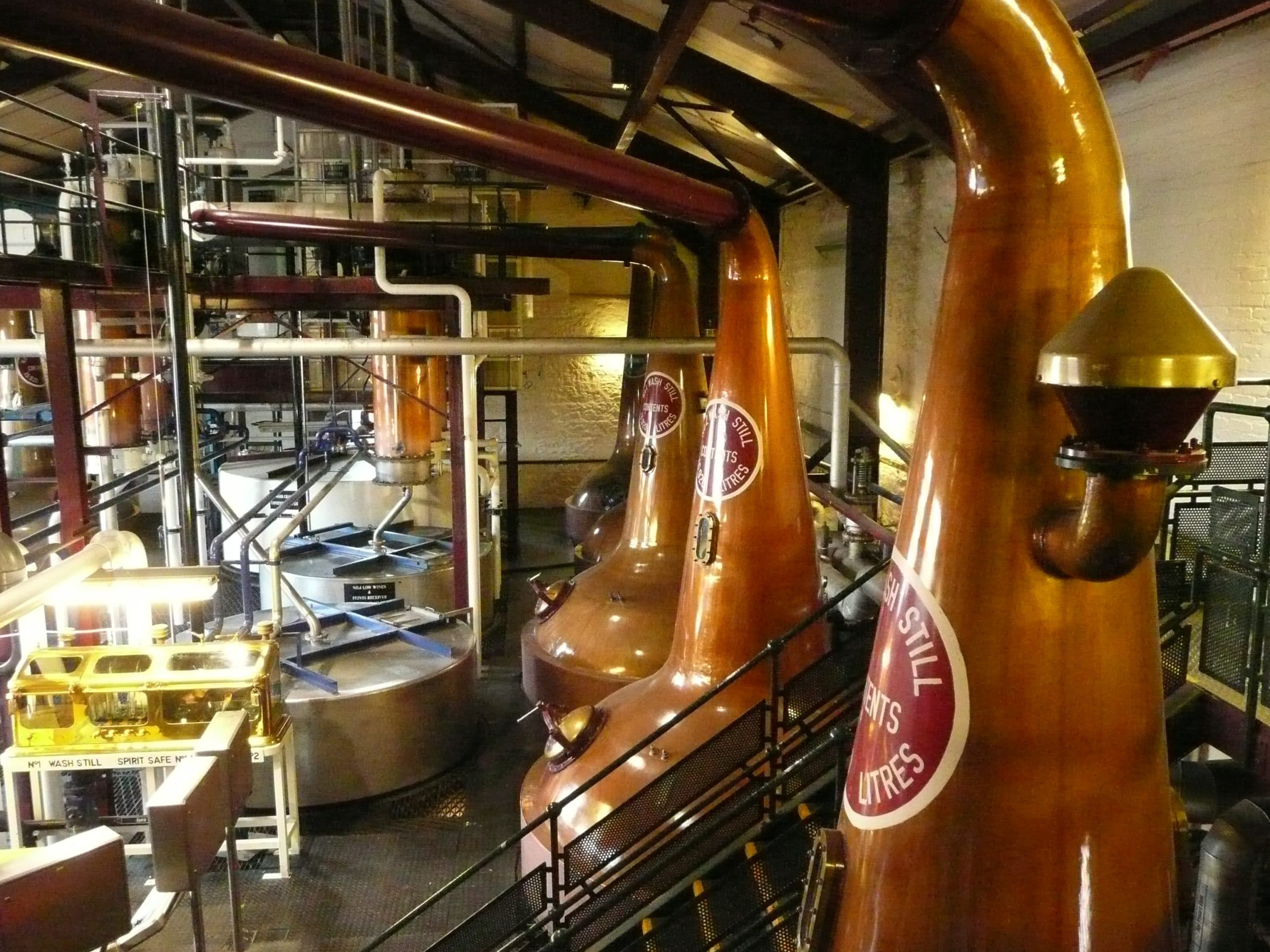 There are even farm-to-bottle options for you to fully appreciate the artful process of making this alcohol. At the experienced hands of the local guides, we can guarantee you'll be converted after going for one. It may come across robust and hard-hitting but, like Belfast, hides plenty of gritty character that unfolds itself after time.
Locked in awe at Crumlin Road Gaol
When it comes to characters, this Victorian jail has it in spades. Once a housing for murderers and terrorists, the building was closed in 1996 but was reopened in 2012 and has now become one of the top attractions in Belfast, Northern Ireland.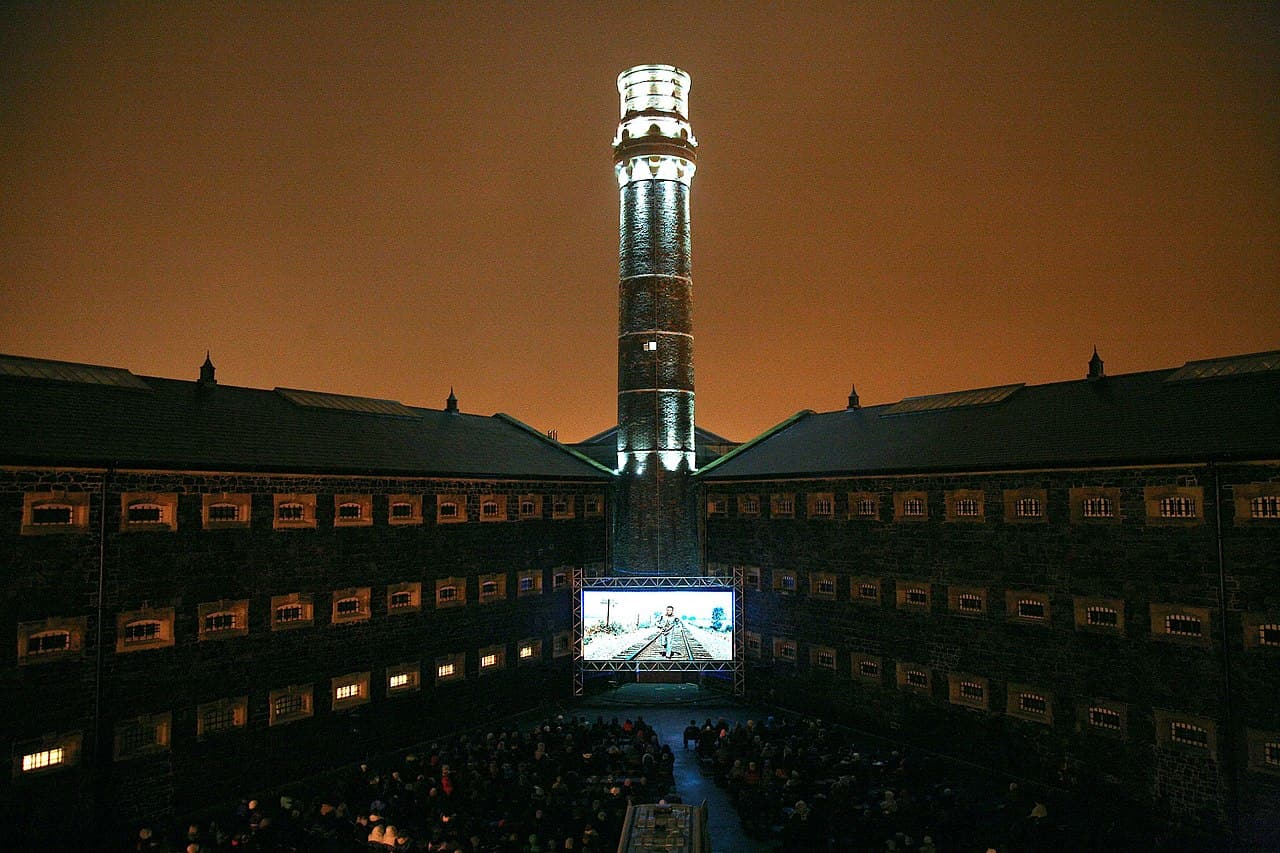 Today, it's used as an event hall, but other times you can visit the cells where live executions used to happen, walk a tunnel that connects to the courthouse, or sit in the Governor's chair. It's a vivid historical museum experience so if you wish to, you can lighten the mood at the resident cafe.
Stroll or picnic around Belfast Castle
The original stronghold was burned down in the 18th century and the new Belfast Castle is now located at the boundary of the Cave Hill Country Park. The namesake castle is incredibly stately and showcases a blend of Renaissance and Gothic styles for those seeking some architectural highlights.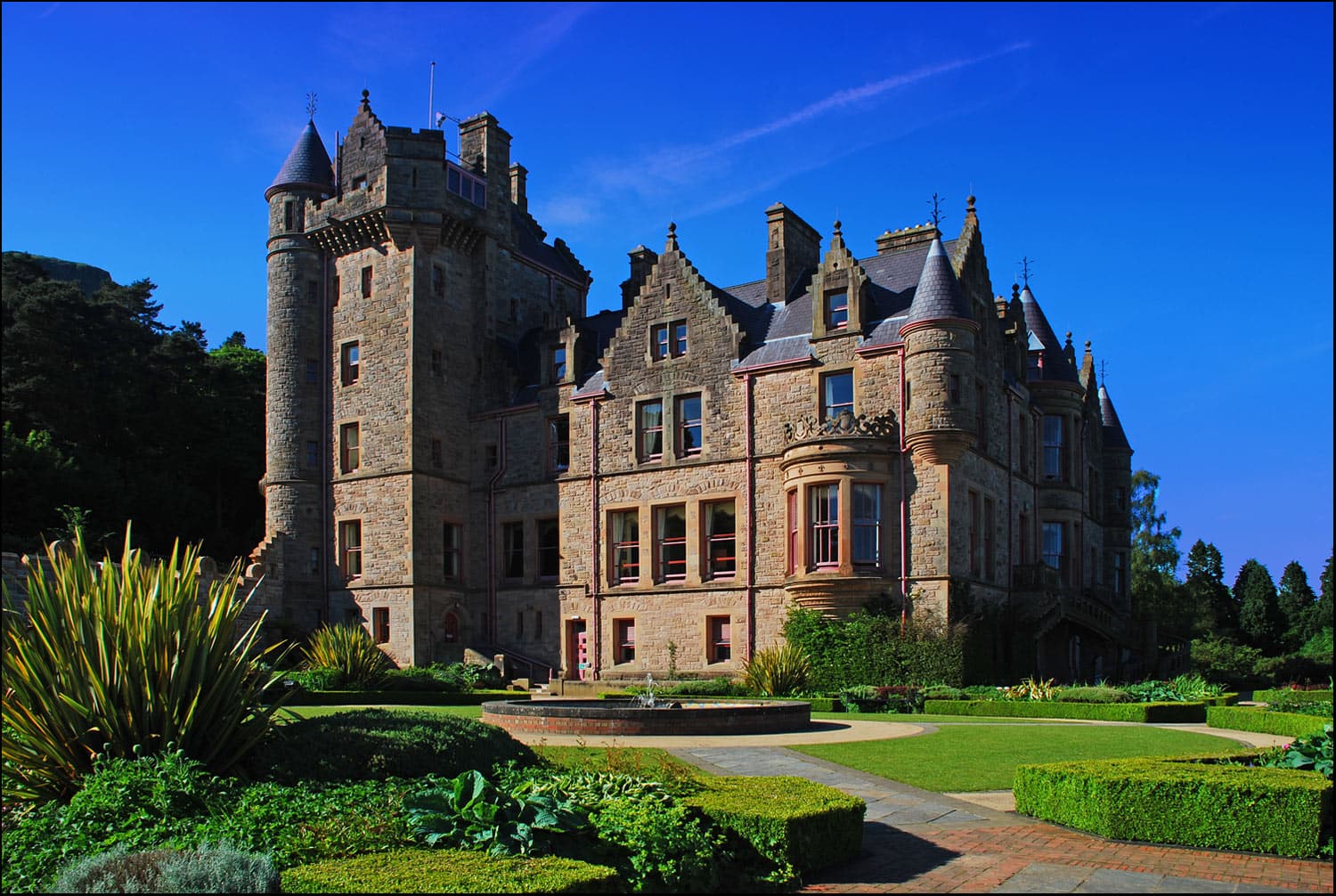 The scenic surroundings have made this a popular event and wedding venue, but you can just as easily picnic here on a green lawn from a vantage that's over 120 metres above sea level. The Cave Hill Visitor Centre and an Adventure Playground also make this a great spot for families. On top of that, a lovely alfresco cafe here lets you have coffee and cake while taking in the vistas.
Where to stay in Belfast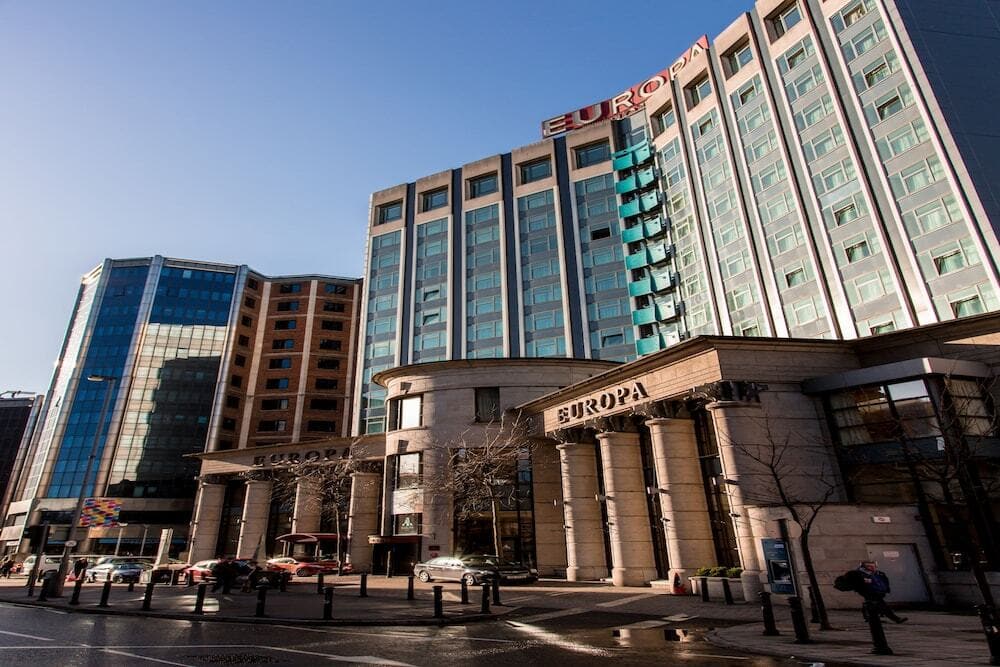 The Europa Hotel is not one for the faint-hearted. It has earned itself as the most bombed hotel in Europe. But not to fear – that was only during that era of strife. These days, the hotel has traded shock with its classic elegance and timeless stories.
Another iconic hotel is the Titanic Hotel Belfast. The restrained but refined style oozes a stately chic and some windows look out to the docks for an especially vivid visual link to the namesake.
Troubled no more, Belfast is fast becoming an item in a European agenda. Get a dose of a very distinctive history, art, and cultural experience before the crowds start coming in.
[tabs]
[tab title="Where to Stay" icon="entypo-suitcase"]
[button style='blue' icon="entypo-suitcase" url='https://www.expedia.com.my/Belfast-Hotels.d6034919.Travel-Guide-Hotels' fullwidth='true'] Find Hotels in Belfast [/button]
[/tab]
[tab title="Let's Go!" icon="entypo-flight"]
[button icon="entypo-flight" url='https://www.expedia.com.my/Cheap-Flights-To-Belfast.d6034919.Travel-Guide-Flights' fullwidth='true'] Flights to Belfast[/button]
[/tab]
[/tabs]