By Expedia Team, on May 5, 2019
7 Must-Visit Wildlife Reserves in Malaysia
Although many visitors may think of Malaysia as a shopping and food-lovers paradise, with exciting destinations like Penang, Malacca and Kuala Lumpur topping the list, this Southeast Asian country is also filled with natural treasures. From limestone caves to colourful underwater worlds to ancient forests filled with tigers, leopards and elephants – it's no wonder that Malaysia is home to so many splendid nature reserves. Here's a guide to where to go and what to see when taking the wild route in Malaysia.
Wildlife Reserves in Malaysia

1. View orangutans in the wild in Semenggoh Nature Reserve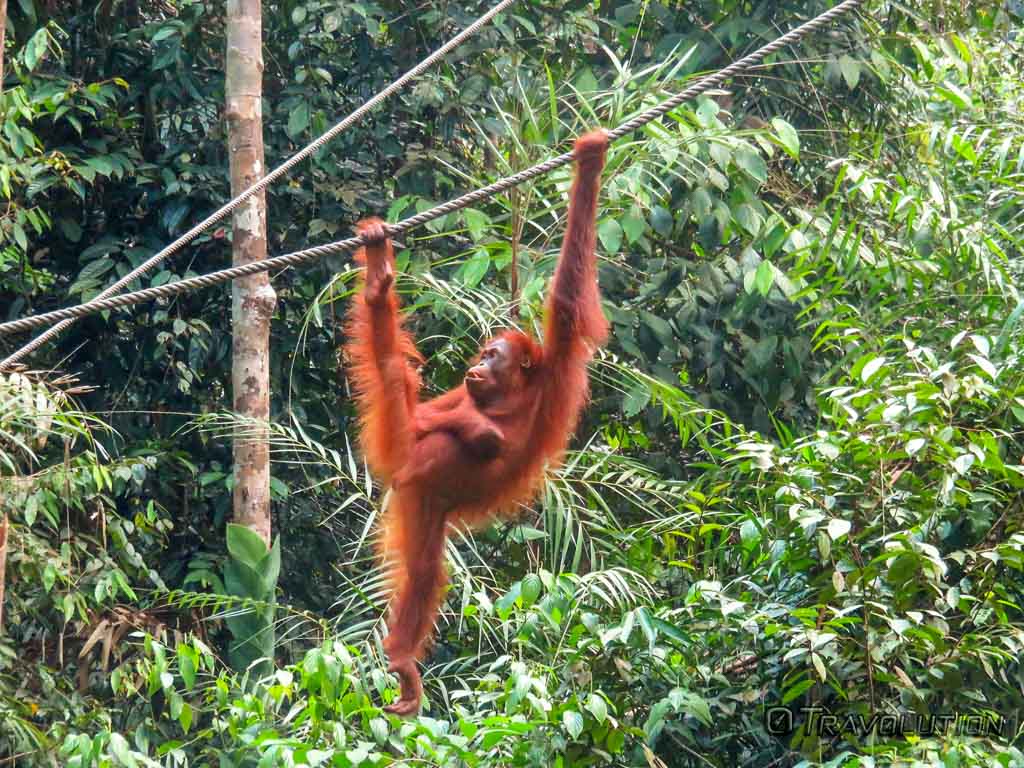 CC BY-ND 2.0 | Travolution360
With a mission to protect the dwindling orangutan population, Sarawak's Semenggoh Nature Reserve is known for their orangutan rescue and rehabilitation program. This ticketed nature reserve is where you can get up close and personal to some of these magnificent primates. The reserve houses several orangutans that will eventually be released back into the surrounding forests.
Come through in the morning or mid-afternoon when you'll get a chance to see orangutans feasting on local fruits.
2. Swim with colourful marine life in Tunku Abdul Rahman National Park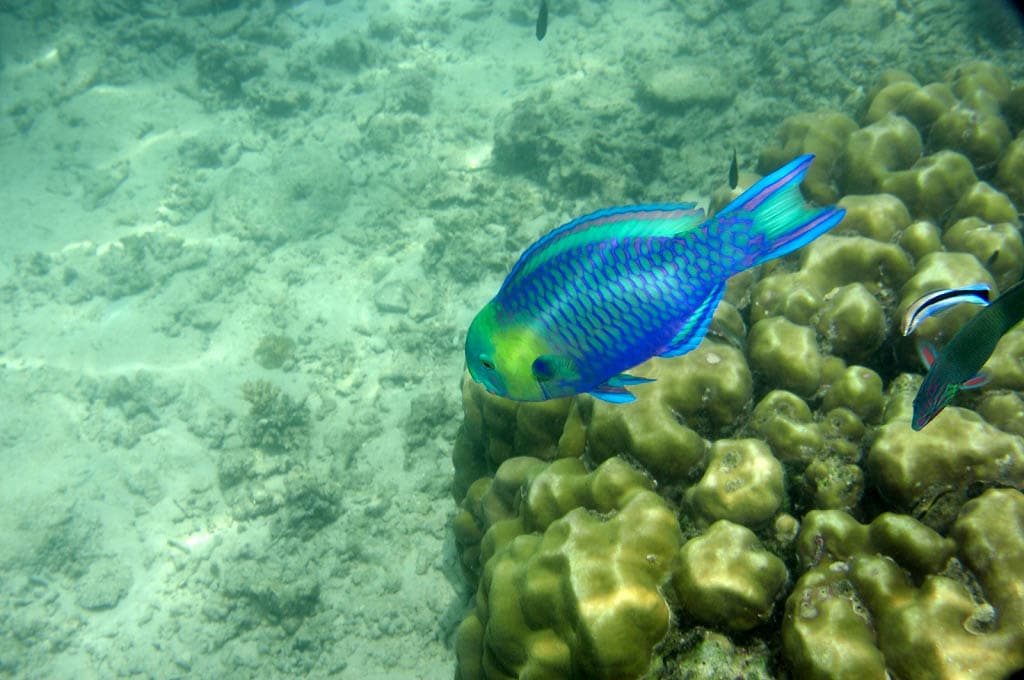 CC BY-SA 2.0 | James.Kirk
Located 8 kilometres off Kota Kinabalu is Tunku Abdul Rahman National Park, a cluster of five islands that are protected by the Malaysian government. What makes this area especially unique are the sandstone, and sedimentary rock cliffs and caves that make up the islands, as well as the diversity of marine life, found beneath the sea.
The island of Pulau Gaya is especially great for diving and snorkelling, especially around Marangis Reef, Poice Bay and Agill Reef.
3. Go bird watching in the Matang Mangrove Forest Reserve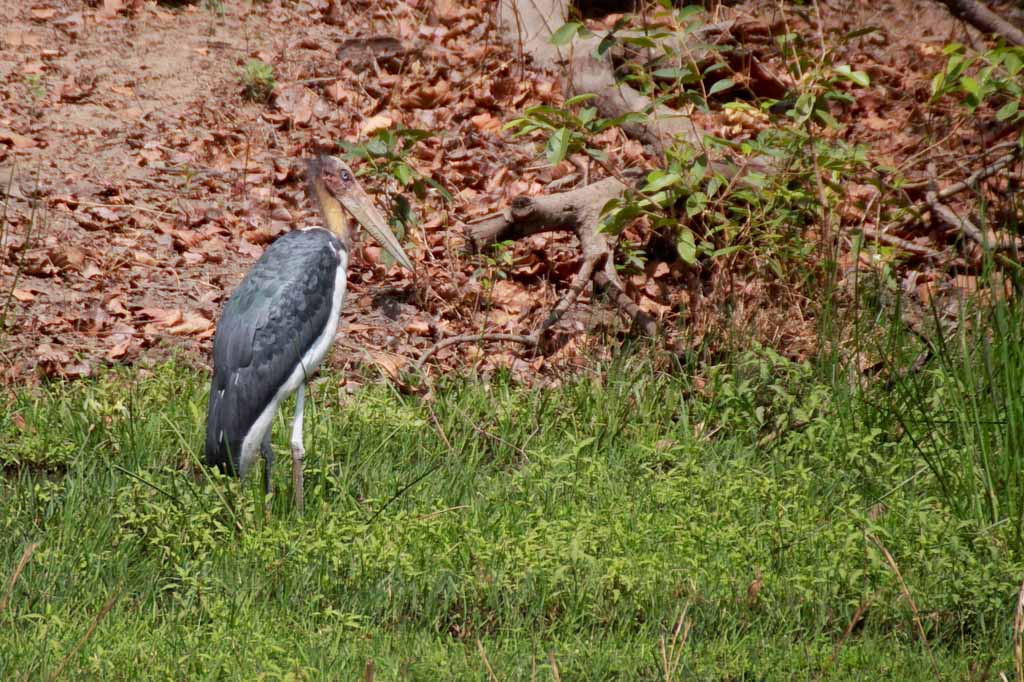 CC BY 2.0 | Brian Gratwicke
The unique ecosystem of a mangrove is a safe haven for many animals that thrive in the land, sea and skies. Perak's Matang Mangrove Forest Reserve is no different! This protected site is where you can find up to 85,000 migratory birds, including the rare Great Argus Pheasant, known locally as the Kuang.
Also found here is a diverse population of fish as well as marine crustaceans like lobsters, horseshoe crabs, prawns, shrimps and crabs.
4. Spot rare Malayan tigers at Taman Negara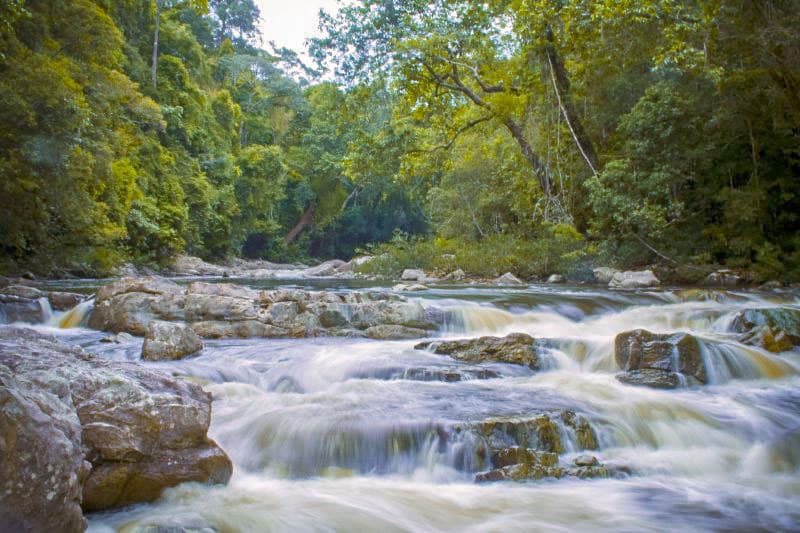 CC BY-ND 2.0 | Raymond Bosma
This ancient, iconic and world famous rainforest in Pahang is the world's oldest at 130 million years old. Getting into the 4,343 square kilometers of the forest is an adventure in itself as you have to go upstream on the Tembeling River where you'll spot water buffalo and macaques.
The real draw here, however, is jungle trekking and canopy walking where you'll be able to spot impressive fauna that call Taman Negara home. Look out for the rare Malayan world's oldest at 130 million years old.
5. See beautiful rock formations in Bako National Park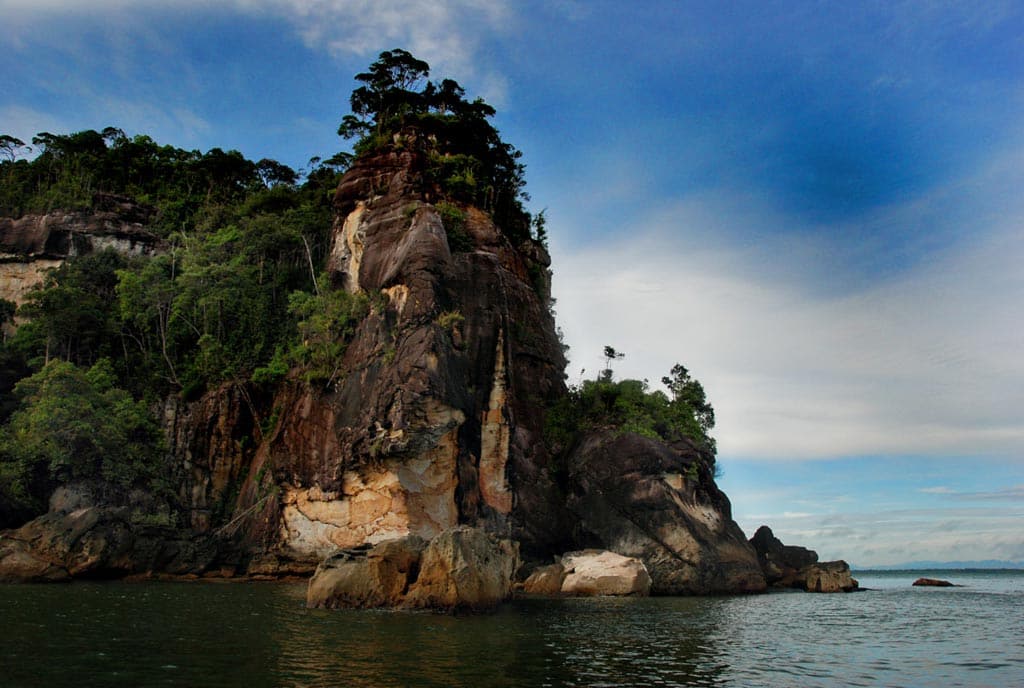 Photo: CC BY 2.0 | amrufm
Sarawak's Bako National Park, is a small but densely-packed natural area that thrives in the South China Sea. Apart from the luscious vegetation and exciting wildlife, the natural limestone formations found here are worth a trip in itself. With millions of years of erosion at work, the rock formations poking above the sea are spectacular with smooth, sculptural pink and grey rock. Keep an eye out for the Proboscis Monkey, which is famous for its big red nose.
6. Walk in the canopy in Penang National Park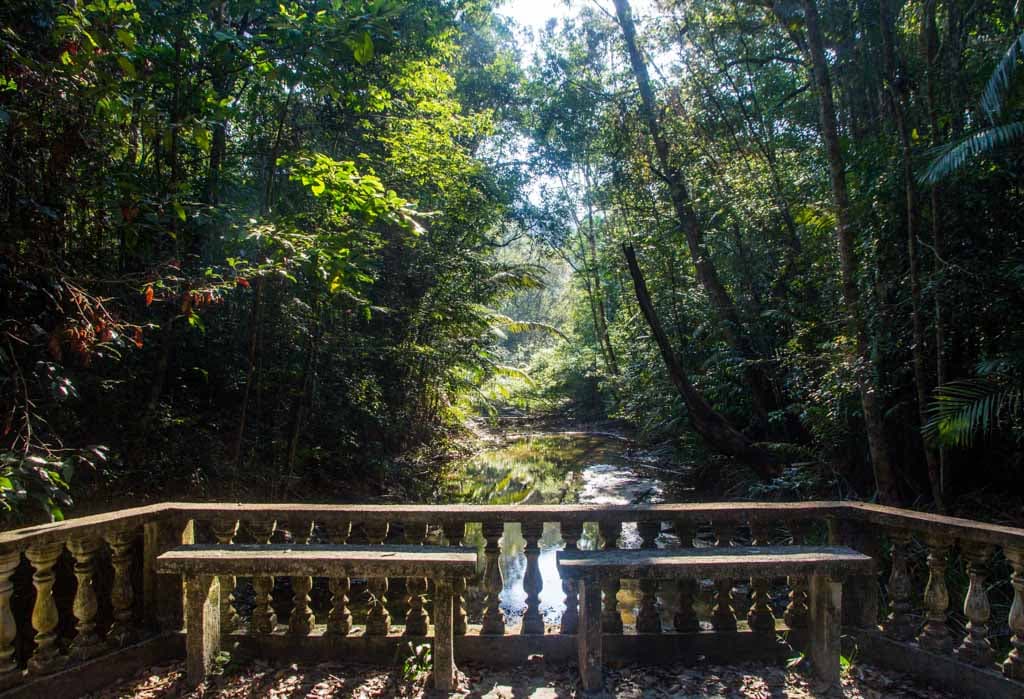 CC BY 2.0 | cat_collector
Although Penang National Park is Malaysia's smallest national park, it's full of activities to indulge in. Formerly known as the Pantai Acheh Forest Reserve, this site is located on northwestern Penang. Go for a 250-metre walk across the canopy to see what forest life is like 15 meters above the ground. Natural swimming pools, bird watching, sunbathing on the beach and forest walks are other activities to partake in at this national park.
7. See the three largest mammals of Sabah in Tabin Wildlife Reserve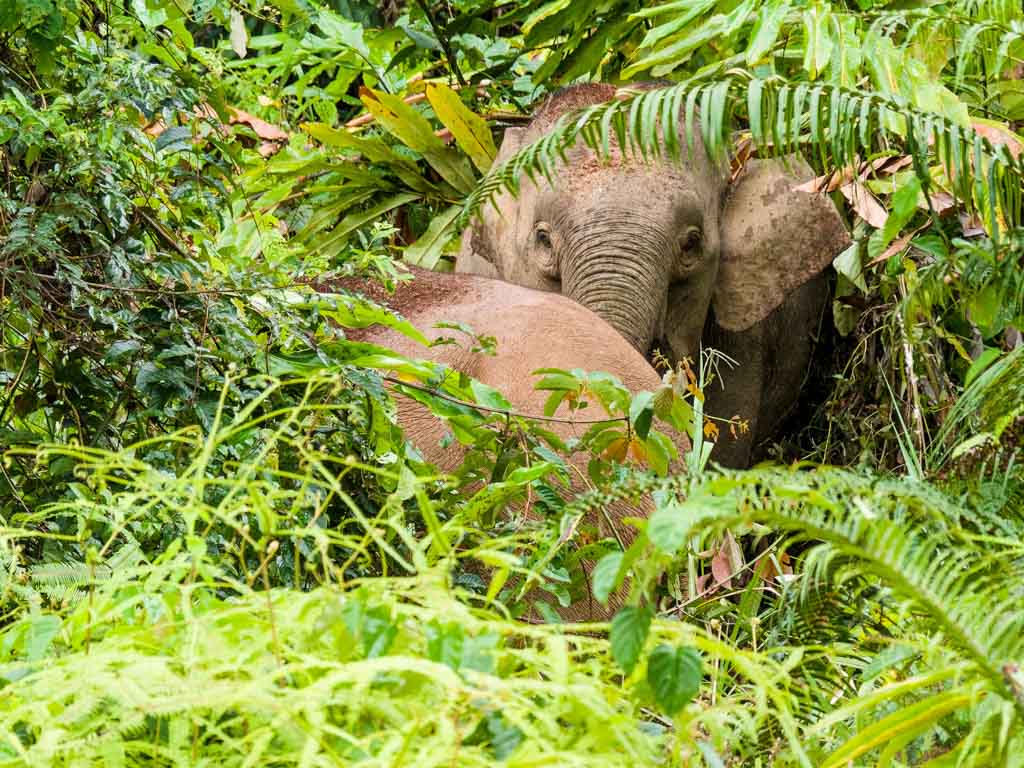 CC BY 2.0 | Mike Prince
A visit to Sabah's Tabin Wildlife Reserve is the closest thing you'll get to a safari in Malaysia. Established in 1984 in order to protect the phenomenal wildlife in Sabah, Tabin Wildlife Reserve is one of the most magnificent reserves in all of Southeast Asia. Three of the largest mammals in Sabah, the Borneo Pygmy Elephant, Sumatran Rhinoceros and Tembadau, all call this spot home. Bring your binoculars and look out for more wildlife like mouse deer, orangutan and the biggest predator in the sanctuary, the Sunda clouded leopard.
Best places to stay in nature
Located near one of Borneo's nature reserve is the beachfront Shangri-La's Tanjung Aru Resort and Spa in Kota Kinabalu. This hotel boasts five-star service including golfing sites, well-appointed rooms and a luxurious spa. For a blissful retreat in Perak, however, stay at The Banjaran Hotsprings Retreat, a sprawling and sumptuous resort that offers villas overlooking serene ponds, caves to explore, calming natural surroundings and in-room plunge pools.
When to visit
The weather in Malaysia doesn't fluctuate very much. However, as it's a tropical country, dress for the warm and humid weather. If you are one to avoid the rain, plan your trip to Malaysia around the rainy season which falls in late November until mid-February.
With a plethora of nature reserves to explore, Malaysia proves to be a perfect destination for nature lovers. Take the route less travelled, get outdoors and connect to Mother Nature and all of her glory!