By Expedia Team, on December 27, 2017
Vietnamese Food Guide: A Stroll Through Ho Chi Minh's Streets
Ho Chi Minh City, commonly referred to as Saigon, is the largest city in Vietnam. The city is a beautiful mix of the old and the new in constant action. French-influenced old buildings stand side by side with modern chic structures, and narrow alleyways lead to busy traffic-filled streets.
In Ho Chi Minh City (HCMC), you can find as many hole-in-the-wall food joints as you can find high-class luxurious restaurants – and this diversity of flavours give the city so much essence and intrigue.
Now, a good way to get to know the city is by strolling along its busy streets – and while you're at it, you should check out all the fantastic street food! Vietnam is known for its street food, and here are just a few of the delicious choices you can look out for in HCMC.
Food You Shouldn't Miss In Ho Chi Minh City

1) BANH MI
Saigon's Most Famous Street Food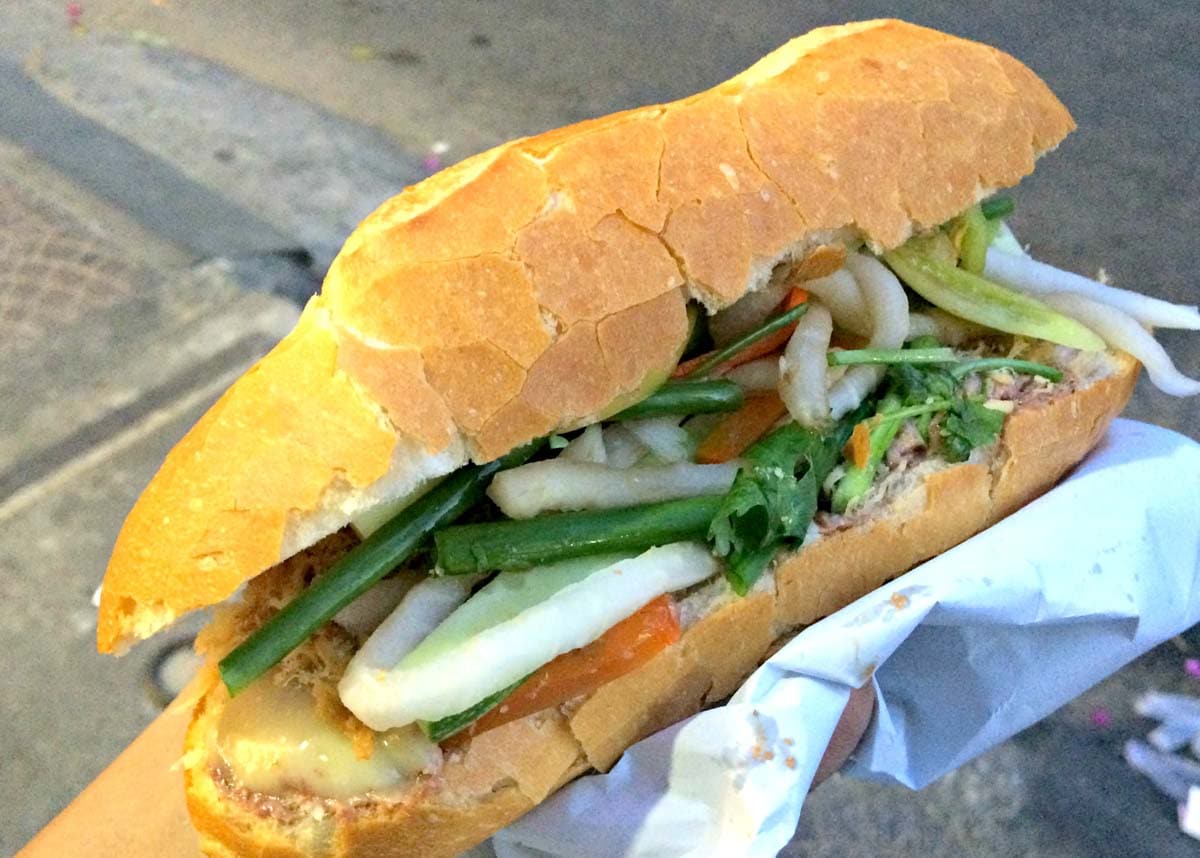 One of the most famous exported Vietnamese street food is the Banh Mi. In the Vietnamese language, Banh Mi means bread, but in the world of food, it is actually a delicious sandwich filled with a whole lot of meat. There are different varieties of Banh Mi sold around Ho Chi Minh City. You can find different versions with fillings like pork, chicken, luncheon meat, shredded pork skin, pate, and ham. The sandwich is also stuffed with Vietnamese radish, sliced cucumbers, tomatoes, spring onions, onions, coriander, and in some cases – fresh chillies. All these ingredients piled together in a wonderfully crusty baguette makes up one of the most amazing sandwiches you will ever taste – and after that first bite, you'll be asking for more.
The most popular place to try the Banh Mi in Ho Chi Minh City is at Banh Mi Huynh Hoa. Their sandwich is jam-packed with all sorts of meat, so if you love Banh Mi, or want to try it for the first time – this is the place to go to when you're in the city.
Bánh Mì Huỳnh Hoa: 26 Lê Thị Riêng, Bến Thành, Quận 1, Hồ Chí Minh, Vietnam.
2) BANH TRANG TRON
Snack of the Younger Generation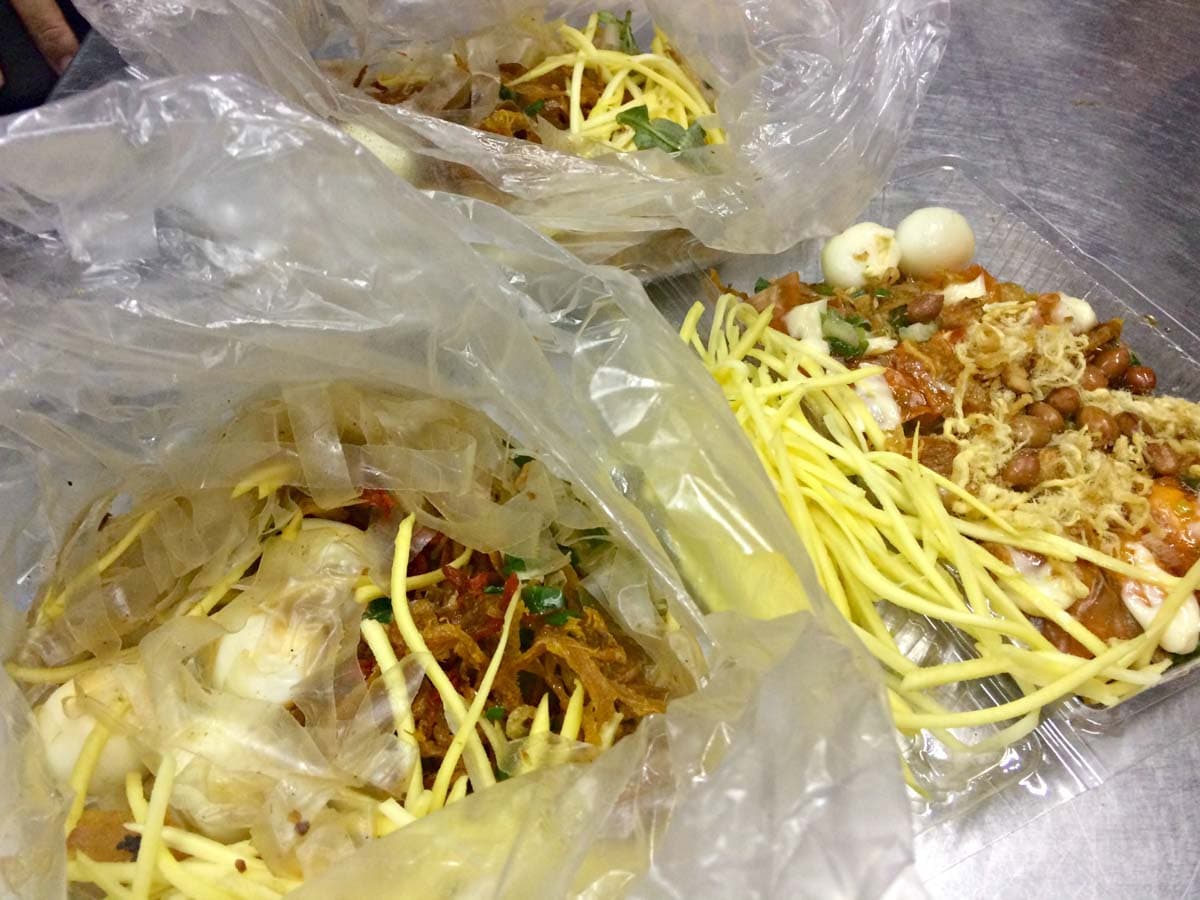 The Banh Trang Tron is a snack that is popular with the local Vietnamese school students and the younger generation. This snack is a mix of shredded rice paper, pork floss, shredded green mango, quails egg, peanuts, fried onions, dried shrimp and many different kinds of jerky like beef, deer or squid; and it's topped with a blend of sweet, savoury and sour sauces. The result is a burst of flavours and texture in the mouth — from the toughness of the jerky to the shredded rice paper — and the mixture of sauces all blended together. The Banh Trang Tron is usually served in a plastic bag, and you can't get any more local than that!
Banh Trang Tron stalls can be found in parks and outside schools, but you can also find them in hole-in-the-wall shops like Banh Trang Tron Sach Co Thao. In true Vietnamese street-style, the shop serves the dish on a low table with tiny chairs; and their Banh Trang Tron can be served either on a plate or in the form of a spring roll.
Bánh Tráng Trộn Sạch Cô Thảo: 90, Nguyễn Thượng Hiền, Phường 5, Quận 3, Hồ Chí Minh, Vietnam.
3) BANH BEO AND BANH CUON
My Favorite Rice Cakes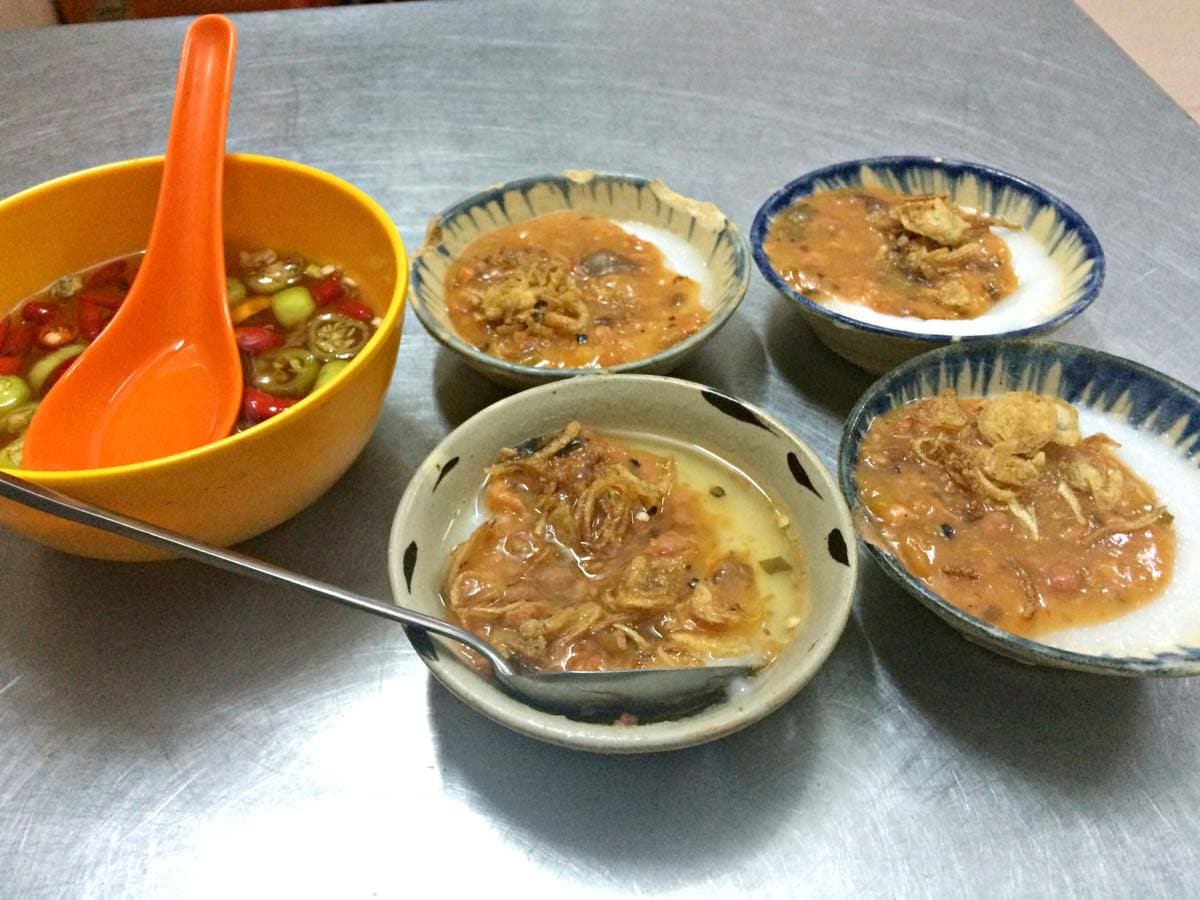 The ever-popular Banh Beo and Banh Cuon are local snacks from the ancient royal capital of Hue in Central Vietnam. These steamed rice cakes are one of my personal favourite Saigon street foods. Banh Beo is served in tiny bowls, topped with dried shrimp and crispy shallots in a fish sauce; and you can add some chilli sauce for added spice. Banh Cuon is the dumpling version with the same fillings. Most of the time, these different rice cakes are added together to make up a full meal.
Many small hawker shops in HCMC are selling Banh Beo and Banh Cuon. However, a favourite local spot to savour these delicious rice cakes is at Banh Cuon Hai Nam. The restaurant also serves a variety of Vietnamese noodles.
Bánh Cuốn Hải Nam: 11A Đường Cao Thắng, phường 2, Hồ Chí Minh, Vietnam.
Quán Bánh Bèo Tồ: 59, Nguyễn Thượng Hiền, Phường 5, Quận 3, Hồ Chí Minh, Vietnam
4) PHO
The Most Popular Vietnamese Noodles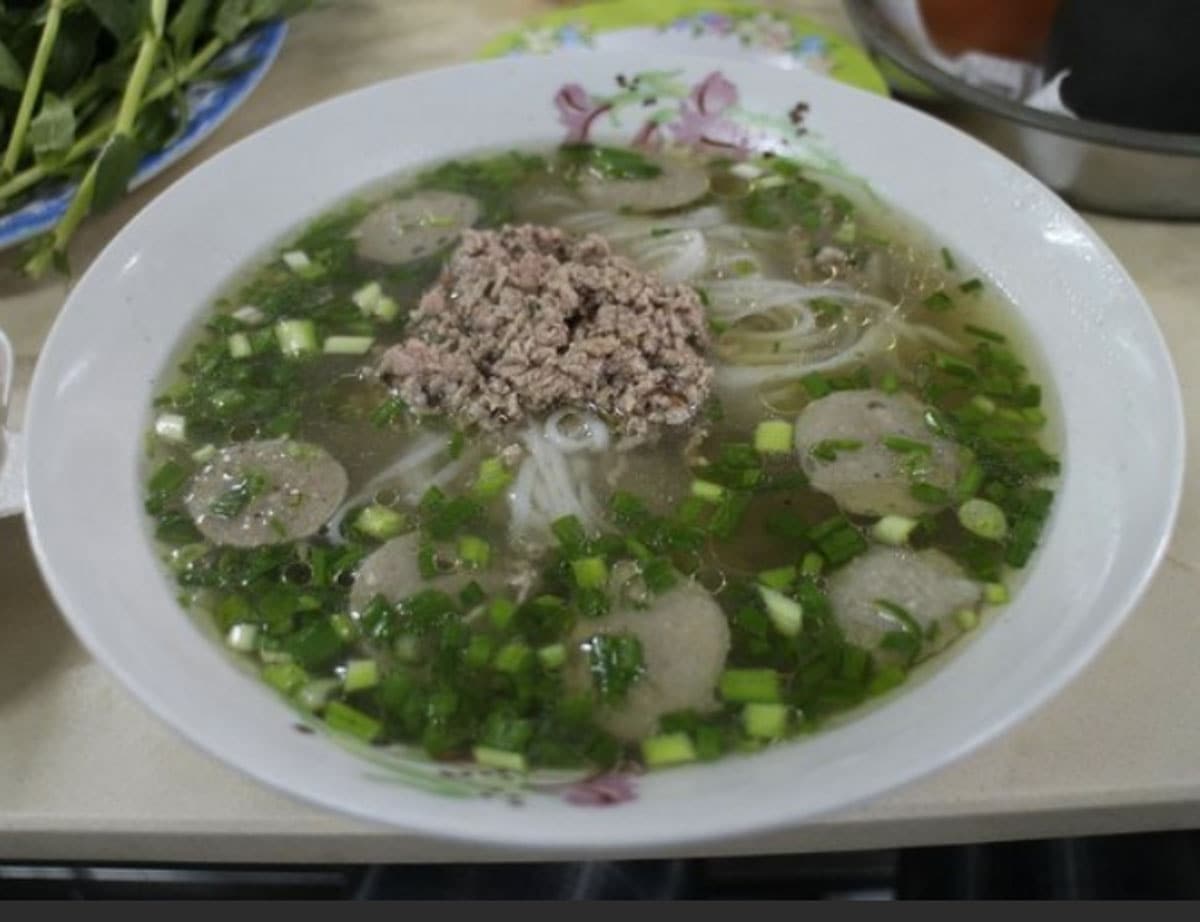 One of the most common noodle dishes in Vietnam is Pho, a dish of soft rice noodles served in a meat broth. Beef is the most popular choice of meat, with parts like tripe, brisket, soft tendon, steak and beef balls added into the mix. The noodles are served with a fresh plate of herbs like mint and coriander; as well as onions, chilli and bean sprouts.
You can find pho restaurants all over Ho Chi Minh City – after all, it is a Vietnamese staple. For a popular choice, drop by Pho Hoa Pasteur — a local pho institution with a long legacy. Another famous shop is Pho 2000 and is located near the Ben Thanh Market. It was the place where President Bill Clinton had his first bowl of Pho Hoa during his visit to Saigon in 2000.
Phở Hòa Pasteur: 260C Pasteur, Phường 8, Quận 3, Hồ Chí Minh, Vietnam.
Phở 2000: 1 – 3, Phan Chu Trinh, Phường Bến Thành, Quận 1, Hồ Chí Minh, Vietnam.
5) CHE (SWEET SOUP)
Vietnamese Desserts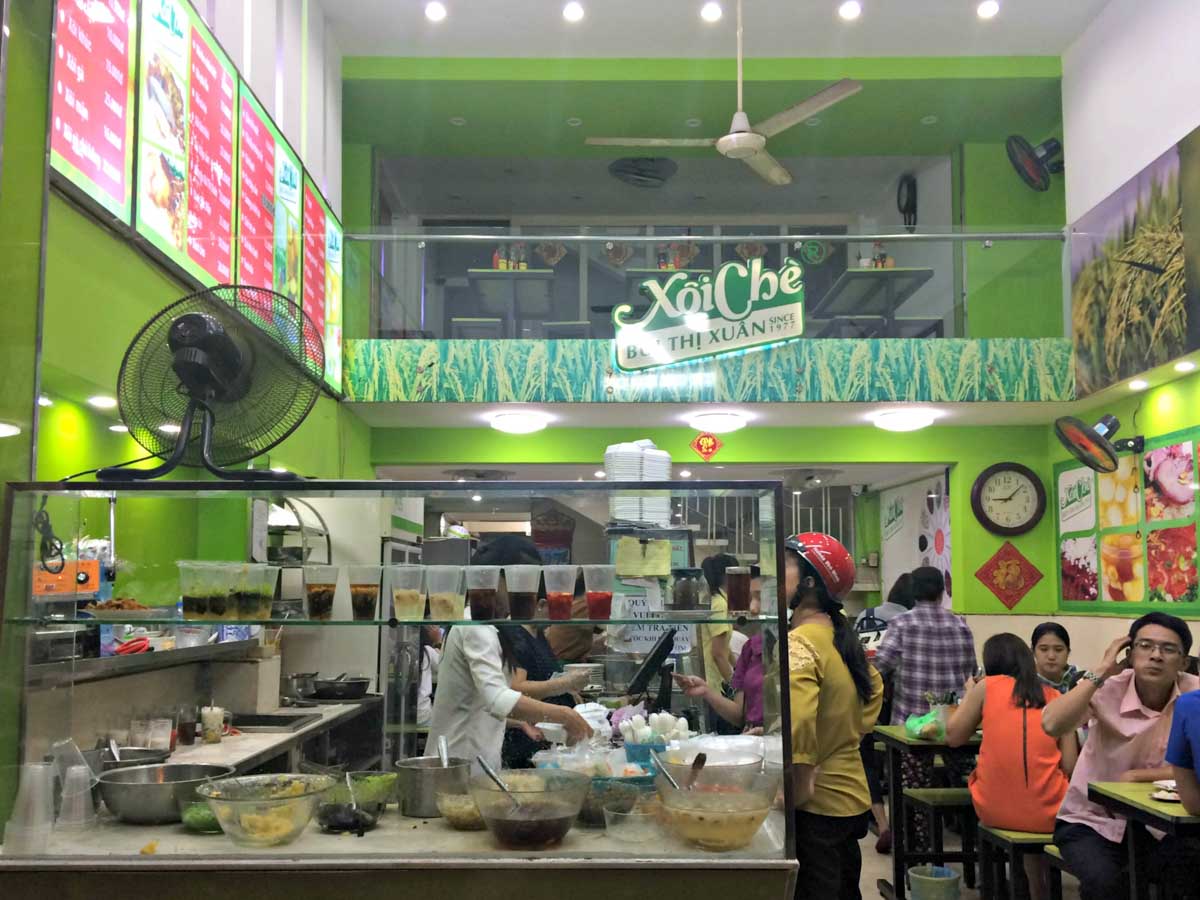 We can't have a list of street food without having some dessert! A great place to have desserts in Ho Chi Minh City is at Xoi Che, a local favourite dessert joint. The restaurant chain has a few branches in the city, and not only serves desserts but a whole range of local Vietnamese food as well. Their specialities are 'Xoi', meaning sticky rice; and 'Che', which means sweet soup, or drink desserts. One of the sweet drinks they offer is Sam Bo Lyong — a sweet, cold drink with dried longans, red dates, lotus seeds, seaweed and barley. My other favourites are Suong Sa Hot Luu — a mix of tapioca jelly, pomegranate seeds and coconut milk — and Thach Dua, which is essentially coconut jelly.
Xôi Chè Bùi Thị Xuân: 111 Bùi Thị Xuân, Phạm Ngũ Lão, Hồ Chí Minh, Vietnam
Food hunting in Ho Chi Minh City is definitely fun and fulfilling (for your tummy too!). Besides, it adds to the excitement of being in the city. Of course, there are a whole variety of other delicious Vietnamese street food to get your hands on — so get onto the busy streets, and explore!
[button url='https://www.expedia.com.my/Flights-To-Ho-Chi-Minh-City.d178262.Travel-Guide-Flights' icon='entypo-flight' fullwidth='true']Check out Flights to Ho Chi Minh[/button]