By Expedia Team, on August 26, 2015
Theme Park Guide: Legoland Malaysia Resort. A World of Stupendous Fun!
By Explorer Linda Haden –
School holidays are just around the corner. And for parents, this means just one thing – finding ways to keep your children out of your hair. Heading to a theme park is an easy way to keep the kiddos occupied for hours at a time, and in West Malaysia, families are spoilt for choice.
Legoland Malaysia Resort remains a national favourite, and a visit here makes for a fantastic staycation – especially if you have toddlers in tow. You'll find rides that run the gamut on the scare scale, and there's an awesome water park for water babies, too.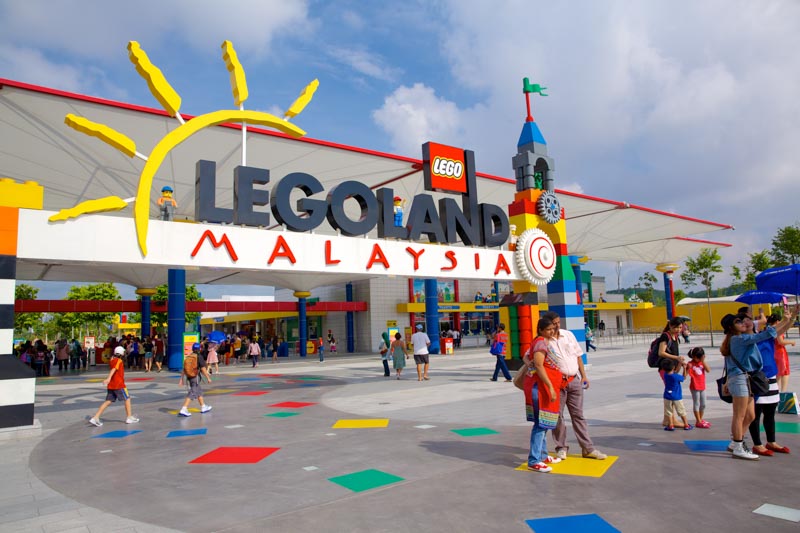 Lego Lowdown
More than 70 rides, slides, shows and attractions spread across Legoland theme park and water park, so if you're coming only for a day, it's best to arrive just before the gates open at 10am. Another crucial tip? Buy your tickets in advance online so that you won't have to join the snaking queues at the front.
[quote]Tip: Buy tickets online beforehand and arrive before 10am.[/quote]
Start your day in the theme park. It can take five to six hours to tackle the main rides, leaving you with about three hours to splash around in the water park. Resist the temptation to visit the shops near the theme park entrance – get on the rides as fast and as early as you can. There will be time at the end of the day for some retail therapy.
You will feel pressed for time, though, especially if you have a toddler or preschooler in your brood who'll need a nap during the day. If you want to visit both parks at a more relaxed pace, it's a good idea to book an overnight stay at Legoland Hotel.
Between rides, you'll find loads of food choices, but be prepared for more junk food than healthy fare. The Market Restaurant and the Asian Deli are our top picks for variety and for meals that are more nutritionally balanced. You might want to pack a picnic or at least some snacks, as prices run high.
[button style='blue' url='https://www.expedia.com.my/things-to-do/?location=Johor%20Bahru%20(and%20vicinity),%20Malaysia' icon='entypo-lifebuoy' fullwidth='true']Book Legoland Tickets Online with Expedia[/button]
Theme Park Highlights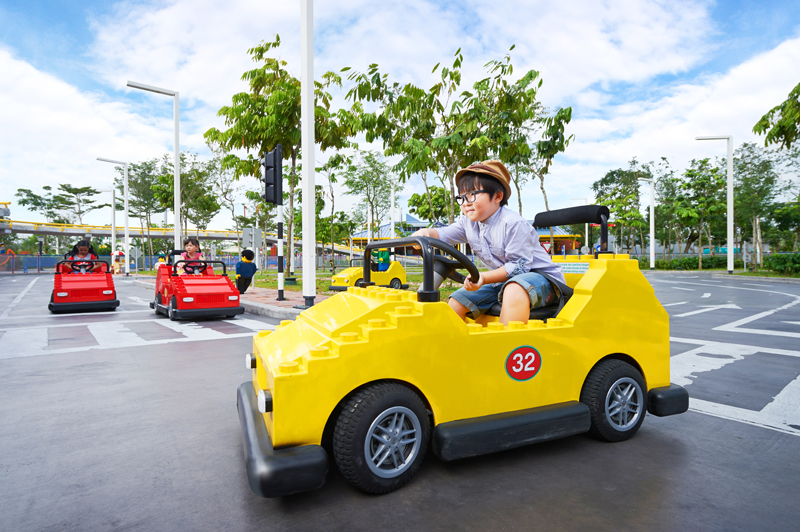 Credit: Legoland, Legoland Malaysia Resort.
Stop 1: Lego City Driving School
Head east towards the Lego City area, with a first stop at the Driving School. Waiting times for this ride become unbearably long by midafternoon, as it's popular with kids of all ages.
Stop 2: Boating School (young kids) or Rescue Academy (kids 6 and up)
From there, rush to Boating School, where queues move at a snail's pace. (Note: older kids might find this ride a little mundane.) If you've got kids aged at least six and up in your party, skip Boating school altogether and head to Rescue Academy, where they can race against time on pint-sized fire engines.
Queues for Lego City Airport are relatively short; we highly recommend it for the under-fives.
Stop 3: Land of Adventure
Things start to get a little more thrilling as you approach the north part of the park, where the Land of Adventure lies. Get wet at Dino Island – a flume ride featuring a big drop at the end. If that sounds a tad too wild, duck into Pharaoh's Revenge to test your skills at firing lasers.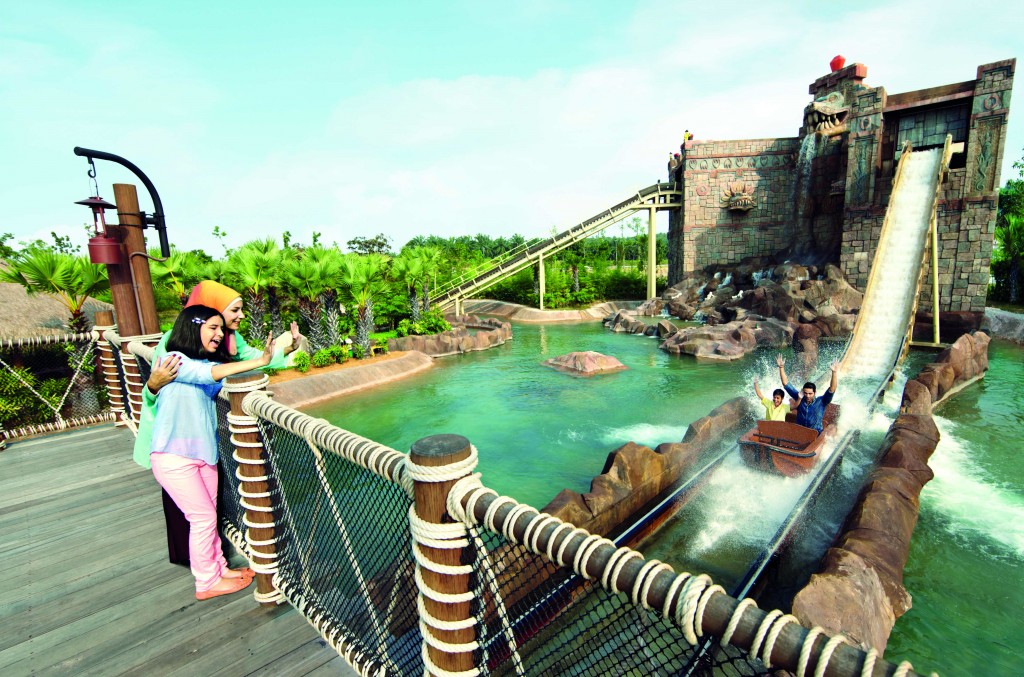 Break Time: Imagination Zone
Take a well-deserved break when you reach the Imagination zone. Head indoors into the air-conditioned Build & Test to cool off from the sweltering tropical sun. Or enjoy one of four 4D features at Lego Studio. You'll also find a baby-care station here where you can feed or change your wee one in privacy and comfort.
Put your feet up while your toddler or preschooler explores Duplo Playtown, an enclosed, shaded play area near a row of snack and drink kiosks.
Stop 4: Lego Kingdoms
Recharged, continue towards Lego Kingdoms and hop onto The Dragon for a bracing, white-knuckle roller-coaster ride. Those too little or too scared to take up the gauntlet should try Dragon's Apprentice, a much tamer version of the Dragon.
Stop 5: Lego Technic Zone
The Lego Technic Zone is home to Project X, a zippy don't-miss thrill ride that's not for the faint-hearted. The Aquazone Wave Racers ride is another popular hit, so be prepared to queue. But it's well worth the wait just to beat the heat! If you have time, book a slot for your older kiddies at Lego Mindstorms, where they can design and build robots.
Last Stop: Miniland
End your Legoland theme park day at Miniland, where you'll find quaint, scaled-down Lego models and detailed miniatures of streets and monuments around the world. Time to whip out your cameras or phones for some memorable snapshots!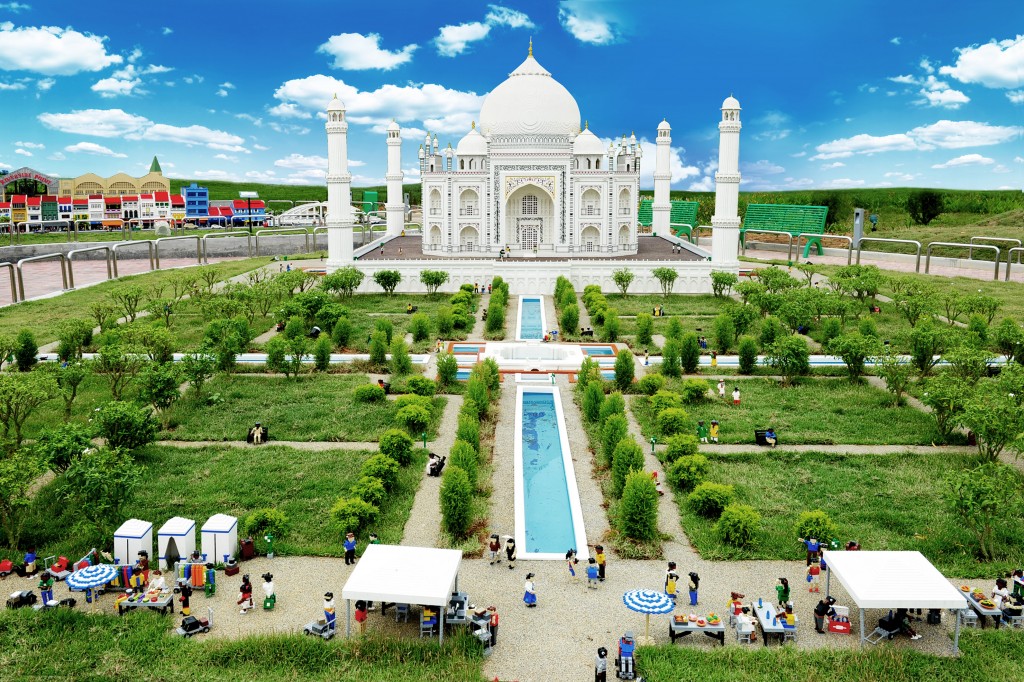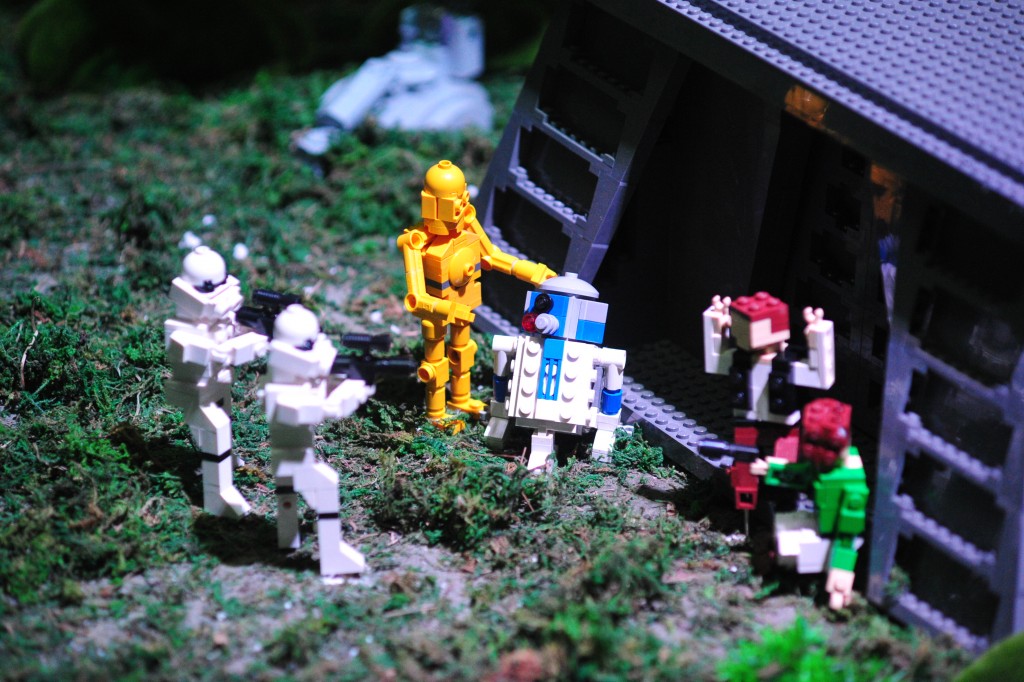 Legoland Water Park Highlights
Some 20 exhilarating rides await visitors to Legoland's water park.
Ease into it at the Build-A-Raft River before cooling off at the Joker Soaker.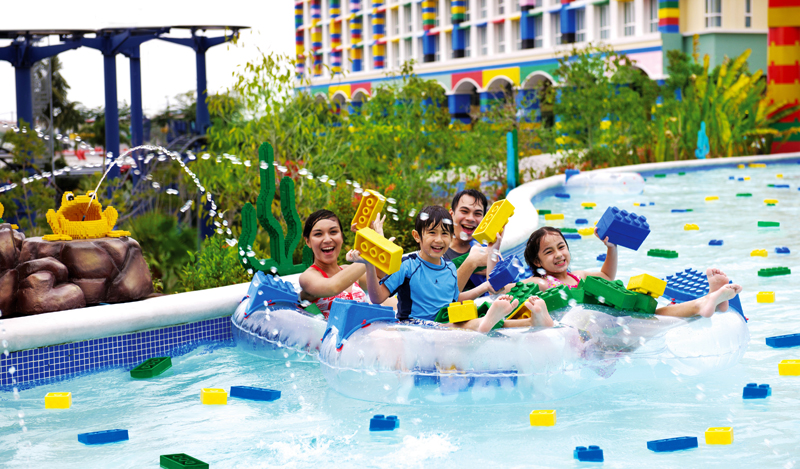 Credit: Legoland, Legoland Malaysia Resort
Then build up some momentum at the Wave Pool before climbing out to experience the thrills and spills of the Brick Blaster, Tidal Tube and Splash 'N' Swirl slides.
Take things up a notch with the Lego Slide Racers, where you can pitch yourself against others and check out who's the speediest swimmer.
End on a high by packing the whole family onto a tube at Red Rush, a 312-foot-long curving track. Duplo Splash Safari, with its shorter slides and interactive Duplo mascots, is perfect for tiny tots.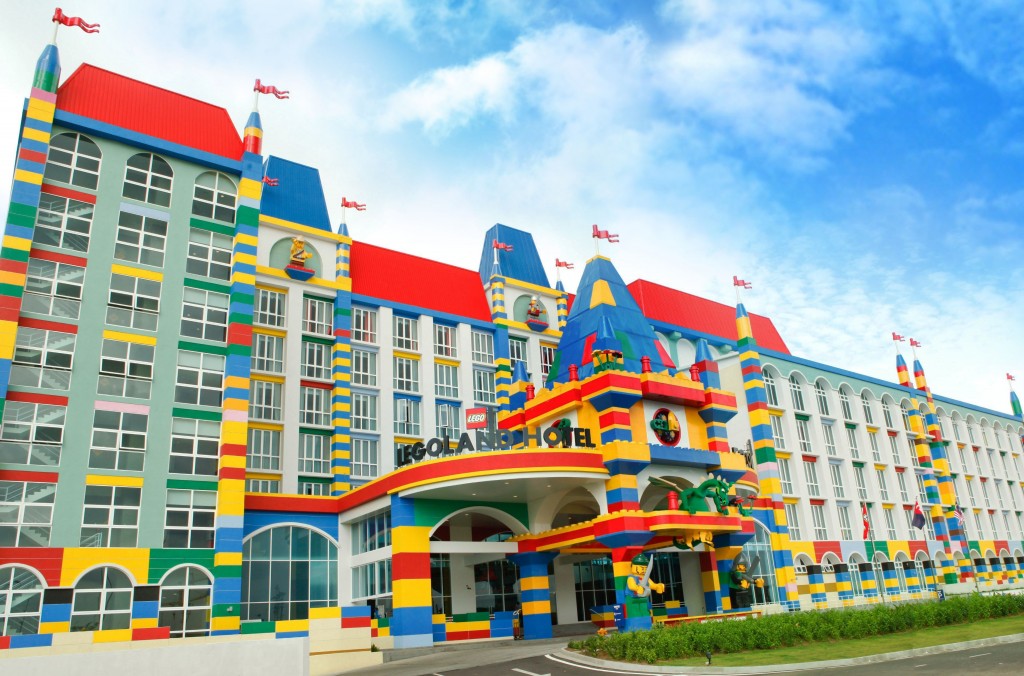 [tabs]
[tab title="Opening Hours" icon="entypo-clock"] Weekdays: 10am-6pm, Weekends: 10am-7pm
Check on the website for extended opening hours on weekends and during school and public holidays.  [/tab]
[tab title="How to Get There" icon="entypo-address"] Legoland is located in Johor Bahru, in the locality of Iskandar in Nusajaya.
From the North-South Highway, take Exit 253 and then proceed to Nusajaya, Exit 312. Signage will lead you right to the park! [/tab]
[tab title="Where to Stay: Legoland Hotels" icon="entypo-suitcase"]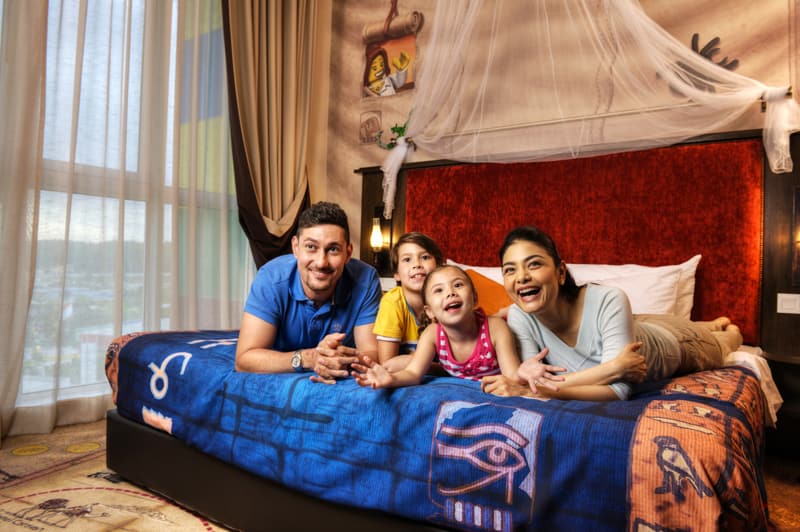 If you want the full-on Legoland experience, you simply must stay at the Legoland Hotel. Each of the hotel's 249 rooms features one of three distinct themes: pirate, adventure or kingdom. Each suite has ample room to comfortably accommodate a family and features a separate sleeping area for kids furnished with a cosy bunk and trundle bed. The in-room treasure hunt has little ones solving a series of puzzles to find a hidden prize – an amusing extra touch.
If that doesn't float your boat, a hotel that will make Mummy and Daddy happier is the Doubletree by Hilton Johor Bahru, where signature gooey chocolate-chip cookies await you at check-in.
For its proximity to Legoland and The Little Big Club, an indoor 'playscape', the plush Hotel Jen Puteri Harbour is another great alternative.[/tab]
[/tabs]
Images Courtesy of Legoland, Legoland Malaysia Resort.