By Expedia Team, on March 12, 2015
HK Neighbourhood Guide: Where to go in Hong Kong
Hong Kong is a city that feels larger than life, with its skyscrapers, dense population, cultural scene and global influence. The city is home to 7.1 million people and hosts an eclectic mix of cultures and traditions.
The city's roots are authentically Chinese and this remains evident in the ancient traditions that still exist in the communities that inhabit Hong Kong today. But far from one-dimensional, in Hong Kong different world views, a thriving arts scene, visitors from everywhere and a dynamic global business sector have melded together to make the city a true melting pot. A melting pot with a heart for Chinese tradition.
While you're there, you can attend a Cantonese opera, party in some of the hottest clubs, visit ancient Sikh temples, dine on your pick of ethnic culinary traditions, climb a mountain and treat yourself to some of the best shopping. There's no shortage of Hong Kong points of interest in these areas. If you're game to do it all, begin your training now with this guide to Hong Kong and its most popular neighbourhoods.
Central Hong Kong
Hong Kong's Central Business District – often referred to simply as 'Central' Hong Kong – is where the city initially sprung up around its lifeblood, Victoria Harbour. Today, the area is home to Hong Kong's banking, business and financial centre, marked by dazzling skyscrapers.
The iconic HSBC Building, Bank of China Tower and International Finance Centre are all located here, providing eye candy for any architecture fanatics in your group. Fans of urban design will also appreciate the city's tram network, which runs throughout the neighbourhood.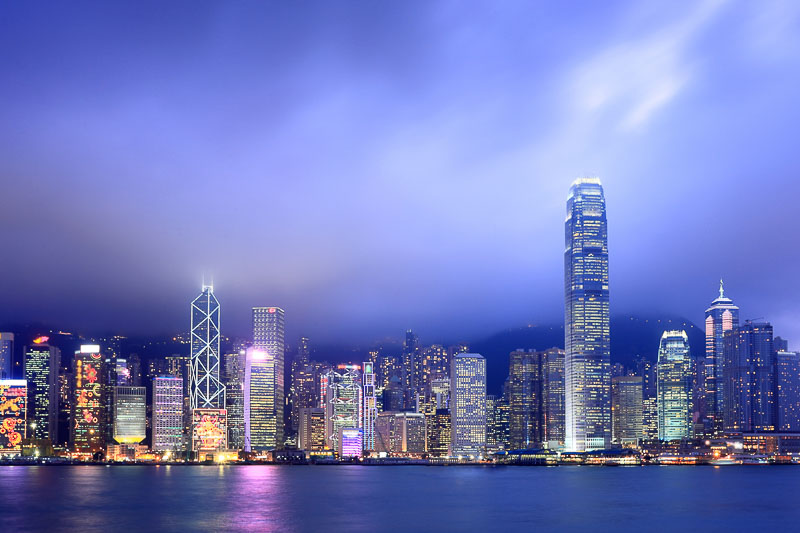 Attractions in Central Hong Kong are plenty.
The Hong Kong Zoological and Botanical Gardens make for a lovely stroll. Enjoy this Victorian-era designed space, which boasts more than 160 species of birds, greenhouses, a zoo, numerous fountains and sculptures.
For another green option, head to Hong Kong Park. This urban oasis is not only home to beautiful landscaping and lush greenery. It also houses the Flagstaff House Museum of Tea Ware and the Hong Kong Visual Arts Centre.
Lan Kwai Fong
If you're looking to party, Lan Kwai Fong is the place where all the fun happens. Located close to Central Hong Kong, the area rests on an L-shaped street and is the heart of Hong Kong's nightlife district.
Restaurants, bars, clubs, music venues and pubs galore out here, frequented by Hong Kong's yupsters – both local and foreign. Fly, Insomnia and Dragon-I are a few top-rated clubs to check out. Most bars spill out onto the closed street, making it easy to hop from bar to bar and mingle.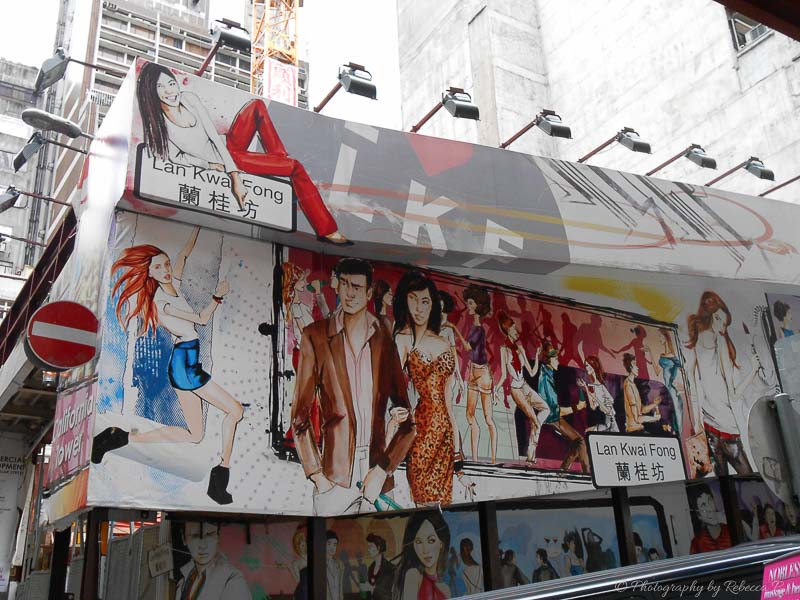 SoHo
Where Lan Kwai Fong shines in clubs and bars, SoHo casts its spell in shops and restaurants.
Browse along Staunton Street, Hollywood Road and Elgin Street to get your fill of boutiques, antique shops, cafes and art galleries. It also has its fair shares of bars, not unlike Lan Kwai Fong.
Grab New York-style pizza at Motorino, eat your fill of seafood (and a drink a Pabst Blue Ribbon – a trendy choice for locals) at Fatty Crab, or grab drinks at trendy bars such as Quinary and The Roger Room.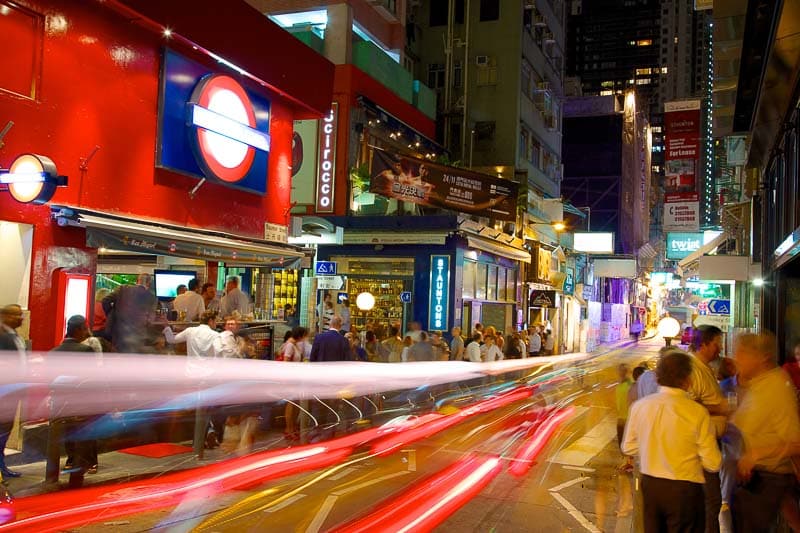 Wan Chai
Head east to discover Wan Chai, one of Hong Kong's most transformed neighbourhoods. This area once had a less-than-respectable reputation, but things are quite different today.Now it has a  healthy smattering of skyscrapers and businesses. But more important for travellers, Wan Chai houses some must-see Hong Kong attractions such as the Academy for Performing Arts and Hong Kong Convention and Exhibition Centre.
The area also offers ferry trips to Tsim Sha Tsui on the Kowloon Peninsula.
Tsim Sha Tsui
Speaking of Tsim Sha Tsui, this popular tourist destination is high up on the places to visit in Hong Kong. Bring your wallet (and your girlfriend).
Located on the Kowloon Peninsula, Tsim Sha Tsui boasts a large collections of restaurants and shops. Nathan Road, which runs through the neighbourhood, has been dubbed the 'Golden Mile of Shopping'. Take a stroll down the road and stop in for some designer duds at Chanel, Burberry, Fendi, or some unique finds at locally-owned Hong Kong boutiques.
Shopaholics should also make a stop at Harbour City, one of the largest shopping malls on the planet. Here, you'll find stores such as Alexander Wang, Celine, Alice & Olivia, Juicy Couture, Valentino, 7 for All Mankind, Calvin Klein, Chanel, Club Monaco, Kookai, Roxy, Versace and more.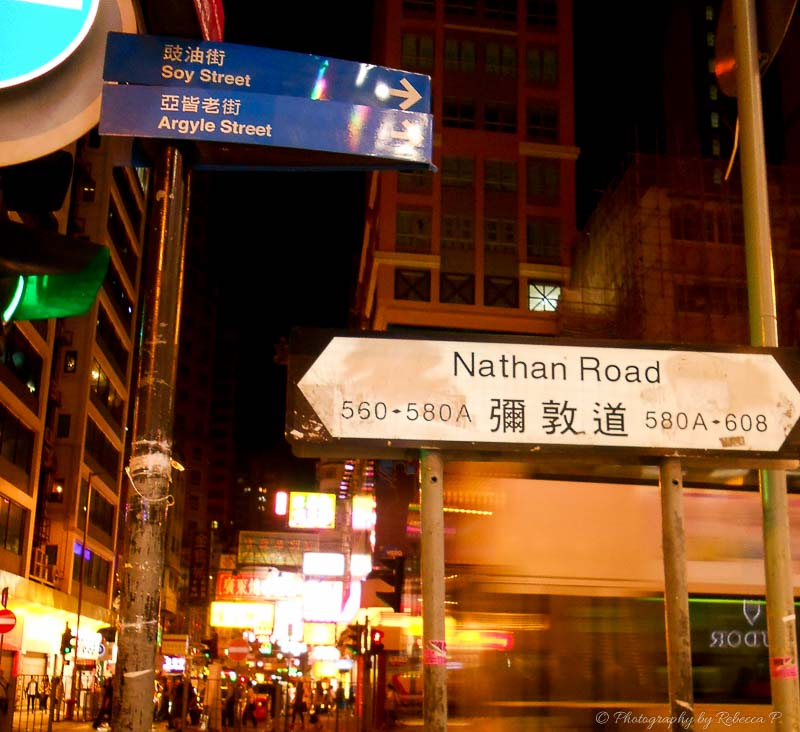 Yau Ma Tei
Head north on Nathan Road to encounter Yau Ma Tei, a Kowloon location with a more authentic and low-key vibe than Tsim Sha Tsui.
The neighbourhood is home to bustling and authentic Chinese markets where you can browse through colourful racks of unique goods and artisan crafts. In particular, the Temple Street Night Market boasts an array of vendors specializing in pottery, seafood, jade products, antiques, fashions and other goods.
Mong Kok
Continuing on our northbound journey through Kowloon, we reach Mong Kok.
Located due north of Yau Ma Tei, Mong Kok offers even more authentic Chinese markets, including the Bird Market and the Ladies' Market. This authentically Chinese area is both residential and industrial, so it offers a glimpse into what life is really like in Hong Kong.
Mong Kok is one of the most congested areas in Hong Kong. But it is precisely this that characterises Hong Kong.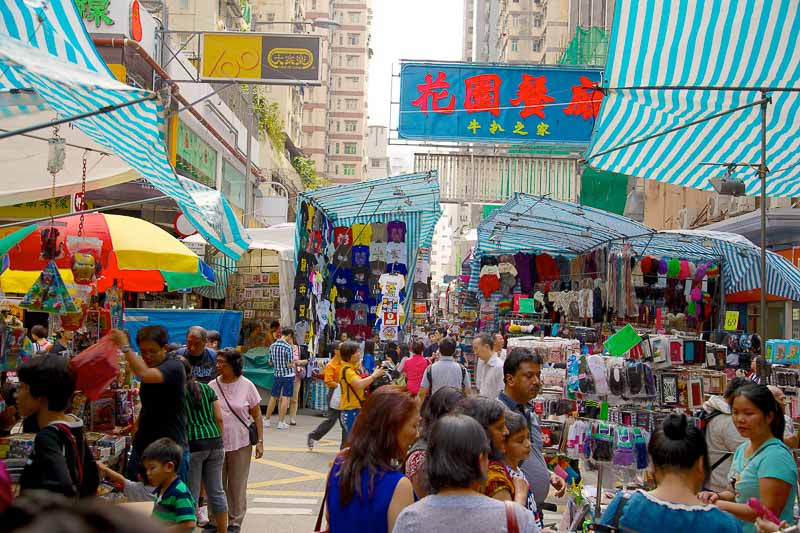 Ladies Market
Only a short flight away, Hong Kong has some interesting parallels to Singapore but offers a slightly different flavour on everything.
Take a short trip from Singapore to experience this high-tech city where a great deal of East meets West, where food is glorious and easily enjoyed by the Singaporean palate, where the shopping is great and the partying goes late into the night. Go on, you know you want some Dim Sum.