By Expedia Team, on February 27, 2016
Cha-Am or Hua Hin?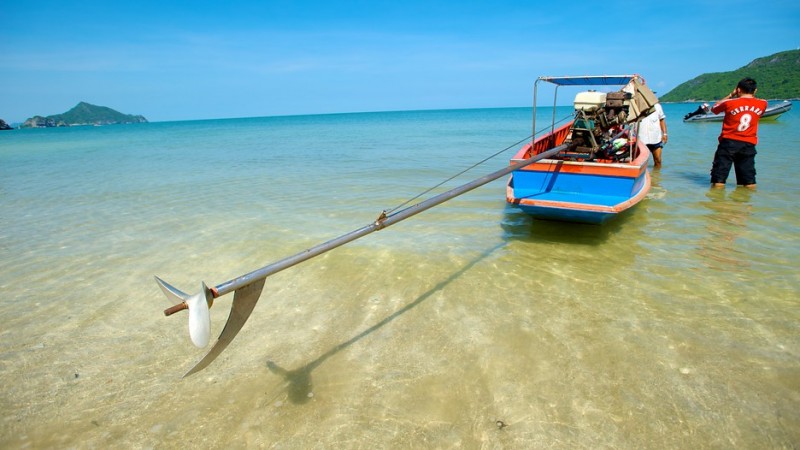 Your Thailand beach getaway solved!
If you're looking for a sunny beach holiday in Thailand, Cha-Am and Hua Hin are popular resort towns on the beautiful Gulf of Thailand coast, about 140km from Bangkok Airport.
Popular as weekend escape destinations for Bangkok residents, these once sleepy fishing villages offer golf, spas, sandy beaches and cool breezes – but that's where the similarity ends.
We've looked at the character and amenities of both destinations to help you choose which one is perfect for you.
Sand and Spas in Bustling Hua Hin
Hua Hin comes with a prestigious history to recommend it. In the 1920s, King Vajiravudh and King Prajadhipok built summer palaces here to escape Bangkok's stifling heat, leading the way for Hua Hin's destiny as a top getaway destination.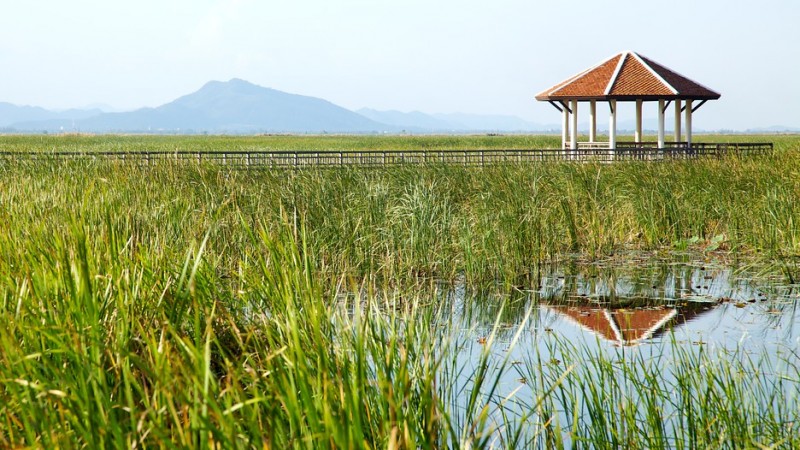 Hua Hin still attracts well-heeled locals on the weekends, but it's popular with tourists and expats, too. This bustling cosmopolitan town has everything you need, with vibrant night markets, delicious street food, lively nightlife and affordable seafood restaurants around the port.
The almost five-kilometre-long beach is sandy with some smooth boulders at the entrance. Further along the beach, towards the Buddha-adorned headland of Khao Takiab, you'll find soft white sand and calm warm waters, which compare favourably with better-known resort towns such as Pattaya and Khao Lak.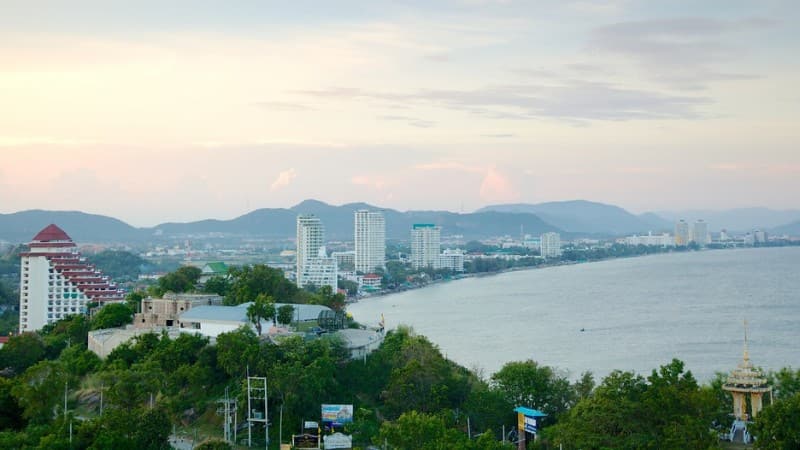 Hua Hin Hotels & Activities
High-rise hotels line the beach offering a range of accommodation options, from local guesthouses to international hotel groups.
Kiteboarding, fishing, eco-cruises, elephant trekking, cycling and pony rides are all available at very affordable prices. Visitors can get around using local songthaews (shared minibus services) to visit family-friendly attractions, such as Black Mountain Water Park with its cooling water slides, wave pool and Lazy River tube ride.
The Thais are renowned for their spas and wellness centres, with indulgent massages, Reiki healing treatments and detox therapies all on offer.
With a world-class golf course, Thai cooking schools, the Klai Kangwon Palace (which translates to 'Far From Worries') and local wildlife spotting at the Khao Sam Roi Yot National Park, it's hard to beat Hua Hin's broad range of attractions and vibrant ambience.
Coffee Shops and Charm at Cha-Am
Closer to Bangkok than Hua Hin by around 26km, Cha-Am boasts Thailand's longest beach and some of the best golf courses in the country, including the one at Springfield Royal Country Club, which was designed by former professional golfer, Jack Nicklaus.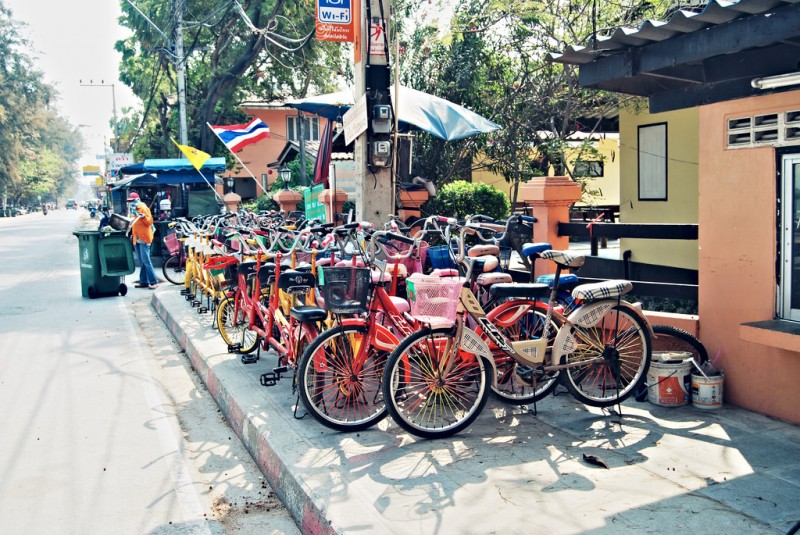 Bicycles in Cha-Am / CC by 3.0 / Amy Thibodeau
Cha-Am remains a serene choice, with palm trees lining the beach rather than high-rise structures. The town is dotted with coffee houses offering a pleasant place to sit and people-watch with a foamy latte and a decadent slice of coconut cake. 'OKay', the town's main supermarket, has a selection of expat food and a library of second-hand books, while 'The Baguette' bakery does a roaring trade in fresh baguettes and gooey pastries.
Hotels and Activities in Cha-Am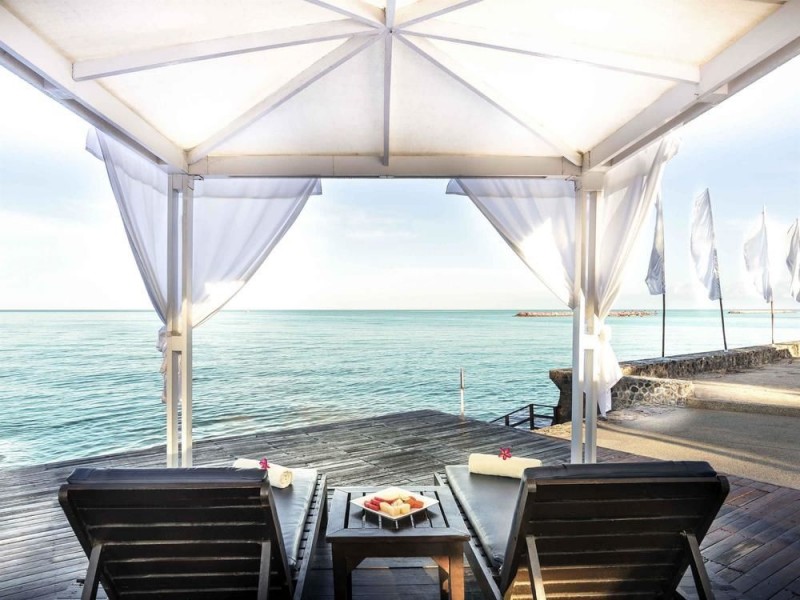 Many boutique hotels in Cha-Am are set in shady flower gardens that buzz with cicadas. Suspended coconut shells hold blooming orchids, while urns of lotus flowers welcome guests in many hotel foyers. Tourists still experience the gentle Thai culture in Cha-Am, which adds to the ambience of this laid-back town.
Expert local tailors are happy to make bespoke suits, silk dresses and tailored clothing in a couple of days.
Cha-Am is ideal for sunbathing, fishing, shopping for crafts and jewellery and dining well on local seafood.
Not to be outdone by Hua Hin, it even has its own palace, Phra Ratchaniwet Mrigadayavan, which is about 8km south of the town. This royal residence consists of a collection of teak-built houses on stilts that are connected by raised walkways.
Cha-Am Forest Park is small but interesting to tour in an all-terrain vehicle. However, if you're looking for partying, nightlife, discos and clubs, you're probably better off heading south to Hua Hin.
[tabs]
[tab title="Best Time to Visit" icon="entypo-light-up"]
When to Go 
Both Hua Hin and Cha-Am have pleasant tropical climates and can be visited all year round. The cooler months are from November to February; the hot season is from March to May; and the wettest months are from June to October when short sharp showers can be expected.
Festivals in Hua Hin and Cha-Am
Popular cultural celebrations include Chinese New Year and the Cha-Am Crab Pulling Festival, which are both in February, the International Kite Festival in March, Songkran (Thailand's most important celebration) in mid-April and the Loy Krathong Festival in November, which is when candlelit banana leaf boats are set adrift on ­water.
In addition, Hua Hin has its Ballooning Festival through February and March, the Kiteboarding World Cup in March, the Summer Festival in May, Jazz Festival in June and Food Festival in December.
The King's Cup Elephant Polo Tournament in September is a major Hua Hin attraction, hosted by the Anantara.
[/tab]
[tab title="Where to Stay" icon="entypo-suitcase"]Where to Stay
Hua Hin: The exceptional Chiva-Som consistently earns a mention in the Conde Nast Traveller Readers' Choice Awards. The four star Royal Pavilion offers excellent value, as does the three star Baan Chalelarn, which is close to the pier.
Cha-Am: Prices are generally lower in Cha-Am than Hua Hin, so the four-and-a-half star Grand Pacific Sovereign Resort and Spa represents excellent value for money. The five star Cera offers a shuttle to the nearby beach, while the three-and-a-half star Regent Cha is right on the ocean. [/tab]
[tab title="Getting There" icon="entypo-address"] 
How to Get There
There are frequent cheap flights to Bangkok's Suvarnabhumi Airport (BKK) from Malaysia with Malaysia Airlines and Thai Airways. The final journey to Cha-Am or Hua Hin can be completed by train (which is slow but scenic), a VIP coach direct from Bangkok airport, a minibus from the Victory Monument (Anusawari Chai), or by private taxi. [/tab]
[tab title="Visa Requirements" icon="entypo-book"]
Visa Requirements
No visa is necessary for Malaysians visiting Thailand for up to 30 days as a tourist.
[/tab]
[/tabs]