By Expedia Team, on March 27, 2017
6 Attractions on Jeju Island Not to Miss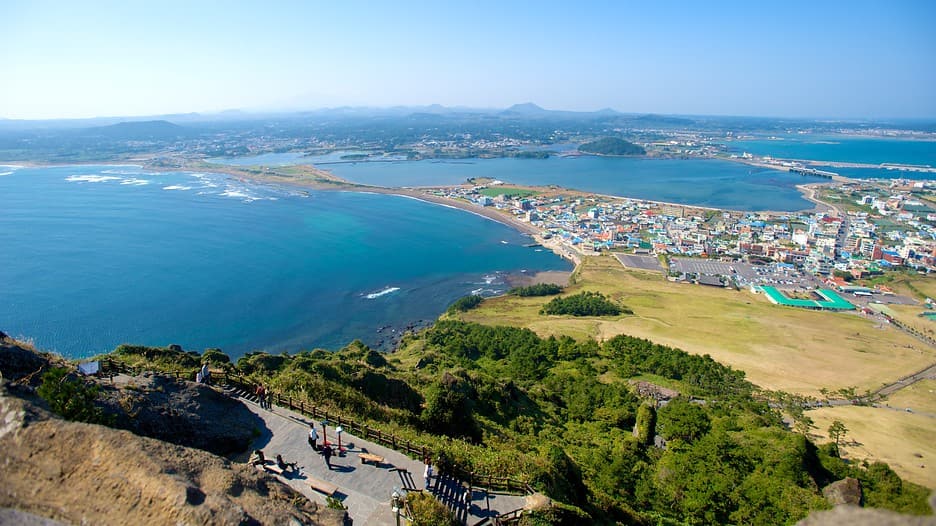 Not every island can boast having UNESCO status, including being a Global Geopark and Natural Heritage Site, but Jeju Island has all these things, and more. Located in the Korea Strait, Jeju Island is famous for its lava tubes, hiking trails and ancient dolmen stones. Home to the highest mountain in South Korea, this unspoilt island is tailor-made for ecotourism. Here are 6 unique attractions in Jeju Island that you won't want to miss.

1) Grandfather Stones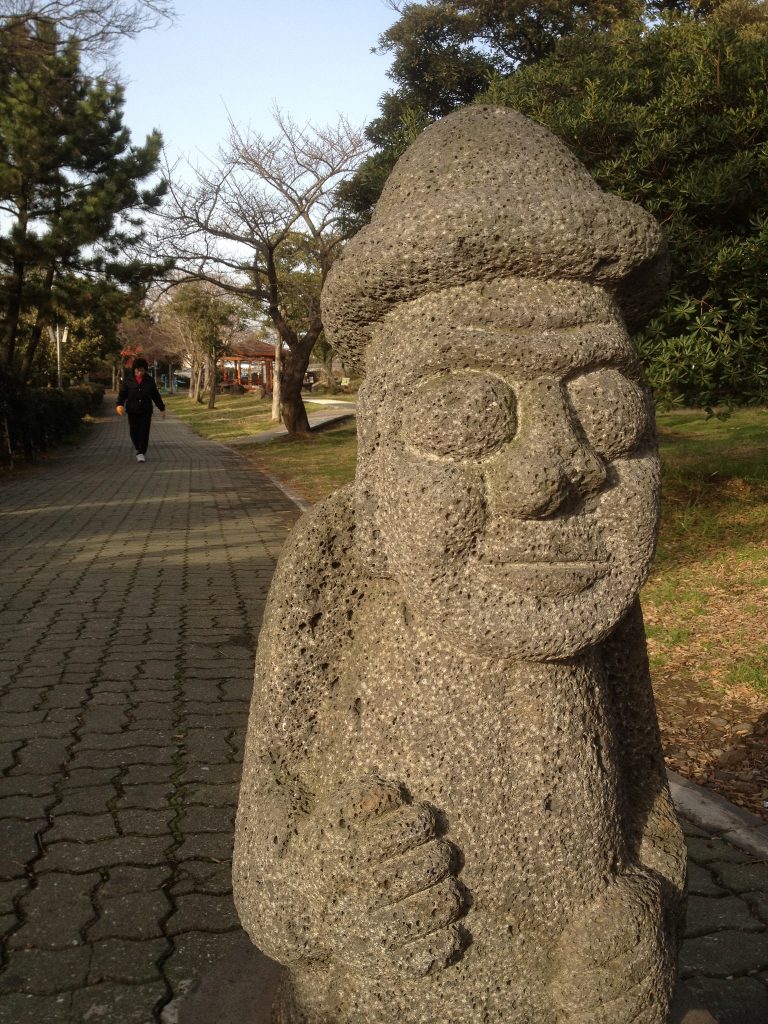 CC 2.0 / Kainoki Kaede
Jeju Island is littered with strange figures carved from basalt rock and known as dol hareubangs. Similar to Easter Island's moai, these carved statues were placed outside gates to provide protection from demons and guarantee fertility. Standing up to three metres in height, these Grandfather Stones wear nothing more than a fearsome facial expression and a mushroom-like hat.
For an up-close encounter, visit Geumneung, which has a wide collection of dol hareubangs and other statues.

2) Manjanggul Lava Tunnel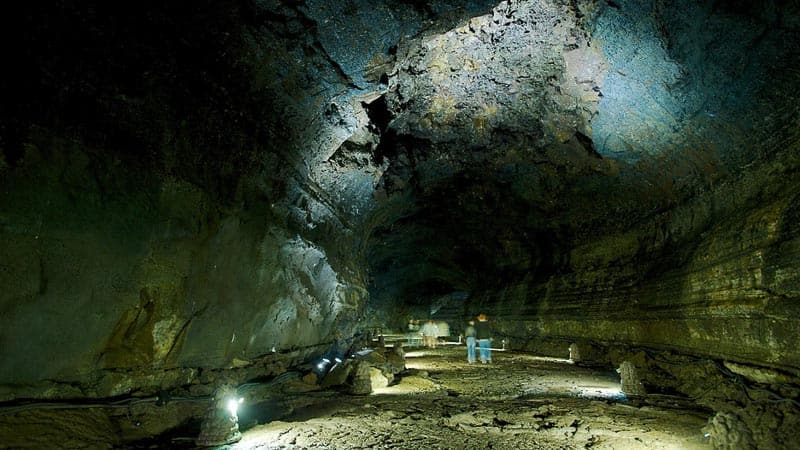 Manjanggul is among the largest lava tunnels in the world and the cave itself is a World Heritage Site and major attraction on Jeju Island. Visitors can explore just one kilometre of the 13km-long Manjanggul system.
This strange underground passageway with dripping walls is actually the inside of a lava flow. These vast lava tubes were formed when hot lava flowed from the volcano. The outside hardened in the colder air and formed a crust while the lava inside continued to flow, creating these hollow cave-like passageways. Look out for the strange shapes left behind by the molten rock flow, including the Stone Turtle, said to be shaped like Jeju Island.

3) Hallasan Volcano, the Highest Mountain in South Korea
The highest peak in South Korea is Hallasan, a dormant volcano in central Jeju Island, which is 1,950 metres high.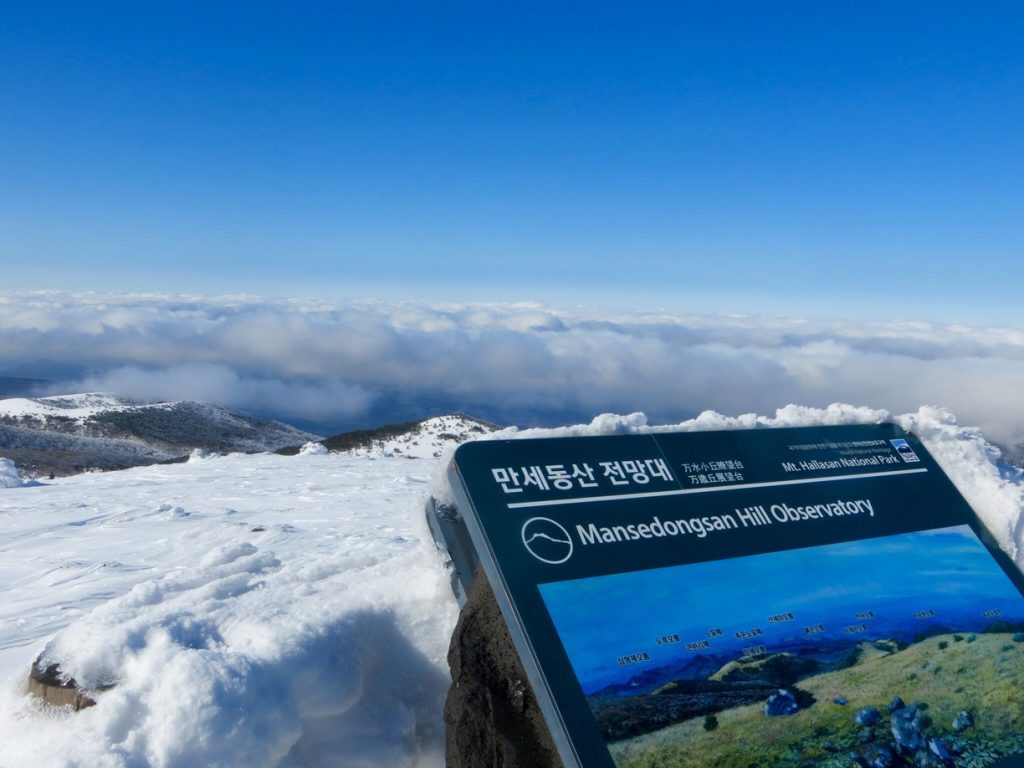 Trover photo by Jessica Zafra
There are many hiking paths and trails up the flanks of this rocky mountain to its snow-capped summit. Enjoy showy azaleas in spring and vibrant foliage in the autumn. Voted one of the world's New 7 Wonders of Nature, this ecological treasure is surrounded by a national park rich in wildlife.
Elsewhere, numbered walking trails, known as Olle, follow winding lanes around the scenic coastline. Routes are marked by coloured ribbons and are the best way to enjoy the serenity and natural beauty of Jeju Island.

4) Tradition of Women Divers 
Known as haenyeo, women in Jeju Island traditionally dived for shellfish and seaweed to support their families while the men were away fishing or at war.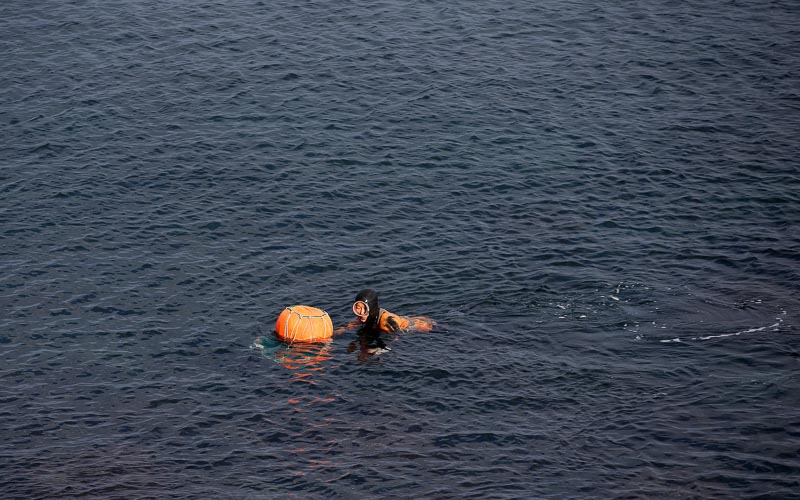 CC 2.0 / Republic of Korea
Trained to hold their breath for several minutes, these 'Korean mermaids' dive more than 20 metres to bag abalone, sea cucumber, octopus and shellfish. As you enjoy a meal of fresh seafood during your stay in Jeju Island, give a thought to the woman who harvested the catch. This dying art is usually practised by older women whose average age is about 65! These 'sea women' are known as haenyo. They dive up to 20 meters without any breathing aids, to collect clams, squid, octopus and other seafood for dinner.

5) Honeymoon Island
Jeju Island was a favourite honeymoon destination for Koreans for decades, thanks to its relaxed atmosphere and rural natural beauty.
You may want to visit the adults-only Jeju Loveland theme park with your partner and see a different perspective of Korean culture.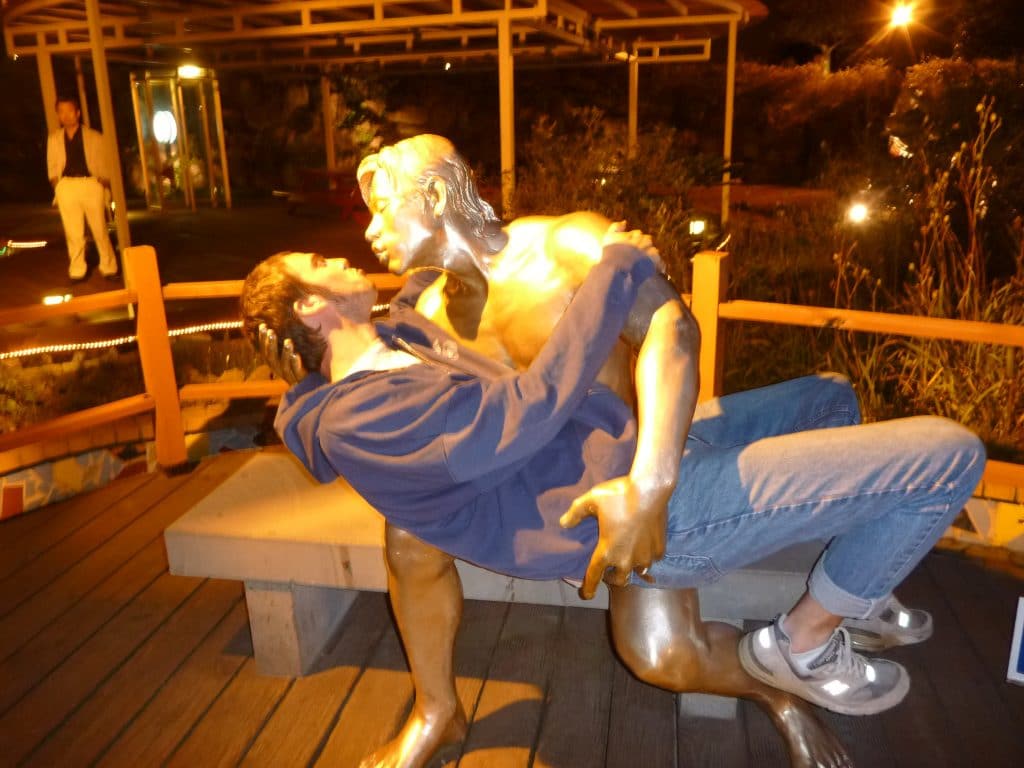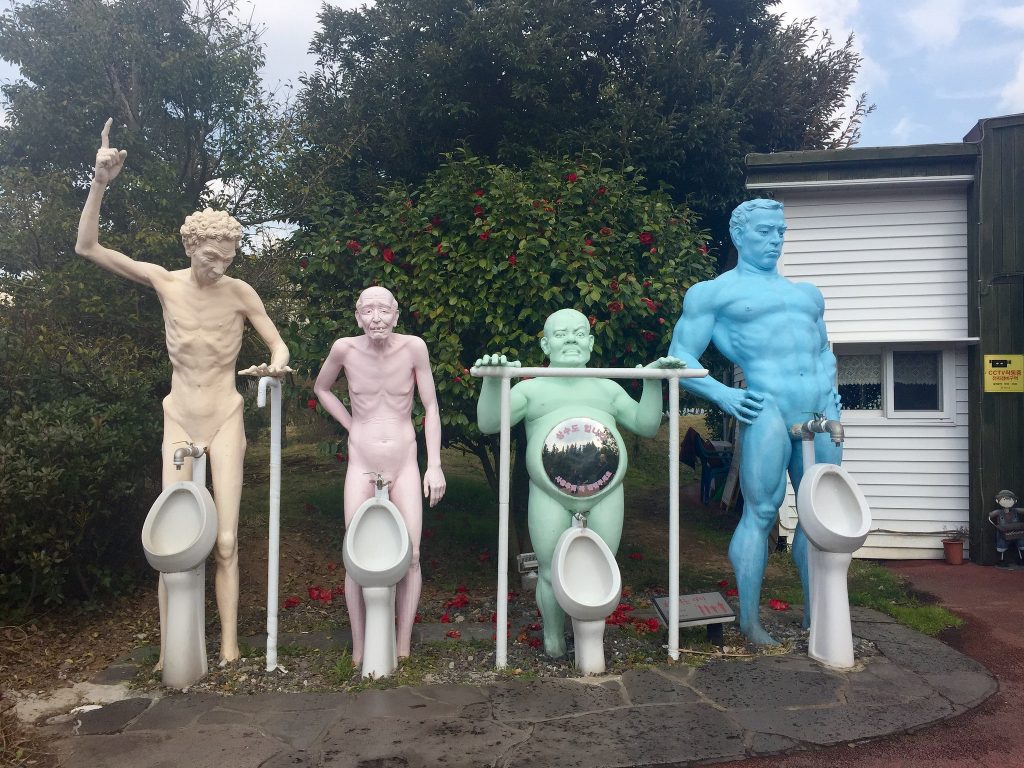 CC 2.0 / Marie ;  anokarina ;  Steve Slep

6) Yakcheonsa Temple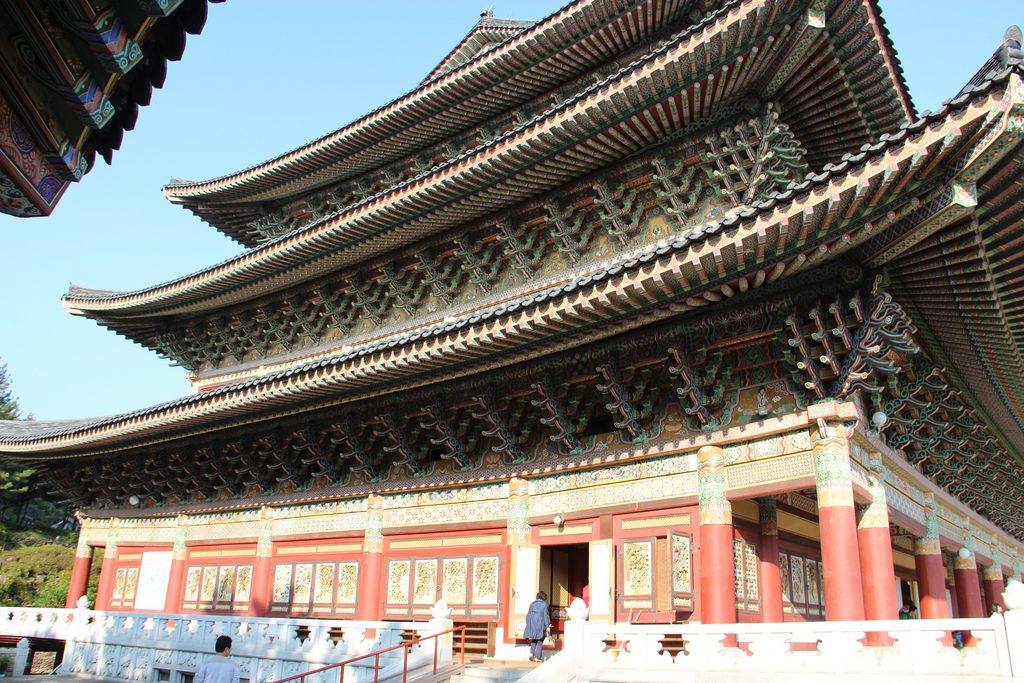 CC 2.0 / Wilson Loo Kok Wee
Yakcheonsa Temple is another example of the superlative attractions on Jeju Island. It's one of the largest Buddhist temples in Asia and houses an enormous figure of Buddha. Admission is by voluntary donation. Admire the stunning ocean views, impressive artworks and dragons decorating the immense structure.
Bonus
Another attraction Malaysians would love for all its cuteness, is the Jeju Teddy Bear Museum.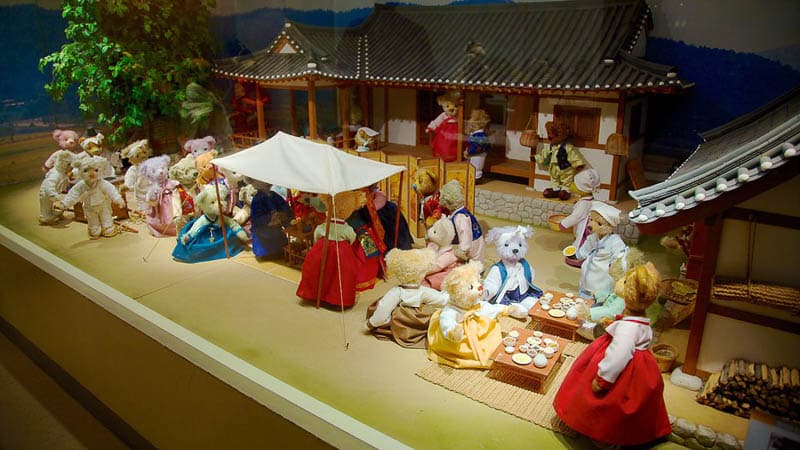 [tabs]
[tab title="Best Time to Visit" icon="entypo-light-up"]
Weather in Jeju Island: Jeju Island experiences four distinct seasons, each with its own weather. Summer is the most popular time for tourists to visit Jeju Island. Sunny days and warm temperatures are perfect for beach vacations, but it can be wet and humid. Spring and autumn are cooler, less crowded and cheaper with some sunny days and showers.
April to June is the prime time for outdoor activities. [/tab]
[tab title="Where to Stay" icon="entypo-suitcase"] Jeju Island has accommodation to suit all budgets and styles, from budget Ondol hostels and guesthouses to five-star luxury resorts. Jeju City hotels are ideal for those who appreciate a range of fine restaurants, shopping and attractions. Hotels in Seogwipo City offer a more natural environment on the south coast of the island. Check out all available deals.
[button style='blue' url='https://www.expedia.com.my/Jeju-Island-Hotels.d6049718.Travel-Guide-Hotels?rfrr=TG.Destinations.City.Book.Hotels' icon='entypo-suitcase' fullwidth='true'] Search Jeju Island Hotels[/button]
[/tab]
[tab title="Getting There" icon="entypo-address"]Flights to Jeju Island take approximately eight hours, and include one stop on the journey. Major airlines offering flights to Jeju International Airport include China Eastern Airlines, China Southern Airlines, Korean Air, Jeju Air and Eastar Jet.[/tab]
[tab title="Visa Requirements" icon="entypo-book"]Do I need a visa for Jeju Island, South Korea? A visa waiver scheme is in place for Malaysian residents, who can stay for three months. Australian and US passport holders can stay for 90 days with visa-free entry. [/tab]
[/tabs]