By Expedia Team, on March 19, 2016
Holiday Shopping: Exotic Destinations to Buy Unique Jewellery
Jewellery makes a great souvenir of any exotic destination and it does not have to be expensive to have value. Here are seven destinations where you can pick up a unique and wearable treasure.

The thrill of international travel not only introduces us to new destinations, but also to different cultures, customs and resources. Some of the best souvenirs of an exotic holiday are jewellery items that are specific to a local culture or country. Natural jewellery can take the form of amber (fossilised tree resin), shells, semi-precious gems and wooden beads, but perhaps the most unexpected materials come from plants.
The beauty of botanical jewellery is that it is relatively inexpensive, yet polished seeds, bamboo and palm can create unusual jewellery that exudes its own aesthetic beauty and charm. Although the components may be free, the time and skills of local artisans is what transforms these intrinsic items into desirable, wearable souvenir jewellery.
Here are seven ideas for wearable souvenirs and where to find them.

1) Amber from the Baltic
Amber is a remnant from ancient forests where time and pressure has turned tree resin into a rich translucent fossil. Commonly found around the Baltic Sea and in the Dominican Republic in the Caribbean, amber comes in a variety of golden yellow shades – hence its name – although it can also be brown, green or even black.
It's worth taking a close look at amber as it often contains tiny scraps of fossilised ferns or even ants and insects that were trapped in the sticky resin thousands of years ago. For a unique piece of fossilised history, amber jewellery makes a worthy souvenir of any trip.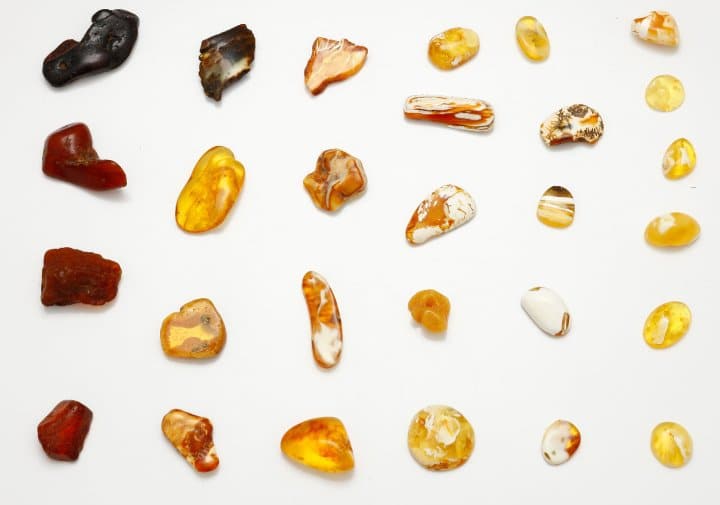 2) Sharks' Teeth from the Philippines
Snorkellers and divers may appreciate owning their very own shark's tooth necklace, and you don't have to wrestle a shark to get one. Sharks continuously shed their teeth which are a distinctive triangular shape and come in all sizes. Over time, sharks' teeth become fossilised before being washed ashore by ocean currents.
Caspersen Beach in Florida is known as the 'Sharks' tooth capital of the world' and beachcombers can be seen sifting the sand with box sieves to retrieve these common fossils from prehistoric Megalodon sharks. Believed in some cultures to ward off evil, a shark's tooth dangling from a leather cord can make a very cool piece of jewellery for either men or women. Commonly sold as a souvenir in The Philippines and on Indian Ocean islands, wearing the tooth of a great white shark does have a certain cachet.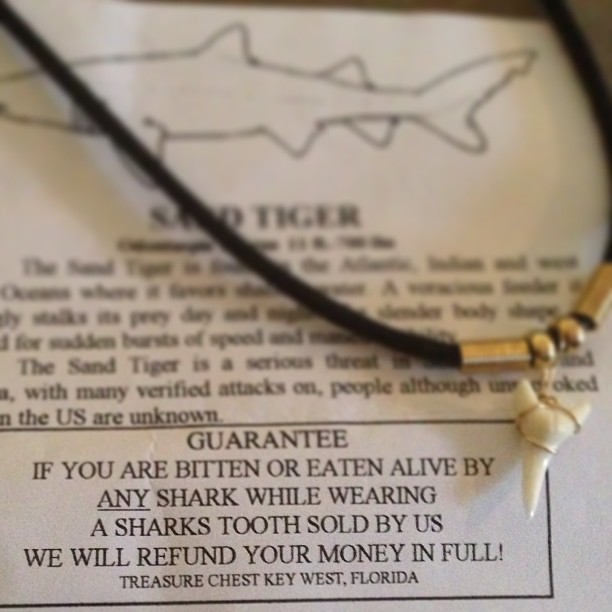 Shark tooth necklace / CC by 3.0 / Greg Swan
3) Shells from New Zealand
Abalone, paua and mother-of-pearl all have one thing in common – they come from seashells. The iridescent lining of these molluscs come in gorgeous natural colours of blue, green, pink and pearl.
One of nature's marvels, paua is sustainably produced in fisheries around New Zealand. The Maori consider the shellfish a delicacy and the shell is then used in creating jewellery to rival the brightest opals or gemstones.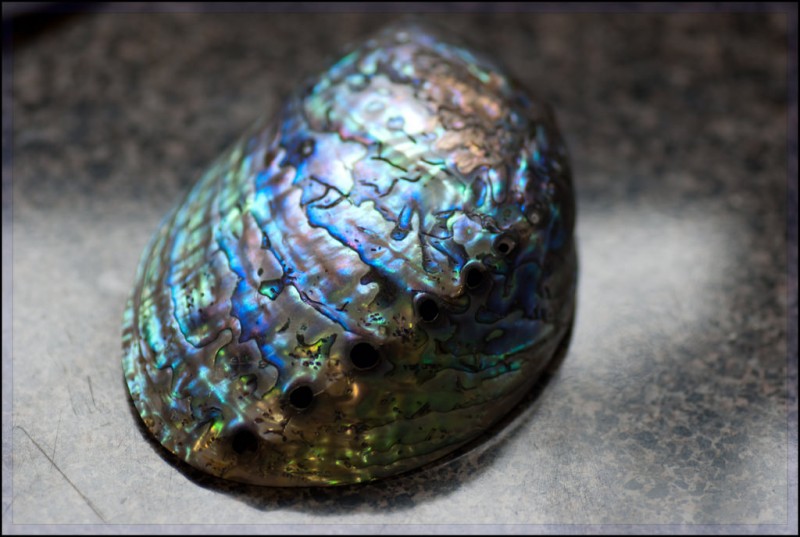 Paua shell / CC by 3.0 /Jörg Hempel
4) Beans and Seeds from Mexico
You may not realise at first glance that a beautiful string of scarlet and black beads is actually made from dried seeds or shiny beans.
The Mexicans are particularly adept at making eye-catching necklaces from dark red mescal and coral beans. Once used as ceremonial necklaces, these glossy seeds are often combined with shiny black seeds from Texas buckeye to create a very dramatic piece of jewellery. The charm of any botanical necklace or bracelet is the unique shape of each bead, making every item of jewellery unique.
olmeccollections.com
5) Murano Glass from Italy
The tiny offshore Venetian island of Murano is the source of authentic Murano glass. The molten glass encapsulates vibrant swirls of colour as it is fashioned into beautiful beads, multi-coloured pendants and even watch faces by local artisans. Murano glass has been produced on the island for over a thousand years and it makes a fitting souvenir of any visit to Venice.
While a cup of coffee in the 'City of Bridges' may set you back a small fortune, a genuine Murano glass key ring or pendant is surprisingly affordable.
CC by 3.0 / Michael Levine-Clark / Claude & Penny Cruz
6) Jade from China
Jade is traditionally associated with China, Korea and south-east Asia, although it is also mined extensively in Canada and shipped to expert carvers in China, Hong Kong and Taiwan. Prized for its mirror finish when polished, this hard green stone is ideal for carving into figurines, beads, pendants, bangles and intricate jewellery.
Ancient jade weapons and carvings have been discovered dating back to 550BC in Korea, but modern jade jewellery is far more affordable and arguably just as attractive.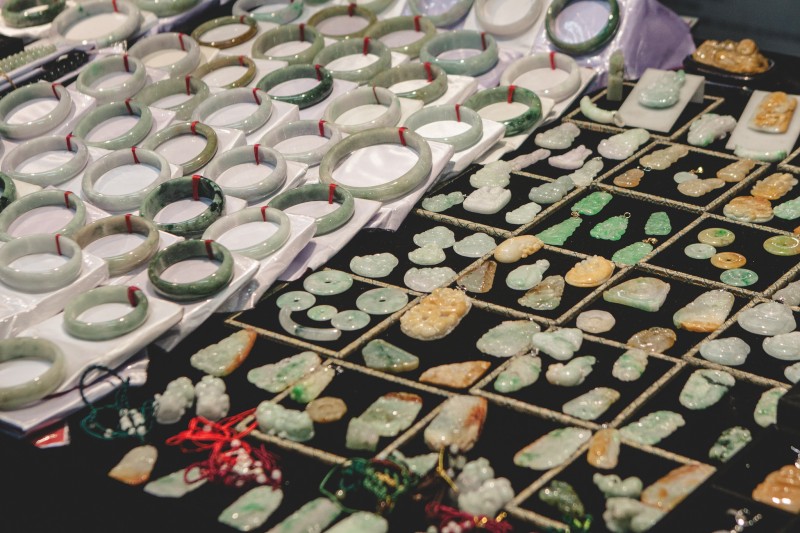 Jade market in Taiwan ? CC by 3.0 / Jirka Matousek
7) Black Pearls from Tahiti
If you want to let the world know you have visited Tahiti, you need to splash out on black pearl jewellery.
Tahitian pearls are only cultivated around the islands of French Polynesia. Known as black pearls, these natural gems come in a range of sheens including green, purple, silver and charcoal. While the perfect black pearl souvenir may cost thousands of dollars in a jeweller's store, you can rummage through boxes of mismatched or slightly irregular pearls in pearl shops in Papeete and have your own bargain pearls made into a ring, earrings, a drop pendant or a full necklace for a lot less. It's the ultimate souvenir jewellery!
Responsible travellers can boost the local economy, preserve cultural skills and provide employment by supporting local artisans. However, importing jewellery made from ivory, coral, animal hide or other unsustainable resources is illegal, so make sure you know exactly what you are buying.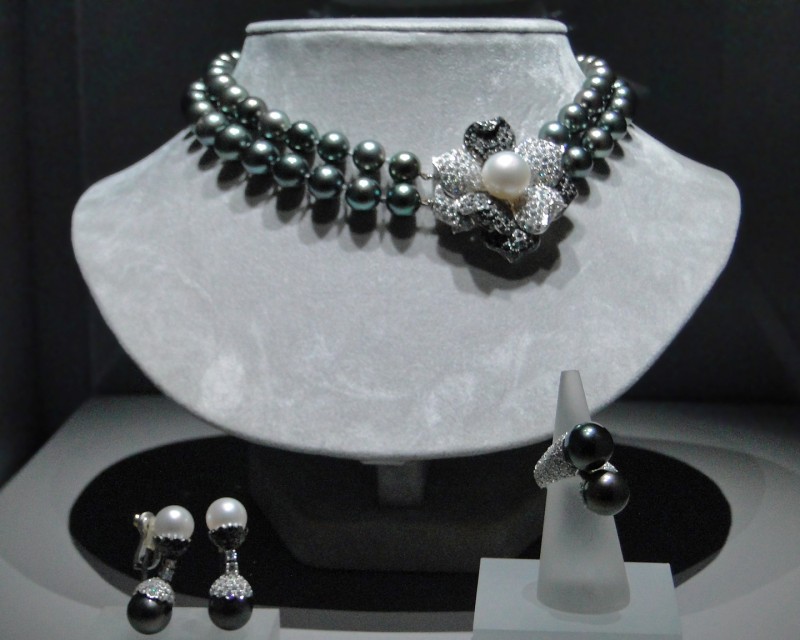 Black tahitian pearls / CC by 3.0 / Maia C