By Expedia Team, on October 10, 2015
Shopaholic Holidays: Bangkok Shopping Guide
Pack light when you travel to the Thai capital because you'll want to maximise luggage space for the spoils of your trip!
To say that Bangkok is a shoppers' paradise is an understatement. Filled with malls, markets and cute boutiques at practically every turn, you'll never run out of things to buy. Here are some of my favourite places to go shopping in Bangkok and what to buy when you get there.
Bangkok Shopping at Terminal 21
Sukhumvit Road (between Soi 19 and 21), www.terminal21.co.th
Not just another run-of-the-mill shopping mall with the usual high-street brands, Terminal 21 looks different even from the outside. Built to resemble a futuristic airport terminal, every floor of this nine-storey mall is inspired by a different city, from Rome to San Francisco, so you feel you're travelling the world within the building.
I especially love browsing the tiny boutiques on 1F (Tokyo), 2F (London) and 3F (Istanbul), which are run by local designers and entrepreneurs as these are the places where I am most likely to uncover a hidden gem such as a cute piece of jewellery or a funky pair of culottes.
P.S. Foodies must also check out the Gourmet Market in the basement to pick up unique Thai delicacies such as curry pastes and dried spices as souvenirs.
How to Get There: Take the BTS Skytrain to Asok BTS Station.
Bangkok Shopping at Karmakamet Diner
30/1 Sukhumvit Road, www.karmakamet.co.th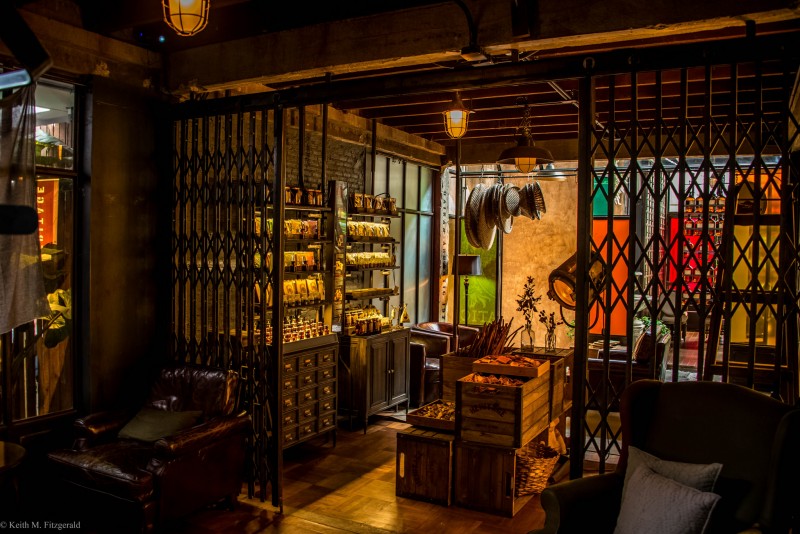 Photo by Keith Fitzgerald/CC BY 2.0
Most people visit this establishment for a meal, and you certainly should as well, if only to soak in the wonderfully conceptualised vintage-industrial interiors of this stunning space. However, what keeps me returning each time I'm in Bangkok is the incredible retail space chock-full with exquisite potpourri, home fragrances and bath and body products.
Interestingly, Karmakamet actually started out as a purveyor of body and home fragrances, with a stall at Chatuchak Market, before branching out into F&B. It quickly became a favourite of discerning beauty lovers for its use of quality ingredients for its candles, essential oils and body products. Plus, the products are of comparable quality to many expensive French labels, but at a significantly cheaper price – around 1100 THB (about RM130) for a candle.
I still vividly remember stepping into the store for the first time, where I was so awed by the extensive array of scents that I could barely sit through my brunch, as all I wanted to do was go back to sniffing as many fragrances as I could. Since then, I've learnt to arrive early to shop (I never leave with less than a bagful of scent diffusers, body lotions and candles) before settling down for a good meal.
How to Get There: Take the BTS Skytrain to Phrom Phong BTS Station.
Bangkok Shopping at Chatuchak Market
Kamphaeng Phet 2 Road, www.chatuchak.org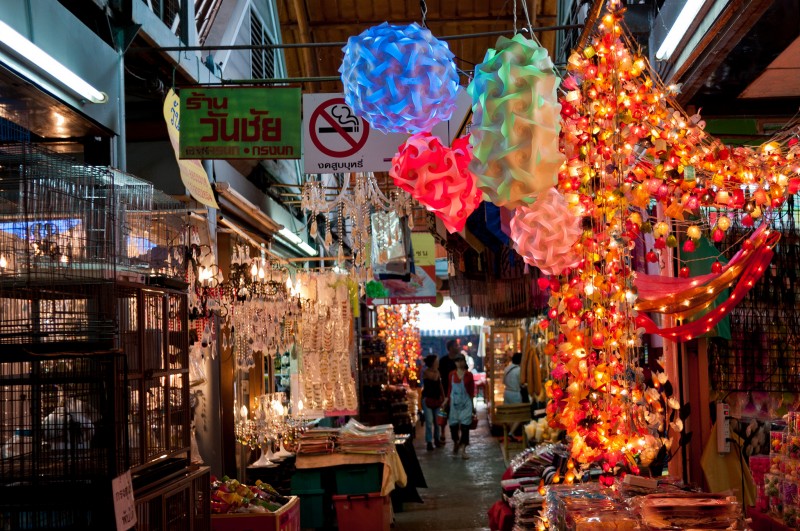 Photo by Mark Fischer /CC BY 2.0
The mother of all street markets in Bangkok, Chatuchak is a must-visit for its sheer size and variety of stores. This sprawling market is divided into 27 sections and houses a mind-boggling 15,000 booths selling a diverse range of items – from books to clothing and accessories to antiques and home decor items. Chatuchak is open on weekends from 6am to 6pm, so try to get there early before the midday heat wipes you out.
Plan your shopping strategy by deciding what type of wares you are after. Fashionistas should look out for the vintage apparel stalls where there's plenty of retro styles to admire. If you're more of a homebody, zoom in on the home decor and tableware section for cute paper lanterns, pretty ceramic ware and funky cushions. There's also plenty of bric-a-brac, antiques, plants and food stalls to explore.
It can get muggy especially in the afternoon, but a serving – or two – of Bangkok's delicious coconut ice cream will help keep you cool as a cucumber while you're on your treasure-hunting mission.
How to Get There: Chatuchak Market is next to the Kamphaeng Phet MRT Station, or about a five-minute walk from the Suan Chatuchak (Chatuchak Park) MRT and Mochit Skytrain BTS Stations.
Talad Rot Fai Night Market
Srinakarin Road
If all that shopping in the day hasn't worn you out yet, fret not as you can continue adding to your acquisitions at the Talad Rot Fai Night Market. Unlike many other night markets, which appear to be a hodgepodge of random stalls, this is a vintage night market that's just oozing with a cool, hipster vibe. Many stalls are decorated with vintage posters, signs and even vehicles such as Vespas and Volkswagens, making for very cool Instagram moments.
Make a beeline for the warehouse (open from Tuesdays to Sundays, 3pm to 11pm), where there is a large collective of vintage stores selling antiques and knick-knacks including gramophones, furniture, appliances and all sorts of memorabilia. There is also an open-air market that is open from Fridays to Sundays, 4pm to midnight, which offers up a mind-boggling assortment of wares.
Best of all, there's also plenty of themed eateries, bars and food stalls and live music to chill out to at the end of your epic shopping expedition.
How to Get There: The closest BTS Stations are Udom Suk or On Nut. From there, take a taxi to Talad Rot Fai for about 70 baht. Tell the taxi driver to drive you to Seacon Square, if he is not familiar with the night market. You can also take a taxi from the city centre for about 200 baht.
EmQuartier
637 Sukhumvit Road, www.theemdistrict.com
This is one of the newest malls in Bangkok and it is already a must-visit destination for shopaholics. Label lovers looking for their next "it" bag or statement heels will love the first two floors, which are packed with exclusive designer brands including Louis Vuitton, Gucci and Prada.
But wait, there's more! Besides these swanky boutiques, wander around a little more to peruse fun stores by cult and indie labels such as Soda, StyleNanda and A Bathing Ape. With over 400 boutiques, the challenge is narrowing down your choices so you'll have some baht left for your next meal. I was equally delighted to stumble upon the lovely rooftop garden located within the mall – great for some fresh air and excellent for a #selfie photo op.
How to Get There: Take the BTS Skytrain to Phrom Phong BTS Station.
[tabs]
[tab title="Best Time to Visit" icon="entypo-light-up"] Best Time to Visit Bangkok: Expect year-round tropical weather in Bangkok, with slightly cooler temperatures and lower humidity from November to February. You can also expect good deals galore during the mid-year and year-end sales in June, July, November and December.[/tab]
[tab title="Where to Stay" icon="entypo-suitcase"] Aloft Bangkok is a modern chic hotel just five minutes from the centrally located Nana BTS station, for ease of transport around the city. Courtyard by Marriott is a convenient five to 10-minute walk from popular malls, including Siam Paragon and the CentralWorld shopping complex.[/tab]
[tab title="How to Get There" icon="entypo-address"] Thai Airways, Bangkok Airways and Malaysia Airlines all offer direct flights from Kuala Lumpur to Bangkok (BKK). Flight time is just over two hours.[/tab]
[/tabs]