By Expedia Team, on July 11, 2015
50 Things to do in Singapore
As Singapore celebrates its 50th year, we round up 50 things to do in Singapore and places to visit whenever you hop over to our neighbour's for a short weekend getaway from Malaysia. In no particular order, here's our picks of fun things to do in Singapore x 50.
1. Shopping in Singapore Malls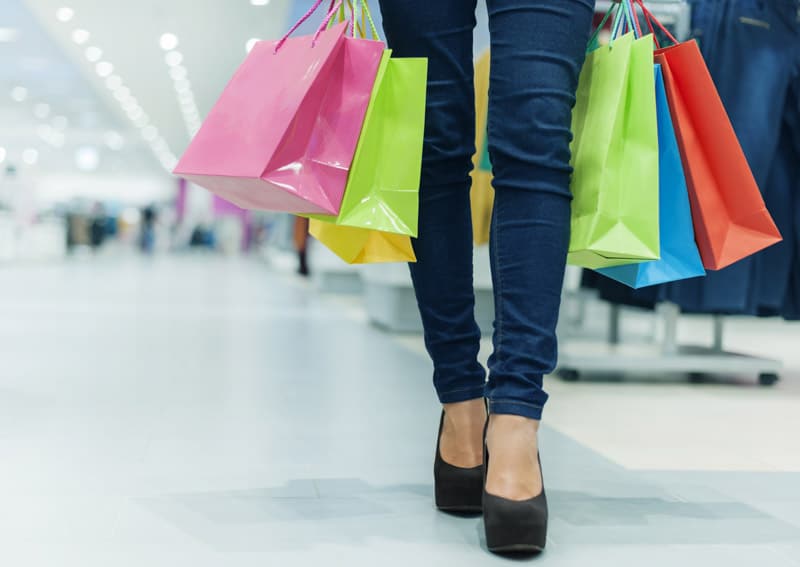 Shutterstock
Okay, quite obvious but we had to start the list with shopping! When you travel, shopping can often be pretty limited to fuddy duddy made-for-tourist stuff.  In Singapore though, no such problem. There's a HUGE range of shopping options in Singapore, catering to most budget categories.
If you're going to make a day of it, dress up a little and work your way down the Orchard Road to Somerset stretch. From cheap accessories heaven in Far East Plaza, to the Guccis and Louis Vuittons in ION Orchard, to the Zaras and Massimo Dutti's by Liat Towers, you've got a great range.
Other serious shopping venues include JEM in the West, Tampines in the East, and Bugis. If you prefer more unique buys, Haji Lane is a cool place to check out.
2. Hunt for the Best of Singaporean Food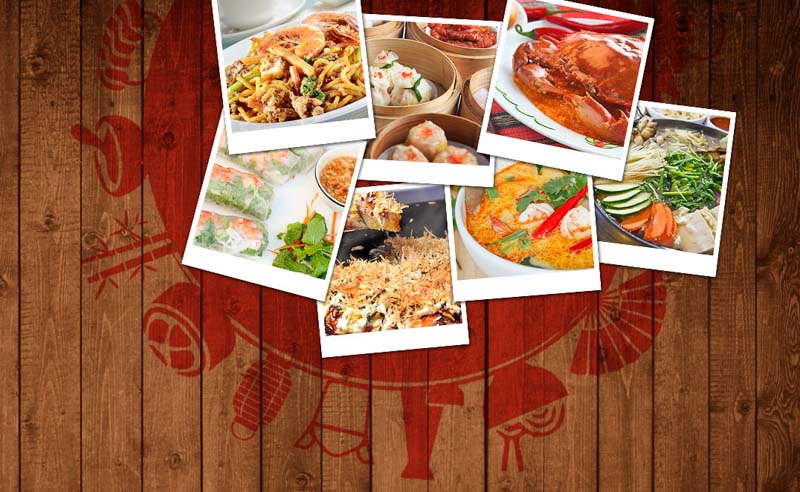 With so much good food on the island, eating is a close second. Plan your days in Singapore around the restaurants that serve the best local delicacies, such as chicken rice, carrot cake or roti prata. Come up with your own list for when your next craving hits! For foodies, you can definitely get away with planning your Singapore itinerary around the good places to eat in Singapore, as attractions are often just around the corner too.
3. Hit the world famous Marina Bay Sands infinity pool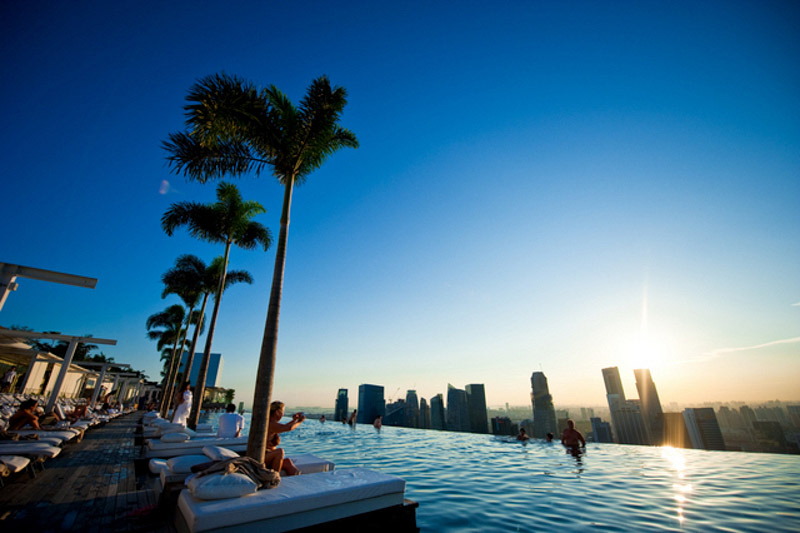 Few places in the world offer stunning city skyline views from the luxury of an infinity pool. Go on, treat yourself. See what all the fuss is about.
Note that only guests of Marina Bay Sands have access to the iconic infinity pool overlooking the city, but everyone has access to the roof of Marina Bay Sands so you can get an equal view from the deck. We definitely recommend having a drink or snack up so you can soak in the view, particularly at sunset. Since this 'boat hotel' popped up, it has consistently been a favourite on any visitors list of things to do in Singapore.
4. Marvel at the Gardens by the Bay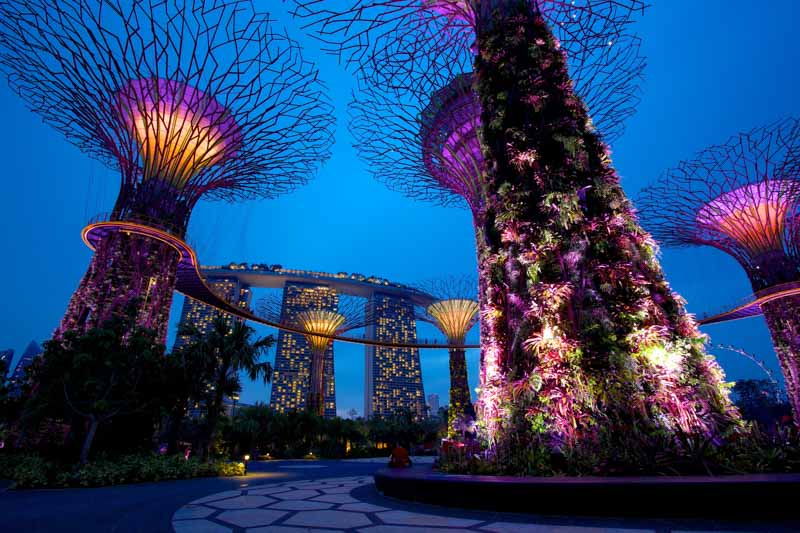 Man-made structures only serve to add a new dimension to nature's wonders in this park spanning 101 hectares near the CBD. It's pretty in the evening as it goes dark and the trees light up. You stay to watch the evening light-up which reminds me a bit of Avatar and the trippy Dolby Surround intro they play before the movie in cinemas. Cool music synced to dancing lights on these modern trees. Pretty cool.
Afterward, enjoy dinner or a drink in Indochine at the top of the Supertrees.
5. Hit the jackpot at Marina Bay Sands or Resorts World Sentosa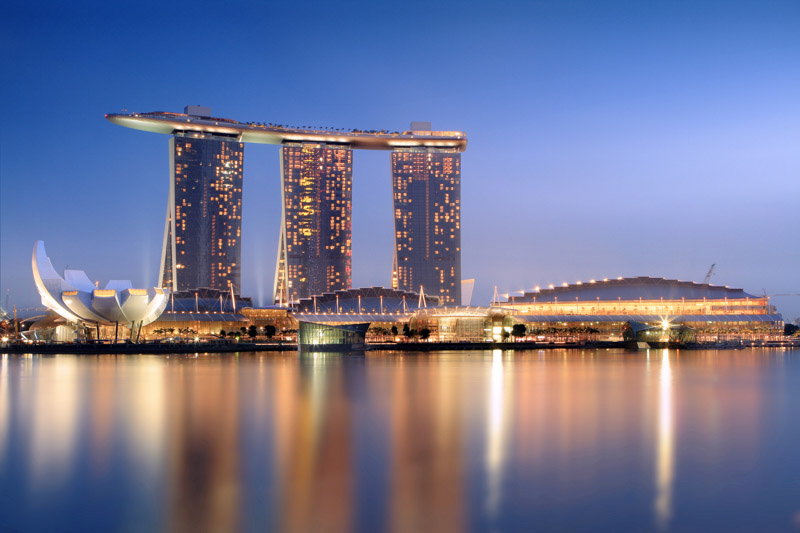 CC by 3.0 / Someformofhuman
Who knows? You might strike it lucky at our this rather posh casino scene. Free Milo too 🙂
6. Eat at a Michelin star celebrity chef restaurant
Keep it classy Singapore. Jason Atherton (Pollen at Marina Bay Sands), Tim Ho Wan and Gordon Ramsay serve Michelin-star cuisine at their respective restaurants in Singapore. Other top-chef restaurants worth trying include the likes of Mario Batali, Tetsuya Wakuda and Andre Chiang.
7. Enjoy a Bespoke Cocktail
Trendy cocktail bars that encourage you to go down the bespoke route: D.Bespoke, Maison Ikkoku, The Spiffy Dapper, just to name a few.
8. Return to the Kampong Feel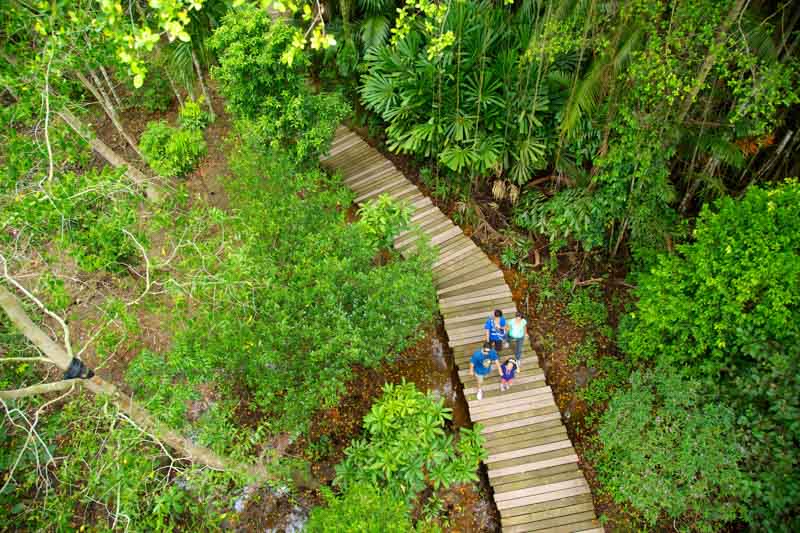 Hire a boat and go out fishing. Visit Pulau Ubin. Explore Kampong Lorong Buangkok off Gerald Drive (near Jalan Kayu). Take a rod and reel and fish off one of the jettys. Book a Changi chalet.
9. Devour Durians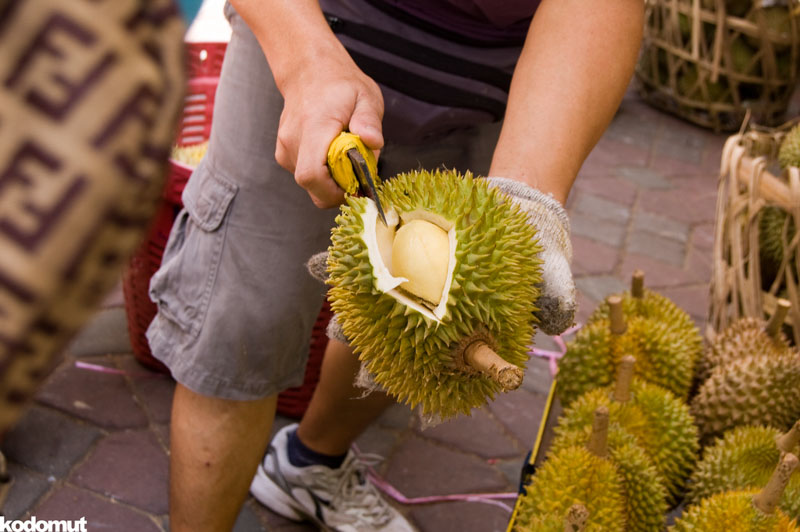 CC by 3.0 / Zhao !
Durian season usually rolls around between June and August. Enjoy the creamy fruit at its best at the Goodwood Park Hotel's famous annual durian dessert buffet. Or keep it simple and gather the friends for a barbeque, chalet or picnic at the Botanic Gardens. The wafting smell of Durians should clear up a good amount of space in the park for you.
10. Sunday Brunch
Get out of your sarong man! Roll out of bed and onto brunch.
Sunday brunch menus vary in price and variety. Casual – Kith Café; dressier – PS Café; fancy – The Ritz Carlton's Greenhouse. Don't want something so romantic? Get a meaty brunch with freeflow beer at Paulaners.
11. Explore trendy neighbourhoods
Newer, hip cafes and shops amidst older establishments add charm to gentrified enclaves. Start at Tiong Bahru where there's a good mix of tradition and trendy.
12. Formula 1 night race

 CC by 3.0 / Bryn Pinzgauer
The only F1 night race in the world takes place in September in Singapore. This is also a big winner when it comes to things to do in Singapore, as it offers something unique and is a big exciting event once a year. The F1 race and fringe events (parties!) draw fans and celebrities from all over the world. Get yourself good tickets to watch the race or enjoy the big concerts.
13. Sample Mooncakes
"Mooncakes" are sweet Chinese delicacies typically served during the Mooncake Festival. To truly understand the fuss you have to try one. Available in baked and snowskin versions, restaurants outdo themselves with new flavours every year, including newfangled dessert versions to tempt the tastebuds.
14. Eat Bak Kwa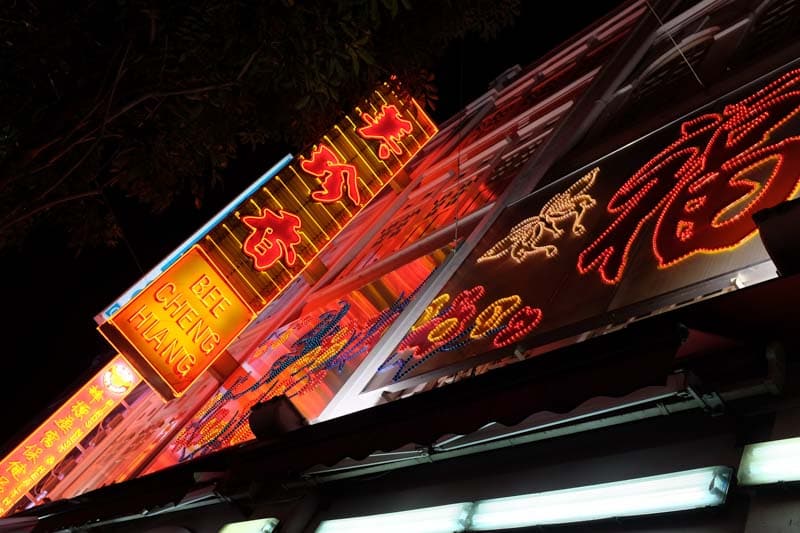 CC by 3.0 / Jnzl's Public Domain Photos
These sweet, charred pieces of barbecued pork are immensely popular during Chinese New Year. They're just as delicious all other times of the year. And no long queues!
For those who eat pork, I don't think I need to sell the awesomeness of Bak Kwa. If you're visiting Singapore, put this on your must-try list. Bee Cheng Hiang is particularly popular for their Bak Kwa.
15. Go Island-Hopping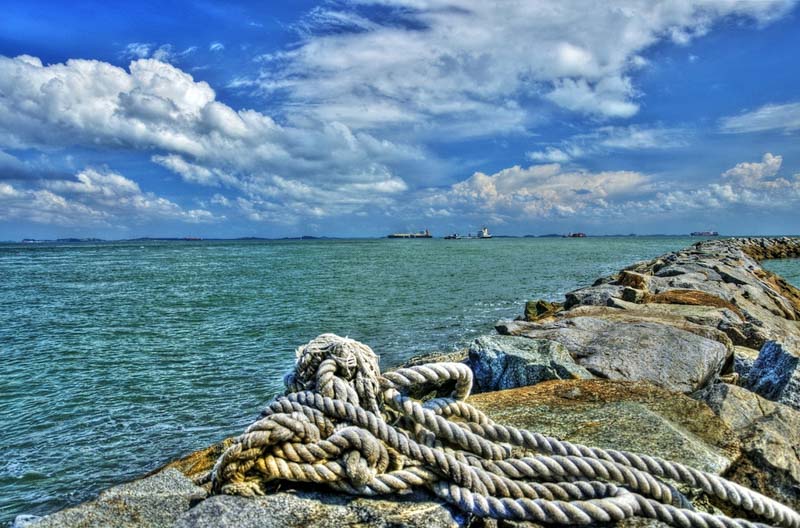 CC by 3.0 / Schristia
The smaller neighbouring islands are worth exploring and each offers a different experience. Eco tours at Pulau Ubin, beach getaway at St. John's Island, Kusu Island, Lazarus Island, Sisters' Island or even Bintan and Batam.
16. Nightlife at the Safari
Awimbawe, the lion doesn't sleep tonight. The first of its kind, the Singapore Night Safari offers a unique experience of a zoo by night with nocturnal animals. It can a little hit and miss with the Night Safari versus the zoo. We recommend either a pass that lets you wander from the Mandai Zoo into the Night Safari. Or time yourself properly so that you don't miss the shows and performances that promise entertainment.
The Zoo of course has been in the top 5 things to do in Singapore for a long time, but could possibly be overshadowed by the shinier new att
[button style='green' url='https://www.expedia.com.my/things-to-do/?location=Singapore%20(all),%20Singapore' icon='entypo-ticket' fullwidth='true'] Buy Singapore Zoo and Night Safari tickets online with Expedia[/button]
17. Fireworks on National Day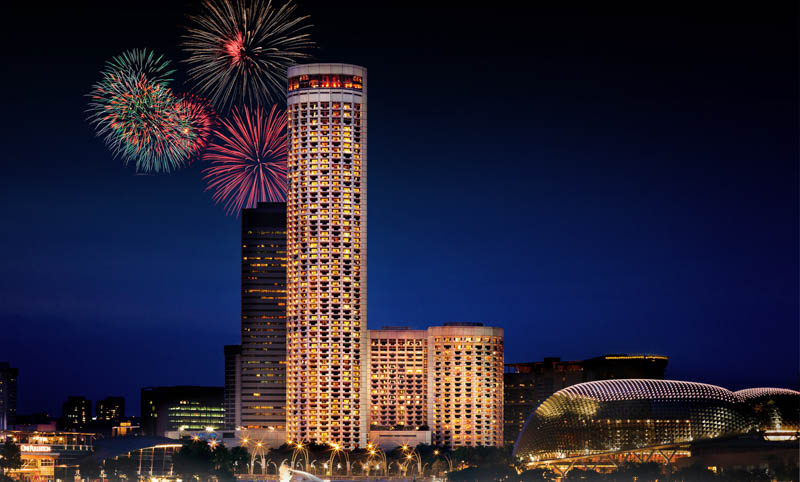 The fireworks display is the highlight of National Day on August 9 when Singaporeans from all walks of life congregate at prime viewing spots. Or book a room in a hotel with a great view of the National Day Parade fireworks.
18. Admire orchids in the Singapore Botanic Gardens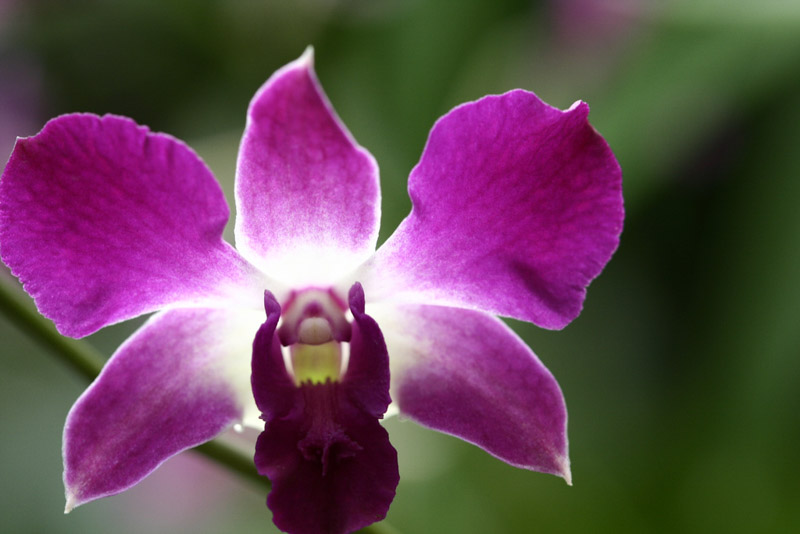 林 慕尧 / Chris Lim
Singapore's beautiful national flower blossoms in the botanic gardens. Aside from the purple orchid, there are lots of other lovely species of flowers in the healthy tropical climate of the well-manicured botanic gardens. Great for a picnic with the family.
19. Zoukout!
Rumour has it that 2014 might have been the annual beach party's last big bash, but we don't want to shut down our hopes just yet. But Singapore doesn't seem to do be done with this dance festival on Siloso Beach, Sentosa. If you're a fan of dance and electronica DJs, keep your finger on the pulse and make your way down to this music festival in Singapore for the most epic party on its shores.
20. Spa retreat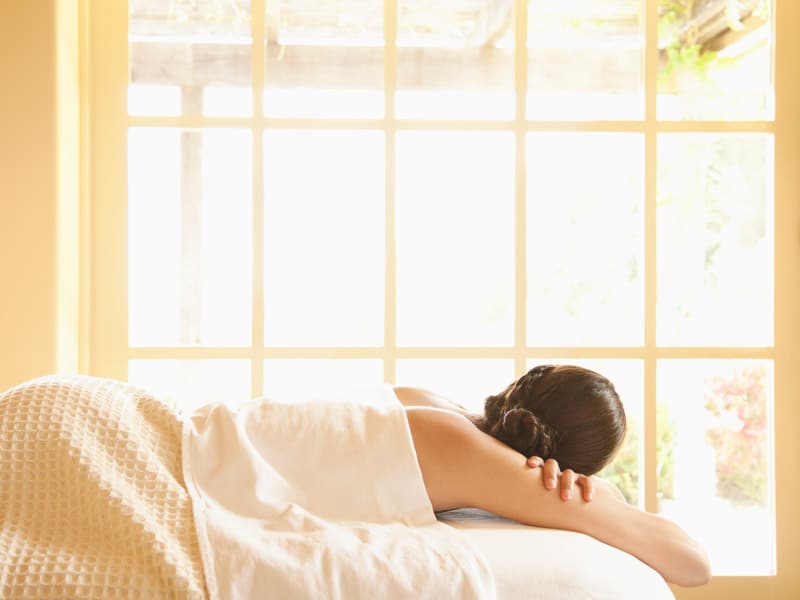 From luxurious spa retreats to fish spas (where you soak your feet in water teeming with tiny fish that bite off dead skin), foot reflexology and more, you'll be truly spoilt for choice to get your spa fix in Singapore. There is absolutely no shortage of options when it comes to spas in Singapore. Balinese, Swedish, Thai, acupuncture or traditional reflexology — find a good massage or spa place near your Singapore hotel or book yourself into one of the many amazing spa hotels in Singapore to truly relax.
21. Hike a nature trail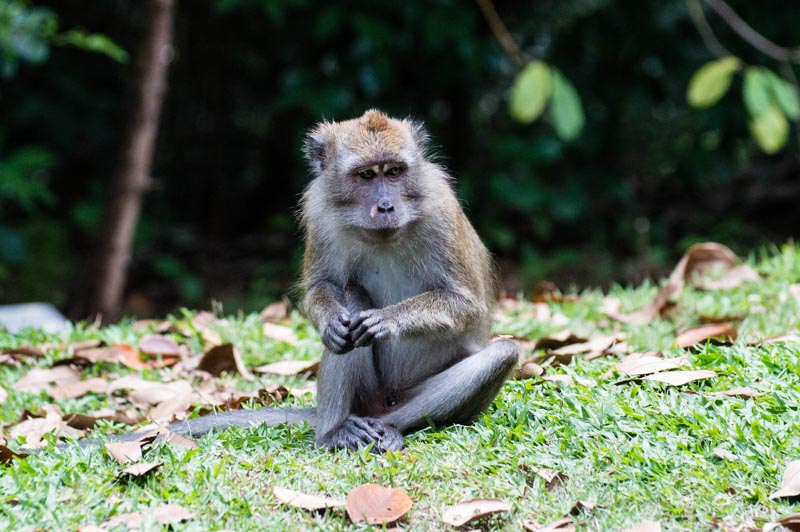 The MacRitchie trails offer a variety of terrain, including a treetop trail with sweeping lush green views and a more challenging Reservoir Loop that includes a gentler break along the reservoir.
Bukit Timah Nature Reserve and Sungei Buloh Wetland Reserve are also well worth checking out. Bring a handfan, a cap, and water spritzers to keep cool.
22. Cable car ride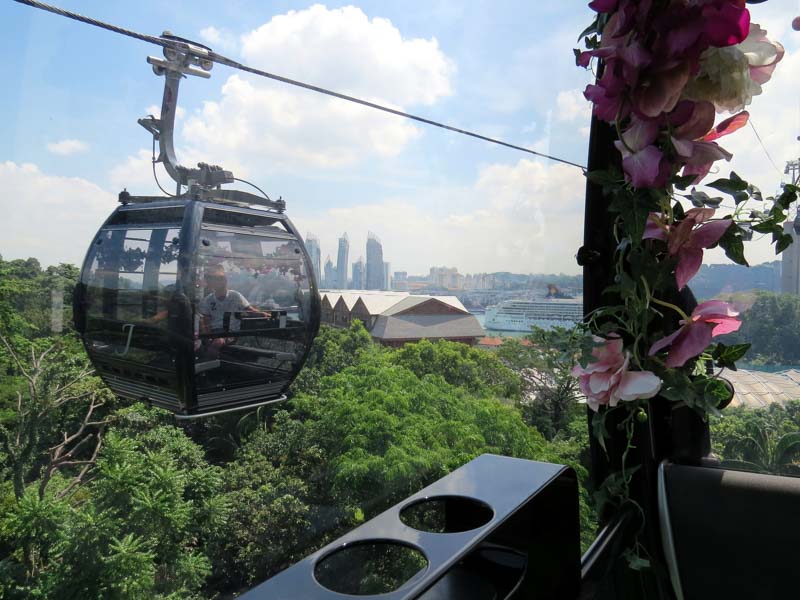 CC by 3.0 / David Berkowitz
This was all the rage when we were little. But chances are you barely remember what it's like to ride the cable car. Hop on a cable car at Mount Faber and let it bring you to Sentosa and back. Along the way, admire the beautiful city with incomparable views.
Dinner on Mount Faber is highly recommended.
23. A Day or Two at Sentosa
There's so much to do here: Universal Studios, casinos, the SEA Aquarium and other attractions at Resorts World Sentosa, gastronomic pleasures at the fine restaurants, beach shenanigans, defy gravity at iFly, ride the luge and much more.
If you're a bikini-wearer, this is the place to lounge about looking glamorous and catch some sun.
[button style='green' url='https://www.expedia.com.my/things-to-do/?location=Singapore%20(all),%20Singapore' icon='entypo-ticket' fullwidth='true']Buy Tickets to Universal Studios and more activities on Sentosa – Expedia.com.my[/button]
24. Midnight Shopping at Mustafa
The huge 24-hour megastore stocks everything from fresh produce to electronic goods and luxury watches – there's even a restaurant and hotel to retreat to in case you shop till you drop. It's far from the polished Orchard Road stores. Shopping at Mustafas is an experience in itself.
25. Go on an eco-tour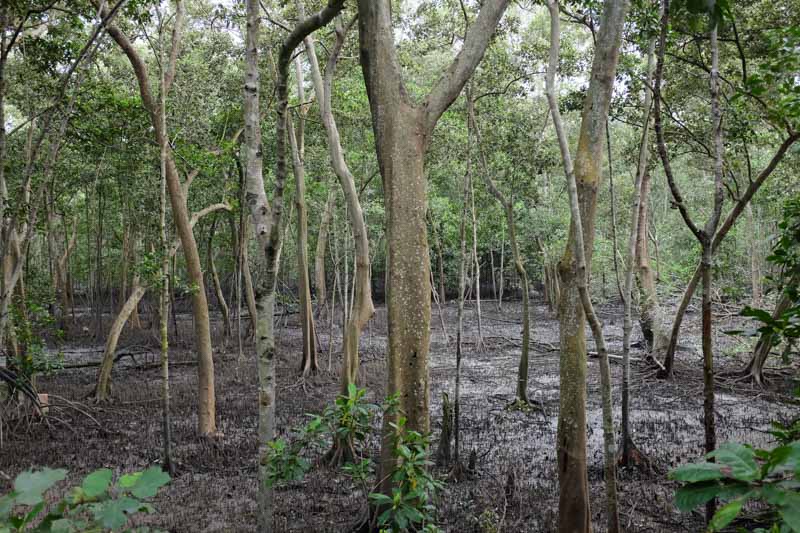 CC by 3.0 / Jnzl's Public Domain Photos
This might not be the most obvious of things to do in Singapore considering the city is known for its high-tech landscape. However, there are little nooks that preserve the tropical biodiversity of the island's origins. At the Sungei Buloh Wetland Reserve you'll find mangrove swamps and exotic wildlife species, including rare bird sightings.
26. An Espresso with Cats
Sometimes all you need is a furry friend. The Cat Café has opened its doors in Singapore, so you can get exactly that whenever you need.
27. Try a Singapore Sling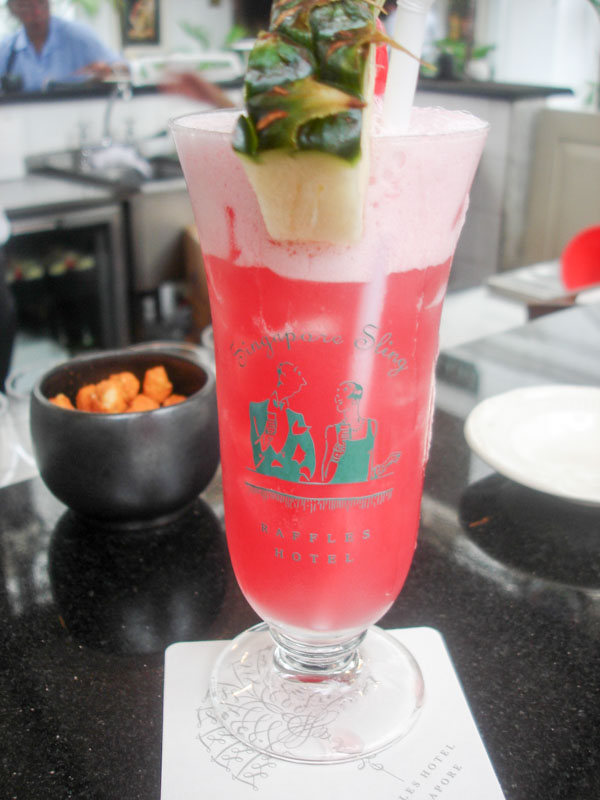 CC by 3.0 / Paul Fenton
The Long Bar at the Raffles Hotel is an institution and it still serves up a good Singapore Sling. Tourists still flock here to sip the drink where it was first born, and to throw peanut shells on the floor which feels very odd in the rule-loving Singapore. So put Singapore Sling at Raffles Hotel on your itinerary.
It is a pretty pricey cocktail but if you're tasting history, who's counting?
28. Eat Chilli Crab
This is a must and it's worth the inevitable mess. Long Beach Seafood Restaurant, No Signboard Seafood Restaurant, Red House Seafood Restaurant – these are just some of the top venues that serve up this iconic Singaporean dish. Another long-time favourite of things to do in Singapore — and we're totally on board with that as chilli crab is ridiculously delicious!  This is best enjoyed as a group meal. Don't forget the fried buns (mantou) to dip in the heavenly sauce!
29. Go Prawning at Night
Prawn fishing (or 'prawning') is slowly but surely making its way as a local pastime. A growing number of farms around the island offer this night-time activity. It's also a great bonding opportunity with friends or family.
It seems a bit odd to me, standing out a man-made pond to catch prawns that have been put in there. But locals really love this. So check it out if you fancy for-sure catching a prawn and cooking it yourself.
30. Sample 'Mod-Sin' cuisine
Chef Willin Low, owner of Wild Rocket restaurant, is heralded for his modern Singaporean cuisine and has even been praised by The New York Times (www.nytimes.com) Pop into one of his dining establishments for a taste of 'Mod-Sin'.
31. Go to a fancy farmer's market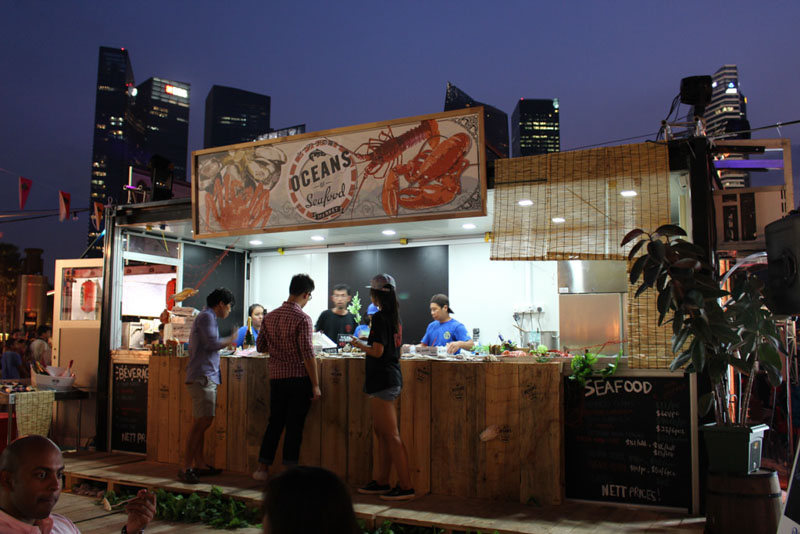 CC by 3. 0 / Alvin Loh
Pasarbella is Singapore's answer to the ubiquitous farmer's market. Expect a variety of food (both fresh and cooked) and drink. Make sure you go on an empty stomach as there's so much deliciousness to take in here.
There is a new Pasarbella in Suntec City, a sprawling mall in the middle of the city.
32. Ride a Lamborghini in Singapore
While at Suntec City, the boys will enjoy the many fancy sports cars on display (near the Taxi stand). When you're done ogling the Ferraris and Lamborghinis, you'll be interested to know you can actually take one for a spin. Visit the Dream Drive stand in Suntec City to drive a Lamborghini in Singapore.
33. Catch a Free Concert against the City Skyline
The Waterfront at Esplanade is regularly filled with crowds catching free shows by talented musicians – the city backdrop isn't too shabby either.
34. Ballet Under the Stars
The Singapore Dance Theatre puts on an enthralling show every year at Fort Canning Green. Especially recommended for a romantic date.
35. Chuckle with Local Stand-Up
Kumar, Hossan Leong and Broadway Beng are just some of the well-known icons of local stand-up comedy. Hit the clubs with regular comedy nights to discover the up-and-comers. Malaysian comedians also perform regularly in Singapore.
Comedy Masala is always good fun with local and foreign comedians taking to the mic with some very original material — and some bomb out. Often held in bars like Canvas or Blu Jazz, Comedy Masala is a great way to unwind after work with a few friends and good laughs guaranteed!
36. Get dramatic with Local Theatre
W!ld Rice, Pangdemonium, Singapore Repertory Theatre – these are just some of the local theatre companies that put on great shows every year, addressing current themes with local relevance. Worth the experience.
37. Do a Photowalk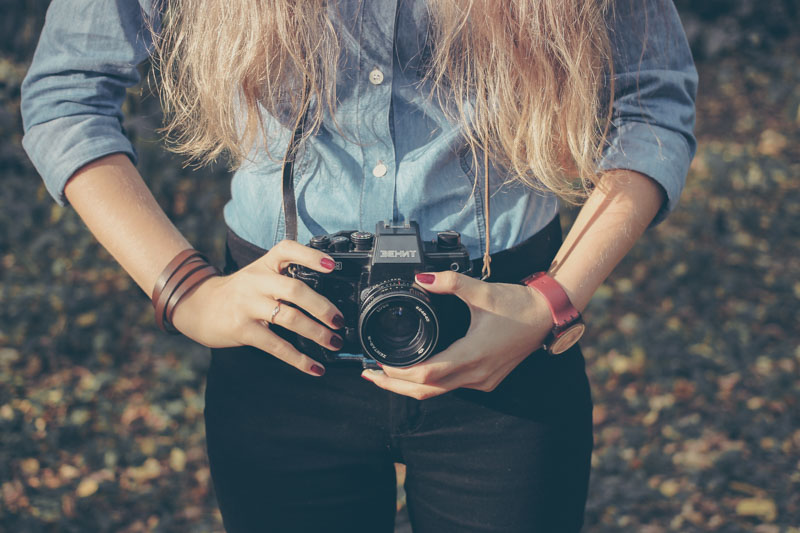 Changi Boardwalk is just one of the select locations that shutterbugs in the know go to experience unobstructed sunsets. Cameras are not just for holidays. Plus, things change fast in Singapore. We're already finding ourselves nostalgic about places that have been torn down. So get your camera out and capture your favourite spots, street shots, hipster corners and interesting events and festivities that take place in Singapore such as Thaipusam and F1 night race.
38. Get Hip at Arab Street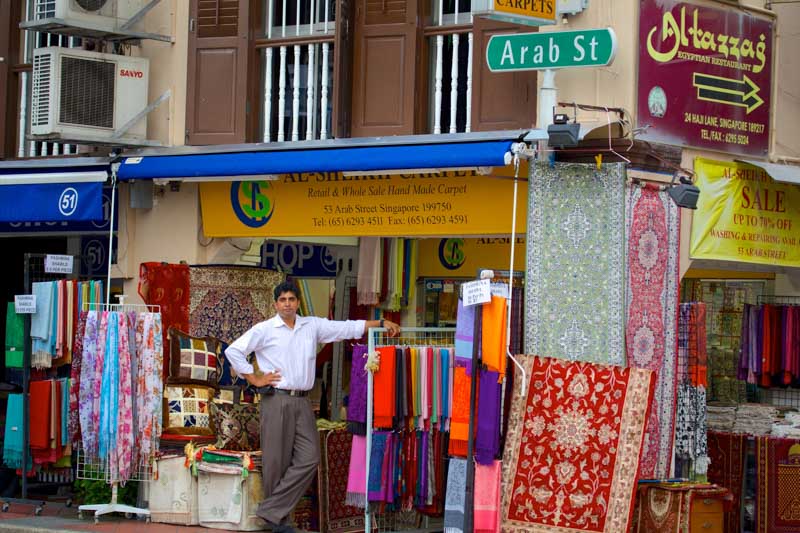 Go for the eclectic mix of trendy bars, live music venues, restaurants (Middle Eastern cuisine features prominently here), boutiques and Arabic vibes (carpet shops and perfumeries).
39. Explore the Southern Ridges
Over 10km of gently meandering open-space walking trails offer you some of the best unspoiled views of the city. The Southern Ridges connect Mount Faber Park, Telok Blangah Hill Park, HortPark, Kent Ridge Park and Labrador Nature Reserve. If you must pick just one trail, walk the Henderson Wave, distinctive for its curved wave-like shape.
40. Watersports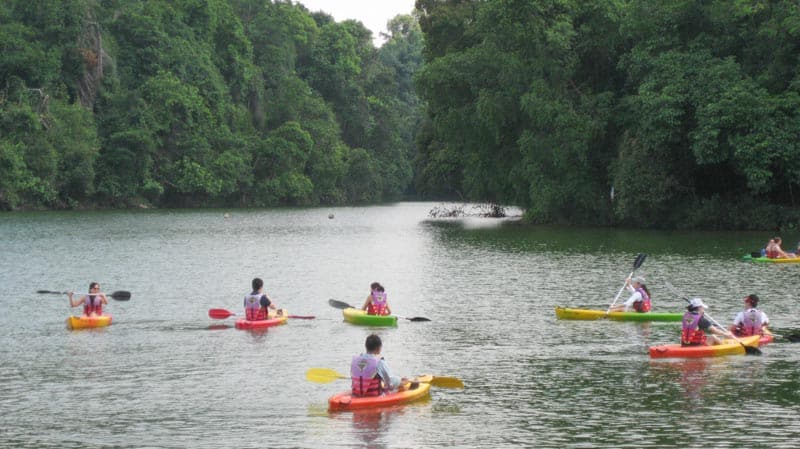 CC by 3.0 / Bernard Oh
Wake boarding, kite surfing, kayaking or even simulated surfing can all be done in Singapore. Located on Siloso Beach at Sentosa, Wave House Sentosa is perfect for beginners learning to surf or those who simply want to catch a wave or two in the city.
41. Chinatown Culture – Old and New
Chinatown, Little India and Arab Street are some of the popular places to visit in Singapore for a taste of the colourful variety of culture. Though many of these are familiar to us Malaysians, these cultural enclaves in Singapore have quite a different vibe than we have in Malaysia so it's still well worth adding to your Singapore itinerary.
When you're done exploring the delights that Chinatown has to offer, head to the trendy streets nearby lined with hip new eateries and bars. There is also Singapore's oldest Hindu temple, Sri Mariamman Temple, for some extra cultural immersion.
42. Step into a 'Pottery Jungle'
Somewhat under the radar but definitely worth a visit, the Thow Kwang Pottery Jungle is a family-owned business with the oldest dragon kiln in Singapore. Marvel at the wide range of ceramics – you'll be spoilt for choice to bring just one piece home.
43. Picnic in the park
The Botanic Gardens, Esplanade Roof Garden and Marina Barrage (also good for a spot of kite-flying) are just some places that offer prime picnic real estate, great for nipping away from the fast-paced city. Check out the National Parks site too see what's going on. You can catch some concerts and workshops at the Botanic Gardens.
44. Get Arty – Singapore Museums
The arts scene is thriving with quality exhibitions. Try the ArtScience Museum, the Singapore Art Museum or Gillman Barracks – home to 16 international art galleries – and be sure to bookmark the annual Affordable Art Fair.
45. Concept Cafes with a Twist
The Coastal Settlement in the east and Kombi Rocks Diner in the west both offer unique brands of rustic charm with a different take on the dining scene.
46. Buy Fabrics and Snacks in Geylang Serai
Arab Street and Geylang are popular with local Malays for buying fabrics to make baju kurung, kebayas and other tailored outfits. Beautiful batik cloths, old-fashioned tailors, and endless rolls of textiles fill Joo Chiat Complex. Mak Cik-friendly shopping 🙂
This is also the spot to find Pasar Geylang Serai, one of the few food centres housed in a Malay style architectural building, filled with Malay food and Indian Muslim halal food and snacks. Enjoy some delicious pisang goreng, Mee Siam, Mee Rebus and Nasi Lemak here.
47. Culture Vultures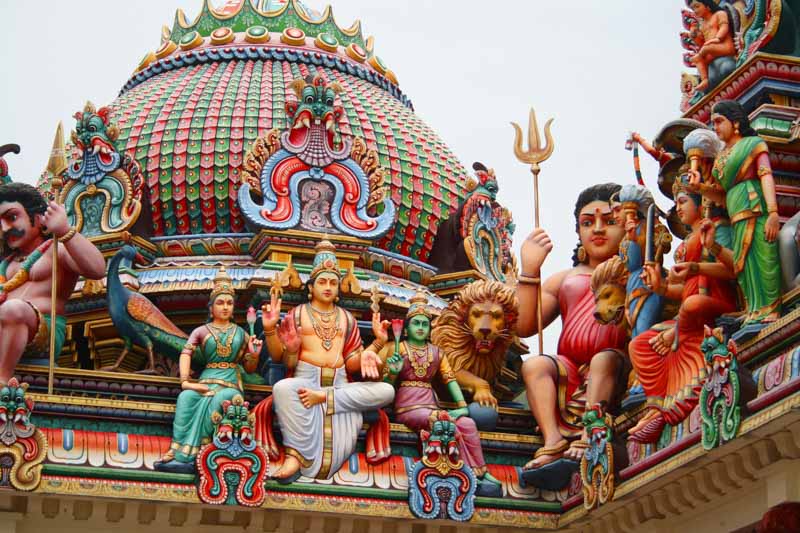 CC by 3.0 / Jorge Cancela
Take a heritage tour or visit one of the many temples in Singapore. It is particularly interesting to visit a temple of a faith other than your own. Some interesting ones that are visitor-friendly include Sri Mariamman Hindu temple, Buddha Tooth Relic Temple & Museum, Sultan Mosque and St. Joseph's Church. Interesting areas to visit include Joo Chiat for Peranakan culture, Little India and Chinatown, Geylang Serai and Katong for Eurasian culture.
There are also some spots off-the-way that hold a bit of an interesting story. Check out Urban Explorer for cool ideas.
48. Sample Beer at a Brewery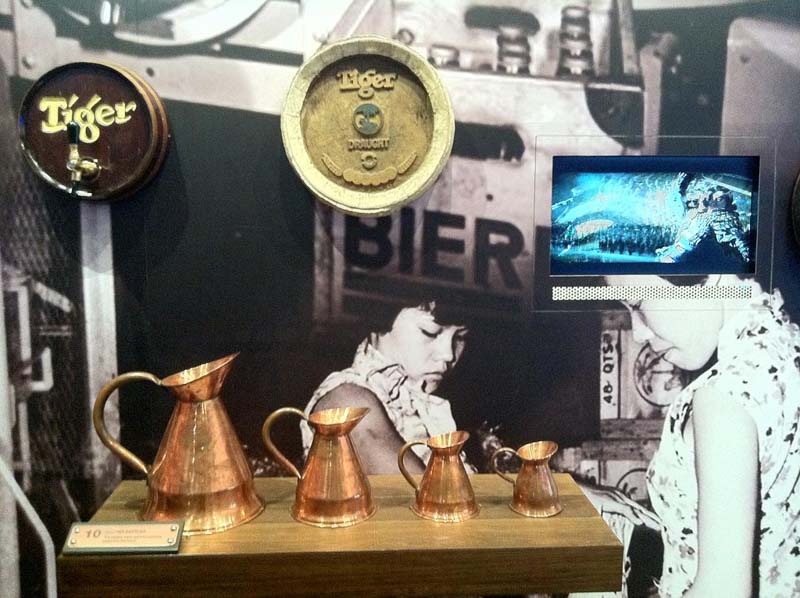 CC by 3.0 / Walter Lim
The Tiger Brewery offers tours that take you through the brewing process. End with a sampling of Tiger Beer.
49. Haunted Sites
Who doesn't like a good story about a pontianak? If you're hungry for hantus, embrace the spookiness of heavy historic sites like Fort Canning, Bukit Chandu, Changi Museum which used to house POWs, or Changi chalets which stand in the area of the old Sook Ching massacres.
Those can just feel spooky. But actual haunting legends are attached to some other places in Singapore. We don't recommend exploring these haunted sites. But there are some paranormal investigators and tours for those willing to test the limits of the supernatural.
Old Changi Hospital is probably the most famous of all the haunted places in Singapore. Just looking at is enough to give you the chills. Although abandoned, rumour has it there are guards to keep amateur ghost-hunters out.
Other haunted places include Hillview Mansion, the yellow East Coast tower, Haw Par Villa (this is rather safe to visit), and the Matilda House in Punggol. Rumours abound as to why these abandoned houses have been plagued with 'mishaps' and took such a long time to successfully get renovated.
50. Take a Singapore Selfie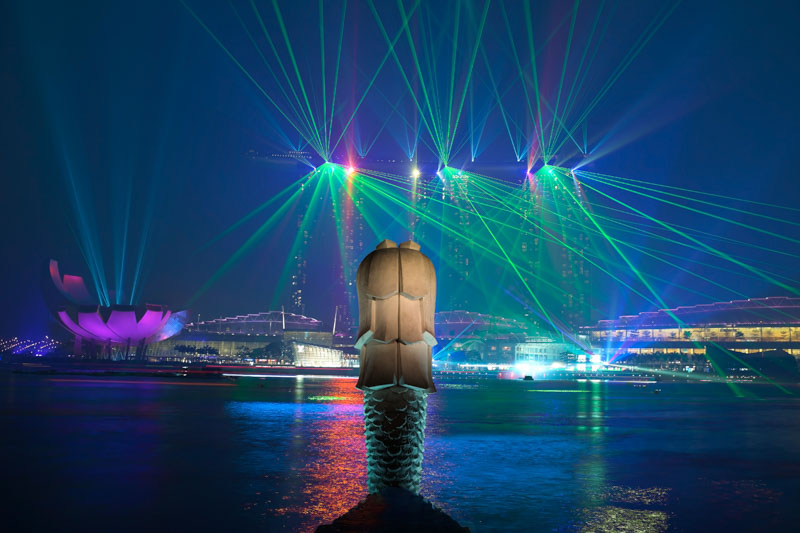 CC by 3.0 / Khairul Nizam
The Merlion along the bay is the one we'd pick for an iconic backdrop for an epic Singapore selfie: the Marina Bay Sands, the Esplanade, the regal Fullerton Hotel and Cavenagh Bridge or the CBD skyline, depending on your perspective.
[button style='green' url='https://www.expedia.com.my/things-to-do/?location=Singapore%20(all),%20Singapore' fullwidth='true']Find More Things to do in Singapore –  Singapore Tours and Activities with Expedia[/button]