By Expedia Team, on September 14, 2015
Why You Should Plan a Layover in Changi Airport
Airport layovers are normally something to be avoided, but that's definitely not the case with Singapore's Changi Airport. Recently named the Best Airport in the World by The Telegraph's 2015 Ultra Awards, Changi has so many free tours and entertaining activities for travellers in transit, the airport deserves its own check-box on traveller's must-visit list. For Malaysian travellers, not only is Singapore a favourite for a weekend getaway, but we also often have a layover in Changi Airport en route to some exciting vacation.
Here are 8 things to do in Changi Airport that will make even the weariest traveller want to return.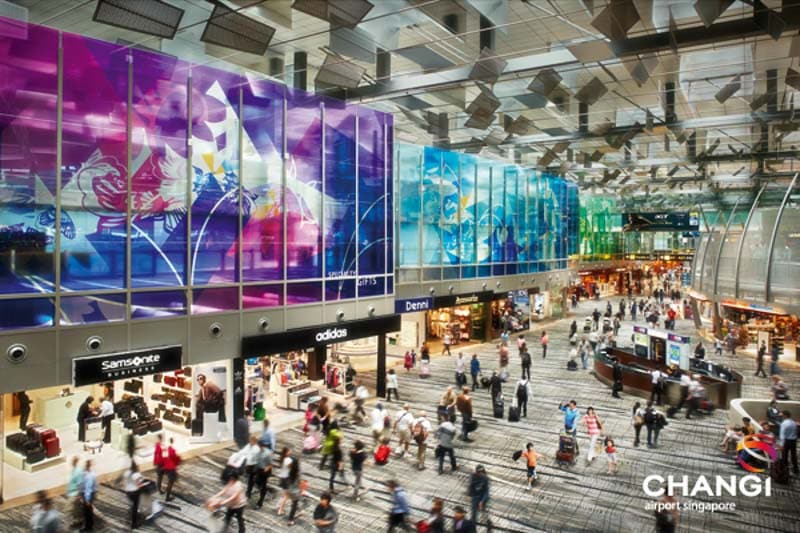 1) Changi for Children – T1, T2 and T3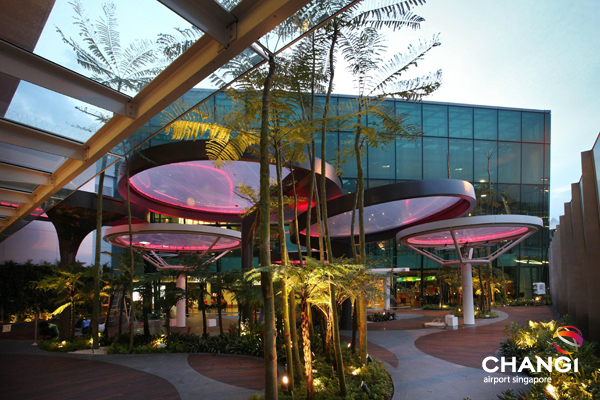 Kids and families are well catered for at Changi Airport, with excellent play areas for children under 12 who may need to burn off some energy after a long flight. The older ones will be eager to explore the Entertainment Deck in T2, which is next to the Sunflower Gardens.
The Xbox Kinect Room offers the latest in sports gaming and kids can challenge opponents to virtual beach volleyball, table tennis or track and field events. The area includes Xbox360 and PlayStation 3 consoles and a cafeteria.
It's hard to believe you're still in the airport!
2) Chill-out in the Butterfly Garden – T3
The dome-roofed Butterfly Garden enclosure is the first of its kind at an airport. After a cramped long-haul flight, it's a wonderful indulgence to be able to stretch your legs among more than 1000 fluttering butterflies. Ideal for all ages, this educational attraction has Information Corners inside the garden where visitors can learn about the lifecycle of a butterfly.
You can also watch gorgeous butterflies emerging from their cocoons before taking to the air on their first flights – it's magical!
3) Ride the Slide – T3
Just in case you're so busy enjoying yourself and think you won't have time to visit the duty-free shops, Changi provides a little incentive. Spend SG$10 in a single receipt and you'll receive a ticket for a free ride down Singapore's tallest airport slide! This spiralling tube drops four storeys in an exhilarating ride that everyone will want to do again and again.
4) Take a Free Singapore Tour – T2 and T3
While most airports confine travellers in transit to secure areas, at Changi the Singapore Tourism Board whisks travellers away on short sightseeing tours around this world-class city.
There are a few conditions, however, to going on these free guided tours, which last for more than 2.5 hours. Firstly, you must be in transit for 5.5 hours or longer and secondly you must register at the tour desk an hour before the next tour departure time.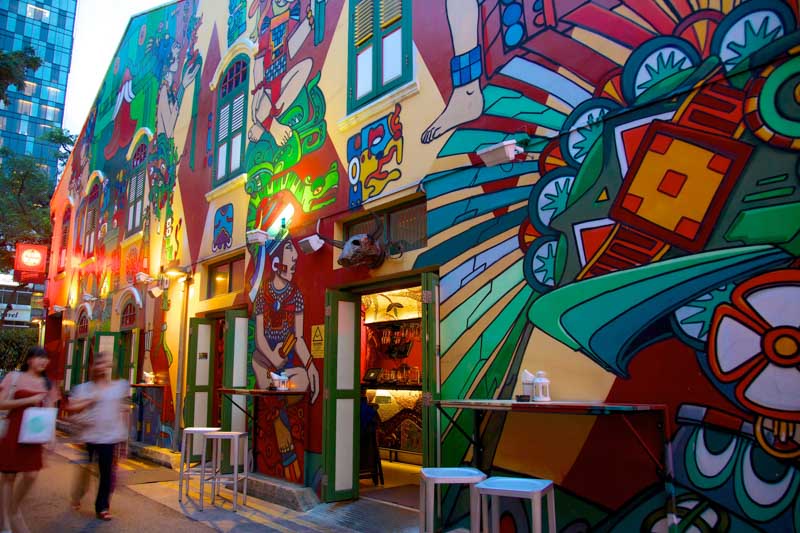 By day, you are invited to enjoy the Heritage Tour, which transports you in air-conditioned comfort around the colonial and cultural districts of the city. Highlights include a photo op at Merlion Park on the waterfront and a 20-minute stop in the Malay district, Kampong Glam, where handmade carpets, textiles, silks and high-quality Asian goods are traded.
From 5pm, the free City Lights Tour begins so visitors can glimpse Singapore's landmarks beautifully lit up after dark. See the Marina Bay Financial District, the city's stunning skyscrapers and the theatres and arts district on the Esplanade. There's time to stretch your legs at Merion Park and a 30-minute break at the magical Gardens by the Bay where you can stroll among the man-made 'Supertrees' that tower above more than 500,000 tropical plants.
5) Watch a Movie – T2 and T3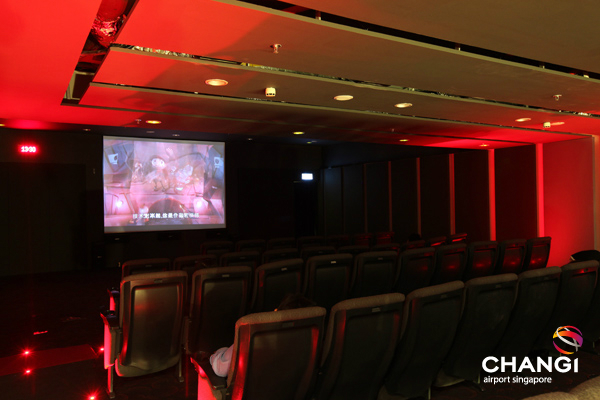 Of course there's a movie theatre at Changi and of course it's free! In fact, there are two cinemas with comfortable seats where travellers can enjoy the latest blockbusters 24/7. There's also an MTV booth showing music videos on 50-inch plasma screens, so everyone'shappy.
6) Enjoy a Swim – T1
There's nothing better than a cool dip and an invigorating swim to tease out those knotted muscles and cramped legs before embarking on the next leg of your journey.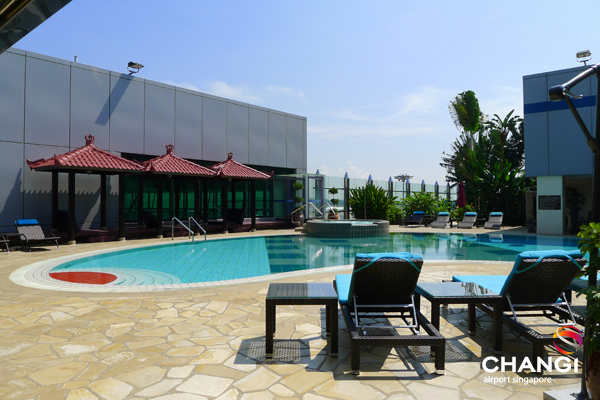 The beautiful pool at the Ambassador Transit Hotel even has a Jacuzzi and shower facilities for freshening up. This airport amenity is available to non-hotel guests for a charge of around SG$14, which includes a towel and a non-alcoholic drink from the bar.
Unfortunately, the pool is closed for a major upgrade until late 2015, but if you're staying overnight, the nearby Crowne Plaza Changi has a landscaped pool area for hotel guests to enjoy, which can be accessed by Skytrain from T1 and T2, or by bridge from T3.
7) Artworks and Architecture – T1
As you would expect of the world's best airport, its infrastructure and design goes beyond serviceable to being a work of art in its own right.
The newly renovated Terminal 1 is the place to admire the lantern feature walls, which create a sun-dappled effect by day and a soothing oasis of calm after dark. Look up to see a mesmerising state-of-the-art kinetic sculpture that resembles a cloud of copper raindrops performing its own rain dance. Don't worry, there's no danger you'll get wet.
Elsewhere in the airport there are ancient ceramics and modern Singaporean artworks on display. Even the outdoor gardens have contemporary works to admire, including gigantic glowing lily pads on the West Outdoor Deck and sculptural trees on the East Outdoor Deck.
8) Tickle Your Feet in the Fish Spa – T1
Visit the Fish Spa and Reflexology centre at T1 for a neck and shoulder massage, or perhaps throw off those compression socks and indulge in a fish pedicure, where tiny toothless carp nibble away any dead or calloused skin before your feet are treated to a full beautifying treatment.
There's so much more to see and do at Changi Airport. As well as a koi pond and cactus garden, there is excellent duty-free shopping and a choice of restaurants worthy of an Orchard Road address. Free Wi-Fi areas allow you to catch up on emails or send a selfie to your friends – they won't believe you're actually in an airport!
So next time you're booking a flight to Sydney or elsewhere with a layover, make sure you stop at Singapore's Changi Airport and have a vacation within a vacation. Have an inceptional trip!
All images courtesy of Changi Airport Group