By Expedia Team, on July 17, 2019
Most Instagrammable Hotels in Singapore
Singapore is known to be one of the most popular cities to visit within the South East Asia region. It is home to a mix of various cultures, modern skyscrapers and is a creative hub for art lovers. While hipster cafes grow in popularity among avid Instagram lovers and cafe hoppers, there are also hotels in Singapore and other accommodations worthy of the Insta-famous status.
To help you with your hunt for your next picture-perfect destination, here are 7 insta-worthy hotels in Singapore that you should check out.
Most Instagrammable Hotels in Singapore

Singapore's Robertson Quay area was formerly a spice warehouse. The heritage building was built in 1895, along the Singapore River as part of the Straits of Malacca trade route. It has then been transformed and restored to a modern 37-room boutique hotel, focusing on heritage and local culture. The interior incorporates industrial style textures with luxe finishes. Guests can soak in the art installation that can be found in the hotel such as the wheels, cogs and pulleys which are suspended above the hotel's lobby.
The Warehouse Hotel is located a 15-minute walk from Clark Quay MRT station, Singapore River, Chinatown and shopping area of Orchard Road. The hotel features a restaurant, a bar/lounge, and dry cleaning services.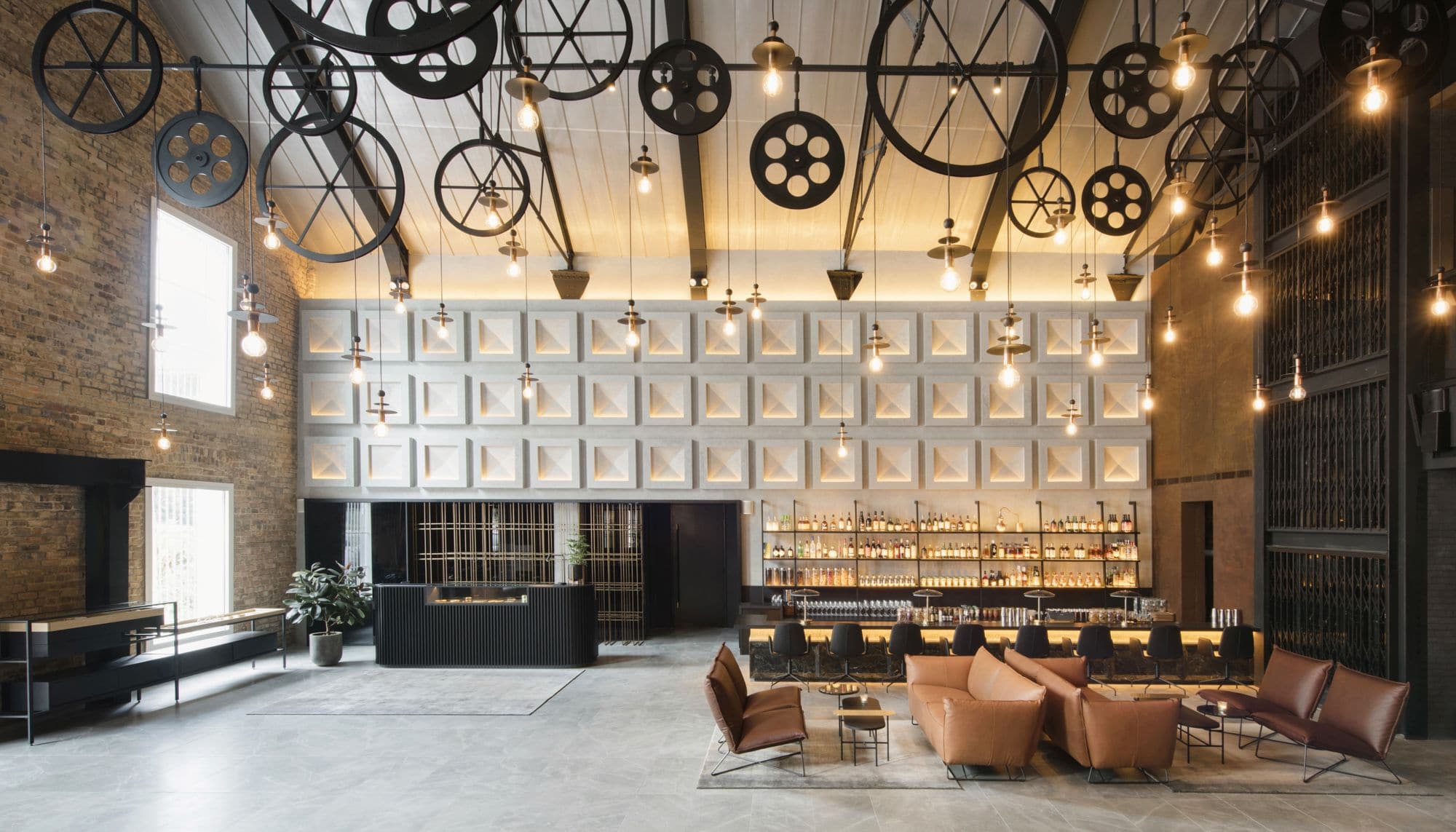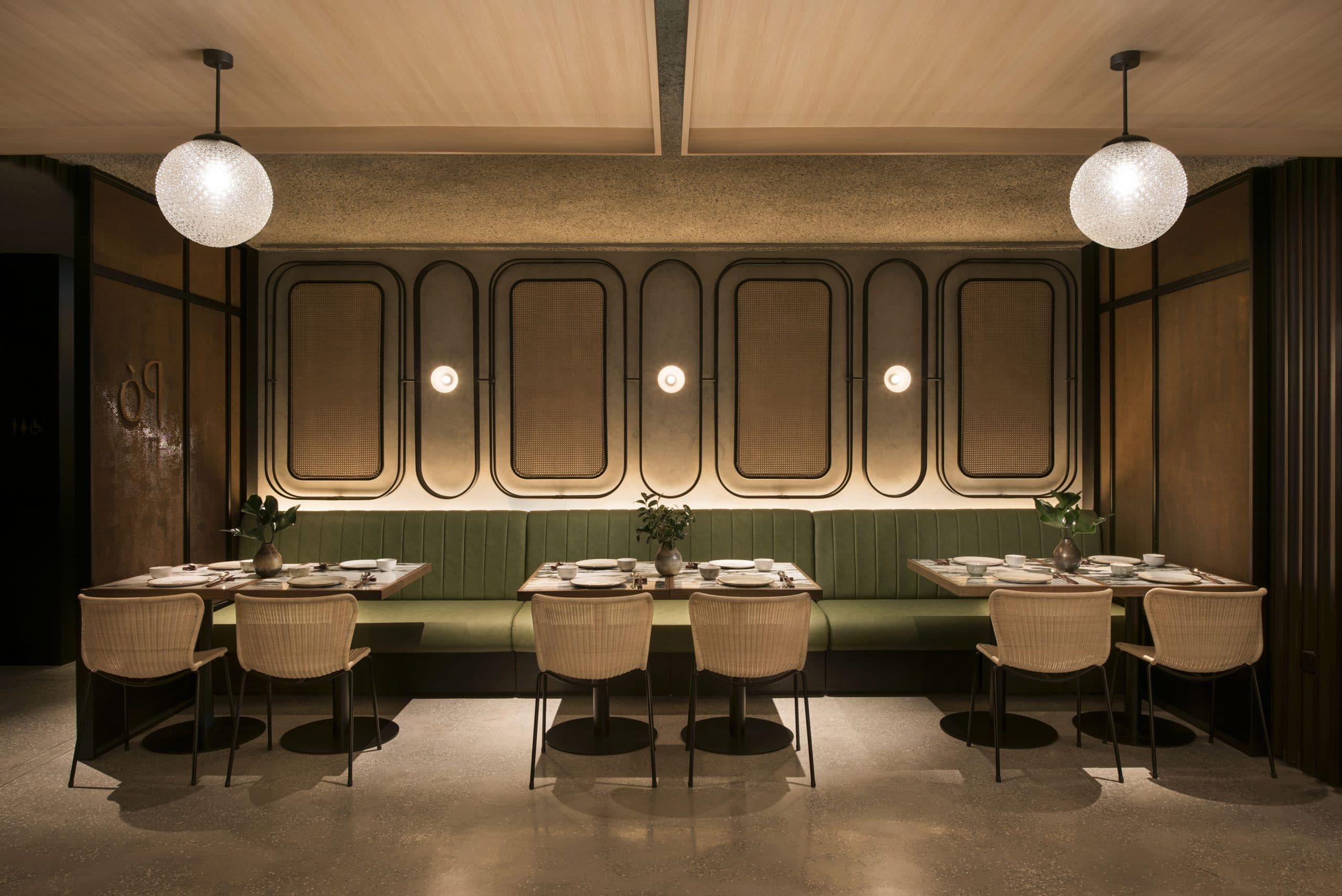 [button style='blue' icon="entypo-suitcase" url='https://www.expedia.com.my/Singapore-Hotels.d180027.Travel-Guide-Hotels' fullwidth='true'] Discover The Warehouse Hotel [/button]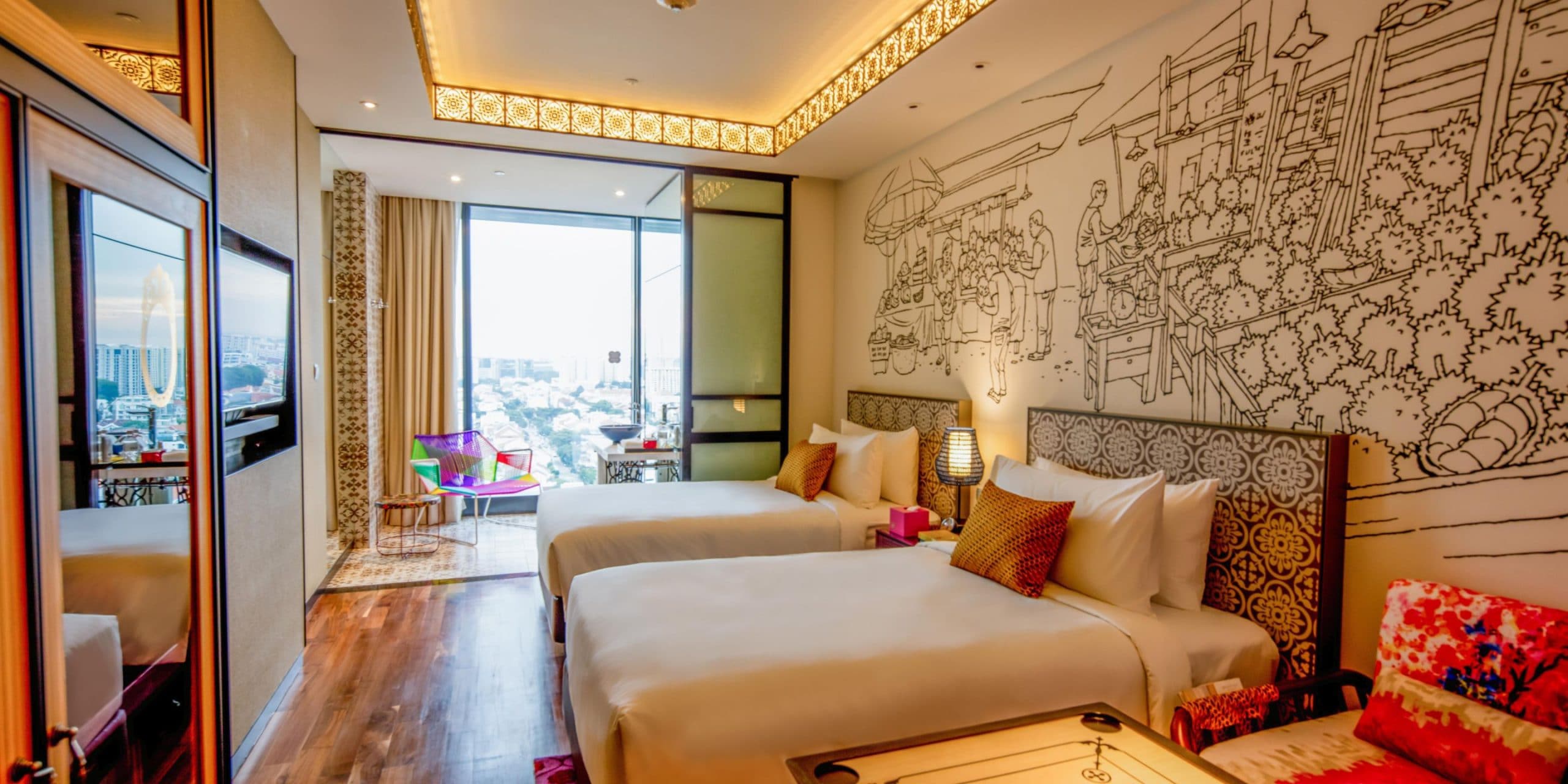 Explore Katong, a residential neighbourhood rich in Peranakan history and culture. You'll find heritage buildings such as colonial bungalows and colourful shophouses waiting to be explored. Its rich culture is evident in exhibits at the Eurasian Heritage Centre and at casual local eateries serving traditional dishes. Hotel Indigo Singapore Katong was inspired by the Peranakan culture and this can be seen in its establishment which was built on the site of the former Joo Chiat Police Station.
Inside the hotel grounds are colourful furniture purposely included to bring the interior to life. The hotel has 131 rooms with wall murals of local scenes, batik printed cushions, and communal areas with oriental charm. This is a nice touch and gives guests a dose of Singapore life within its walls.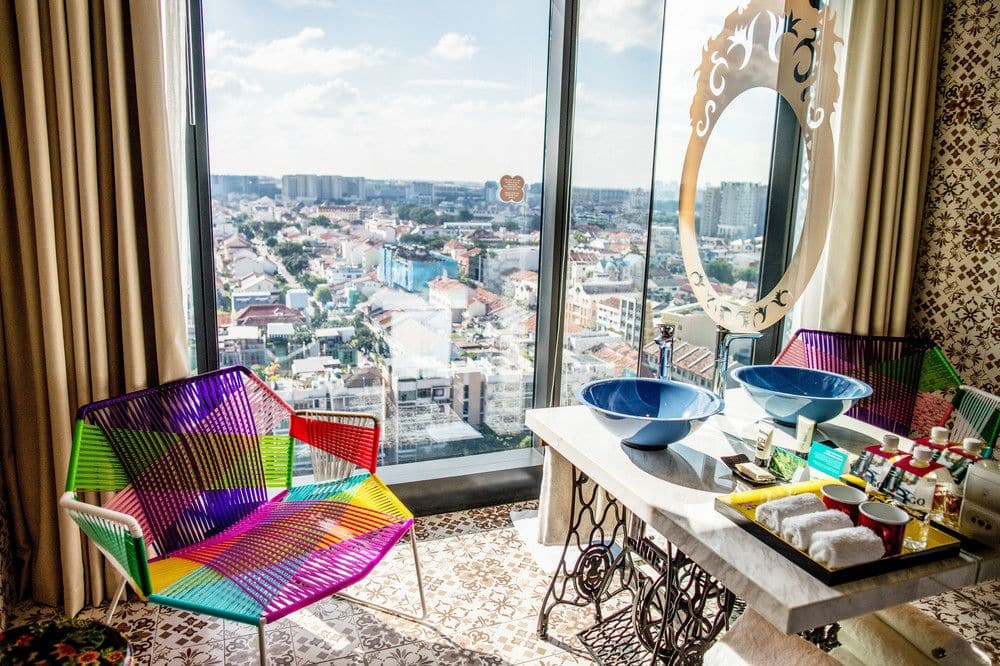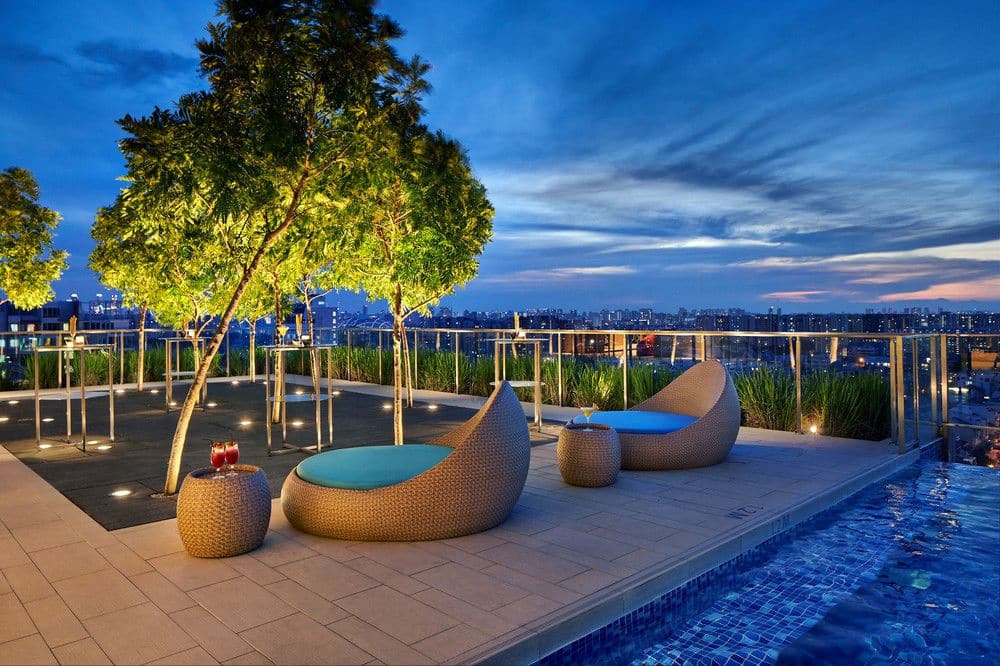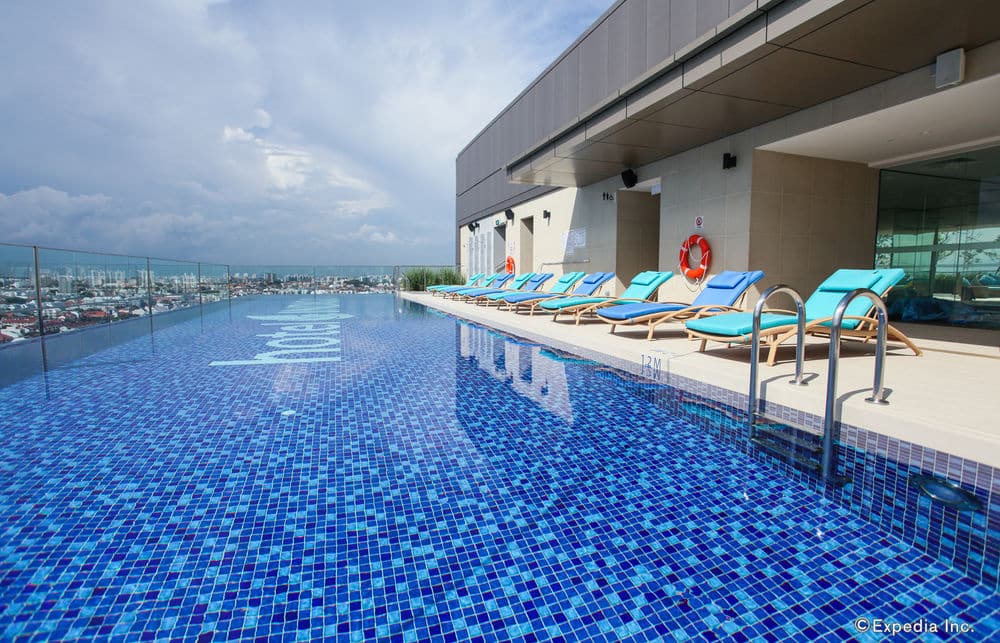 [button style='blue' icon="entypo-suitcase" url='https://www.expedia.com/Singapore-Hotels-Hotel-Indigo-Singapore-Katong.h12494241.Hotel-Information' fullwidth='true'] Discover Hotel Indigo Singapore Katong [/button]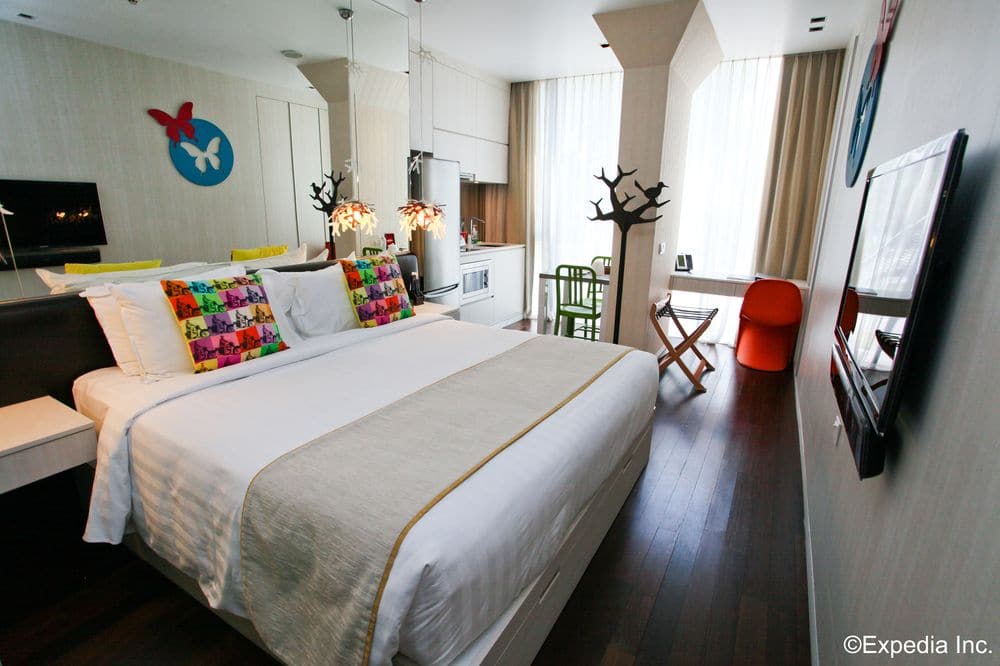 A short distance from Outram Park MRT Station lies ST Residences Novena, a boutique-style hotel in Singapore which combines classic and modern interior. Featuring a rooftop bar and lounge, each of the stylish rooms at ST Residences Novena are equipped with an iPod dock, a complimentary smartphone, rain showers, luxurious toiletries as well floor-to-ceiling windows. It is an urban oasis centrally located in one of Singapore's prestigious suburbs.
Guests entering the lobby would be greeted with warm reception from their 24-hour front desk. The corridor leading to the outdoor pool is covered in colourful forest animal motifs, while the rooftop terrace comes with an amazing view of the city. The rooms offer sophistication decor paired with artistic paintings. Once you've completed your check in at ST Residences Novena, you could enjoy the attractions in the city which are within walking distance.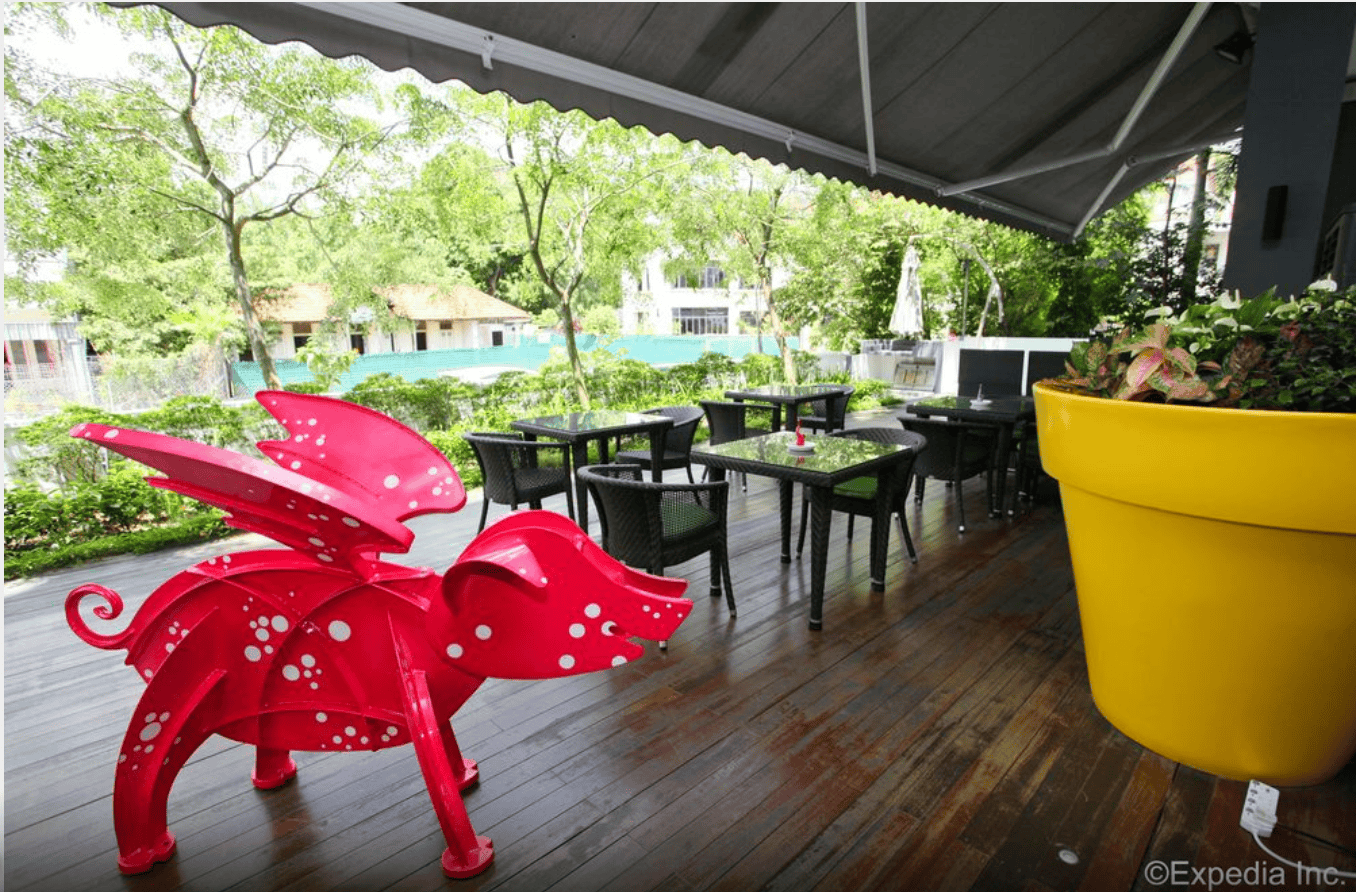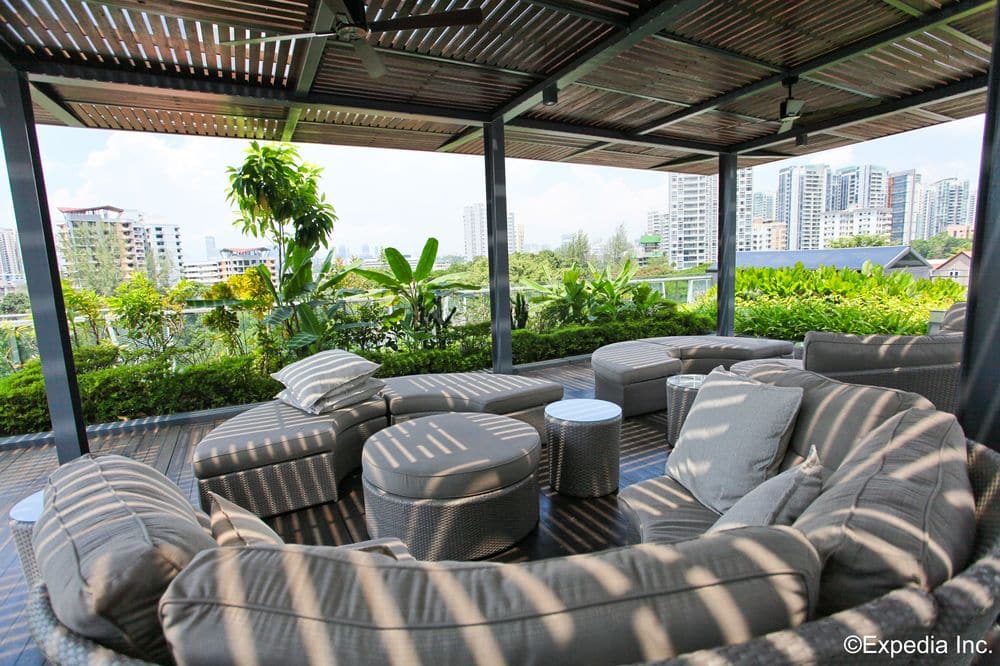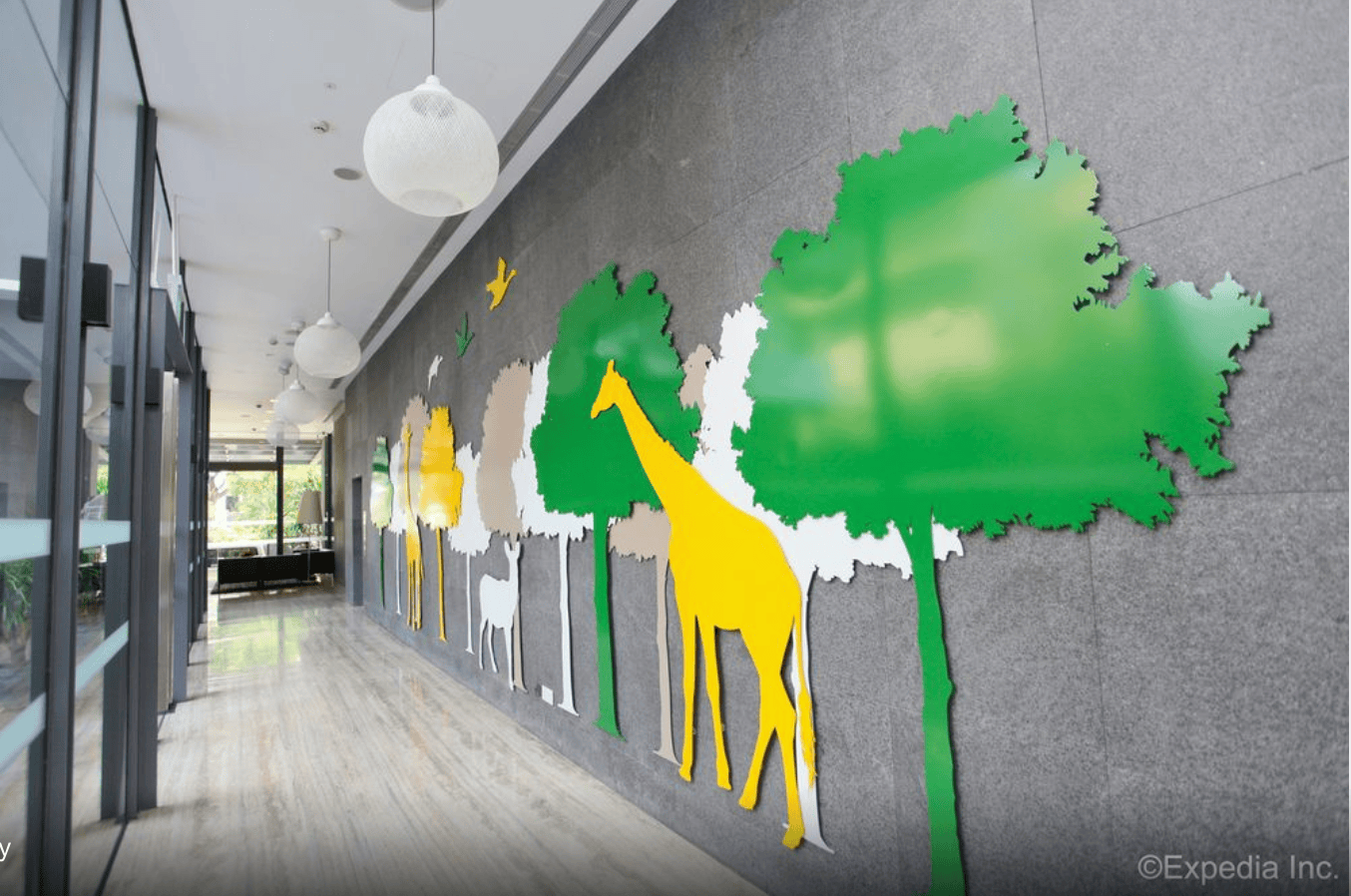 [button style='blue' icon="entypo-suitcase" url='https://www.expedia.com/Singapore-Hotels-ST-Residences-Novena.h4616281.Hotel-Information' fullwidth='true'] ST Residences Novena [/button]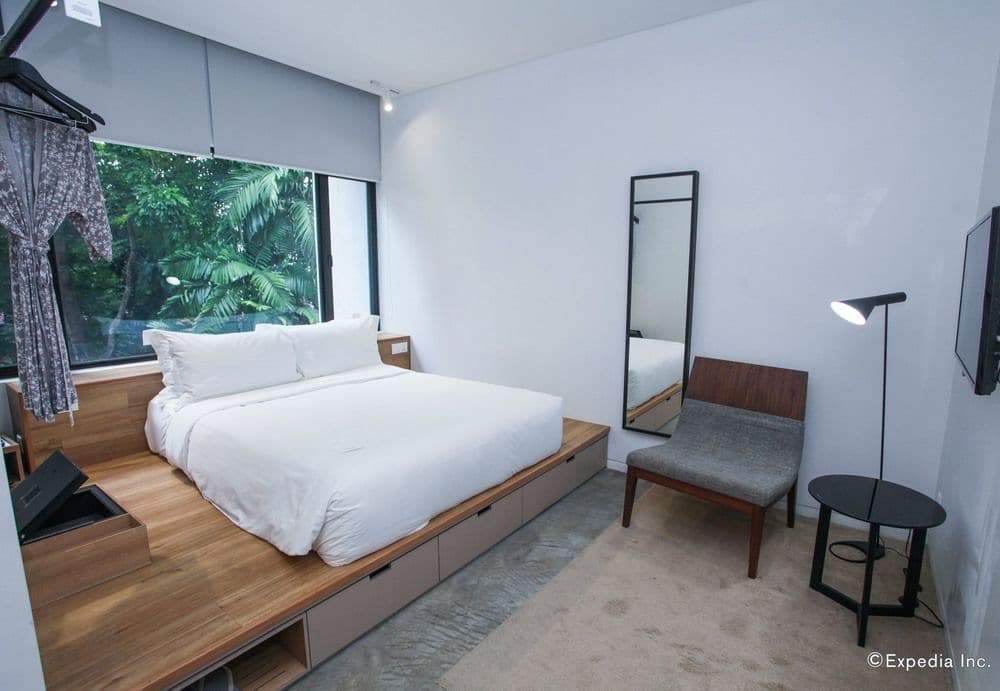 Fans of minimalist design would find Lloyd's Inn to be a peaceful stay. Situated in the Orchard area, Lloyd's Inn is a walking distance from Sommerset MRT, designer shopping stores, Fort Canning Park, The Quays and the Museum district. The hotel keeps away the jarring noise and noise by keeping to its' urban oasis, surrounded by tall trees which is cosy and peaceful.
Lloyd's Inn has an overall B&W theme together with glass walls with lush green view. Rooms are decorated with grayscale palette with a hint of blonde wood. This neatly designed space allows sunlight to shine on its beautiful wooden details that can be seen in the rooms. Guest can also enjoy outdoor showers in their ensuite, an outdoor pool, the garden, and a rooftop terrace at Lloyd's Inn.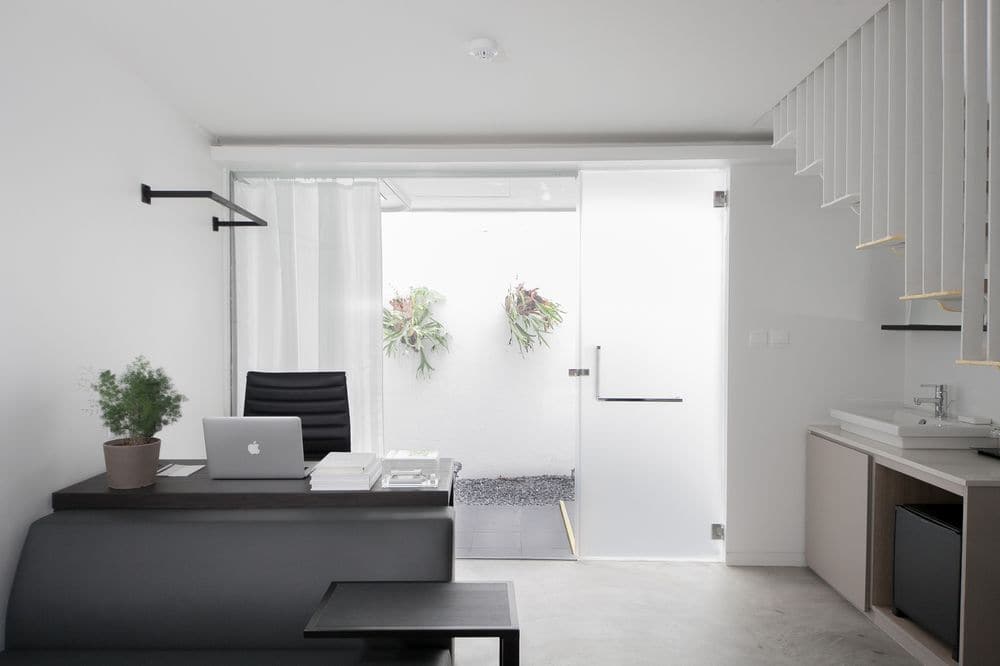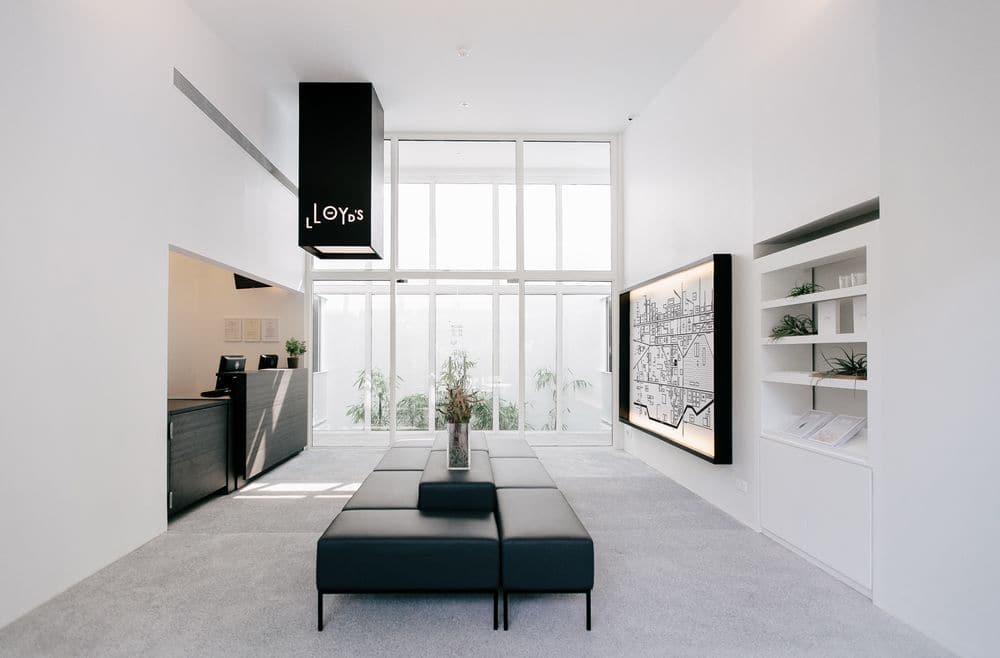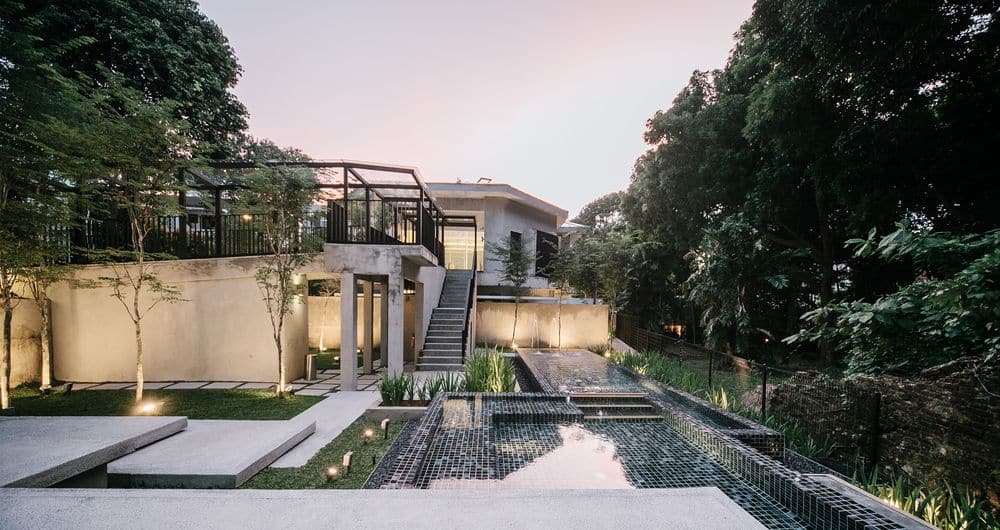 [button style='blue' icon="entypo-suitcase" url='https://www.expedia.com/Lloyds-Inn.h12601290.Hotel-Information' fullwidth='true'] Discover Lloyd's Inn [/button]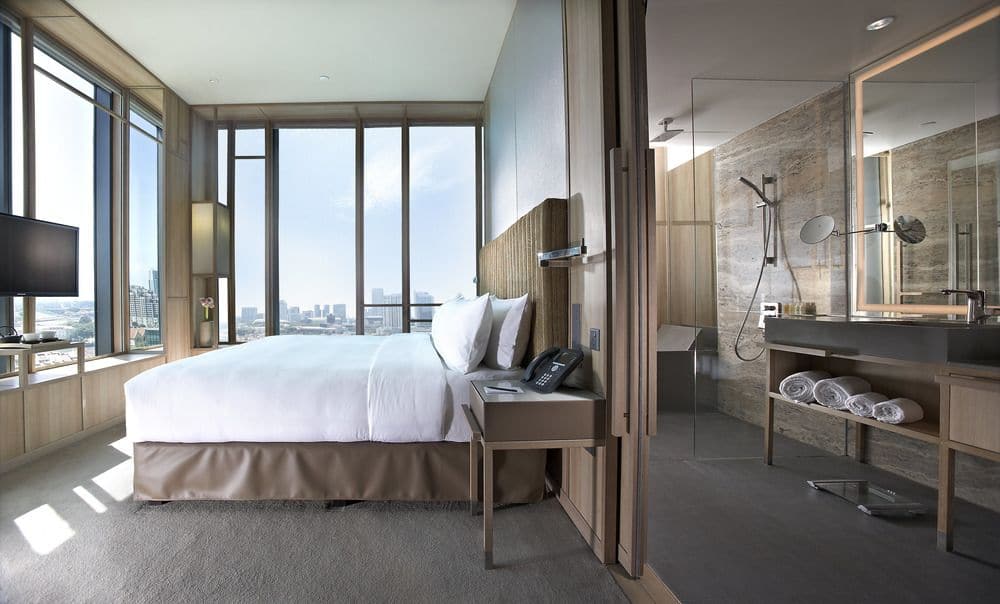 This ultra-chic hotel in Singapore is covered in lush greenery with an amazing view of the city. Parkroyal Hotel Pickering puts a lot of thought in providing symmetry between the greenery of nature and architectural design in its hotel structure. Guests are able to enjoy a unique stay in their eco-friendly hotel-in-a-garden concept in Singapore's Financial District. The best part of the hotel is their insta-worthy outdoor infinity pool with colourful lanterns. Guests can take plenty of photos here with the background of the city and share them on Instagram.
The rooms in Parkroyal Hotel Pickering are stylish, light and airy, allowing guests to sleep well behind blackout blinds. This peacefulness keeps the noise of the Business District far away. The hotel offers a restaurant serving modern Asian and international cuisine while the rooftop member's lounge provides afternoon tea with panoramic views of the skyline. Guests are able to explore Singapore city within walking distance.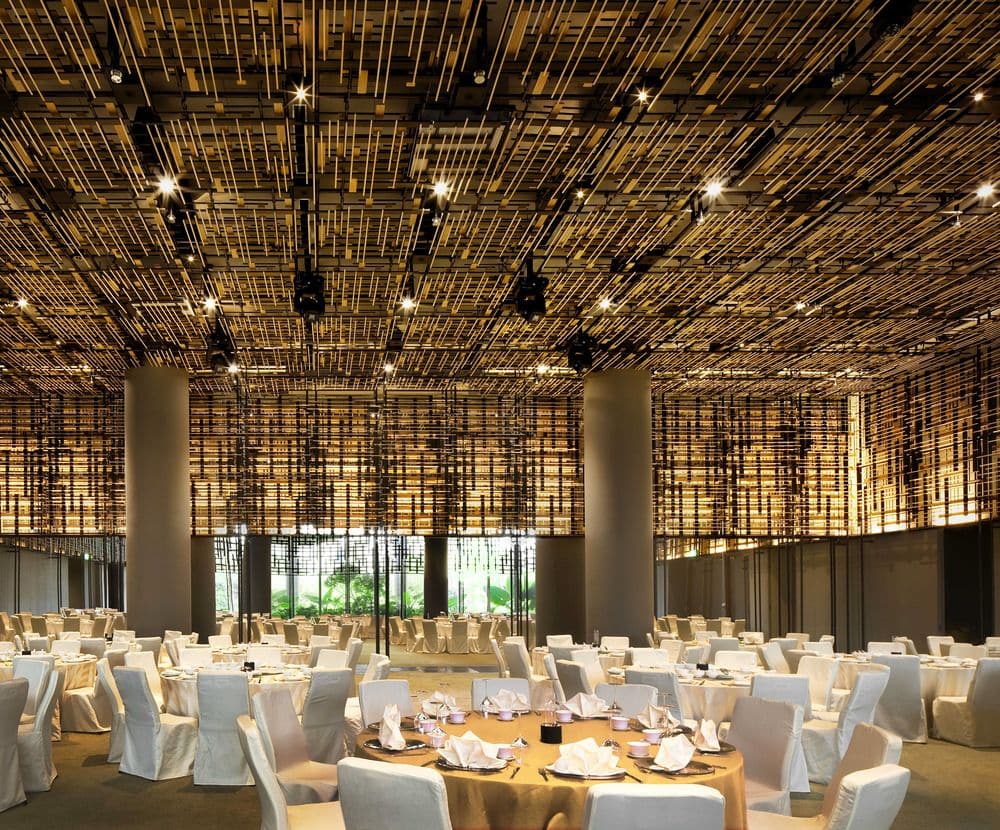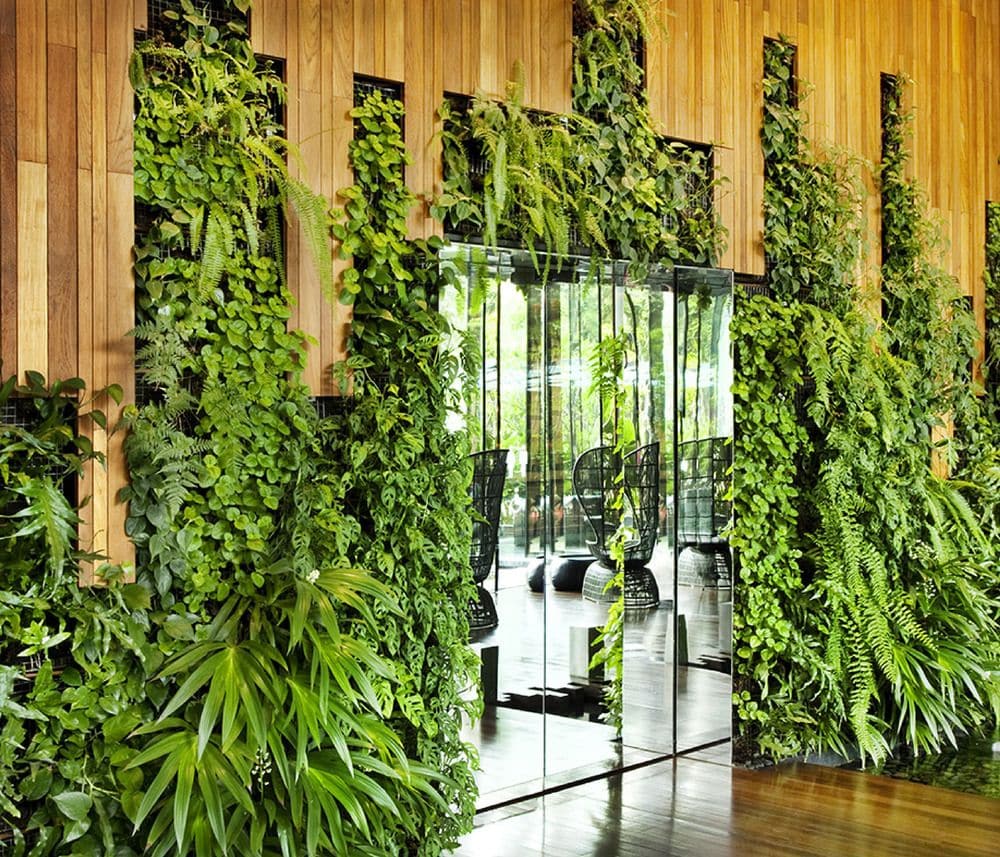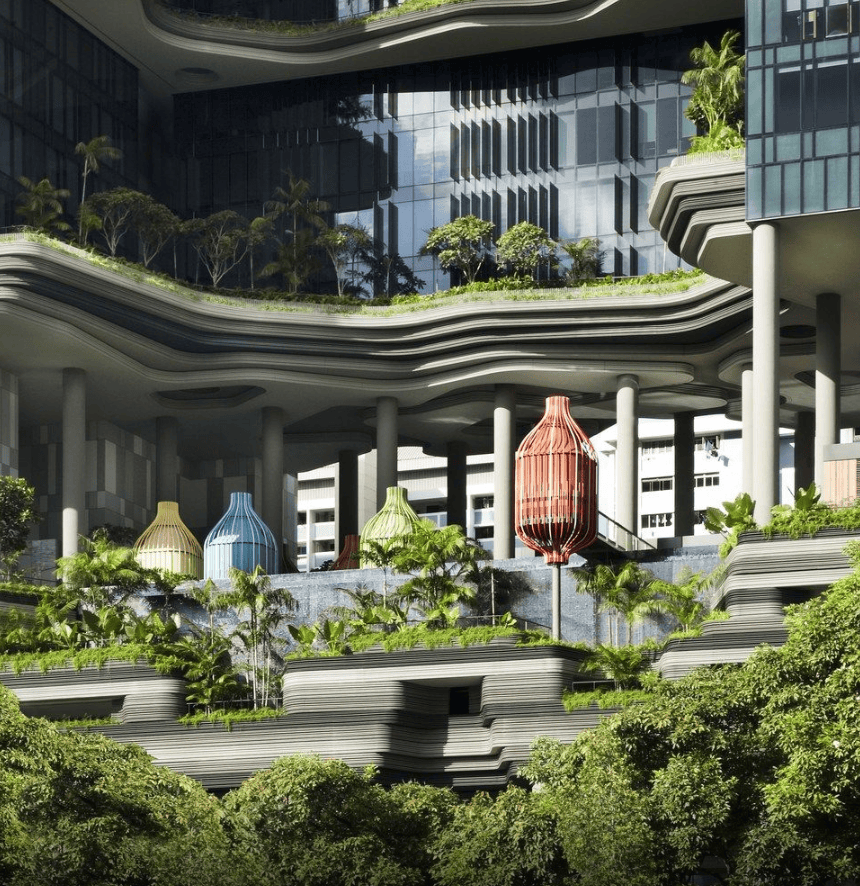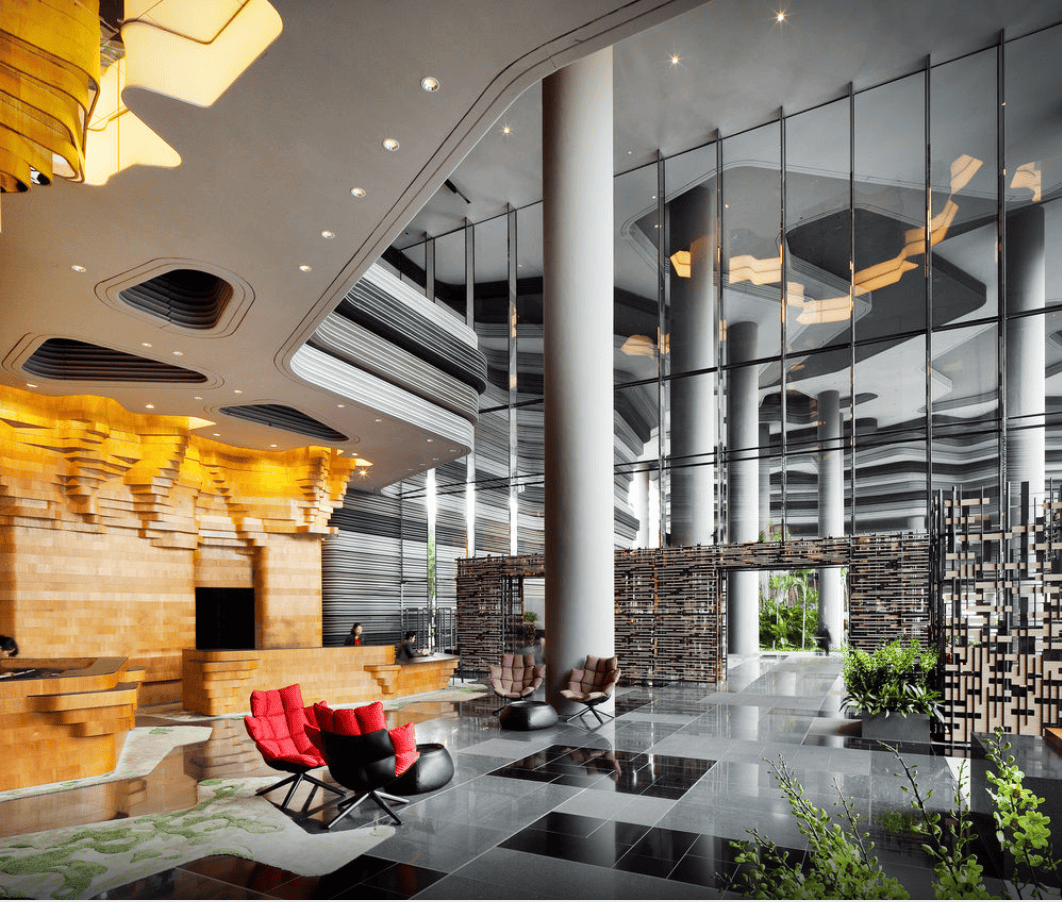 [button style='blue' icon="entypo-suitcase" url='https://www.expedia.com/PARKROYAL-on-Pickering.h5400381.Hotel-Information' fullwidth='true'] Discover Parkroyal Hotel Pickering [/button]

The Vagabond Club is Singapore's leading luxury boutique hotel housed in a 1950s heritage Art Deco building. World-renowned French designer Jacques Garcia designed this hotel which features Parisian-chic red as well as gold interiors. It is committed to creating an environment where artists can share their work, inspire and be inspired. Iconic installations such as the life-sized golden elephant and solid brass rhinoceros by sculptor Franck Le Ray can be seen in the lobby.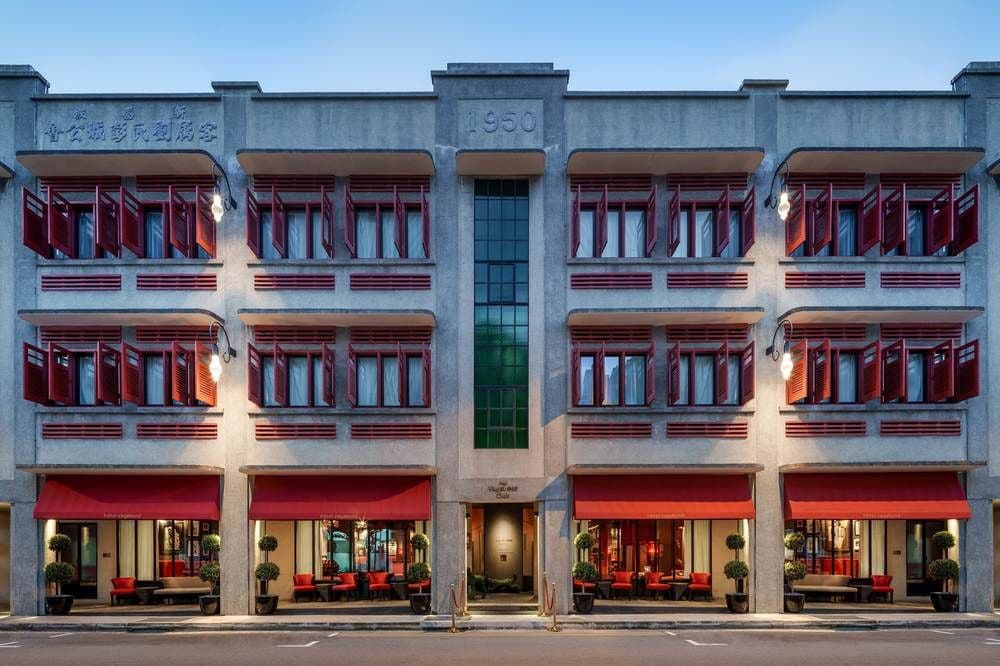 The Vagabond Club, A Tribute Portfolio Hotel is located just minutes away from the heart of the downtown business area. Therefore guests will have the pleasure of experiencing the cultural Little Indian and Kampong Glam. The rooms in this establishment feature a unique mix of vintage and modern amenities, some with photos taken from around the world.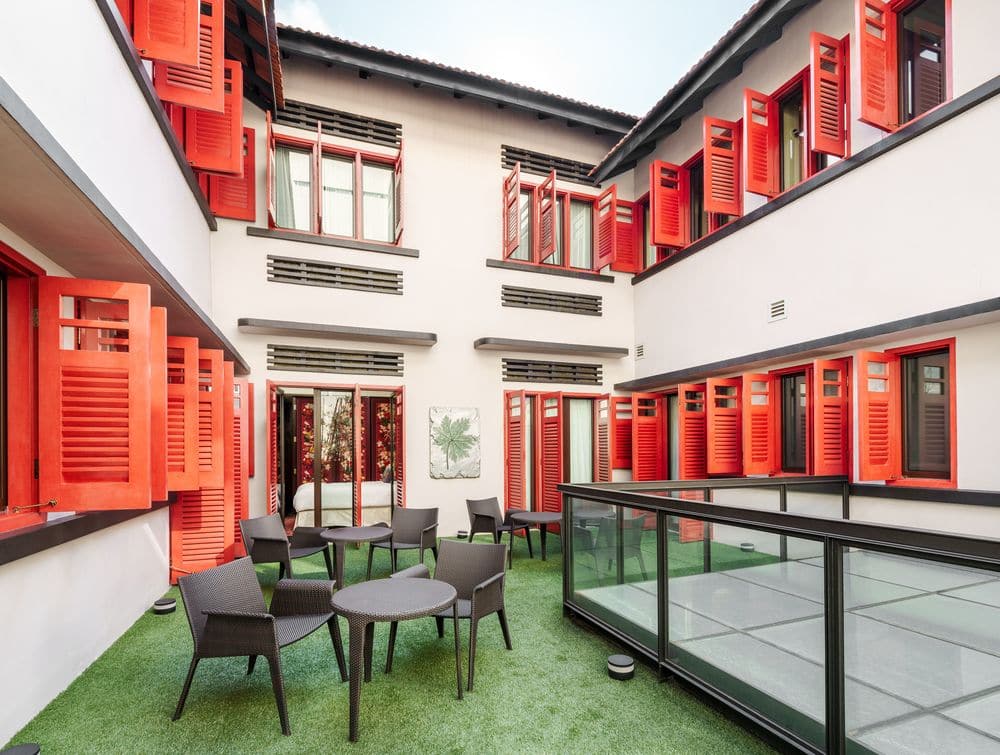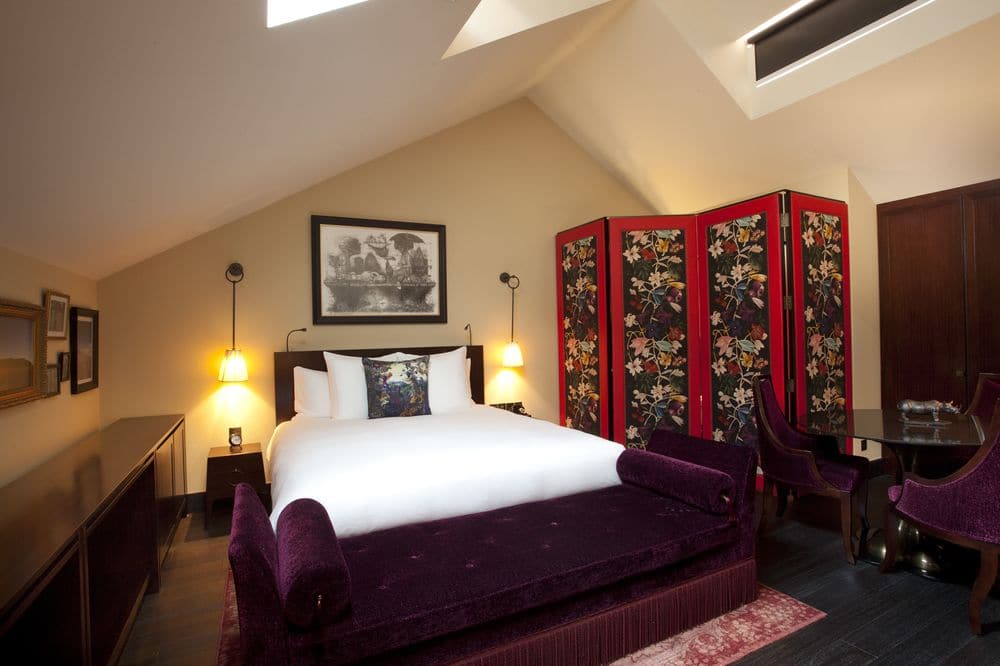 [button style='blue' icon="entypo-suitcase" url='https://www.expedia.com/The-Vagabond-Club.h11578996.Hotel-Information' fullwidth='true'] Discove The Vagabond Club [/button]

7. Klapstar Boutique Hotel
Among the hotels in Singapore, The Klapstar Boutique is a mix of creativity and luxury located near Tanjong Pagar MRT station. It is an idyllic hideaway at the southern edge of Singapore with easy access to popular attractions in Singapore. What's unique about this establishment is that there are only 17-rooms each with their own design. The team at Klapstar claims that no two rooms are the same with an emphasis on comfortable and inviting experience. It is the perfect place for business or relaxing getaway from the city noise.
Guests at the Klapstar Boutique Hotel can wake up to picturesque city view through coloured full glass panels in The Executive rooms or indulge in an outdoor Jacuzzi. It also comes with an indoor spa bathtub for their ensuite rooms and soothing rain showers to cool you down. There's also the cylinder shower area for couples who intend to stay for a romantic getaway. This definitely gives a whole meaning to showering without curtains or blinds.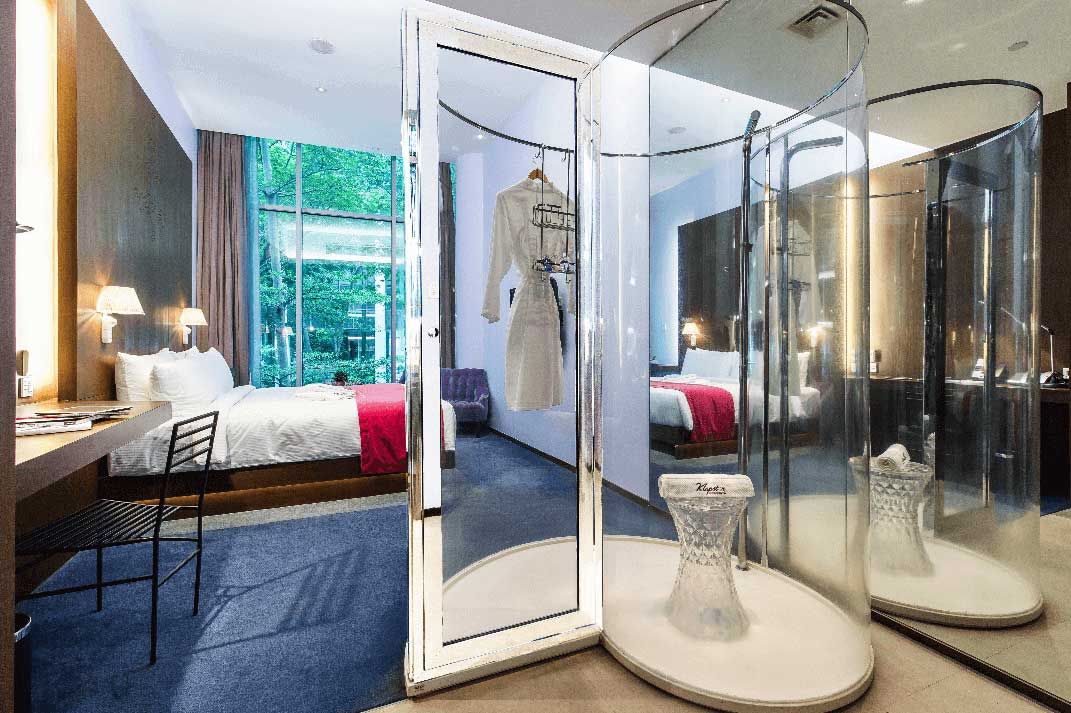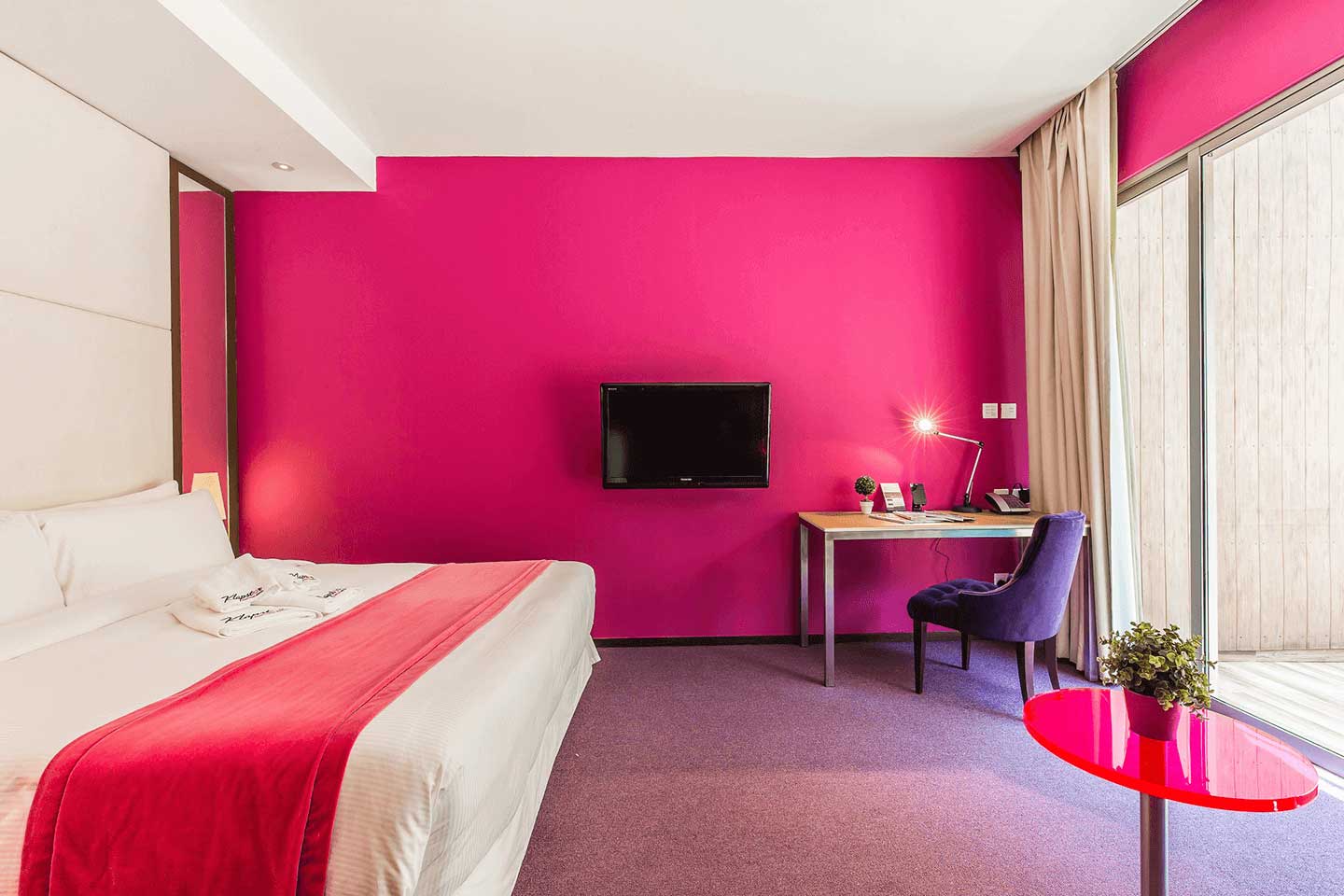 Singapore is home to a lot of beautiful architecture and unique places. If you want to know more about the top attractions and hotels in Singapore, check out this best hotels in Singapore guide and start planning your next getaway!
[tabs]
[tab title="Find Your Ideal Hotel" icon="entypo-suitcase"]
More hotels and accommodation in Singapore
[button style='blue' icon="entypo-suitcase" url='https://www.expedia.com/Singapore-Hotels.d180027.Travel-Guide-Hotels' fullwidth='true'] Find Your Hotel in Singapore [/button]
[/tab]
[tab title="Let's Go!" icon="entypo-flight"]
[button icon="entypo-flight" url='https://www.expedia.com.my/Flights-To-Singapore.d180027.Travel-Guide-Flights' fullwidth='true'] Flights to Singapore [/button]
[/tab]
[/tabs]