By Expedia Team, on December 6, 2019
Travel Istanbul: A 3-Day Guide to Explore this Bridge Between 2 Continents
Many great cities of the world can be described in one word: New York is glamorous, London is regal, and Paris romantic. However, I struggle to find the right word for Istanbul.
I was at the top of Galata Tower, a 600-year old medieval stone tower with a panoramic view of the city. As I looked down at the city, I felt it would be unfair to assign one adjective to represent Istanbul. Her beauty, as cheesy as it sounds, is quite indescribable. Alas, let the experiences speak for itself. Here are 14 things that I recommend to do when you travel to Istanbul.
DAY 1 – THE OLD CITY OF SULTAN AHMED
(1) Morning: Marvel at Hagia Sophia, the Throne to Many Empires
I began my morning early at Hagia Sophia, a mosque by the conquering Ottomans in 1453. It started out as a Byzantine cathedral before. Now, it preserves the Christian and Muslim influences that have shaped Istanbul throughout the ages. As such, Hagia Sophia is a fitting place to see where the two empires collided
As soon as I stepped into the main chamber, I was in awe.
Roman columns and marbles interspersed with decals of "Allah" and "Muhammad" held the place up. At one end of Hagia Sophia lies a former altar placed with a mihrab indicating the direction of Mekah. Right above the altar is a jewel-coloured mosaic of Virgin Mary and baby Jesus.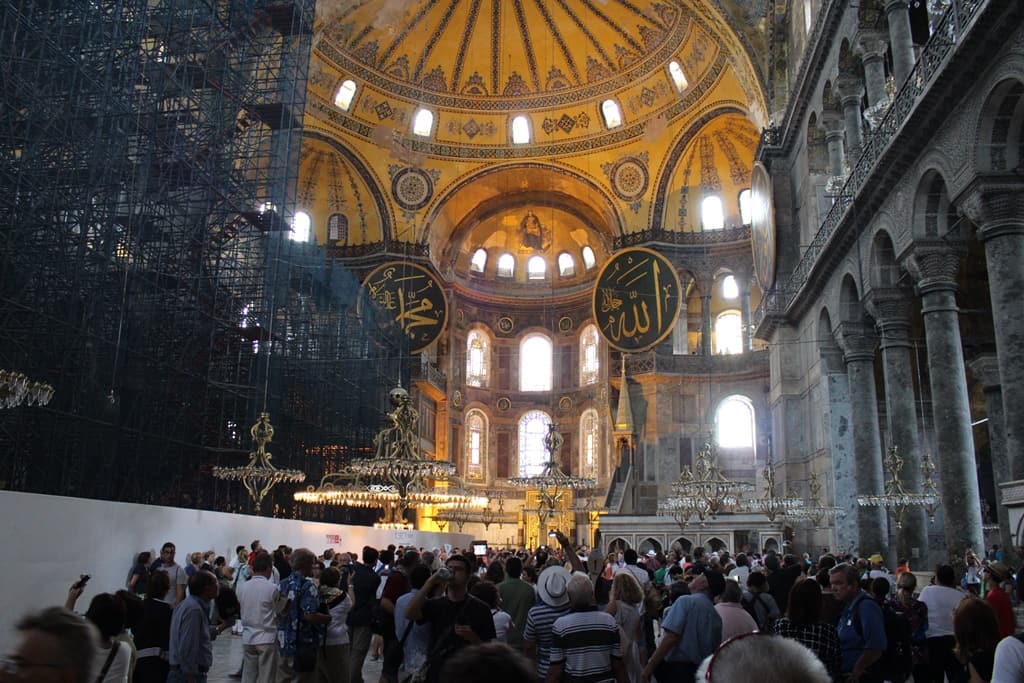 (2) Morning: Get Lost in the Impregnable Fortress of Topkapi Palace 
I then moved on to Topkapi Palace. Following the fall of the Byzantines, the Ottomans constructed Topkapi Palace and inhabited it for more than 400 years. I took my time exploring its labyrinthine courtyards and rooms, imagining the grand life of an Ottoman Sultan.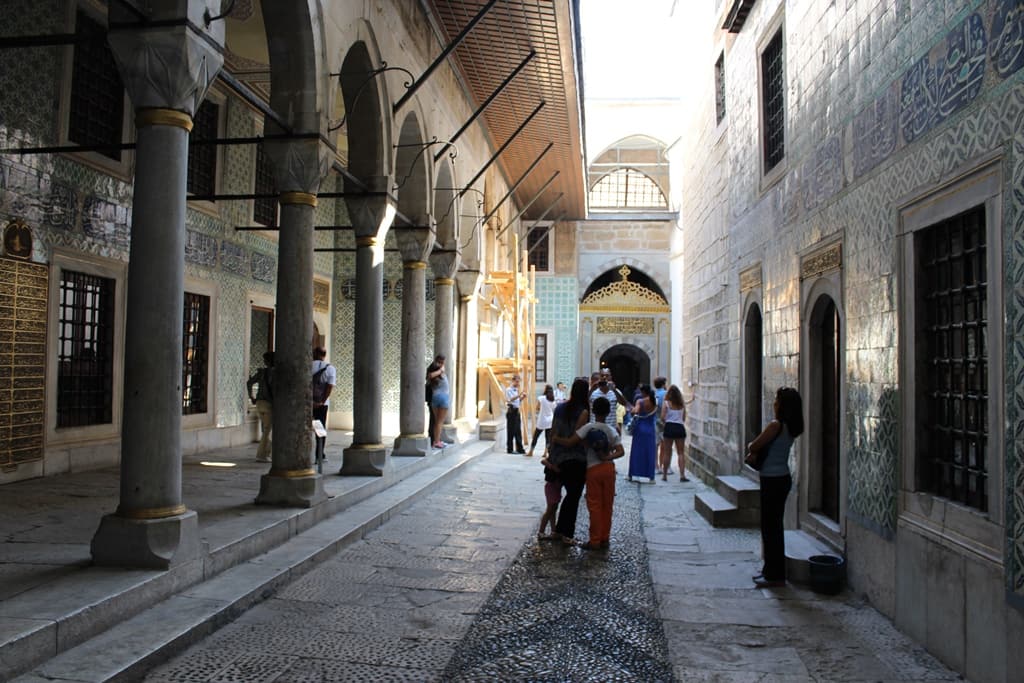 Blue Iznik tiles and gold leaf inscriptions of the Quran paint the interiors of the palace. Topkapi Palace had a harem and the equally beautiful complex has more than 300 rooms, nine bathhouses, two mosques and even a hospital!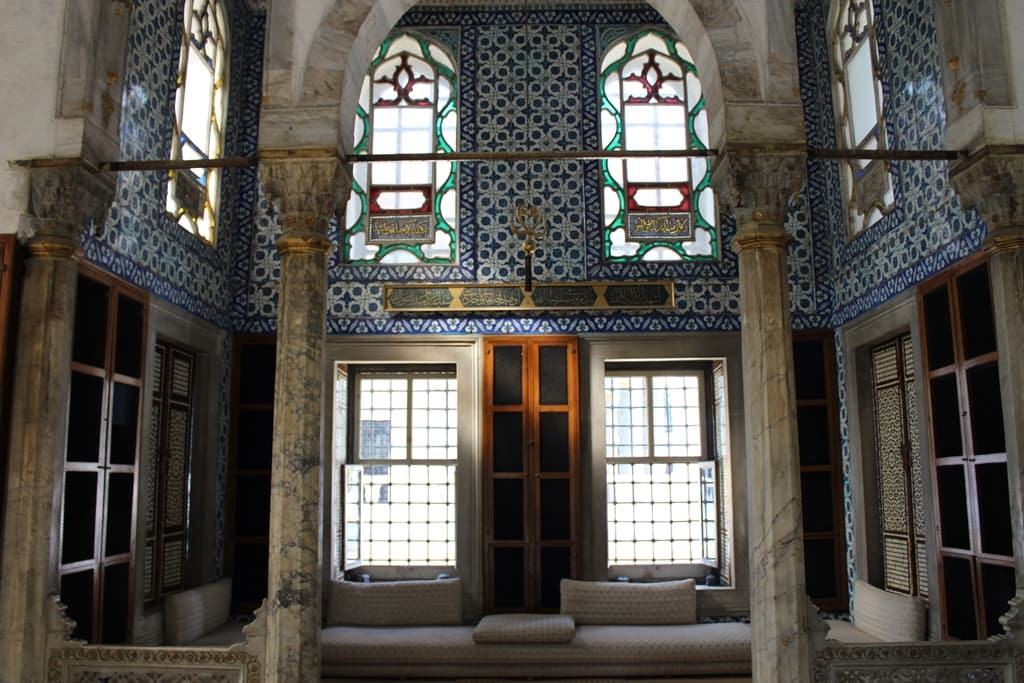 (3) Afternoon: Listen to the Call for Prayers of Sultan Ahmed Mosque
As soon as I finished my tour of the palace, the sounds of the azan began to echo. The call to prayers came from the seemingly drab Sultan Ahmed Mosque, so I followed the worshipers to perform afternoon prayers. One look at the mosque's domes and I understood why it is fondly known as the "Blue Mosque."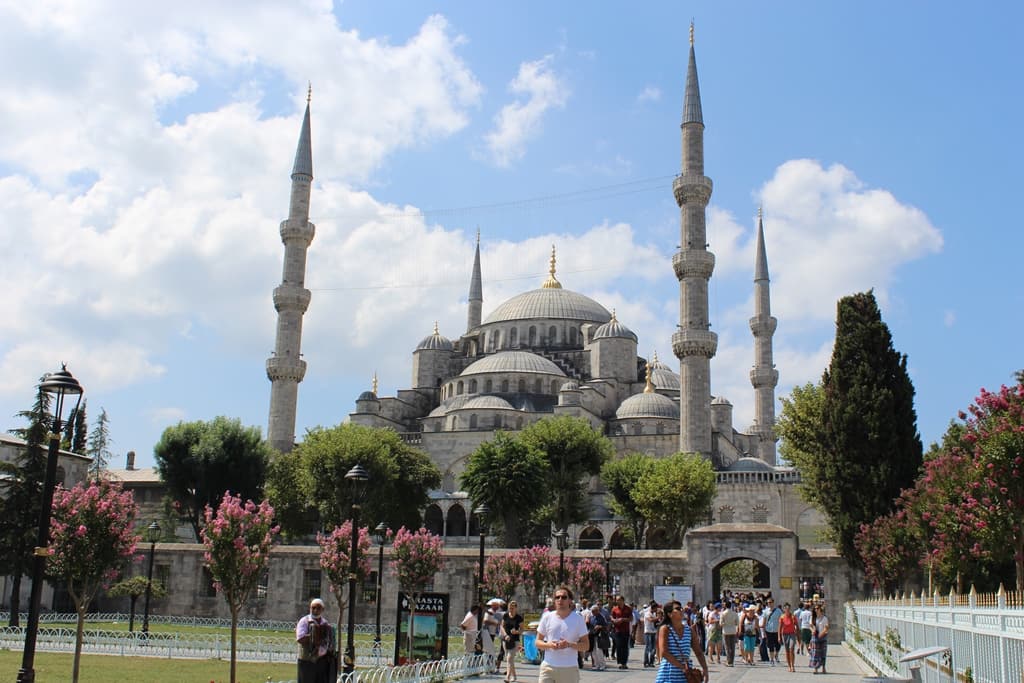 The interior of Sultan Ahmed Mosque was canvassed with intricate designs of Iznik tiles accompanied by lines of Islamic calligraphy. I took my time wandering in the main prayer hall to observe thousands of floral details spanning the whole ceiling. When I exited the mosque, my neck was sore from all that craning, but it was so worth it.
(4) Afternoon: Splurge on Ottoman Cuisine at Sefa Restaurant
The whole day of walking around made me extremely famished. Upon recommendation from a friendly local, I ended up in Sefa Restaurant for lunch.
Sefa served authentic Ottoman cuisine of fragrant rice, rich meat dishes and an assortment of vegetables and cheeses. I started with a hearty bowl of spiced lentil soup, which brought a sense of comfort food despite being foreign to me. The main course was "Saray kebabi", a plate of beef kebab, eggplant and a special kashar cheese. The restaurant also had a long tray of pick-and-go dishes so I added small plates of braised lamb legs and stuffed eggplant. It was a feast fit for the Ottoman Sultan himself!
(5) Evening: Go Bargain Hunting at the Endless Grand Bazaar
Feeling energized, I stepped foot into the Grand Bazaar to begin my shopping spree. The endless aisle of stalls and intersecting streets made this century-old market a maze to get through. With nothing to buy in particular, I wandered randomly around and stopped at any shop I fancied.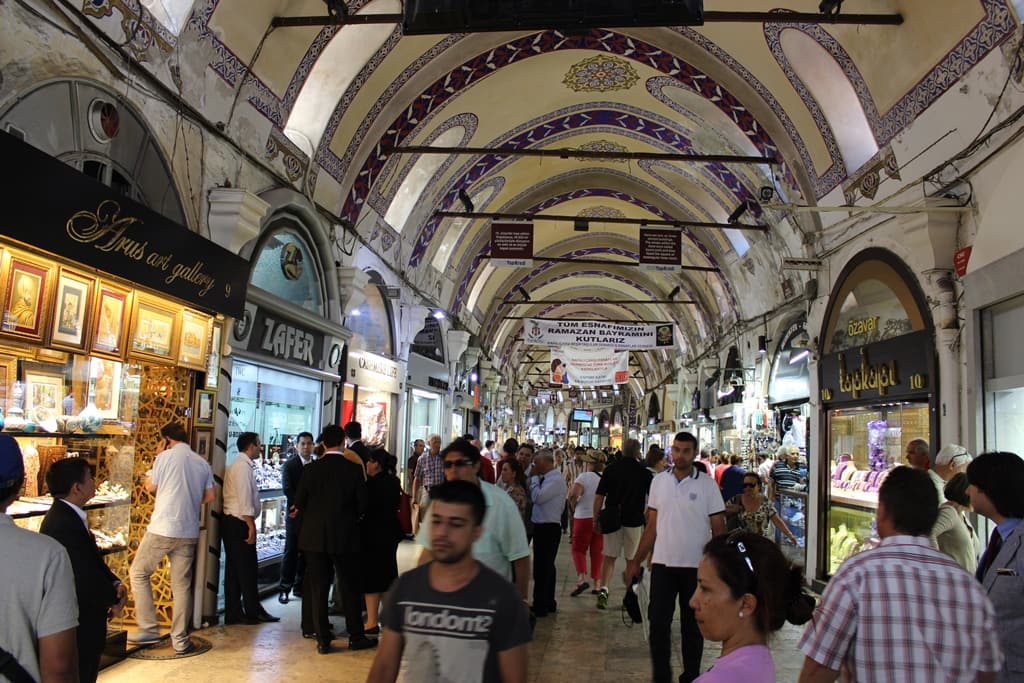 I realised that I had totally underestimated the size of the Grand Bazaar when I had been walking for a good 10 minutes and was still in the "decorative lamps section". I bought a couple of hand-blown lamps and spent a good amount of time on tableware, contemplating which Iznik blue design of plates and coasters I should procure.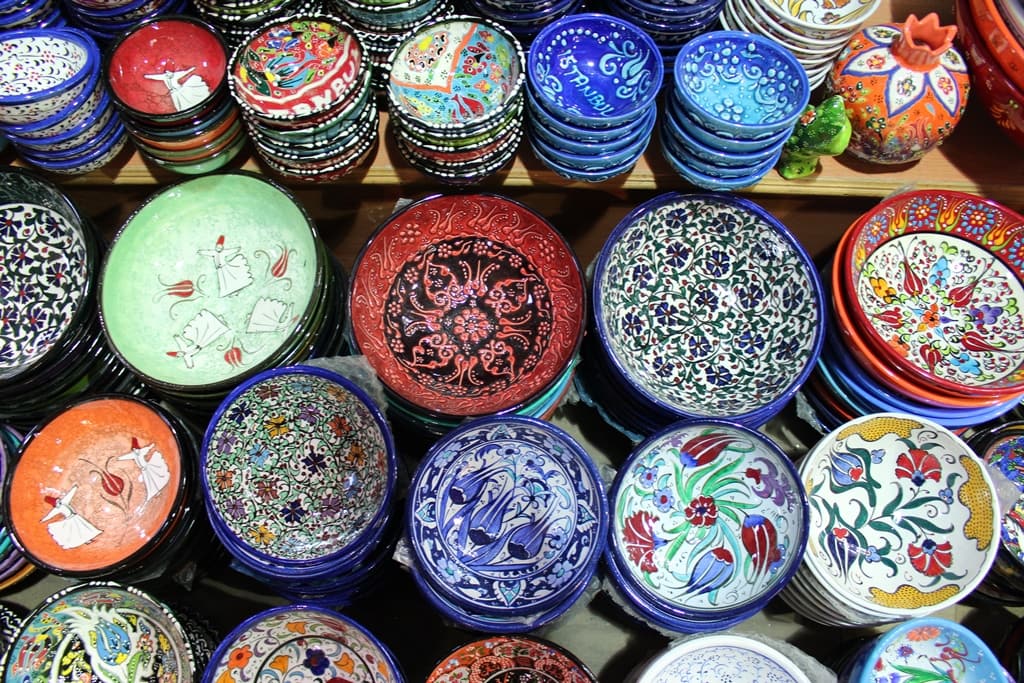 Lamps and plates only comprise half the story. I then went on to buy leather jackets and boots, football jerseys, watches and a bag full of souvenirs!
DAY 2 – GLITZY GALATA
(6) Morning: People Watch at Historical Taksim Square
Satisfied with the first day in Sultan Ahmed, I skipped over the glitzier neighbourhood of Galata. I hopped on the tram that runs across the city and an underground funicular railway called Tunel.
The Tunel brought me up the hill to Taksim Square, a public open-air space centred on the patriotic "Monument of the Republic." I bide my time watching the locals (and pigeons) grab a bite at nearby Gezi Park.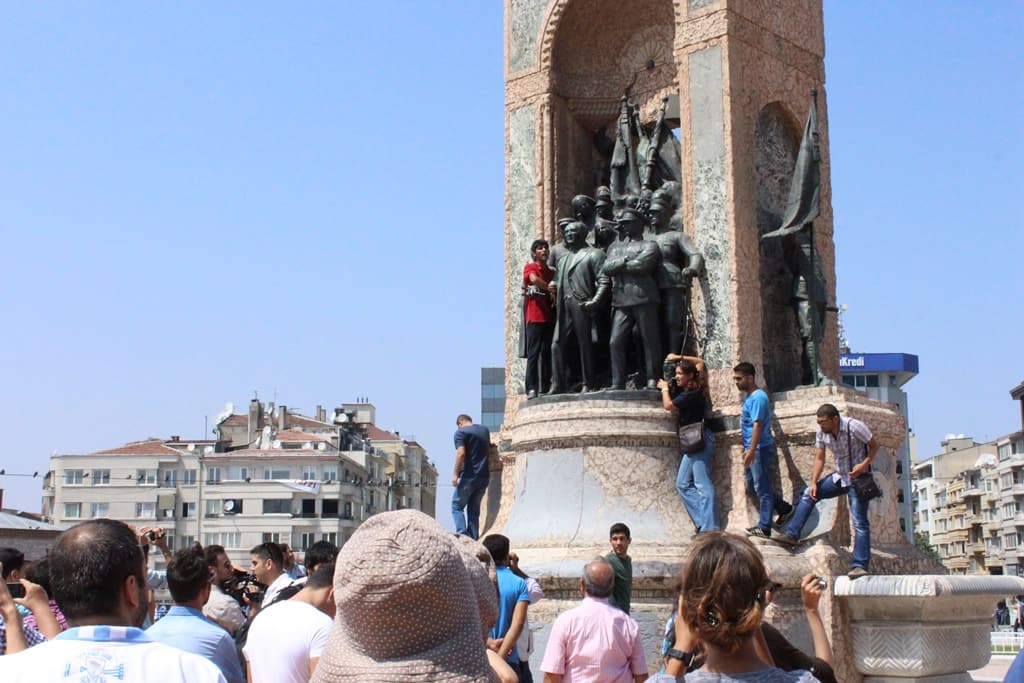 There was no fiery crowd this time around and the cool morning air gave the place a sense of tranquillity. As soon as the sun started to emanate its harsh rays and the square began to fill with people, it was time for me to make a move.
(7) Morning: Indulge in High-Street Shopping Along Istiklal Caddesi
Taksim Square is the start of Istiklal Caddesi, a pedestrian-friendly street lined with high-street boutiques and malls.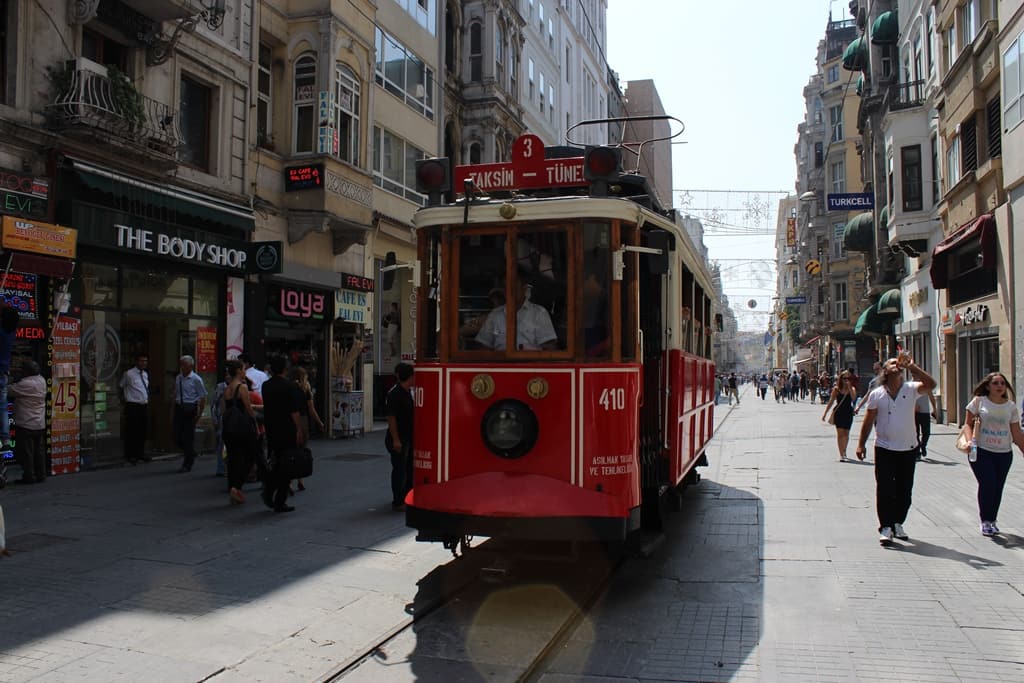 I began my trek once the shops were open for business, reaching out for a pair of sneakers and a shirt every once in a while. Istiklal Caddesi has a European feel to it – the stretch has a solid collection of Neo-Classical and Art Nouveau buildings filled with international retails brands like Starbucks and Burberry.
Halfway along my stroll, I made a quick stop at Balik Pazari, the "Fish Market" to try an Istanbul specialty – Midye Tava. The snack consists of skewered deep-fried mussels drenched in a garlic pine-nut sauce. The mussels were fresh and juicy and the nutty sauce was a perfect accompaniment to the melt-in-your-mouth shellfish.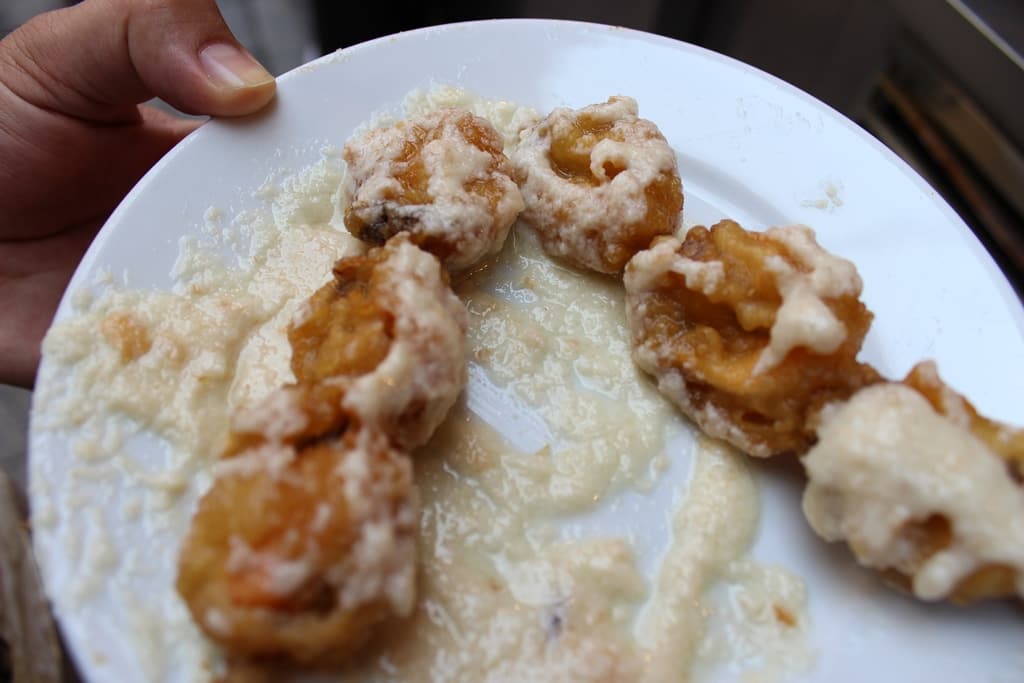 (8) Afternoon: Learn About the Mystical Mevlevi Order at Sufi Lodge Museum
At the end of Istiklal Caddesi lies the Sufi Mevlevi Lodge Museum. I was intrigued by Sufism, a mystical branch of Islam that had a strong presence here in Istanbul.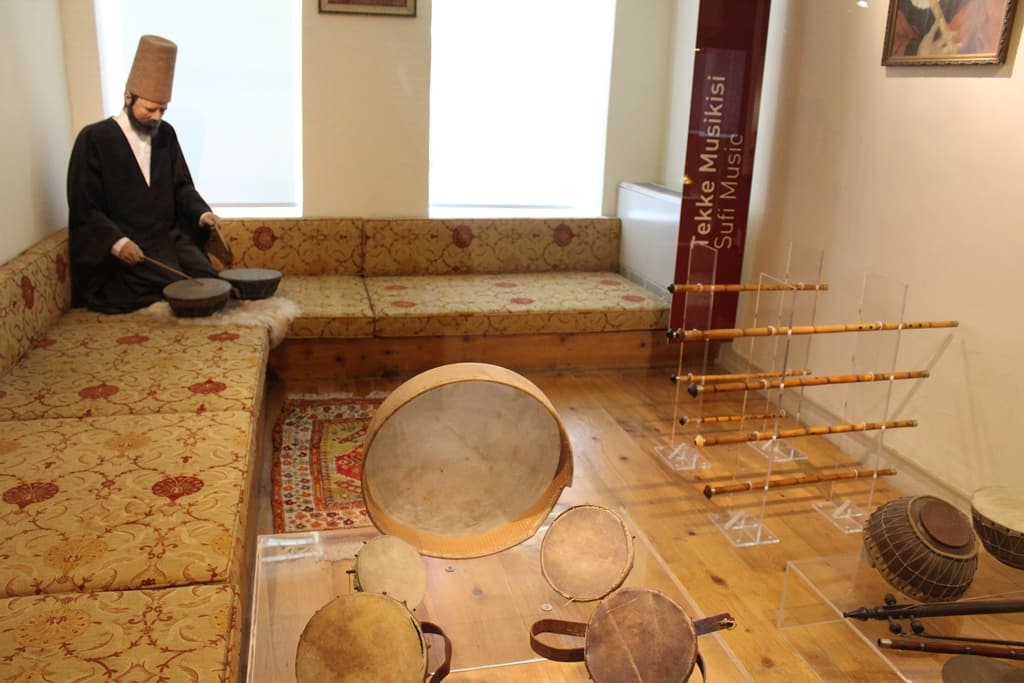 The museum belongs to the Mevlevi Order and it is a wooden building carrying a plethora of artefacts on the Sufi's way of life. The gallery opened up to a ceremonial hall dedicated to the Whirling Dervishes. These devotees would recite prayers repeatedly while entering a state of trance by whirling themselves on the floor.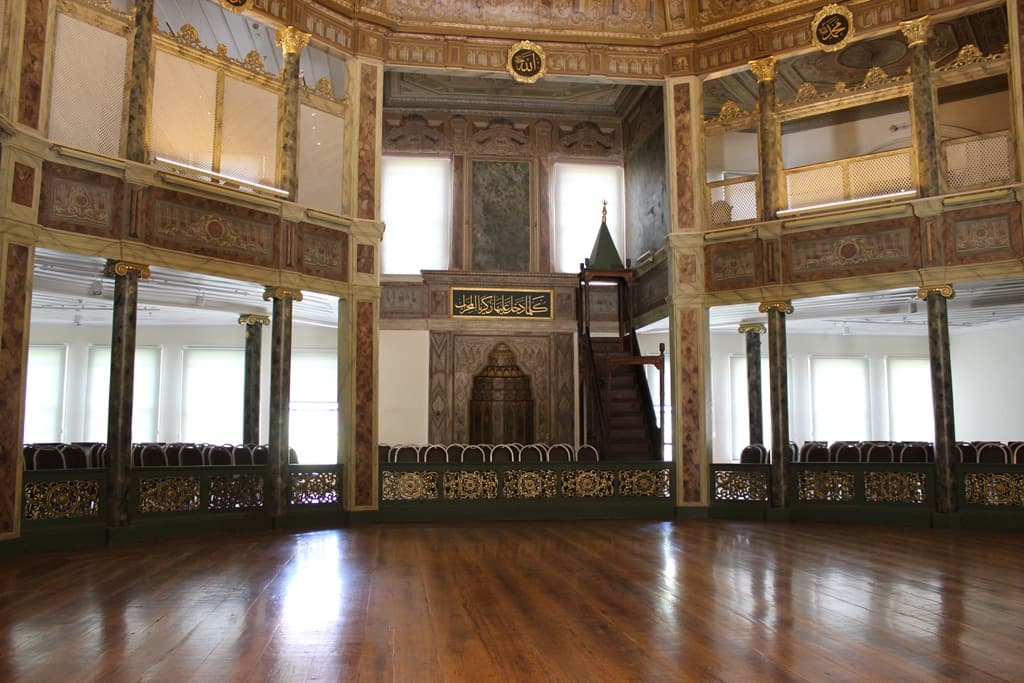 This unique way of Sufism, of trying to reach oneness with God, made me more interested to learn about the Whirling Dervishes. I was lucky when the museum staff informed me of a Whirling Dervish performance which was happening the very next day at a performing arts centre; I immediately made a reservation!
(9) Evening: Catch Istanbul from Way up High at Galata Tower
Just down the road from the Sufi lodge is Galata Tower, a cylindrical "skyscraper" built by the Genoese in 1348 lasting to this day. On the outside, the tower did not look very high and was barely recognizable from the river. But once I was at the observation deck, I was able to get a sweeping 360-degree view of Istanbul.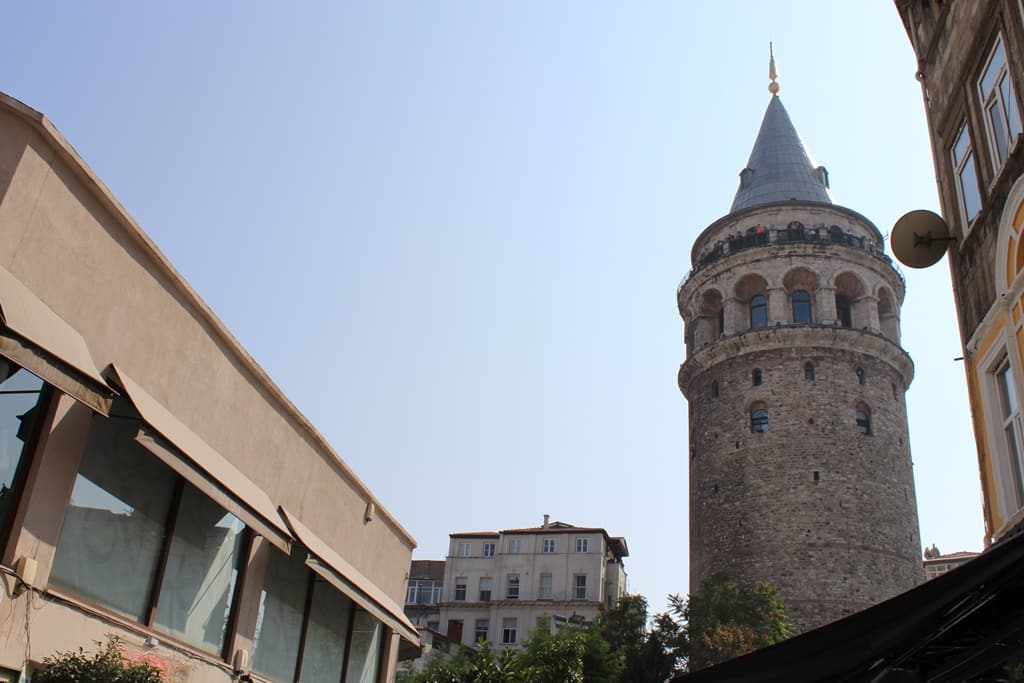 Walking around the deck of Galata Tower felt like travelling through time. Sultan Ahmed was replete with ancient buildings scattered across the Golden Horn while the Asian side of Istanbul is packed with sprawling neighbourhoods. It was when I walked to the Taksim Square side of the tower that I was introduced to modern Istanbul's concrete jungle.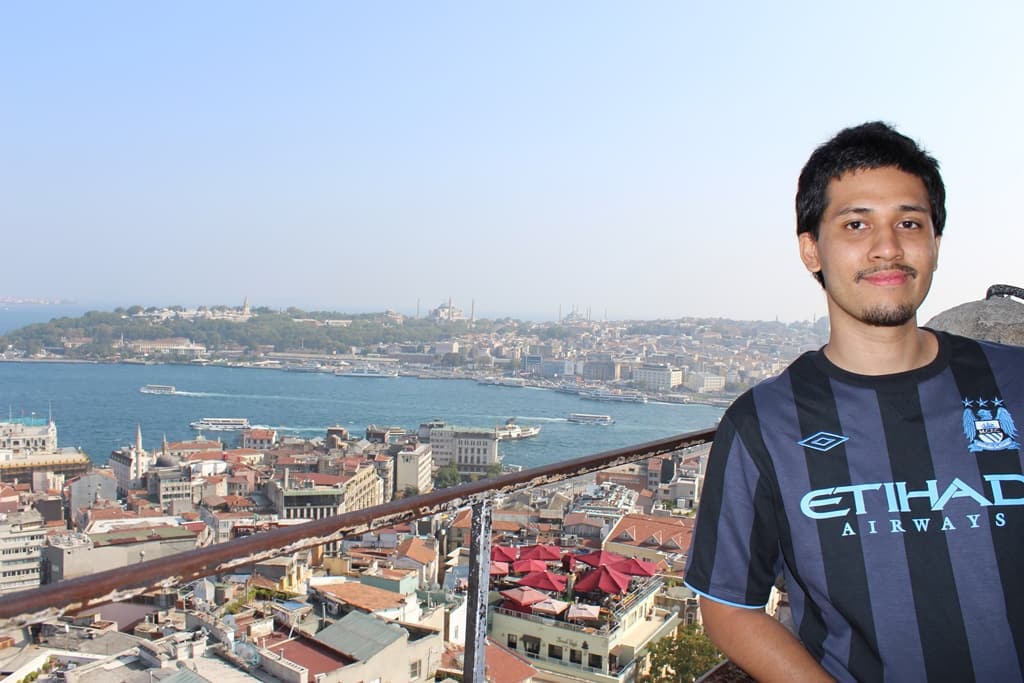 DAY 3 – THE MIGHTY BOSPHORUS
(10) Morning: See the Contemporary Side of Istanbul at Istanbul Modern
My third day in Istanbul was mainly spent along the Bosphorus.
The first stop was Istanbul Modern, a contemporary art museum refashioned into a maritime warehouse. It was a breath of fresh air as soon as I stepped onto the museum grounds – there were giant steel sculptures gracing the lawn while the outdoor garden has gazebos made of giant poles with metal plates acting as a shade.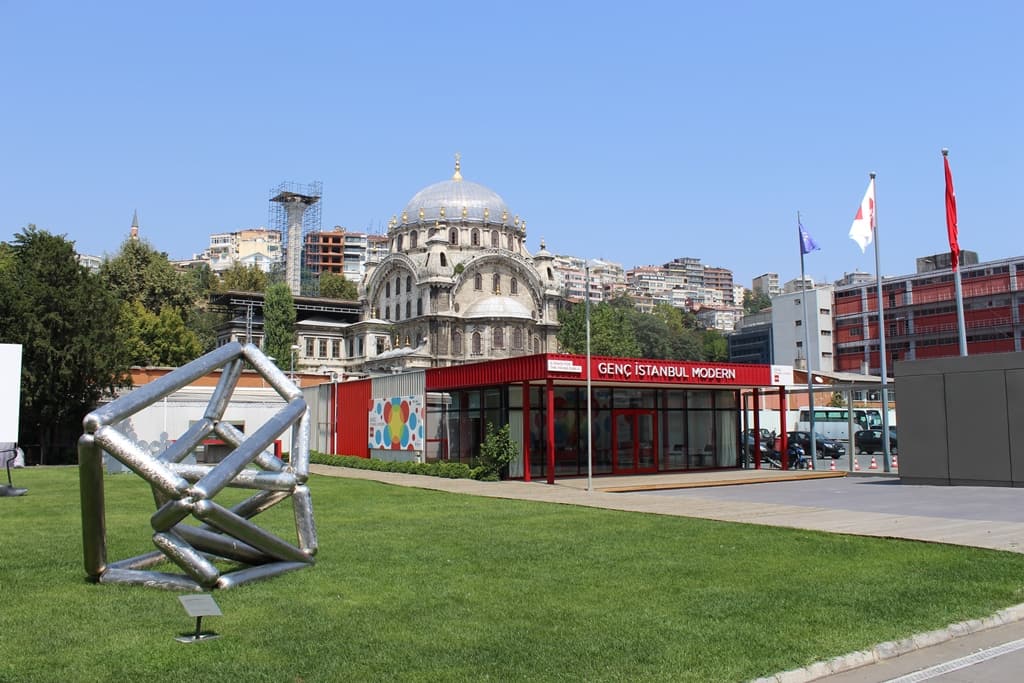 After a few days of enjoying the classics, I wanted to have a peek at the modern art scene and Istanbul Modern surpassed my expectations. The museum had a great set of expressionist and postmodern art on the top floor, showcasing works from Turkey and the surrounding region while the photography exhibition downstairs showed me the daily life of locals in Istanbul.
My thirst for current-day art had been well-quenched.
(11) Morning: Gawk at the European-Inspired Dolmabahce Palace
Not far from Istanbul Modern is Dolmabahce Palace, a European-style palace built by Sultan Abdulmecid I in the mid-1800s.
The Ottoman Sultan had grown sick of living in the arcane Topkapi Palace and wanted to build a new abode by the banks of the Bosphorus to rival the palaces of European monarchs. It took 13 years to create this palace of Baroque, Rococo and Neoclassical taste complete with a French garden.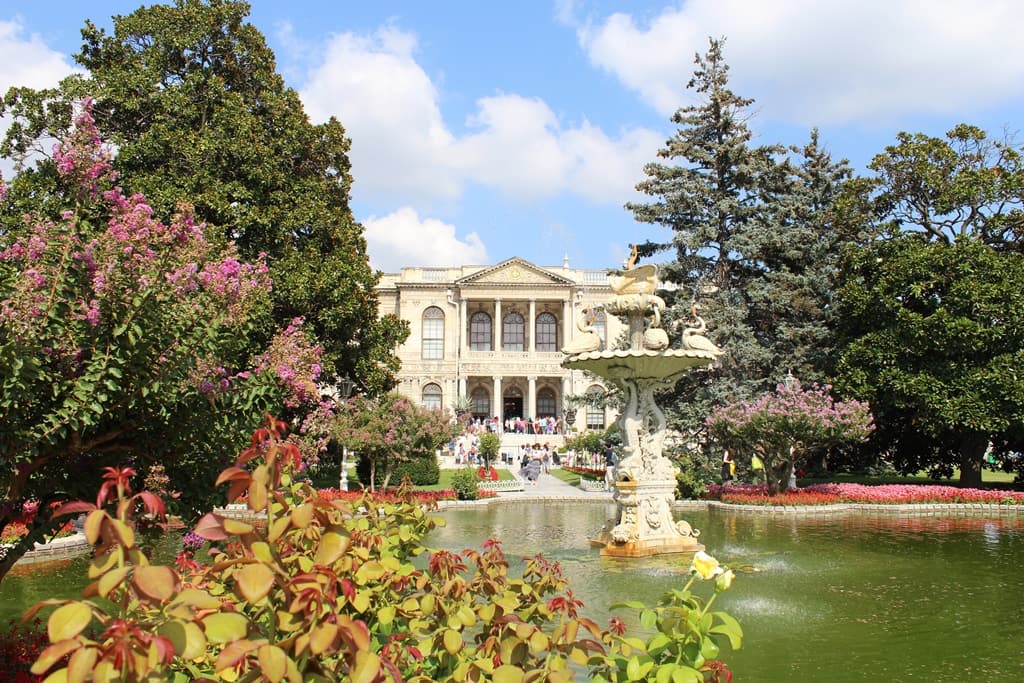 Was I visiting a German palace?
That was my first impression when I came up close to the steps of Dolmabahce Palace. I joined a guided tour and the guide brought us to every corner of the palace and truly felt like I was in Europe. I was gawking at the lavishness of everything, from giant crystal chandeliers hung in every room to 150-year old bearskin rugs gifted by Tsar Nicholas I of Russia!
(12) Afternoon: Heighten Your Senses at the Spice Bazaar
After a quick lunch by the river, I had the pleasure of walking through the smell of hundreds of herbs and spices at the Spice Bazaar!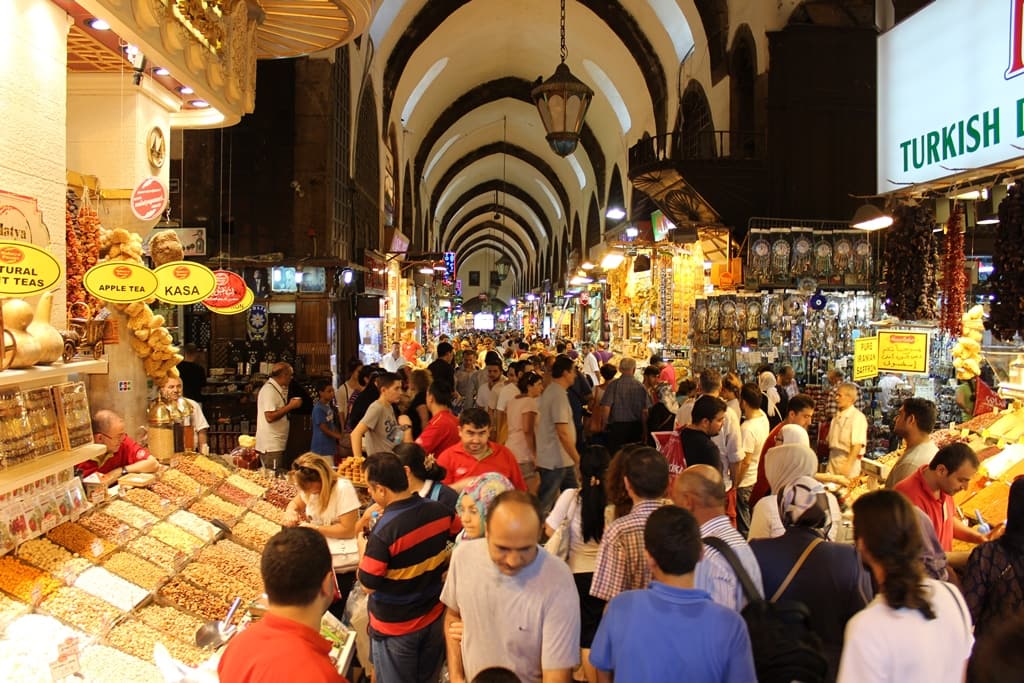 Unlike the confusing Grand Bazaar, the Spice Bazaar is one long corridor lined with rows of shops selling spices and teas. The bazaar was like a market; with customers haggling over prices and shopkeepers packing the powders into vacuum-sealed bags. I bought a few spices, including saffron and boxes upon boxes of apple tea!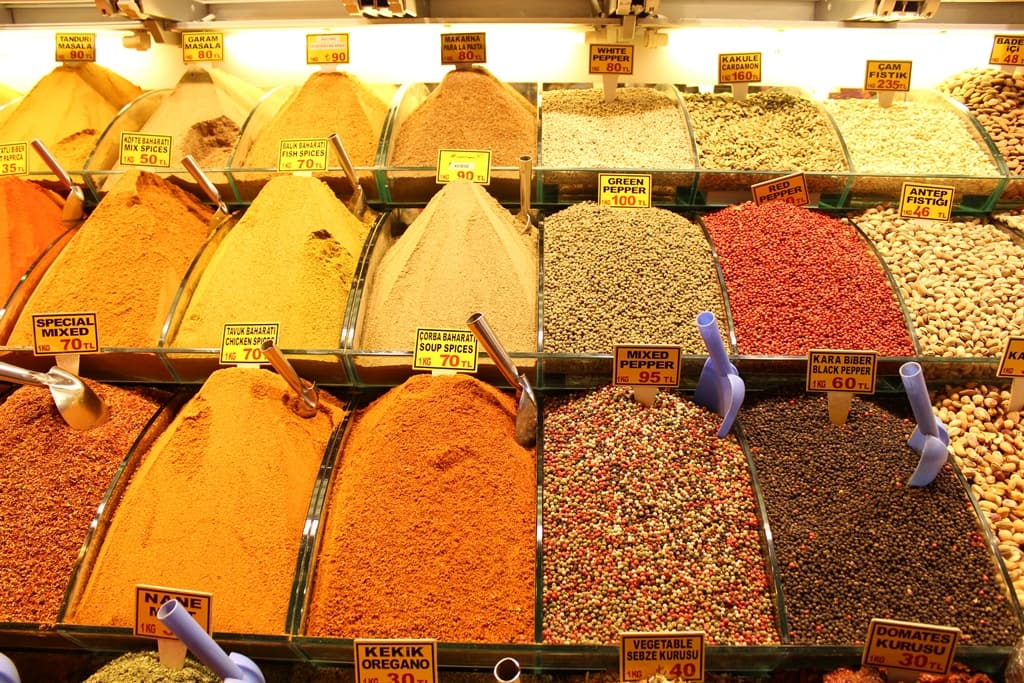 To satisfy my sweet cravings, I went over to Hafiz Mustapha, the purveyor of Turkish desserts. I was spoilt for choice looking at all the colourful and delectable Turkish delight (a soft confection dusted with powdered sugar) and baklava (a sweet pastry dessert filled with nuts and a sweet syrup). To pair with my latte, I got a mix of pomegranate, pistachio nougat, coconut chocolate and baklava.
It was bliss having my cuppa and watching the locals passing by.
(13) Evening: Ride the Mighty Straits on the Bosphorus Cruise
Perked up with coffee, I walked back down to the river and hopped on a ferry to go on the Bosphorus Cruise. I did not know it then, but this 45-minute return trip offered a different perspective on Istanbul.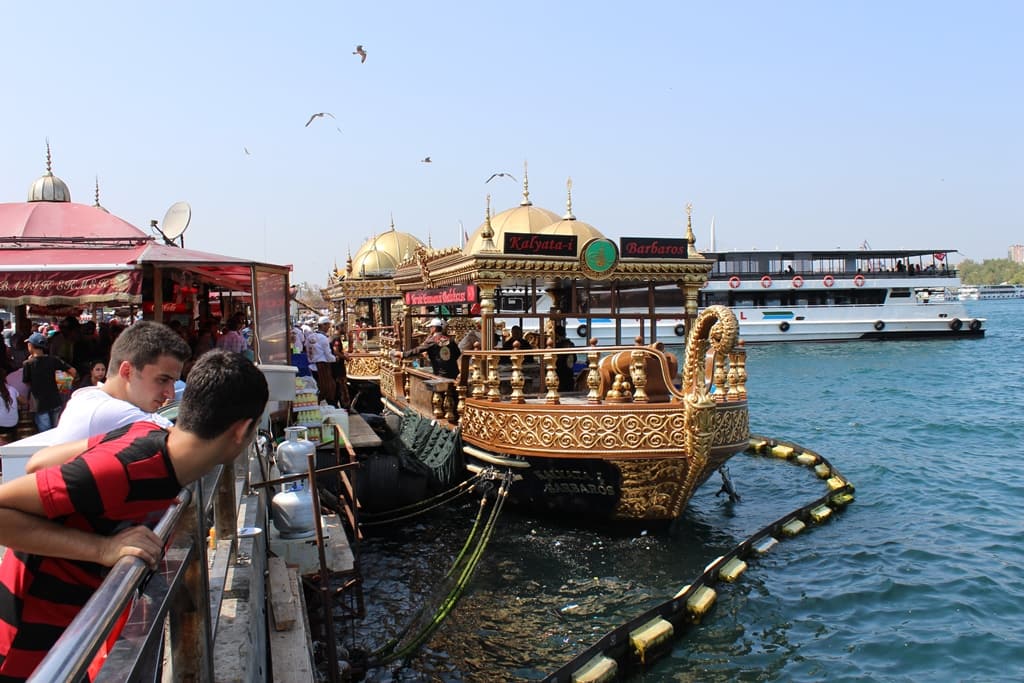 The first sight on the cruise was Topkapi Palace, which beamed like a fortress. As the ferry entered the straits, I saw the opulent Dolmabahce Palace followed by scores of high-end villas and bungalows. Then, the ferry made a U-turn at the Bosphorus Bridge to a view of the much humbler side of Istanbul.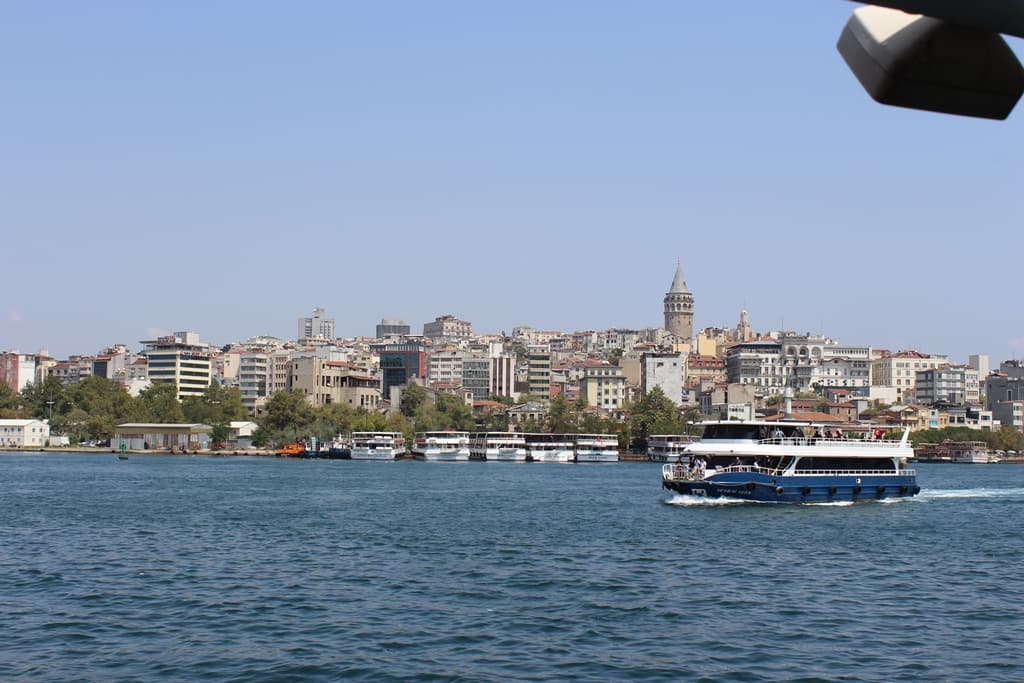 (14) Night: Be Mesmerized by the Trance-Like Whirling Dervishes 
It was time to end my Istanbul journey on a high.
I was at Hodjapasha, a cultural and performing arts centre, to catch the Whirling Dervishes performance which I had booked earlier. This was a performance for visitors since real Sufis perform only within the confines of their lodge.
The Whirling Dervishes were simply mesmerising. They were twirling in circles whilst spinning in unison. I felt dizzy just watching the dervishes perform! I highly recommend watching this if you love cultural performances with powerful meanings.
Although I did manage to cover many sights in Istanbul, three days was definitely not enough for me. Istanbul captivated me in a way no other cities had before – the history, heritage, food, culture and people are really unique, fitting its position as the bridge between two continents.
If there's a city I could come back over and over again, it would have to be Istanbul.
WHERE TO STAY
Sultan Ahmed – Bizim Otel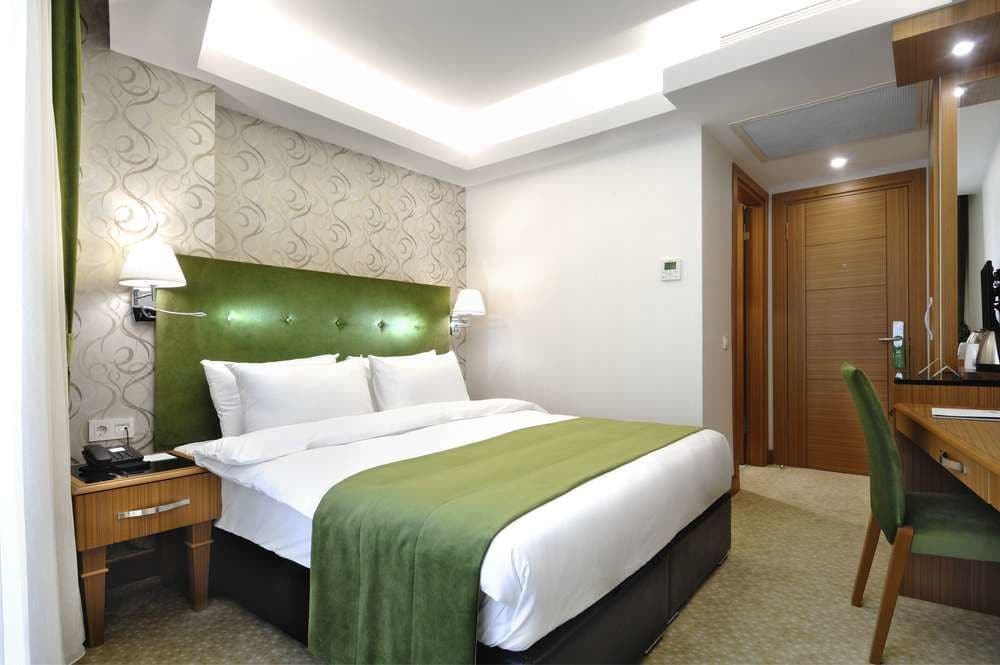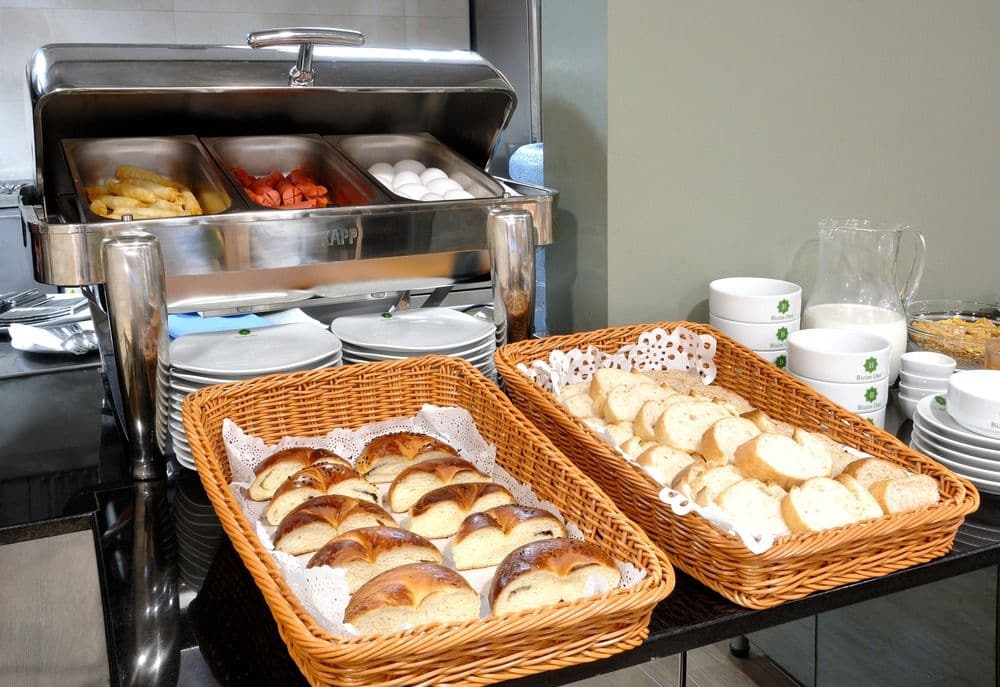 Bizim Otel is the perfect accommodation for shopaholics as it is located right across the Grand Bazaar. Guests can also easily access other tourist attractions since the hotel is a five-minute walk to the Beyazit tram station. In addition, the rooms are well furnished with wooden furniture and plush carpets. 
Galata – The Marmara Taksim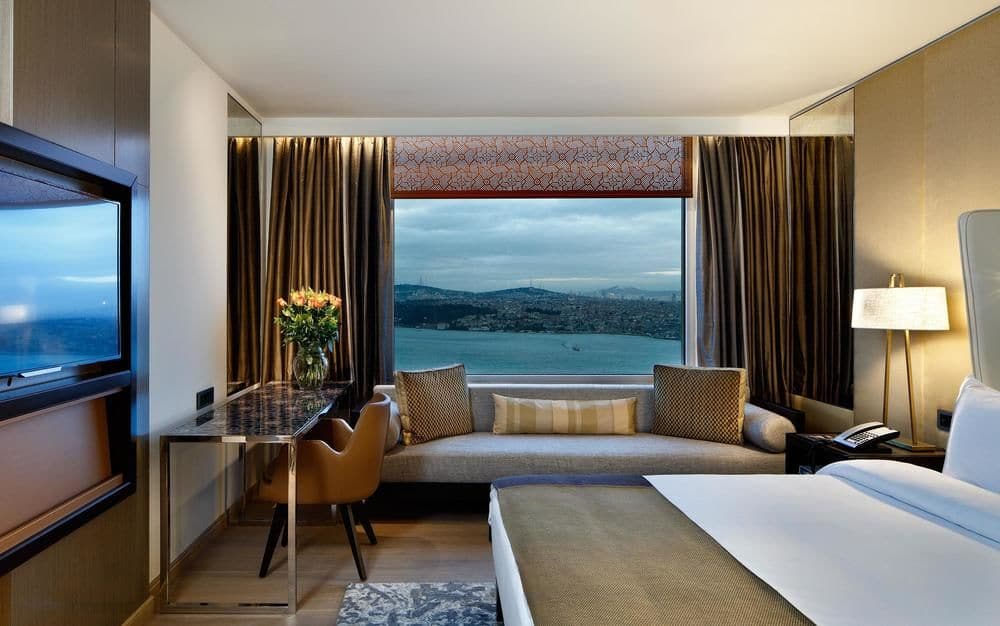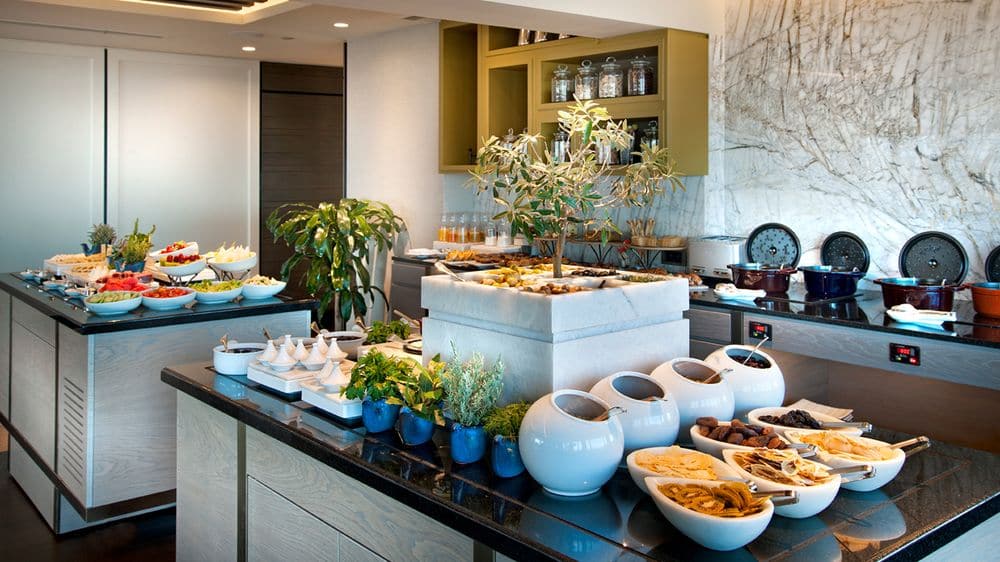 If you're looking to splurge, then The Marmara Taksim is the right hotel for you. The Marmara Taksim is a five-star establishment right smack in Taksim Square and has all the comforts for an enjoyable stay in Istanbul. Be sure to request the higher for a room facing the Bosphorus! 
MUSLIM TRAVEL TIPS
Turkey is officially a secular country with a Sunni Muslim majority. Although Istanbul receives millions of tourists, Islamic sensibilities, such as dressing modestly if you're a female, still apply.
Mosques can be found throughout Istanbul from the main mosques to smaller prayer rooms – be on the lookout for "camii" which means mosque in Turkish.
Almost all the restaurants in Istanbul serve halal food. You will be informed by the management if the place you are going to is not halal.