By Expedia Team, on August 5, 2016
Theme Park Guide: Universal Studios Singapore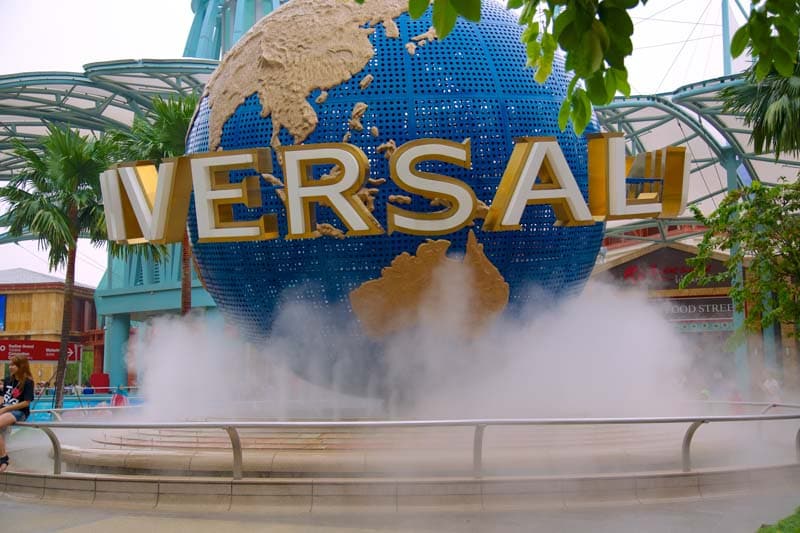 Just a short cable car ride from the main island, Universal Studios Singapore promises an activity-packed day out. Follow this guide and you'll be hopping between thrilling movie-themed rides and, come nightfall, gazing up at a stunning fireworks display.
Themepark Guide: Universal Studios Singapore  
USS: An Adventure in Singapore
There's no shortage of fun things to do in Singapore. But as much as I enjoy city life, I'm always keen to add some adventure to my sightseeing itinerary, which is why I love Sentosa Island. It's where you can find the sun-kissed playground of Resorts World Sentosa, home of Universal Studios Singapore.
The theme park's seven zones celebrate some of the most exciting movie moments and lovable characters to ever hit our screens. A one-day pass costs S$67 for adults (aged 13 to 59) and S$54 for children (aged 4 to 12) – remember to book your USS tickets online to avoid the queues. Do also note that there are height restrictions for some attractions, ranging from a minimum of 80cm to 122cm.
Operating hours vary, so do be sure to check them out before booking.
With so much to do in just one day, here's how to make the most of your visit.
Get in the Zone: The 7 Themed Areas in Universal Studios Singapore
Hollywood
The fun starts with a wander down the star-studded Walk of Fame, where you'll rub shoulders with animated film favourites including the dungaree-clad Minions. In keeping with the all-American feel of this zone, pay a visit to Mel's Drive-in diner for a milkshake with a side of all-singing, all-dancing service.
If you visit on a Saturday, head back here towards the end of the day to get swept up in the Hollywood Dreams Parade which rolls into town at 5pm before the Lake Hollywood Spectacular firework display fills the night sky at 8pm.
Madagascar
From Hollywood you can head left or right but if you are anything like me – and want the thrills to build as you go – then head left and travel in a clockwise direction. In this tropical zone you can take a riverboat through the jungle with the crazy critters of Madagascar. Younger children will also enjoy King Julien's Beach Party-Go-Round, a family carousel that's suitable for all ages.
Far Far Away
This Shrek-themed zone is home to a magical ferris wheel, the Enchanted Airways junior roller coaster and street entertainment featuring a cast of characters from DreamWorks Animation's hits. The fairytale theme also recently got bigger with the unveiling of Universal Studios Singapore's latest addition – the Puss In Boots' Giant Journey anti-gravity roller coaster.
Lost World
Take the scare levels up a notch in this Jurassic Park-inspired zone. For the more adventurous, the river raft ride is one not to miss. Hitting this ride early in the day also gives you time to dry off. If you have younger ones with you, board the Canopy Flyer and take in a bird's eye view of the park as you soar through dinosaur-infested treetop canopies. Before you leave, don't forget to catch the water show that's packed with death-defying stunts and high-octane action.
Ancient Egypt
Little explorers can drive a jeep around abandoned excavation sites at Treasure Hunters while thrill-seekers will love the high-speed Revenge of the Mummy roller coaster, which takes riders into a deep, dark tomb replete with fireballs and warrior mummies. Need to keep your energy levels up? Fuel up with Middle Eastern-inspired dishes at Oasis Spice Café.
 Sci-Fi City
Serious white-knuckle fans should board Transformers The Ride: The Ultimate 3D Battle, where passengers fight alongside Optimus Prime and the Autobots before coming face-to-face with these larger-than-life robots when they roll out onto the futuristic streets of this ultra-modern zone.
New York
Can you tell me how to get to Sesame Street? You just arrived! From musical stage shows and a chance to eat breakfast alongside Elmo and the Cookie Monster to a colourful Sesame Street Spaghetti Space Chase ride, this zone is perfect for preschoolers. The rest of the family can pop in for the special effects show hosted by Steven Spielberg, which shows you how an empty sound stage becomes the setting for a major hurricane about to hit New York City.
Not ready to leave?
There's plenty of great accommodation on Sentosa Island.
For a tranquil experience that's close to all the action, Resorts World Sentosa's poolside Beach Villas come with a personal butler and access to the steam rooms and saunas of the ESPA retreat. More family-friendly fun can also be had at the nearby Adventure Cove Waterpark and S.E.A. Aquarium.
But if you prefer to people watch, the swimming pool and al fresco cocktail bar at the hip W Singapore – Sentosa Cove might be just the place.
Keen for more daredevil antics? Test your surf skills at Wave House Sentosa or fly through the sky at the MegaZip Adventure Park.
At the end of the day if all you want to do is unwind, it's perfectly fine, too, to bag a daybed at the chic Tanjong Beach Club for a spot of sun-bathing before returning to the bright lights of the city.