By Expedia Team, on December 11, 2015
Muslimah Fashion Around the World
By Explorer Alia Ali –  Modest fashion preferred by Muslim women, or Muslimah fashion, has recently taken on a whole new meaning. Today, Muslim women worldwide are finding new ways to be fashion forward. These destinations showcase some of the best in Islam-inspired fashion.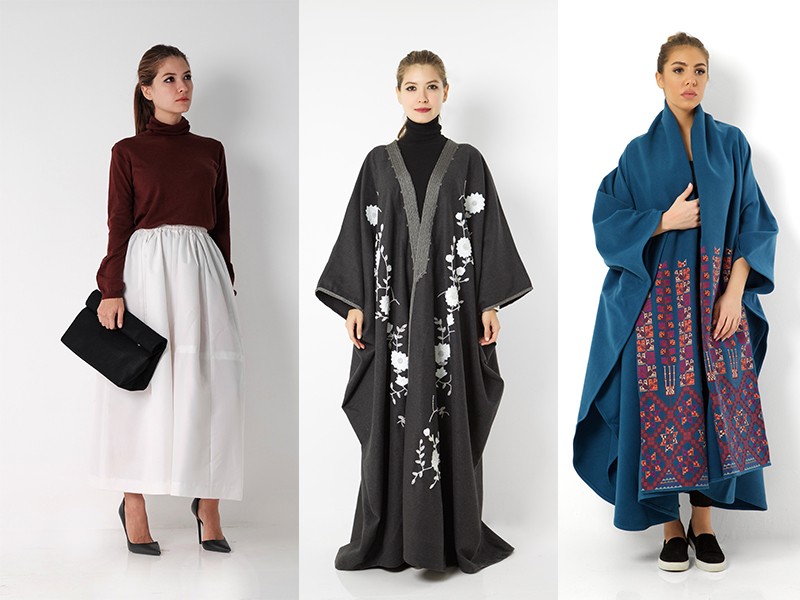 Kuwaiti fashion labels: Amanaz, Nouma and Hamsa | Credit: Thouqi.
Muslimah Fashion Around the World
Muslimah Fashion from Kuwait: Flowing Elegance
This tiny but beautiful Middle Eastern country has given rise to some of the most exciting designers in the region. A quick search on Instagram under the tag #wearregional will reveal a host of fresh labels with roots in Kuwait. Most Kuwaiti labels offer pieces that work well in warm weather, catering to the style of multiple layers that many modest fashionistas love.
A top favourite is By Nouma, which carries comfortable caftans in fun floral prints. Colourful flowing bishts and wrap dresses come courtesy of Hamsa, while Amanaz's forte is block colours and, currently, strong asymmetrical cuts.
Where to Stay: The elegant Sheraton Kuwait overlooks Kuwait Bay, while Gulf Rose Hotel is strategically located near shopping hotspots.
How to Get There: Oman Air flights from Kuala Lumpur to Kuwait City stopover in Muscat, or fly direct on Kuwait Airways.
Muslimah Fashion from Dubai: Fashion Powerhouse
Home of the Islamic Fashion & Design Council (IFDC), Dubai is a powerhouse for modest fashion. Popular labels like DKNY have launched modest fashion collections through the UAE market, confirming Dubai's importance and influence in the modest fashion world.
Lamya Abedin's label Queen of Spades features inventive and intricate high fashion abayas – last year's autumn/winter collection theme was Russian dolls and this year's is Andalusia. Lili.Aiya is a more approachable Emirati alternative, with beautiful tunics in soft fabrics. Complete your outfit with Native pocketbook handbags with hand-painted snakeskin accents.
Where to Stay: The Armani Hotel Dubai, in the world's tallest building Burj Khalifa, offers views of the Dubai Fountain. Majestic Hotel Tower is a much more budget-friendly option, if you'd rather be near the souqs and bazaars.
How to Get There: Emirates offers multiple direct flights a day from Kuala Lumpur to Dubai.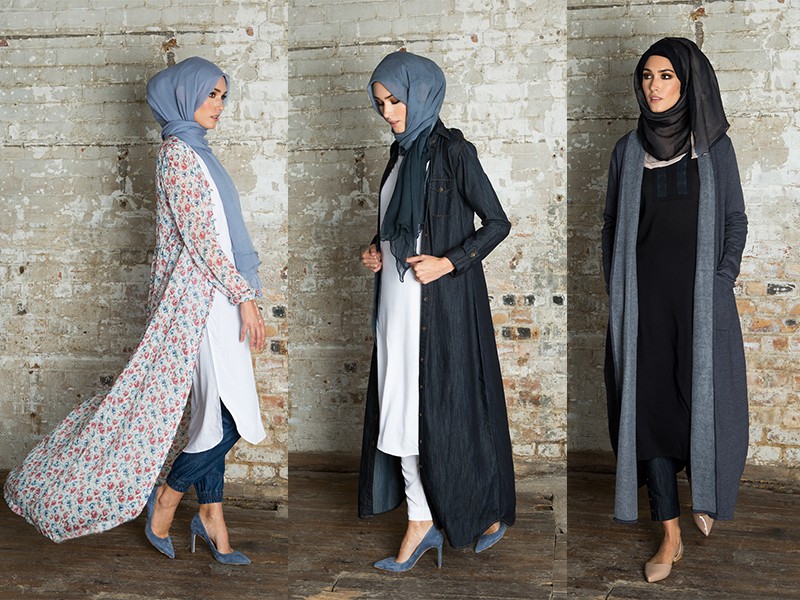 Modern HIjab fashion by Aab, London | Credit: Aab.
Muslimah Fashion from London: High Street Chic
London is already renowned as one of the major fashion capitals of the world, so it's not surprising that muslimah fashion is also gaining ground in this multicultural city. Home-grown labels focus mostly on casual everyday wear, perfect for the hijabista on the go. Pair your trendy new outfit with high-top sneakers and you'll fit right into the London fashion scene.
Inaya Collection has beautiful basics which layer particularly well into casual outfits. Aab has no-nonsense modern style and excels with its stylish and comfortable outerwear collection.
Where to Stay: The trendy Ace Hotel London Shoreditch in a hipster district is a great choice for people-watching, or you could splurge on The Savoy, arguably the most popular luxury hotel in London.
How to Get There: Turkish Hotels flies to London from Kuala Lumpur with layovers in Istanbul, or fly direct on British Airways.
Jakarta: Original Statements
The capital of one of the most culturally exciting countries in the world has its own original stamp on modest fashion. Dian Pelangi fuses traditional Indonesian batik motifs with modern lines in her various labels, resulting in regal-looking yet quirky statement pieces (including choices for men and children).
If Restu Anggraini's RA and ETU labels aren't staples in your workwear wardrobe, they should be. Gorgeously constructed, their muslimah fashion designs cut through the drab of city smoke like a lighthouse in a fog. These brands, as well as others, are also available on HijUp.com, a Jakarta-based online retail mall that calls itself the first to focus on modest fashion.
From Jakarta it's only a short flight or drive away to Bandung, home of multiple factory outlets of local and international brands, and one of the first-ever Muslim modelling agencies Lumina.
Where to Stay: ibis hotels has multiple locations around Jakarta; we recommend the one near Mangga Dua for easy access to shopping hotspots. Gran Melia is near Central Jakarta and also to fabric heaven Pasar Mayestik.
How to Get There: There are multiple direct flights by various carriers to Jakarta daily from Kuala Lumpur. Choose from Jetstar, AirAsia, Garuda, Malaysia Airlines and KLM.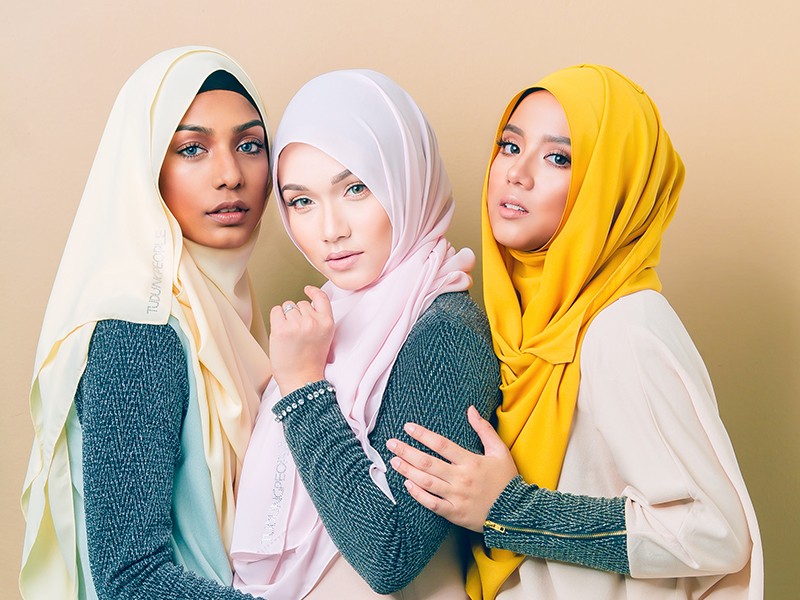 Head scarves by TudungPeople |  Credit: TudungPeople.
Muslimah Fashion in Kuala Lumpur: Accessible Style
Multiple fashion entrepreneurs call this city home, as Kuala Lumpur is one of the easiest places to be a fashionable hijabista. Madeena by former hip-hop artist Mizz Nina carries long button-down shirts, hoodies and even the occasional snapback hat. TudungPeople has beautiful headscarves for elegant everyday wear. Our high fashion muslimah fashion favourite is Jovian Mandagie, who has turned the local baju kurung into gorgeous pieces, perfect for Eid. Modvier has multiple modest brands on its racks and is situated right in the trendy Telawi area of Bangsar.
Where to Stay: Qliq Damansara is near several popular suburban shopping malls. The Royale Bintang however is right smack in the middle of the Bukit Bintang, the most popular shopping district in Kuala Lumpur.
How to Get There: For visitors to Malaysia, the fastest way to get from the airport to Kuala Lumpur City Centre is via a 28-minute train ride on the KLIA ekspres.
Store Directory
Queen of Spades
Galleries Lafayette
1st Floor, Woman Glamour Section (next to Pierre Balmain)
Dubai Mall, Dubai, UAE
Phone: +971 4 3399933
Opening Hours: Sun–Wed 10am–10pm, Weekends to midnight
Aab
Unit 9, East Shopping Centre
Green Street
London E7 8LE, UK
Phone: +44 20 3837 6404
Opening Hours: Mon–Wed, Fri and Sun 11:30am–6:30pm, Thu 11:30–7pm, Sat 11:30–8pm
Madeena
Lot G08 Empire Damansara
Jalan PJU 8/8
47800 Petaling Jaya, Selangor, Malaysia
Email: mizzy@madeena.my
TudungPeople
Unit B-15, Bangi Gateway Shopping Complex
Persiaran Pekeliling, Seksyen 15,
43650 Bandar Baru Bangi, Selangor, Malaysia
Phone: +603 8912 9183
Opening Hours: Tue–Fri 12pm–9pm, Sat–Sun 10am–9pm
Jovian Mandagie
124 Jalan Maarof Bangsar
59100 Kuala Lumpur, Malaysia
Phone: +603 2093 5124