By Expedia Team, on July 14, 2015
Top Attractions in Brunei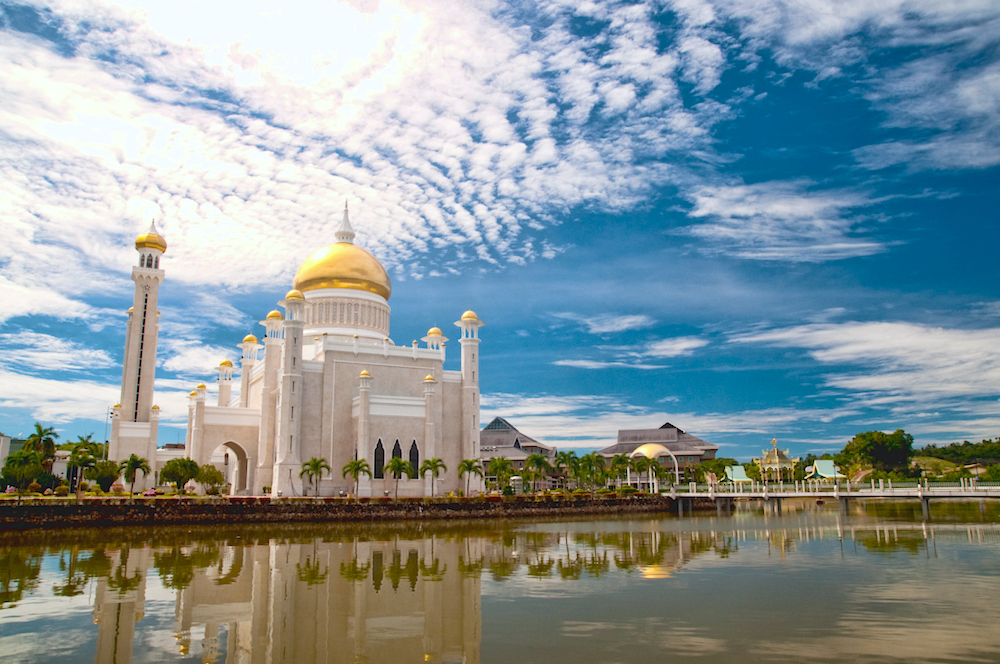 Perhaps best known internationally for the wealth of its royal family, this tiny country encircled by the Malaysian state of Sarawak offers up a rich bounty of things to do for the active, inquisitive and adventurous traveler. Here are some of the top things to do in Brunei.
Swing Time
What better way to start your day than with a quick round of golf? Brunei might be small but it still boasts no less than five eighteen-hole courses, making it a mecca for golf fans.
The pick of the bunch? Definitely, The Empire Hotel & Country Club course, which was designed by legendary player, Jack Nicklaus. Set right on the coast, it's 7029 yards of demanding but beautifully landscaped fairways, with many of the holes offering stunning views over the South China Sea. It can be difficult to get a tee time (tip: staying there helps) and it's certainly not cheap, with an 18-hole round starting at BND$170, but it's a truly impressive course.
If you don't fancy getting caught in the sun then they also put on special night golf sessions where you can play under giant spotlights every Wednesday.
Jungle Adventure
Thick tropical rainforest still covers more than 70 per cent of the country making it a great destination for nature lovers. One of the highlights has to be a trip to the 212 square miles of Ulu Temburong National Park.
Established in 1991, just getting there is an adventure in itself. It's located in the sparsely populated enclave of Temburong, a sliver of Brunei that's cut off from the rest of the country and is reached by a 45-minute water taxi ride from Bandar Seri Begawan to Bangar, before you transfer to traditional long boats for a scenic cruise up river to the park centre.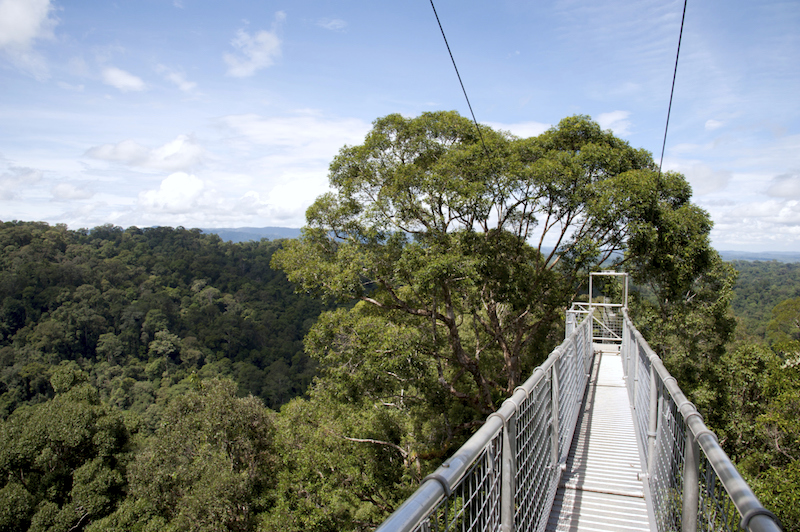 Extensive conservation efforts have seen the creation of a network of more than seven kilometres of boardwalks, stairs and bridges to explore. The real highlight is the vertigo-inducing canopy walkway, which is set almost 50 metres above the forest floor. The views over the densely clad mountains are spectacular and it's a good location for spotting some of the park's abundant wildlife. Keep an eye out for Mullers Bornean gibbon, delicate-looking pygmy squirrels and deadly Wagler's pit vipers. The park is also home to more than 400 species of butterfly and 100 different species of birds, from hornbills to kingfishers.
Many tour operators offer day trips from Bandar (normally lasting around 8 hours) for approximately BND$160, but if you really want to experience the sounds of the jungle at night, check in to the Ulu Ulu. This eco-conscious resort consists of just 17 charming wood huts that take their cues from 1920s Malay architecture. It offers all-inclusive packages covering up to three nights and includes canopy walks, waterfall climbs and kayaking.
Monkeying Around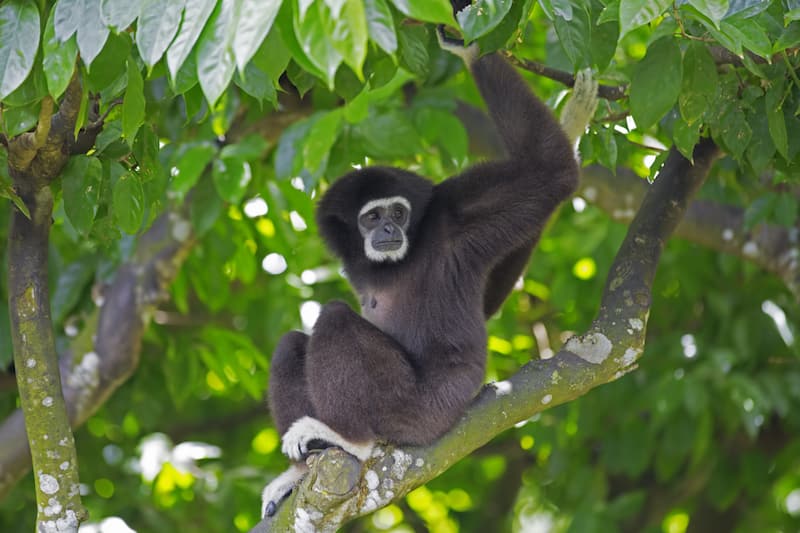 If you want to see some local wildlife but don't have a day to spare, simply head down to Jalan McArthur, which overlooks the famous Kampong Ayer, or Water Village (see below). At the quay you'll find a host of local water taxis willing to take you on a trip around the nearby mangrove forests in search of the endangered proboscis monkey. As you head upstream, the vegetation seems to close in around you and the hustle and bustle of the quay is quickly replaced by the rustles and squawks of the forest. There's a good chance you'll see monitor lizards, crocodiles and snakes, as well as a plethora of birdlife.
Of course the real highlight are the monkeys. They're normally spotted feeding on fruit or flowers in the riverside trees and are instantly recognised by their protruding fleshy noses. It's a magical experience to sit there bobbing away in a simple wooden long boat surrounded by lush greenery as a troop of these intriguing creatures go about their business unperturbed. Trips take between one to two hours and prices start at around BND$50, depending on your negotiating skills.
Water Village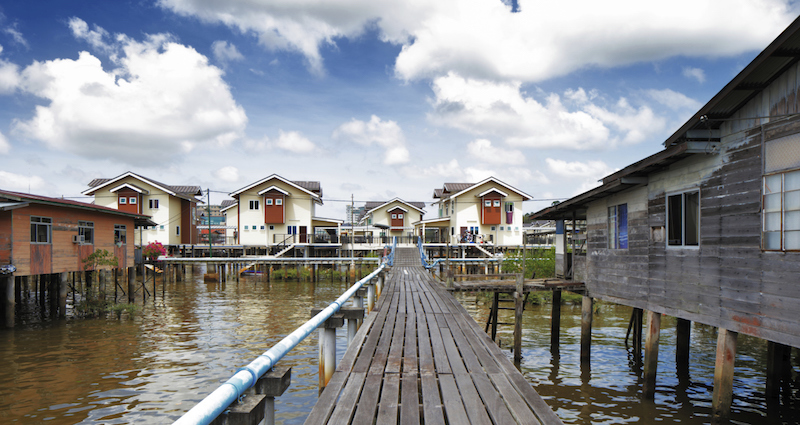 If you want to get an insight into how more than 30,000 of Brunei's total population live, then make the time to stop off here. The 42 individual villages consist of a chaotic looking jumble of brightly coloured wooden homes, schools, restaurants, mosques and even a fire station. All are interlinked via a series of canals and crisscrossed with wooden walkways and bridges. It was first dubbed the 'Venice of the East' by a visiting Italian explorer way back in the 1500s, but is believed to have been around since the 1300s.
A good place to start is the Kampong Ayer Cultural Centre, which offers a decent insight into the different communities that call this unique spot home. It also has a good observation deck that gives you a more elevated perspective over the whole community. You can just rely on a taxi driver to steer you around but you'll get more out of an organised tour. Urban Adventurers are one of many that offer this service, with prices starting at around US$75. If you go it alone you could get there and back for around US$25.
Park Life
Once you're done with sightseeing, there is the option to have some more simple fun at what was once Southeast Asia's most expensive amusement park. Originally opened in 1981, Jerudong was a gift from the government to the people of Brunei. Featuring a whole range of free amusement rides, it played host to concerts by the likes of Michael Jackson and Whitney Houston at its peak. It was dying a slow death back in the early 2000s, but new investment has seen the addition of a mini golf course, an extensive water park, a Ferris wheel, a double-decker carousel and more. It's certainly no Universal Studios, but with adult tickets costing just BND$8 (BND$4 for kids) it's also a whole lot cheaper.
[tabs]
[tab title="Best Time to Visit" icon="entypo-light-up"]Brunei's weather is reassuringly consistent: hot and steamy all year round. A good time to visit is around the Sultan of Brunei's birthday (15 July) as huge tributes to the venerated ruler are erected all over the country, while the actual day is celebrated with lots of pomp and circumstance, concerts and fireworks.
The end of Ramadan, Hari Raya Aidil Fitri, is also a great time to visit as this is when the gates of the astounding Istana Nurul Iman palace are swung open to the public and there's a chance to see the Sultan and members of the royal family.[/tab]
[tab title="Where to Stay" icon="entypo-suitcase"]The Empire Hotel & Country Club oozes bling, from the soaring heights of the gold-clad lobby to the seemingly endless lagoon pool overlooking the ocean. There's the obligatory spa and, of course, access to that impressive golf course.
For a mid-range option, The Brunei Hotel makes a great base in the heart of downtown Bandar Seri Begawan and it's close to the Water Village. Established in 1957, but last refurbished in 2011, the 65 rooms are simply decorated but spacious and facilities include an in-house restaurant. If you can, try and get a room overlooking the neighbouring Tamu Kianggeh open-air market.
There are limited options for those on a budget but you could do worse than Baitul Wajihah Homestay. Located around 30 minutes from the capital and surrounded by paddy fields, here you will get to experience home life Brunei-style. Rooms are basic but clean and Mr Haji and his family offer a range of activities during your stay, from cultural tours of the Water Village to cooking demonstrations.
[/tab]
[tab title="Getting There" icon="entypo-address"]Royal Brunei Airlines, Malaysian Airlines and Air Asia offer direct flights to and from Kuala Lumpur to Brunei International Airport (BWN). You can also travel overland by public bus from either Sabah or Sarawak. The two main checkpoints are at Sungai Tujuh (Sabah) and Kuala Lurah (Sarawak) and are open from 6am to 10pm daily.
[/tab]
[tab title="Visa Requirements" icon="entypo-book"]Malaysian citizens do not need a visa for visits of less than 30 days. This is also the case for nationals of the United Kingdom, Germany and Singapore.
[/tab]
[/tabs]
Image Credit: Getty Images,