By Expedia Team, on November 3, 2015
Top 10 Adventure Activities to Try Around the World
Every bucket list should include exciting adventure activities as well as places to visit to provide unique memories of each destination. Here are 10 of the best adrenaline adventure activities across the globe to add a sense of purpose to your travels.
1. Underground Zip Lining in Snowdonia, Wales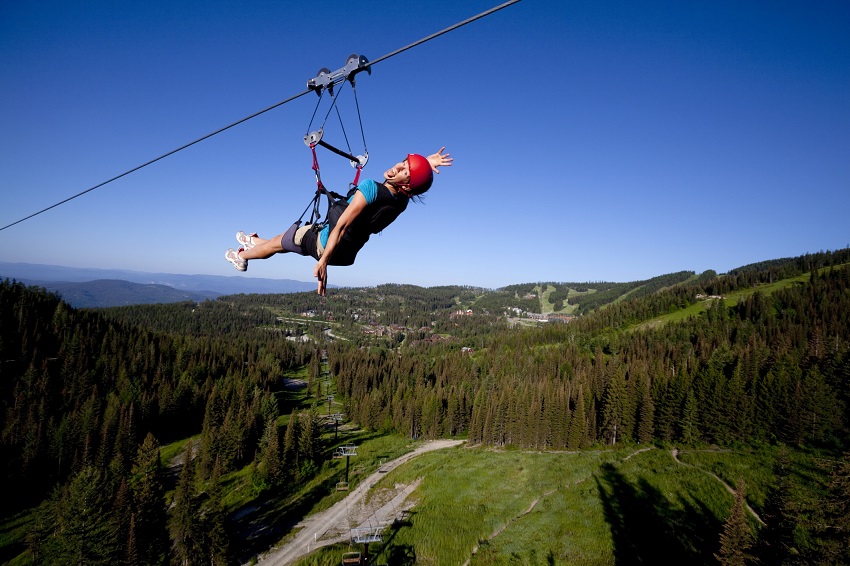 Beat the English weather by taking the longest zip line in Europe through slate caverns in Blaenau Ffestiniog. This colourfully lit subterranean playground has zip lines 500 feet (152 metres) high, promising speeds in excess of 100 mph (160 kph). The zip lines are interconnected with rope bridges, tunnels, balance beams and ledges, delivering the best zip-lining experience of your life!
Zip World Caverns, Llechwedd Slate Caverns, Blaenau Ffestiniog, Gwynedd is open daily 9 am–5:30 pm. Cost of the course £60 (US$90). Book online or call +44 1248 60144.
2. Sandboarding in Swakopmund, Namibia
You'll need a jacket and sunglasses for the ultimate sandboarding adventure down massive sand dunes in Namibia. This thrilling trip includes transport from your hotel in Swakopmund, initial training, equipment, around three hours on the slopes and lunch, making it one of the best-value bucket-list trips.
Ultimate Sandboarding provides an all-inclusive sandboarding experience for around NA$450 (that's just US$32). Book online, email ultimatesandboarding@gmail.com or call +264 814 216 021.
3. Climbing Dunn's River Falls, Jamaica
On a hot and sticky day in Jamaica, there's no better way to cool off than climbing Dunn's River Falls which cascade down through the rainforest to the beach below. The huge travertine boulders create a series of giant steps with gorgeous dome-shaped waterfalls and plunge pools. The 600-foot (182-metre) long waterfall can be climbed from the beach in about one hour.
Access to Dunn's River Falls and Parkis J$600 or US$20. Just turn up between 8.30 am and 4 pm at Ochos Rios or call for more info +1 876 974 2857.
4. One-day Safari in Mombasa, Kenya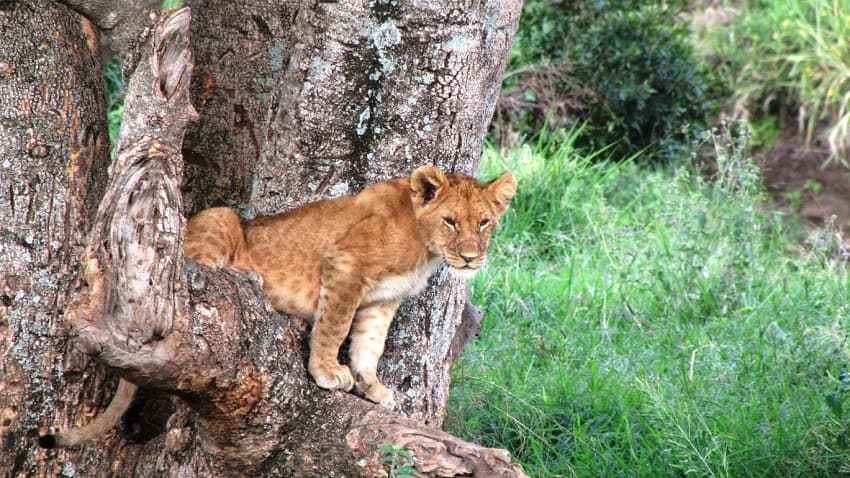 Every bucket list should include an African safari, but if you don't want to camp overnight, take a one-day African safari in Tsavo East National Park. You'll get around six hours game-viewing time in Kenya's largest national park from an open-top safari minivan or 4 x 4 jeep. This thrilling safari is long enough to spot giraffes, zebras, lions, hippos, antelopes, rhinos, waterbuck, buffalo, ostriches, gazelle, cheetahs and a host of other wildlife in their natural habitat. Trips usually include lunch at the Aruba Dam Safari Lodge overlooking a watering hole for top game viewing.
Natural World Tours and Safaris offers full-day safaris with pick-ups from most Mombasa hotels. This dawn-to-dusk trip costs around 20,300KES (US$200) per person including entrance fees and lunch for a private two-person tour with an English-speaking driver/guide.
5. Bungee Jumping at Bloukrans Bridge, South Africa
Boasting the highest commercial bridge jump in the world, the concrete arched span of Bloukrans Bridge at Tsitsikamma provides a scary 216-metre (708-foot) drop into the gorge, made all the more tricky by the windy aspect. Check it out before parting with your money, as one in 10 people back down from making the jump after seeing the drop through a metal grate in the bridge floor!
Face Adrenalin operates Bloukrans Bungy at Tsitsikamma, on South Africa's Garden Route. Jumps can be booked online or call +27 42 281 1458. Cost around R850 (US$63).
6. Airboat Ride on the Everglades, Florida
Speed over the slow-moving waters of the Everglades National Park on a noisy but exhilarating airboat ride. You guide will point out alligators, fish, wading birds and perhaps even a bald eagle flying overhead. This exciting tour explores this unique subtropical River of Grass which covers 1.5 million acres in southwest Florida.
Captain Mitch's Everglades Airboat Tours is based at Everglades City and tours run hourly. Book online or call +1 800 368 0065. Cost is US$40 for adults.
7. Basket Sled Ride in Funchal, Madeira
Riding helter-skelter down the steep cobbled streets of Funchal in a basket sled on waxed runners is a truly terrifying experience. This unique toboggan run can be found in Monte, which appropriately means 'mountain'. Add this to your bucket list, if you dare!
There are no organised basket sled tours as such. Take the cable car up to the Monte Palace Tropical Gardens and wait in line near the church. Cost is €30 (US$33) for two people sharing a basket sled.
 8. Skydiving above Plettenberg Bay, South Africa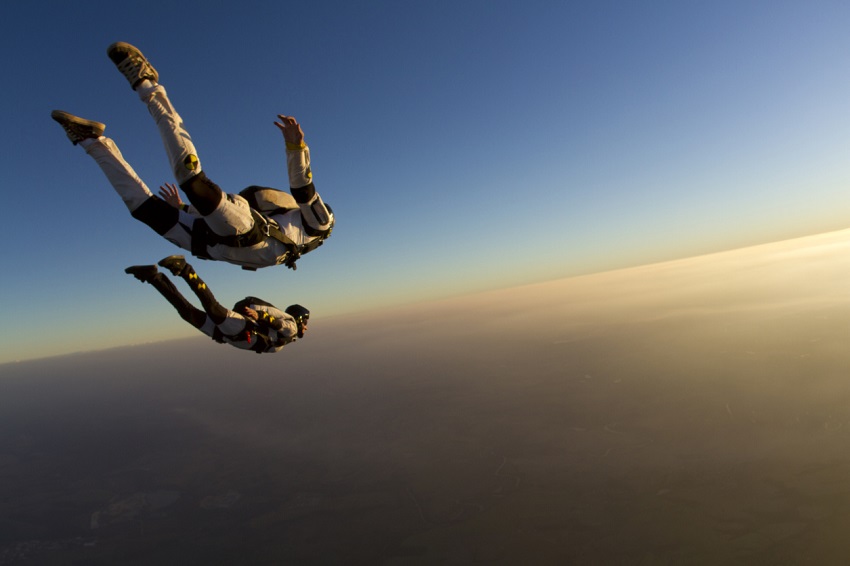 Affordable freefall and tandem skydiving can be found in South Africa, specifically around Plettenberg Bay. Launch yourself from the plane at a height of 10,000 feet (3048 metres) and feel the rush of the 35-second freefall at 200 kph before your parachute opens. The remaining 4500 feet take 4–5 minutes and beach landings can be requested.
Open daily all year round, Sky Dive Plett offers Tandem Skydives with Handycam DVD recordings from R2,300 (US$170). Booking online is recommended.
9. Blackwater Rafting at Waitomo Caves, New Zealand
New Zealand is home to many thrilling adrenaline sports, and Waitomo Caves on the North Island offers rafting with a twist. The Black Abyss Tour is a five-hour underground adventure which includes abseiling, caving, flying fox, waterfall climbing and cave tubing (blackwater rafting) though a series of spectacular caves with glow worms and crystal formations.
The Black Abyss Tour at Waitomo Caves costs from NZ$125 (US$85). Use the online enquiry/booking form or call +64 7 878 7640.
10. Sport Fishing off Cairns, Queensland
Few bucket-list adventures can match the excitement of blue-water sport fishing off the Great Barrier Reef. Cairns is a fishing mecca for game fishing, with the chance to catch wahoo, mahi-mahi, black marlin, sailfish, Spanish mackerel and yellowfin tuna in these pristine waters. Local crews know the best fishing spots and provide lures, bait, rods and assistance to haul in one of these trophy fish.
Cairns Fishing costs around AU$211 (US$150) per person for shared charters of up to six people, including lunch and drinks. Departure is daily from Cairns Marlin Marina around 7:30 am returning at 5:30 pm. Pre-book online or call Capt. Ross Finlayson on +61 418 183 565.
Each of these bucket-list adventures is sure to be a memorable highlight of any trip and will provide you with exciting memories and tales to share long after the trip is over. Go for it!