By Expedia Team, on April 15, 2017
Singapore Zoo: A Fun Day Out at the World's Best Rainforest Zoo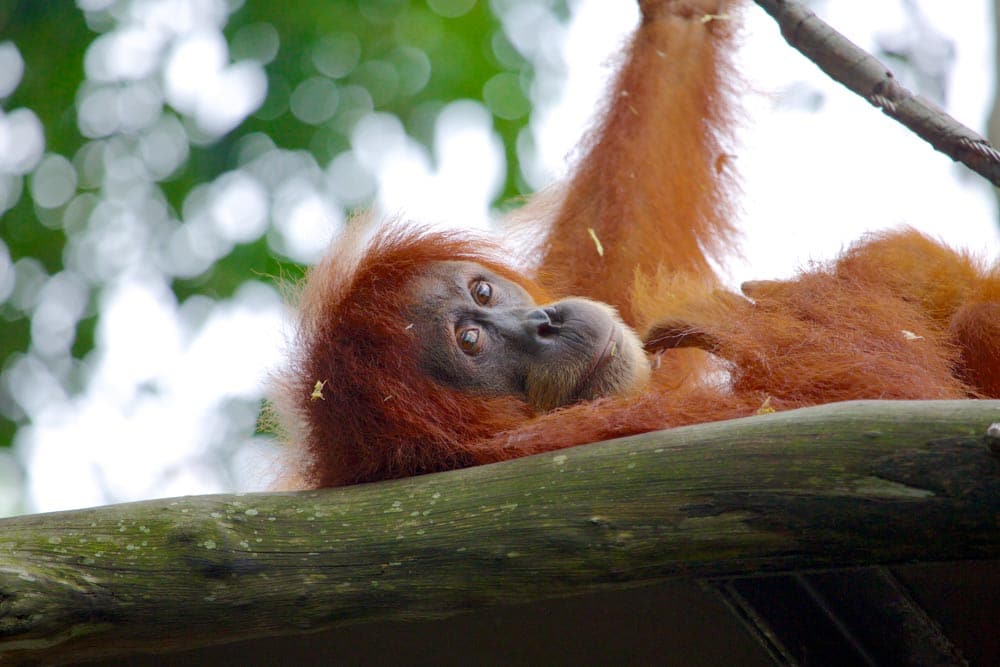 The Singapore Zoo is an oldie, but a goodie! This trusty fixture in Singapore's ever-changing attractions landscape is still very much a crowd-pleaser, welcoming more than 1.6 million visitors every year. Among the mind-boggling plethora of family-friendly excursions and activities that Singapore offers, the zoo reigns supreme on our must-do list. In fact, it's one of the world's best zoological gardens, and we've been to more than a few!
With its lush landscaped gardens, free-roaming animals, inspiring tours, well-planned trails and entertaining shows, Singapore Zoo is well worth a visit, but you need to plan carefully to make the most of your time. The zoo is massive, covering a total of 28 hectares (or 50 football fields), making it a formidable task to see and do everything.
To ensure you don't miss the best bits, we've put together this handy guide to the Singapore Zoo.

Click to jump to:
Tips for Planning Your Visit
Suggested Itinerary
Practical Information
Best Zoos in the World
Visitors Guide to the Singapore Zoo: Planning Your Visit

First off, some insider tips as you plan your visit to the Mandai Zoo.
The box-office queues can be horrendous, so skip them altogether to save precious time.
The Singapore Zoo entrance fee is SGD 33 for adults and SGD 22 for children aged 3-12. Admission is free for children under 3.
You can buy your Singapore Zoo tickets here with Expedia Malaysia. Opt for entrance only, or entrance inclusive of a tram ride.
Book Singapore Zoo Entrance Tickets:
[one_half]
Adult Tickets:
Admission only – RM102.17
With tram ride – RM117.65
With roundtrip transfer – RM 161
[/one_half]
[one_half_last]
Children's Tickets:
Admission only – RM68.12
With tram ride – RM77.4o
With roundtrip transfer – RM80.50 (under 11 years)
[/one_half_last]
[button url='https://www.expedia.com.my/things-to-do/search?location=Singapore+(all)%2C+Singapore&pageNumber=1&slimSearchKeyword=zoo' icon='entypo-lifebuoy'] See more Singapore Zoo ticket options[/button]
2) Wild Discoverer Tour
If you're heading to the zoo to celebrate a special occasion, book a spot on the guided Wild Discoverer Tour. Zipping around in a buggy like a VIP, you'll enjoy a behind-the-scenes look at the way the zoo works. Book at least a week in advance to guarantee your slot.
[button url='https://www.expedia.com.my/things-to-do/wild-discoverer-tour-at-singapore-zoo.a395046.activity-details' icon='entypo-lifebuoy' ] Book Wild Discover Tour online[/button]
3) Arrive early
The gates open at 8:30am, so be there on the dot. Get there any later and you'll be jostling with the hordes, making the visit much less magical. This is also the best way to beat the heat, as you'll be finishing up just as the midday sun starts to blaze.
4) Zoo First, River After
If you're also planning to visit River Safari next door, we highly recommend leaving it until after your zoo visit, as the safari is much smaller.
5) Food in the Singapore Zoo
Missed breakfast in your rush to the zoo? Grab some grub at the restaurants and cafes at the main entrance; they're open from 8am.
Alternatively,enjoy a scrumptious breakfast buffet at Ah Meng Restaurant, which is smack in the middle of the zoo. You'll revel in a once-in-a-lifetime opportunity to dine with orangutans!
Don't worry if you get hungry during your visit. After all, visiting the zoo is a whole day affair. There are restaurants, cafes and food courts in there so you can always take a break for some makan before continuing. KFC is right at the end, where you can munch away as the kids play in the little water park.
6) Rent a Wagon for the Kids
Children tire really quickly, so you might want to consider renting a small wagon (S$15), which comfortably seats up to two kids under the age of 5.
7) Go Potty
The zoo has a limited number of toilets, so make sure the kids go before you begin your visit. It's a pretty cool toilet, open air but well hidden with potted plants.
8) Pack for the Weather in Singapore
The tropical climate can be unpredictable. Pack ponchos, raincoats or hoodies to keep you snug and dry when it rains. If you forget to take them, you can buy ponchos for S$5 each at the gift shops.
9) Wear insect repellent
The mozzies are especially active in the mornings.
10) Remember to take your swimming gear, too
You and the kids can splash around in the Wet Play Area at the top of the zoo!
11) Pack a Picnic Lunch and Snacks
Though the zoo's restaurants and kiosks offer a decent range of drinks, snacks and meals, beware the snake-like queues. Save yourself the aggravation by packing a picnic lunch.
12) Schedule for Showtimes
There are various showtimes scheduled to introduce you to the animals in very entertaining performances. The kids will love these. Plan your route around the park to make it early to show time and get a seat.
Now you're ready to have fun!
[button url='#topmenu' icon='entypo-up']Back to Top[/button]
Visitor's Guide: Singapore Zoo Suggested Itinerary 

MORNING at the Zoo
Morning Roar
Once the doors open, head straight for the otter enclosure at the start of Rainforest Walk. These playful, energetic animals are sure to brighten your day! From there, go left, past the odd-looking Malayan tapirs and babirusas, and follow the signs to the white tigers. These majestic beasts love to strut and show off their beautiful stripes while staring menacingly at visitors.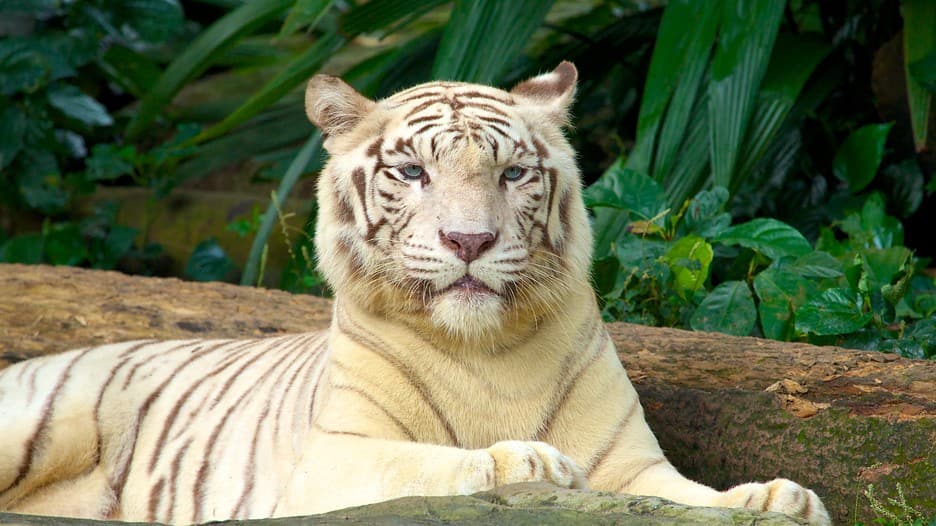 Head north past Forest Lodge, then stop to watch the free-ranging orangutans forage, sleep, play-fight and, yes, swing from tree to tree. As one of the zoo's most popular exhibits, the open orangutan habitat is a must-see. Stroll along the elevated boardwalk for an uninterrupted 360-degree view of these fascinating apes.
Continue north until you reach Critters Longhouse, where you'll find a charming group of furry friends, including the leopard cat, mouse deer and various squirrels.
10:30am – Splash Safari Show 
By this time, your feet are likely to be aching a bit, so make your way to the Shaw Foundation Amphitheatre to take a break. At 10:30am, you can catch a California sea lion showing off its swimming skills at the Splash Safari Show. If you fancy a quick cool-down, sit close to the stage and get ready for a good soaking!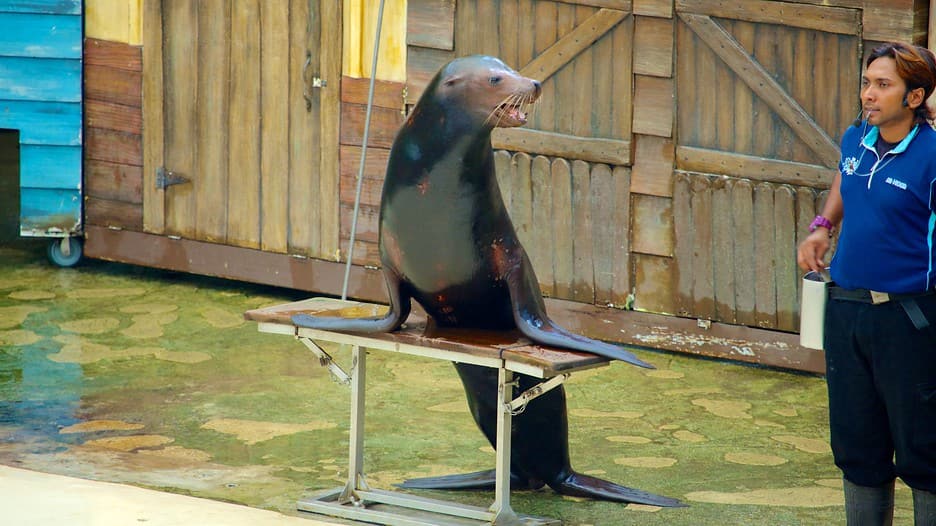 Once the show's over, head for the Primate Kingdom to interact with troops of agile tree-dwellers.
Next, move on to the much-vaunted Elephants of Asia exhibit, which is home to five mischievous female Asian elephants.
11:30am – Elephants Showtime
At 11:30am, grab a seat at the highly entertaining Elephants at Work and Play Show to see these fun-loving giants play dead, 'steal' food and, of course, spray water far and wide. The show ends with a token feeding session, so stick around for that!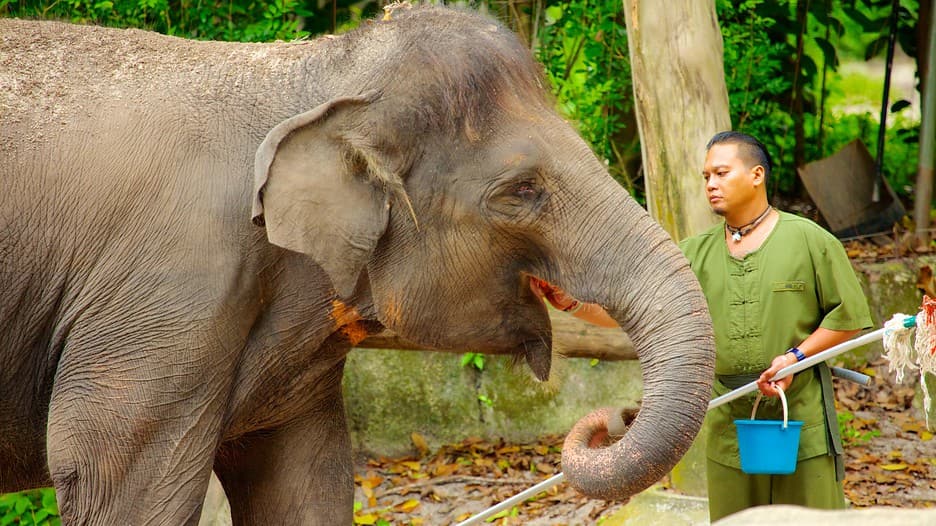 After you've hung out with the elephants, backtrack a little to let the Great Rift Valley of Ethiopia transport you to the heart of Africa. Watch as more than 90 baboons scramble up rock faces, pick fights and reprimand their young. Keep an eye out for the biggest baboon – he's the alpha male who controls the whole gang!
Next, make your way to the Australian Outback to meet the four cuddly koala bears that are on loan from Brisbane's Lone Pine Koala Sanctuary until the end of 2015.
Lunch Time! 
You'll be feeling peckish by now, so tuck into your picnic lunch or stop at Ah Meng Restaurant for a bite to eat.
AFTERNOON at the Zoo
Splash Around
When everyone in your party's feeling refreshed, it's time to treat the kids to a splash and slide at the Wet Play Area at the back of Rainforest Kidzworld – an open play space featuring interactive exhibits, rides and a small petting zoo (with rabbits, goats and miniature horses. Oh, my!).
After enjoying some ice-cream and cold drinks at Kidzworld, walk south to Fragile Forest, a rainforest biodome where the little ones can get an up-close look at meek mouse deer, slow sloths, beautiful butterflies and leaping lemurs.
Memories of Africa
You'll be on the last leg of your journey once you reach Wild Africa, where you can marvel at majestic lions, cheetahs, zebras, giraffes and white rhinos. But most kids seem to gravitate towards the meerkats, which keep darting in and out of their dens!
Inuka
We've saved the best for last! You'll meet the zoo's polar bear, Inuka, at Frozen Tundra, an enclosure designed to resemble the Arctic region. While you're there, say hello to his neighbours, the wolverines Boris and Ivana, as well as Pom and Poko, two cute raccoon dogs from Japan.
[button url='#topmenu' icon='entypo-up']Back to Top[/button]
Practical Information
[tabs]
[tab title="Address" icon="entypo-location"]
Singapore Zoo Address
Location: 80 Mandai Lake Road, Singapore 729826
Phone: (+65) 6269 3411
[/tab]
[tab title="Getting There" icon="entypo-address"]
Getting there: It's easy to get to the zoo from the Woodlands Checkpoint ­– just drive for 10 minutes on the BKE. It's well signposted, so you won't get lost!
From the city, you can take a taxi to Mandai or hop on public transport. Buses 927, 138 and 926 go right to the zoo. But the bus schedule is quite spaced out, so there's a lot of waiting time. Which can be tricky when you have eager little kids still groggy from the early start. We definitely recommend taxis or Ubers.
[/tab]
[tab title="Tickets" icon="entypo-ticket"]
Opening hours: 8:30am to 6pm daily, with the last entry at 5:30pm
Admission Fee: S$33 per adult (S$14 for seniors) and S$22 per child (aged 3 to 12) [/tab]
[tab title="Hotels Near the Zoo" icon="entypo-suitcase"]
[button style='blue' url='https://www.expedia.com.my/Singapore-Zoo-Hotels.0-l502827-0.Travel-Guide-Filter-Hotels' icon='entypo-suitcase' fullwidth='true'] Hotels near the Singapore Zoo[/button]
[/tab]
[/tabs]
[button url='#topmenu' icon='entypo-up']Back to Top[/button]

The World's Best Zoos
If you absolutely loved the zoo, here are three other zoos around the world that are also wonderful: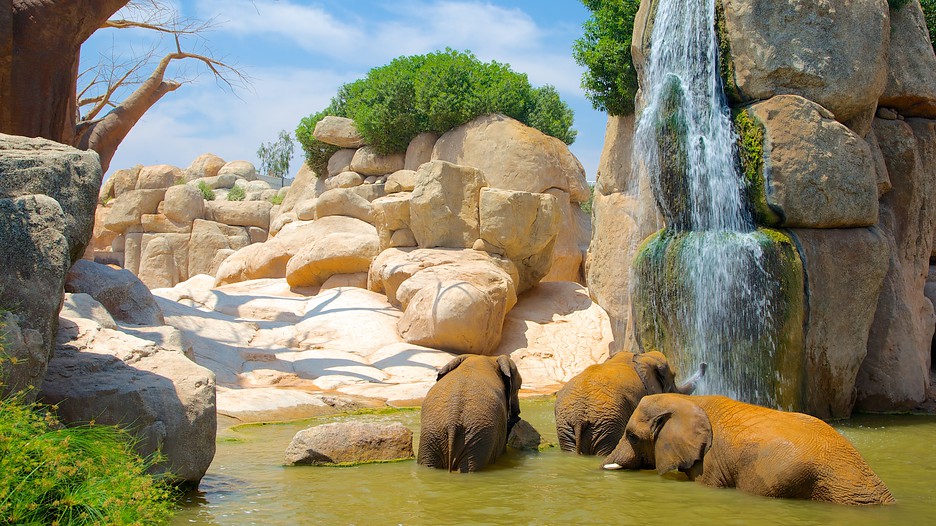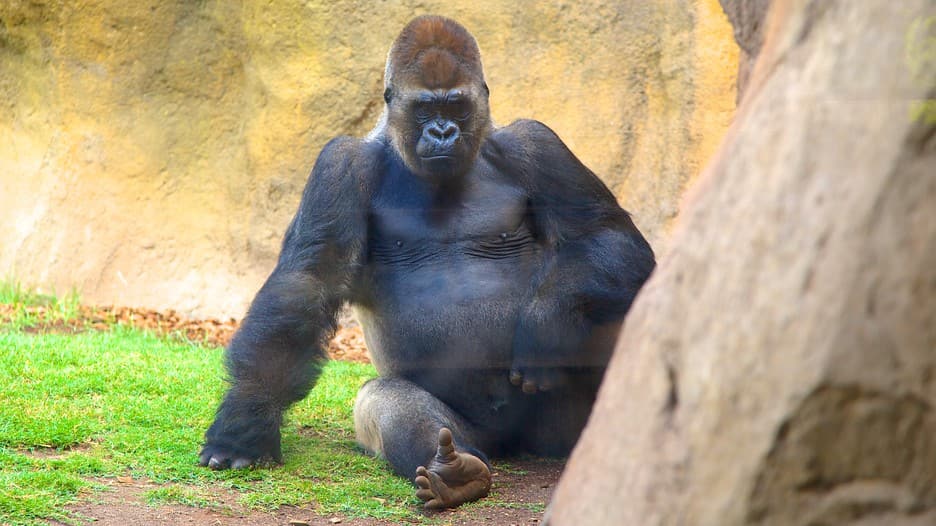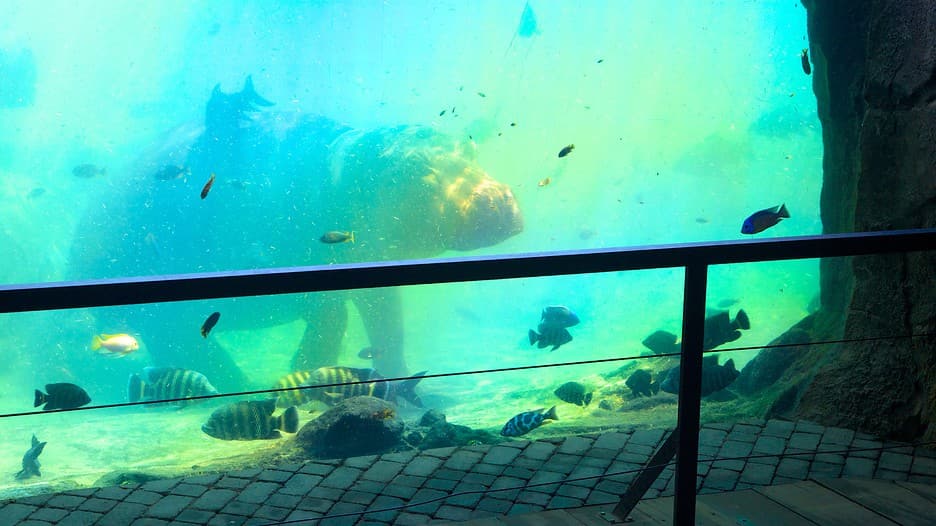 Australia Zoo in Sunshine Coast, Australia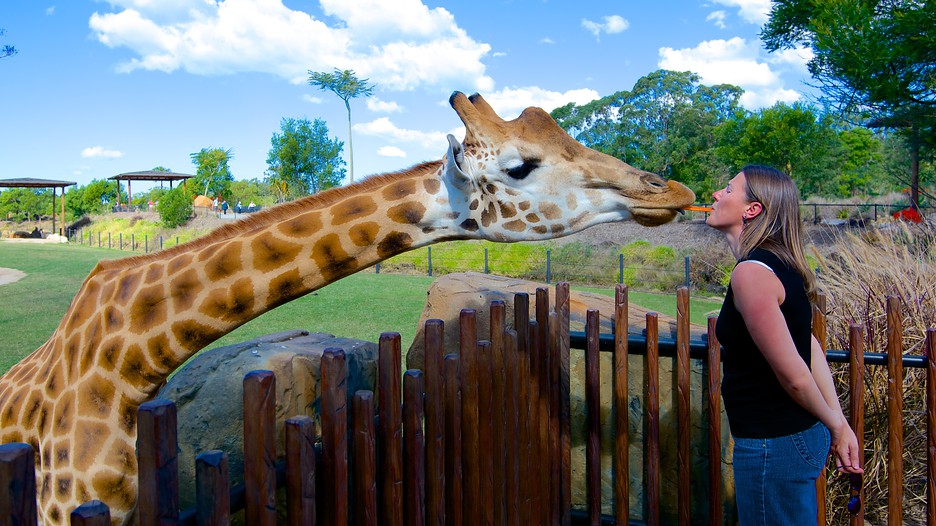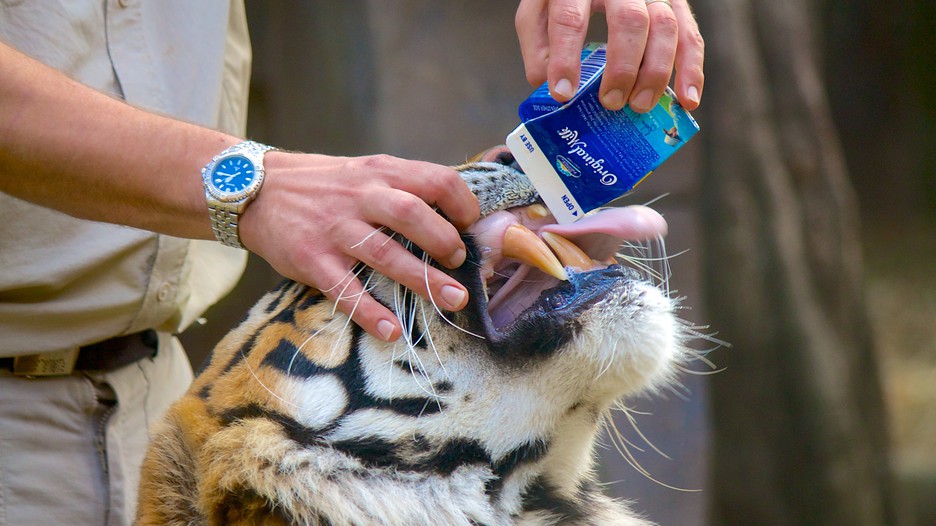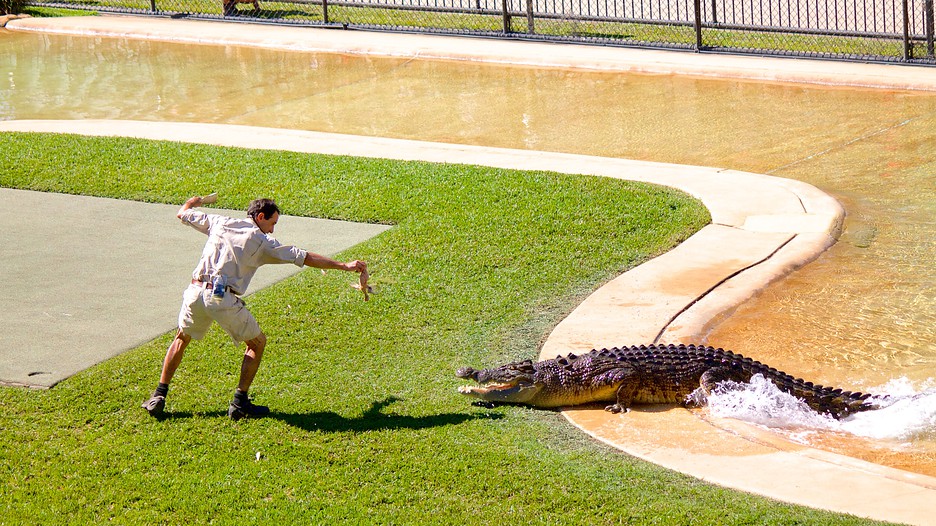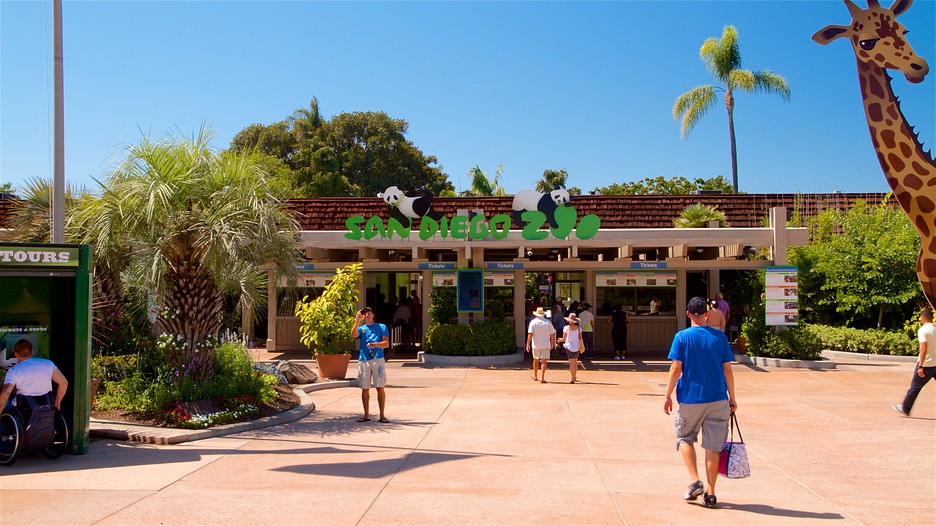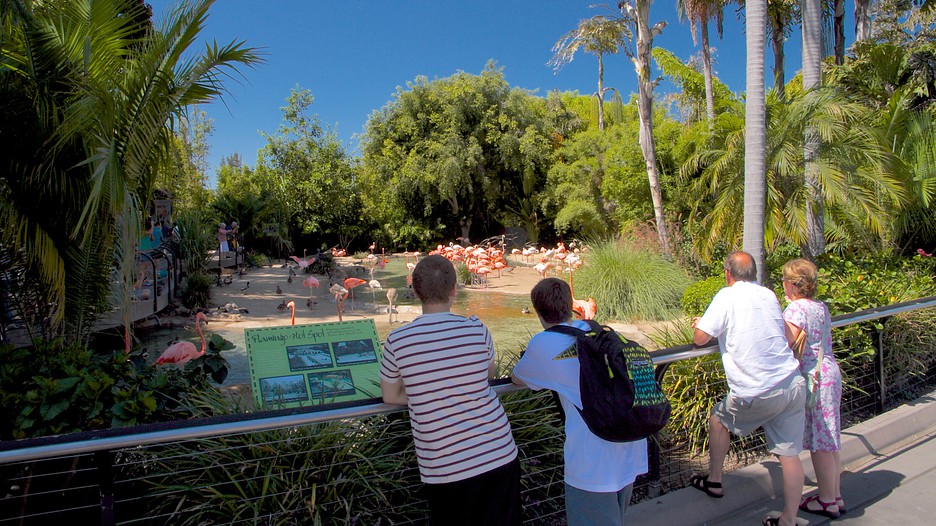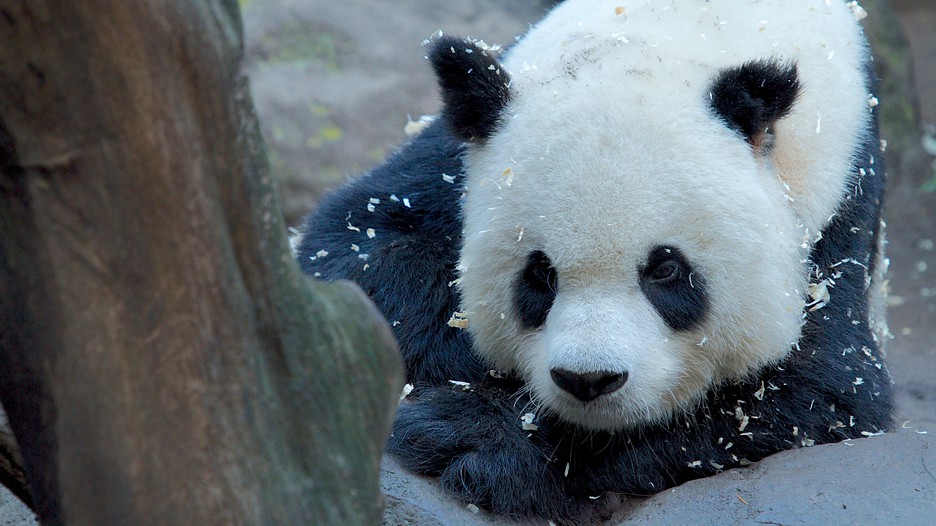 This post was first published in July 2016.