By Expedia Team, on April 29, 2016
Get up close with Great White Sharks in South Australia
08I know what you're thinking – this sounds like a death wish. Great white sharks are best seen in movies or from behind a glass wall, right? Well, what about from behind the bars of a cage and on their turf? Believe me when I say it's not just for adrenaline junkies and is doable for the even the most casual of tourists. In fact, your biggest problem won't be fear; it'll be seasickness. Here are some things you might want to know before you plunge in:
How and when to go?
The best time to go to for the shark experience is from December to February, or May to September.
From Malaysia, the closest place to do it is Australia. Fly into Adelaide, then take a one-hour flight to Port Lincoln (Quantas or Regional Express Airlines, daily), which is located on the Eyre Peninsula.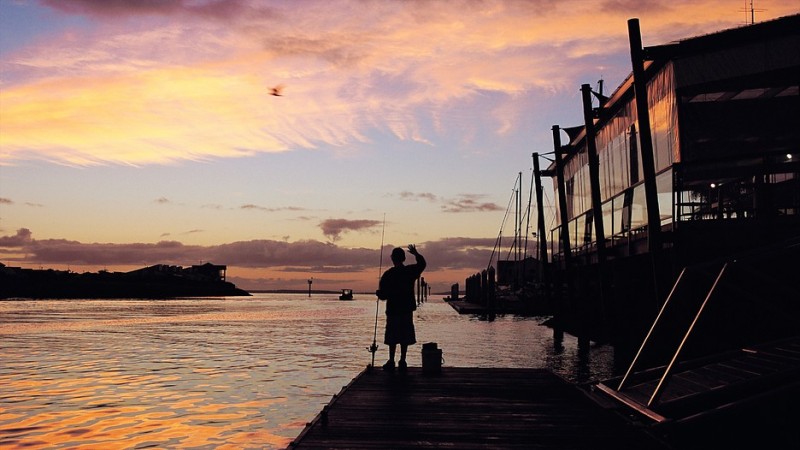 Overlooking Boston Bay, which was discovered in the early 19th century by British explorer Matthew Flinders, this city is reportedly home to more millionaires per capita than anywhere else in Australia. What moves money here is its fishing and aquaculture industry, of which the Southern bluefin tuna is king, but you can also sample the yellowtail kingfish, abalone, oysters and mussels, fresh every day.
The Journey to the Great White
To meet the world's largest predatory fish, however, you'll have to take a rocky three-hour catamaran ride to the waters surrounding the Neptune Islands. The sea lions are here, so the sharks are here trying to eat them. Be warned: you might want to arm yourself with seasickness pills beforehand to avoid that special kind of hell. Go with Port Lincoln, Adventure Bay Charters or Rodney Fox Expeditions.
calypso star charters
The usual tour offers a surface cage dive.
Rodney Fox offers longer expeditions and claims to be the only outfit in the world to offer cage-diving with great whites on the ocean floor, descending approximately 20 metres – but you'll need to have a PADI Open Water certification to participate.
What happens on the dive?
If you're doing the usual surface cage dive with a large group of people, the first thing you'll probably want to decide on is when you want to have your go. Will you go first, last or somewhere in between?
I'm inclined to think the first group might have it best. The sharks would be fresher, more curious before 'tourist fatigue' sets in – or maybe that was a lie someone told us to induce us to go first!
If you're still really seasick from the ride over, it might be a better idea to wait until you've puked before getting into the water.
Cage coming up / Rodney Fox cage expeditions
Into the Deep
You'll spend about 30-40 minutes in the cage, starting at the surface and then plunging about two and a half metres. You'll be breathing through a regulator extending from the catamaran, not with an oxygen tank. There is a bar at the centre of the bottom of the cage, which you're supposed to hold on to during the duration of the dive.
You'll wear a weighted vest to help you stay down. That will put you, more or less, at eye level with the horizontal gap in the cage, which provides you with an unfettered view of passing sharks.
Also, no diver qualifications or previous experience is needed, but it would sure help. Having never dived before, I had a hard time staying underwater for long, and had to keep coming up for air. It's still an experience – you'll just have to deal with interrupted sightings.
Surface cage diving / Rodney Fox shark expeditions
[button style='green' url='https://www.expedia.com.my/things-to-do/?location=Port%20Lincoln%20(and%20vicinity),%20South%20Australia,%20Australia' icon='entypo-suitcase' fullwidth='true']Things to do in Port Lincoln[/button]
Guaranteed Shark Sightings?
It's highly unlikely that any outfit will guarantee sightings, but there is usually a pretty good chance of it happening during a dive trip to the Neptune Islands. Calypso Star Charters, for example, are authorised to attract the great whites using berley. They also use noise to attract the sharks, by slapping large paddles on to the surface of the water.
However, critics of the bait approach have said that baiting teaches the sharks to associate human presence with food, and could be a factor in shark attacks. As such Adventure Bay Charters says its tours are bait and berley-free, preferring not to interfere with the sharks and their marine environment. Instead, they use audio sound vibrations to attract the great whites, going so far as to observe that the great whites' music of choice is by the band AC/DC.
In the event that you don't see a great white, some of the tours offer a partial refund or your next tour at half price. Check with them in advance.
That's it. Now go eye-to-eye with great whites, you adventurous champions 🙂