By Expedia Team, on January 7, 2016
Resort World Genting Theme Park: Fabulous Fun for the Family
For the school holidays and festive seasons, some of you may plan to fly off to exotic locales, or perhaps decide to spend the well-deserved break at home. If you fall into the latter camp, where can you go for a quick rip-roaring escapade with lots of fun for the kids? Here's an edition of our theme park guide to help you put together fun family vacations: Resorts World Genting theme park.
Resorts World Genting (Genting Highlands, Pahang) is easy to get to from any part of Malaysia (especially from Kuala Lumpur). Once considered a mecca for gamblers, this is no longer the case. Over the years, the resorts has been transformed into a full-on family-friendly destination, and there are plans in the works to build more themed attractions in line with its sister property in Singapore.
Even though the 20th Century Fox World Theme Park is not slated to open until 2017, there are still plenty of fun options to keep your brood entertained.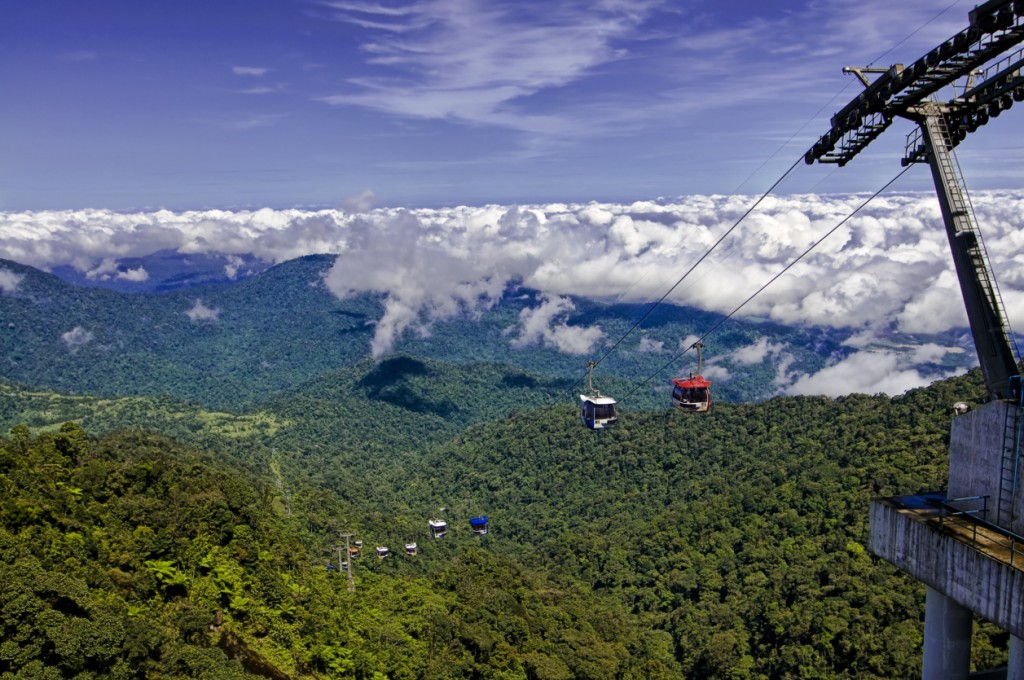 Perched 1740 metres above sea level, the fun at this hill resort begins before you arrive. To get there you drive around the hair-raising bends of the Titiwangsa Mountain, while enjoying the cool, crisp air. Or, if that sounds a tad too dangerous, take the Genting Skyway cable car.
Due to the high altitude, do remember do pack jackets or jumpers as it can get a little chilly outside. In December, daytime temperatures hover around 22°C to 27°C, but it might feel colder earlier in the morning and late at night.
Genting Theme Park Highlights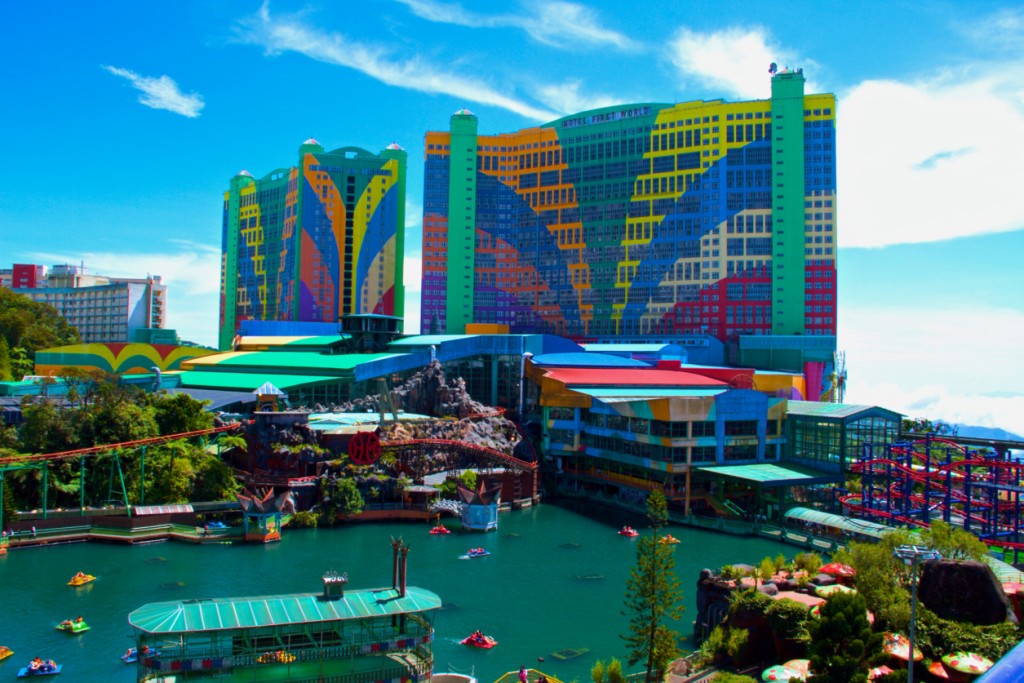 Once you're there, what exactly can you do?
Stop 1: First World Indoor Theme Park, Vision City and Funtasy World
Kiddies under eight will love First World Indoor Theme Park. There are gentle rides for the very young, including the Mini Train, Reindeer Cruiser, Circus Ride Carousel and the Rio Float (which gives a spanking great view of the First World Plaza mall). Tweens and teenagers at Genting theme park will probably prefer hanging out at Vision City and Funtasy World next door to play video arcade games.
Stop 2: Ripley's Believe It or Not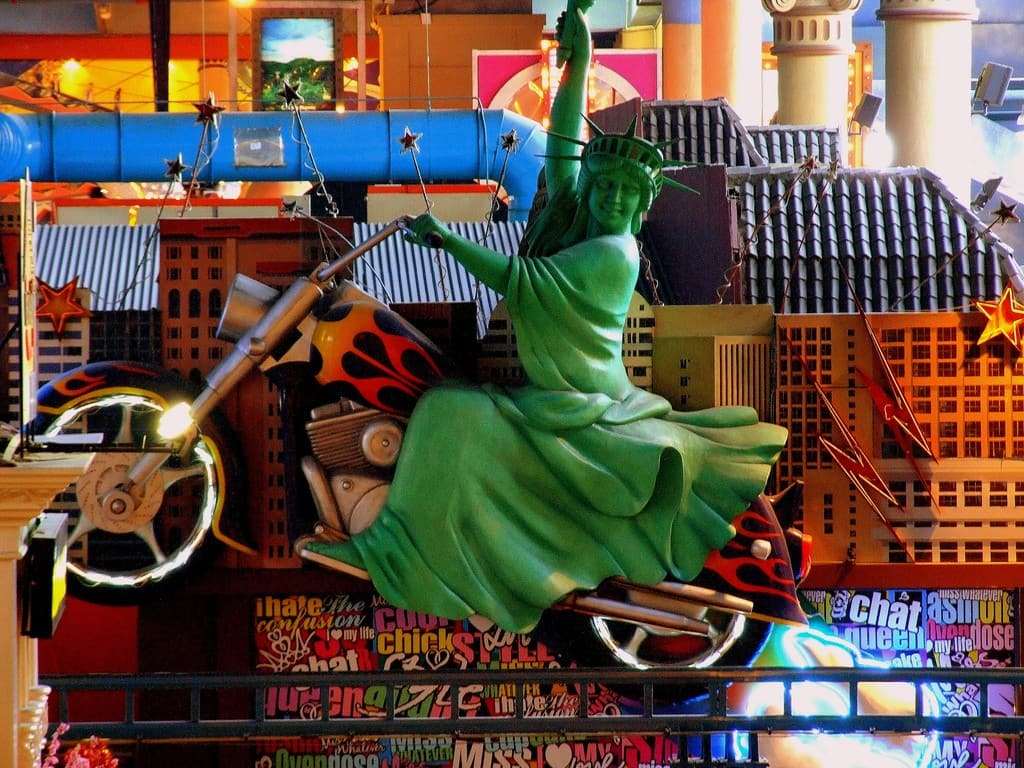 Credit: Photo by Prateek Bahadur/CC BY 2.0
Drop by the Ripley's Believe It or Not museum to discover strange facts and exhibits divided into 11 themes.  A word of warning: some parts of the museum are a little scary for under-fives, particularly the torture tools segment. But most kids will love it – and they might even learn a thing or two!
Stop 3: Haunted Adventure
Brave souls will find that the two-storey Haunted Adventure at Genting theme park offers many more thrills and scares. You walk in complete darkness for 10 minutes, and are then confronted by gory ghouls and creepy creatures. The first rule of the attraction is that no-one is allowed to turn back. There's no way out, except to plunge headlong into the narrow, meandering hallways. Yikes!
Stop 4: Snow World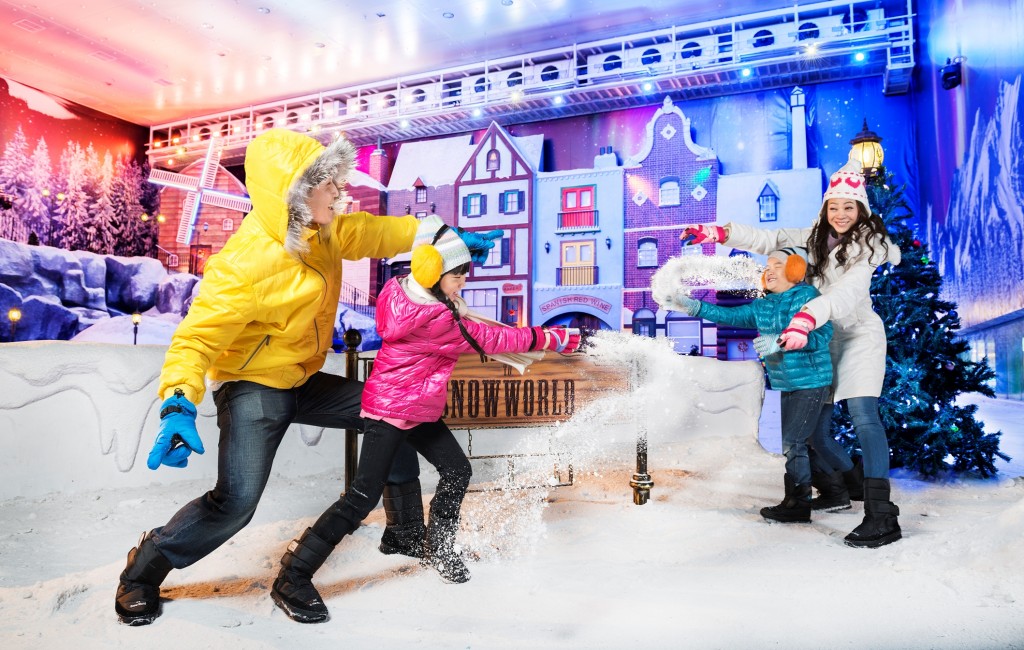 Credit: Resorts World Genting
Find yourself in a winter wonderland at Snow World! Immerse yourself in the (replicated) sight and sounds of a snow-blanketed Europe and walk through quaint streets lined with shops and twinkling lights. It's quite a sight, especially when you look down from the castle on the third floor. Temperatures here are kept at an arctic -6°C, but don't worry about bringing your own winter gear as jackets, gloves and boots are provided. Just make sure you have socks.
Stop 5: International Genting Showroom
In the evening, sit back and enjoy first-class performances at the International Genting Showroom. This 1700-seater multimedia entertainment venue showcases family entertainment programmes all year round. New acts are brought in periodically, so do check Resorts World Genting website to see who's performing and to book tickets in advance.
Stop 6: Behind-the-scenes Tour
After viewing a performance, why not join in a Behind-the-scenes Tour to see how the whole resort runs? During it, participants will have the chance to take a sneak peek at the impressive state-of-the-art sound and lighting system used by Genting International Showroom to create stage magic. There will then be a pit stop at Snow World for a look at how snow machines work, before everyone is hoisted down to the kitchen to make their own sushi!
Other Indulgences on Offer at RWGenting
Greedy mites are definitely spoilt for choice! There are over 20 food and beverage outlets to choose from at Genting theme park, serving delicacies from around the world.
If you love scoffing down at buffets, try the ones on offer at First World Cafe. Arrive early to grab a seat overlooking gorgeous vistas from its broad windows – and it's a great place to plant yourself to see the sun rise. Coffee Terrace is another buffet paradise and is the favourite for those wanting a taste of the West and the Orient.
Bubbles & Bites Cafe is a casual restaurant serving up scrumptious pizzas and pastas – two perennial hits with the kids. Tuck into local flavours and nostalgic classics at Hainan Kitchen. Their Hainanese Chicken Chop and authentic crispy toast with homemade (coconut jam) are not to be missed.
[tabs]
Admission Fees = [tab title="Admission Fees" icon="entypo-ticket"] Ticket prices at Resorts World Genting Theme Park vary according to the attractions you want to see. Pay-per-ride and combined attraction passes as well as family packages for two adults and two children are available.
[/tab]
Opening Hours = [tab title="Opening Hours" icon="entypo-key"] The main attractions are generally open from 10am seven days a week, and close at 10pm on weekdays and 11pm on weekends.
[/tab]
How to Get There = [tab title="How to Get There" icon="entypo-address"] You can drive from Kuala Lumpur to Genting in about an hour on the Karak Highway. Taxi fares range from RM70 for a regular taxi to RM200 for an executive car. Alternatively, there are frequent Go Genting Express Buses from various points in Kuala Lumpur including Pudu Sentral bus terminal, KL Sentral train station, Hentian Pasar Rakyat and Gombak.
[/tab]
Where to Stay = [tab title="Where to Stay" icon="entypo-suitcase"]
There are six on-site properties at Genting Theme Park to choose from:
[/tab]
[/tabs]
Photo credits: Getty Images