By Expedia Team, on June 14, 2017
Mmm Lazatnya! Food to try in Ramadan Bazaar 2017
So, it's the fasting month for the Muslims again, the holy month of Ramadan where the Muslims including I will be fasting from early in the morning around 5.30 am until 7.30 pm. No food and drink during the day is definitely challenging, but as I grow older, I have gotten used to it.
There is always a catch anyway, the Ramadan Bazaar in the evenings of course — every evening! Here, I will be sharing some of the mouthwatering foods I enjoyed at the bazaar in my hometown, Perak.
Classic and New Food to try at Ramadan Bazaars 2017

1. Zan's Cendol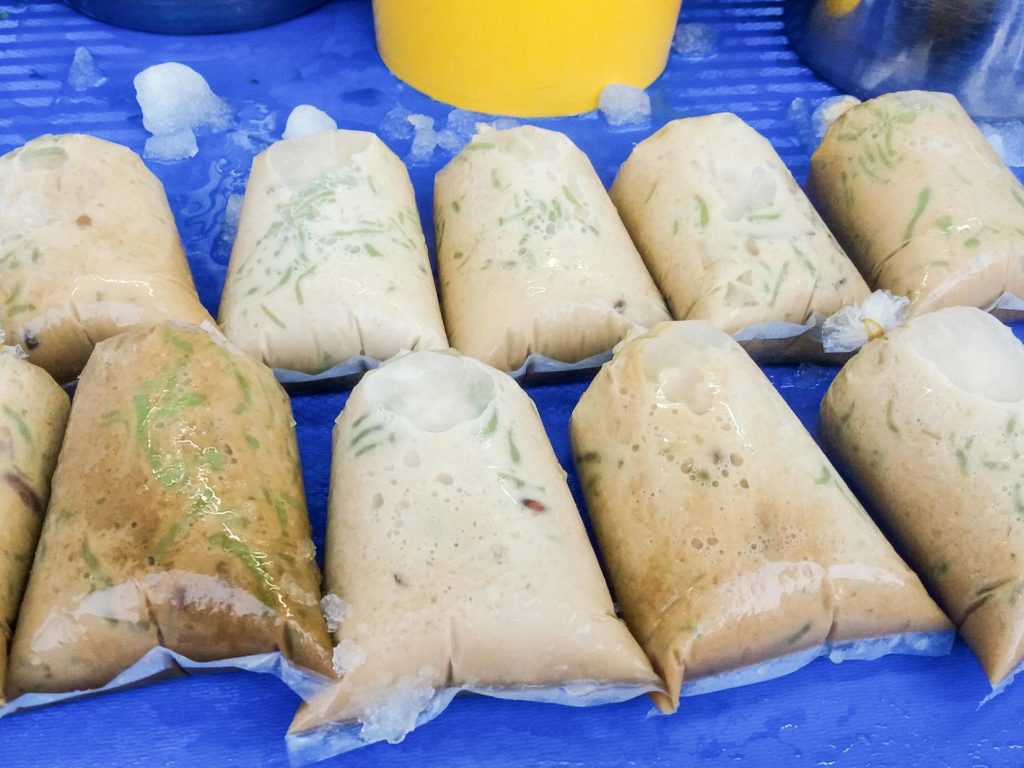 Cendol is one of my favourite drinks of all time! I'm sure most of you have sampled it before. But for those who have not, think coconut milk-gula melaka-pandan jelly all rolled into one thirst quencher. There are many other stalls selling Cendol at the Ramadan Bazaar but personally, Zan's Cendol is the best. The two girls selling the drink already recognise me. Knowing the quantity of Cendol that I buy from them, when they see me, they go, "Tiga bungkus ye kak, macambiasa,"  ("Three packages miss, just like the usual.")

2. Hidayah Buah Kasih Enterprise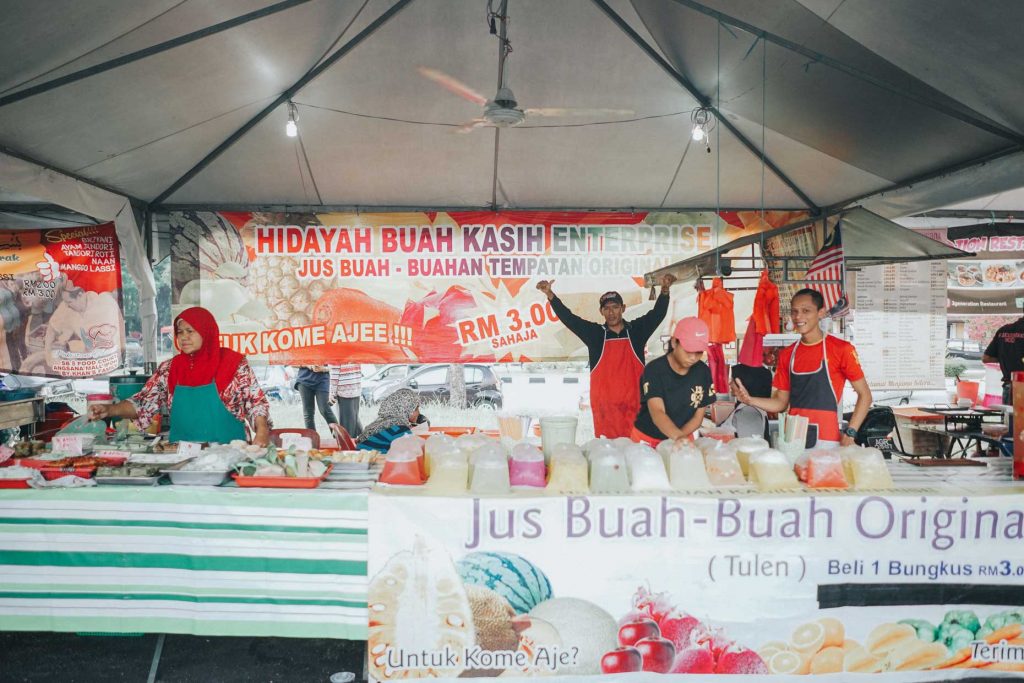 If drinking Cendol everyday sounds excessive for you, I would highly recommend fruit juices as an alternative. They are made from fresh fruits of course, not from any cordial bottle from the supermarkets! Having fresh fruit juices may be quite expensive, but trust me, fruit juices at Ramadan Bazaars will never disappoint you and they are sold at a reasonable price, unlike the ones you usually buy at the restaurants.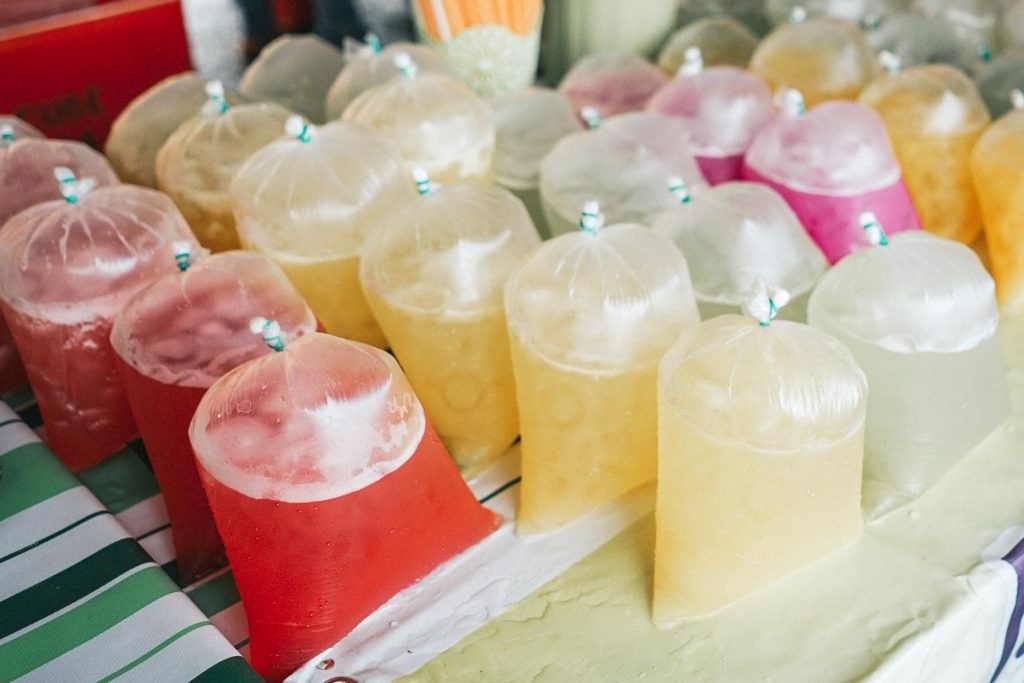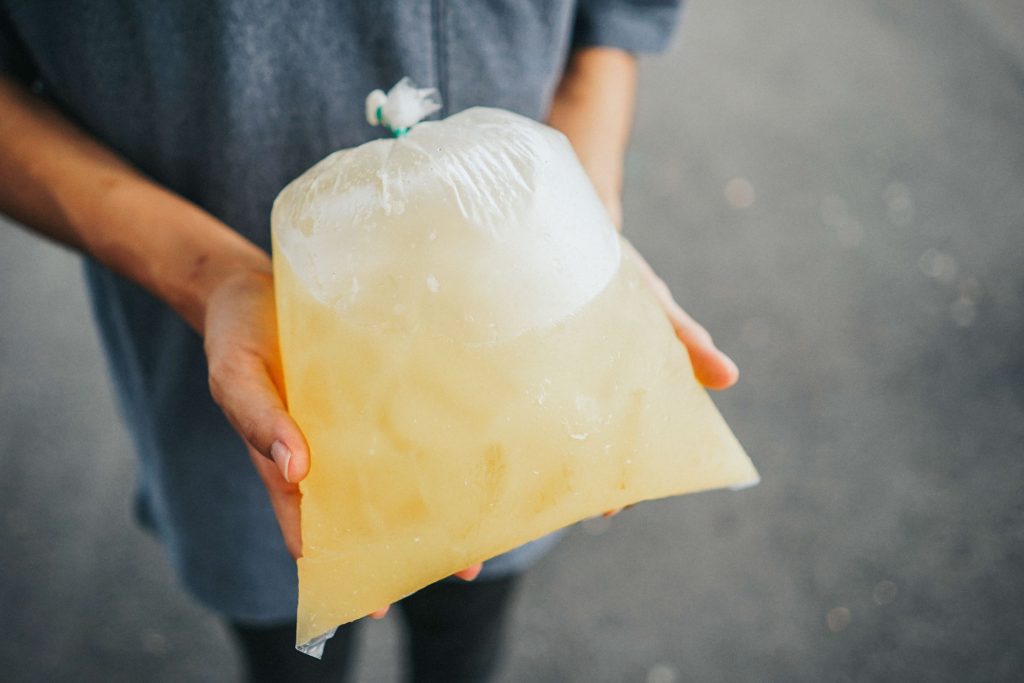 3. Tau Fu Fa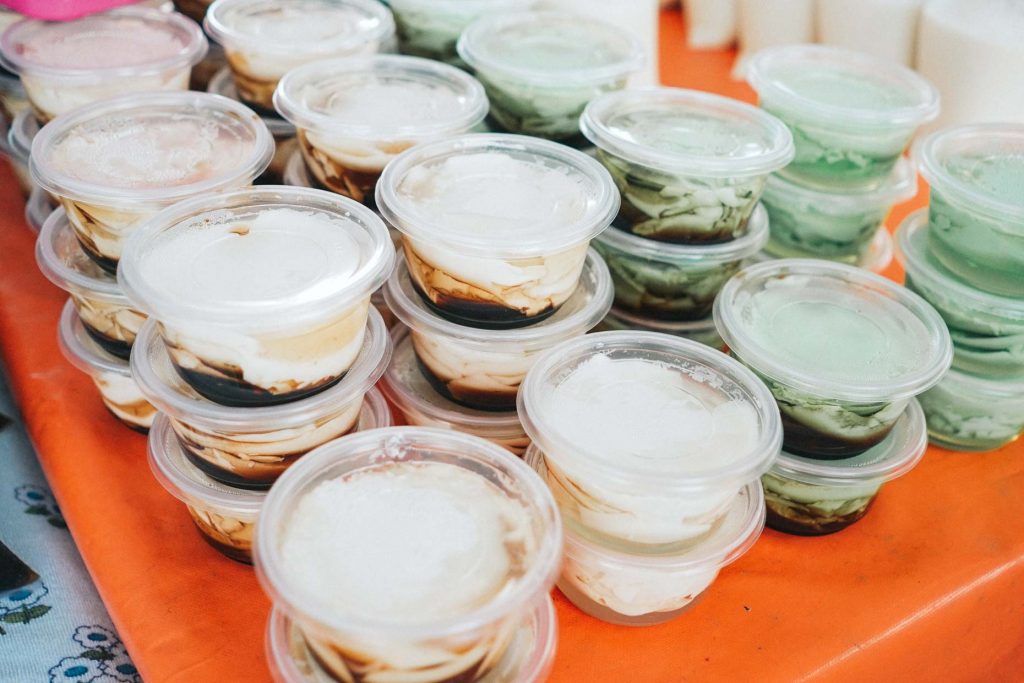 I always have Tau Fu Fa as a dessert after heavy meals. They are sweet and made of very soft tofu. Some of you may call it soft soy bean pudding. There are lots of stalls selling this Tau Fu Fa at any Ramadan bazaar around Malaysia and it's cheap — typically around RM 2.00 per packet. One good tip for you, choose well before buying. I always have a look at the packets and pick the one with a bigger portion so that I get to enjoy more.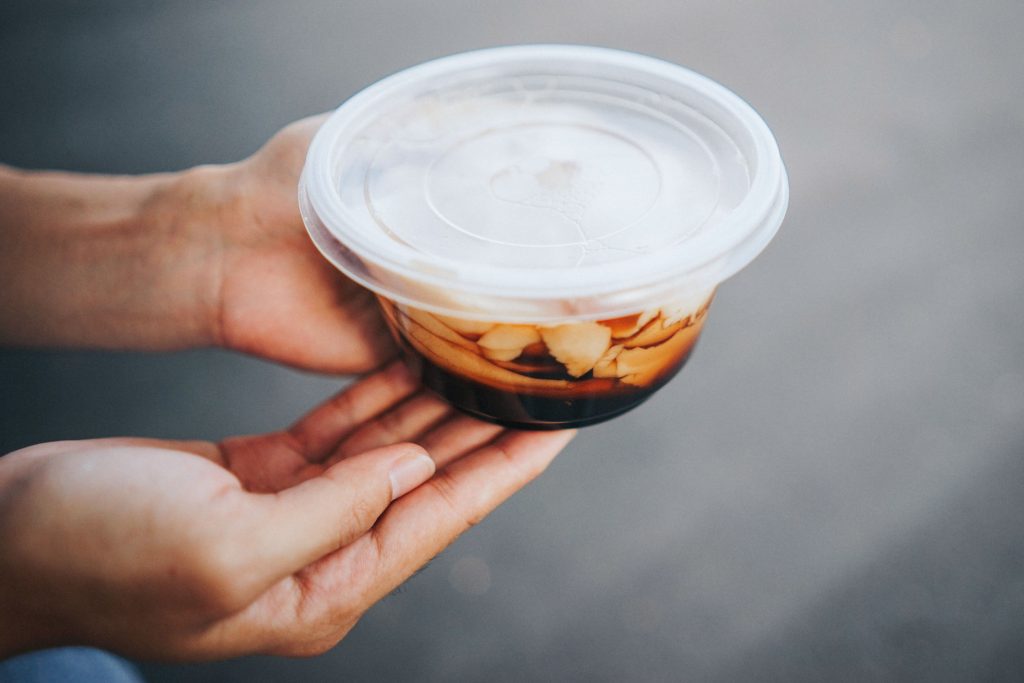 4. Agar-Agar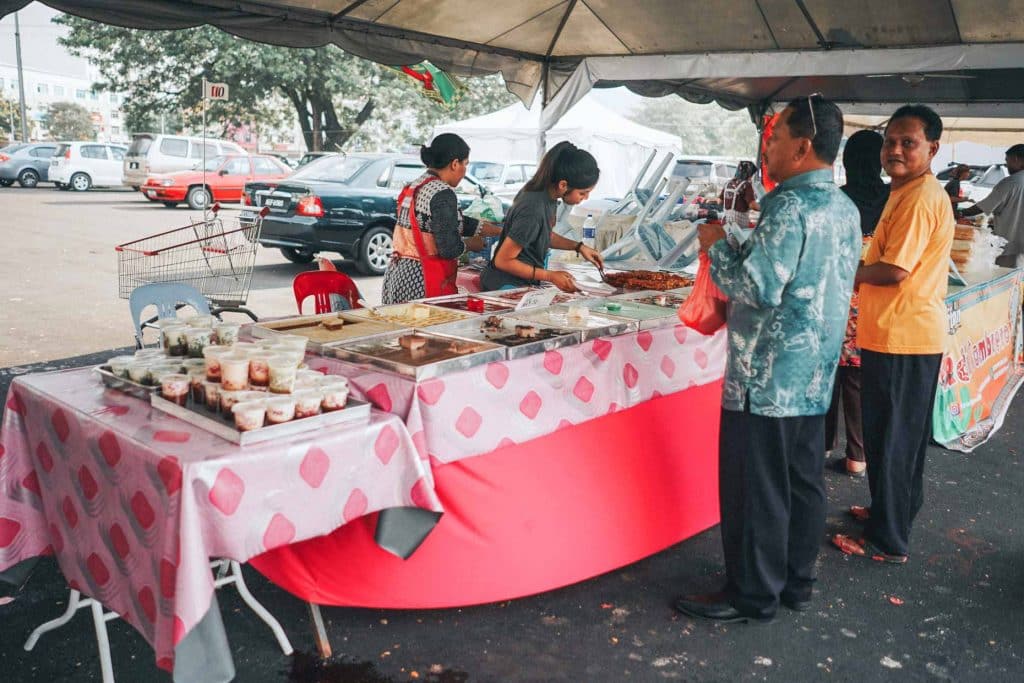 Around ten to fifteen years ago, the elderly used to make Agar-Agar at home, including my grandmother. However, youths today are getting too busy to even step into the kitchen, so we often buy this dessert from the stalls at the bazaar after work!
When I was a child, the only type of Agar-Agar we ate was syrup-flavoured. Nowadays, people keep improvising this dessert and there are varieties of flavours including Milo, Oreo and even Cendol (in case you haven't already had enough of it)! For those who aren't in the know of this delicious traditional treat, Agar-Agar is essentially soft jellies with different colours and flavours.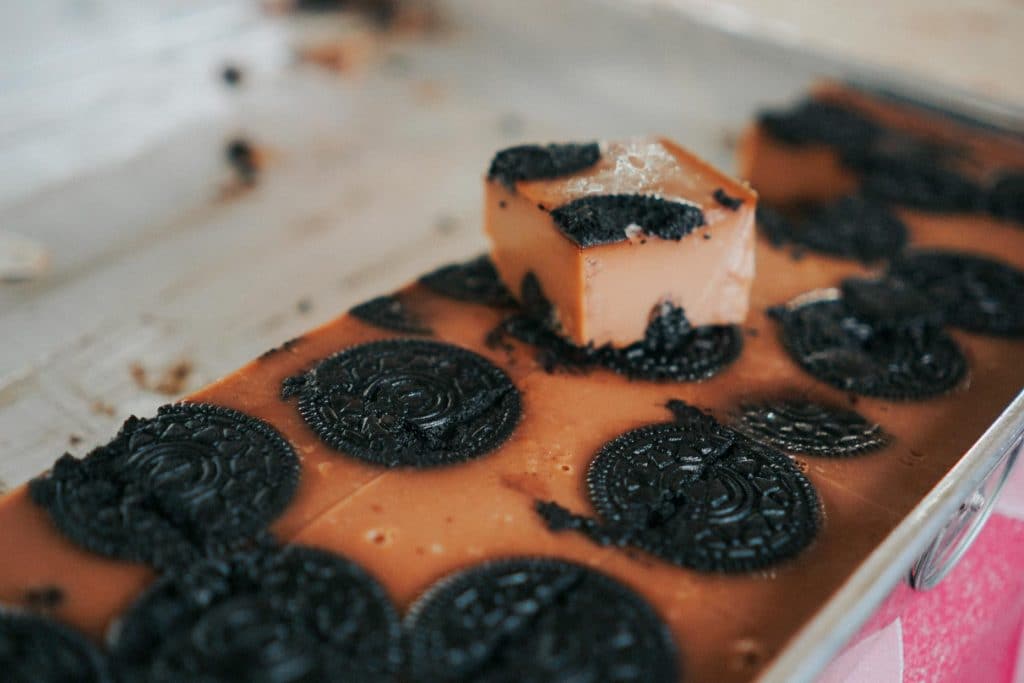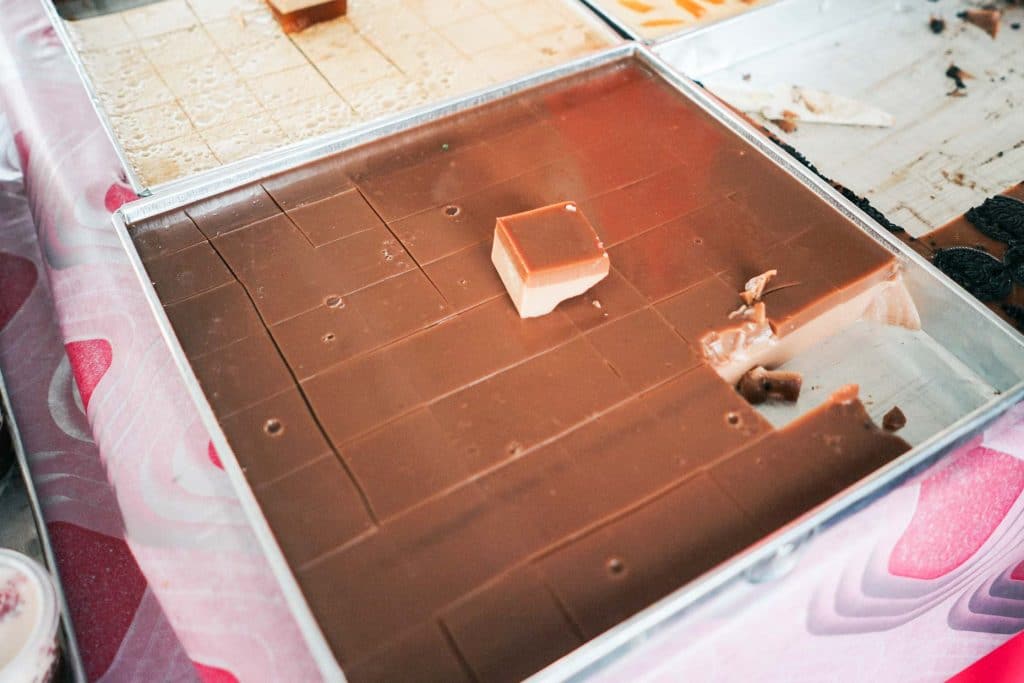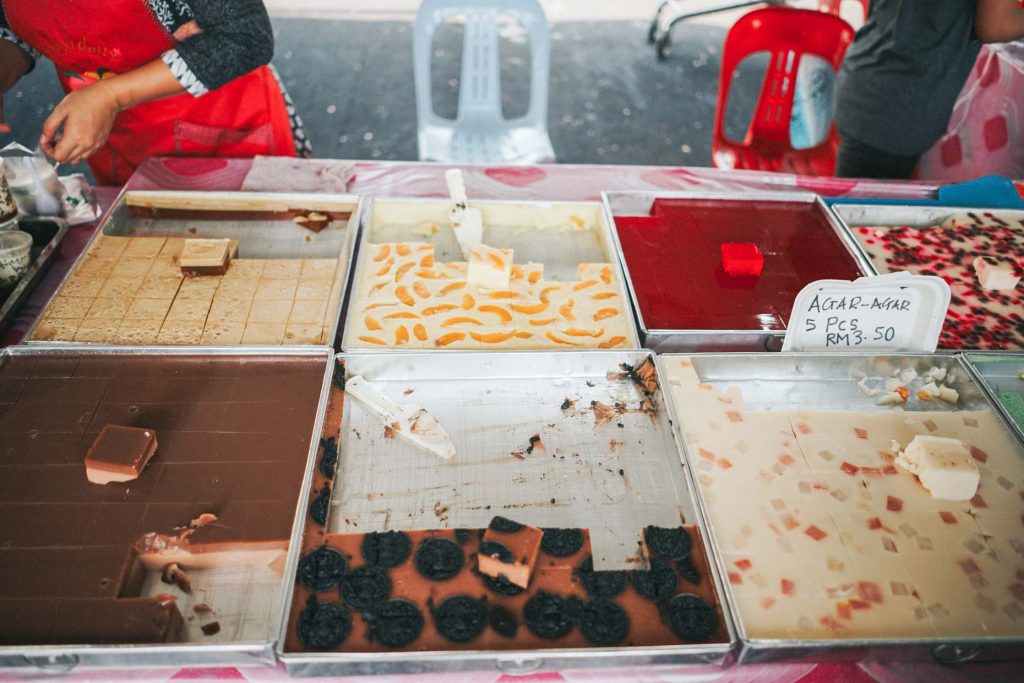 5. Cakchibow Café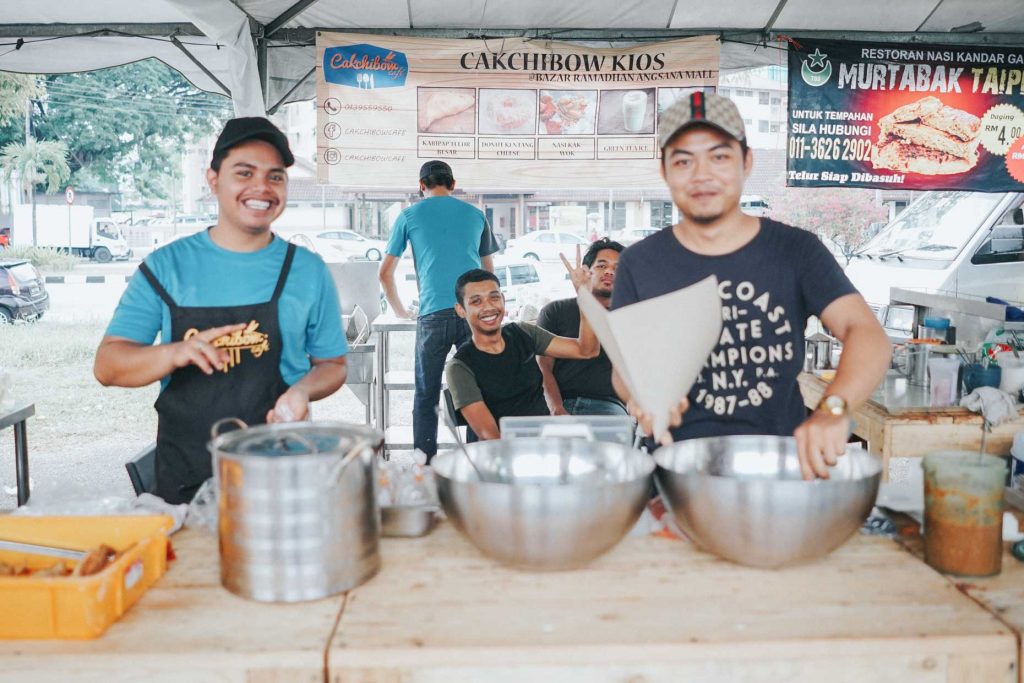 No, do not get me wrong. Cakchibow café in Ramadan Bazaar is not a café. It is just like any other stalls, but the youngsters behind the stall are good improvising traditional dishes. As I had bought too much food already, I decided to skip this one; but a friend of mine stopped by and purchased some 'Karipap Telor Besar' from the stall.
The usual traditional Karipap will have either diced potatoes or sardines, but this one comes with one whole egg, seasoned cabbage and black pepper spices.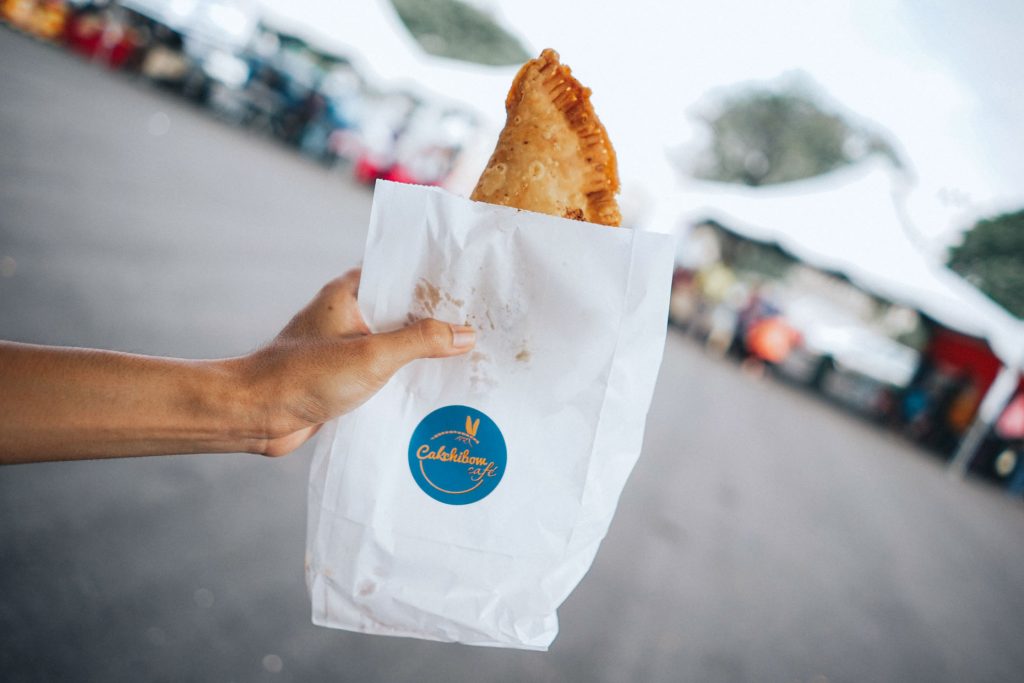 They also sell Nasi Kak Wok, a Kelantanese dish, which is essentially rice with a choice of chicken or slice beef, sambal belachan, sliced cucumber, and kerutuk gravy — famous Kelantanese curry. My friend did love the Karipap and how I wished I bought one of them that day as well!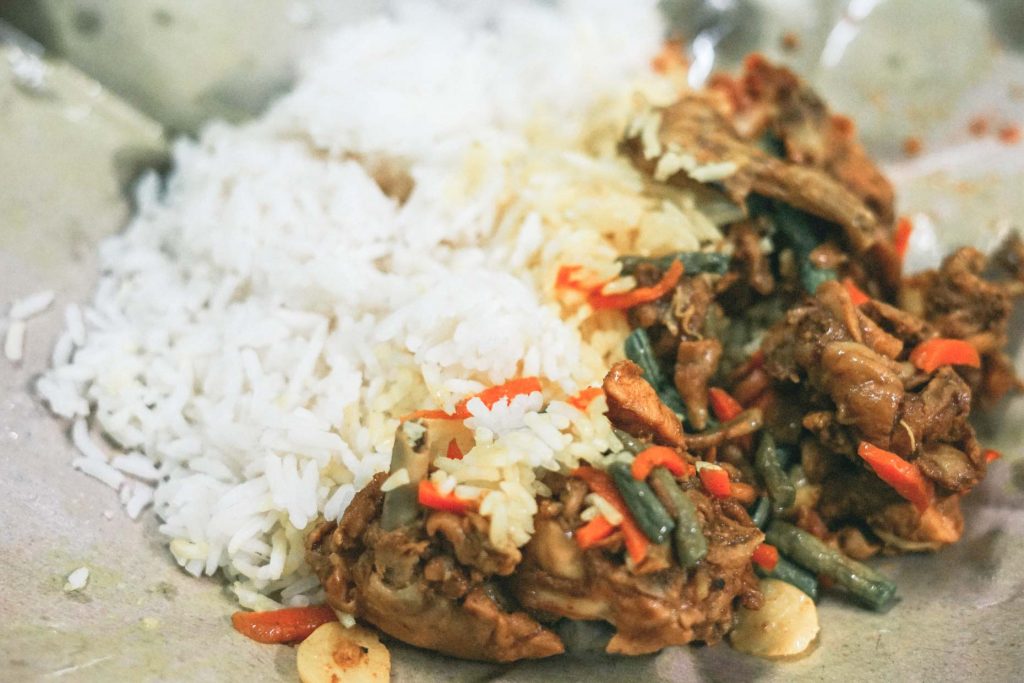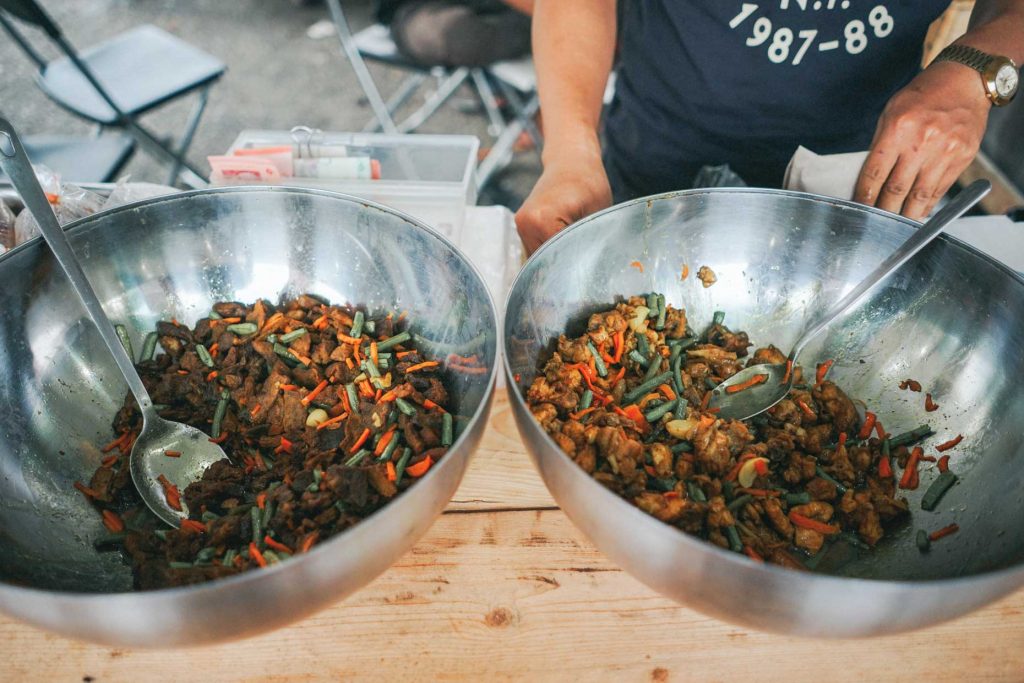 6. Lauk Pauk
Now, let's move on to some of the best main dishes sold at Lauk Pauk, best eaten with rice.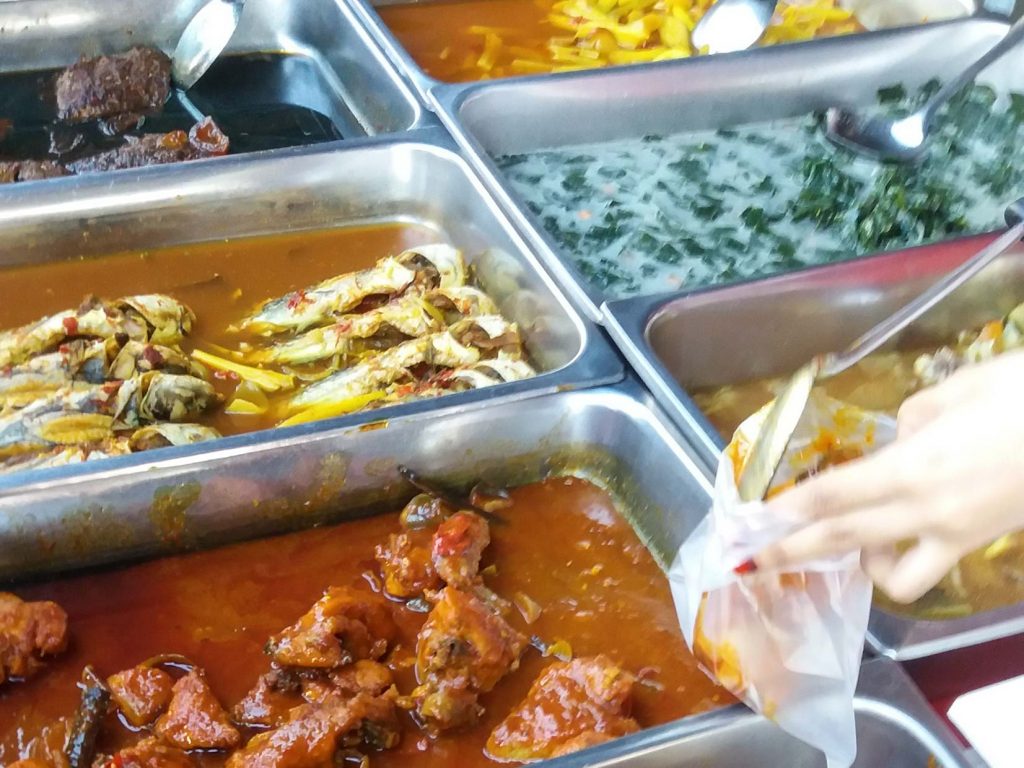 This time, I went to the bazaar with my mother, planning to buy additional main dishes or side dishes to the ones she had already cooked at home. I noticed that their curries and soups were very popular and were sold out pretty fast. There are lots of other stalls selling similar kinds of dishes but Lauk Pauk had the longest queue, and yes, their curries were good!

7. Anjung Salju Enterprise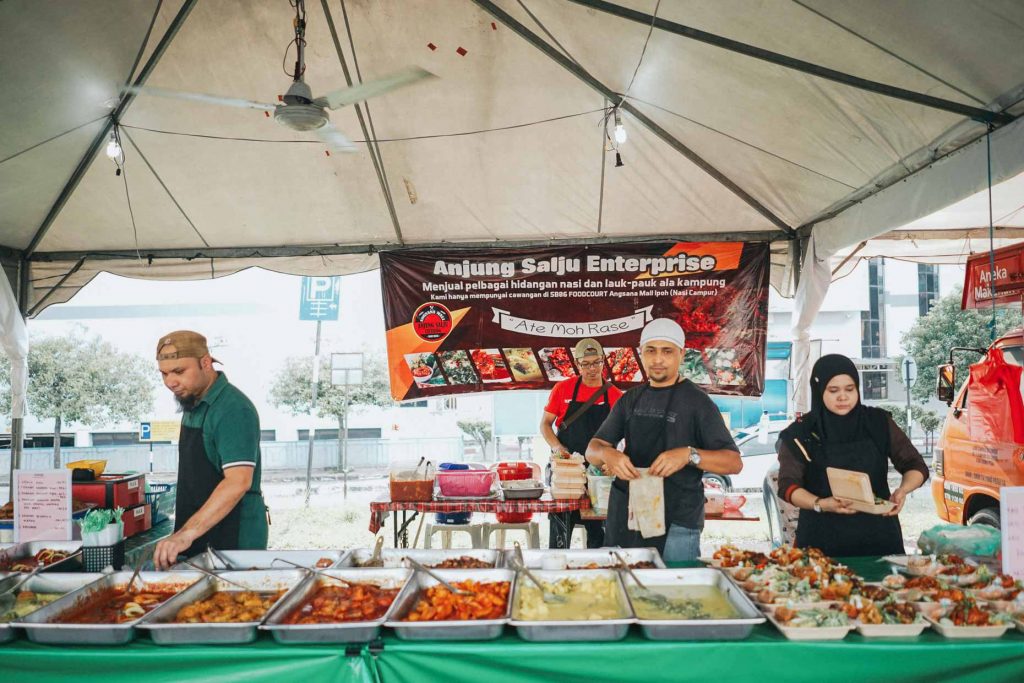 I came across this stall whilst strolling at the bazaar after a long tiring day. Just like Lauk Pauk, this stall also sells a huge variety of main and side dishes — a good meal to break our fast at the end of the day. The shop was really crowded when I was there and by 5.00 pm (which was still early), the stall was already running out of food! I was lucky that I managed to get some dishes to bring home to break our fast.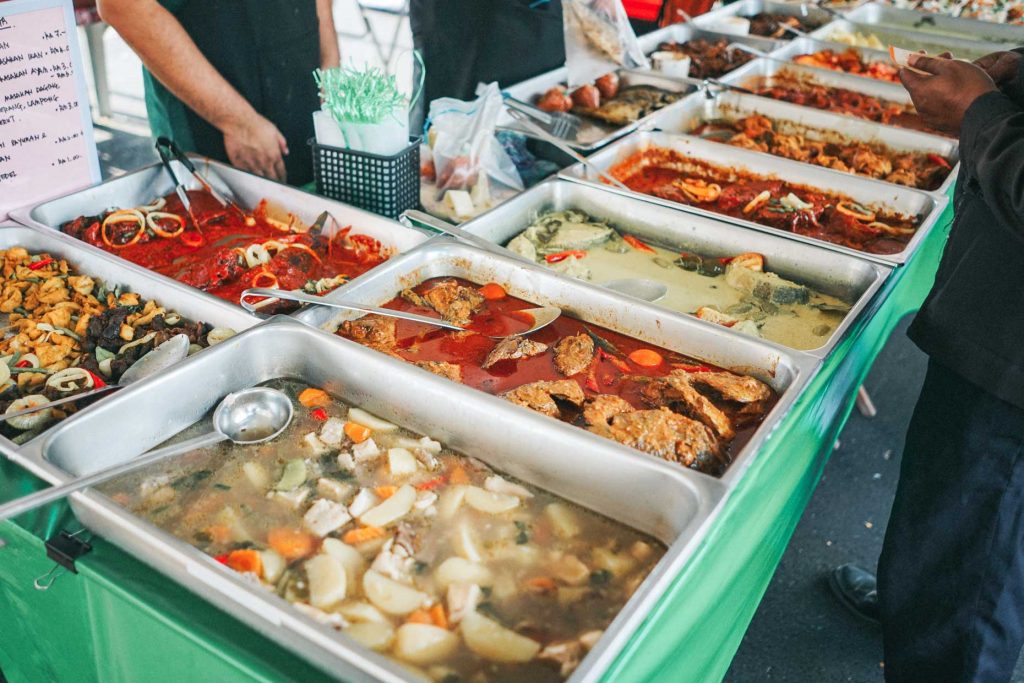 8. Ikan Bako Sambal Molotup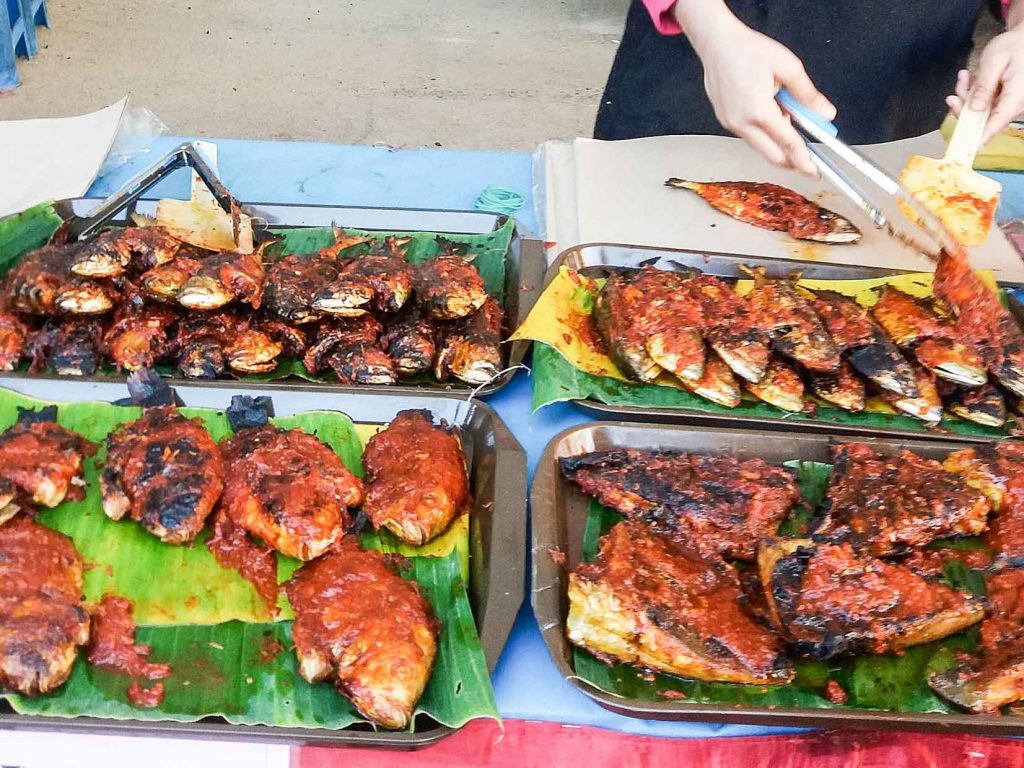 Last but not least, this is my absolute favourite stall! I cannot afford to leave this one out of the list. This stall offered different types of grilled fish, smothered in their signature sambal. My mother and sister also agreed that this was the best food you could get in the Ramadan Bazaar. However, they may be quite pricey, depending on the size and type of fish.
There are just too many food varieties at Ramadan Bazaar; if you want to enjoy it as much as possible, do bring lots of cash! You will definitely be spoilt with choices. The smell of food will linger in the air as you walk around the stalls and it will be even harder for you to wait for the time to break your fast. But since the bazaar will only be there for one whole month a year, don't miss this chance!

Where to find Ramadan Bazaars in Malaysia
[tabs]
[tab title="Ramadan Bazaar Locations" icon="entypo-address"]
Addresses:
Ipoh Ramadan Bazaar
Angsana Mall Parking Lot,
24, Jalan Hospital,
Kampung Kastam Greentown,
30450 Ipoh,
Perak
Seri Manjung Ramadan Bazaar
Pasar Seri Manjung,
32040 Seri Manjung,
Perak
[/tab]
[tab title="Getting there" icon="entypo-flight"]
There are numerous Ramadan Bazaars in Malaysia, but the ones I went were in Ipoh and Manjung. The nearest airport to these bazaars are in Ipoh, and you can rent a car and drive on you own to the bazaars.
[/tab]
[tab title="Where to stay" icon="entypo-suitcase"] If you're up for a weekend trip in Malaysia during Ramadan, pick a hotel near the local ramadan bazaars so you can sample different food every day without getting too bloated!
For Ipoh, I recommend Cititel Express Ipoh for a comfortable stay. If you choose to proceed to Seri Manjung, Ritz Garden Hotel Manjung is a good option.
[/tab]
[/tabs]
Eid Mubarak!
---
RM45 OFF Hotels! Coupon Code : RAMADAN45 (T&C applies)
Booking period: Now – 30 June 2017 | Travel period: 30 May 2017 – 6 August 2017