By Expedia Team, on January 17, 2015
Penang Food Guide: What to Eat in Georgetown, Penang
Renowned for its unbeatable hawker fare, Penang is a food-lover's paradise with delicious smells of food wafting around almost every street corner. Besides the ubiquitous char kuay teow, there are plenty of authentic Penang food favourites that are beloved by the locals. Here is our pick of the best food in Georgetown, Penang– and which Penang restaurant to find these 5 famous local dishes. All are within walking distance of each other, making for a perfect foodie's day out!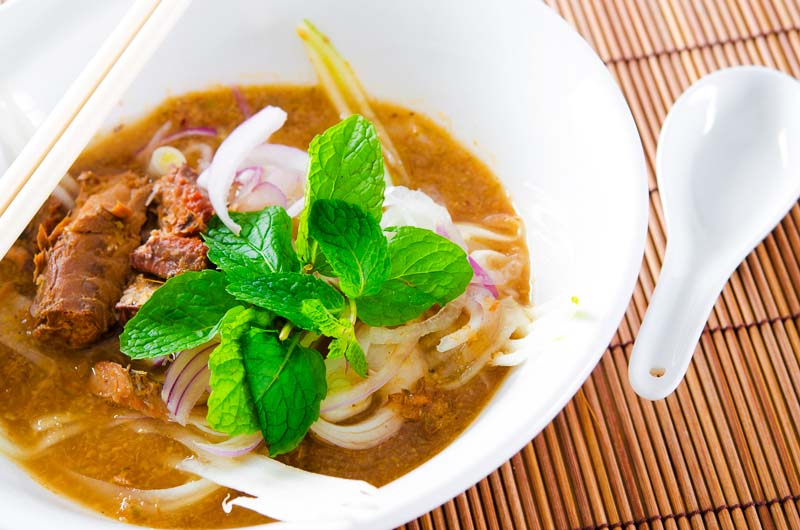 Nasi Lemak 
Penang food hotspot: Sri Weld Food Court on Lebuh Pantai
This quintessential Malay dish of coconut rice with assorted condiments, such as sambal, egg omelette, fried ikan bilis (anchovies) and fried chicken, tastes best when served in a fragrant banana leaf packet. Ali's Nasi Lemak, located at the Sri Weld Food Court on Lebuh Pantai, serves up a traditional no-frills version of this dish in Penang, with a generous dollop of piquant, spicy sambal and a variety of condiments.
The servings are rather small, so don't be surprised to see seasoned foodies buy multiple packets at once to satisfy their nasi lemak cravings. Be sure to go in the morning as they often sell out by noon.
Dim Sum 
Penang food hotspot: Lebuh Cintra
You know you've stumbled on an old-timers' favourite when the best tables in the house are perpetually occupied by retirees sipping Chinese tea while reading the newspapers. De Tai Tong on Lebuh Cintra is one such beloved institution, where the servers still emerge from the kitchen with pushcarts filled with piping hot goodies.
To order, simply flag a server down and pick and choose from what's available. The dim sum in this Penang restaurant tastes refreshingly home cooked – some highlights include the fried carrot cake, chee cheong fun and char siew bao. Don't forget to end your meal with a perfectly crisp egg tart and wash everything down with generous servings of tea.
Nasi Kandar 
Penang food hotspot: 177 Penang Road
 Nasi Kandar is an Indian Muslim dish and a Penang specialty and essentially comprises of a plate of white rice that's loaded with different curries and vegetables of your choice. What makes this dish special is the mix of flavours. Who would have a thought a sloppy combination of vegetable, chicken, beef and other assorted curries would taste so amazing together?
Nasi Kandar Line Clear at 177 Penang Road is arguably one of the most famous joints that serve this dish, and there's an array of daily specials to savour. Best of all, Line Clear is open 24 hours a day, which makes it perfect when the late night munchies hit.
Penang Laksa 
Penang food hotspot: Jalan Penang or 14 Leith Street
Also known as asam laksa, the Penang version of curry noodles features a sweet, sour and spicy broth made from a combination of fish, chilli, asam fruit and turmeric. When mixed with fresh garnishes which include a dollop of prawn sambal, fresh vegetables and herbs, this is one dish that hits all the spots in one bite. This is probably the most famous dish when it comes to Penang food and you'll find it served in many a Penang restaurant. But what's the best place?
There are a couple of famous hawkers that sell Penang laksa that you should try. I recommend a street vendor located at Weld Quay and Kek Seng at Jalan Penang.
However, for a touch of indulgence, I like the high tea set at the distinctive Cheong Fatt Tze Mansion at 14 Leith Street, otherwise known as The Blue Mansion because of its distinctive coloured walls. There's nothing like enjoying a piping hot bowl of Penang laksa in the ornate dining room of this historical property to make you feel like you've been transported back in time.
Tau Sar Pneah in Penang
Penang food hotspot: Burma Road and Jalan Macalister
After you've filled up your belly on freshly cooked local delicacies, it's time to shop for some souvenirs. Of course, there's no better memento than, well, more food. Penang is famed for its tau sar pneah – a mung bean pastry that's sweet and salty, making it a perfect teatime snack.
The two main competitors in Georgetown are Him Heang on Burma Road and Ghee Hiang along Jalan Macalister. Both offer pastries that are equally as savoury, so get a box from each shop as a souvenir and conduct your own taste test to keep the Penang food cravings at bay once you're back home.
And that's what to eat in Penang to make your belly happy! Know more great spots to check out? Share in the comments below.
Exploring more of Penang? Read more Penang travel blog posts or visit our Penang travel guide.