By Expedia Team, on November 6, 2018
Must-Try Halal Food in Marrakech
[vc_row][vc_column][vc_column_text]
Visiting Marrakech (also spelt as "Marrakesh") in Morocco is probably the closest experience you can get to paradox-free time-travelling. With its vibrant souk markets, beautiful mosques, traditional riads (palaces with courtyards) and enchanting gardens, it is easy to see why the Red City tops the bucket list of many travellers around the world. One way to get an immersive cultural experience of the city is by sampling the local food. If you are planning to visit anytime soon, check out our list of Marrakech food that you should not miss as well as where to get the best version in town.
Must-Try Halal Dishes in Marrakesh
1. Tagine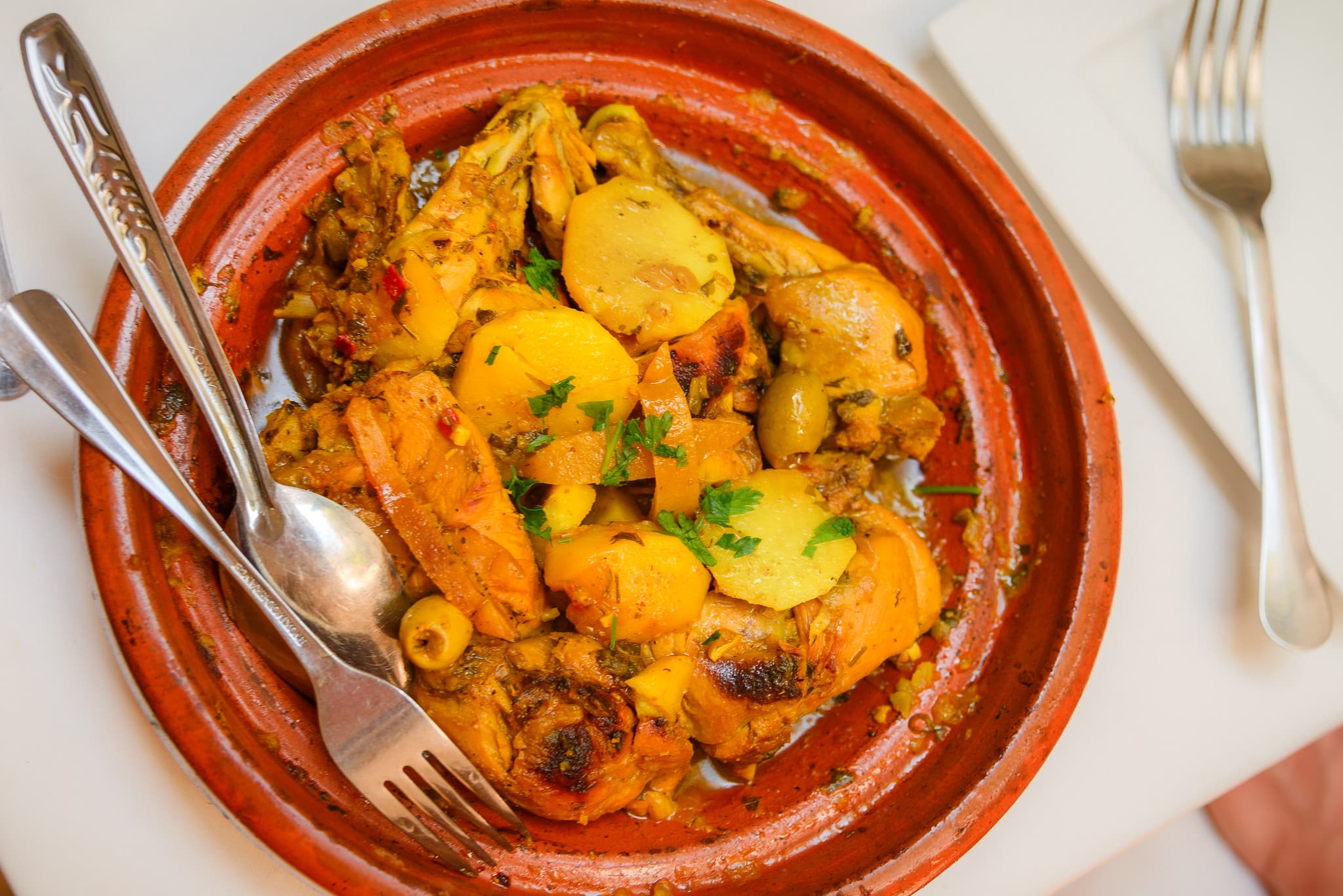 CC BY ND-2.0 / Anthony Lee
Tagine is arguably Moroccan much-loved national dish (though many would contest that the spot is shared with couscous). The name 'tagine' refers to the clay cooking pot with a conical lid, often brightly coloured, used to slow-cook various dishes (chicken, beef, veggie, etc.). Some of the must-try tagine varieties are lamb/beef with prunes and chicken with pumpkins.
To get a taste of an authentic home-cooked tagine, head over to L'ibzar. The friendly owner prepares all the dishes a la minute and spends some time to chat with you. The cosy, modern interior makes the restaurant a great place to chill after a long day of walking around the medina.
2. Couscous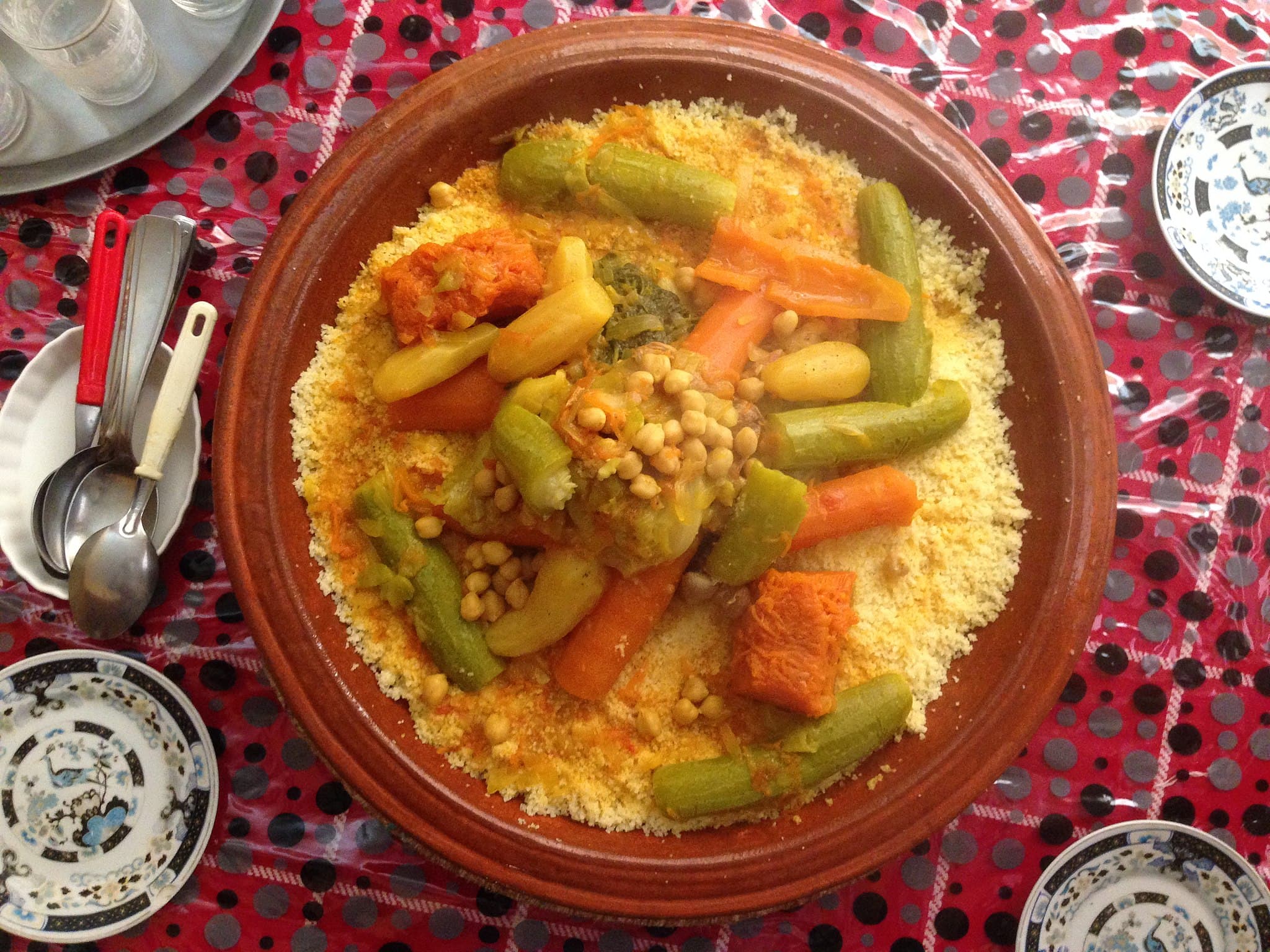 CC BY SA-4.0 / Iasalarzai
Couscous, also known as 'seksu' or 'kuskusu' in Arabic, is another Moroccan staple dish. While couscous is served every day, Friday is a special day for the locals. After the Friday prayer, families will gather to enjoy a hearty serving of couscous. In Marrakech, preparing couscous the traditional way is a laborious act of love. The locals spend hours making couscous from scratch, using their hands to roll the grains into little balls before eating them.
One of the best restaurants in Marrakech to enjoy a sumptuous meal of couscous is Naima Restaurant. Frequented by locals, this no-frills restaurant does not have any menus as they only serve their speciality: couscous with chicken and vegetable, cooked to perfection.
3. B'stilla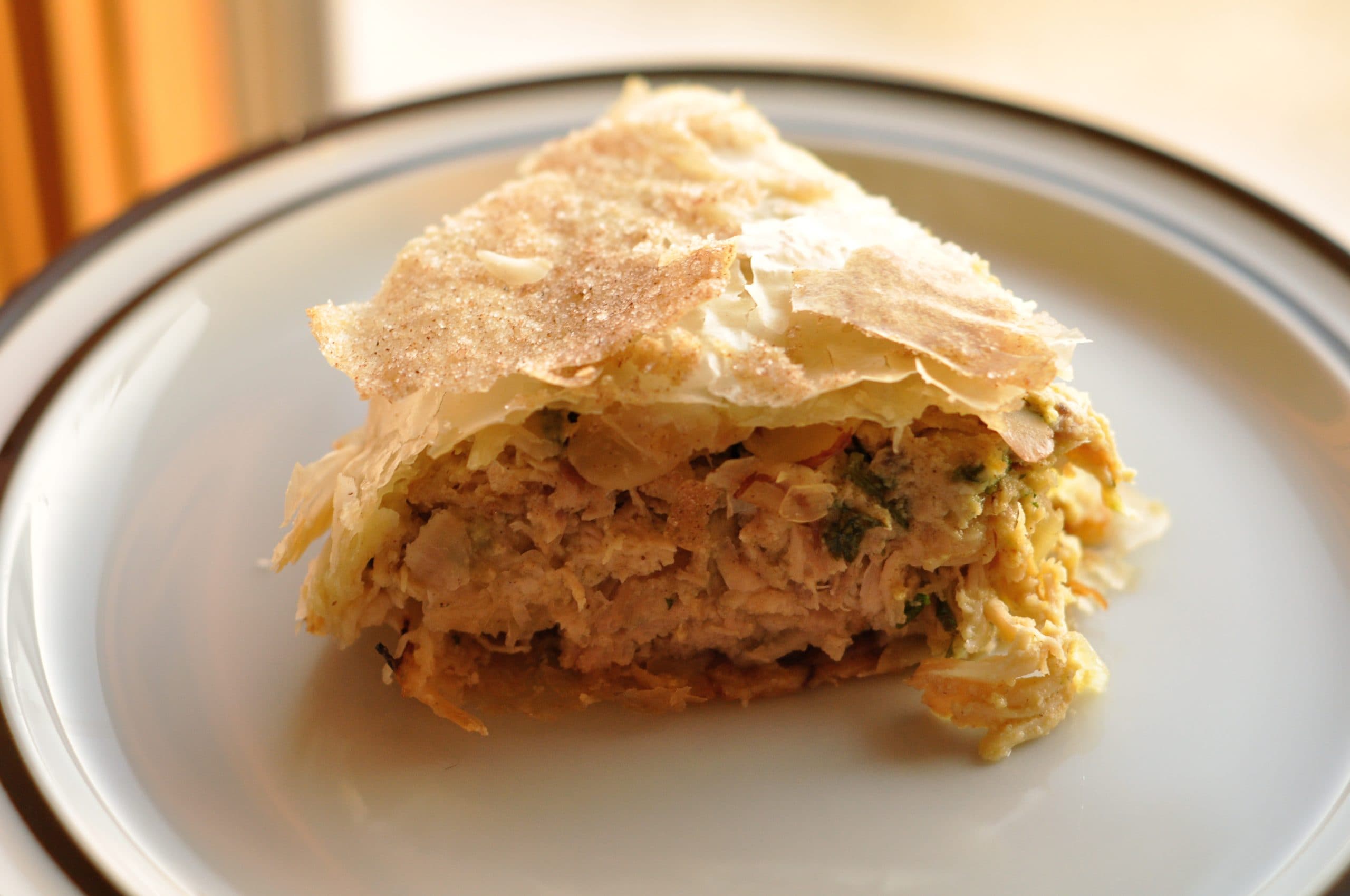 CC BY 2.0 / Kimberly Vardeman
The crispy and flaky outer layer encloses the chewy dough, and deep inside, a tender pigeon meat is waiting for you. B'stilla is the number one must-try street food in Marrakech. Traditionally served at celebrations and weddings, b'stilla is a Fassi cuisine that is believed to have been brought over by the Moors (or Maghrebine Berbers) from Andalusia. There are many regional variations of this dish — opt for chicken or beef version if pigeon meat is a little too exotic for you.
The sweet and savoury snack is easily found at Jemaa el Fna square. One tip: find a stall that is packed with locals — the locals know it best! If you wish to enjoy the b'stilla in a more relaxed atmosphere with a cup of hot mint tea, head over to Dar Belkabir Restaurant, located within the square.
4. Harira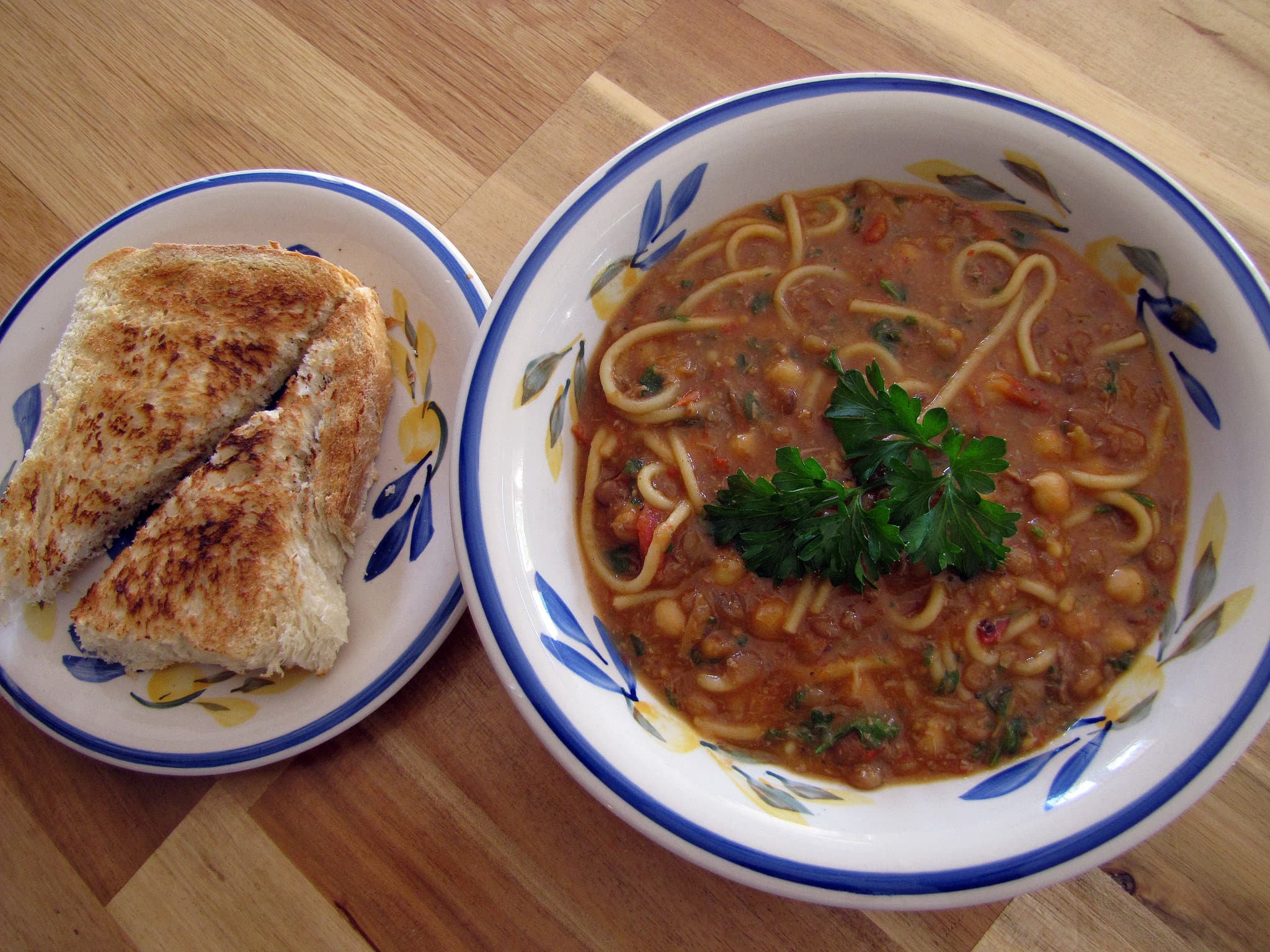 CC BY 2.0 / Brett and Sue Coulstock
If you are in Marrakech during the Ramadhan period, you will notice this delicacy everywhere: harira. As the sun sets, locals reach out for a bowl of harira to break their fast or also known as 'iftar'. This thick tomato-based soup, typically prepared with lamb broth, chickpeas, red lentils, and some noodles, make for a filling meal. Locals usually enjoy a bowl of harira alongside chebakia (next item on the list!). You may find the soup commonly served in colourful little bowls at food stalls around Jemaa el Fna square. Alternatively, try a dish at Cafe Caravan, a quaint little cafe run by a friendly local family.
5. Chebakia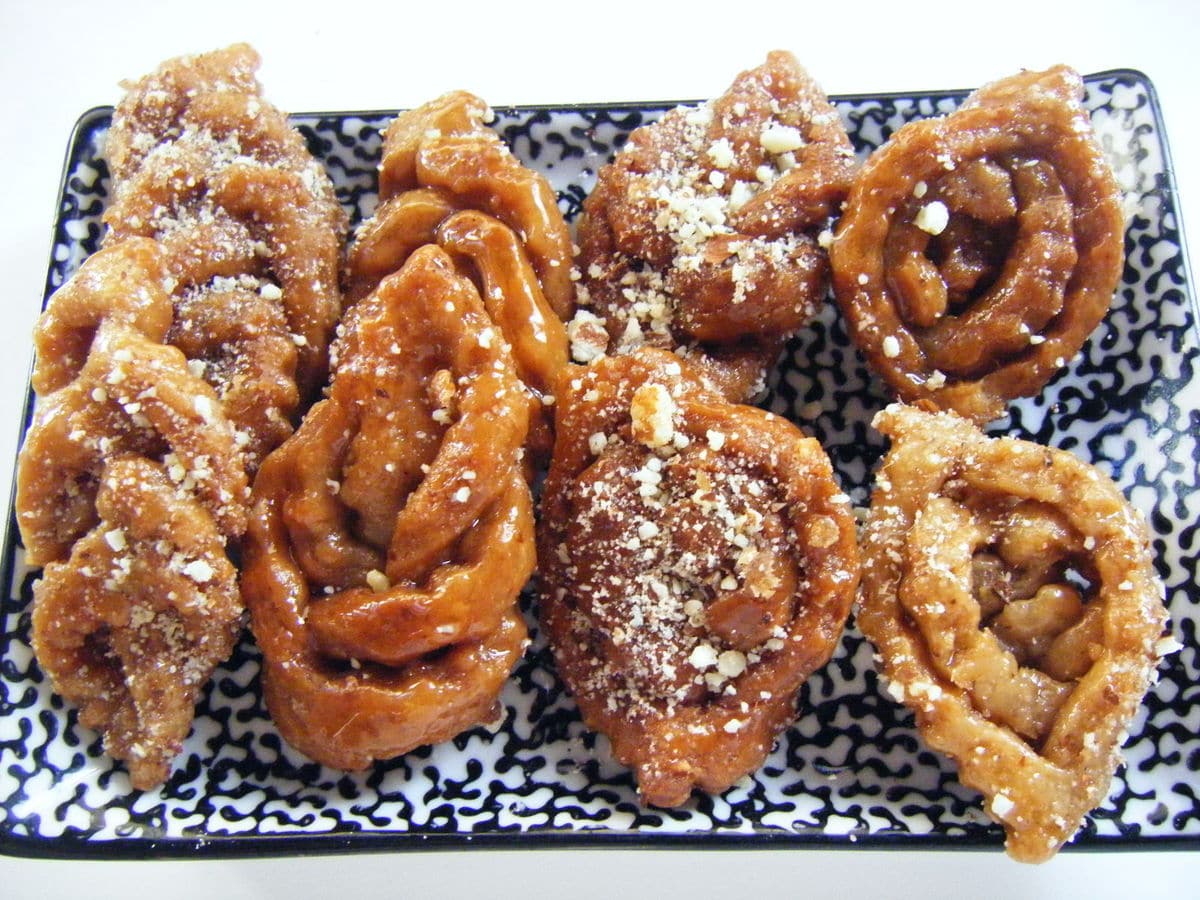 CC BY SA-4.0 / Zouhir
Chebakia is a classic Moroccan pastry that no one can resist while in Marrakech. This flower-shaped fried sesame cookie is generously coated with syrup or honey. And it is extremely addictive – yes, you have been warned! Try the freshly homemade ones rather than the pre-packaged mass-produced versions. While in Jemaa el Fna square, look for Patisserie des Princes. If you have a sweet tooth, this bakery is like a dream paradise – alongside its chebakia, you can also find all kinds of Moroccan pastries here.
6. Ma'qooda or Maakouda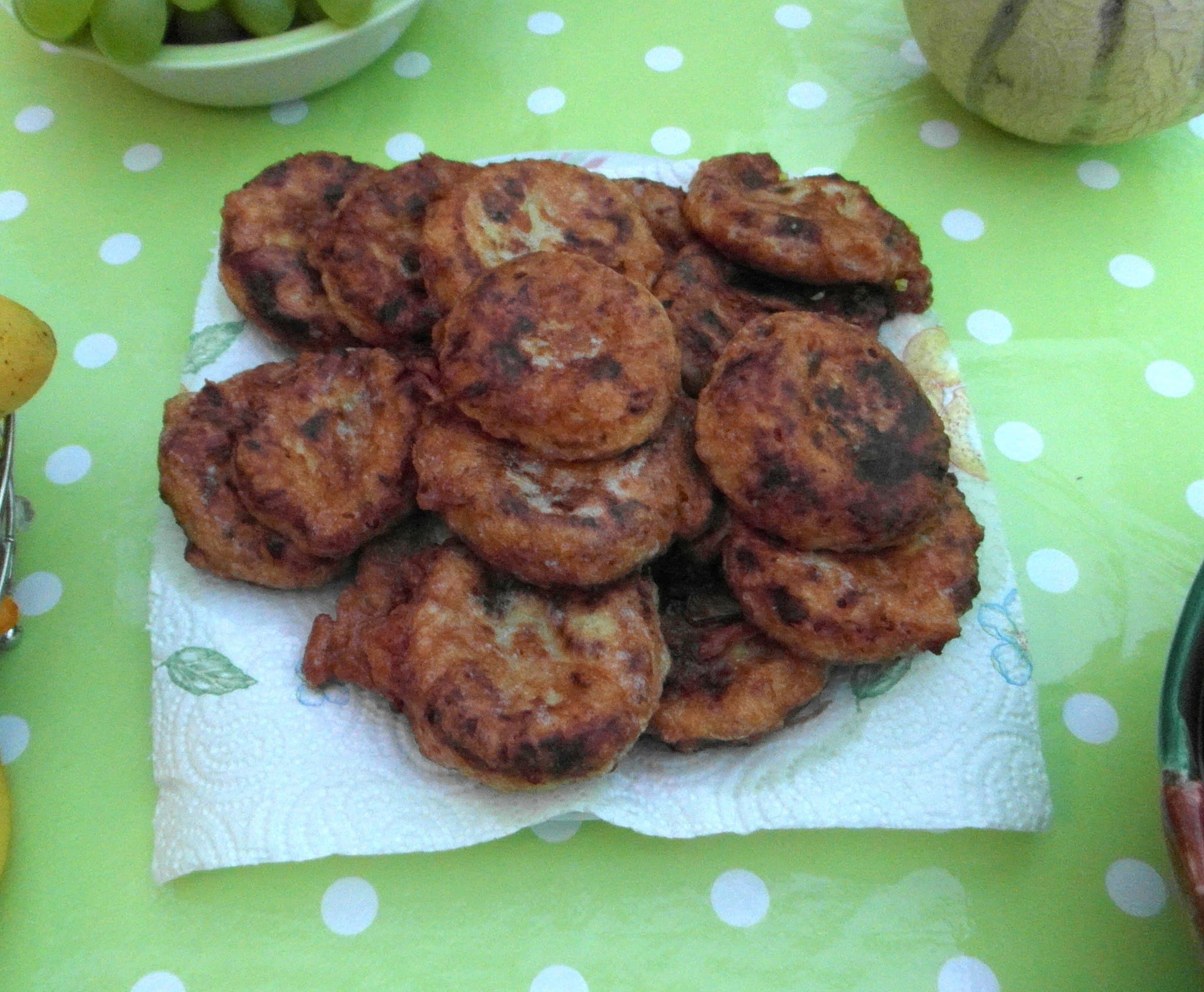 CC BY 2.0 / Jeouit
This flavorful Marrakech delicacy can be spotted all over Marrakech. Made from mashed-potato mixed with garlic, cumin, onions, and coriander and fried to golden perfection, maakouda is a perfect light tea time snack. Sip some tea and sink your teeth into maakouda while watching people passing by at Cafe Clock. The cafe boasts a cultural centre where you can enjoy a session of 'hikayat' or storytelling by local amateur storytellers in English.
7. Briouat or Briwat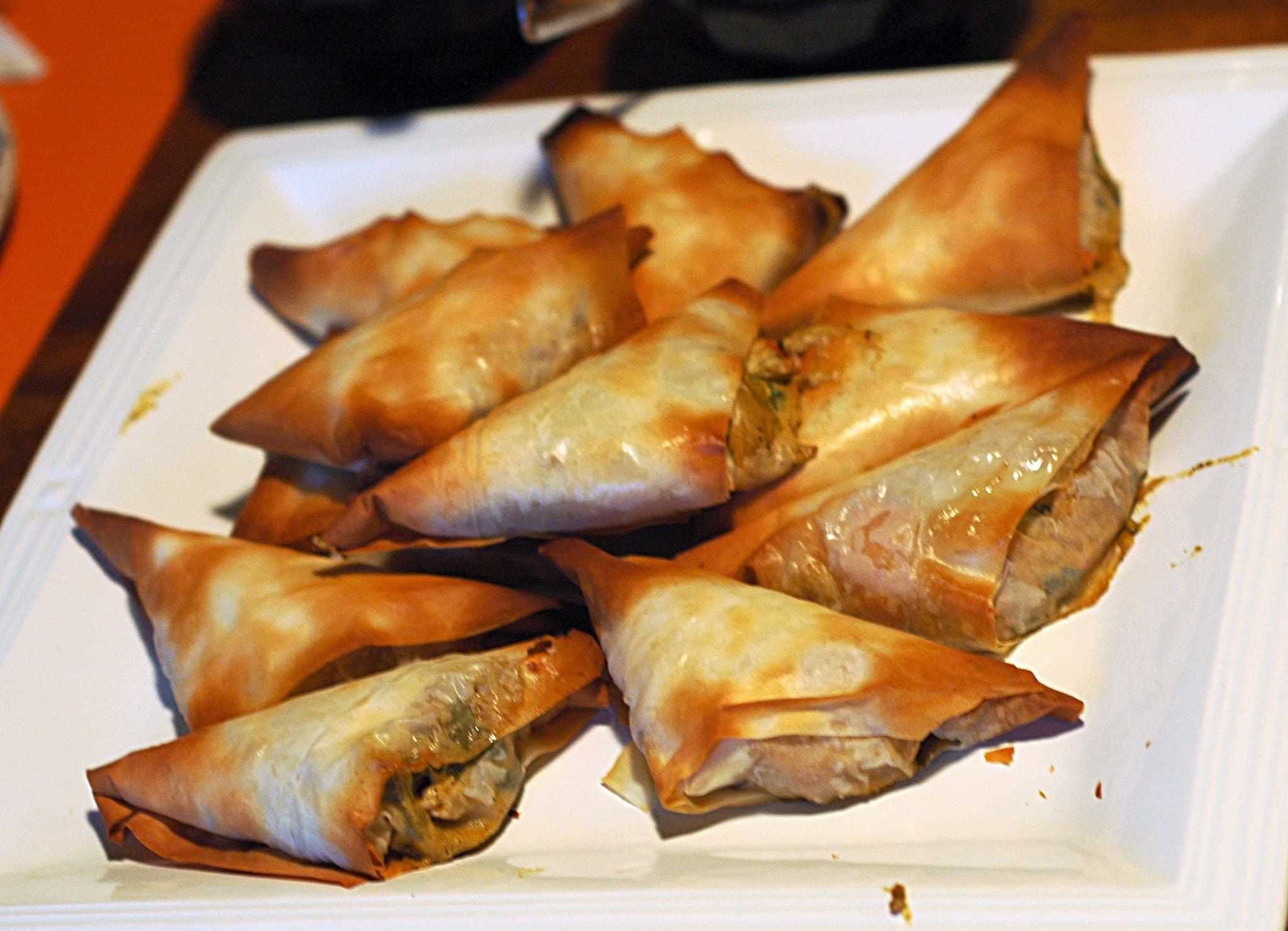 CC BY SA-2.0 / Christian Muise
This bite-sized snack is normally served as an appetizer at restaurants. Easily found across the city, briouat may also serve as a light snack in between meals. This triangular-shaped deep-fried pastry is usually stuffed with savoury fillings such as chicken or lamb. At night, head over to Azar to try a wide selection of briouats while enjoying the cultural shows put on by their belly dancers and string orchestra.
8. B'ssara or Bessara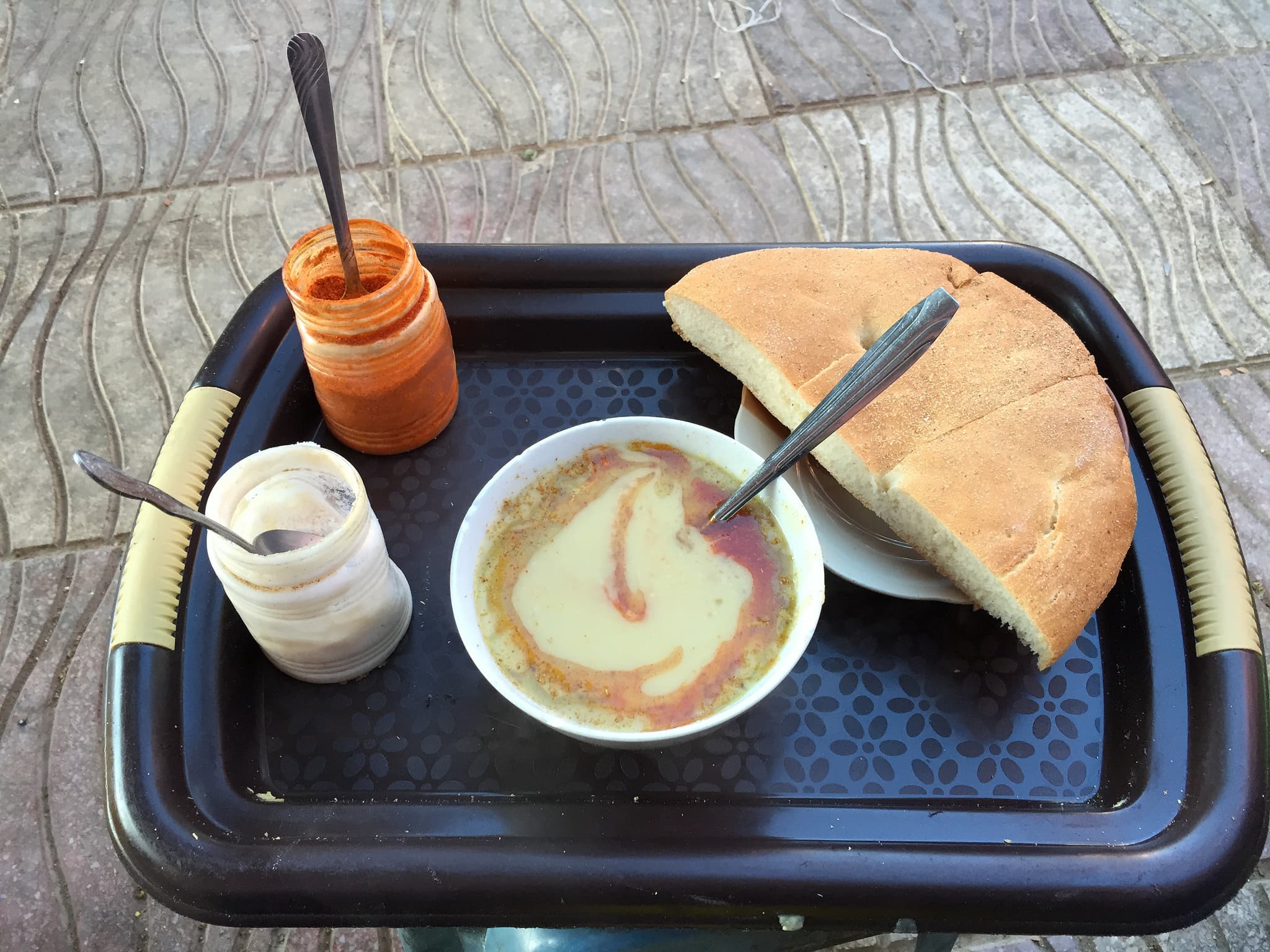 CC BY-NC 2.0 / momo go
Before setting out to explore the city of Marrakech, start your day right by enjoying a bowl of b'ssara — dried broad bean soup — Morrocan's typical breakfast. The soup is topped with olive oil, cumin and served with bread – guaranteed to keep your belly full until lunchtime! The best restaurant to try bessara is Un Dejeuner a Marrakech. You'll love the food as much as the beautiful terrace of the restaurant, letting you take in a spectacular 360-degree view of the old town below.
Nice Hotels in Marrakech
For an unforgettable holiday in Marrakech, splurge for a stay at Fairmont Royal Palm in Marrakech.
Surrounded by a spacious courtyard spanning 200-hectares and lined with palm and orange trees, the luxurious interior and hospitality will make you feel like a living Sultan.
 Fairmont Royal
 Fairmont Royal
Savvy travellers will love staying in Riad Itrane, one of the best riads in Marrakech. Located in the heart of the souk, the hotel showcases plenty of authentic Moroccan decors. Head to the rooftop to get a fantastic view of Marrakech. Start planning to eat your way through Marrakech!
 Riad Itrane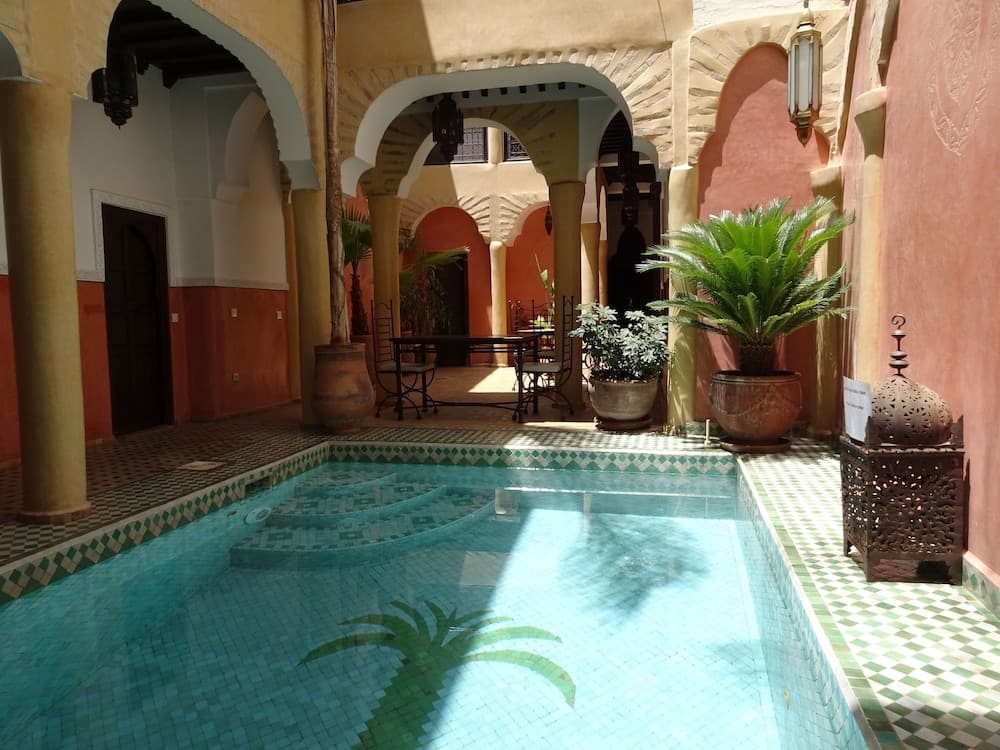 Riad Itrane[/vc_column_text][/vc_column][/vc_row][vc_row][vc_column][vc_text_separator title="" i_type="entypo" i_icon_entypo="entypo-icon entypo-icon-flight" i_color="turquoise" color="turquoise" border_width="2″ css_animation="fadeInLeft" add_icon="true"][/vc_column][/vc_row][vc_row][vc_column][vc_custom_heading text="Plan Trip to Marrakech" use_theme_fonts="yes" link="url:https%3A%2F%2Fwww.expedia.com.my%2FMarrakech.d6084756.Travel|||"][/vc_column][/vc_row][vc_row][vc_column width="1/2″][vc_column_text][button url='https://www.expedia.com.my/Flights-To-Marrakech.d6084756.Travel-Guide-Flights' icon='entypo-flight' fullwidth='true' style='blue'] Take me to Marrakech![/button][/vc_column_text][/vc_column][vc_column width="1/2″][vc_column_text][button style='blue' url='https://www.expedia.com.my/Marrakech-Hotels.d6084756.Travel-Guide-Hotels' icon='entypo-suitcase' fullwidth='true'] Top Marrakech Hotels[/button][/vc_column_text][/vc_column][/vc_row]