By Expedia Team, on August 25, 2015
Scuba Indonesia: Top Diving Spots in Indonesia
By Explorer Becky Wicks
Diving in Indonesia I've seen manta rays the size of small cars, swum alongside docile sea turtles as they gazed straight into my eyes and hovered over starfish as big as my head. A scuba diving holiday here is something you mustn't miss, especially if you book a live-aboard boat. Here's where to head to make the most of Indonesia's underwater world.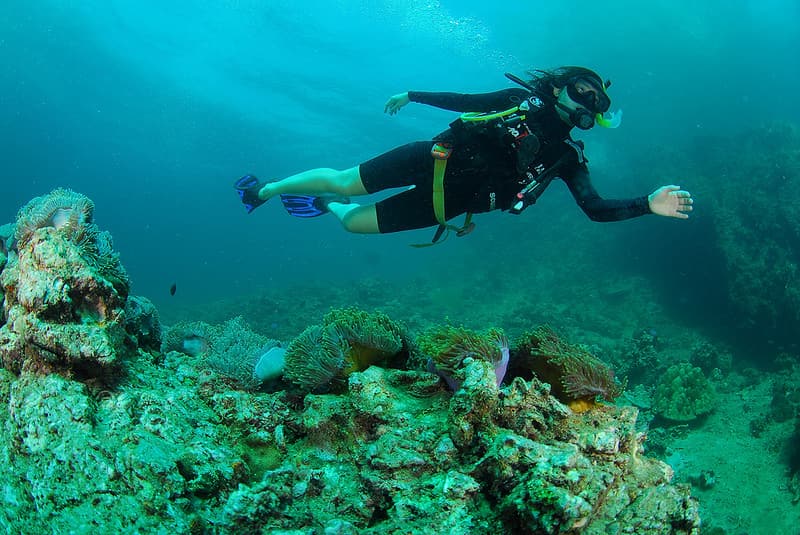 A diver takes to the clear waters of Indonesia. Credit: Photo by bhinddalenes
Diving Between Parties on Gili Trawangan, Lombok
I actually did my PADI Advanced Open Water course on Gili Trawangan – the biggest island in a chain of three off the coast of Lombok and a bit of a party place (Tip: Don't dive after a night at the Irish bar, it's not fun at all, trust me!). The best company to dive with in Gili Trawangan is Dive Central Gili. It's brand new with two teal boats, sparkly new equipment and their instructors have been hand-selected from around the area, so you know you're getting the best of the bunch. Say hi to the owners Sumeena and Sandesh from me!
Where to stay: Scallywags Resort is a firm favourite on Gili Trawangan. It's right on the strip and close to the best bars and restaurants. The pool is great for cooling off away from the beach and the food is always excellent. 'Scallys' serves my favourite breakfast on Gili T.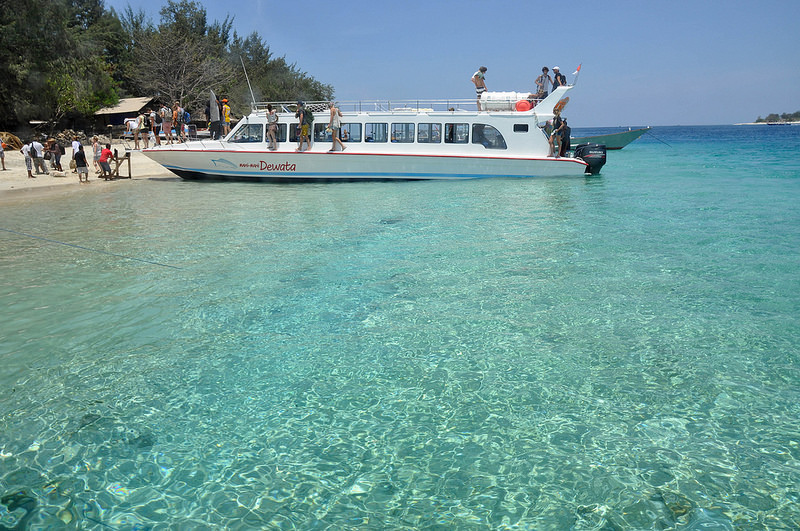 Tourists arrive at the popular Gili Trawangan, Lombok. Credit: Photo by Jorge Láscar
Diving Shipwrecks in Amed, Karangasem
Amed sprawls along the east coast of Bali and is quieter than Gili Trawangan. I went with my boyfriend and we noticed it attracted more couples than rowdy backpackers. The guys at Baliku Dive Resort became great friends of ours as we dove the USS Liberty wreck at Tulamben, waving at clown fish, sweetlips, bumphead parrotfish and sea turtles along the way – you tend to bond when you see such wondrous things all day.
In May, something magical happens in Amed. We dove with manta rays at their underwater 'cleaning station.' Ask Nico about it when you get to the dive shop and watch his smile light up.
Where to stay: Kebun Impian is a cute little guesthouse made up of only five rooms, so chances are you'll have the infinity pool overlooking the ocean all to yourself, just like we did. If you rent a scooter from the owners, you're just minutes away from the dive schools and lots of restaurants.
Muck Diving in Lembeh Strait, Sulawesi
Apparently a new species of marine life is discovered every six months in the Lembeh strait and with more than 60 dive sites around, I was keen to get involved with some muck diving to see what macro life I could spot. I saw all kinds of shrimp, big and small, as well as some freaky looking frogfish, but the highlight was the pygmy seahorses. There are some great coral reefs at the northern tip of Lembeh, too. We also saw sharks and mackerel around Batu Kapal.
Where to stay: Close to Mount Tongkoko, Bitung Port and Lembeh strait is Dabiraheat Lembeh Hills Resort, where you will be treated like a rock star. But even better, it has its own dive centre and will happily set you up. After our dives we were given fresh fruit and tea on the boat, which was a nice surprise. Rooms are spacious and the dive sites are just a short ride away.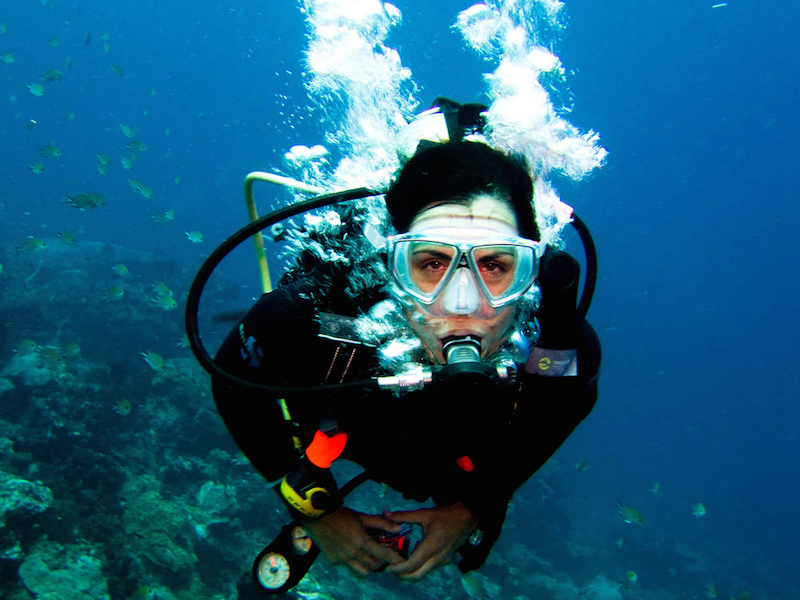 Smile for the camera! Scuba diving in Indonesia. Credit: Photo by Ilse Reijs and Jan-Noud Hutten
Diving Versus Surfing in Mentawai Islands, Sumatra
Surfers love the Mentawai Islands, but there's lots for divers to explore here, too, and being so close to Singapore (Bintan can be accessed by ferry), these islands could be a great place to start your scuba diving adventures. I saw some stunning macro life around some of the Riau Archipelago dive sites and also some pretty fish and coral around Padang on the west coast. For non-divers who want to keep their feet on dry land, there are lots of hikes through the jungle in these parts to keep you busy.
Where to stay: Aloita has the only dive centre in Sumatra's Mentawais and it had us swimming with blacktip sharks and barracudas. The resort is on a private island and its bar practically touches the stunning blue water! Scuba Travel are recognised as the leading experts on live-aboard cruises and worldwide diving holidays and it runs some excellent Sumatra trips.
Diving a Diver's Dream on the Raja Ampat Islands, West Papua
"Wow, wow, wow!" is all that came out of my mouth when a friend and I finally got to the glorious Raja Ampat Islands for a live-aboard diving cruise. Being right in the heart of the coral triangle, this marine park is known for hosting the biggest biodiversity of marine life on the planet, with almost 1500 species of fish and 75 per cent of all known coral species. We saw turtles, sharks, ghost pipefish, devil rays, batfish and more in some of the clearest water I've ever been diving in. Wow, wow, wow!
Where to stay: Raja Ampat Biodiversity Eco Resort on Gam Island takes no more than 12 guests at a time and it's total paradise. You'll eat with your fellow divers and enjoy exploring the jungle that slopes into the azure sea right by your hut. Better still, it's green in an eco-friendly way. Scuba Travel also sails to the Raja Ampat Islands. If you're lucky enough to get a place on a live-aboard trip with them, it will be worth the price. It was for me anyway. Pink seahorses the size of your fingernail, anyone?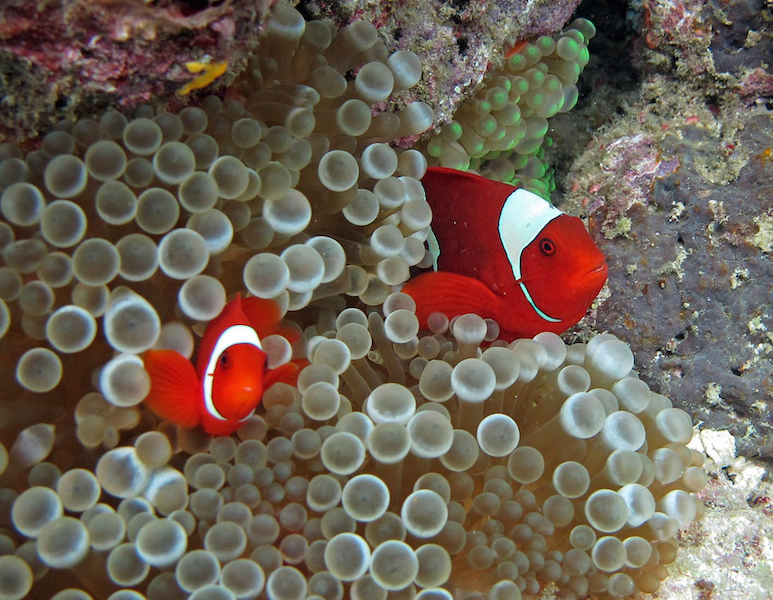 Nemo, aka a clown fish says hi in Raja Ampat. Credit: Photo by Lakshmi Sawitri/CC BY
What Does the PADI Course Involve?
Over the course of three days, I took a written test, did my first deep-water dive with a compass and then my first ever night dive. Incredible! We turned our lights off, swam through the neon bioluminescence in the blackness and felt like spacemen swimming through the stars. Don't forget, that was for my Advanced Open Water (I started diving in Jamaica several years ago!) Your basic Open Water will teach you the main skills – buoyancy control, breathing and so on, before introducing you to the ocean's shallow waters and a whole new world of wonder. I was instantly addicted.
How Much Does PADI Cost?
Prices to get your PADI Open Water or Advanced Open Water as well as other diving qualifications in Indonesia can vary from US$200 to US$400 and upwards, depending on your requirements. It's best to check with some dive schools in advance.
[tabs]
[tab title="Best Time to Visit" icon="entypo-light-up"]You can dive in Indonesia all year round, but the best time is May through September. Most live-aboard boat trips won't be running during the rainy monsoon season, which is from December to June.[/tab]
[tab title="Getting There" icon="entypo-address"]Malaysia to Bali: Air Asia and Malaysia Airlines fly directly from Kuala Lumpur International Airport to Denpasar (DPS) in Indonesia, from which you can travel anywhere in Bali and onto the Gili Islands by speedboat. Both airlines, as well as Garuda Indonesia, also offer direct flights to Jakarta's Soekarno-Hatta International Airport (CGK). Getting to North Sulawesi requires a single stopover flight with Garuda.
[/tab]
[tab title="Visa Requirements" icon="entypo-book"]Visitors to Indonesia receive a 30-day tourist visa on arrival, which you must pay for at the airport (US$50 in cash). A departure fee of IDR150,000 must be paid when you leave.[/tab]
[/tabs]
Image Credits: Under CC 2.0 license