By Expedia Team, on February 24, 2015
Makan Starter Kit: Hong Kong Must Eat Food
Hong Kong Must Eat Food
Dim sum and then some

Expedia: Asia's Food Havens – Starter Kit
In this series, Expedia highlights the best food to try in each city, as recommended by locals. Start here to find out the must-try popular local dishes that should be on every tourist's list. Plus the best restaurants or hawkers you should visit to try them.


Hong Kong Must Eat  Food #1 : Beef Brisket Noodles, Hong Kong
Slow-cooked beef and rice noodles in a bowlful of delicious broth made with Chinese spices.  A good beef brisket comes with juicy, thick chunks of beef that is so tender, it tears apart effortlessly with a light tug of your chopsticks. And when you've had a spoonful, the beef almost seems to melt in your mouth. Mmm-mmm!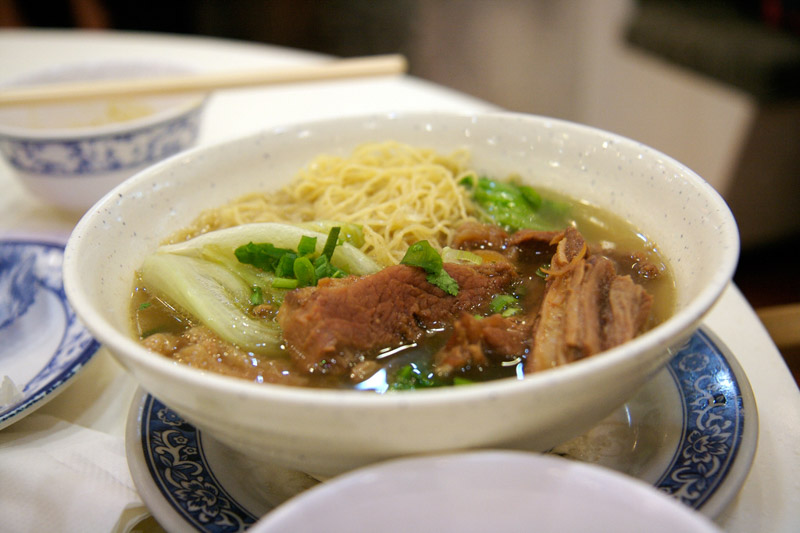 (Photo CC2.0: jay.tong) 
Next to the essential tenderness of meat, the broth is really the part of the Beef Brisket Noodles that delivers the hearty satisfaction; the stuff that makes it a great comfort food. This is where things get exciting for foodies who want to discover the best. Restaurants in Hong Kong serving Beef Brisket have different signature broths. So every bowl of beef brisket has a little something different — the perfect excuse to eat your way through all of Hong Kong's best beef brisket restaurants.
Clear or thick, the broths are all ridiculously tasty. Super satisfying.
Best Beef Brisket Noodles in Hong Kong: Kau Kee, Hong Kong
A renowned top contender for the best beef brisket noodles in Hong Kong, Kau Kee is a little shop that has been around for over 90 years. It's so good, people start queuing before the shop even opens for business in the morning!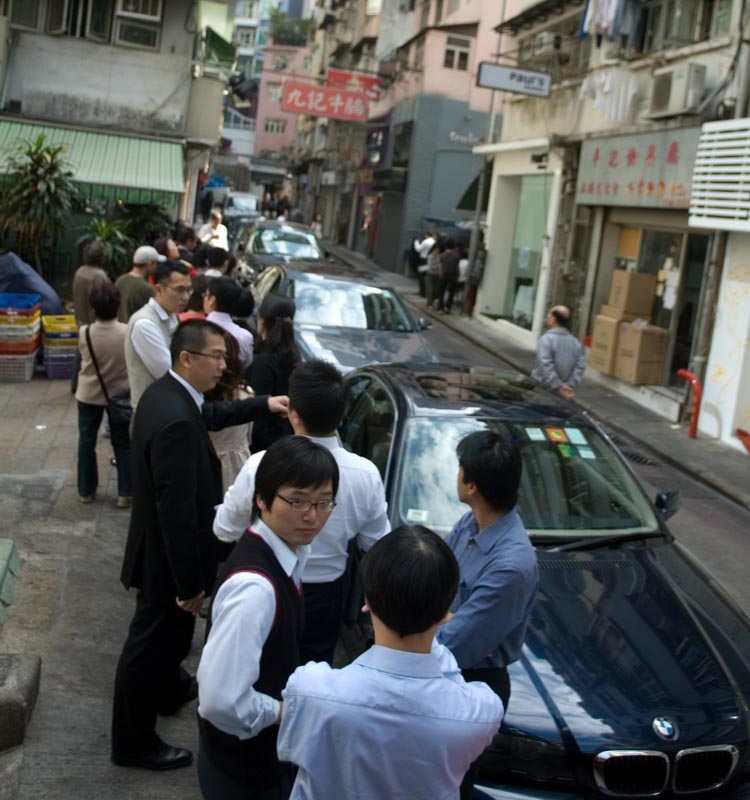 (Photo CC2.0: Jonathan Lim)
Don't expect any fancy service here. But flavor, you can count on. At Kau Kee, you can choose from different kinds of noodles to come with your bowl of original clear broth beef brisket noodles. If you prefer a fuller taste, go for the curry sauce version.
Kau Kee Restaurant
21 Gough St, Central Hong Kong
+852 2850 5967
Hong Kong Must Eat Food #2 : Egg Tarts
A yummy dessert snack, made of smooth egg filling in a flaky crispy pastry. You'll spot the inviting bright yellow peeking out of these browned pastry cups in bakery display windows all around Hong Kong. Best enjoyed hot out of the oven!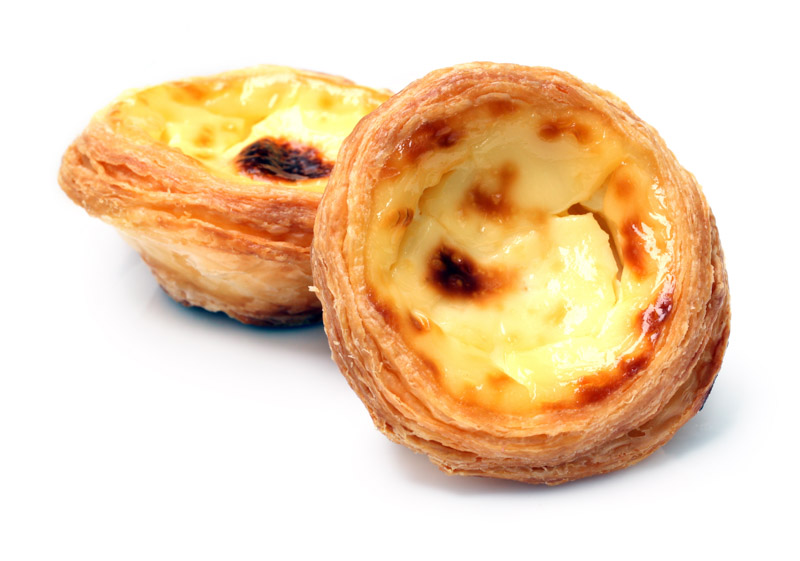 The eggy filling is firm enough to be a little bouncy to the touch, but once you bite in, it has an almost custard-like, soft consistency. The beauty of the egg tart is the balance between the smooth filling and the firm but flakey pastry crust.
As for flavour, Hong Kong egg tarts are generally light and buttery, with some tarts having a stronger egg flavor than others. They are also ever so slightly sweet.
Best Egg Tarts in Hong Kong:
Hard to pick the best! Foodies will enjoy sampling egg tarts from different bakeries to find the one that makes their tastebuds happiest. We suggest Tai Cheong Bakery (chain of stores), Hoover Cake Shop and Honolulu Café.
Tai Cheong Bakery 
G/F, 35 Lyndhurst Terrace, Central
(+852) 83008301
Honolulu Café
33 Stanley St.,Central Hong Kong
(+852) 2575 1823
Hoover Cake Shop
136 Nga Tsin Wai Road, Kowloon City
(+852) 2382 0383
Open daily, 6:30am to 11:30pm
Hong Kong Must Eat #3 : Dim Sum (at Tim Ho Wan)
Imagine the very best dim sum, at a restaurant that's been given the nod from the culinary experts, at a price that's easy on your pocket. That's Tim Ho Wan. High on any visitors list of Hong Kong food to try, is dim sum at Tim Ho Wan's Michelin Star restaurant.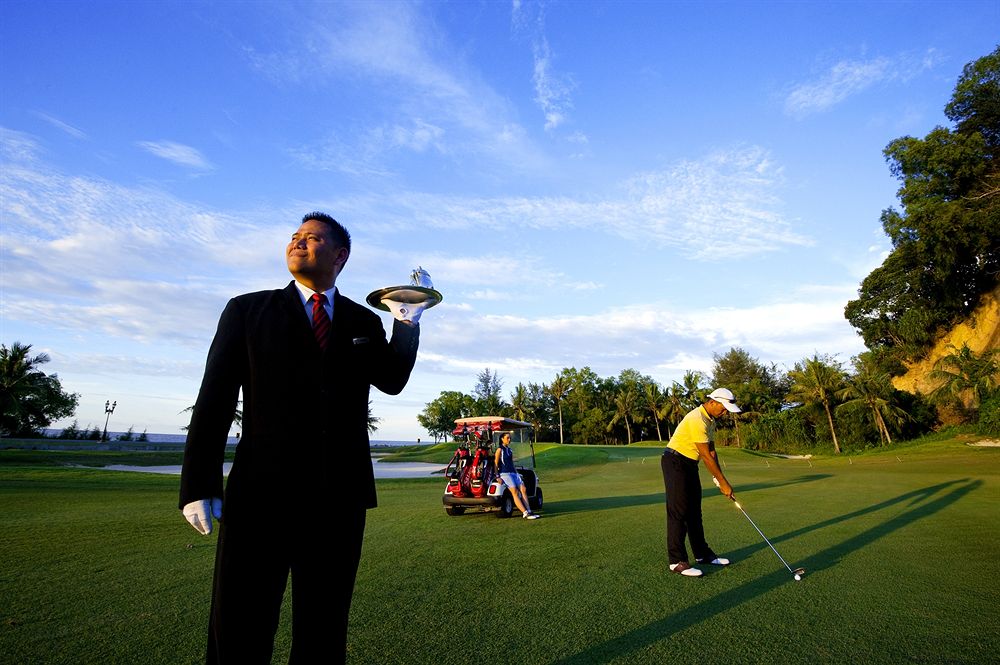 (Photo: Courtesy of Joyce Lim)
Run by the former dim sum chef at the highly-rated restaurant of Four Season's hotel, Tim Ho Wan offers first-rate food at affordable prices. Despite being a no frills restaurant, the original Tim Ho Wan in Mong Kok was awarded 3 Michelin stars. So you can imagine the dim sum here is genuinely delicious and completely rewarding to the tastebuds. There are now several branches of Tim Ho Wan in Hong Kong and around the region.
Queuing is practically unavoidable due to the sheer popularity of this restaurant and all its branches. But for the quality of food at their prices? Totally worth it.
Try: Baked bun with bbq pork, steamed egg cake, vermicelli roll with pig's liver, pan fried carrot cake, char siu pineapple bun, polo char siew bao, beef ball with bean stick, Malay sponge cake, cheung fun (steamed rice rolls).
Tim Ho Wan branches
G/F, 9-11 Fuk Wing Street, Sham Shui Po, Kowloon
Tel 2788 1226
Open daily, 8am-9.30pm
Shop 72, G/F, Olympian City 2, 18 Hoi Ting Road, Tai Kok Tsui
Tel 2332 2896
Shop 12A, Hong Kong Station (Podium Level 1, ifc Mall), Central
Tel 2332 3078
Open daily, 9am-9pm
G/F, 2-8 Wharf Road, Seaview Building, North Point
Tel 2979 5608
Open daily, 10am-9.30pm

Find Out More About Asia's Best Food Cities
Jump to Cities: Bangkok | Hanoi | Hong Kong | Osaka | Penang | Seoul | Singapore | Taipei
---
Travel Asia from Plate to Plate
Made just for foodies, Expedia's travel deals now helps you travel to Asia's Greatest Food Cities for less. Save on flights and hotels when you travel to any of these 8 cities before May 2015. Check out the latest deals to carve your own food trail through Asia. Happy belly, happy traveller.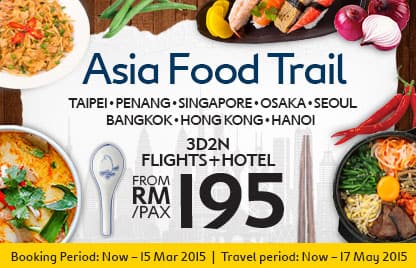 [button style='blue' url='https://www.expedia.com.my/g/u/asiafoodcitiescampaign' fullwidth='true'] Travel Deals for Asia's Food Havens[/button]]