By Expedia Team, on March 6, 2018
The Hidden Food Gems in Melaka
Aside from having a pleasant vibe, gorgeous colonial structures and multicultural landmarks, Melaka also offers travellers with choices of mouth-watering food. Heavily influenced by the Peranakan style that is a mix of Chinese and Malay,Malacca dishes can genuinely satisfy anyone's taste bud. Here are some of Malacca's food gems that you have to try when you are visiting this amazing UNESCO World Heritage city.
Experience Melaka's best kept food secrets
Jonker 88
You will never run out of things to explore in Jonker Street with rows of coffee shops, food stalls, confectionaries and souvenir shops on both sides of the alley. But if there is only one place that you can visit, it has to be Jonker 88! Arguably the best place to experience the taste of Nyonya cuisine and dessert in Malacca, Jonker 88 still keeps its old-school interior and facade.
Although people have been saying that quality has dropped as compared to those times in the 1990s, the food is still of a high standard. Tourists and locals still flock this place to get their hands on Nyonya Asam laksa, baba laksa, yong tau foo and rendang.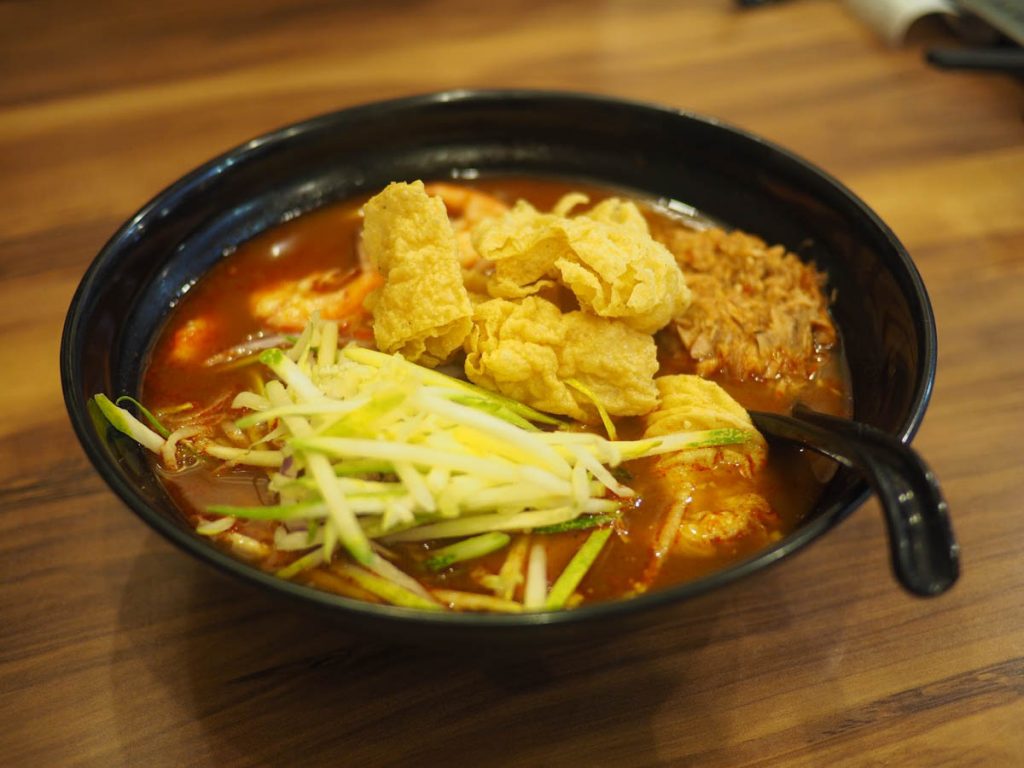 My favourite will be the Nyonya Asam laksa with its tangy and spicy broth, topped with some shredded cucumber, prawns, egg, and beancurd skin. Many people love the "mixed" baba laksa kahwin Nyonya Asam laksa with its combination of coconut milk and tangy broth. Another must-order here is the chendol that is served with the famed thick and gooey gula Melaka. It will be a shame to leave Malacca without trying their signature gula Melaka!
[tabs]
[tab title="Where to find it" icon="entypo-address"]
88, Jalan Hang Jebat, 75200 Malacca
Open daily 09:00 – 18:00 (Friday & Saturday until 21:00)
[/tab]
[/tabs]
Pin Pin Hiong
Tucked away just a few blocks behind the famous Jonker Street, this little corner shop sells unbelievably delicious Hainanese food. The quaint shop was bustling with locals when we visited them on a weekday morning, just right after the shower stopped. The recommended items here are the mee sua and pork chop, and we can't agree more! The mee sua immersed in the light peppery broth is a typical comfort food that I will look for. The fried shallot oil and liver slices also added a much-needed flavour to the clear soup. Lots of tables ordered a plate of omelette too, something that we will order on our next visit here!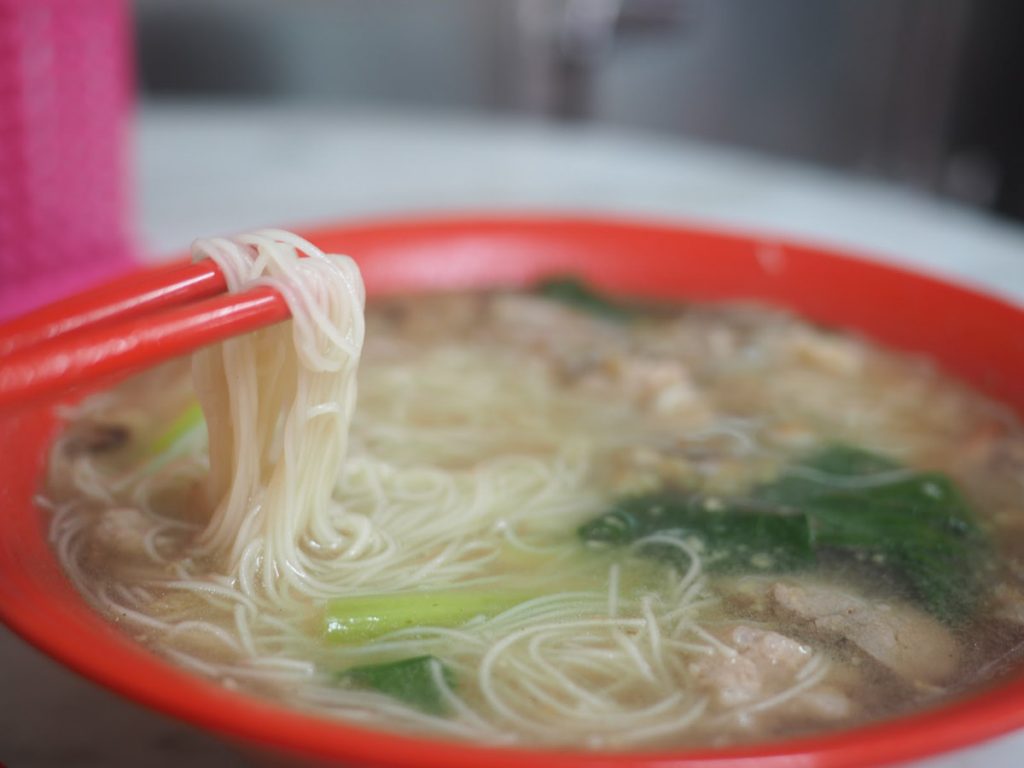 You might have to wait a bit for the food to arrive, as it is made upon order and the owner does all the cooking by himself, but I believe this is the secret of keeping the taste up to the standard.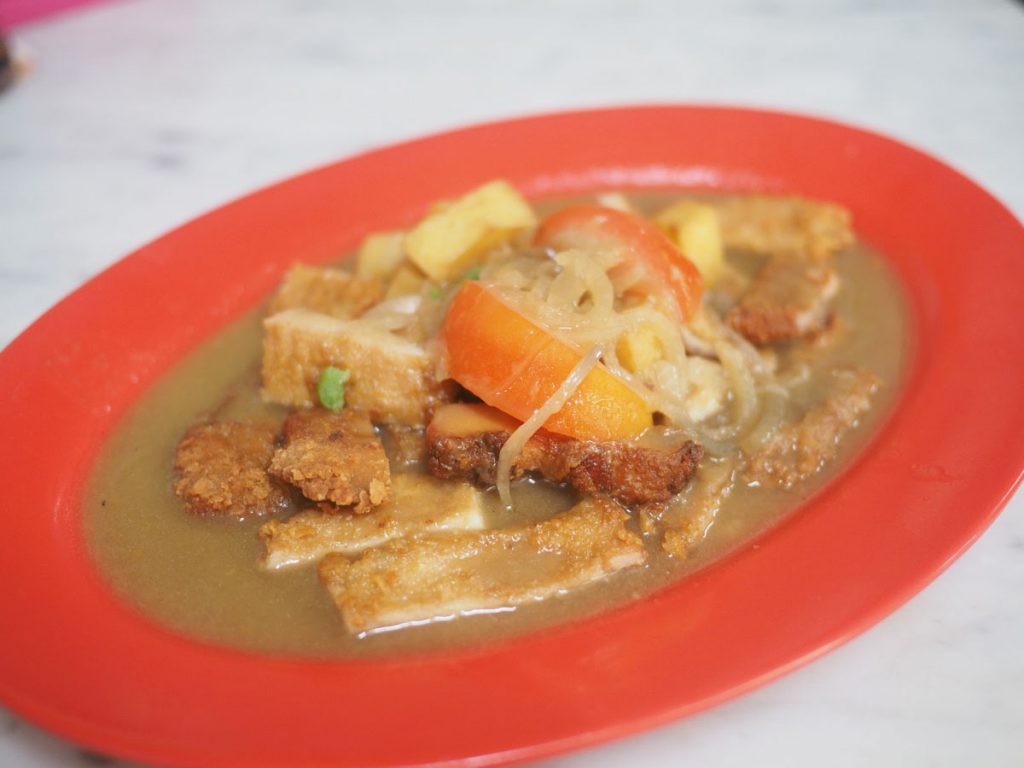 [tabs]
[tab title="Where to find it" icon="entypo-address"]
786, Lorong Hang Jebat, 75200 Malacca
Open daily 07:30 – 14:00
Closed on Sunday
[/tab]
[/tabs]
Loh Yong Moh Restaurant
Located just across Sri Poyyatha Vinayagar Moorthi Temple just behind Jonker Street, this hidden gem is one of the oldest dim sum shops in Malacca, having stood there for 70 years. The egg custard bun which is generously filled is definitely a must-try, although I feel it can get a tad too sweet over time. Another item I will recommend is their century egg porridge that was silky smooth and fragrant. Take note that this place is so popular that they will run out of items by around 10 or 11 am — so head there early!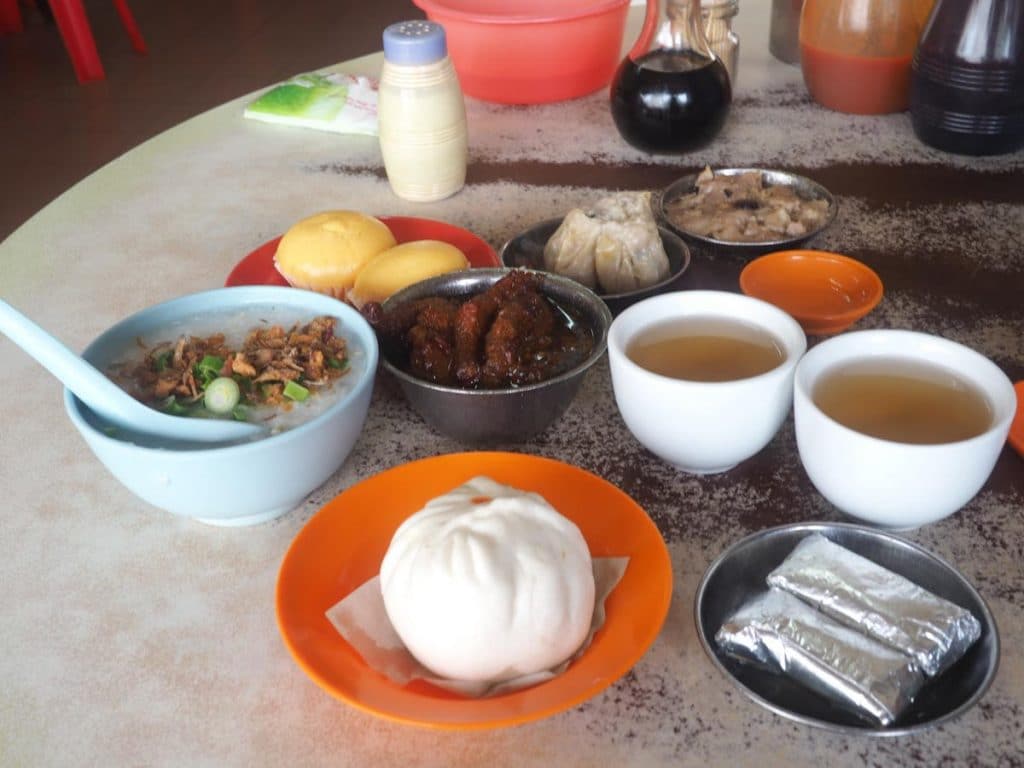 [tabs]
[tab title="Where to find it" icon="entypo-address"]
32, Jalan Tukang Emas, 75200 Malacca
Open daily 05:30 – 13:00
Closed on Tuesday
[/tab]
[/tabs]
Lung Ann Refreshments
Hidden at one corner the small alleys behind Hang Jebat is this quiet coffee shop, where you can find one of Malacca's best satay. They serve pork, intestine, liver and chicken satay coupled with ketupat (rice cake) and peanut sauce. Their satays are somewhat savoury and salty, perfectly paired with the slightly diluted pineapple and light peanut sauce.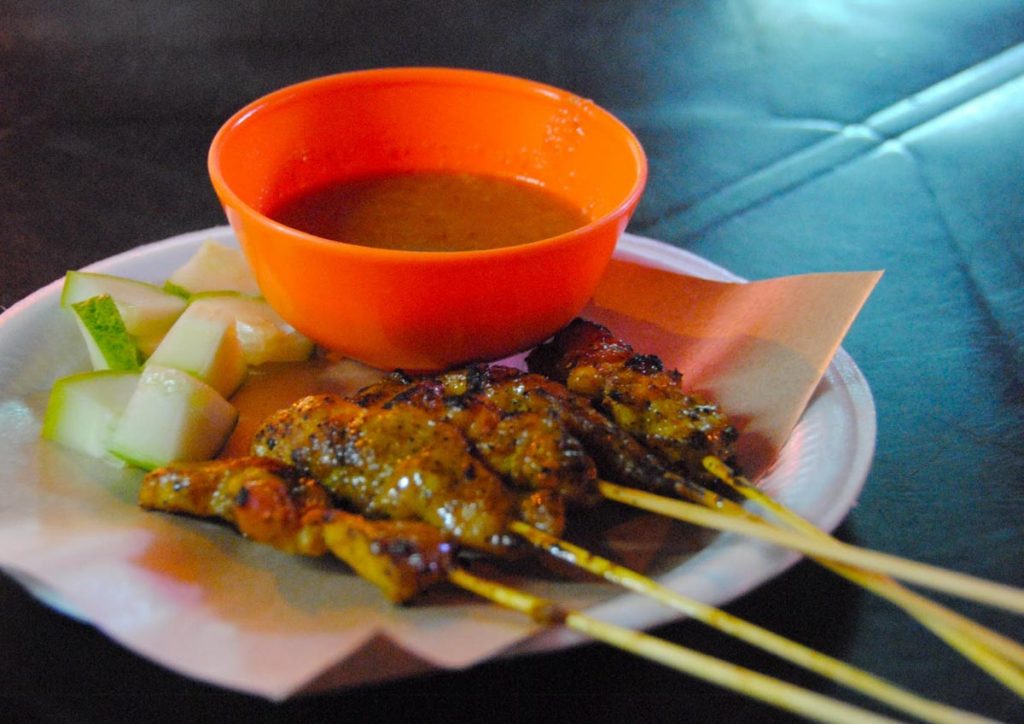 CC BY 2.0 – LWYang
The kaya toast served here has also gotten very stellar reviews from many people. Do give it a try when you are looking for a simple yet delicious breakfast set to kickstart your day!
[tabs]
[tab title="Where to find it" icon="entypo-address"]
93/807, Lorong Hang Jebat, 75200 Malacca
Open daily 11:00 – 16:00
Closed on Thursday
[/tab]
[/tabs]
Hajjah Mona Asam Pedas
Hajjah Mona Asam Pedas is possibly one of the best-kept food secrets of Malacca. Hidden in a residential area a short distance away from Jonker Street, this Asam pedas eating place is a favourite local hanging out place, especially for the youth to have dinner or late night supper.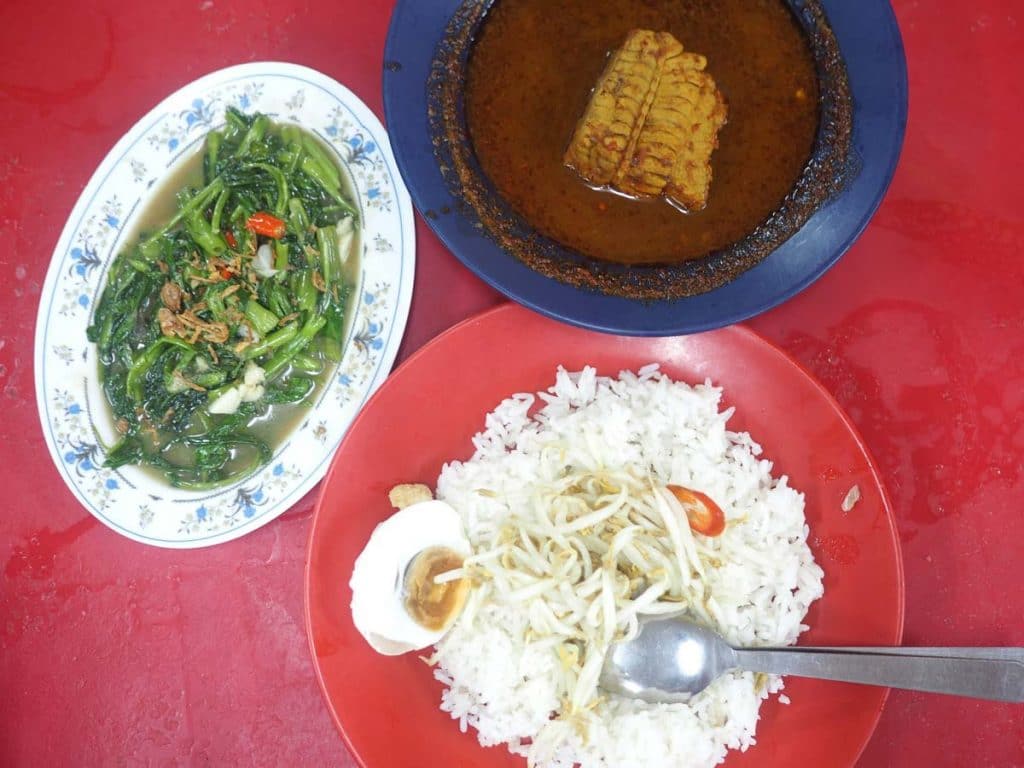 Although they serve wide-ranging menus such as fried rice, noodle and fried chicken, almost everyone comes to eat the Asam pedas dish. They have mackerel, beef or stingray Asam pedas selection for you to choose from. The place and the food might be simple, but the taste is undoubtedly delicious. Complete your meal with some vegetables and eggs, as well as iced tea to quench the spiciness of the gravy!
[tabs]
[tab title="Where to find it" icon="entypo-address"]
6, Jalan Laksamana 2, Taman Kota Laksamana, 75200 Malacca
Open daily 17:00 – 05:00
[/tab]
[/tabs]
Jonker Street Food
Not exactly a shop, restaurant or cafe, but you can't say you have been to Malacca without eating the street food! Variety of food being sold is astonishing: dim sum, ice cream, seafood, fried kway teow, carrot cake, sushi, nuts, fried potato, noodle, laksa, okonomiyaki, and the list goes on. Just grab whatever food that smells and looks delicious, and then sit down to enjoy the food while watching the open karaoke session. Don't be too greedy in getting the food because there are plenty for you to try! Take note that they are only open on weekend night, so plan your trip well.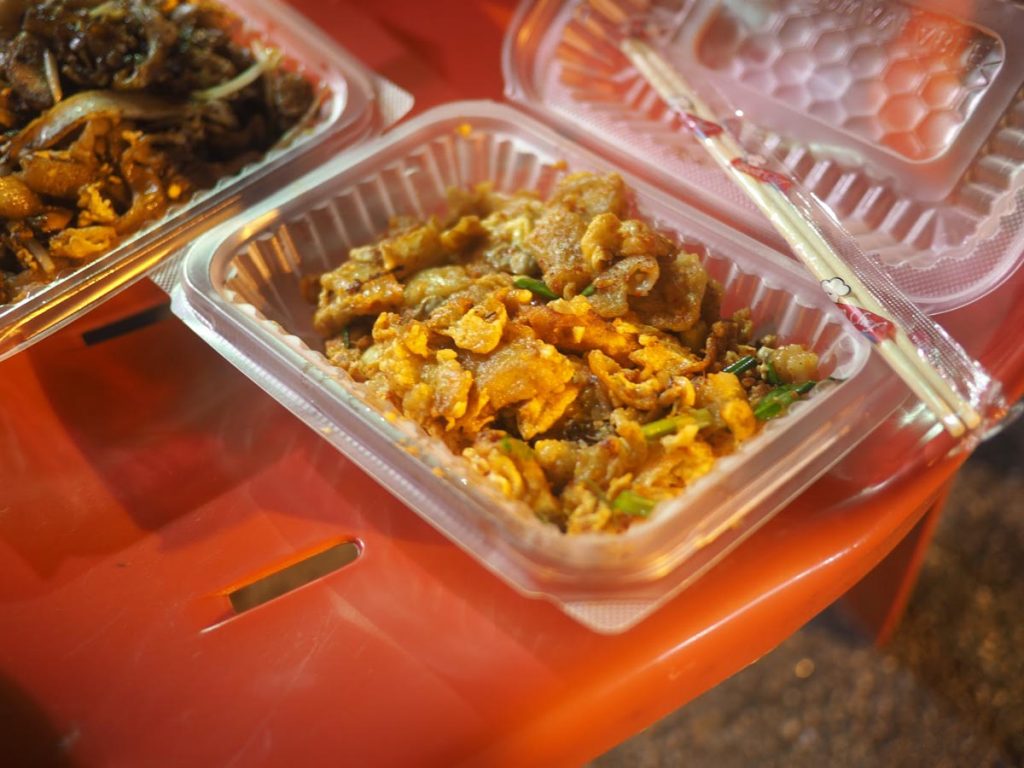 [tabs]
[tab title="Where to find it" icon="entypo-address"]
Jalan Hang Jebat, 75200 Malacca
Open on Friday, Saturday and Sunday evening
[/tab]
[/tabs]
Bonus: Huskitory
Located around 20 minutes away from Malacca town centre is Malaysia's first husky cafe! There were about 15-20 huskies when I went there a few months ago, and reservation is a must, due to the high popularity of the cafe.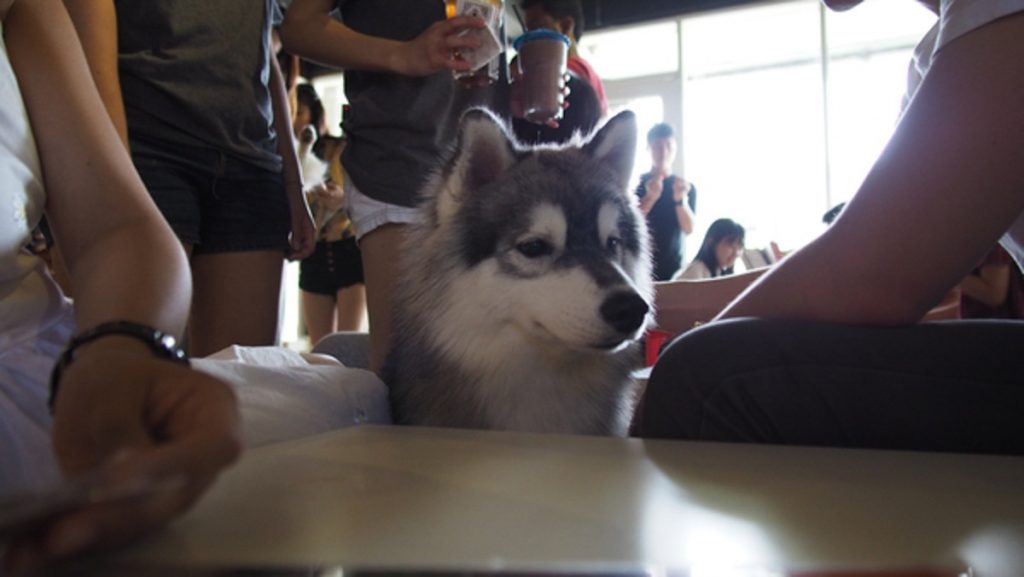 Entry is charged on per pax basis, and it comes with a free drink. I will recommend two slots — 5-7 PM or 8-10PM — because each slot includes 1-hour indoor and 1-hour outdoor session. The huskies will play freely outside, giving you a different experience from the indoor time slot. Huskitory also has cakes and finger foods such as fries, nuggets, onion rings for you to order, but better finish your food fast before the dogs are unleashed or else they will be rushing over to your snacks.
I admit the main stars here are the dogs and not the food, but a different food experience deserves a try, especially if you love dogs!
[tabs]
[tab title="Where to find it" icon="entypo-address"]
27, Jalan Taman ASEAN, Taman ASEAN, 75250 Malacca
Open daily 12:30 – 22:30
Closed on Monday
[/tab]
[/tabs]

How to get there?
If you are taking a bus, the bus will drop you off at Melaka Sentral Bus Terminal. From there, to reach the heart of the historical area, take public bus # 17 to Dutch Square (the Red Building). Otherwise, there are many Uber and Grab drivers in Malacca, and the fare is relatively affordable especially if you are travelling in a group of three or four. Alternatively, fly to Malacca to save you time and the hassle of a bus ride!

Where to stay in Melaka?
To get the most out of Melaka, you will want to be as close to Jonker street as possible. Not only Jonker street is near most of the attractions, but many hidden food gems are also scattered around the area as well!
If you are on a tight budget, I would recommend Monkey Motel & Cafe, which gives great value without breaking your bank.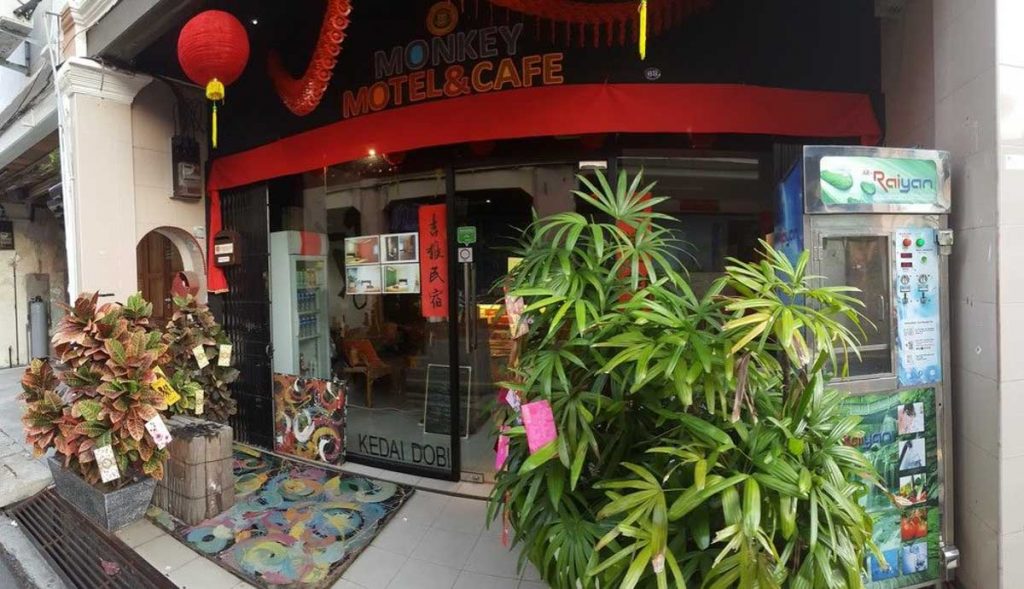 Monkey Motel & Cafe
However, if you don't mind spending a bit more, Modern Cave Boutique Stay is a good choice for its cosy and modern interior that will make you feel at home!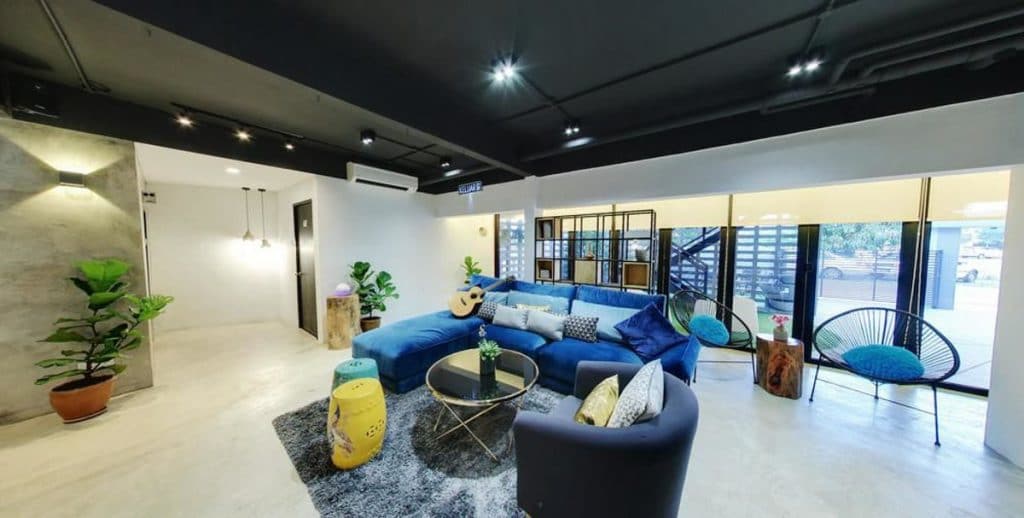 The lounge at Modern Cave Boutique Stay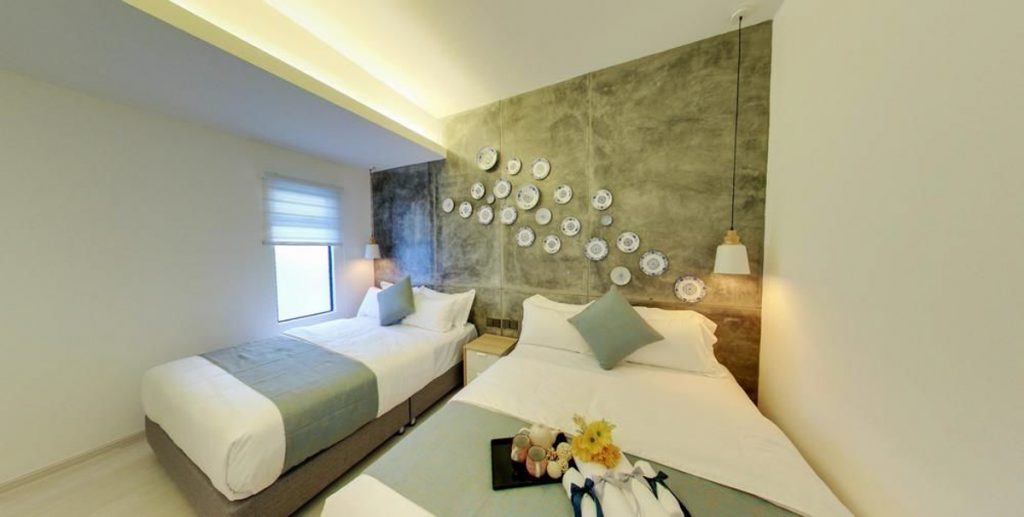 The room at Modern Cave Boutique Stay
Still not sure what to eat in Melaka? This list has helped you shortlist some Melaka famous food and cafe. Time to embark on a Melaka food trip with your loved ones!
[button url='https://www.expedia.com.my/Malacca-Hotels.d6131368.Travel-Guide-Hotels' icon='entypo-tag' fullwidth='true'] Check out Top Hotels in Melaka[/button]