By Expedia Team, on March 21, 2018
Cherry Blossoms 2018 – Sakura Forecast Dates – Japan, Korea and Taiwan
The best time of year to visit Japan is during the Cherry Blossoms season. 'Hanami' or cherry blossom viewing, is a pretty magical experience as you wander through tree groves under the bloom of delicate petals of the sakura (cherry) and ume (plum) trees. The magic of hanami can also be experienced in Taiwan and Korea, where the blossoms are equally pretty. The soft colours start appearing at specific spots across each country at different times, so travelling across the cities to chase the cherry blossoms trail is a popular way to plan a trip in March-April. Here are the 2018 cherry blossoms forecast dates for Japan, Korea and Taiwan.
---
SAKURA 2018 IN JAPAN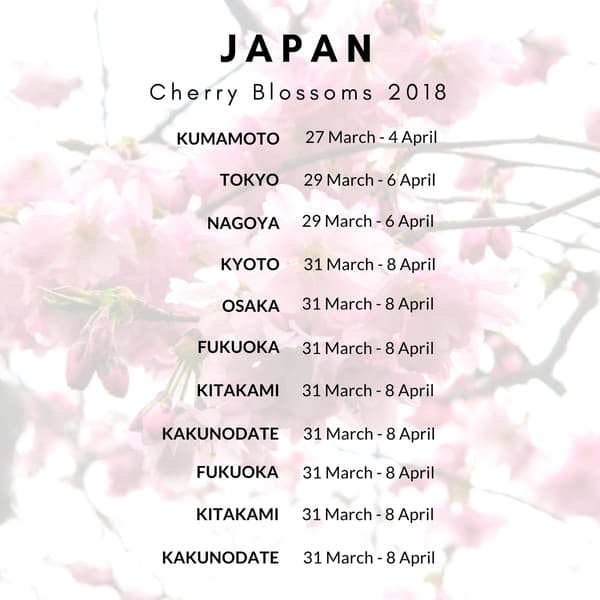 2018 Cherry Blossom Forecast Dates for Sakura in Japan
Best Viewing Spots in: Nagoya – Kyoto – Nara – Osaka

Yamazakigawa Riverside, Nagoya
Hailed as one of the top 100 cherry blossoms spots in Japan, Shikinomichi (Four Seasons Road) has hundreds of sakura trees stretching along the river for almost a kilometre.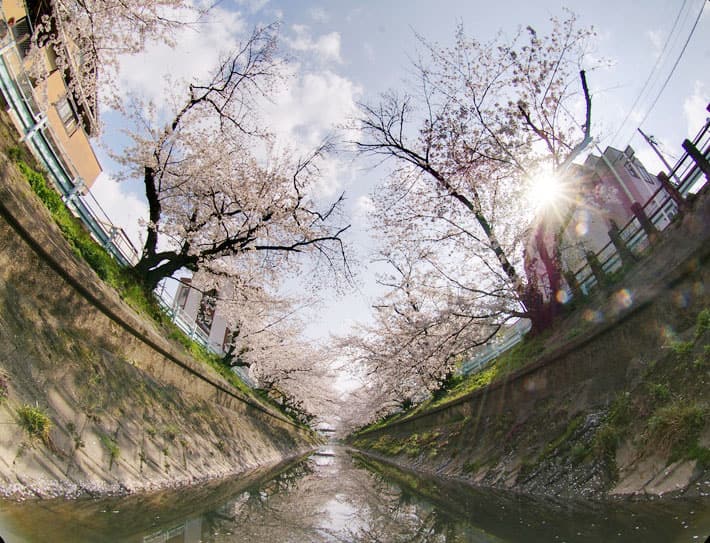 Cherry blossom trees along Yamazaki Rive / Masakazu Matsumoto / CC BY 2.0
Philosopher's Path, Kyoto
The 2-kilometre path connects Ginkakuji and Nanzenji Temples, and you can enjoy the cherry blossom trees along the canal while hopping between the two temples.
Nara Park, Nara
The home to 1,200 deer, Nara Park, is also a popular hanami spot with 1,700 cherry blossom trees. You can have a picnic under the sakura tree while playing with the free-roaming deer in the compound.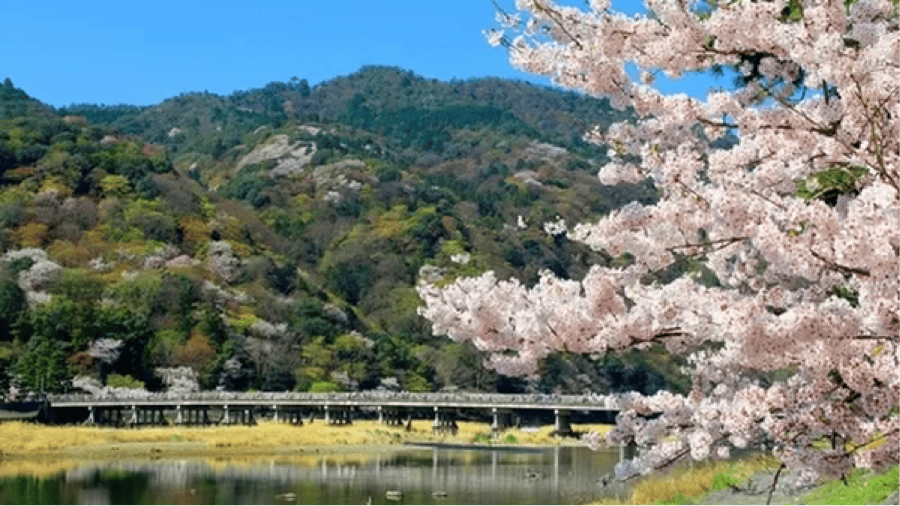 Osaka Castle, Osaka
You can find more than 4,000 cherry blossom trees in the Osaka Castle compound, giving Osaka Castle a solid pink hue during spring. If you are there at night, visit the Nishinomaru Garden to get the illuminated view of the sakura trees and Osaka Castle.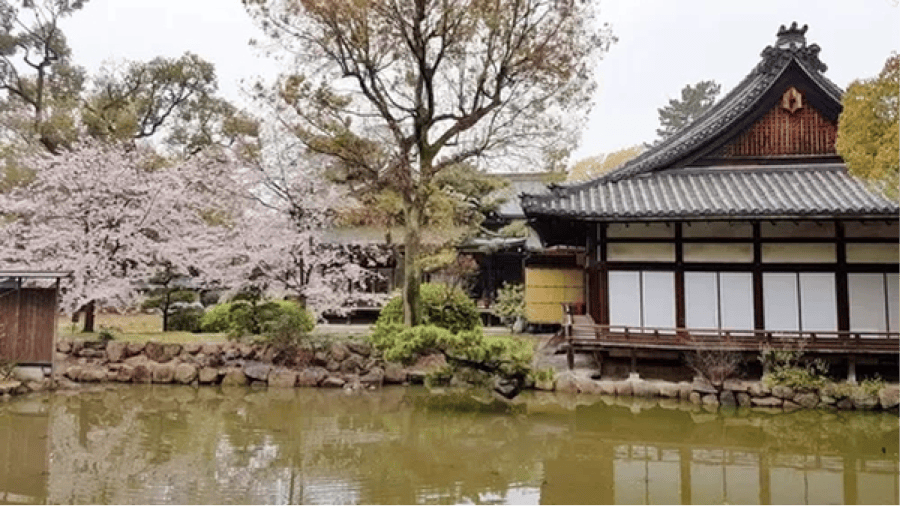 Best Sakura Viewing Spots in: Kitakami – Kakunodate

Tenshochi Park, Kitakami
With mountain range on the background and the meandering pathways, the sakura trees here are too pretty to be missed.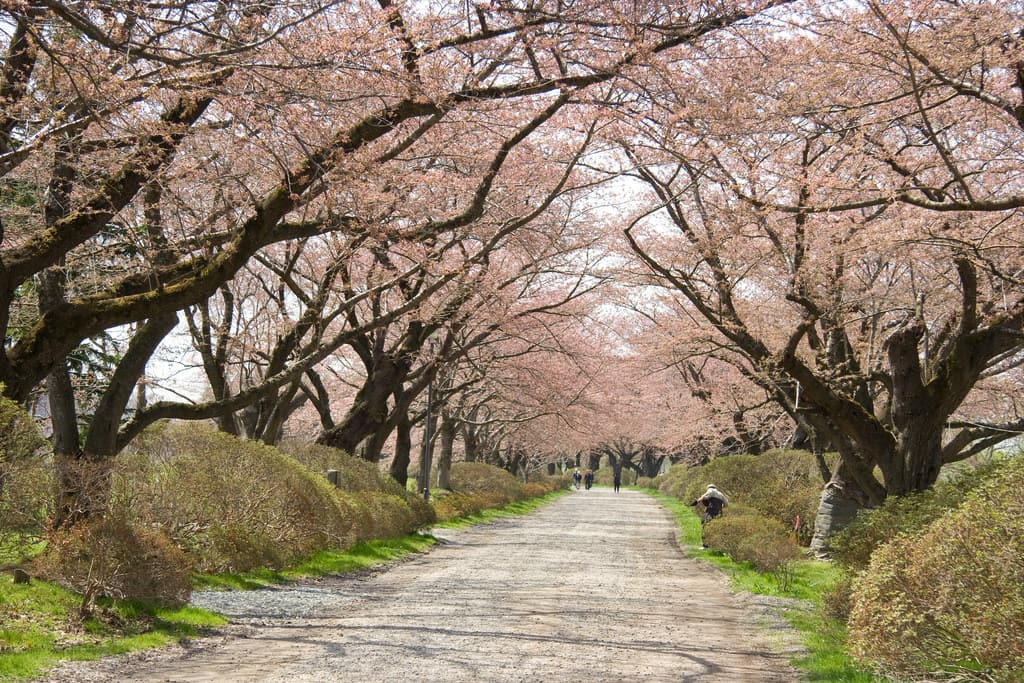 Tenshochi Park / Kimon Berlin / CC BY-SA 2.0
Samurai District, Kakunodate
Kakunodate organises cherry blossom festival every year with rows of food stalls along the river bank. You can enjoy the sight of weeping cherry trees while enjoying some Japanese street food.
[tabs]
[tab title="Best Places to Stay" icon="entypo-suitcase"]
Best Places to Stay in Nagoya and Osaka
Hotel Wing International Select Nagoya Sakae is located in the heart of Nagoya — a stone's throw away from Nagoya City Science Museum, Yamazaki River and Nagoya Castle.
In Kyoto, pick a hotel in the central location such as Hotel Dorf Kawaramachi Nijo, a ten-minute drive away from Philosopher's Path and Maruyama Park.
To save your time at Osaka, stay at HG Cozy Hotel No.24 that is only a ten-minute-walk away from Osaka Castle so you can beat the crowd in getting the best hanami spot at Osaka Castle.
[/tab]
[tab title="Best Places to Stay" icon="entypo-suitcase"]
Best Places to Stay in Kitakami
Toyoko Inn Kitakami-eki Shinkansen-guchi is located near Kitakami Riverbank, and you can get to Tenshochi Park within 15 minutes. There's also the popular Michinoku Folklore Village located nearby.
While the Samurai District is quite far from the heart of the city, you can stay in Hotel Route-Inn Omagari Ekimae. Its location is strategic for you to conquer a few cities nearby such as Daisen, Yokote, and Yuzawa, and to reach the Samurai District in 30 minutes by car.
[/tab]
[/tabs]
---
CHERRY BLOSSOMS 2018 IN SOUTH KOREA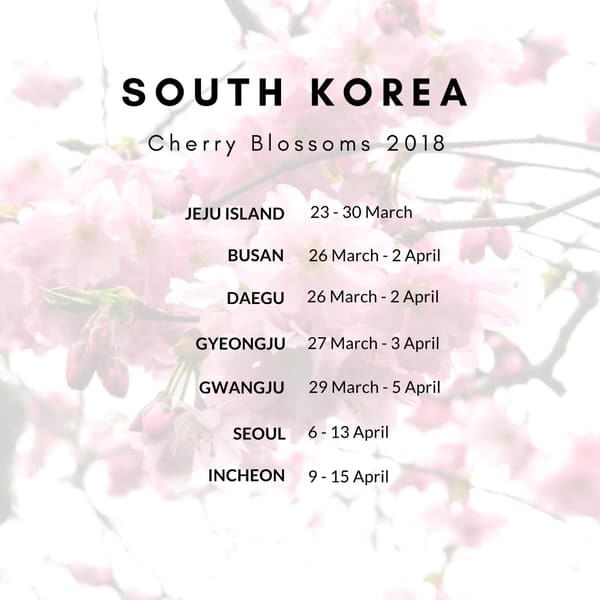 2018 Cherry Blossom Dates for Sakura in Japan
Best Sakura Viewing Spots in: Jeju Island

Anywhere on the island! It's hard to pick one best viewing spot in Jeju Island because you will be able to see the endangered King Cherry Tree bloom at almost every corner of the island. Head to Seogwipo's downtown area to enjoy the annual Cherry Blossom Festival, filled with lots of food and performance.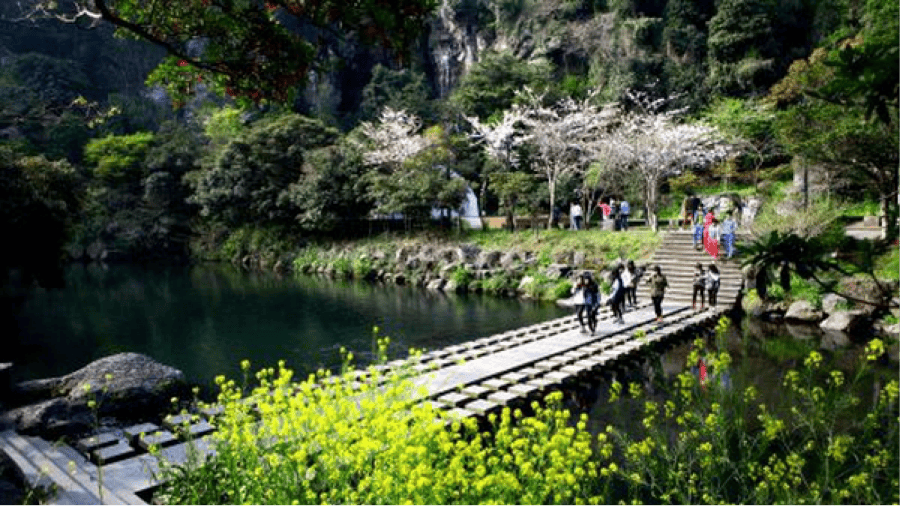 Best Sakura Viewing Spots in: Seoul – Incheon
Yeouido Spring Flower Festival, Yeouiseoro Street
Yeouido Spring Flower Festival is the biggest cherry blossom festival in South Korea with more than 18,000 sakura trees along the Han River. There are also a lot of events lined up for you throughout the festival.
Seokchon Lake Cherry Blossom Festival
Looking for a romantic walk to remember? Seokchon Lake is surrounded by hundreds of cherry blossom trees, which you can enjoy while circling the lake. You will also be able to stop at the Lotte World Magic Island along the way to get some rest from the walk.
Best Sakura Viewing Spots in: Busan and Gyeongsangnam-do

Igidae Park, Busan
Unlike typical sakura-viewing spots, Igidae Park offers you cherry blossom trees and crashing waves at one go — what a magical combination to welcome Spring!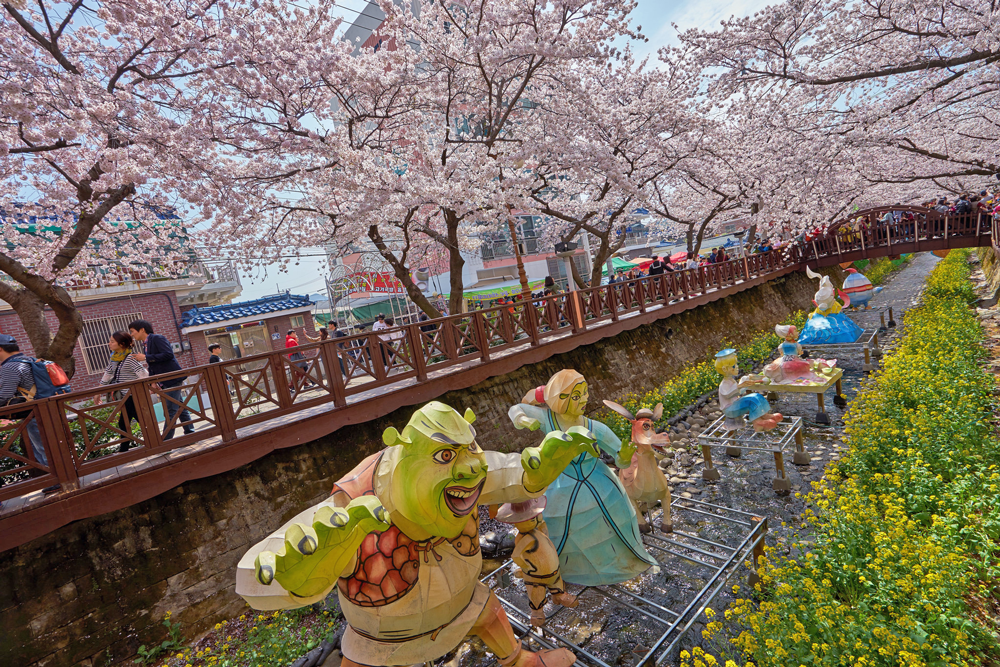 Jinhae Gunhangje Festival 2015 / Ryan-so / CC BY-NC 2.0
Jinhae Cherry Blossom Tunnel, Gyeongsangnam-do
Located at Anmingogae Hill, the famous Jinhae Cherry Blossom Tunnel is 6-kilometre long with lots of benches for you to take a breath and enjoy the scenic view of the cities below. Don't miss out the biggest spring festival in South Korea, the Jinhae Gunhangje Festival in the downtown area of Jinhae.
[tabs]
[tab title="Best Places to Stay" icon="entypo-suitcase"]
Best Places to Stay in Jeju
Ocean Palace Hotel is located right smack in the Seogwipo downtown area but is also close to the sea — a great place to get a bit of both city bustle and calming sea.
[/tab]
[tab title="Best Places to Stay" con="entypo-suitcase"]
Best Places to Stay in Seoul
Where is a better place to stay other than at Lotte Hotel World, right across the lake? Request for a room that is facing the lake to enjoy the pink curtain of cherry blossom petals from your window all the time.
[/tab]
[tab title="Best Places to Stay" icon="entypo-suitcase"]
Best Places to Stay in Busan
Le Idea Hotel in the Nam-gu area is possibly the nearest hotel to Idigae Park, taking you around 40 minutes by public transports.
A great option to stay in Jinhae-gu is Jinhae Pasta Hotel, which is close to the Jungwon Rotary area, the heart of the Jinhae Cherry Blossom Festival.
[/tab]
[/tabs]
---
CHERRY BLOSSOMS 2018 IN TAIWAN

Best Sakura Viewing Spots in: Nantou, New Taipei City and Beitou – Taiwan

Sun Moon Lake, Yuchi Township
The Sun Moon Lake is surrounded by many sightseeing spots where you can catch the cherry blossom trees, such as National Chi Nan University and Ita Thao Lakeside Trail. Each cherry blossom tree is illuminated at night, making it a romantic spot to have a picnic.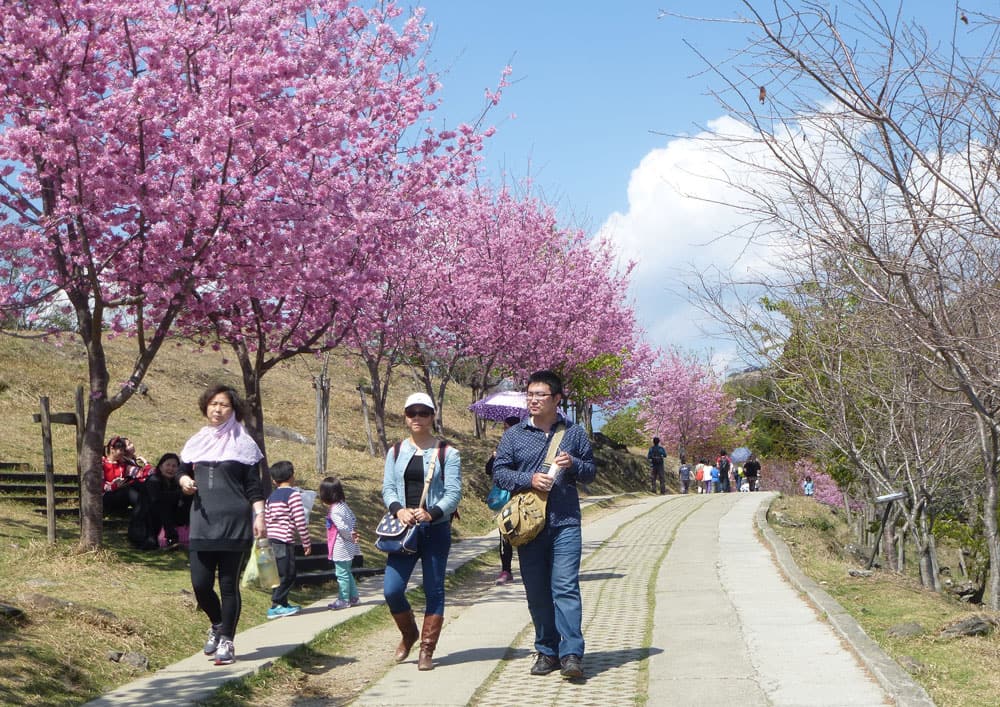 Jacques Beaulieu / CC BY-NC 2.0
Cingjing Farm, Ren'ai Township
Don't miss out the 500-m long Sakura Trail when you are here. The hill-top view is magnificent, especially with cattle strolling along the way. It gives you a different sight to the usual cherry blossom!
Best Sakura Viewing Spots in: New Taipei City – Beitou
Wulai Scenic Area, New Taipei City
The mountainous village is known for its natural hot springs, letting you rejuvenate in the cold chilly Spring weather of Taiwan. Wulai Scenic Area is filled with different types of cherry blossom trees so that you will get multiple shades and sizes of pink petals here!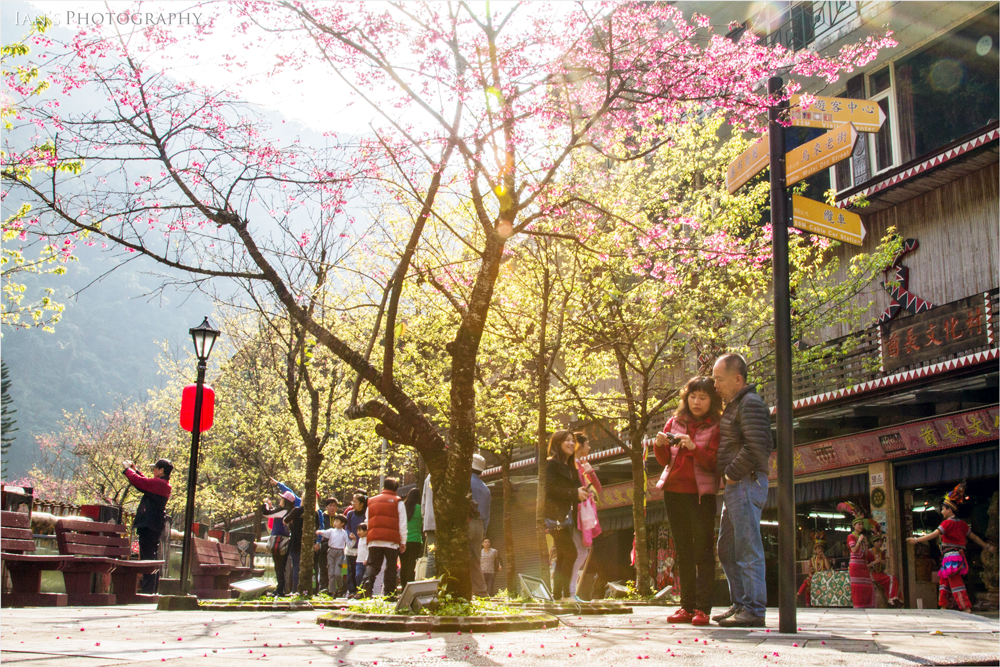 Wulai Scenic Area during spring. Photo Credit: Ian Chen / CC BY-ND 2.0
Yangmingshan National Park, Beitou
Yangmingshan National Park is possibly the most popular spot to catch full-bloom cherry blossom trees in Taiwan. You can find lots of cherry blossom trees across the 114 square metres mountainous area, together with natural hot springs and Taiwan's tallest dormant volcano, Seven Star Mountain.
[tabs]
[tab title="Best Places to Stay" icon="entypo-suitcase"]
Best Places to Stay in Nantou
Lealea Garden Hotels is just right beside the entrance to Ita Thao Lakeside Trail, so you can stay very close to the cherry blossom trees while enjoying the beautiful Sun Moon Lake.
Immerse yourself in the scenic view of Ching Jing farm and abundance of cherry blossom trees by staying at Ching Jing Homeland Resort Villa.
[/tab]
[tabs]
[tab title="Best Places to Stay" icon="entypo-suitcase"]
Best Places to Stay in New Taipei City
Beauty Garden Hotel is a great option to stay in the Wulai Scenic Area as it is right in between the natural hot springs and Wulai Waterfall.
Located right in the middle of the mountainous area, The Mountain Star gives you easy access to Yangmingshan National Park and Beitou Hot Springs.
[/tab]
[/tabs]

Tips for Cherry Blossom Viewing:
1) Always check the forecast of the sakura blooming dates. Japan has Sakura Navi – Forecast 2018 that also helps you navigate your way through the cherry blossom trees in Japan.
2) Bring umbrellas because some cities are still experiencing wet weather during this period.
3) If you want to visit a few cities during your trip, check whether there are transport pass available for tourists. In Seoul and Jeju Island, for instance, you can get an MPASS Card that allows you to take 20 rides daily in the two cities. There are also JR Pass in Japan and THSR Pass in Taiwan.