By Expedia Team, on January 26, 2018
Best Nyonya Food in Melaka
A trip to Melaka is incomplete without indulging in one of the best local cuisines — the Nyonya cuisine or the Peranakan cuisine. Nyonya food dates back to the early Chinese descendants who had migrated to Melaka, Penang and neighbouring countries of Southeast Asia. The food has mixed cultural influences derived from the Malay and Chinese. I learnt about the Nyonya cuisine and must-try(s) during my trip to Melaka.
My travel buddy and I were so excited to try the food that we simply dropped our bags at the hotel, put on our sunglasses, and got ready to walk and explore one lane at a time.
Foodie Alert! Amazing Nyonya Dishes to Try in Melaka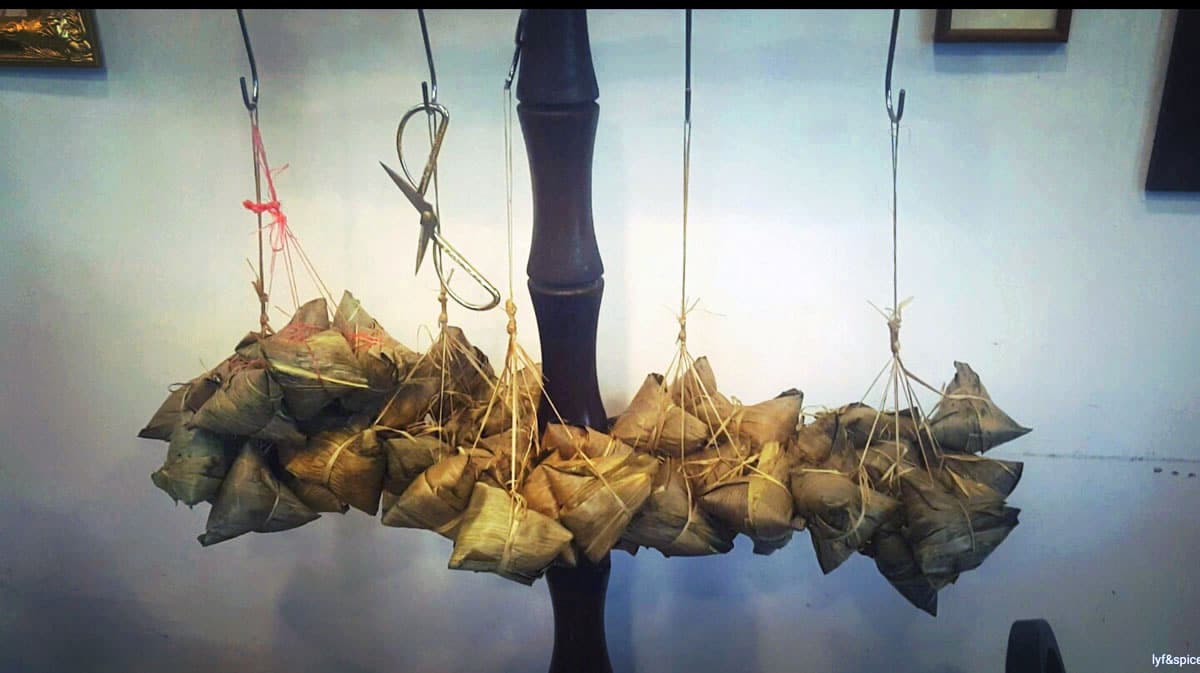 A bunch of glutinous rice wrapped in palm and pandan leaves./ lyf&spice 
Pongteh
This delectable delight is nothing but Nyonya chicken made with potato stew. This heart-warming bowl of broth is the best you will ever find in Melaka. The chicken stew is made with salted or fermented soybeans, crushed garlic, and a little bit of gula Melaka. These condiments infused a bold flavour into the broth and gave our tastebuds a distinct after-taste. The dish is incomplete without soft boiled or sautéed potatoes. If you are thinking of comfort food like us, pongteh is definitely what you should order in Malacca.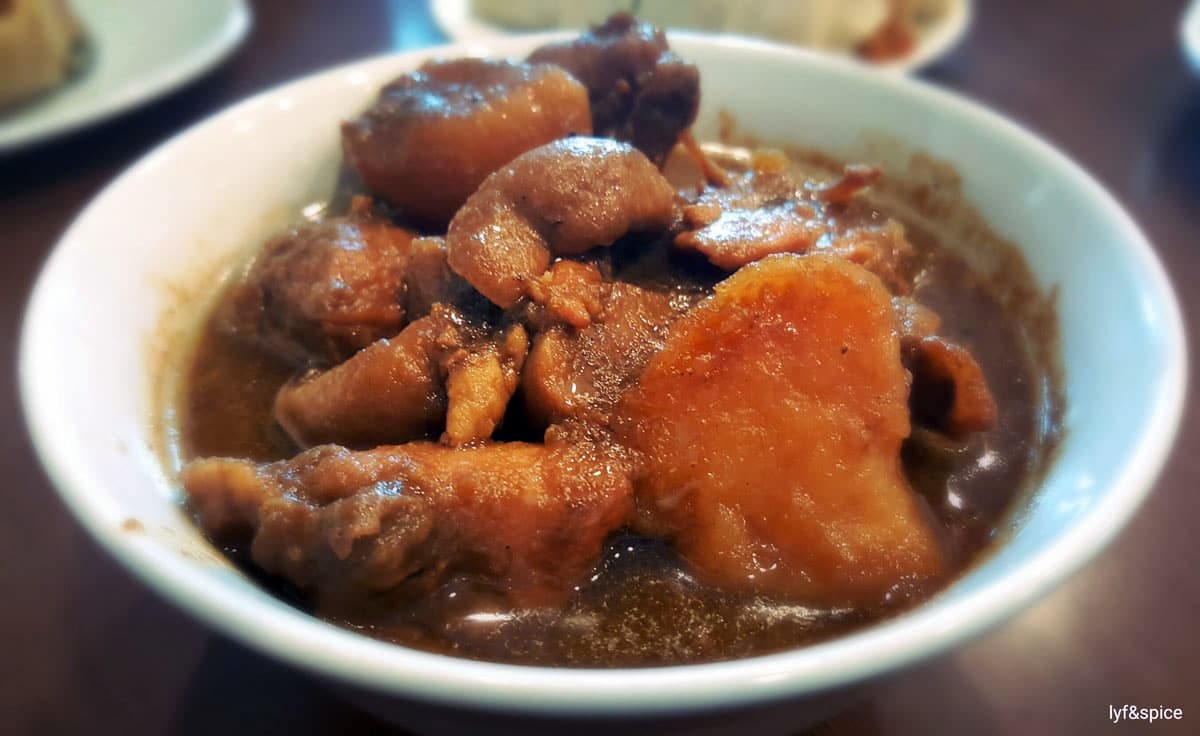 Delicious Ayam (chicken) Pongteh / lyf&spice  
Nyonya Laksa
Laksa is synonymous with Malaysia, but the one in Melaka comes with a twist. Malacca-style laksa comes with a Peranakan touch. Think of a bowl of hot noodle soup, where the rice noodles are dipped in the soup made with coconut milk and meat stock. The dish is so fragrant that you will salivate by just smelling the scent when the laksa is being prepared. Take note that Nyonya Laksa can be a tad spicy for some, so order a non-spicy version if you are not into spicy food. The bowl is usually loaded with various toppings such as hard-boiled egg, prawns, fish balls, and bean curd puffs.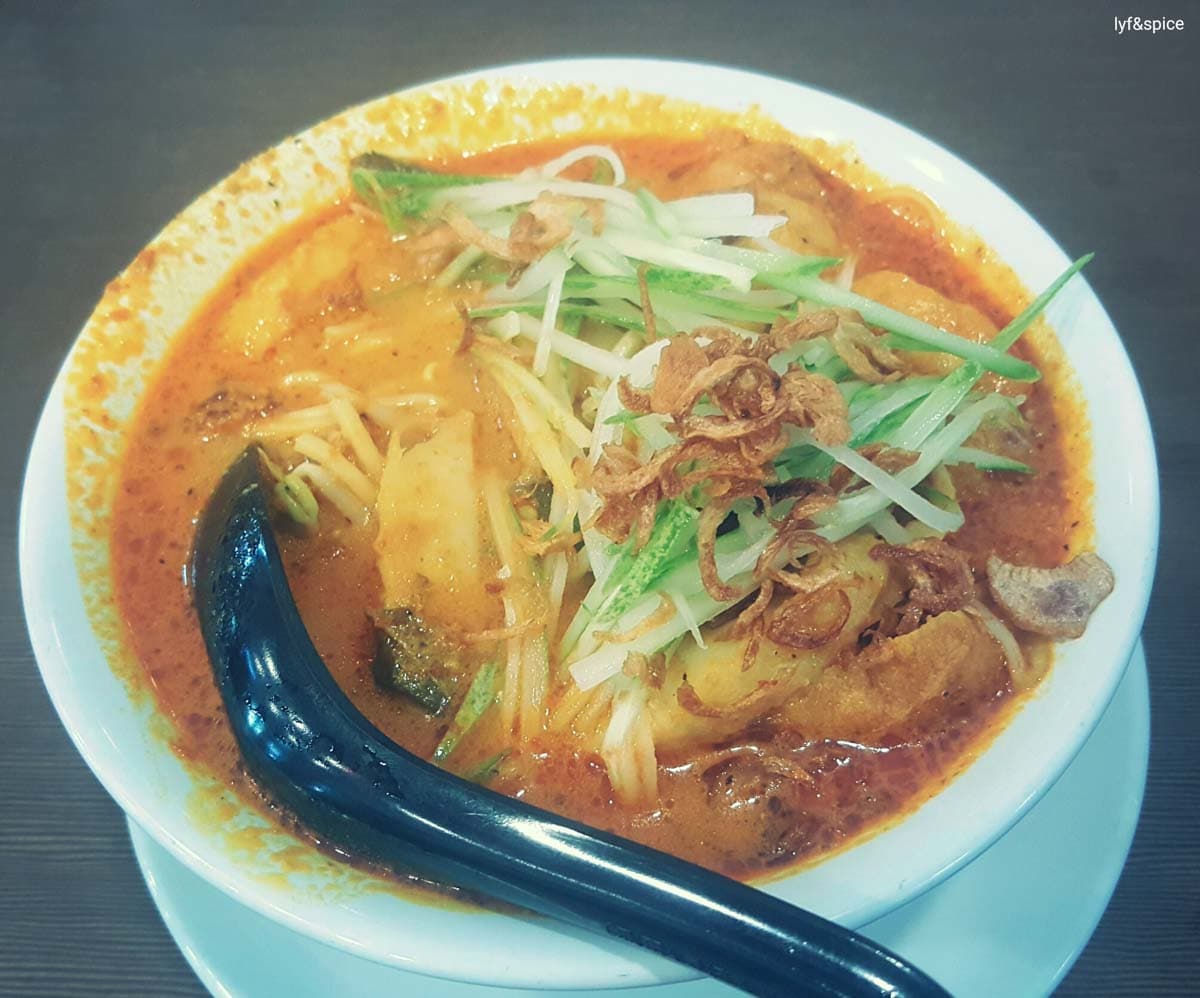 Traditional Nyonya Laksa – spicy and tasty. / lyf&spice 
Bibik Cendol
This delicious dessert is made of green cendol jelly and shaved ice. The different toppings include red beans, fresh fruits, ice cream, sweet corn, jellies, fruit extracts and many more. Giving in to our sweet tooth, we asked for an extra dollop of ice-cream. What differentiates bibik cendol from the rest of the cendol around Malaysia is the big ladle of gula Melaka poured on top of the mountain of shaved ice. It is a relief to eat this cold treat on a hot day.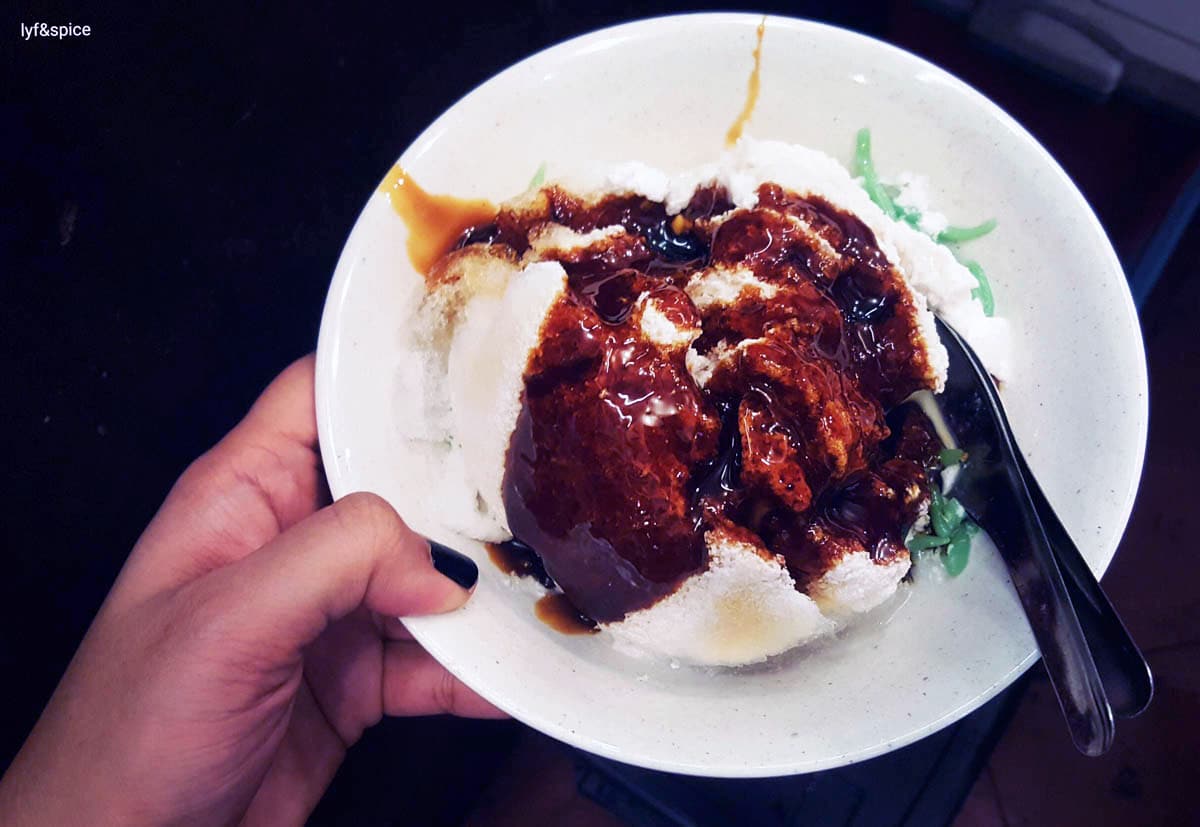 Bibik Cendol with a huge ladle of gula melaka (palm sugar). / lyf&spice 
Ayam Buah Keluak
While travelling, we like to keep our food a little light, so that we can walk around easily. Another reason is to save some space in our stomach so we can try as many foods possible within the short amount of time. Whenever I'm in Malacca, I will make time and space to get the tastiest braised chicken curry here. I normally get it in the evening after a round of river cruising. Besides the chicken or ayam variant, it was also available in pork or babi too. The dish makes use of the buah keluak seeds that have to be broken open. Buah keluak is also known as the truffle of the Eastern cuisine as the earthy flavour reminds a lot of food connoisseurs of black truffle. Brown sugar, lemon, shallots and garlic are also added to the braised chicken. Buah keluak may not be for everyone, but you should try this at least once in your lifetime!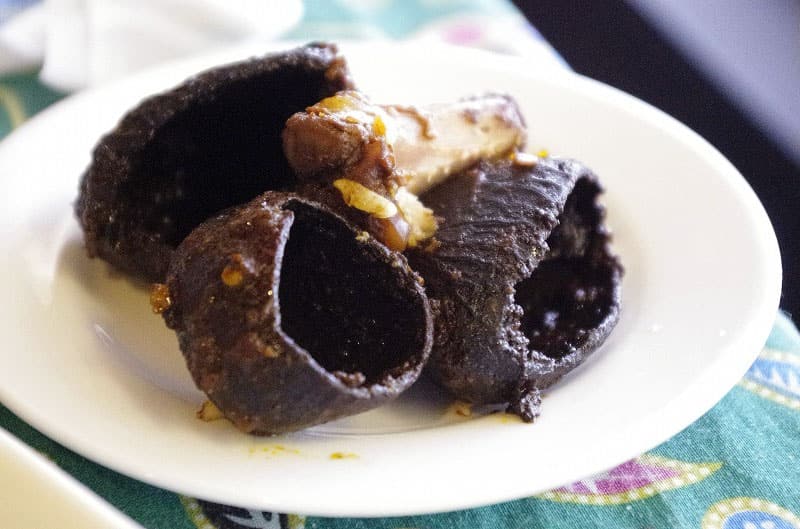 Ayam Buah Keluak. Photo credit: CC BY-SA 2.0/Tomoaki INABA
Nyonya Chang
The next morning, after a breakfast of chicken dumpling, custard bao and chicken feet amidst the assorted platter, we had sticky dumpling made of white and blue rice. Nyonya chang was essentially glutinous rice dumplings packed in pandan leaves with lots of coriander powder in them. They were stuffed with minced mushrooms and chicken. Some places offer pork belly as the stuffing as well!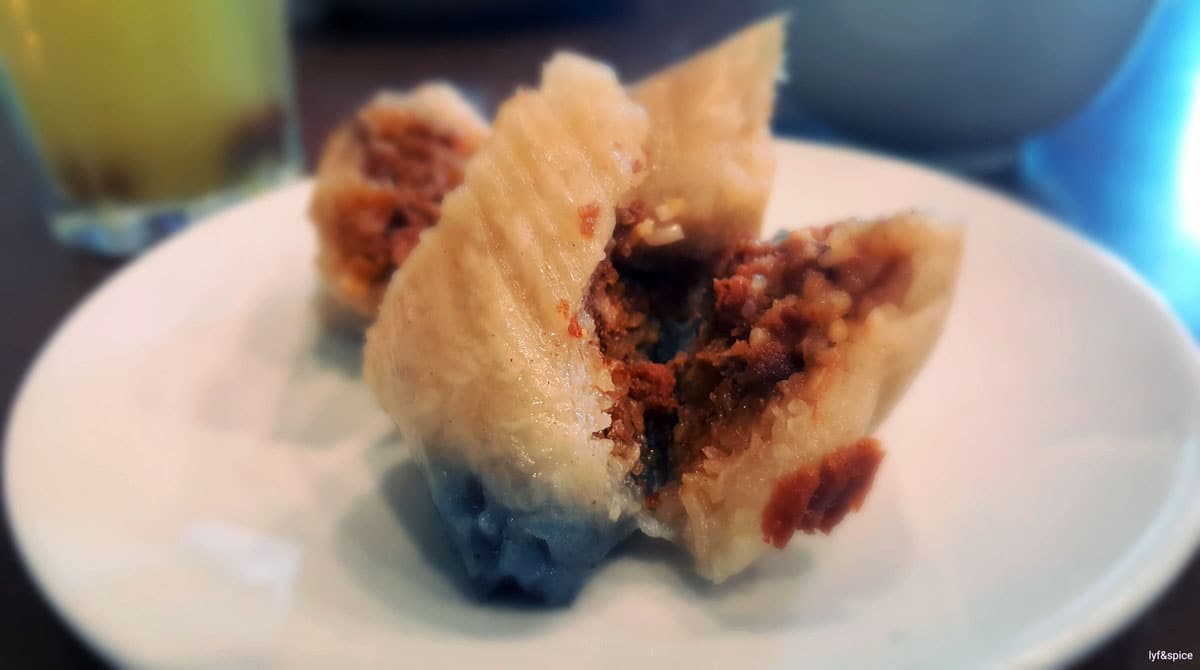 Nyonya Chang with a mix of blue and white glutinous rice. / lyf&spice 
Kari Kapitan
Upon talking to the locals, we realised that there is a famous Nyona dish called kari kapitan or captain's chicken curry. We indulged in a bowlful and whiffed its spicy aroma. The dish made of chicken, lime, turmeric and onions was so flavour-packed that we kept lurking around for more. It is generally served with lots of curries and is best had with rice, chapati or roti jala so you can wipe the bowl of curries clean!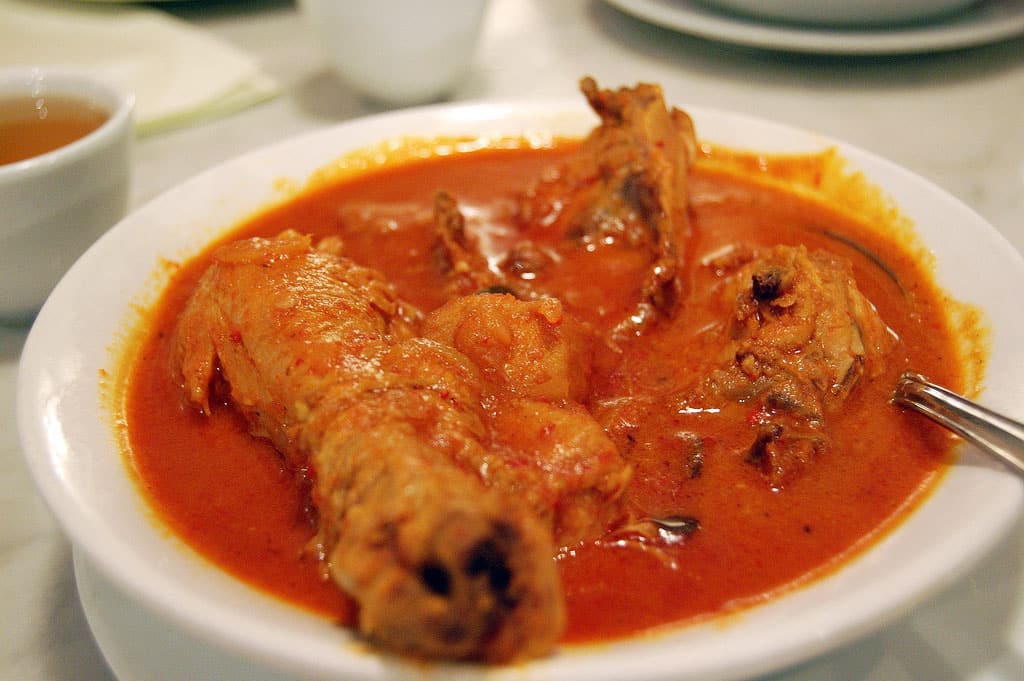 Kari Kapitan. / CC BY 2.0 / chee.hong
You can easily find these food items at Jonker Street and Nyonya speciality restaurants across the city. Some of the famous ones are Nancy's Kitchen, 486 Baba Low, Jonker 88, and Bibik House Cendol.
We booked our stay at Holiday Inn Melaka owing to its proximity to the city centre, malls, walking street and night market. We chose a jetty-facing view, and boy, it was so lovely!
Melaka is a beautiful historic city that is also well-known for its delicious Nyonya food. Going to Melaka is covering the best of both worlds — history and food, so what else are you waiting for?
[button url='https://www.expedia.com.my/Malacca-Hotels.d6131368.Travel-Guide-Hotels' icon='entypo-suitcase' fullwidth='true']Check out Hotels in Melaka now![/button]