By Expedia Team, on March 24, 2016
48 Hours: Okinawa Itinerary
48 Hours Guide – Okinawa itinerary of the top things to do and places of interest to visit over 2 days in Okinawa, Japan.
Tokyo might be the first thing that comes to mind when tourists plot their Japan trip, but there really is so much more to the Land of the Rising Sun. A less popular but equally fascinating destination is Okinawa, Japan's southernmost prefecture. It consists of several dozen small islands, including Okinawa Island, where Naha, the capital city of the prefecture, is located. Looking to make a quick stop? If you've only got a weekend trip to Okinawa, here are our top picks on what to do and see over a 2 day Okinawa trip.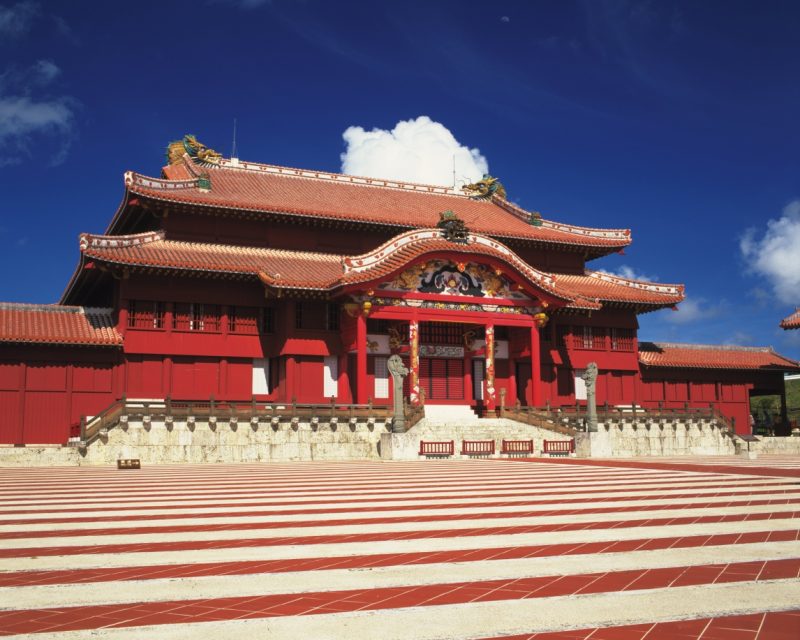 Okinawa Trip – Day 1 in Naha
Morning
Upon arrival, have your first taste of local Okinawa food  at Naha Airport before heading out to explore Naha city.
With its wide range of luxury brands all at duty-free prices, T Galleria Okinawa is a must if you're looking to get some shopping done.
Afternoon
Afterwards, visit the famous Shurijo Castle Park, where you can experience a little bit of Ryukyu culture by trying on traditional costumes, getting your photo taken, and spending an hour or two touring the historic landmark, which was designated a world heritage site in 2000.
Ladies who do decide to don the traditional Japanese attire might also like to spend an hour getting their hair and make-up professionally done to go with their costumes. Pretend you're a member of the royal family from an old Ryukyu kingdom as you wander through the castle.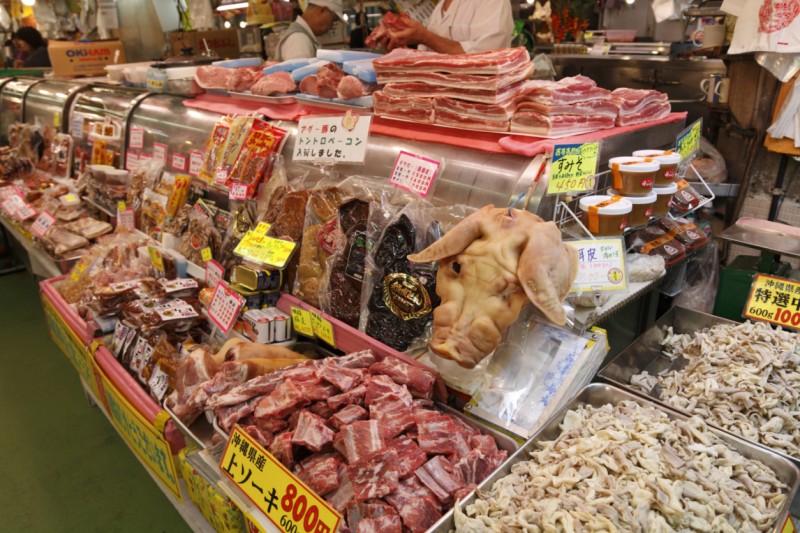 Next, head to the Makishi Public Market for some fresh local seafood. Known as "the kitchen of Okinawa", here you can get all kinds of traditional Okinawan food items, including dried sea snake, vegetables that you can't get on the mainland, and edible seaweed.
You can also take fresh fish from the first floor of the market to a restaurant on the second floor and have it cooked and served to you for a small fee.
While you're in the area, it's just a short stroll to explore all that Heiwa Street (great for crafts and souvenirs), Tsuboya Yachimun Street and Kokusai Street have to offer.
Evening
Finish up your first day in Okinawa at the Zizake Yokocho, an izakaya (an informal Japanese drinking establishment) on Kokusai Street that serves Okinawan cuisine with the local sake Awamori.
Enjoy traditional folk music as you eat and drink, and if you feel your feet starting to tap along, don't be shy – get up and dance!

Okinawa Trip – Island-hopping on Day 2
By now you'll definitely be wishing you had more time, because this region boasts some of the most stunning seas in the world, rich in marine wildlife and breathtaking coral reefs. It's no wonder ocean activities such as snorkelling and scuba diving are among Okinawa's most popular attractions.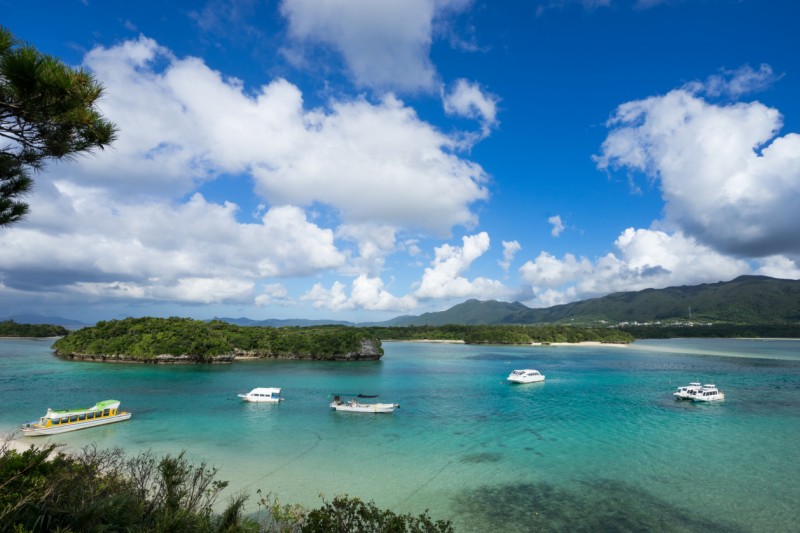 Morning
Scuba diving might be out of the question if you're only in town for 48 hours, but you could still explore some of the islands around Okinawa. Popular ones are the Kerama Islands, Miyako Island, Ishigaki Island and Iriomote Island. Ferries are great for day trips. Don't forget to pack water, some food, sunscreen, a towel and a change of clothes.
Alternatively, you could keep things closer to home – or, in this case, your hotel – by visiting the Busena Marine Park on the west coast of Okinawa. Excellent even on rainy days because it's indoors, this amazing offshore underwater observatory lets you get up close to colourful marine life without getting wet!
Afternoon
Move on to Kouri Island, also called "the love island", by crossing the Kouri Bridge. Look out for the Heart Rock, a heart-shaped rock in the ocean, and the Kouri Ocean Tower, a white building with a triangular roof that sits on top of a hill.
Visit the museum, which has more than 10,000 shells on display, and grab a bite to eat at the onsite restaurant, which serves a special curry and pizza.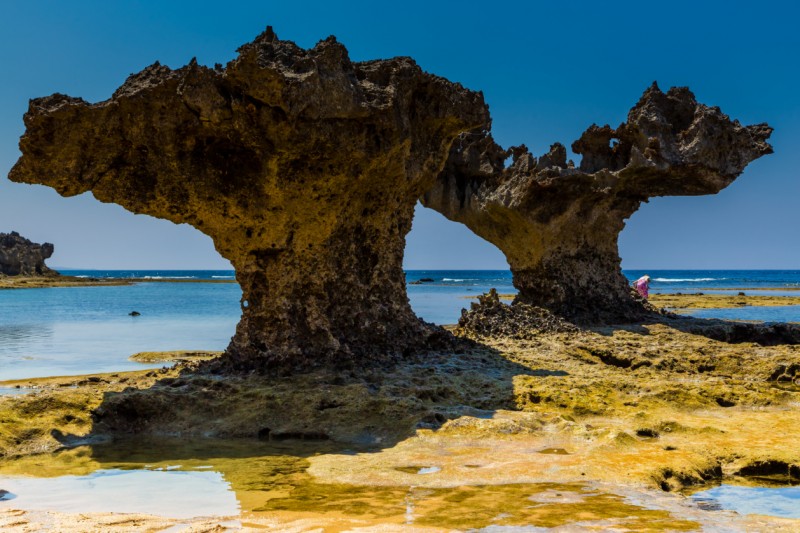 Next on your list should be the Okinawa Churaumi Aquarium, home to some 740 species of underwater wildlife and 21,000 animals, among them whale sharks and manta rays, which you can observe from one of the world's largest acrylic tanks.
Evening
Last but not least, have dinner at the much-talked-about yakiniku (BBQ) restaurant Shimabuta Shichirin-yaki "Manmi" in Nago City. We hope you like pork, because that's their speciality! Each part of the pork is cut differently so you get only the finest meat, and the restaurant also serves the rare parts of pork that you won't get anywhere else.
[tabs]
[tab title='Best Time to Visit' icon='entypo-light-up']
Best Time to Visit Okinawa
The best time to visit Okinawa is in spring or autumn (March to early May, and late September to December).
Weather in Okinawa
Even though its subtropical climate ensures that the weather is pleasantly warm throughout the year, the rainy season (early May to early June) could put a dampener on things, and typhoons are a potential problem in July and August.
[/tab]
[tab title="How to Get There" icon="entypo-address"]
Flights to Okinawa, Japan
Naha Airport is the largest airport in the Okinawa area and the main hub for both international and inter-island flights.
If you're departing from Kuala Lumpur, Air Nippon Airways and Japan Airlines offer flights to Okinawa's Naha Airport (OKA) with a stop at Narita Airport (NRT).
[/tab]
[tab title="Where to Stay" icon="entypo-suitcase"]
Where to Stay during your Okinawa Trip
The four-star luxury DoubleTree by Hilton Naha is located right in the heart of Naha and close to a number of attractions. Also central is the Nishitetsu Resort Inn Naha, an excellent three-star hotel with a restaurant and dry cleaning/laundry facilities. If you are looking for backpacker-style accommodation, the Okinawa Guest House Grand Naha is a great choice.
[/tab]
Visa Requirements = [tab title="Visa Requirements" icon="entypo-book"]
Japan Visa Requirements for Malaysians
Holders of a Malaysian ePassport do not require a visa to enter Japan if it is for a period of 90 days or fewer. Those who do not hold an ePassport are advised to obtain a Temporary Visitor's Visa.
[/tab]
[/tabs]
Photo credits: Getty Images