By Expedia Team, on November 6, 2019
My Trip To Ljubljana: What to Do and Eat in The Polished Jewel of Ex-Yugoslavia
Ljubljana was the second stop of my Balkans' tour. I had heard so much about the city's beauty and charm, I knew I had to visit Ljubljana myself.
While other former Yugoslavia nations descended into political and economic turmoil after the Yugoslav Wars, Slovenia and its capital advanced quickly. Ljubljana is now a youthful, clean, and vibrant city crowded with university students and tourists alike in the summer. As I walked into the city centre, I immediately fell in love with its beauty and the pastel-coloured buildings along the streets.
Sightseeing under the summer sun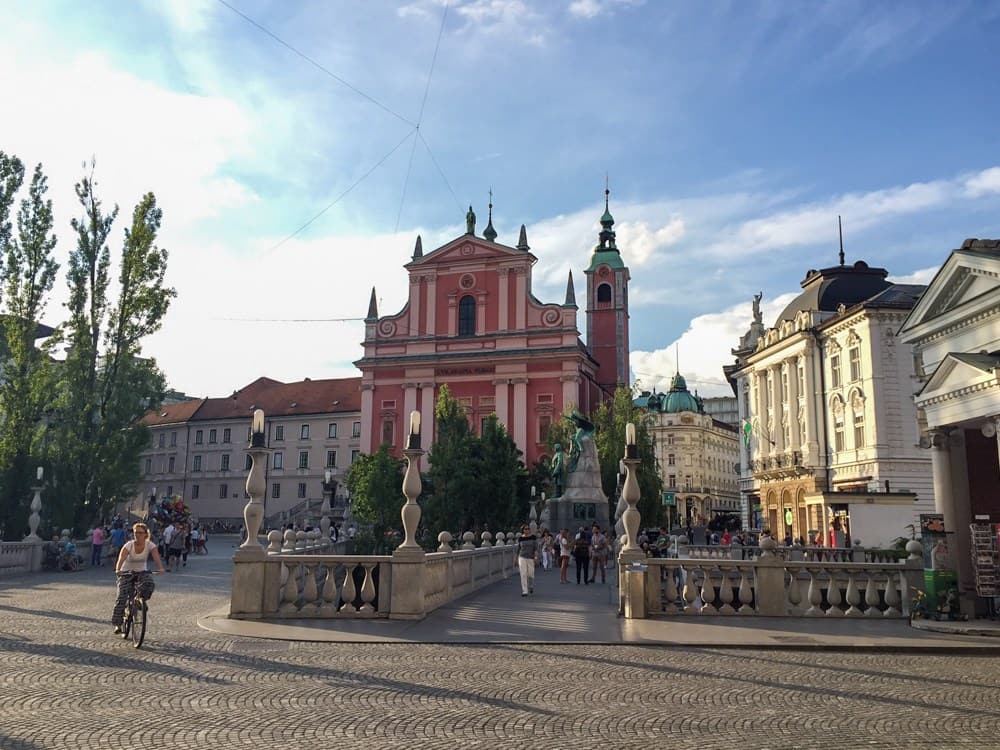 Even though it is the most crowded season of the year, the best time to visit Ljubljana is still summer. Being a small city, most of Ljubljana can be covered on foot. If you're feeling extra lazy, you're free to hop on a rented bike and cycle around instead.
On arrival, I joined the free walking tour. It starts daily at 11:00 am from Prešeren Square, in front of the Franciscan Church. From the tour, I learned about Ljubljana's history, its main attractions, and local food. The guides told us everything we needed to know about the city, and brought us to the central market. We even managed to sample sauerkraut, a pickled cabbage commonly found in Central Europe.
If you do decide to go on the free walking tour, here's a tip: even though the tour is free, tipping is encouraged.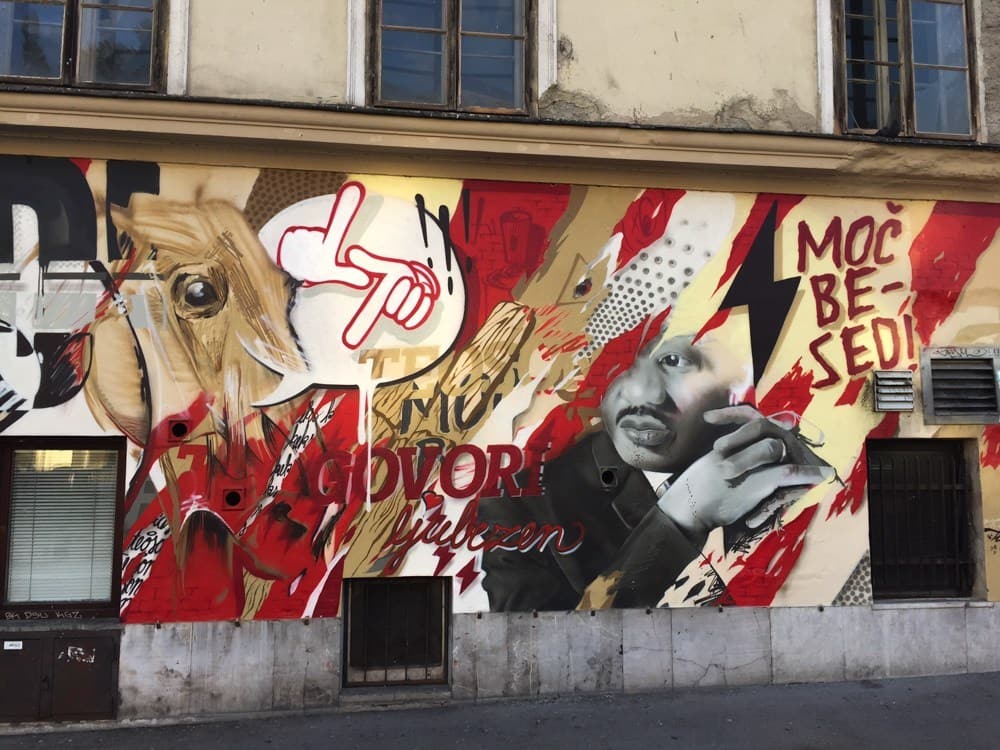 Other than the free walking tour, there's also a graffiti tour where you get to see the best street art in the city. If graffiti isn't your thing, you can join the communist tour for more insights into the political history of Slovenia.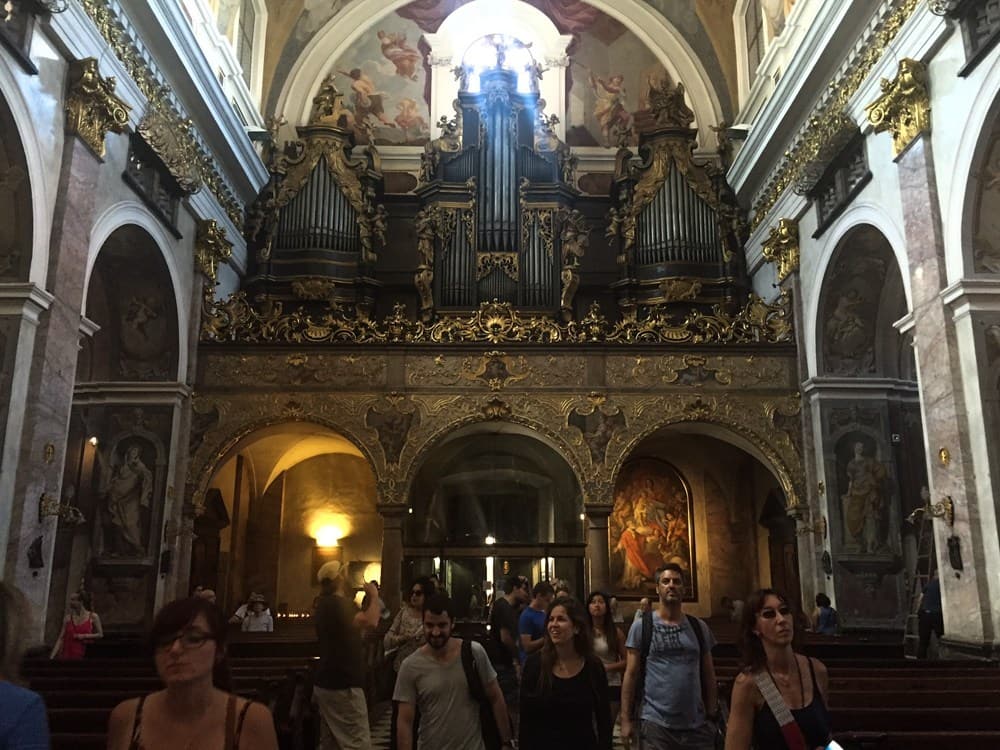 I checked out the Ljubljana Cathedral, also known as St. Nicholas's Church, on my way to the castle. The Baroque style cathedral was built in the 1700s. It was beautiful, but I didn't linger too long in there.
Address: Dolničarjeva ulica 1, 1000 Ljubljana, Slovenia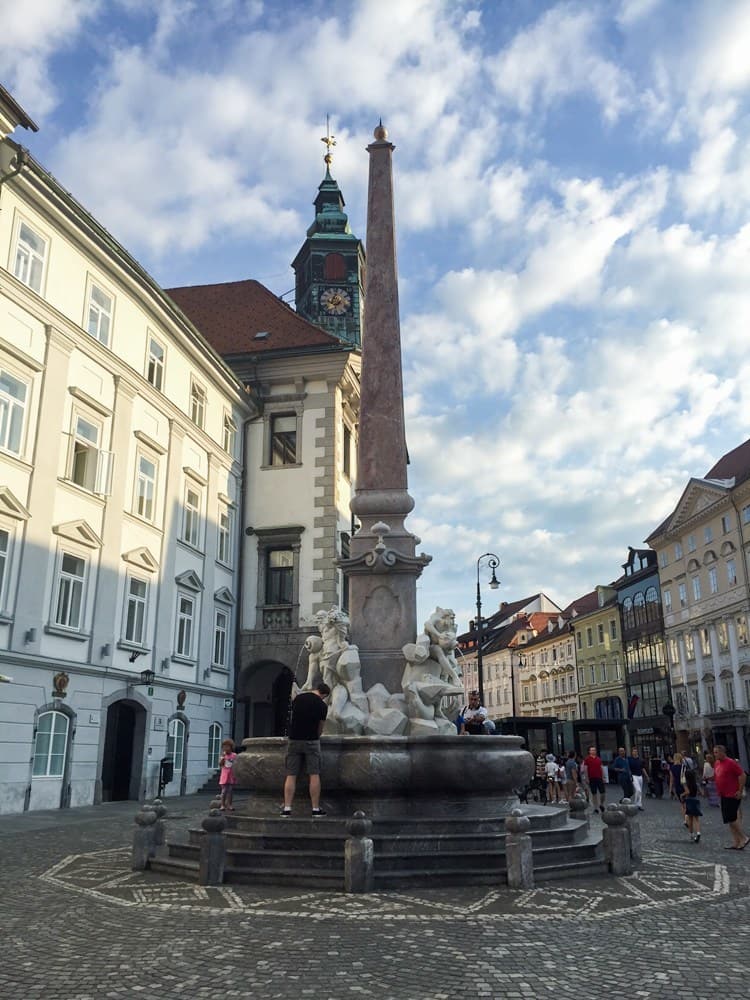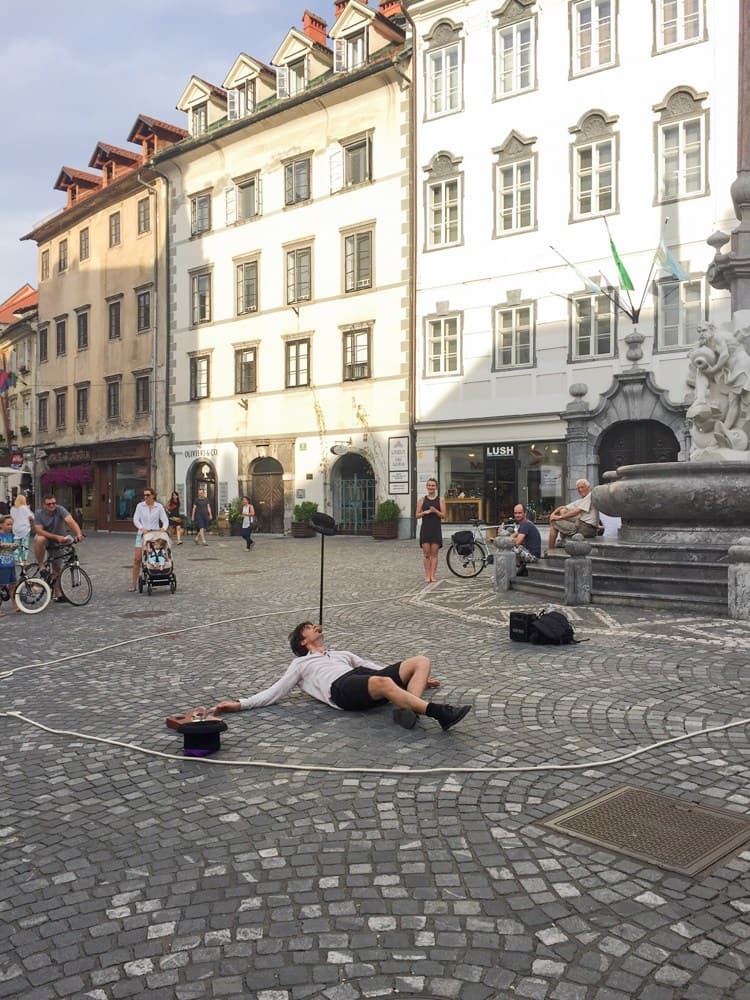 This water fountain near the town hall is one of the landmarks of Ljubljana. I stopped to refill my water bottle and watched buskers and street performers entertaining passers-by.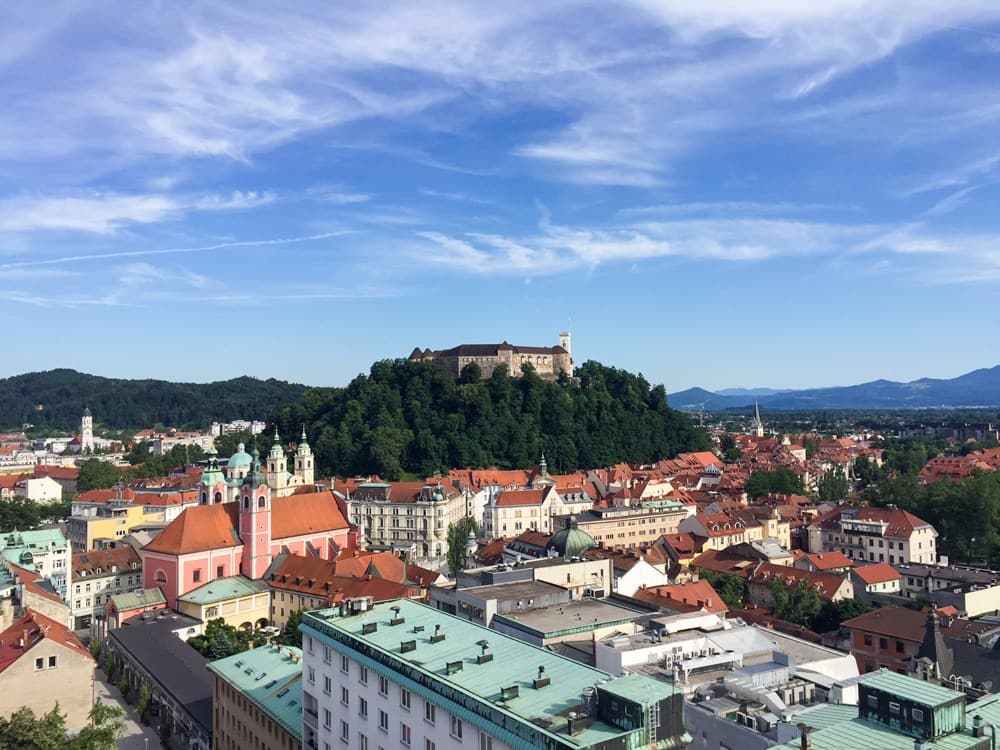 As I was travelling solo, I met up with a local host from Couchsurfing who showed me around the city for a few hours. He took me to the Neboticnik Skyscraper, the tallest building in Ljubljana. At just 13 storeys though, it isn't very tall at all for someone like me. After all, I come from a country famed for its high-rise buildings.
Though one of the city's most recognisable landmarks, I have somehow missed it when I tried looking for it by myself a day before. We walked there from the main street, Čopova ulica, turned into 1 Štefan Street when we saw a grey high-rise building. We took a lift all the way up to the alfresco bar.
From there, I could see a gorgeous panoramic view of the city.
A meditative day trip to Lake Bled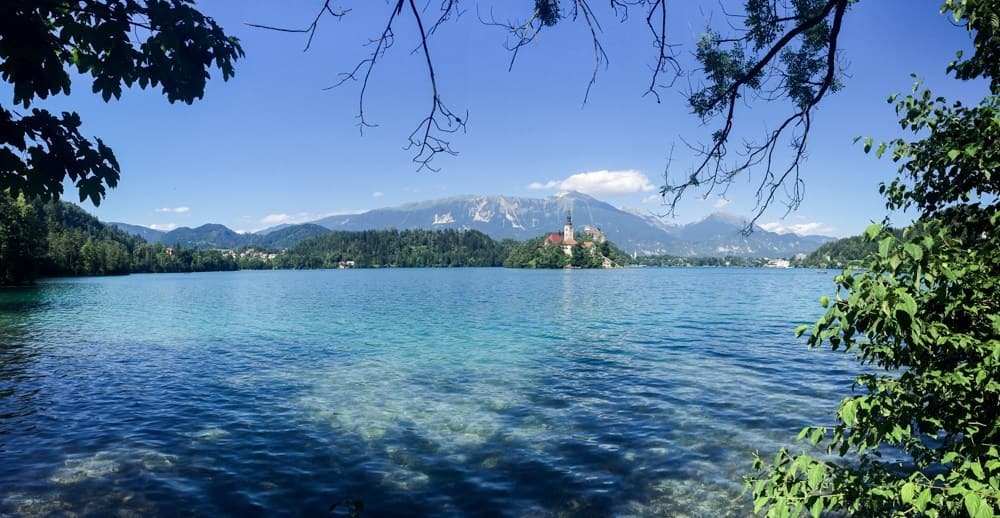 As Ljubljana is a very small city, I soon ran out of things to see and do by my third day there. So I bought a bus ticket from Ljubljana central bus station and took a day trip from Ljubljana to Lake Bled, a 1.5-hour drive away from the city. There, I saw the alpine mountain, crystal clear water, and church perched on a tiny island. It felt like a scene straight out of a fairytale!
It took me 1.5 hours to cover the entire trail around the lake. The vastness of the lake felt tranquil, calming, and almost meditative. Even though I've always travelled solo, walking on this trail made me realise how easy it was to simply be in the present, and truly enjoy my own company. The only thing I regret was not bringing my swimsuit with me for a little dip in the lake.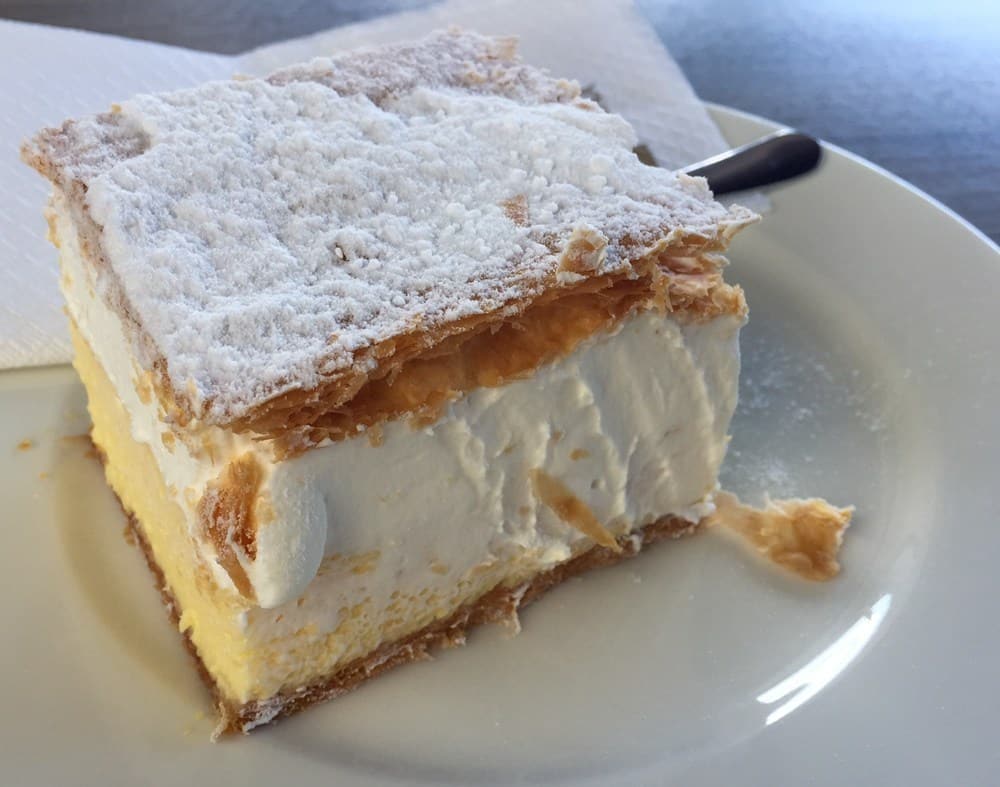 On my way back to the bus station for my return to Ljubljana, I stopped by Hotel Park for the famous Bled Cream Cake, the signature pastry of Bled. It's made of cream and custard in between thin layers of crispy puff pastry.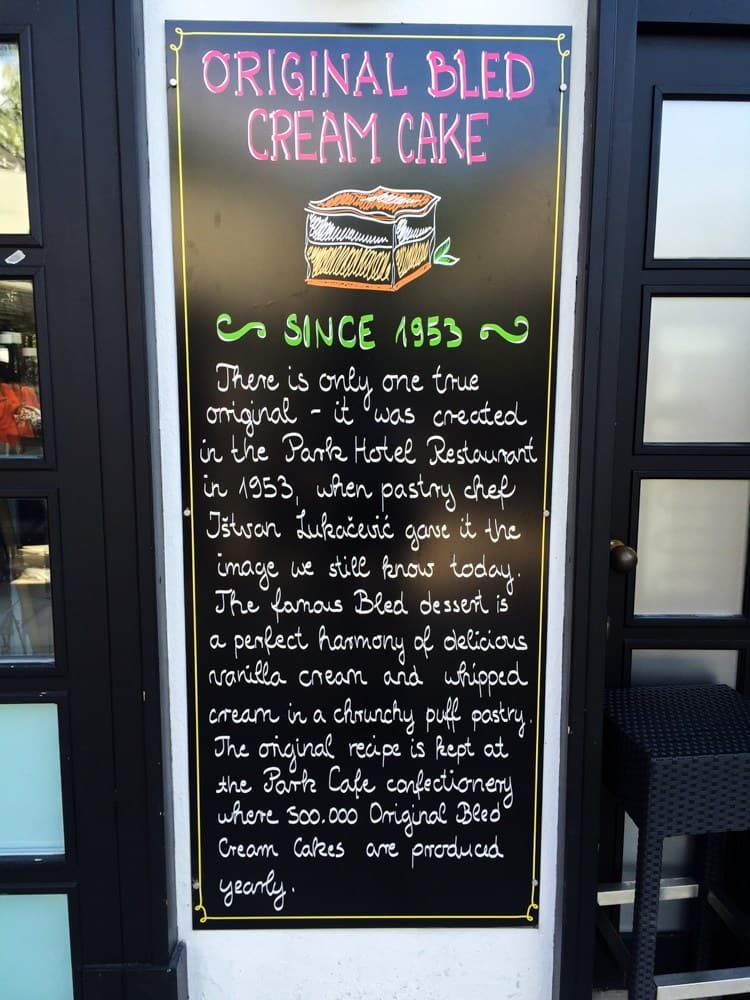 This pastry was invented by Ištvan Lukačevič, the former manager of the Hotel Park patisserie, so Hotel Park is the only place to go for a legit cream cake.
Must-eats at Ljubljana

The first thing I noticed walking into town was the number of people eating ice cream. That's nothing surprising, considering the heat. But they were all having ice cream from the same ice cream parlour.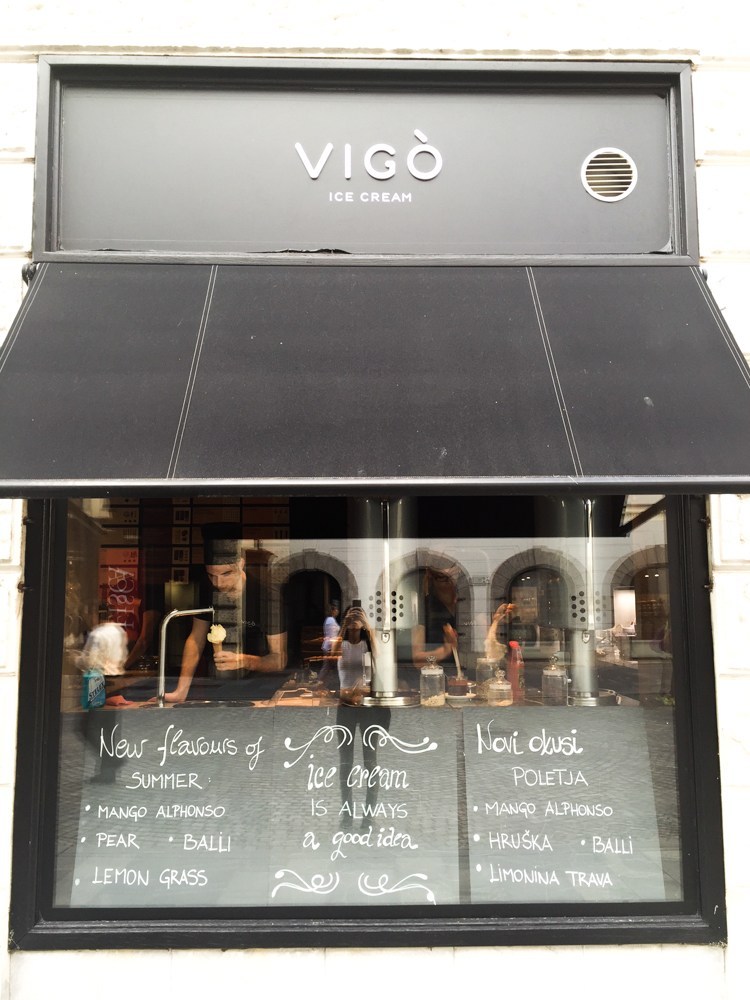 "Interesting flavours… they must be good," I thought.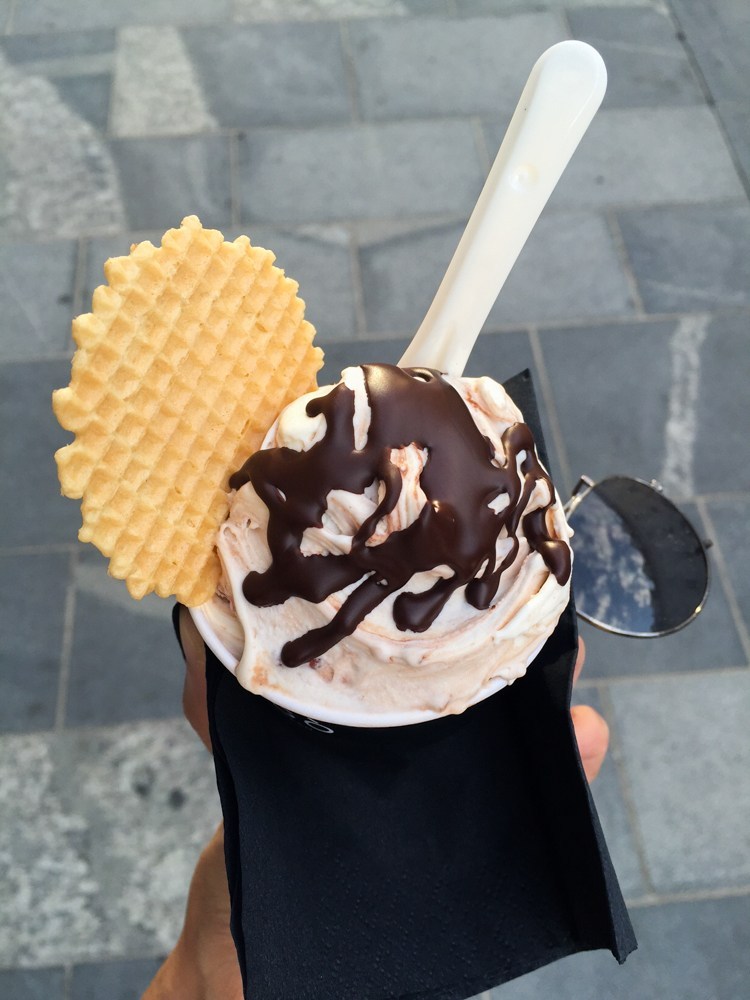 After much contemplation, I decided to get Vigo's signature ice cream. Having tried heaps of gelato in Italy, this was still easily one of the best ice creams I've had in my life. To make sure I tried as many flavours as I could, I ate a cup a day!
What's great about Vigo is that the ice cream is churned in-house and the portions are generous. Best of all, one cup only costs €1.50, and a mix of two flavours, €1.80.
The signature flavour, Vigo, is made of fresh mascarpone, Nutella, chocolate, and hazelnut. I also had a mix of cheesecake (fresh cream cheese, strawberry, dark chocolate bits, biscuits) and greek yoghurt (yoghurt, honey, sesame) on my second day, as well as Balli (coconut & passionfruit) and De Luxe (Parisian cream, chocolate biscuits, raspberry).
Address: Mačkova ulica 2, 1000 Ljubljana, Slovenia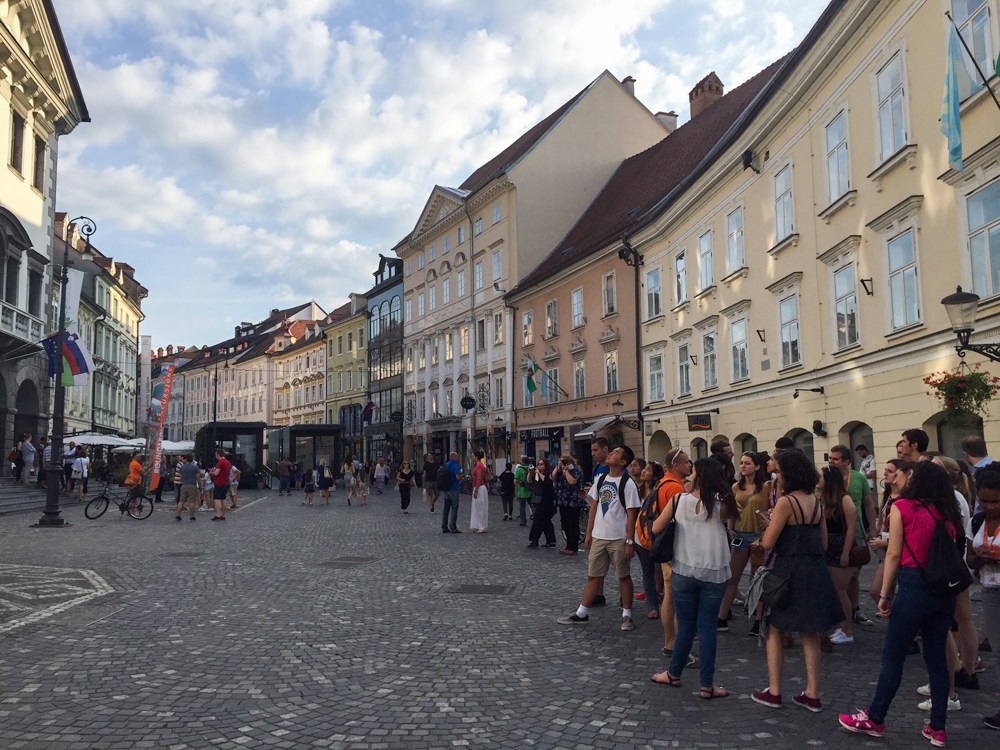 There are several restaurants in the city centre around the town hall serving Slovenian cuisine. It's hard to describe what Slovenian food is as its cuisine is influenced by its neighbours and former conquerors: Italy, Austria, Hungary, and the rest of Balkans. Here, dishes start at €10.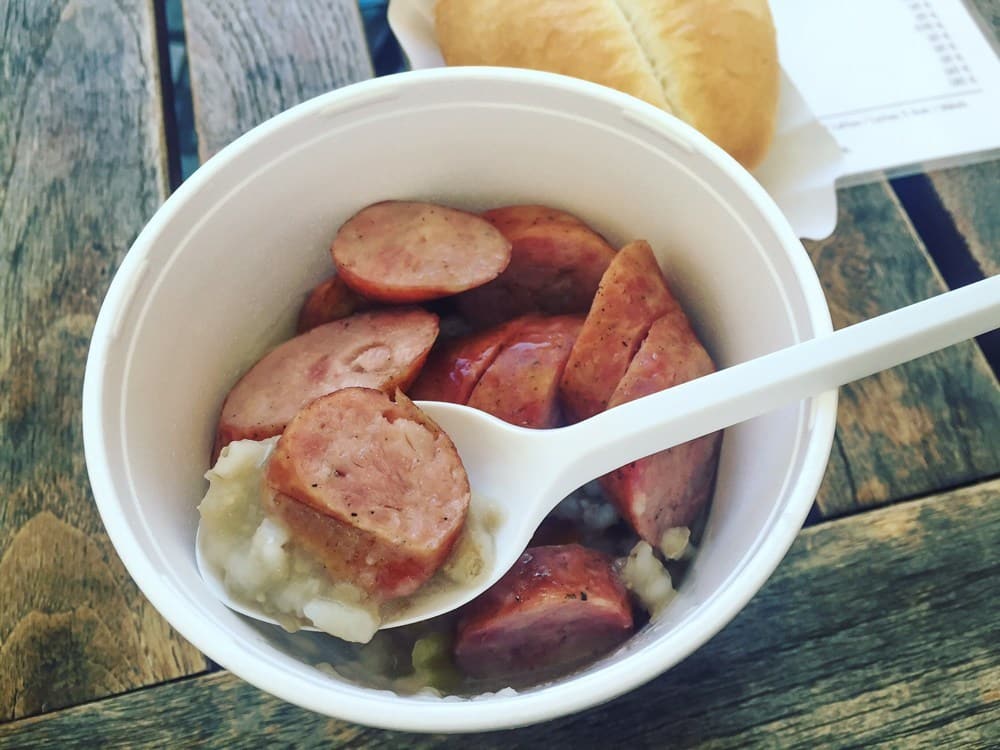 I grabbed a bite at a small eatery called Klobasarna that served only two dishes: sausages and stew. Of the two, I got the barley stew. It reminded me of porridge and I topped it with sausage for an extra crunch and bite. This simple and tasty comfort food was also affordable at just €4.90. Simply perfect for a light lunch, snack, or dinner!
Address: Ciril-Metodov trg 15, 1000 Ljubljana, Slovenia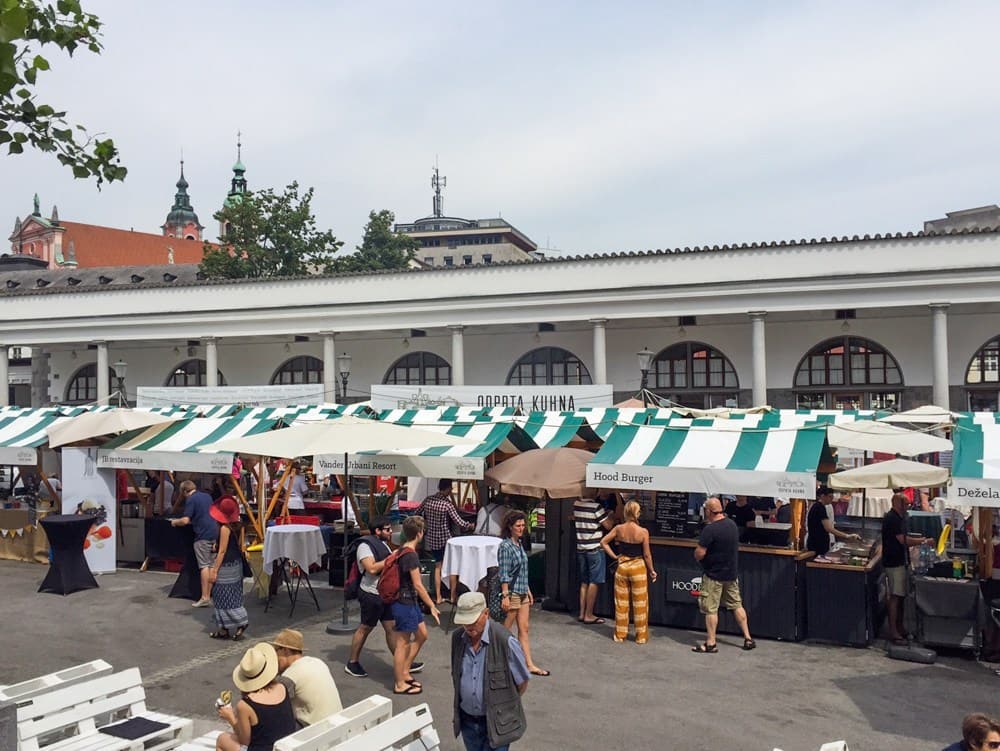 As a budget traveller, I rarely dined at restaurants. Instead, I preferred to sample smaller portions of a variety of dishes and the Odprta Kuhna (open kitchen). Every Friday, restaurants from all around Ljubljana set up stalls serving traditional Slovenian food and desserts. Food here are at lower prices so you get to eat more for less. Other than Slovenian delights, there were even stalls serving African, Persian, Asian, American, and Italian food.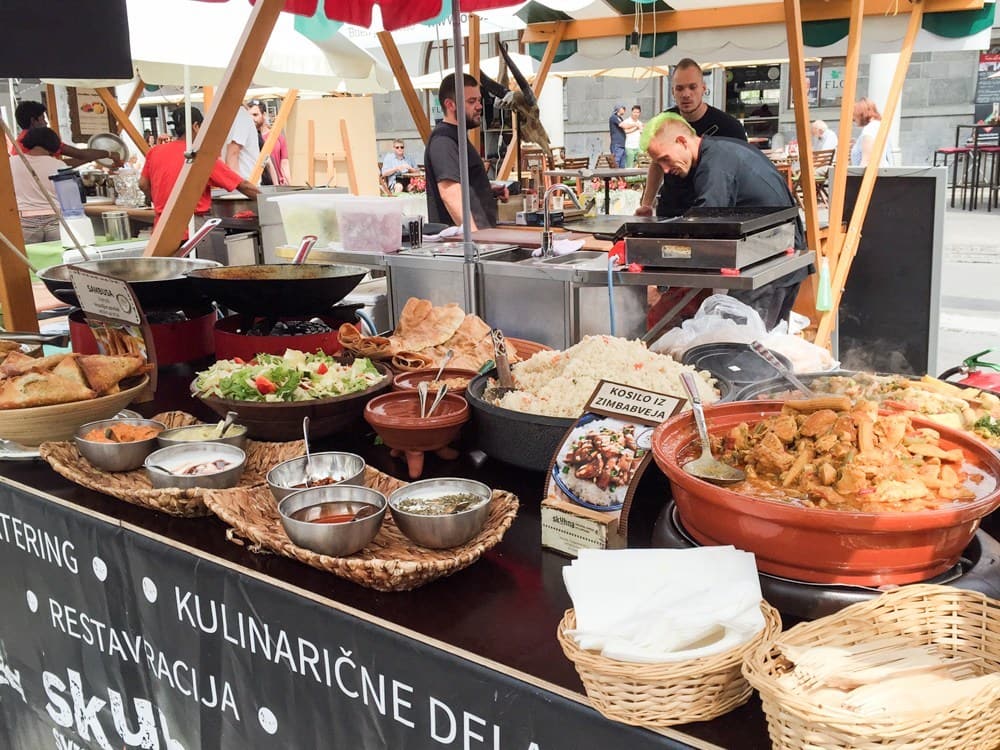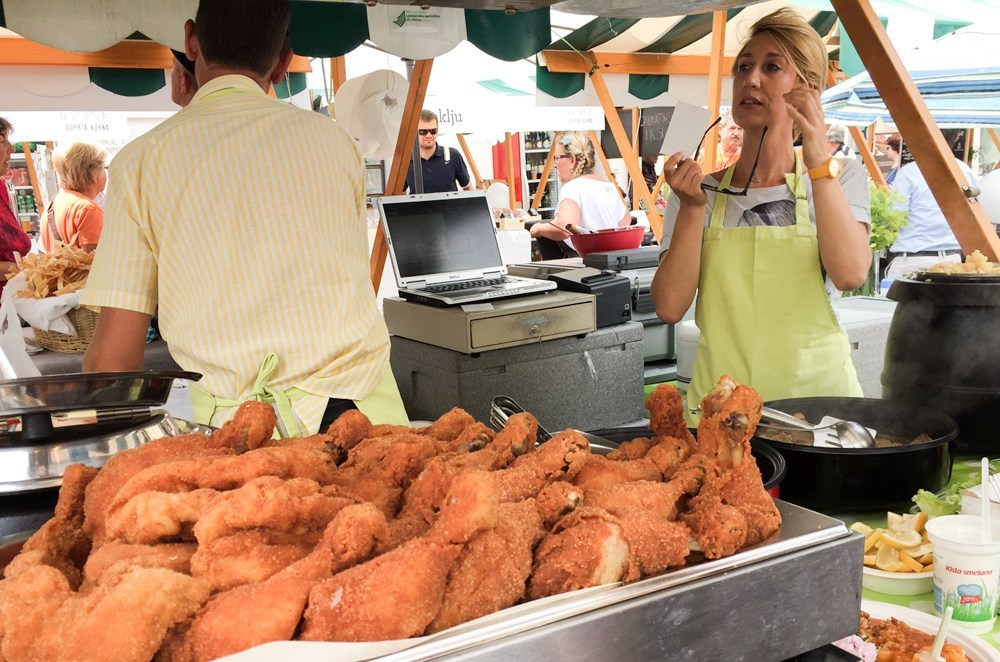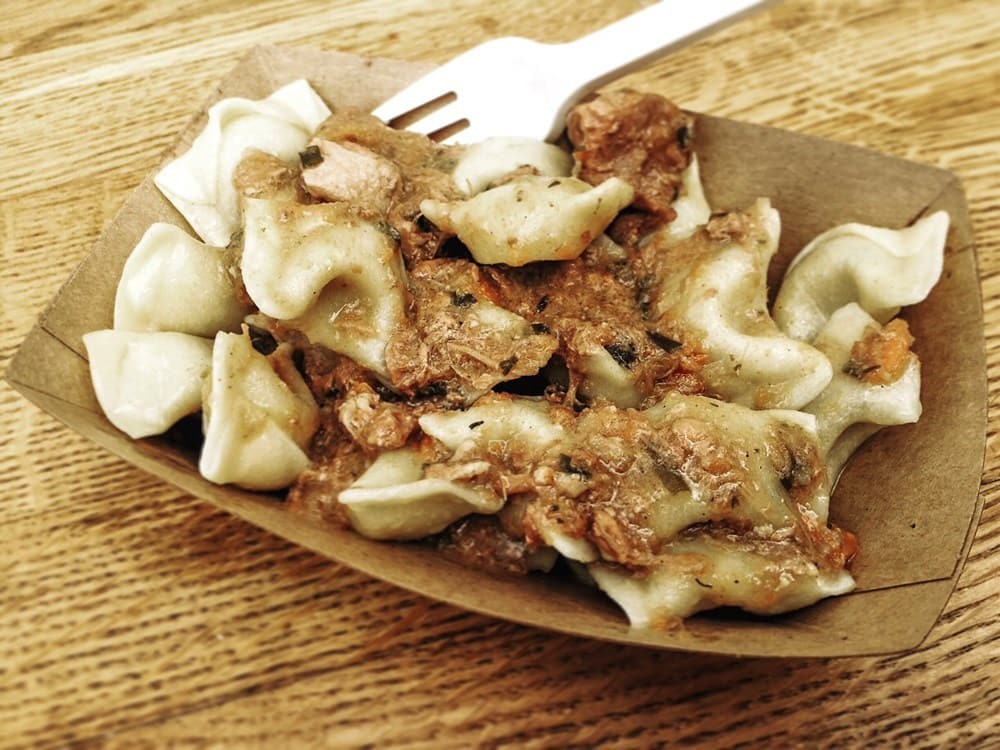 I had a traditional Slovenian dish called idrijski zlikrofi, little dumplings filled with potato and topped with baby lamb sauce; tasty pockets of carby goodness that filled me up.
Address: Pogačarjev trg 1, 1000 Ljubljana, Slovenia
With Austro-Hungarian influences in its lovely architecture, breathtaking natural landscapes, and tasty food, Ljubljana is a quaint, charming underrated gem in Europe that deserves more attention than it is  getting from Asian travellers.
Where to stay in Ljubljana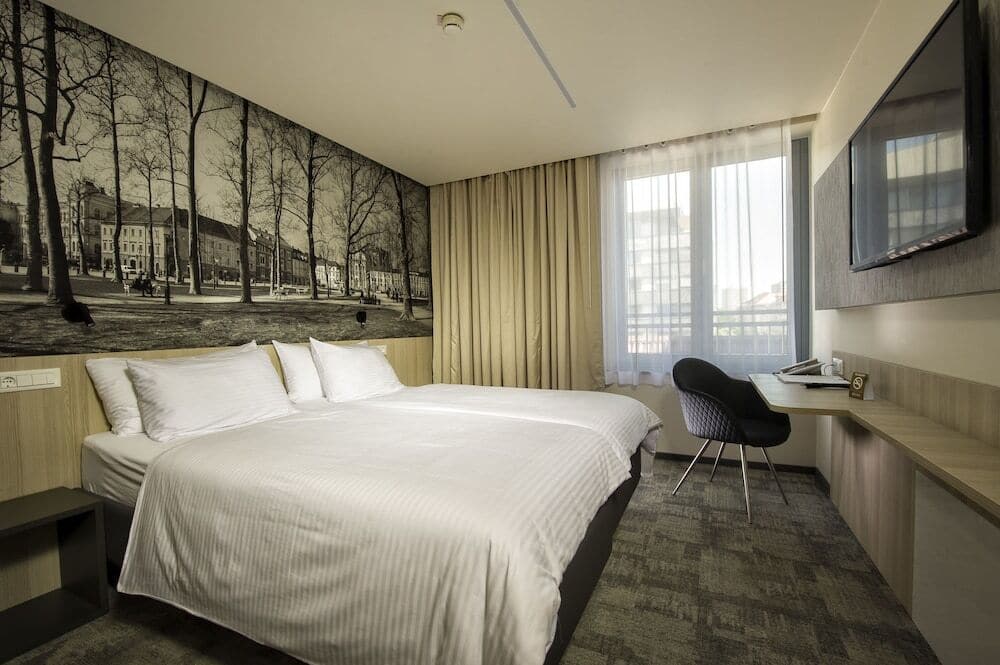 Located in the city centre, City Hotel Ljubljana offers a lovely garden view from its terrace. The rooms are simply furnished and provides all the comforts that any guest would need and free Wifi is provided. Major attractions are less than a 6-minute walk away.
[tabs]
[tab title="Where to Stay" icon="entypo-suitcase"]
[button style='blue' icon="entypo-suitcase" url='https://www.expedia.com.my/Ljubljana-Hotels.d2085.Travel-Guide-Hotels' fullwidth='true'] Find Hotels in Ljubljana [/button]
[/tab]
[tab title="Let's Go!" icon="entypo-flight"]
[button icon="entypo-flight" url='https://www.expedia.com.my/Cheap-Flights-To-Ljubljana.d2085.Travel-Guide-Flights' fullwidth='true'] Flights to Ljubljana [/button]
[/tab]
[/tabs]