Nighttime Local Eats and Streets in Old Kyoto
By Pinpoint Traveler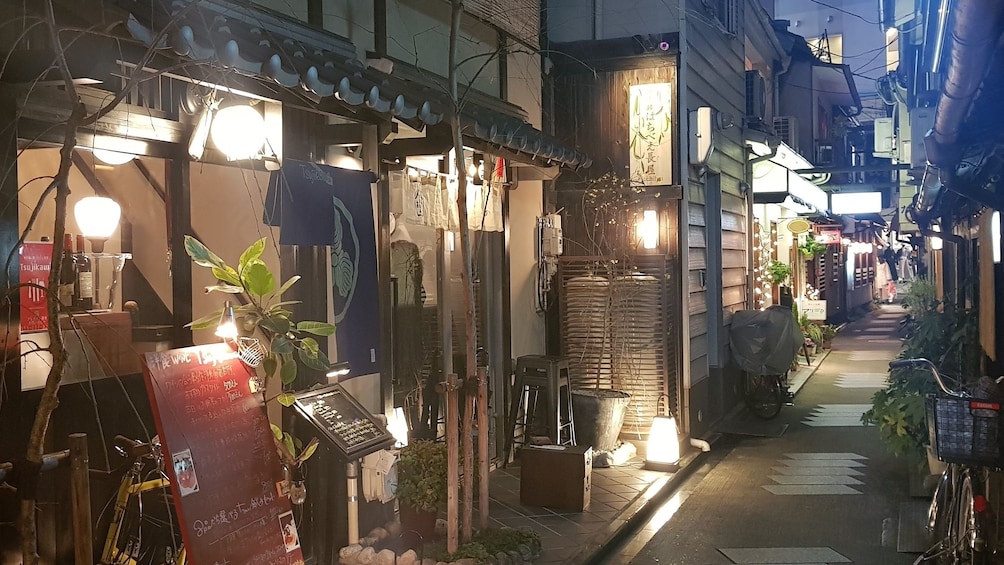 Free cancellation available
Highlights
Explore the Gion and see Kyoto's night traditions up close.

Includes tasty local food & drink across two restaurants.

See indicative buildings, nature, and streetscapes.

Engaging narrative by a native level English speaker.

Limited to six guests max – more attention for you!
About this activity
What's included, what's not
Dinner

Two Alcoholic or Non-Alcoholic Beverages (one in each restaurant)

Gratuities (there's no tipping in Japan, and don't let anyone tell you differently)

Drinks beyond the two included. Additional drinks may be purchased if desired.
Know Before You Book
The minimum drinking age in Japan is 20 years old.

Tours limited to 6, but groups up to 8 are welcome in cases where the entire group is the same booking.
What you can expect
You and no more than five others will explore the local foods and entertainment districts of Kyoto on a not-so-standard, all-inclusive walking and eating nighttime tour! You'll mingle with locals, eat regional specialties at two different standing bar/restaurants, and be given a visual feast of a primer on the various nightlife scenes in Kyoto, from geiko (a.k.a. "geisha") on down. With a native or equivalent English speaking guide at your side, you'll get a clear understanding of what the area is all about. And with some great food and a couple of (included) drinks in you, the merriment will be all the more!
6:30pm You've done the daytime temples, gardens, and academic thing, had a bit of rest, and are now ready to set about seeing what the night has to offer. We'll meet at Gion Shijo Station, then start with an educational walk through the justifiably famous Gion district, which is located on the east side of the Kamogawa River. Learn about the geiko (and why we don't call them "geisha" in Kyoto), as well as the places that make this district so special. You'll also regaled with insight and info about how the art of evening entertainment has evolved into the hostess clubs of today. (Rest assured this tour is suitable for teenagers and higher.)
7:30pm Your hour-long anthropological adventure has left you ready for some food and drink, and we know just the place. You'll get to try a few different regionally representative dishes and a beer – or perhaps you'd like a shochu or some sake instead! Various dietary restrictions, tastes, and bravery levels will be happily accommodated.
8:15pm Take a stroll through both youthful and classic restaurant and entertainment districts on the west side of the Kamogawa River, including Pontocho, Kiyamachi, and the Kawaramachi St. area. Pontocho's old narrow streets allow you to see how much the people of Kyoto value and protect tradition, while the younger areas a couple streets away will show you how eager Kyoto people are to also firmly live in the present.
9pm No night is complete with just one restaurant stop, so we'll visit another thoroughly vetted and often enjoyed spot. There will be more tasty vittles for your culinary consideration, plus another accompanying drink!
9:30pm The end of the evening has come, but hopefully you've been able to garner a lasting understanding and appreciation of Kyoto's various foods, nightlife, and vibe.