Lombok City Tour
By Gora Hospitality Management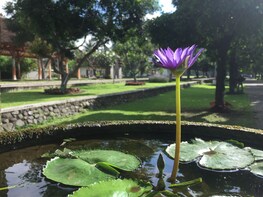 Free cancellation available
Highlights
Exploring the hindu culture in Lombok

Opportunity to see Mayura Temple

Opportunity to see Narmada and Lingsar Temples

Opportunity to see Lombok Epicentrum Mall

Exploring the town center around the market and mall
What's included, what's not
Guide and Driver

Entrance Fees

Car with A/C and Fuel

Parking Fees

Meals

Tips and gratuities
Know Before You Book
Free pick-up service around Sengigi and Mataram only. Additional charges for pick up outside these locations are at IDR 150,000 or 10 USD per car

Please be ready in the hotel lobby 15 minutes before the time pick up.
What you can expect
A half day tour covering heritages in Lombok such as Mayura Temple the royal floating palace (Bale Kambang) of the former Balinese kingdom which was built in 1714. Narmada Temple this historical place is used to be a palace of Anak Agung Gede Ngurah, which was built in 1805. Here you see a miniature of Mount Rinjani and Segara Anak lake with a holy temple on the top. The temple was built in 1714 by Balinese Hindus when they first visited Lombok.
However, Pura Lingsar is not only a Hindu temple. It represents a blending of the Hindu tradition with Wektu Telu, a religion practiced by the Sasak people, Lombok's natives. Wektu Telu's adherents consider themselves Muslims, but do not follow many of the religious commandments that more orthodox Muslims do. They have adopted other beliefs from Hinduism and native animistic traditions. This dual heritage makes Pura Lingsar an important symbol of unity among the islands' faiths.
Visitors to Pura Lingsar are expected to wear a sash or sarong to enter the temple. If you forget, there will be vendors outside happy to rent you appropriate clothing. You can also explore the temple's outer buildings without any special dress requirements. The northern, elevated part of the temple is the Hindu section, while the Wektu Telu worship in the southern section.
Pura Lingsar is famous for a pool of water in the Wektu Telu area, sacred to the deity Vishnu. This pool is home to a family of holy eels, who can be lured out of their hiding spots with hard-boiled eggs. You can purchase eggs from stalls outside the temple to feed the eels yourself.
Visiting Lombok traditional market, see the local traditional market in Sweta area. Go to one of the big mall in lombok which is called Lombok Epicentrum Mall.