Airport Express Round trip to Hotels in Hong Kong
By Gray Line Hong Kong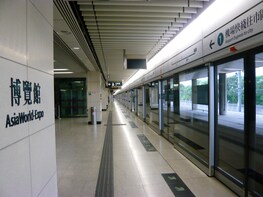 Highlights
Use the QR CODE on your round trip E-ticket for boarding

Save 30 minute by train travelling from airport to downtown

Train departs in every 10 minute from 06:00 to 23:00

Shuttle bus departs in every 20 minute from 06:00 to 23:00

Free In-town check-in service: hand free for more shopping
What's included, what's not
Round trip train transfer between Airport to Hong Kong Station / Kowloon Station from 06:00 to 23:00

Round trip shuttle bus between HKG or Kowloon Station & hotel. Service hour is 06:00 to 23:00

Check if the Airport Express Shuttle Bus goes to your hotel from the list at https://bit.ly/2TRFbXv

Coach transfer between your hotel and HKG station or Kowloon Station before 06:00 and after 23:00.

Extra cost for taxi fare

No refund for lack of shuttle bus service from HKG / KLN station if your hotel is not in the list.
Know Before You Book
You will receive QR Code(s) for Roundtrip Airport Express tickets(s) offered by MTR Hong Kong.

The Airport Express Round Trip Ticket QR Code entitles the passenger to two Airport Express journeys. The passenger must use the same QR Code to travel to and from the designated station.

You can use a mobile device to download the QR Code image(s) and pass through the designated gate directly.

Your ticket is valid for 60 days before and 30 days after your redemption day.

All airport express tickets are non-refundable. QR Code cannot be returned, refunded or exchanged for other tickets once it is used.

Please keep that QR Code image(s) on your airport express ticket for a free return ride to airport in 30 days.

The QR code for the Airport Express Ticket is not the same voucher from Expedia that you are going to present on the day of the tour. There a separate ticket with QR code that you need to receive from local tour supplier.
What you can expect
From Airport Station, the train departs in every 10 minute between 05:54 to 00:48.
You will receive a 2-way E-ticket with QR code from MTR Hong Kong. Use the QR Code image(s) and pass through the turnstiles. Relax on the 24-minute journey into downtown. Get off at Kowloon Station or Hong Kong Station, take a free Airport Express Shuttle Bus to your hotel. Bus leaves in every 20 minute from 06:00 to 23:00.
From your hotel, please go to the bus stop. Show your ticket to bus driver. Your ticket allows you to a free return ride in 30 days.
Hotel List
Airport Express Bus stops at the following hotels, or stops at a place nearby.
PLEASE DO NOT BOOK A TICKET IF YOUR HOTEL IS NOT IN THE LIST.
Anne Black - YWCA
B P International
BEST WESTERN Grand
BEST WESTERN Harbour View
BEST WESTERN PLUS HK
Butterfly on Prat - Tsim Sha Tsui
Butterfly on Victoria
Casa
Charterhouse Causeway Bay
China Ferry Terminal
City Garden
Cityview
Courtyard by Marriott HK
Dorsett Mongkok HK
Eaton
Empire HK Causeway Bay
Empire HK Wan Chai
Empire Kowloon Tsim Sha Tsui
Excelsior
Gateway HK
Gloucester Luk Kwok HK
Grand Hyatt HK
Guangdong Hotel
Harbor Plaza North Point
Harbour Grand HK
Harbour Grand Kowloon
Harbour Plaza Metropolis
Harbourview
HK Convention and Exhibition Centre
Holiday Inn Express HK Soho
Holiday Inn Golden Mile HK
Hyatt Regency HK, Tsim Sha Tsui
ibis HK Central & Sheung Wan
Ibis North Point
Iclub Fortress Hill
iclub Sheung Wan
iclub Wan Chai
Icon Hotel
Imperial Hotel
InterContinenta Grand Stanford HK
Island Pacific
JW Marriott HK
Kerry
Kimberley
King's Hotel
Kowloon Hotel
Kowloon Harbourfront Hotel
Kowloon Shangri-La
Langham
Lanson Place
Largos
L'Causeway Bay Harbour View
Luxe Manor
Marco Polo HK
Metropark Causeway Bay HK
Metropark Kowloon
Metropark Mongkok
Metropark Wan Chai HK
Nathan Hotel
New World Millennium HK
Newton HK
Novotel Century HK
Novotel HK Nathan Road Kowloon
OZO Wesley HK
Pacific Place
Panorama by Rhombus
Park Hotel
Park Lane HK a Pullman
Peninsula
Prince HK
Prudential
Ramada Kowloon
Regal HK
Regal Kowloon
Renaissance Harbour View
Ritz-Carlton
Rosedale HK
Rosedale Kowloon
Royal Garden
Royal Pacific
Royal Plaza
Salisbury YMCA
Shamrock
Sheraton HK
Silka West Kowloon
Stanford Hillview
Travelodge Kowloon
Wharney Guang Dong
Whampoa Garden (Tak On Street)
W Hotel